Workmates is a cloud-based employee experience (EX) platform that enhances employee productivity, internal interaction, acknowledgment and incentives, and employee advocacy while also transforming company culture. Workmates provide you with all of the methods you need to communicate and connect with colleagues to exchange knowledge and change culture. Workmates will help you create a positive, productive, and healthy work atmosphere and a satisfied and committed community of workers, crucial to a company's success.
According to HR Cloud, an outstanding employee experience boosts efficiency, team spirit, and loyalty while also amplifying the corporate brand and integrating the employees with its unique objectives. Not only this, but a good company culture also increases the revenue of the company four times!
Workmates have a long list of features that make it ideal for increasing efficiency in your business.
Employee Communication and Engagement
Workmates enhance interaction and involvement in a fun, conventional way that your employees would enjoy, whether it's sharing GIFs, photographs of staff, engaging surveys, or more.
It creates a personalized news feed that serves as a central hub for all users to connect about everything going on at your business.
Workmates also provide a comprehensive, user-friendly company directory that assists every employee in putting a face to a name or meeting their coworkers by creating groups.
Workmates also have a highly visual organizational map that allows every employee to see the entire organization at a glimpse or dig deeper for more detail on a specific department or community.
Workmates allow workers to interact in their preferred manner inside Workmates or another communication medium of their choice, such as Skype, Slack, Google Hangouts, and more.
Workmates also offer a calendar view that gives teams full real-time visibility into employee attendance and absence. Users can, however, make calendar activities private to protect their details.
Rewards and Recognition
Using an employee appreciation and incentives solution is one of the most successful ways to boost employee morale and enthusiasm. Workmates have the following features that help you promote a sense of appreciation and dedication to success at your workplace.
Kudos: Workmates allows every employee to send a virtual high five to a colleague to remember their achievements and excellent work. All of this contributes to a collaborative and team-oriented climate.
Badges: Kudos badges are used by Workmates and personalized to fit its marketing, community, and ethics. You can also personalize the experience by using photos, hashtags, or a short message.
Kudos Leaderboard: A prolific leaderboard lists the top kudos winners. It's good for the employee, but it also draws attention to exceptional actions that can encourage the entire team.
Rewards: Rewarding your employees is a must! Employees can earn points along with Kudos, which they can further redeem for gift cards, corporate goods, or any other forms of gratitude that the company has to offer.
Employee Advocacy
Loyal and happy employees eventually become the best company promoters. It increases its marketing and sales, hiring, and brand recognition while decreasing online marketing and recruiting costs.
Your staff will become effective advocates for your business, eager and able to represent your company's best interests, support your goods and services, and contribute to a much better community with Workmates. It will also help in expanding the reach of your brand, thus amplifying it.
Workmates is a modern social intranet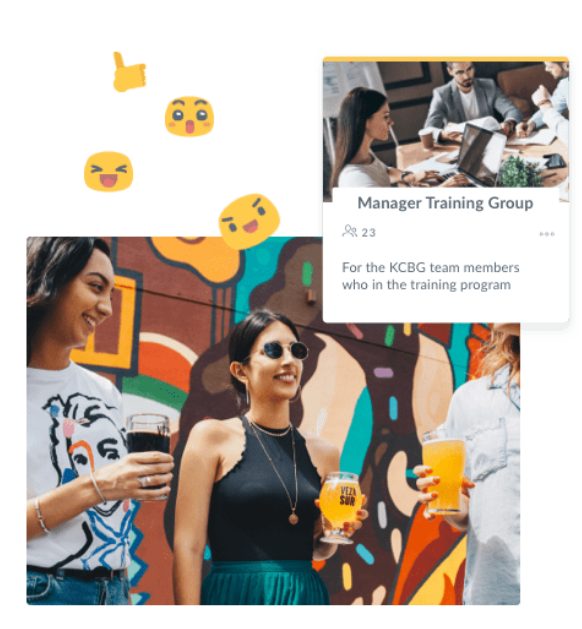 When your business expands, Workmates offers a corporate intranet solution by giving you tools to exchange knowledge and enhance connectivity with your entire workforce by supporting the following features:
Employee positions, location, unit, org chart hierarchy, or any variation of job parameters are used to build and display portals, websites, and information.
Workmates provide powerful insights and easy-to-understand dashboard reports, allowing you to see the most active users, contributors, viewers, content properties, and more.
Workmates support you to share an entire folder of confidential information and documents with selected individuals or a group of people in your company.
Workmates also ease creating newsletters, videos, important links, pictures, and rich text editing.
Workmates are also compatible with leading document and content management systems, allowing you to keep the content upto the mark.
Third-party integration
Apart from all the other features that help you build a supportive employee community, Workmates also supports a lot of third-party integration, such as:
ADP has been incorporated with Workmates. It allows you to import employee and company details into your HR Cloud directly and efficiently. It also makes HR admins easier as they can effectively import to pull new data every day.
Workmates integrate seamlessly with Zoom video conferencing software, allowing workers to arrange and facilitate Zoom conference calls from inside the Workmates framework.
Workmates by HR Cloud can also integrate with third-party monitoring tools like Microsoft Power BI.
Workmates also enable inter-application workflows and data retrieval by easily integrating with the company's business systems and external cloud providers.
---
Also check: Xoxoday Review: Boost Employee Engagement & Experience
---
Pricing
Workmates pricing starts from $3 per feature. It also offers a free trial and has a free version. For other pricing details, you will have to contact HR cloud and get a quote.
Pros
Following are the positive aspects of Workmates:
The idea of teamwork and employee engagement application has stood beyond clients' expectations regarding boosting morale.
The integrated features of Workmates such as ATS, benefits management, background checking, performance management, and others have proven to be extremely beneficial for the users.
The dashboard is pretty clear and simple to understand, thus gets you started without any fuss.
Makes all of your work paperless and reduces a lot of burdens.
Reduces a lot of HR work while hiring and taking onboard new employees.
When sifting through a large group of individuals, searchability is extremely useful. It's simple to get people to sign up.
Allows the managers and other executives to add permission and access controls wherever necessary, thus maintaining the company's confidential documents' integrity.
Cons
Following are some shortcomings of Workmates:
The password requirements are a little difficult to remember, which is good for security, but customers often have many employees locked out of their accounts.
When clients make a mistake, it can be difficult for them to figure out how to fix it.
When compared to other employee management software, the software can be a little more costly.
Some clients have also faced an issue that forms and assignments are challenging to fill out. Forms can be a pain to work with at times. Other platforms aren't compatible with tasks. Some of the required fields aren't necessary.
Conclusion
Workmates is a powerful, user-friendly mobile app that helps you connect and interact with your employees, thus increasing the involvement of your staff. Workmates have an intuitive, effective, and user-friendly dashboard, thus increasing the comfort and reducing the complexity of its users.
Workmates now provide you with an easy-to-use, versatile, and efficient staff satisfaction and acknowledgment application that integrates with your business applications. Workmates will help you increase revenue, develop a supportive community, cultivate a happy workforce, lower turnover, and ultimately boost financial results.