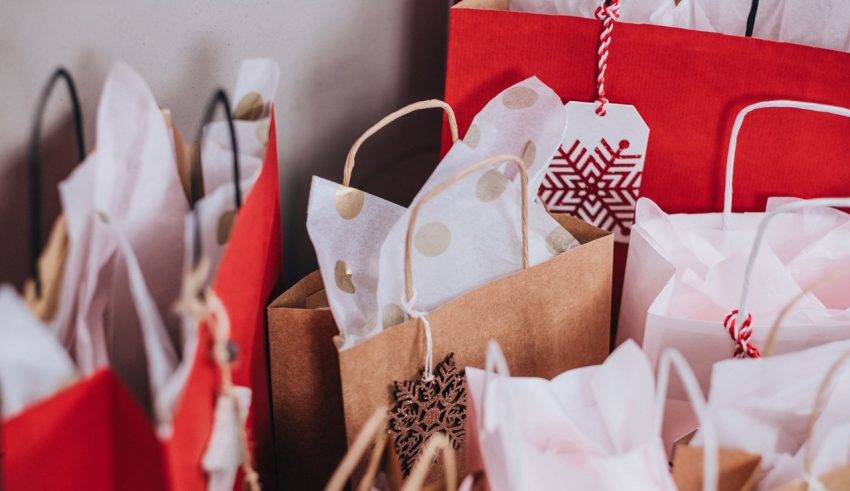 There was a time when shopping for apparels, accessories and outfits was a mandatory get-out-of-the-house task. Yes, shopping in the flesh can be a lot of fun, but it is not quite necessary in today's day and age. You can make it land on your doorstep with the comfort of a click, and us millennials should be thankful that we have that luxury.
Speaking of millennials and fashion, affordable and stylish clothing becomes a priority, and that's where Shein comes in. Started in 2008 in New Jersey, USA, Shein is an online shopping portal that spread its charm almost worldwide. The fashion-forward online giant boasts of its vast clothing options for teens and young women who want to be classy and effortlessly stylish while saving their wallets.
So, whether you want bodysuits, chic flats, or a boho sundress, Shein is the perfect solution for you. However, these are the most effective alternatives to this amazing website.
Zaful
Zaful is a super trendy and youthful fashion website which works perfectly as an alternative to Shein. In this site, you will find attractive offers and discounst for new as well as existing users. Be it men's or women's fashion, Zaful has the answer for all categories. Get everything you need under one roof and one link.
The clothes available here are bright, stylish, on trend and globally appealing; all this at very reasonable prices. You can stock up your wardrobe in as less as $9. Apart from regular apparel, you will find activewear, sportswear, and accessories here. In the accessories category, there are hair accessories, belts, tech accessories, footwear, hats and scarves, home décor items, etc.
---
Rose Gal
Rose Gal is the perfect destination to buy plus size clothes for the fashionista in you. If you are worried about the fitting or look of a dress, this website will put all your fears to rest. Apart from plus size clothing, they have men's and women's fashion and accessories to boot. Their line of swimwear is also vast and universally appealing.
Rose Gal also sells shoes and purses for every size. The accessories found here include sunglasses, watches, rings, jewelry, make up brushes and many more things. You will also find home accessories, decorative items and even some furniture here. They also carry a kids' and maternity line, so you can get your whole family's fashion needs covered on this website.
---
Dresslily
Dresslily is the destination for you if you want great fashion choices at really low prices. They offer up to 70% discount on selected products, as well as additional offers for new users. Their Clearance and End of Seasons sales are also great opportunities to stock up your wardrobe with less burden on your pockets.
From gothic to girly, Dresslily covers every mood and has clothes for every size. Apart from the wide selection in women's wear, you will get a great range of items in men's wear as well. They also have a swimwear and activewear line for the fitness freak in you. Get apparel, accessories, shoes, bags, jewelry, home accessories, and even wigs on this website. From wall tapestries to kitchen tools, almost all your home and personal needs are covered here.
---
Chic Me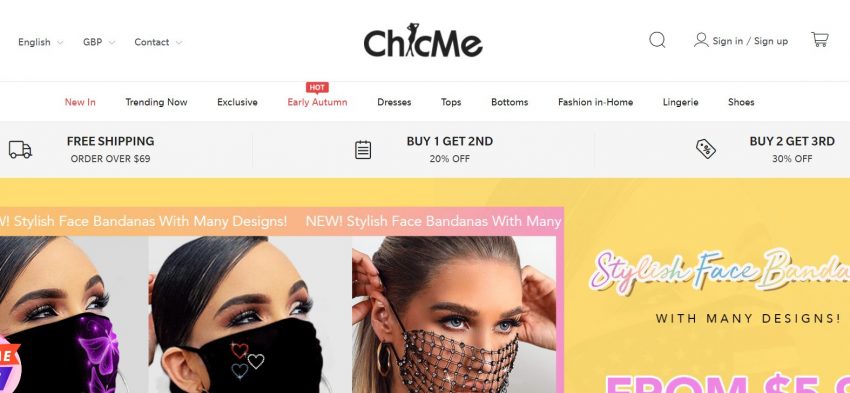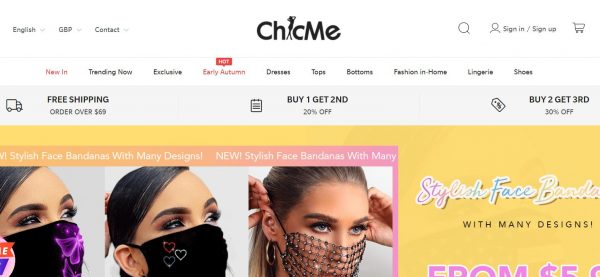 One alternative for cheap fashion can be Chic Me. It claims to be unique when it comes to the online shopping website which has a distinctive tone that puts focus on women's fashion.
The company has been active for 5 years and delivers to over 220 countries and regions all over the world. It has more than a hundred thousand styles and more than 500 styles are updated on a daily basis. Chic Me strives to be affordable and promises that the price of the products will be 50-70% less than locals.
---
Charlotte Russe
Charlotte Russe has had its own share of controversies but it is still a great destination to do some fashion exploration. Based in San Francisco, this website takes care of all your fashion needs, be it clothing or accessories. It also offers lots of discounts and offers for its users.
You can find great denims, dresses, shoes and accessories, along with plus size varieties of the coolest styles. Their footwear collection is to die for, and just like Shein, they target young adults who have lots of scope to experiment and take risks.
---
6 PM
This online shopping site is based in Nevada and offers a great alternative to Shein if you want to explore new options. They have sales, offers, and free shipping for orders above $50. You can grab some of the best deals on apparel and accessories on this website.
They have collections for every season and every new and emerging trend in the market. If you visit their website, you will be greeted with great prices and greater designs. They also hold clearance sales where you can grab more stuff with less money. 6 PM has collections for men, women and kids, so your whole family can get a makeover from the same place.
---
ASOS
ASOS is a UK based fashion retailer and website that serves customers in Europe and America. Both men and women can find the best fit for themselves on this website, which houses over 850 brands and designers. ASOS has its own brand as well, with the trendiest designs of the season.
This website has 10% student discounts, as well as easy returns and exchanges. Apart from the obvious dresses and accessories, ASOS offers a plus size collection, activewear, living and beauty products, face and body care products, etc. Visit their website for great discounts on fashion.
---
Old Navy
Old Navy is a subdivision of Gap Inc., based in the Mission Bay area of San Francisco. It is a clothing and accessories website that complements the Old Navy flagship stores located all over America. It was named after a café in Paris, called Od Navy Café.
You will get some of the best dresses and shoes on this website, giving a tough competition to Shein. This multinational retailer covers the fashion trends from all over the world. So, if you feel Shein has become all too familiar, check out new options on Old Navy.
---
Uniqlo
Uniqlo is a Japan based retailer and designer website that serves customers in Japan, US, and several other countries. Its name is an acronym for "unique clothing", which perfectly defines their brand value. You will find a great collection of unique fashion items on this website that you won't get anywhere else.
Apart from clothes for men and women, Uniqlo has options for girls, boys, kids, and babies. Their denim pieces and graphic tees are quite fashionable and quirky. From office wear to party attire, shop for every occasion on this website. You will also get offers, discounts and free shipping on orders above a certain amount.
---
Lulu & Sky
Lulu And Sky Reviews & Complaints
Lulu & Sky is yet another fashion online portal founded by former Dior country head, Kalyani Chawla and her friend Tina Antoniades. Chawla, who is also a garment exporter to esteemed brands like Mango, Jean-Paul Gautier, and Jimmy Choo, with her enriched experience with Dior wanted to bring off-the runway fashion to 15 – 50 year old Indian women with a price range that would not burn a hole in their pockets.
The ambitious Indian fashion website has designer pieces with eccentric and out-of-the-box patterns and designs. Anyone with a unique sense of fashion can hop onto this website and shop away for hours. This website has a plethora of bags and purses catering to every need in their very own style.
---
Make Me Chic
Make Me Chic is an ideal alternative to Shein as it has a great collection of trendy and super cool clothes. It is the perfect destination to give your wardrobe a makeover. You will get a wide selection of colorful and stylish dresses and other outfits in this website. It is especially suited for youngsters and shoppers on a budget.
This website has good discounts and deals for new and existing customers alike. From dresses to shoes and accessories, you will get everything here. There is also the option of free shipping when you order above a certain price range.
---
Club Factory
Based in China, Club Factory serves customers from all over the world and takes care of their daily fashion needs. From personal fashion to home décor items, Club Factory brings the best of everything at highly discounted prices. It was set up in 2014 and is known for its great prices and varied options.
Like Shein, almost all of its products are sourced from China and available at very low prices. You can opt for cash on delivery, free exchanges and returns on buying from this website. They have products for teenagers, youngsters and mature dressers, along with electronics, purses, sports and fitness products, etc.
---
Koovs
Koovs Reviews & Complaints
You've definitely heard of this one – Koovs started selling fashion in 2012, and has been on a roll ever since. It is a fan-favourite and a highly recommended website because of its economical and one-of-a-kind collection. It is one of the most affordable fashion portal with high-end products. Koovshas a fabulous collection of denim products which has been the highlight of their quickly-growing company.
Collaborations with industry-giants has catapulted this website into a new dimension. Making Instagram one of its most important marketing strategies, it has become a widespread online sensation. KoovsXYou is a collaboration that Koovs started with its customers, where it posts pictures of their customers wearing their products on their social media, making it mass-friendly.
---
StalkBuyLove
StalkBuyLove Reviews & Complaints
StalkBuyLove is another fashion portal which is also an Instagram giant. Co-founder and CEO Tushar Ahluwalia wanted to create the Zara of India when he envisioned SBL. StalkBuyLove is a portal with no shoes but it totally makes up for it with its amazing clothing collection. They claim to make outfits accessible within 10 days of conceptualization, which makes it easy for you to get an item of clothing you've never seen before.
They have fantastic dresses and a huge variety of tops. #BabesofSBL is a trend that the website started similar to Koovs, where they utilise their customer base to advertise their products. They have an amazing collection of jackets and blazers which are semi-formal or perfect for a casual outing as well. StalkBuyLove also provides extraordinarily wide plus size fashion, making it easier for plus size customers to find exactly what they want.
---
Vajor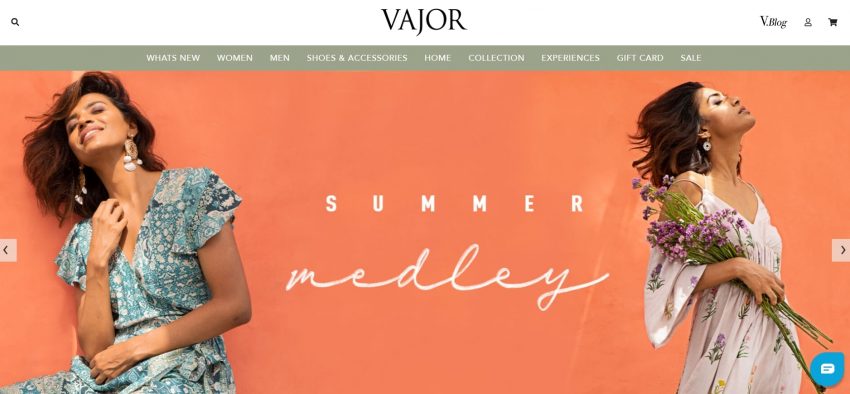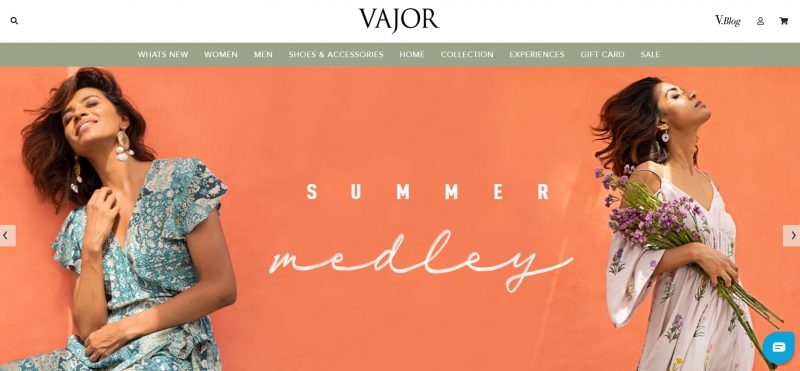 StalkBuyLove Reviews & Complaints
Vajor is a website and brand that values authenticity and originality to a great extent, thus providing a compilation of new and interesting choices. It has a lot of clothing with bold and creative patterns and designs, which can do a great deal to your wardrobe.
Founder Natasha AR Kumar wanted to bridge the gap between off-the-rack clothing and luxury couture, with the culmination of beautiful pieces of clothing that took the qualities of both extremes. Sustainability of clothing is one of their top priorities and therefore, they make sure their clothing and accessories are of top-notch quality.
---
Ajio
Ajio.com Reviews & Complaints
Ajio is an online fashion portal under Reliance Retail that was launched in 2016. With the brand philosophy "Doubt is Out', Ajio believes in promoting fearless fashion. It is more of a mainstream online fashion portal, with fashion for men, women and kids, women have a ton of options to choose from.
Along with western wear, there are numerous options in ethnic wear too. Ajio also works towards make gender-neutral attires to cater to niche sections of the crowd, which is quite the game-changer. With all of this, the price range is a little higher than all of other alternatives, but is still reasonable.
---
Limeroad
CEO and founder Suchi Mukherjee came up with Limeroad when she was flipping through a magazine and wanted to buy a necklace that was only available in a small shop she couldn't locate.
That inspired her to create a fun and entertaining social-commerce business, where various women put together an entire outfit, including the clothes, accessories, shoes, etc. into one place with a guide on where to buy all of it from. It is like a moodboard come together and it turns out to be the perfect website for your #OOTN. The variety is endless as you come across distinct pieces of clothing from different places land onto one page.
It also comes out as a way where women can earn small money. Despite this great concept, the outfits are extremely inexpensive.
---
Voonik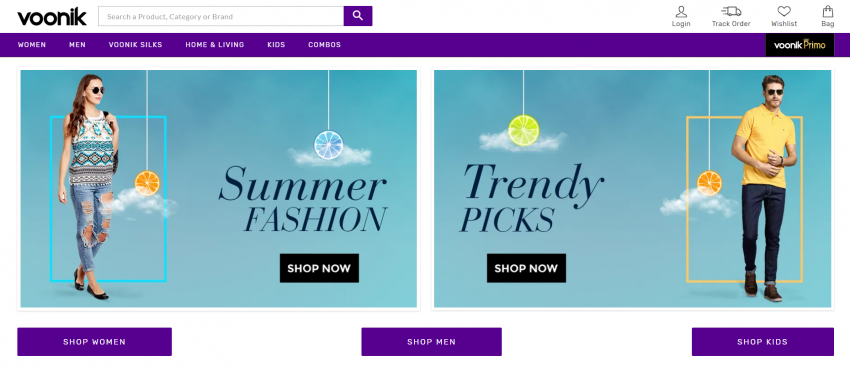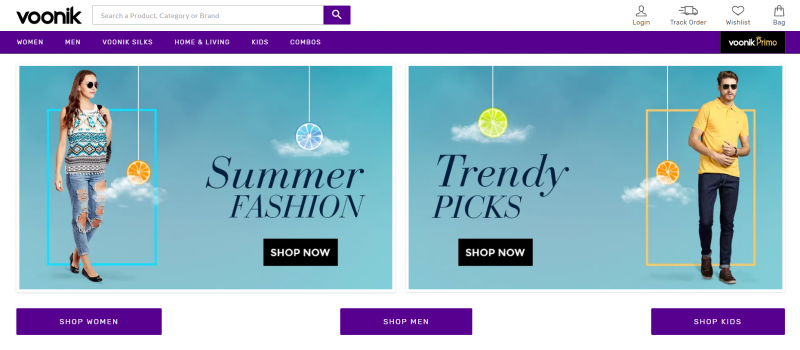 Voonik Reviews & Complaints
Voonik is a website similar to Limeroad where stylists handpick outfits from across webstores. CEO and founder Sujayath Ali aimed at making apparels more accessible to its customers. This is again, a mainstream fashion e-commerce portal with women's clothing at an all-time high.
Voonik is especially known for its ethnic wear collection like sarees and kurties. It also provides affordable and diverse collection of footwear mostly under Rs.800! They have very carefully arranged their partners with every section of fashion, which allows brand-obsessed customers to shop by brand. You can get all of it here, from elegant Indian wear to chic western wear.
---
20 Dresses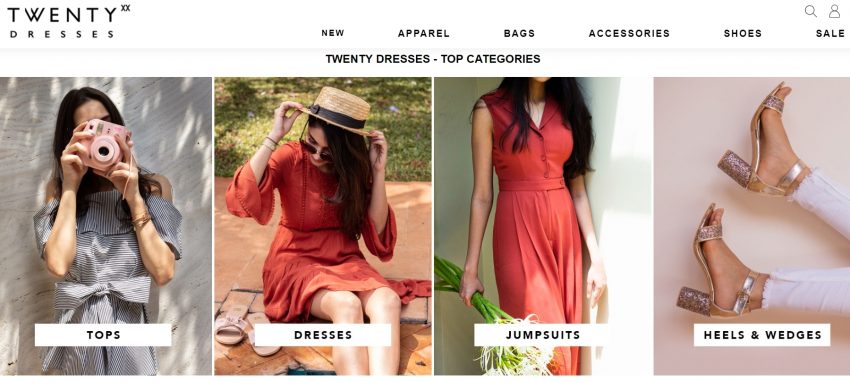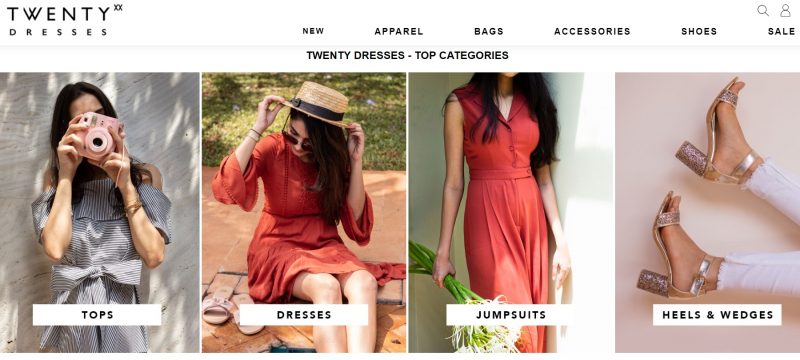 20 Dresses is a customer-friendly website which shows the customer items based on their requirements. It has a small quiz which helps it determine what the customer is looking for, making the shopping experience very personal. it prides itself on being a customer's personal stylist and has a beautiful collection to offer.
---
Romwe
Read Romwe Customer Reviews
With the tagline, 'From Runway to Realway', Romwe comes awfully close to Shein in terms of their style, price range and variety. Based in China, this website also started in 2008 with the objective to provide inexpensive and quality products.
The website offers various categories of clothing. Romwe also facilitates users to shop by date, just like Shein, along with their extremely fashionable designs. Diverse varieties of tops, bottoms and accessories, it's not long before this website easily becomes someone's favourite.
They also have splendid a collection of shoes, with various sandals, sneakers, boots and many more. You might also find the exact same one that you might have seen on Shein. You can also find bedding sets on this website. Romwe, is by far, the best alternative to Shein.
---
Femella


Femella is yet another fashion e-commerce website that caters to young women and providing fashionable clothes. The quantity of products might not be a lot but they have a very pretty collection to offer.
They have lookbooks which lets customers easily see styles that are in trend at the moment. Femella also has a popular Instagram store which helps them connect with the customer range they are looking for. It is a great website that provides clothing for casual daywear as well as partywear making it a one-stop shop.
---
With all of these options, it's only safe to say that you won't have a problem searching for fashionable clothes anymore. So, what are you waiting for? Take out some time, get onto these webstores and shop away!