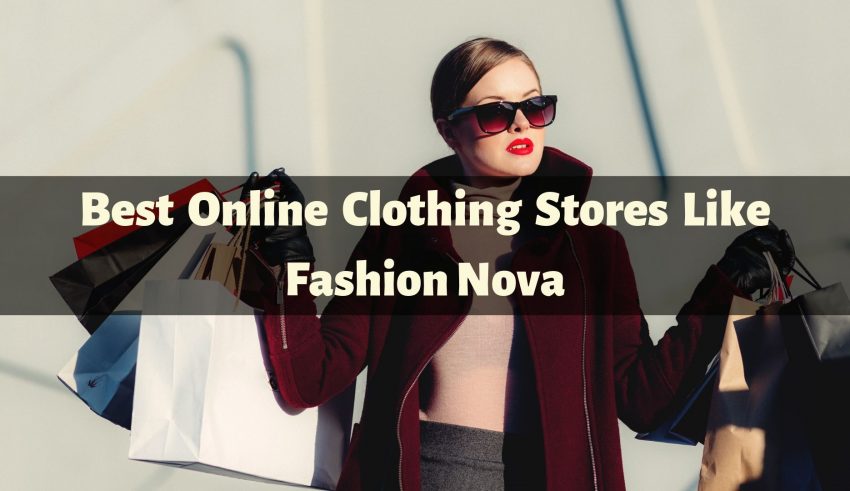 Fashion Nova is a part of the rapidly emerging trend of fast fashion, a trend of rapidly produced affordable clothes that include the latest trends from the runways. The brand is known for being widely used by social media influencer and celebrities alike.
It includes products ranging from clothing to shoes to swimwear to accessories. If brands like fashion nova are your go-to shopping destination,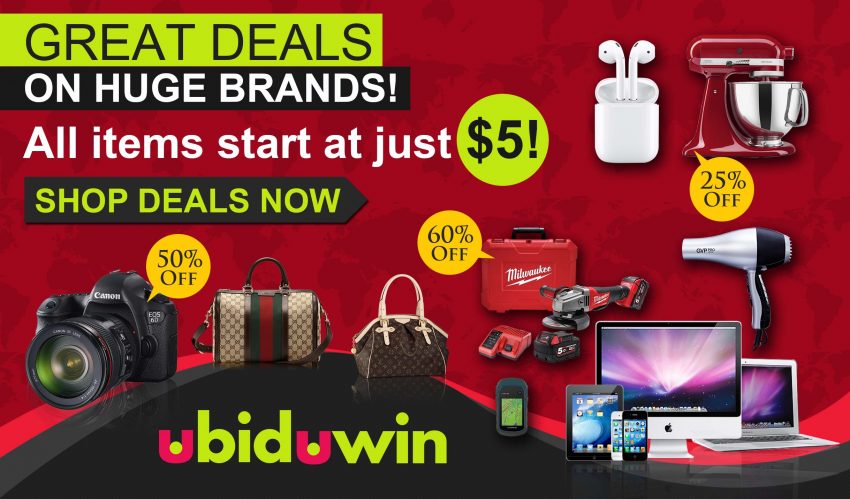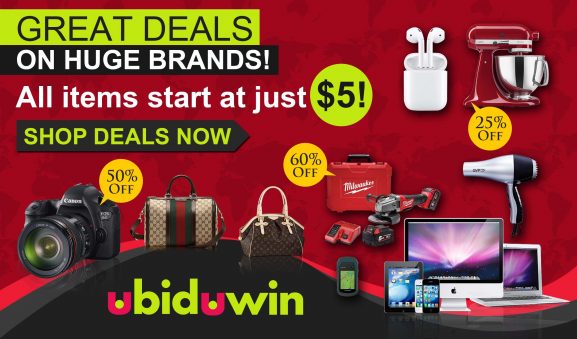 The list below would help you to expand your horizons into the fast fashion trend.
A close competitor of Shein, Romwe was established in the year 2010. It prides itself on being able to provide the latest fashion wear and high-quality service to the consumers. It offers menswear, female apparel, accessories, home, and lifestyle products. The items are categorized and are easily available and the customers have the ability to choose among thousands of different categories. Romwe not only delivers to almost all regions in the world, but it also has free standard shipping for the majority of the orders.
It ships from its warehouses located strategically in the US, Europe, and China for prompt and timely deliveries to different locations worldwide. It also claims to deliver ethically produced garments by making the suppliers sign a binding letter of agreement to heed to the highest production standards. The Romwe is also known for having its apparel collections which are similar in style and taste of Shein but at a lower cost.
---
Zaful is a China based online fast fashion retail shop that is owned by Wiseon E-commerce (Hong Kong) Ltd. It stocks women and menswear including clothes, accessories, active ear and swimwear. The brand claims to provide daring, exciting and edgy fashion apparel at cheap prices so that every individual has access to their style and identity. It provides the latest trends from the fashion world with quality product and exceptional customer service. Zaful ships worldwide to a vast majority of the countries including USA, UK, France, Germany, Australia, New Zealand, Spain, Canada, Portuga, India, South Africa etc.
It is renowned in the world of social media with many fashion influencers promoting or collaborating with the site. The latest collaboration of Zaful was with Tana Mongeau, a high-profile social media influencer who has over 3 million subscribers on YouTube. It further has a special student discount plan which comes with free shipping enabling school and college goers to try out the various trends at an even cheaper price.
---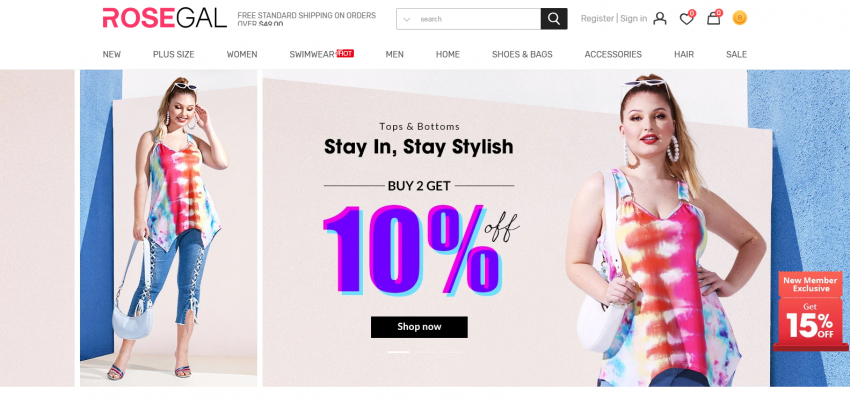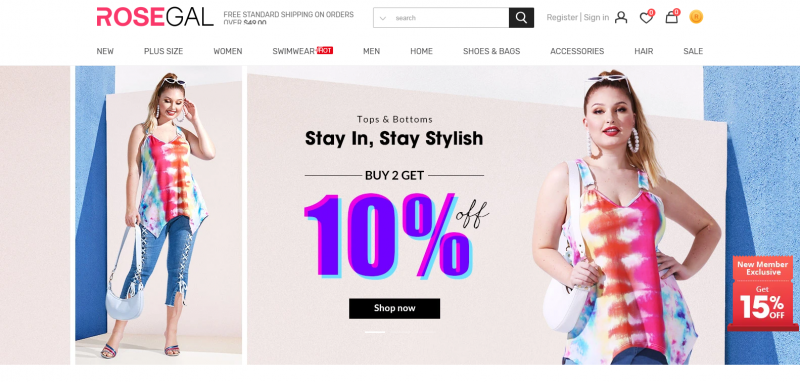 RoseGal, found at www.rosegal.com, is an online retail store that sells women's and men's fashion items including clothes , shoes, jewellery, accessories, hair and so on, with a little more emphasis on women's clothes of a plus size.
Rosegal's women's clothes go anywhere between $10 and $50, with at least $80 worth of the most expensive dresses. Women's wearables including bags, jewelry, hats and scarves are valued between $5 and $40 anywhere, even though you can collect stuff below the $5 mark and above $50, too. The best-selling shoes for women are priced at $20, give or take.
Men's clothes are also priced between $10 and $50, with $100 capped for the most expensive men's shirts. You never see men's sneakers selling for under $10 or more than $100. Men's accessories typically vary from $1 to $20 including hats, wallets, scarves, fedoras, and shoes. The men's pieces can also be purchased for as low as $5.
---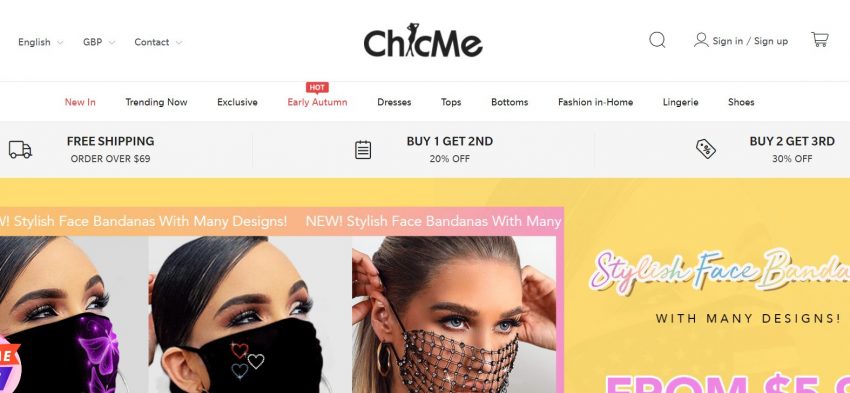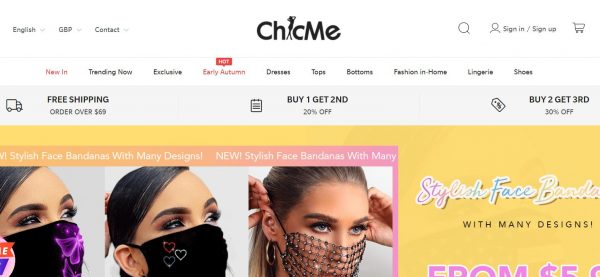 This place is a famous online shop if you choose to explore and purchase the newest trends in women's wear country. Pricing is affordable, payment choices are safe, and its slim return and refund policy guarantees the consistency of the goods. You'll find that in other online chics in my articles.
The electronic shopping site is available from all over the globe, and the goods are delivered all over the world. Is ChicMe genuinely legit? What do you think of the Chic Me clothes now? It is the brainchild of a group of people with decades of experience on e-commerce. The portal is a one-stop shop for all women as it combines the collection of a vast selection of products from clothing , cosmetics, bags , shoes, as well as maquillages and wellbeing.
Some of these products are also on sale, with offers and deals coming up from time to time as you visit the page, and it just depends on where you buy, because they change the rates every day.
---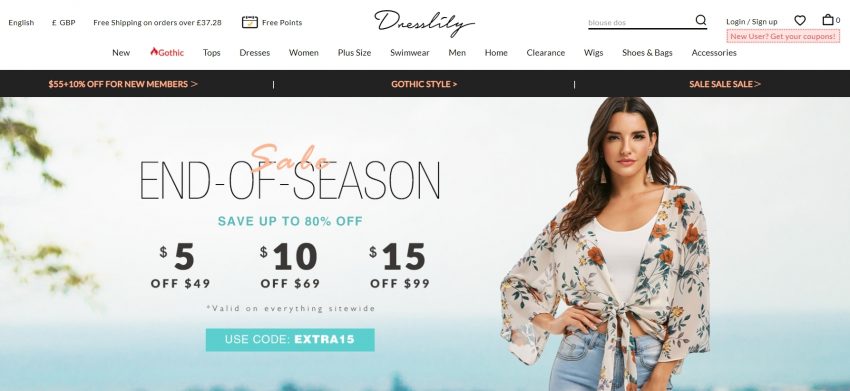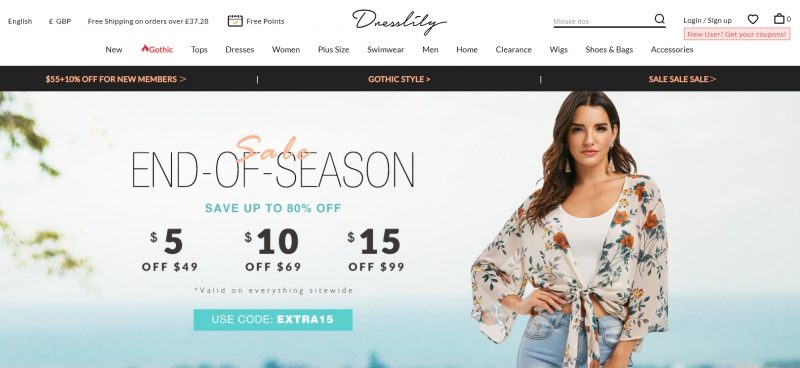 If you're always looking for the next piece of fashion forwards to add to your wardrobe, you've probably heard of DressLily before. DressLily offers an extensive collection of apparel , accessories, footwear, wigs and more through its online outlet, aimed at consumers looking for affordable fashion.
We need to examine exactly what this business is and what it offers to consumers before we can start to determine if there is a DressLily scam.  
Our DressLily analysis finds it to be, in reality, a real company that claims to be a "leading online fashion clothing and accessory store" that mainly caters to shoppers searching for a decent price on a range of fashion products.
It is important to note that the items sold on their website are not manufactured by DressLily. In reality, the organization notes that for their goods it "leverages an extensive network of professional and carefully screened manufacturers and distributors."
They are reselling goods it buys from other manufacturers. It is also a standard occurrence among many online apparel retailers in Asia.
---
AliExpress is a China-based online retail service, owned by the Chinese multinational conglomerate holding company, the Alibaba group. AliExpress was launched in 2010 as an e-commerce website which can be used by small business owners based in China and Singapore to offer their products to international buyers. Along with a variety of other items including electronics, beauty and lifestyle products, it is known for its huge selection of men and women's apparel and accessories.
Consumers can avail the site in multiple languages including English, Spanish, Dutch, French, Italian, German, Polish, Portuguese, and Russian. It also provides cheap, if not entirely free shipping on all the orders. The customer can choose the product and the shop and also can have a conversation with the seller regarding any doubts. It also allows easy money-back guarantee up to a few months on all products available.
---
Based in the UK, it is a company owned by Boohoo group, operating in the UK, Ireland, Australia US, and France. It was co-founded in 2012 by Umar Kamani and his brother Adam Kaman. Targeted mostly towards the female especially young adult consumers, the company sells a wide range of products starting from womenswear, footwear, accessories and beauty products. Their objective is to demystify style and provides worthwhile products to the consumer's doorstep at a reasonable price. It has been on the rise with its popularity since 2017 as its clothes are worn by few of the leading celebrities of this generation including Miley Cyrus, Rita Ora. Jessy J etc.
It is also known for its collaboration with the American reality television personality Kylie Jenner, American personality Olivia Culpo, American reality television personality, and businesswoman Kourtney Kardashian. The company also caters to plus size models by having sizes ranging from 6-28. Customers can sort clothes based on their size, shape, and their season's collection. It also provides worldwide shipping at a negligible shipping fee.
---
A huge UK-based online fashion retailer, Boohoo was founded in 2006 by two enterprising individuals. The company's executive chairman and an executive director, Mahmud Kamani and Carol Kane respectively, previously supplied high street chains such as Primark and New Look. The company is known for its own brand of clothing including both men's and women's wear with over 36,000 different products.
It also sells shoes and accessories. It has now gained recognition worldwide for having more than 9000 clothing lines and readily available international shipping with a minor shipping fee. It is generally aimed at women in between 16-25 and it often follows the trends from the runway. The site also includes varieties for plus-sized women.
Although the brand has collaborated with a lot of well-known celebrities in the past, it's recent collaboration with the model Jordyn Woods, has taken their sales to a new peak. One of the striking features of Boohoo is their regularly organized charity funds and previous donation over 36000 euro to Teenage Cancer Trust and other local initiatives.
---
A UK-based multi-channel retailer selling clothes, Missguided was founded in 2009 by Nitin Passi, the current owner of the multi-million-dollar brand. The brand was founded to provide more fashion choices to young women. Having humble origins in the UK, the company now has spread to be one of the most selling brands of USA, Australia, France, and Germany.
It specializes in clothes targeted at young female adults and their collections include products for every body type- tall, petite or plus size. Their site has a varied collection of female apparel, shoes, accessories, swimwear, lingerie, nightwear and beauty products. They have also launched an exclusive line of menswear brand called Mennace which can be delivered through their website.
It is now available in partnership with big American retail stores like ASOS and Nordstrom. Missguided's unique quality has attracted a lot of collaborations with well-known celebrities like singer Nicole Scherzinger, R&B singer Pia Mia, American model, and singer Amber Rose, Devin Brugman who collaborated to launch a new swimwear line, Pamela Anderson, etc. Missguided strictly believes in the power of women and has made it clear that women are the heart of every generation. So, they have taken it upon themselves to provide these strong-willed women with a helping hand to boost their confidence. Another new and unique of this company is that they provide a discount to students who are verified by in their official page.
---
In modern society, it is hard to go to any shopping area and not see a storefront of H&M. Hennes & Mauritz AB, aka H&M, is a Swedish multinational clothing-retail company founded in 1947. It is perhaps one of the top fast fashion brands in the world. It specializes in clothing for men, women, teenagers and children and accessories, including shoes, bags, jewellery. With a pocket-friendly budget and trends straight from runway every season, this clothing chain gets one of the highest online and on-site sales.  H&M operates across 62 countries and has established over 4,500 stores. It also has online sites in scores of countries including United States, Canada, Mexico, Australia, France, Germany, United Kingdom, Italy, Saudi Arabia, China, Japan, Singapore, South Africa etc.
The sites provide new variety every few weeks with low-cost shipping, making it hugely popular among teenagers and young adults. H&M is also known for its H&M's Conscious Exclusive, its environmentally-friendly capsule collections made out of sustainable or recycled materials. The brand also collaborates with well-renowned individuals including designer Karl Lagerfeld, Stella McCartney, Madonna, Roberto Cavalli, Zara Larsson, Beyoncé.
---
Windsorstore originated in 1937 as a lingerie and hosiery shop run by two brothers located in Southern California, USA. by 1957 it started making dresses for exclusive occasions. Currently, this brand has over 200 stores and an online site to its name. Windsorstore carries womenswear ranging from dresses, tops, bottoms, outerwear, swimwear, accessories etc.
It is also inclusive of plus-size apparel. The site also offers domestic shipping to the US and international shipping worldwide with a low cost. The motto of the brand is to lead a fashionable life, no matter if it's for occasions, a big night out or just every day.
---
Forever21
Forever 21 is a renowned fast-fashion retailer in the US. Founded in 1984 it has its headquarters located in Los Angeles, California. It mainly caters to young women but has also spread its collections to include men as well as girls. The brand stocks clothing, accessories, shoes and bags. One can also search according to their customized aesthetics Including contemporary, edgy, femme and boho. The prices are pocket-friendly since the main target of the stores are school and college women.
The collections change every week and are tailored according to the latest trend in the fashion world. The brand has its customized sites for all major countries worldwide.  One can also choose to buy from the main portal which offers domestic US shipping as well as international shipping at a cheap cost. The store carries special plus and curvy size clothes with their size ranging from international XS to 3X.
---
Miss Lola is a fast-fashion online retail shop based in Los Angeles California. It is known for its vast collections of shoes, clothing and accessories. Originally starting as a shoe boutique, the retail brand expanded to include its own range of apparel. With an easily navigable site and captivating all-year-round discounts, it is no doubt a preferable site for young adult women. The clothing options range from tops, bottoms, activewear, swimwear, sweaters and jackets all throughout the year.
It provides USA domestic shipping as well as international shipping at affordable prices, including special one day and two-day delivery options. The site also has its own range of plus size fashion apparel which comes in sizes 1X, 2X, and 3X. It is known for its quick introduction of the hottest trends from the runway both in its clothing as well as its footwear ranges.
---
Shein
Founded in October 2018 by Chris Xu with its headquarters located in California, USA, Shein is a rapidly emerging fast fashion e-commerce platform. It is widely known for its convenient and user-friendly B2C business style. The site specializes in women's apparel, but aside from that it also has an excellent collection of men's wears, kids' clothes, accessories like bags, shoes, and jewellery.
The company's aim to offer trendy and stylish clothes at an affordable price all around the world. Shein ships to over 220 countries and regions worldwide including the United States, Germany, France, Italy, Canada, Brazil, the Middle East, etc. This site is favoured by people who want to try the latest trend without willing to breath their bank. Their easy shipping policy and a large collection fit for any style make it possible for it to be actively endorsed and promoted by fashion influencers.
---
eBay was founded in 1995 in San Jose, California as part of a larger personal site. By 2019, it has established itself as an American multinational e-commerce corporation. The company works as a facilitator between consumer and large and small business hosted through its website. One can find a wide range of apparel from different sellers in the site. From vintage wear to latest trends, the number of different sellers gives one advantage to choose one that suits their taste and budget.
The shipping varies from a seller to seller, with the majority offering free shipping. The consumers can also choose between buying new or a used piece according to their preferences. It is the site to look into if you want ant limited edition or an exclusive collaboration as many individual consumers put up theirs on sale. eBay offers women's and menswear, kid's clothes, shoes, bags, jewellery as well as beauty products. It can also be used to buy brands that are not available in your specific region or country.
---
Mistressrocks, Long Angeles, is a fast fashion retail store that specializes in statement pieces with their signature touch.  It started as a small business but developed into a powerhouse store due to the popularity of their in-house designs. The brand gained its identity by creating designs influenced by iconic empowering women.
It provides items that enable its customers to go out with attitude and have fun. With their apparel categorized by their item category as well as specific look books, one can easily choose the item they are looking for. The brand produces items including dresses, tops, bottoms, bodysuits, two pieces, accessories, swimwear etc. The shipping cost is depended on the country but it provides international delivery to a majority of regions including the USA, UK, Australia, Europe etc. via UPS service. The items are packed and delivered in customized shop packets. The brand further has a widely popular Instagram that displays the outfits as seen on customers.
---
Princess Polly is a major Australian online retail store owned by the husband and wife duo, Eirin and Wez Bryett. It is known for offering high fashion trends at affordable prices. It has steadily grown to have as niche consumers not only in Australia but also overseas. The brand also launched it's in house brand called "Polly" in 2013.
The site stocks up categorize including dresses, tops, bottoms, Sets, swimwear, shoes and beauty. You can choose from over 40 different bands including local as well as world-renowned ones. Princess Polly proves free shipping to all international location on minimum order. With all-year-round discounts and a fast updating collection, it is steadily growing into a major retail store for the younger generation.
---
In the style: Based in the UK, in the style was launched in the year 2013. Catering to women, the brand aims to redefine 'fast fashion' and empower women to feel good about themselves and how they look. The site offers categories including Dresses, Tops, Bottoms, Jackets and sweaters, sets, swimwear, activewear, festival wear, nightwear and lingerie, accessories, shoes etc. It has an entire range of clothes that cater to plus-sized and curvy women. in the style has also collaborated on their clothing range with brands including fashion Influx, Lottie Tomlinson, Charlotte Crosby, Dani Dyer etc.
The store has a global shipping policy to the majority of regions in the world with the shipping starting from as little as £3.99. The brand has special student discounts of up to 25%. It claims to be a size-inclusive brand, with their collections ranging from size UK6 up to UK 28. The daily addition of new styles, easily international shipping and the ease of finding what you are looking for make it a popular site not only in the UK but also overseas.
---