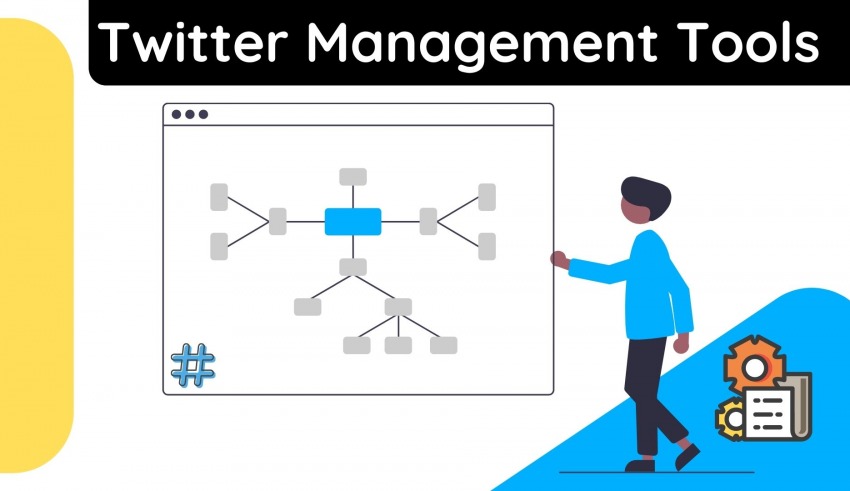 Twitter marketing creates a huge impact on the tweets that Twitter users make. Some of the Twitter marketing websites use special Twitter management tools. Twitter management tools cover multiple arenas of Twitter.
All the websites that offer engagement to the Twitter account get covered by the Twitter management tools. These tools from the best websites help with getting more retweets, tweet viewers and followers.
They also help with the hashtag search and keywords for the tweets. Once you take such services, the website is going to deal with all the excess works other than creating and uploading tweets. 
These tools deal with everything from scheduling tweets from before to suggesting the best hashtags. Twitter users can get the fame they seek from Twitter traffic.
The management tools make sure that the account never goes off the grid. Every client can get the analytics based on which they can determine timings of future posts. 
Here below is the list of 10 Best Twitter Management Tools: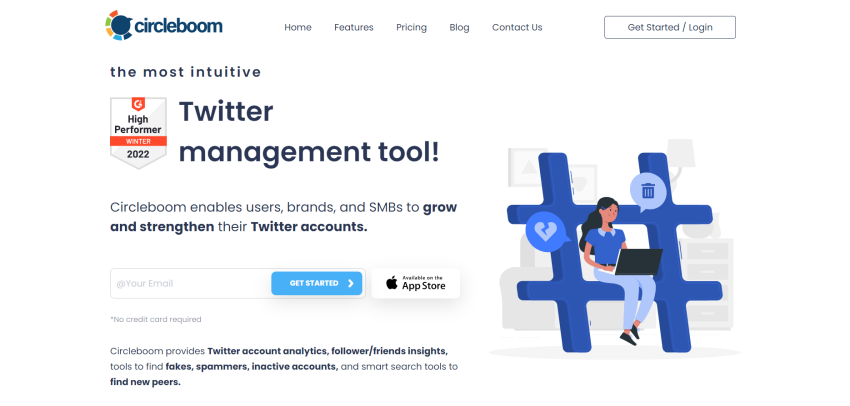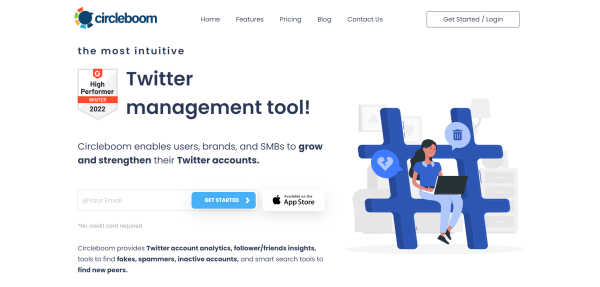 Our top pick is Circleboom Twitter. We strongly recommend it to all who want to use Twitter for personal and professional purposes. It is the safest and all-inclusive Twitter management tool available on the market. Circleboom helps users to get detailed Twitter insights about their followers and friends. You can easily find inactive, overactive, fake, spam, bot, verified, and those Twitter accounts who are not following back and if you wish, you can visit their profiles and unfollow them.
Or, you can create Twitter lists directly on Circleboom. The Smart Search tool on Circleboom enables you to search Twitter accounts by keywords and hashtags. You can detect who uses the targeted keywords and if you want you can filter down the searches by location, language, date, follower/following amount, and other criteria. This way you will get very sophisticated results.
You can have very detailed Twitter User Analytics for your Twitter account with Circleboom. You can get daily, weekly, monthly, and annual tweets statistics of your account. Also, you can track your follower growth with nice, detailed graphics. Additionally, you can get graphics on the gender and language distribution of your followers.
Circleboom analyzes your account in detail. If you want to know what your followers are interested in, you can find it on Circleboom. It looks at their tweets, and bios; searches for keywords and hashtags, and draws cloud-like graphics showing interest topics in your Twitter circle.
You know what to tweet but what about when to tweet? The best time to tweet feature analyzes every activity of your followers and gives a graphic showing hourly information about the volume of their activity. This is a special graphic for your account and followers. Then, you can post the most related content at the best time for your followers to get the most engagement.
Last but not least, you can also delete all your tweets, retweets, likes, replies, Twitter media, and Twitter archive on Circleboom. You can remove all of them and clean your Twitter account.
Circleboom Twitter's iOS app makes all these functions available on your mobile device.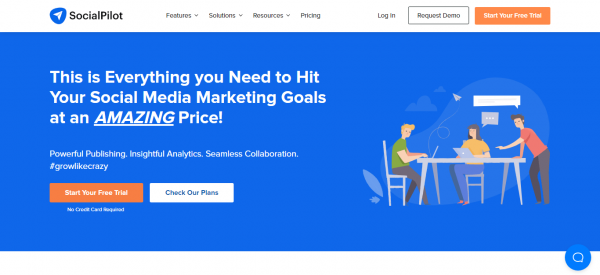 Among the top list of choices for social media management, SocialPilot definitely offers more than people pay. They can handle up to 25 social media accounts simultaneously. So, you can just give them the responsibility at $50 per month.
Getting constant posts at this value is a steal. They are going to deal with social media presence on every platform. If you are running a business, this will make it easier to manage clients. 
Once you are taking their facility of Twitter management tools, get the additional social media analytics from time to time. They have a great team of experts who help suggest posts and manually define the analytics.
A complete facility of customization is present to cater to personal needs. Even without sending your credentials, they effectively induce social media growth. But the best facility is answering messages in real-time. 
Social media growth requires the account to be active all the time. Giving out popular posts specially designed for a target audience in a scheduled manner keeps the account relevant.
You get to stay updated with results from analytics and real-time data of changes. They deal with deciding everything from best posts to keeping people engaged with the account through steady replies.
---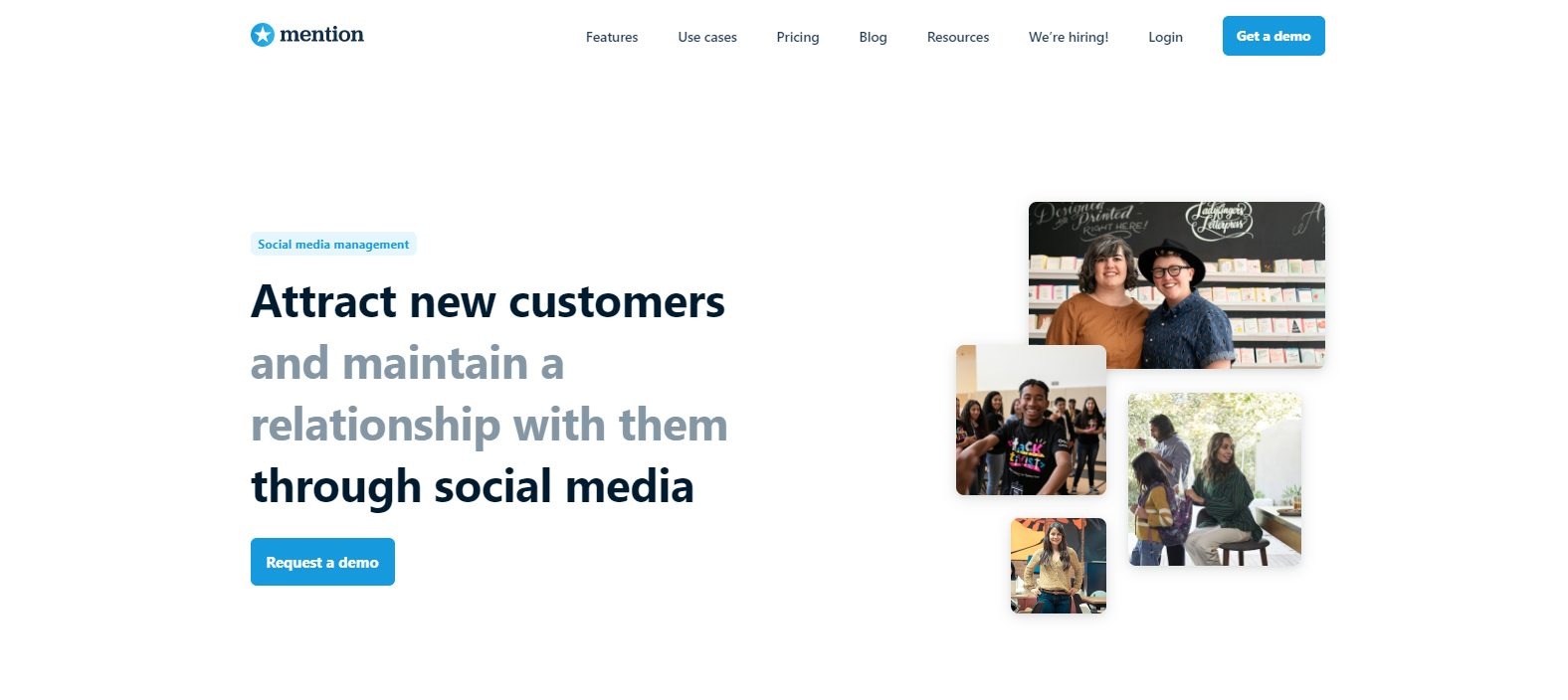 With Mention by your side, you are set to reach new heights with your social media. Their 14-day free trial will give you the experience that clearly shows your growth with their tools. Just give this a try and you will definitely take their paid plans.
They offer insights from the competitors and audience so that it becomes easier to curate definite posts for them. This way major companies amplify their brands and reach millions of social media users. 
Their special facilities include web monitoring and Twitter tracking. All the brands who want to expand their business through Twitter can enjoy live Twitter reports. Reports regarding the engagement of the audience on the tweets are going to reach the clients in real-time.
Mention has experts who analyze the work of competitors and monitor constant changes. This can give their clients an extra edge over their competitors. 
Taking the data will make things easy for the brand on Twitter. They can reach out to the target audience with ideal tweets through Twitter tracking.
All this facility comes at prices starting from only 24 euros and customized plans are there for teams and agencies. Every client can get the exposure that they deserve for their Twitter.
---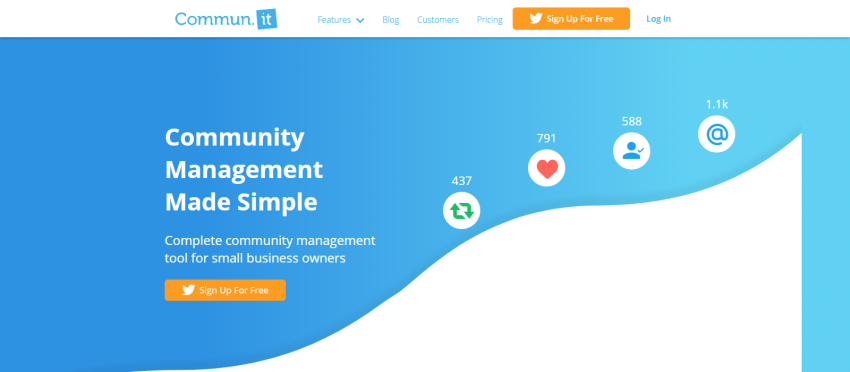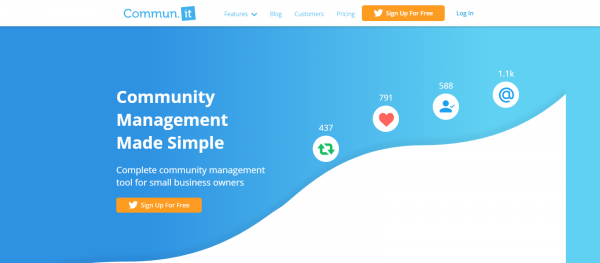 Begin on Commun.it with a 2-week free trial for a single social account. You can easily move on to the cheapest business plans for $24.99 per month. Commun.it offers the best facility for community management offering perfect leads for businesses.
Creating a community on Twitter requires some legit and interactive followers. Using the knowledge of experts from Commun.it, you can get that moment of fame on Twitter.
Commun.it gives proper data about the most activity time of followers. This helps to keep a constant track of the progress and you know the changes even if you are not constantly connected. Commun.it offers the chance of live interaction from client's accounts through Twitter management tools.
This reply behavior will always attract people to engage more. Analytics are constant so that posting relevant tweets becomes easier for the client. 
Using their data and weekly campaigns, the Twitter account is going to flourish. Businesses can get up to 14 team members just for their social growth.
You will see a growth of a community through custom groups and engagement. Using the expertise of team members, you will never miss out on great stuff.
---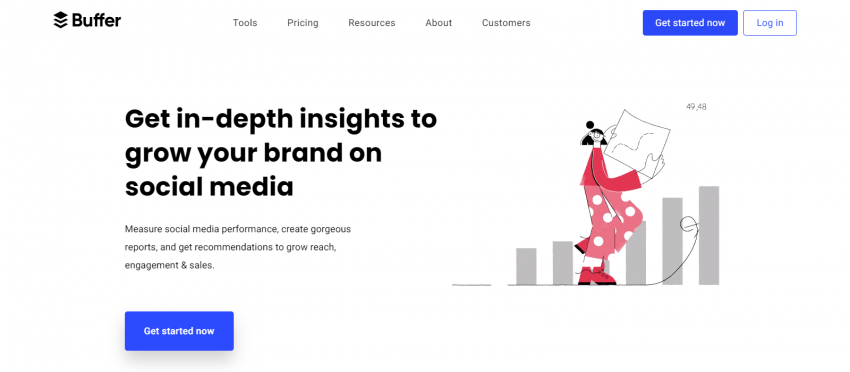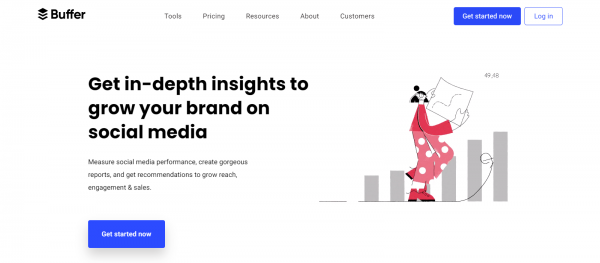 Buffer is one of the iconic and oldest social growth platforms. Serving more than 150,000 clients, they have the experience and expertise that you need. There is a free plan but an annual plan is presently worth $10 per month for a single social account. For $100 you get 12 months of support.
This is the smallest charge when it comes to teamwork. Get everything from Twitter hashtag suggestions to mentions from famous accounts at this cheap price. 
Experts go beyond analytics, reporting and insights where they introduced growth in engagement. Getting data for the performance of the posts to ideas about Twitter traffic all comes from the experts.
So, the data is highly specific and their recommendations work perfectly for the Twitter account. Business accounts make the most out of this as Twitter is one place for them to gain followers. 
Buffer offers a special calendar for the clients so that they can schedule the post and boost certain posts for promotion, Business account need this to gain followers and interested clients.
Clients of a buffer can enjoy their busy schedule while the workflow tools and support take care of their Twitter. Decoding the idea of giving business exposure has never been easier.
---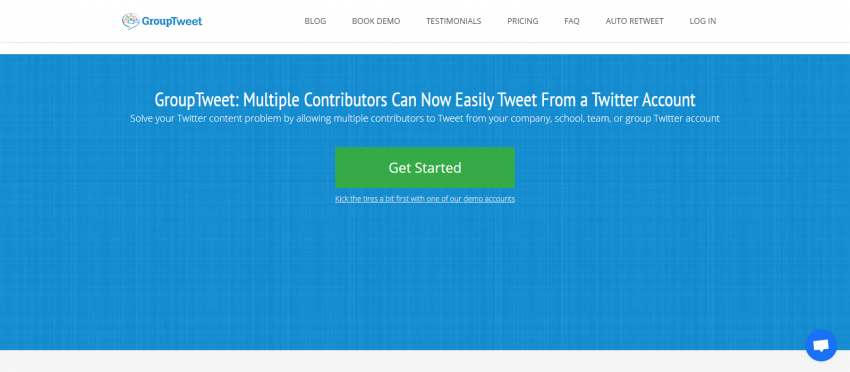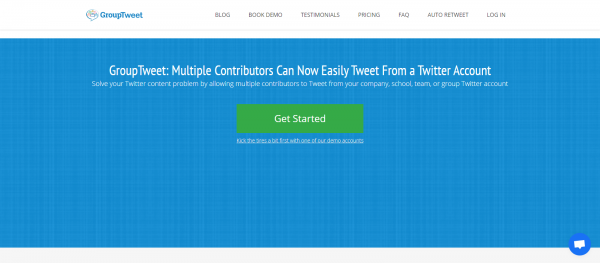 If you are having Twitter content scarcity or improper content reach, then move to GroupTweet. This is the simplest way you can manage a Twitter account.
Here they offer contributors who will send their tweets through your Twitter account. Getting help from Twitter management tools is a great idea to keep the account running. These contributors only resort to posting relevant tweets with trending hashtags.
This will keep up the hype for the account while it keeps gaining followers. Along with all these contributed tweets, an abundance of followers joins the account.
This keeps up the chances of a Twitter account getting the desired fame. A constant email or contact support is available just to contact the experts. Just at $39.99 per month, you can unlimited followers and contributors just from here. 
After you are buying plans from here, you do not need to worry about the Twitter account. Experts are going to work on it and by the time you check it out again thoroughly, you will see some unexpected changes. So, grab this opportunity and call them right now.
---


As soon as you open the website of TweetReach they give a free Twitter analytic report. You would never miss out all any post. They offer real-time reports and analytics for Twitter. Now you can measure the changing reach and engagement with time.
You can get better analytics from new topics and posts. Get a better understanding of content and the best hashtags for the content that gives better traffic. 
You get a detailed competitive statistical analysis for all aspects of Twitter. This helps the clients see the performance of their tweets and those of their competitors. You can get separate data for the organic engagement and those coming from TweetReach.
Clients can keep a track of the changes which their Twitter account experiences with time. TweetReach is filled with experts giving clients constant data from the changes in their accounts. 
These people check out the behavior of the competitors to suggest some changes. Shifting the time schedule for tweets and getting the hashtags with more traffic is important for business accounts.
As the account gets more exposure, so does the business. So, contact TweetReach immediately and decide on the cheap plans they have for engagement.
---


HootSuite offers the best starting facility of a 30-day trial plan. Just try out the plans for a month and decide the right one as they can customize it for you.
They offer five steps or features for success on Twitter. With the trust of more than 18 million, HootSuite is booming with ideas. Experts help people from their prior experience and amplify Twitter reach to an exponential growth stage. 
You get to schedule the post according to the highest activity hours and then engage with people. You can interact live with your audience with the help of HootSuite, bringing more people to the account.
Experts working on Twitter management tools take care of the advertisement of the account and boosting posts. HootSuite has people keeping up with the analysis and monitoring of the competitors. Clients find that their Twitter has gone better than their competitors with suggestions of HootSuite. 
Be aware of all new social trends and check the real-time improvements. As the Twitter account remains active with tweets and replies, more people tend to engage.
This traffic and follower growth is promising for businesses to get instant clients. HootSuite promotes Twitter accounts in the perfect direction.
---


Tweepi is a Twitter management platform which about two million people love and for the right reasons. This is an iconic social media marketing place that uses A.I. for its services.
Starting from setting up the Twitter account to getting the best hashtags for the tweets, artificial intelligence takes care of everything. So, your brand gets to be a part of the top search from users. 
You do not need to worry about anything as A.I. will send you all details of improvement with time. So just enjoy the services of Twitter management tools at Tweepi and noticed it by millions.
A.I. offers the fastest services which lead to better chances of brand endorsement. From checking every mention to monitoring the competitor post, the A.I. takes care of everything, 
All this is just for $24.99 per month platinum plan. If you take their hashtag and post suggestions seriously you will see thousands of followers in months.
Experience every step at the ease of keeping up with the brand. If you are busy with the work then just wait for their suggestions and schedule posts. The expert facility of A.I. will make your Twitter go viral instantly.
---
Also check: 15 Best Twitter Scheduling Tool for 2022 (Verified by Experts)
---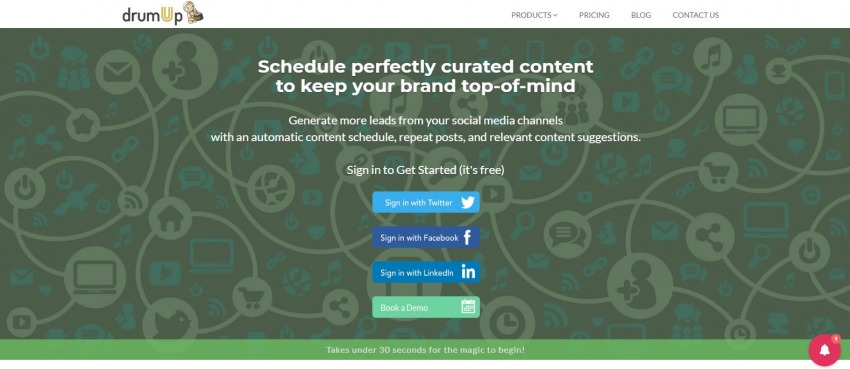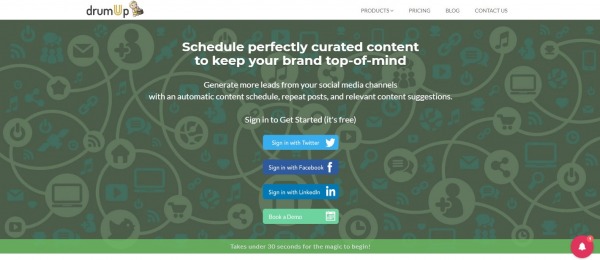 For great content and the best content management, go for DrumUp. They offer content marketing for many social platforms including Twitter. This exposure lets the content reach an interested audience.
Content scheduling repeated posts and related hashtags can reduce the social media activity time. You can enjoy all suggestions that will bring you the traffic that you are expecting. 
They offer both content curation and management for the future of the Twitter account. They suggest you some trending hashtags which are optimized for getting a major target audience.
The expert team deals with the analytics and sends you simple ideas to extend the exposure of the account. So, keep pushing your limits on Twitter with all these suggested posts. Get all these features in the plans starting with $15 per month only. 
Staying active on Twitter has never been better. They take care of all the Twitter management at the cheapest prices. DrumUp has a special package for the complete package where they take care of posting, connecting different media links together.
These packages look best for bigger businesses as the results are the fastest as they want them. DrumUp makes sure that even after taking their plans the account stays relevant.
---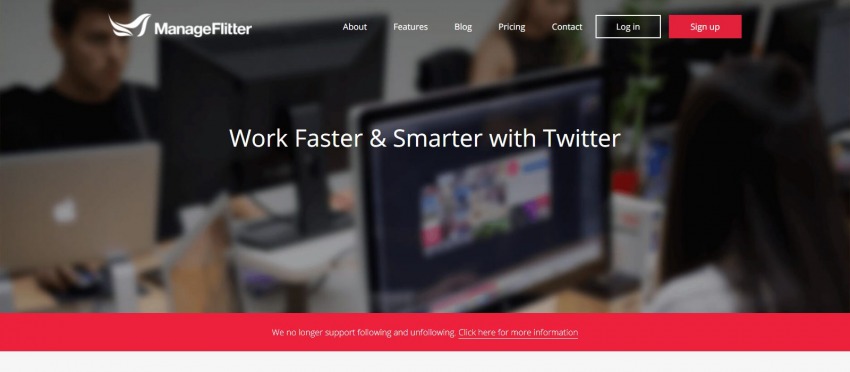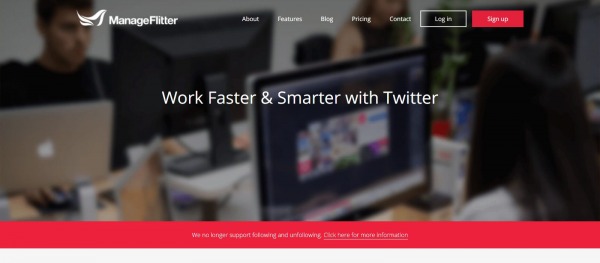 Keep a constant track and work smarter on Twitter through ManageFlitter. Business and personal accounts taking help from ManageFlitter have found their Twitter management simpler.
Businesses need simple measures to improve their social accounts. Thus, the three-step solution of ManageFlitter Twitter management tools works perfectly. With their plans, users can manage multiple accounts simultaneously to get complete exposure. 
You get steady analytics of all the Twitter accounts from here. The experts are transparent about the growth they offer as you never miss out on detail when it comes to your Twitter traffic and followers.
All real engagement, follower growth is part of the analytics. But the best part is staying connected even while off social media. They deal with your post scheduling so that you can just create relevant tweets for future posts. 
As many statistics show that constantly active accounts get more traffic. So, tweet scheduling and replies to followers keep the account active. Such extensive activity comes at the price of $49 per month.
Boosting the tweets and making them optimized for more searches is a piece of cake for these experts. They always keep on helping clients with the Twitter activity of accounts in every possible manner.
---
Conclusion
These social media management tools are efficient and trustworthy for businesses to excel in social media. New businesses focus on their ideas and work, which is why social media gets neglected.
But the same social media is bound will give the business more clients. Businesses neglecting such a great target audience will pay a huge price in the future.
Businesses can take the help of these twitter management tools to focus on their business while their social media grows. Every tweet on Twitter is important for building the follower base and getting more likes.