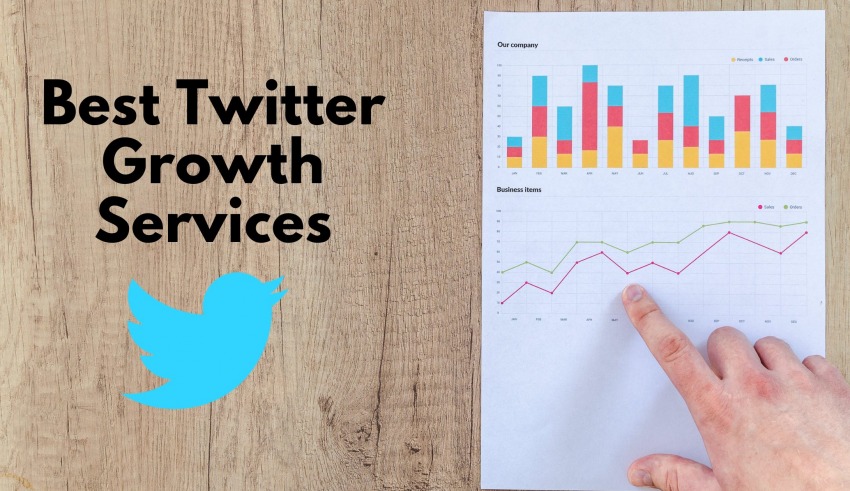 Twitter is a major social media platform. If you can use it right you can give your brand a lot of exposure and generate a bunch of leads. But it is difficult to grow on Twitter as the competition is quite high and hundreds of thousands of tweets pour in every day. Twitter growth services can help you grow faster by helping you automating a bunch of tasks and helping you gain attention from targeted users. If you are looking for the best Twitter growth services then this list is for you.
We go through 10 different growth service tools for Twitter that can help you boost your presence on the platform.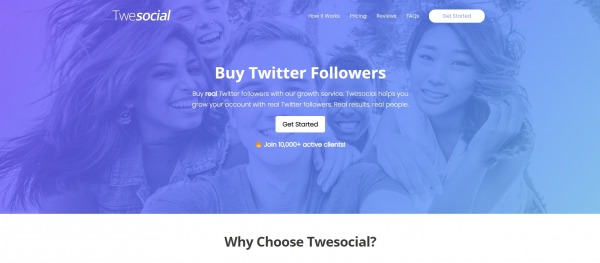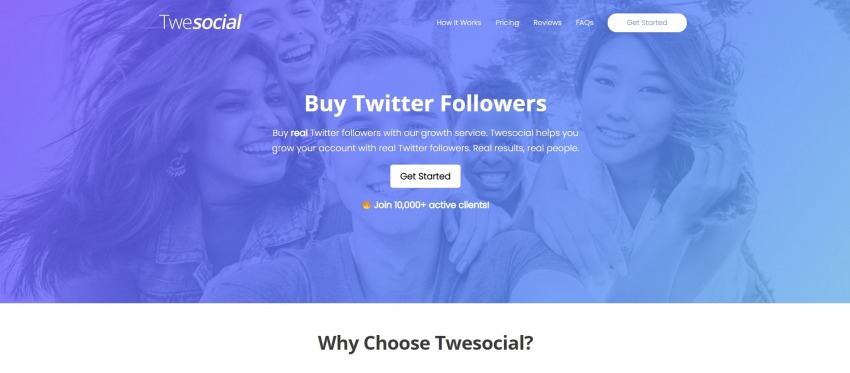 One of the popular growth services that exist for Twitter is Twesocial. You want your growth service provider to help you gain real Twitter followers. You want them to provide you with real people and results that are genuine.
Twesocial promises to do all that. It has more than 10k clients all over the world who use its services to gain real Twitter followers that can bring them real results. The company will help you put your Twitter profile under the spotlight.
It will help you naturally attract followers to your profile. You will not have to buy fake followers because you will get spammed with bots that you don't want. The Twitter followers that you will get on Twesocial will be real and organic.
You will not face any risk. The company provides advanced targeting features to its clients. What this does is, allows the client to fine-tune their targeting. You will be able to reach users based on certain topics and get more exposure.
It will help you attract relevant followers to your profile. Also, you don't have to do everything manually. The company will provide an account manager to you who will handle everything when it comes to interactions via your Twitter account to get more exposure, leading to more growth.
There are two packages that twesocial provides its clients. You can buy the regular package which costs $15 per week or go for the Pro package which costs $25 per week. Pro gives you maximum growth speed and advanced targeting options. You can cancel at any time you want.
---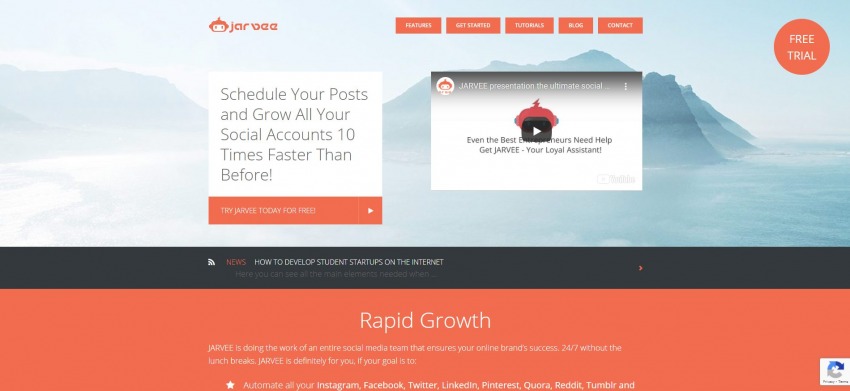 One of the growth service tools that can help you fast-track your growth on social media platforms is an automation tool. Automation tools help automate a bunch of tasks so that you can focus on the creative side of things.
Jarvee is an automation tool. The team behind this tool has years of experience when it comes to social media platforms and knows what clients need to grow on these platforms. Social media platforms are continuously evolving and you need to ensure that you still have control over your workflow.
Jarvee helps you with this. The software is based on windows. It works best on Windows 7 or higher. Jarvee is not limited to providing support for one or two social media platforms. It supports the automation of over 7 popular and major social media channels.
You can get benefits of Jarvee by using it for Facebook, Instagram, YouTube, Twitter, Pinterest, Linked In, and Tumblr. Features of Jarvee include post scheduling, Twitter automation, Facebook automation, etc. Jarvee is also one of the most reputed Instagram Automation Tools.
On Twitter, it allows you to perform auto-follow, follow back and unfollow. It can help you automatically favorite certain tweets or retweet them. It helps with tweets from RSS and Twitter mentions as well.
There are three pricing plans that you can choose from Viz. Starter, Regular and Professional. The starter one gives you support for 10 social accounts while the regular and professional one supports 30 and 70 social accounts etc. The monthly pricing of the three plans is $29.95, $49.95, and $69.95 respectively. You do get a free trial of 5 days.
---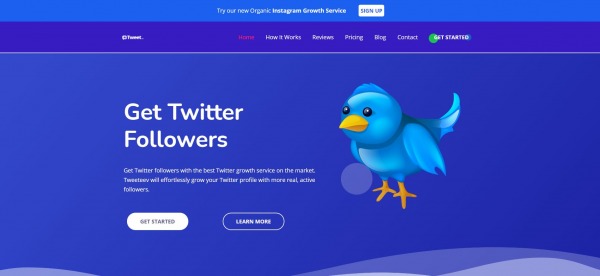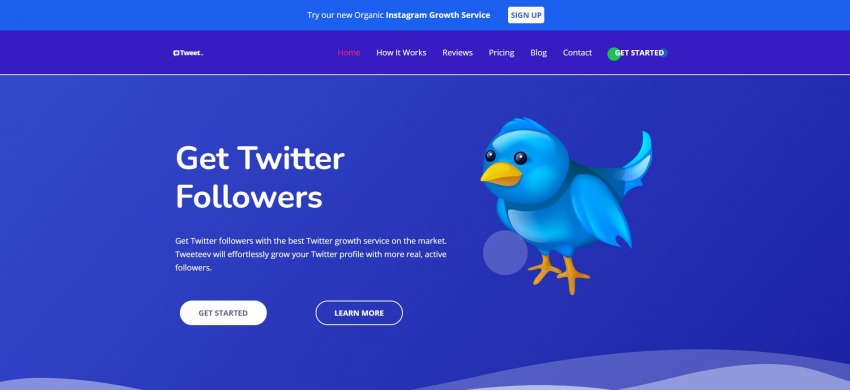 Tweeteev is a company that has been around for some time now. It provides growth services for Twitter users looking to boost their presence and experience growth on the platform. When you work with Tweeteev it will feel as if you are growing your Twitter profile effortlessly by gaining more Twitter followers that are not fake but rather real and active.
Now, obviously, you can't grow on Twitter by gaining random followers who have nothing to do with your profile. It will just be a vanity at that point. You need to gain followers that are relevant to your profile. Tweeteev ensures that the right audience is targeted and interacted with to gain your profile more exposure.
This will help you get attention from users who will be actually interested in your tweets. Also, the company ensures that you get the best quality for your money. They will not spam you with fake accounts or bots. Every follower will be real and gained organically.
Now, all this stuff of increasing your reach by interacting with targeted profiles will be done by the company on your behalf while you focus on creating good-quality tweets. The company also promises that your account will not be banned as its services are completely safe and no one has been banned by Twitter for using the services that Tweeteev provides.
The cheaper package for Tweeteev costs $15 per week while the costlier package is priced at $25 per week. If you choose the latter one then you get double the growth. Visit the website for more info on the packages.
---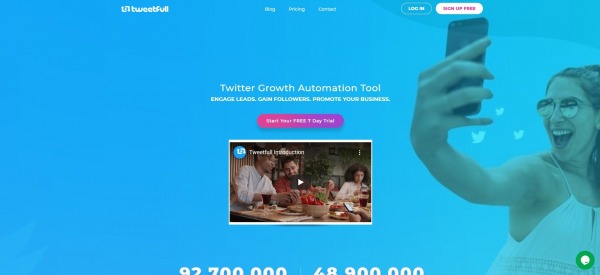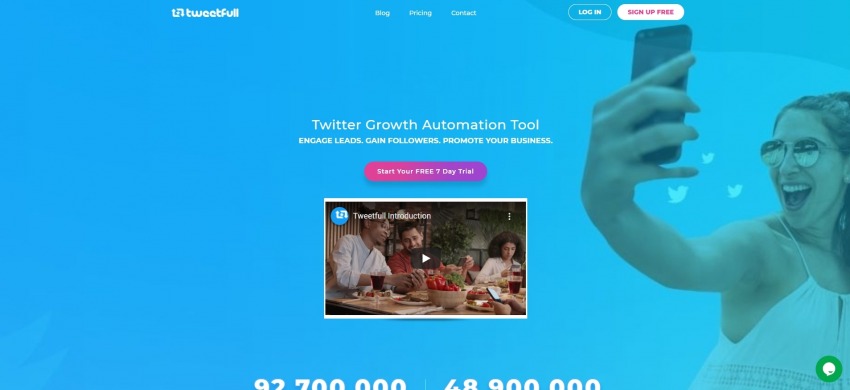 Another automation tool to help you out with your Twitter promotion is TweetFull. This is a tool that can help you with a bunch of tasks that can help with your Twitter growth. The tool has been made to ensure that your profile can engage with leads, gain followers and give your business or brand the promotion they deserve.
You can target the correct people using this tool. Just provide the relevant keywords or hashtags about your industry and the tool will work its magic. It will use an AI-based algorithm to search for the right users that are interested in products or services similar to the ones that you are promoting.
Once these relevant Twitter users or profiles have been found the tool will start interacting with them to ensure that your profile is getting more exposure and reach. You do not have to do anything in this part. The tool will take care of automatically liking or retweeting the tweets from this profile.
It is also able to automatically follow or unfollow targeted profiles on the behalf of your Twitter profile. Now, what's the benefit of this? Well, when these users see that your profile is linking or retweeting their tweets they will be curious to check out your profile.
If you have created an optimal profile and have good-quality tweets then they may end up engaging with your tweets as well or they may follow your profile. The company claims to have provided this tool to over 90k businesses all over the world and these businesses have been able to speed up their growth on Twitter. The starting package costs $12 per month. You do get a 7-day free trial.
---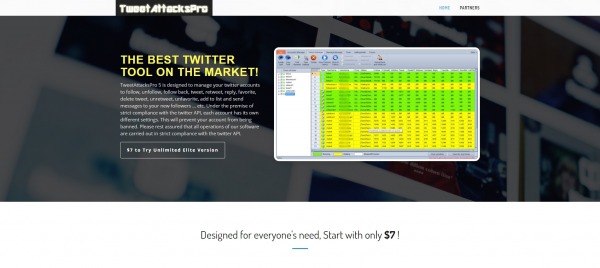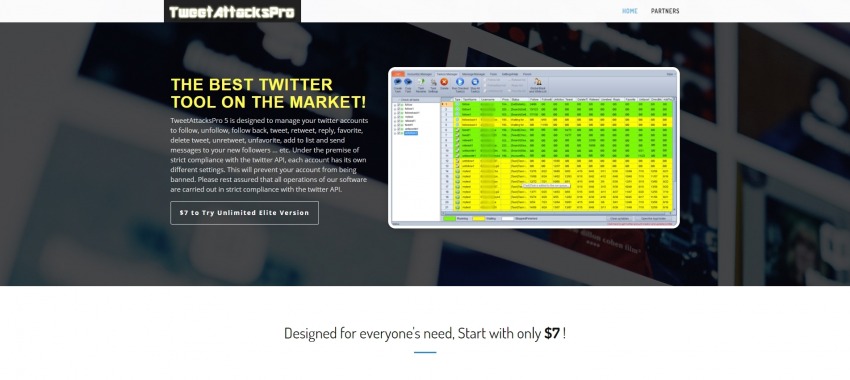 Tweet Attacks Pro might put you off as the name of the tool seems to have a negative connotation. But it is not like that. This is a powerful tool that you can use for Twitter that lets you automate a bunch of tasks to help with your growth.
There are four versions of the Tweet Attacks Pro. The One Account Pro Version is meant for Twitter users who only want to manage one of their Twitter accounts via this tool. Then there is the unlimited pro version that allows you to manage all your Twitter accounts.
You will get to perform a bunch of actions like unfollowing, following, replying, tweeting, etc. The Unlimited Elite Version is the second most powerful tool by the company. It will allow you to manage all your Twitter accounts as well as ensure that you can take advantage of over 99% of the Twitter functions.
This tool will be updated regularly to include the latest functions of Twitter as applicable. The most powerful version of the Tweet Attacks Pro is the Unlimited Ultimate Edition. In addition to getting all the benefits of the tool and more, you also get the functionality to create a bunch of Twitter accounts in a matter of minutes.
Twitter Attacks Pro is a powerful tool to unfollow, follow, retweet, like, reply, create an account, delete tweets, favorites, unfavourite, and perform more actions. The company promises that all the API and software used are in compliance with Twitter's terms of service and thus, you will not face the risk of getting banned.
---
HypeGrowth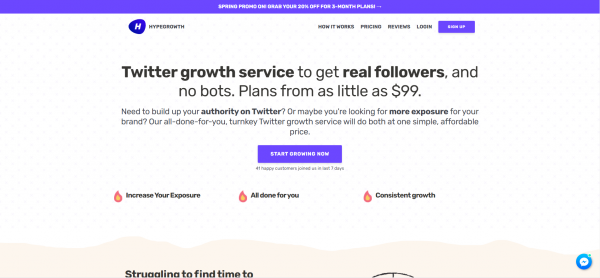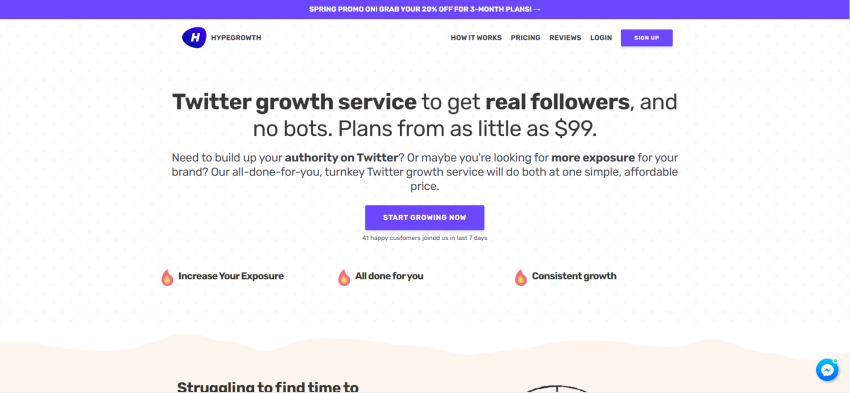 HypeGrowth is a growth service provider that promises to help you boost your authority on Twitter. You don't have to buy bots and fake followers which add no real value to your Twitter profile. Using HypeGrowth you can easily get more exposure and widen your reach to gain real followers organically.
If you want to grow on Twitter and get a good following for your brand it will take a lot of time and you will have to dedicate a lot of time to doing work to ensure that you get a lot of exposure and attract users to follow your profile.
If you can somehow hand over some of the promotional tasks to a tool or a growth service provider then you can utilize this time to spend time with your families or create more content for your account or modify your strategy.
HypeGrowth claims that its services are affordable and you will not have to worry about doing mundane tasks of following, unfollowing, retweeting, liking, etc. to get more exposure as the company will provide an account manager who will do this stuff for you.
This makes the entire process of using the services of HypeGrowth very simple. You can buy it quickly and get started with it instantly. You do not have to learn a bunch of things before using it. In just 1 to 2 days you will start seeing some results from this growth service. The price of the service is $99 per month. But if you decide to purchase a 3-month Subscription then it will cost you $79 per month.
---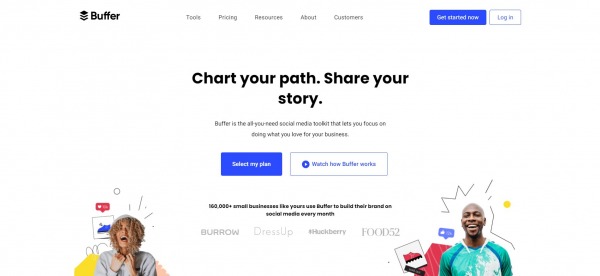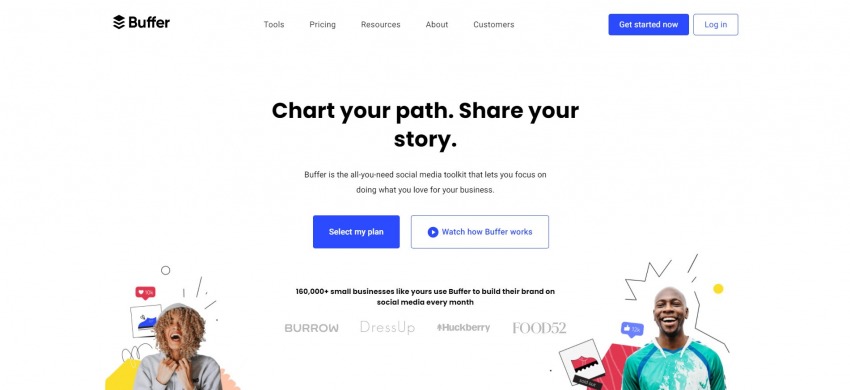 The main reason why businesses or brands or people use automation tools is to ensure that they are not wasting doing mundane or routine tasks that can be automated. You can use the time gained as a result of using these tools to focus on other aspects of improving your business, product, or service or spend time with your loved ones. Buffer intends to provide these benefits to its clients.
It is a toolkit that supports many major social media platforms allowing users to manage many social media accounts. The tool basically lets you loop through variable steps Viz. Analyze, Publish, Engage and Celebrate.
The analytics part of this tool helps you measure the performance of your social media promotional strategy. You will get an analytics report in just a few clicks using this tool. Using this report you can better optimize your strategy for social media promotion.
Buffer also has the feature to schedule posts. You can actually schedule multiple posts for different social media accounts and they will be posted on the respective social media platforms. This saves a bunch of time.
If you are feeling creative one day and want to create a lot of content then you can do so and schedule the posts for the next week or so. The tool also lets you interact and engage with your audience on social media.
You can quickly and easily reply to comments on your posts. You can search for relevant comments via the use of labels and hotkeys. Finally, you can keep a tab on your growth and track every bit of engagement, reach, etc. The starting package costs $5 per month if paid annually. You can use the free version as well to check out the tool.
---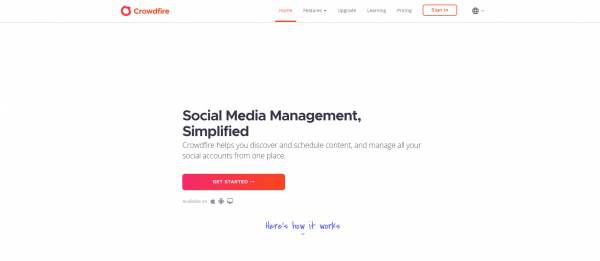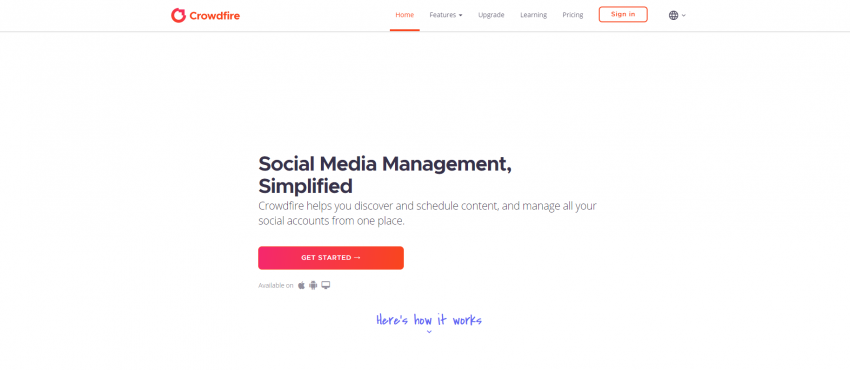 CrowdFire is a tool that can be used to manage a bunch of social media accounts. You are not limited to using this tool for one platform only. So, if you are using multiple platforms to create brand awareness and boost your online presence then you can check out CrowdFire.
The tool is meant to help you discover and schedule content. Using the CrowdFire tool you can discover different content based on certain topics that are relevant to your brand or profile. These can be images, videos, or articles.
Once you have found the right article for your profile you can share it to all your social media accounts using the CrowdFire tool. If you own a blog, website, or e-commerce store then you can publish updates from these platforms as well.
It will help your followers keep tabs on the latest updates regarding your website. The tool also lets you schedule content which will be published at a later date and time. This is quite helpful. To grow on Twitter or any social media for that matter you need to be active on the platform and ensure that you regularly post good-quality content.
But if you are busy trying to upload posts or if you feel less energetic some days then your posting schedule may suffer. So, if you create a bunch of content on good days you can schedule them accordingly without having to worry about uploading them yourself.
The tool also has features to help you with analytics and help track every mention of your brand or profile on social media. The starting package costs $7.48 per month and lets you handle 5 accounts. You also get a free package that can be used to try out the services of the site.
---


Another quite powerful social media growth tool to help you optimize your performance on various social media platforms is Hootsuite. You will be able to manage your complete repertoire of social media accounts and after using this tool you will be able to notice the difference that using this tool makes.
Hootsuite is probably one of the most popular social media growth tools used by employees of some of the top companies all around the world. People at over 800 of the Fortune 1000 companies trust Hootsuite.
The company understands what's important to grow on social media and ensures that the tool can provide effective results to the clients. The features of the tool include being able to share and schedule content, being able to engage with audiences by addressing messages and providing replies on time, monitor relevant trends, competitors, market, advertise to promote content and get more exposure and analyze the result of the promotion via all respective social media platforms.
The price starts at a cheap rate of €39 per month. You can link 10 social accounts and 1 user is supported.
Also, check Hootsuite Alternatives
---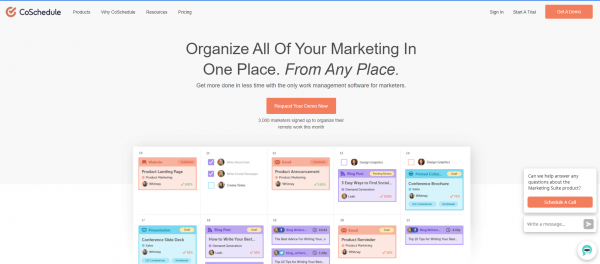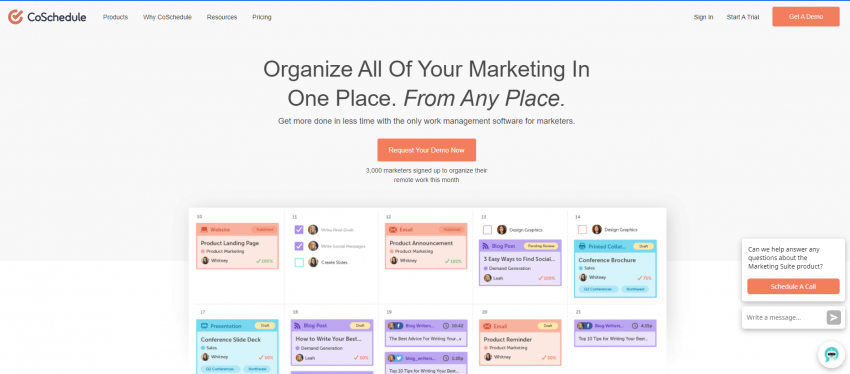 Using the Coschedule tool you will be able to organize your marketing in one place. The company provides two products for its clients Viz. The Marketing Calendar and The Marketing Suite. Though both of these products aim to help with your marketing we will take a look at the features of the first one since it has got features for social media platforms.
The Marketing Calendar lets you schedule your marketing and visualize it as well. You can easily do social publishing and automate various tasks. You can even share read-only views of the calendar.
Using Coschedule you will be able to integrate your blog and social media for better growth. You will get reports about various metrics like engagement, shares, likes, etc. So, do give this one some consideration as well.
We hope this list was useful to you. Twitter growth services generally cost more than normal social media services where you can directly buy likes, followers, etc. This is because the former gives you real organic growth by promoting your content on your behalf.
People who are following you are actually interested in what you put out. We hope you find the best Twitter growth service for your needs and boost your authority on Twitter.