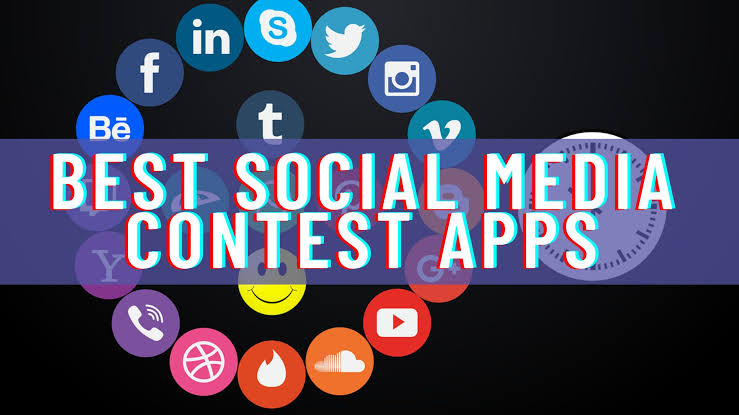 Among all the itty-bitty ways of marketing, we have now stumbled upon one generic conclusion. For the 21st century and millennials, social media is the new television, radio, newspaper, gaming, and telephone. We have limited our entire world in those small icons.
Be it sharing our memories or keeping in touch with someone from those memories, social media has been our all-time stop shop. Especially in the drastic times of coronavirus, social media has played a vital role in keeping all of us well connected and informed about what has been going on in different parts of the world.
For any commercial profile on social media, it is important to maintain a good feed. Unlike private accounts, a business profile cannot be left unattended. A commercial page needs to make sure they keep their audience engaged enough so that they do not lose followers.
Hence, engagement on a public profile is highly necessary. This is mainly done by organizing online quizzes, interactive polls, and giveaways. Having healthy conversations on your profiles and using various interactive story stickers on Instagram are also a good source of enriching the engagements on your profile.
Using effective ways of keeping your audience hooked to your profile will lead to a better brand image and also increase the number of potential customers. It will generate brand loyalty and help in boosting up your sales. Hosting various contests and giveaways is the best you can do to create brand awareness, increase your media followers, grow the traffic on your page, and much more.
That being said, to effectively utilize these organic tactics of social media growth, you will need some applications that can help you perform these jobs in a more professional way so as to make sure your profile stands out from that of your competitors.
Here are some of the best apps for social media contests: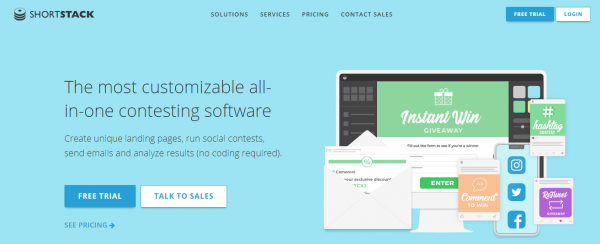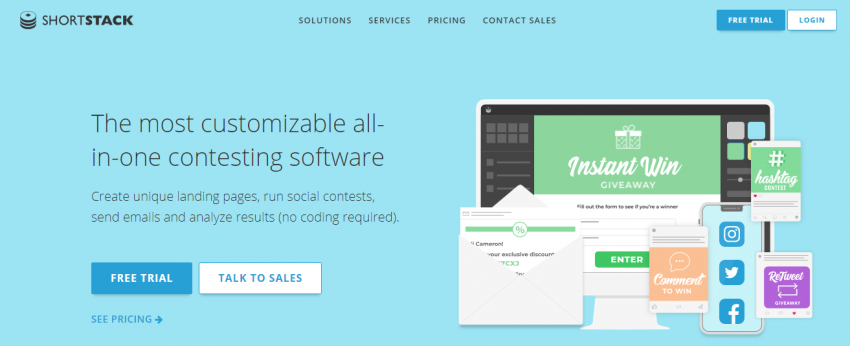 Short Stack is voted the best contest application for Facebook but it works just equally fine for Instagram too. This app helps you to create forms and run contests on your social media page. The operation can be done via the app or directly on your timeline.
This app is capable of holding photos and voting contests. It has an organized dashboard for all the to be done things. Scheduling of emails, campaign pop-ups, hashtag promotions, and many more features are included in Short Stack. Along with the inbuilt page builder, there are some contest templates that are ready to use.
The pricing is given below:
Free – the features are limited in this version

$99 per month – Business

$199 per month – Agency

$499 per month – Brand
---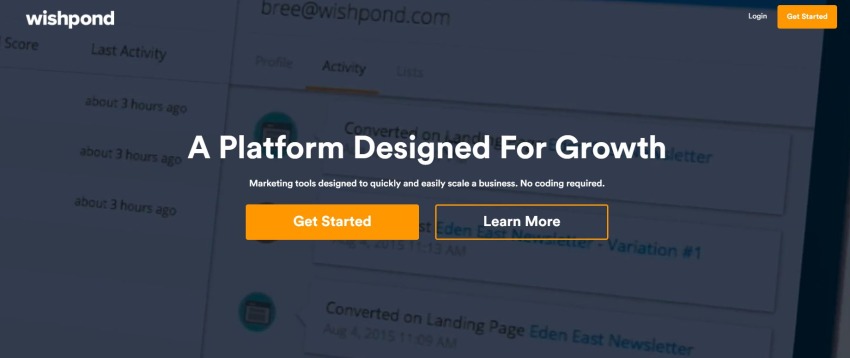 The Wishpond application offers a large scope of contests and marketing tools. It offers services not only for Facebook but also for Instagram and Pinterest. Just like any other app, Wishpond also has daily voting, rewards, and customizable forms. Along with that, it also offers marketing automation and integrations.
The beginning is straightforward and simple, particularly when you can utilize your own marking hues and visuals to make a genuinely remarkable to-you look. What's more, with a WordPress module, facilitating challenges on your own site is a breeze. It also offers API access. One attractive feature of Wishpond is that it provides real-time reports of your profile analytics on the dashboard itself.
Whenever you host a campaign, you can download the data collected and compare it directly in Excel after it is over. It is available for 14 days on a free trial and then starting out at $49 per month. The detailed list is as follow:
Starting Out – $49 per month

Everything You Need – $99 per month

Rapid Growth – $199 per month
---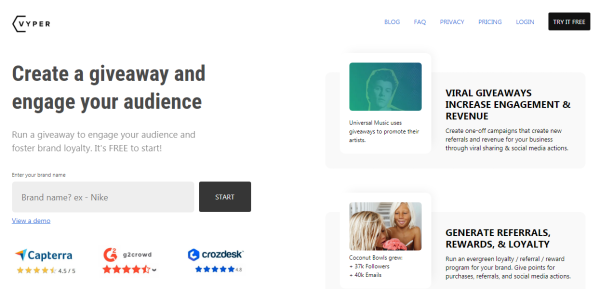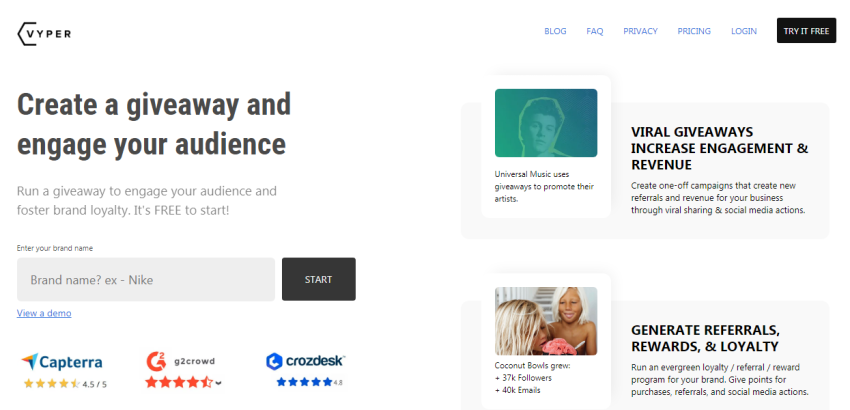 For the growth of your business, you ought to check out Vyper. They aim at spreading the word about your business with the help of contests, reward programs, and giveaways. They use two basic methods to do that:
      Contests: They host giveaways and quizzes to increase the engagement.
      Reward programs: They give points to their loyal followers that can be utilized for store purchases.
With Vyper, you can create attractive campaigns for boosting your social engagement. They help you with generating content pop-ups and leaderboards. The app verifies the contest entries using API integration. One unique feature of Vyper is Milestone Rewards. This feature allows you to send coupons and reward points to followers who reach a certain milestone in the contest hosted by you.
---
Gleam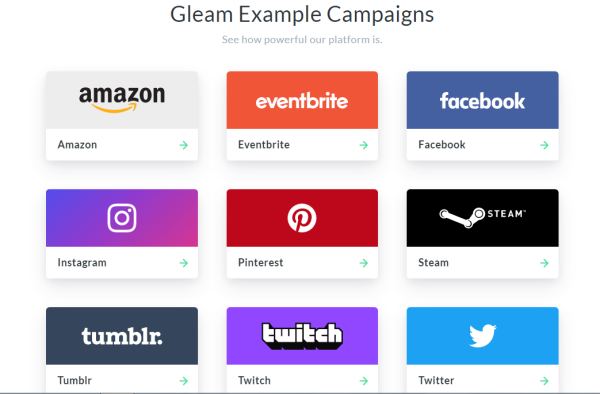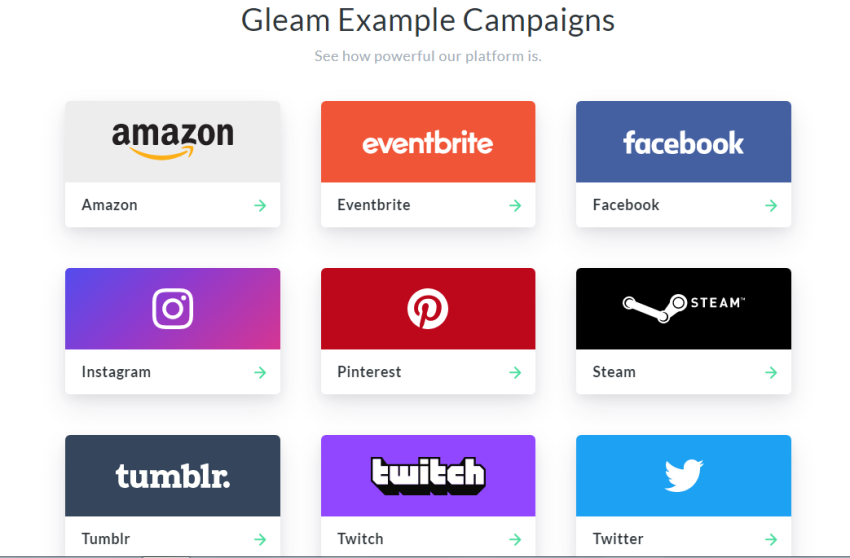 Gleams offer two main services:
     

Generate email leads

     

Increase following
It offers the basic services of keeping your profile in fame. Google analytics help in determining your reach and audience. With over 20 contest templates, it makes your job of brainstorming easier. The app also makes sure to verify each profile that enters the contests and hence, the security is maintained.
The feature that makes it stand out from other similar apps is the payment method. For this app, you only pay for the features that you want to utilize. This gives you the freedom to choose and pay as per your needs only.
From the vast range of features, here is the list along with the prices for you to pick the ones that fit your business.
Competitions – From $10 per month

Rewards – From $29 per month

Galleries – From $29 per month

Captures – From $29 per month

Full Package – from $97 per month
---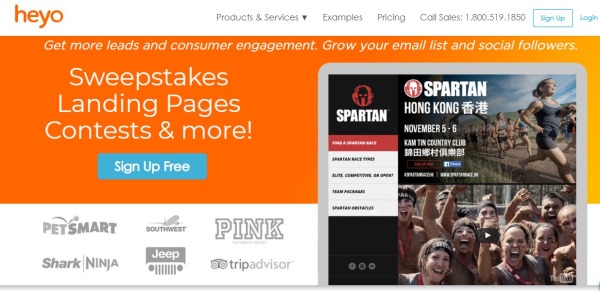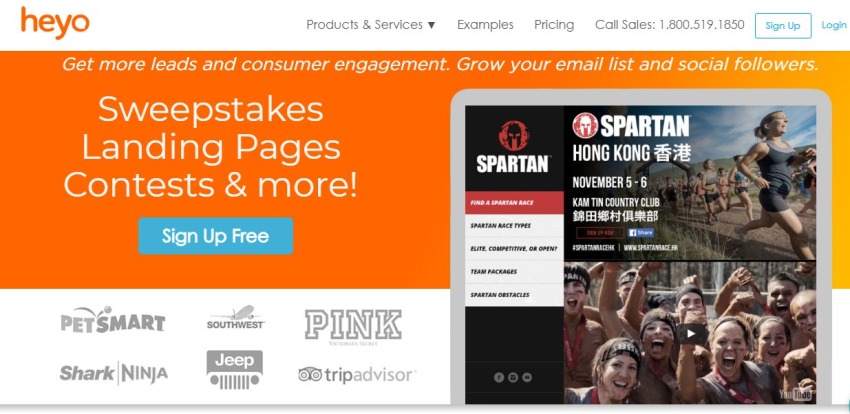 A great easy to use the app, Heyo helps in hosting photo and video contests along with designing amazing landing pages. It includes various other features like fast setup, quick publications, visual editor, hashtag promotion, email samples, 3rd party email integration, and much more.
With Heyo 2.0, they have introduced 32 new templates for your gram. This can be easily accessed on your mobile as well as a web browser.
The pricing for the same goes as follows:
$25 per month – Basic

$84 per month – Standard

$199 per month – Premium

 
---
AgoraPulse
Agora plus is a social media management tool that helps in organizing contests on Facebook and other media platforms. The interactive stuff that it is famous for is Facebook quizzes, fan vote contests, Facebook instant wins, photo contests, coupons, and much more. AgoraPulse uses key metrics to enhance your Facebook profile and gives you an accurate analysis of decision making.
The key features of this application are CRM, analytical suite, team collaboration, and customized messages to be sent via media messaging or emails. It has a very sophisticated analysis system and reports everything in one place. To avail of these fascinating services, check out the rates! The rates are as given below:
Medium – €79 per month

Large – €159 per month

X- Large – €239 per month

Enterprise – €459 per month
---
Rafflecopter
It is yet another tool for hosting giveaways and sweepstakes. It is one of the most user-friendly tools of its kind. It includes advanced theming engine, email list integration, bonus entries, white labeling, excels exporting, terms and conditions builder, and 6 language integration.
This app works for not only Facebook but also for Twitter and Pinterest. It provides a one-click registration into the contests which is super easy for the audience and also easier for you. The free trial for Rafflecopter expires after 7 days or 50 entries and the paid version plans are available as follows:
       

Basic – $13 per month

       

Grow – $43 per month

       

Premium – $84 per month
---
Woobox
It is a contest platform that offers templates and coupons for Facebook, Twitter, Pinterest, YouTube, Instagram, and Tumblr. This app gives you the flexibility to build more than just contests. It allows you to unleash your creativity with polls, interactive games, pages, and forms.
Some of the noticeable features of this application are 500+ integrations, WordPress plugins, automation options, campaign designing and formation, participation management, and much more. With this app, you can run unlimited marketing campaigns! More the campaigns, more publicity! The pricing of this amazing tool is as listed below:
Free – Gives access to unlimited campaigns but has limited features

Basic – $37 per month (up to 1000 participants per month)

Standard – $32 per month

Advanced – $99 per month

Power – $249 per month
Conclusion:
With these tools, the growth of your company will definitely shoot up. Do not stress with the marketing manager for your profile; leave your work to these amazing applications, sit back, and witness the growth.