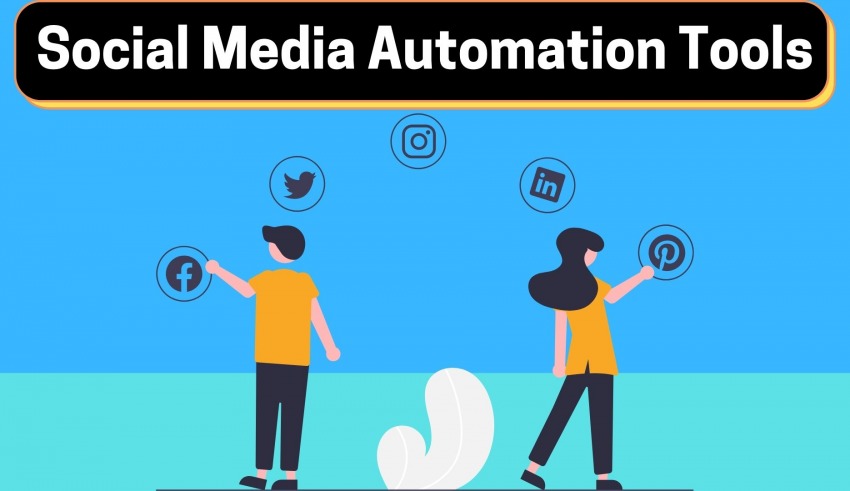 Social media has become one of the most popular places to grow your brand. They have a variety of audiences that suit the needs of almost every brand. With small investment costs and a greater reach, they are regarded as one of the best places to promote a brand. Social media automation tools help you to save time and reduce the effort required to manage a social media account.
Social media automation tools generally comprise a scheduler, monitoring tools, and analysis tools. These help you deal with all the different aspects of social media. Using tools you can monitor your account audience and data.
This helps you to optimize your account for more reach and engagement. In this article, we have listed the best automation tools that are available.
Here below is the list of 10 Best Social Media Automation Tools: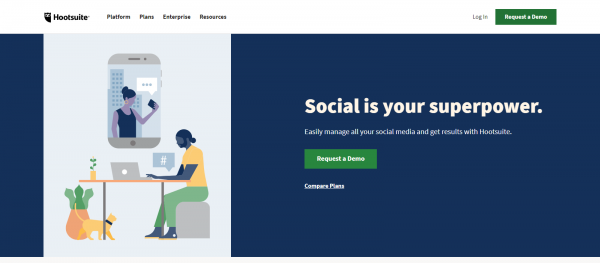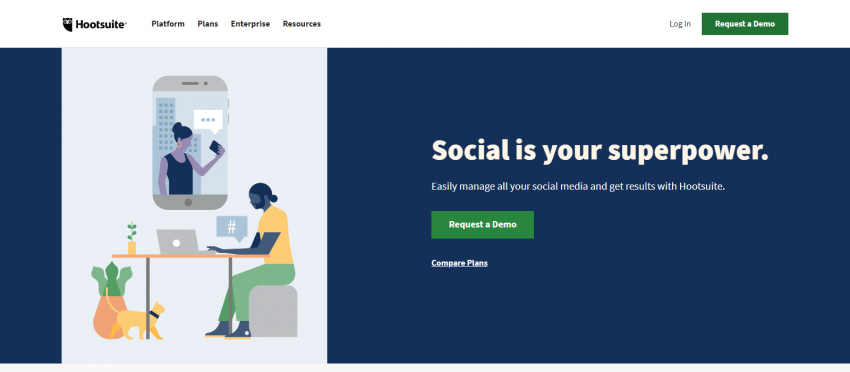 Hootsuite is one of the best-known social media automation tools available. They have been serving their clients for a long time and have established themselves as one of the leaders in this field.
They have become an expert in the automation business which has led to a steady increase in the total number of clients they have had. Hootsuite provides you with numerous automation and analysis tools.
One of their most famous tools is the post scheduler. They have been able to optimize their scheduler to post content at accurate times. They have a simple interface using which the users can schedule posts for several weeks.
Their calendar view helps you to plan your content. When you select the date and time of posting your content it gets synchronized with the calendar. Just a glance at the calendar helps you to find empty spots in your posting schedule.
This helps their clients to have a steady flow of content for their accounts. Using their scheduler you can create posts on the go and publish them in an instant. They have a chatbot that can be used by their clients. Using this chatbot you can automate your responses to your followers.
This is a handy feature when you have to deal with tons of messages. The analytic tools help you to understand the data and analyze it in an instant. You can easily find all the key metrics of your account without having to extract them from raw data.
This makes it easier to apply changes based on data. They stand out from the majority of the competitors with the strong and effective tools they provide. Suing Hootsuite to its potential takes some time to get used to but it is one of the best tools out there.
---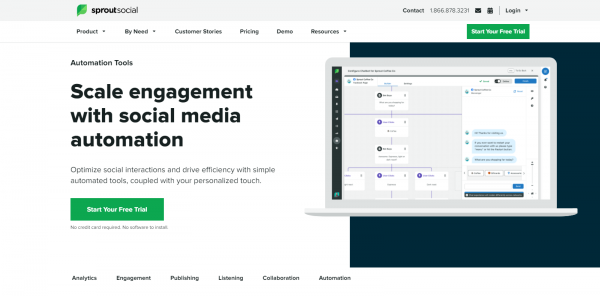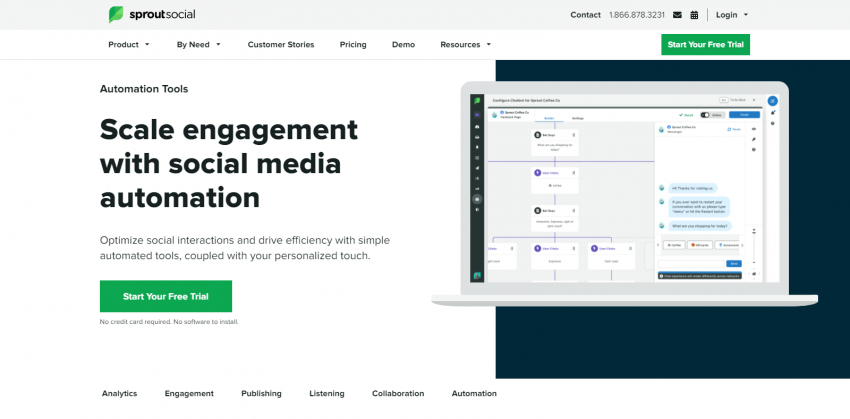 Sprout Social is one of the big names when it comes to social media automation. They have a variety of tools that help you automate various aspects of your accounts. Sprout Social has been highly rated by many journals and magazines as one of the best tools in the automation segment.
They have kept improving their tools to get the most out of them. They have continuously developed their tools to keep them up to date with the changes in modern times. Their tools are optimized for all social media accounts.
They have a scheduler that helps you to plan posts. This tool is great for automating your posting schedule. They have an option that allows you to choose the best times to post. They analyze your account and using their rating system to tell you the best times to post during the day.
This makes it very easy for creators to schedule their posts and get the most out of each post. Their tool helps you build a blueprint of your social media strategy. They have many analytical tools as well. Their user interface makes it very easy to operate the software.
There is not a huge learning curve and beginners can use the tools without much difficulty. With their tools, you do not need to continuously keep monitoring different metrics. They bring the relevant metrics to your view.
Having such a variety of tools along with positive feedback from clients has made them one of the best social media automation tools.
---


Sendible aims to help you to promote your brand on social media. They want their tools to help you promote your brand with ease. They want to make this process as smooth and convenient for their clients as possible.
You get to tailor your content and post it with minimum hassle. They have a simple dashboard in place. This dashboard helps users to access all of their tools quickly. You can even monitor various metrics which are displayed on the dashboard.
They have managed to integrate all social media platforms into a single dashboard. This helps you to view all of them at once as well as compare themselves with one another. They even provide you with readymade reports for all of your accounts.
You can easily incorporate the changes to your account based on these reports. They have a drag and drop calendar for their posts. This will help you to make changes to the posting schedule by just dragging the content to the date and time on the calendar.
This makes it easy to schedule and reschedule various content for your accounts. Their tools help you to add hashtags to your posts when scheduling them. They even provide many suggested hashtags for your content.
This ensures that you do not lose out on engagement while using a scheduler. They provide all clients with a 14-day free trial to experience their effectiveness. Their first plan costs $29 per month while the largest plan costs $89 per month.
They are well priced in their segment. You can save up to 15% if you switch to annual plans. With good tools and affordable plans, they have become one of the highest-rated social media automation tools. 
---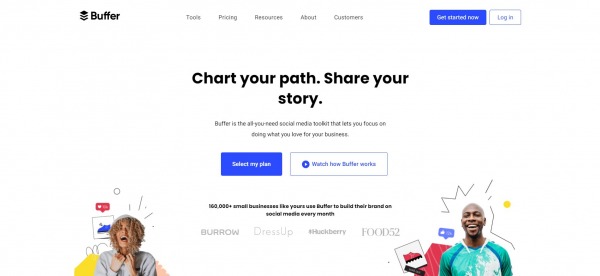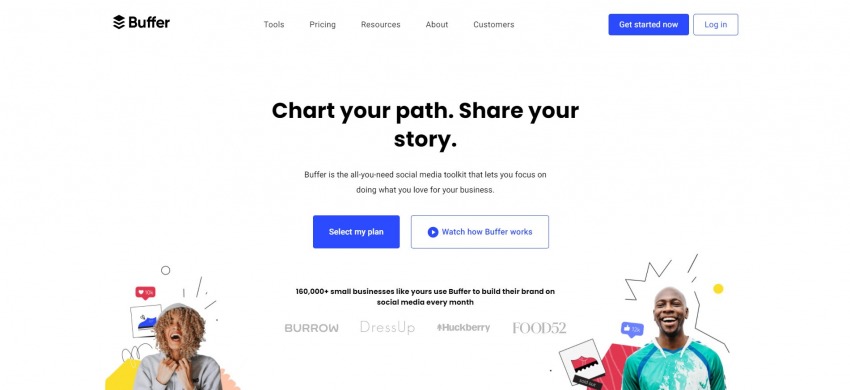 Buffer is one of the market leaders in automation. They have over 160,000 brands working with them. Brands keep returning for their services because they are assured of the quality of services that they revolve.
Many social media management companies have started to use their software for all managing the accounts of their clients. The company has tools to help you in all stages of social media management.
They have analysis, publishing, and engagement tools. With their tools, people have been able to save a lot of time. The tools make you more efficient by taking all repetitive tasks away from you.
All of the data is provided to the clients in easy-to-read reports. They use statistics and graphs to better represent the data and provide their clients with a better understanding of their accounts.
All of their clients who have used their tools on their accounts have spoken positively about the company. They help you analyze which segments of your social media account are functioning well.
They even highlight all the segments that need to be improved. Their scheduling tool can post your content in 2 ways. You can schedule the content to be directly posted to your account.
Or you could set reminders on the software. The tool reminds you to post at those times. Having multiple options in their scheduling tool has made them rank as one of the top social media automation tools.
They have a free tool that helps you get the basic things done for free. You can subscribe to their premium packages that provide you access to a bunch of their tools. Their starter pack costs $5 per month. You can add a team pack to enable your team to work on the same subscription. 
---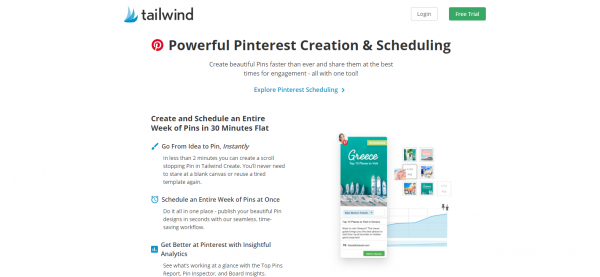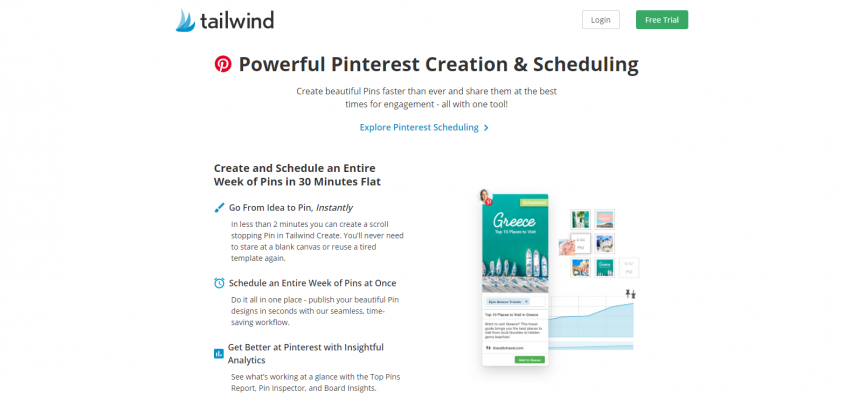 Tailwind provides scheduling and automation services for Instagram and Pinterest. They have kept their tools limited to only these 2 social media platforms. In doing so they have focused on these platforms and their tools have been optimized to provide the best results for these platforms.
These specialized tools will help you to get the best results for Instagram and Pinterest. They have an Instagram smart assistant tool. This tool helps their clients to create amazing Instagram posts. With this tool, you can create a  week's worth of content in 15 minutes.
You get to visually plan your posts. This helps to see how these posts fit on your profile before publishing them. With their smart bio, all of your links can be directly updated.
This ensures that all of your links stay updated and your audience is directed to the correct pages. They have a free plan and several paid packages. Their paid packages begin at $9.99 per month and go as high as $39.99 per month.
---
Also check: Hootsuite vs Buffer: What is better option For You
---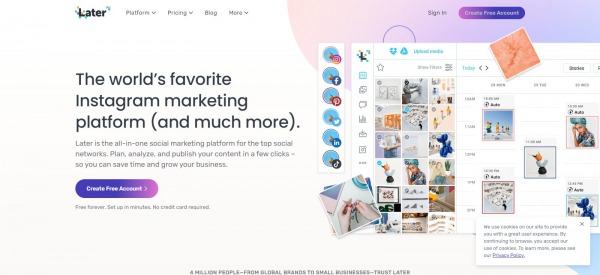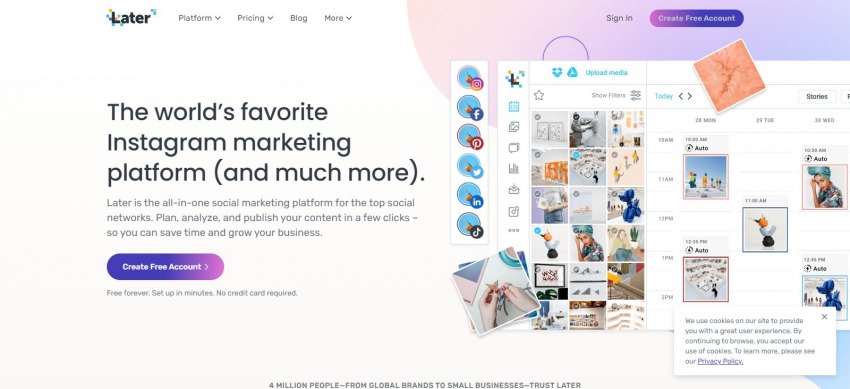 Later automates your Instagram account. They have a minimalist design which makes it very easy to use. Later have an accurate scheduler that helps their clients to plan almost a month's worth of content in just a few minutes.
They have a grid view feature. This feature helps you to see the appearance of your new post in your grid before posting it. If you run an account where all of your posts are color-coordinated, this tool will help you make sure that you do not make a mistake. 
Their hashtag tool shows how relevant a particular hashtag is for the content you post. They rate it out of a hundred after analyzing your post. This is a great tool for selecting the ideal hashtags and can provide great growth for your account.
While their main focus is on Instagram they provide services for Linkdiln and TikTok as well. Their packages start at $15 per month. The most expensive package costs you $40 for a month.
All of their packages can be coupled with additional users or sets for an extra fee. Their flexible pricing structure and attention to detail have made them one of the best social media automation tools.
---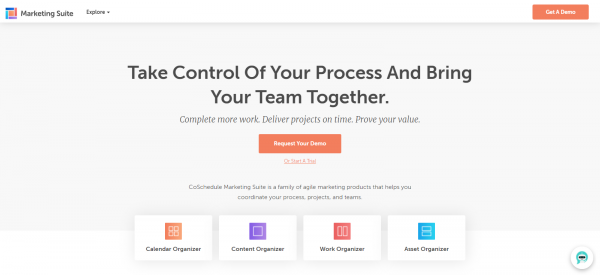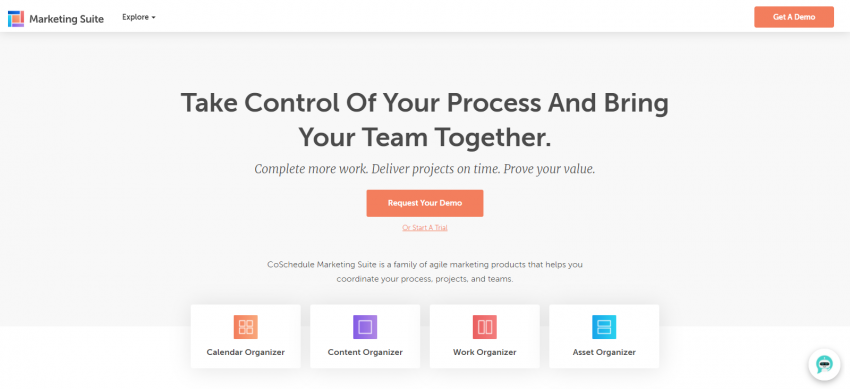 Coschedule is a professional software to help you automate your marketing requirements. They have had reputed clients such as Yamaha, Forbes, Unicef, Walgreens, and many more.
Their marketing calendar helps you to have a clear idea of your content. You can update it and the updates are reflected in other versions in real-time. You can even share read-only versions of it with other people.
Using their marketing suite you can automate the team workflow. This will help you achieve better results as a team. They have served quality services since their inception which has made them one of the top social media automation tools.
Their tools can be purchased separately based on the needs that you have. They offer a demo to new clients as well. This will help you understand the potential impact of these tools on your accounts and realize the upside of subscribing to them.
---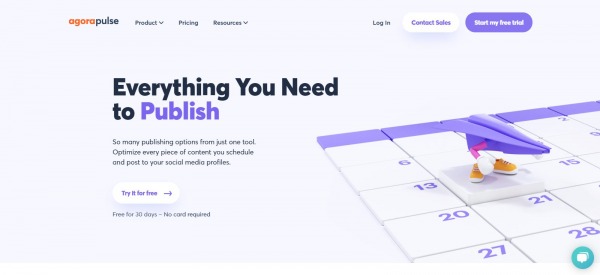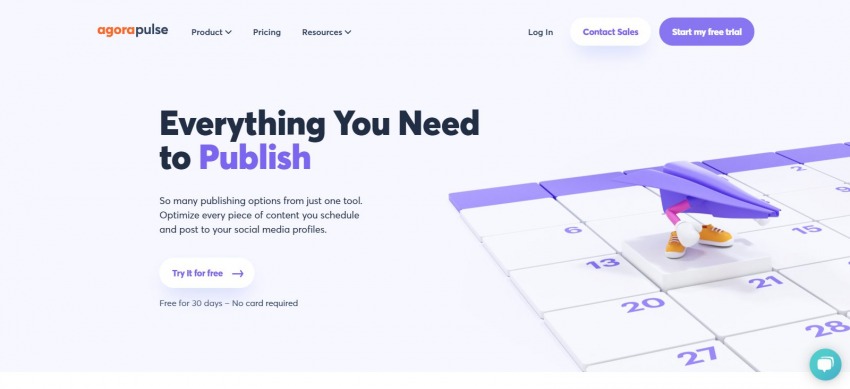 Agorapulse is seen as one of the most capable social media automation tools. Their tools are being used by over 30,000 clients. They market their tool as an all-in-one solution for your social media needs.
They have equipped their tools with the latest software technologies to ensure that their clients receive the best service. Their customer care services have been rated as one of the best in this field.
With their tools, you can monitor all social media mentions without having to lift a finger. They provide you with the most up-to-date data. Their inbox assistant helps you to organize all of your messages instantly.
You can get them organized based on priority and this will help you find important messages which might have been lost. Their publishing tools help you to post on time. They optimize your posts so that they have good chances of performing well on the platform they are posted on.
You can choose from the fixed plans they have on their website or contact them for a customized plan. Their fixed plans start at $79 per month. They have a free version as well but it is highly restricted.
---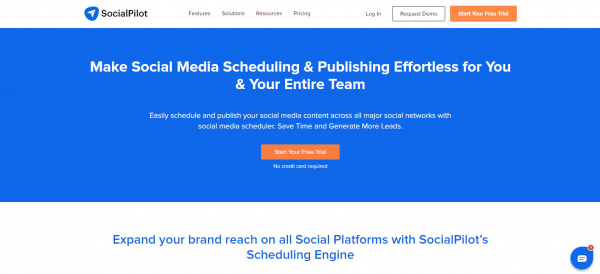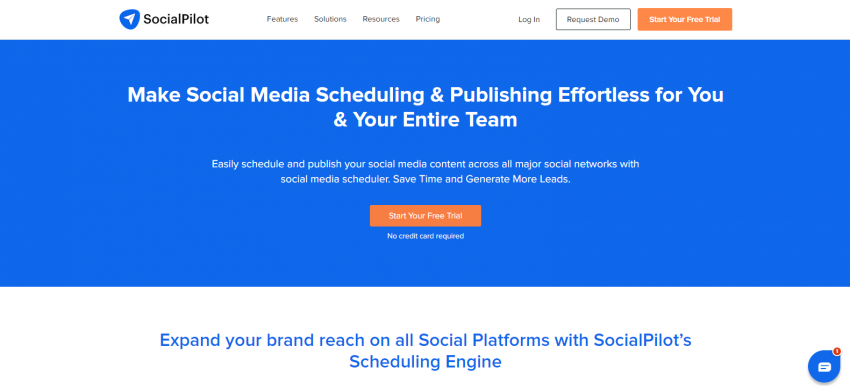 Social Pilot is one of the social media automation tools that have been the favorites of many people. They provide services for a variety of social media sites.
Their services have been labeled as one of the best because of the great quality they adhere to. They try to provide you with the best automation services you have used.
You get top-quality analysis of data for your social media accounts along with superb scheduling. They help you to collaborate with your client and team members. You get to set specific roles that have powers delegated to them.
They cannot overstep the powers you have assigned to them. This makes Social Pilot a great tool for social media management companies. Their plans are priced to suit your needs.
The pricing of the plans mainly depends on the number of accounts added and the number of people using them. This makes it easy for single users to get the smaller plan and still have access to all features.
---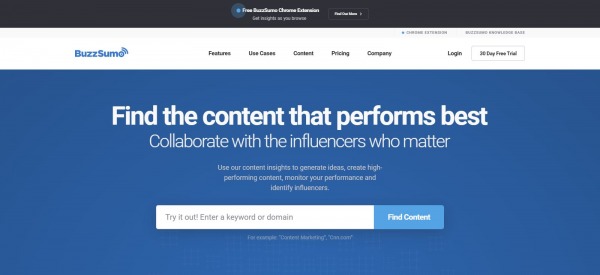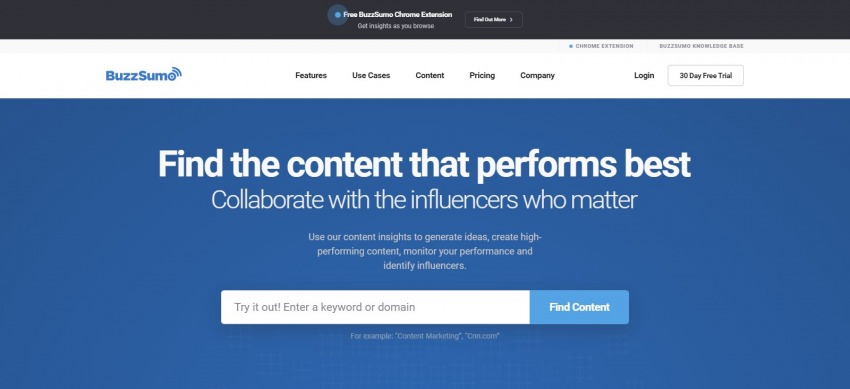 BuzzSumo is one of the most efficient social media automation tools. They help you to carve an identity for your brand. Using their tools will provide you with the best services.
You can rely on them to have tools that help you monitor the various trend without having to do any research yourself. They try to integrate the best technical elements into their tools to help you have a great user experience.
---
Conclusion
Social media automation has changed the way social management is done. All of the important repetitive functions have been automated. You have to spend a lot less time but can achieve better results.
Having an automation tool helps you to ensure you get the maximum engagement from your audience. The tools mentioned in the list are the best in this industry. They cater to all of your needs while maintaining affordable pricing for their clients.