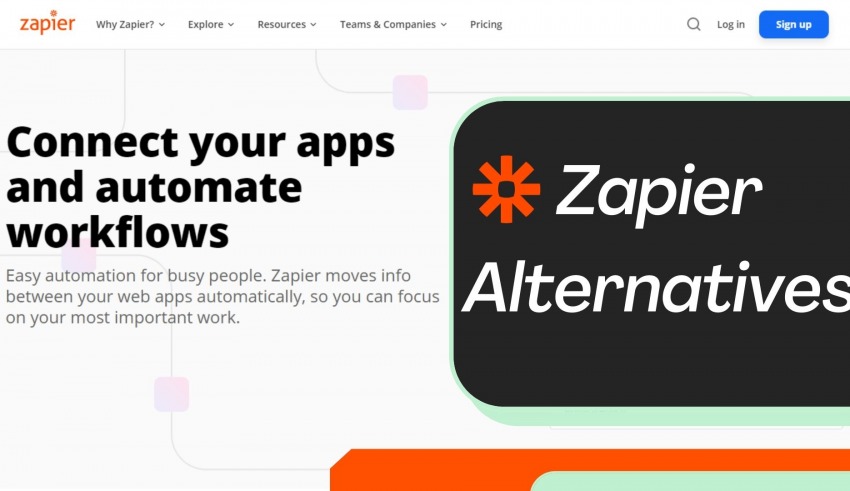 If you love automating your workflow then we are sure you are big fans of Zapier! They have been amongst the first ones to pioneer the field of automation. However, when it comes down to it, Zapier is not always the best alternative for everyone. There are normally two major reasons individuals search for Zapier Alternatives – It is very costly and it doesn't cater to all your requirements.
In case you're searching for a less expensive option in contrast to Zapier and the only reason is the cost, it's not generally a smart decision to switch. Zapier has been around for quite a while and it is a strong, dependable tool.
On the off chance that you're looking for a platform that offers better integrations, features, UI, and pre-made workflows, then you have reached your destination.
We have curated this list of the 10 best Zapier alternatives to help you fulfill all your automation needs.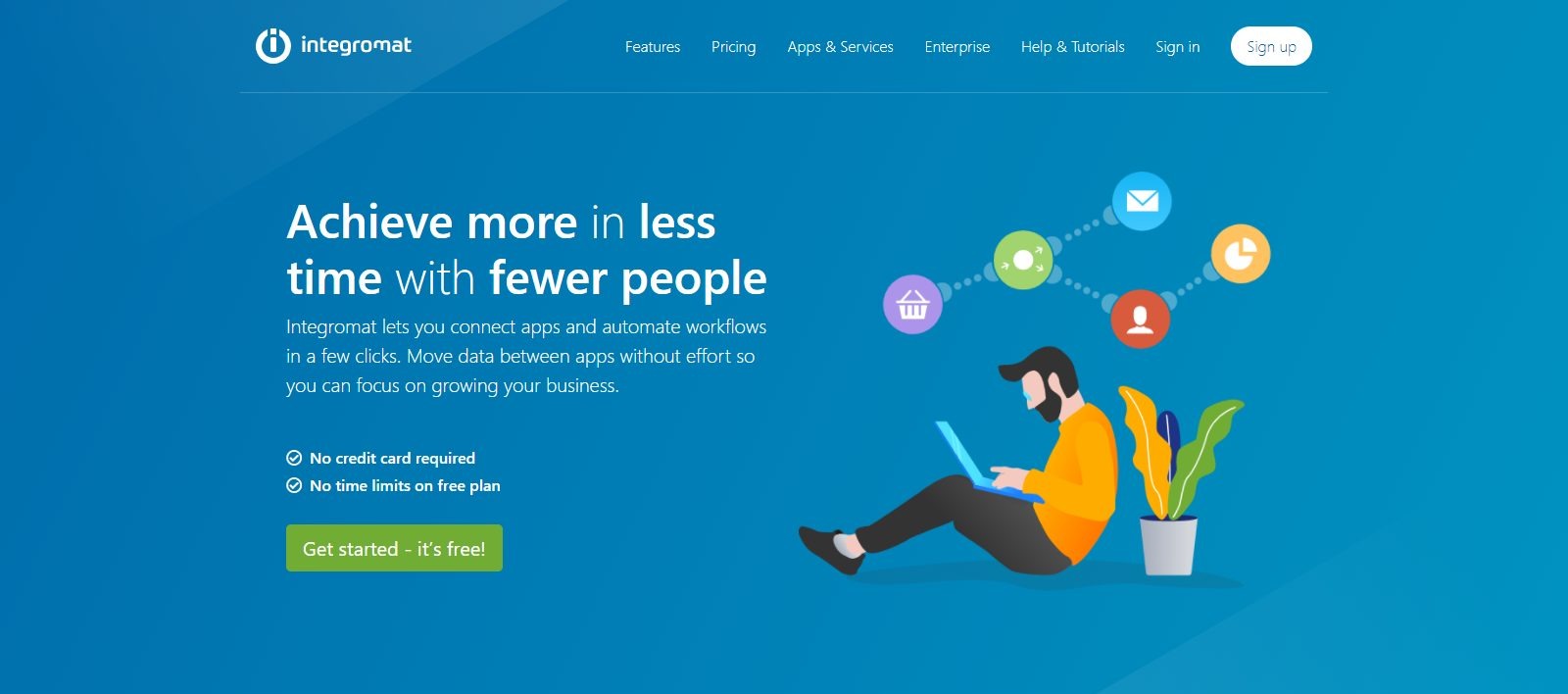 Integromat tops the list for the best Zapier alternatives. We swear by it too. It lets you automate complicated workflows with ease. Using Integromat is a bit more complex as well.
If you are just starting out in the field of workflow automation, we suggest that you look at other options. In case you're capable or have even a little coding experience, Integromat will knock your socks off. It's an incredibly powerful tool.
Integromat's easy-to-understand visual editor lets clients automate their workflows with very basic knowledge of coding. It assists clients with understanding the entire process of automation, what's going on, and how the final results are conveyed.
You can incorporate numerous applications and services into Integromat. It additionally gives HTTP/SOAP and JSON modules permitting you to interface with practically any online service.
Integromat has a plethora of in-built templates and formats for you to choose from. This will enable you to save a lot of time and start with automation right away. These templates are highly customizable as well!
When compared withZapier, Integromat is much cheaper and comes with a pretty good free plan. You can also automate workflows that are highly complex and harder to accomplish on Zapier.
---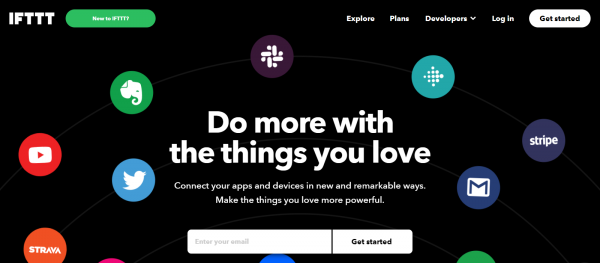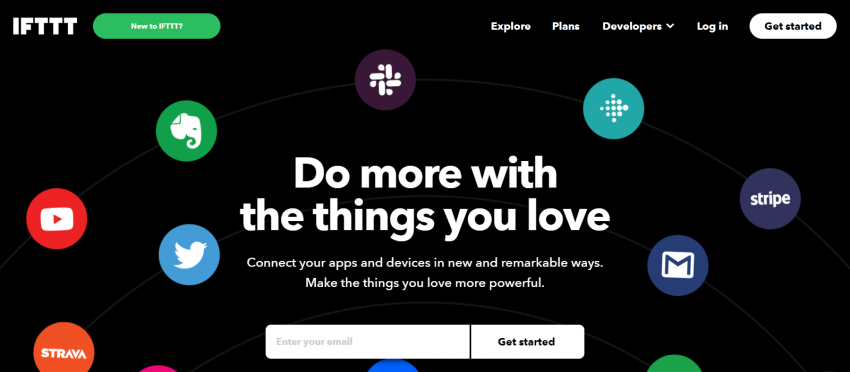 We don't think IFTTT needs any special introduction, it has been a top contender for being the best workflow automation platform for a while now. This Zapier alternative is a paid service presently, it was free earlier. It now charges a modest fee of $4 per month.
IFTTT targets home automation and Internet of Things (IoT).
The interface appears to be quite simple at face level. But when you go to edit workflows, it can sometimes be a bit of a bother.
For business use, the features of IFTTT are considerably limited when contrasted with Zapier.
IFTTT will let you connect more than 500 services like applications, business tools, cloud stages, and email vendors, and electronic appliances as well. It also comes with a wide catalog of applets (in-built workflows) which lets you associate different services and make them function together.
When compared with Zapier, IFTTT has unlimited applets. You can integrate however many services as you need and run a limitless number of work processes employing Applets.
While Zapier lets you create only 5 workflows in their free plan.IFTTT can interface actual home apparatuses including refrigerators, televisions, air conditioners, etc.Zapier is yet to see this sort of coordination.
---
Automate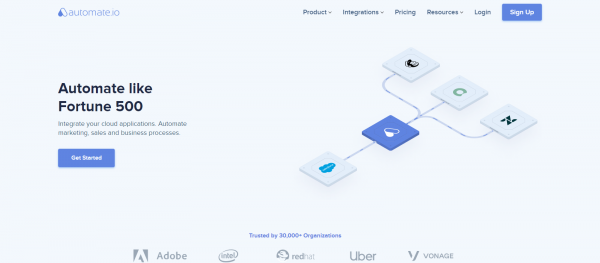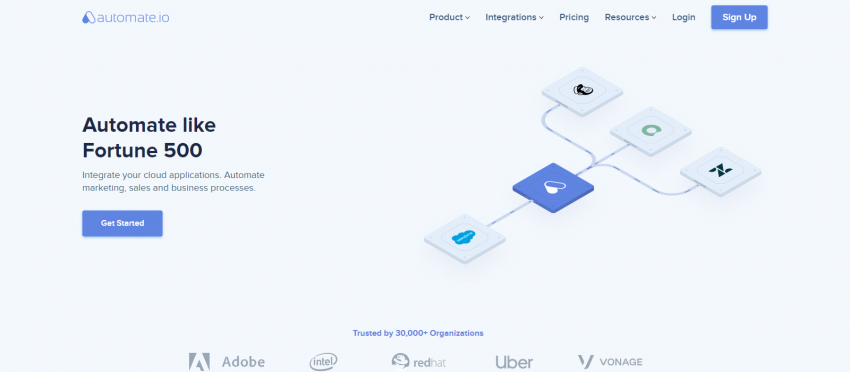 Automate is one of the best Zapier alternatives that assists you with coordinating your cloud-based applications. Utilizing this tool, you can make your own complicated work processes (known as Bots), and automate marketing, eCommerce, and business measures.
It takes no time to set up Automate owing to its easy-to-understand intuitive interface. You can integrate two apps with each other or create multi-application work processes very quickly, empowering you to smooth out sales procedures, set up cross-utilitarian internal work processes, automated email and social media campaigns, and more.
With the ability to create multi-step bots – you can add numerous applications and activities to make complex mechanized work processes.
You can sync your eCommerce store and applications through Automate. Automatically create and send receipts, track payments and orders, and more.
When compared with Zapier, in the free plan, Zapier runs performs only 100 tasks per month while Automate performs 250 tasks per month.
Automate will let you build multi-step workflows in all its membership plans including the free version. Zapier, on the other hand, lets you create only two-step workflows in its free plans.
---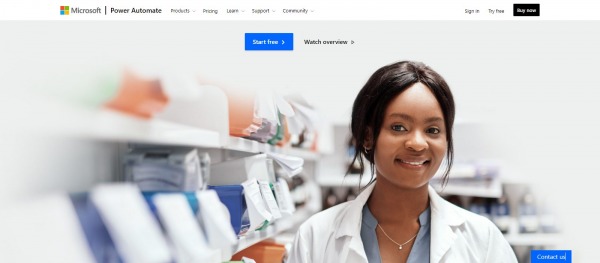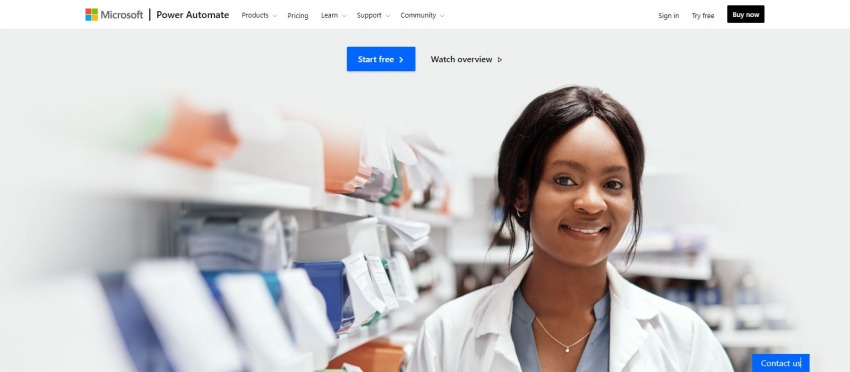 Microsoft Flow is one fo the most powerful Zapier alternatives that has not received all the praise it deserves. It is loaded with features that are not available on Zapier.
With Microsoft Flow you can use various formats to rapidly make automated workflows between your most loved applications and services, sync documents, gather information, and lots more.
Microsoft Flow has a library of ready-made templates to help you immediately set up automation. This library is cleanly categorized into sections for sales, promotion, leads direction, social media, email, and HR.
It is highly intelligent and keeps checking your applications for new data like clockwork. Wherever found necessary, it starts performing automated flows. You can also access it remotely from anywhere with their mobile application.
When compared with Zapier, Microsoft Flow permits you to make however many automated work processes as you need, while Zapier only lets you create 5 in its free plan.
Secondly, Microsoft Flow permits up to 750 work process tasks to be run in a month, while Zapier gives only 100 runs in its free plan.
However, Microsoft Flow does fall a little short on the number of applications and services that you can integrate.
---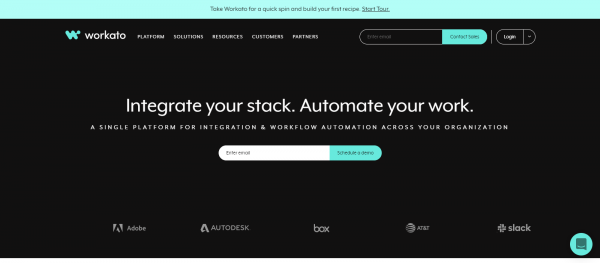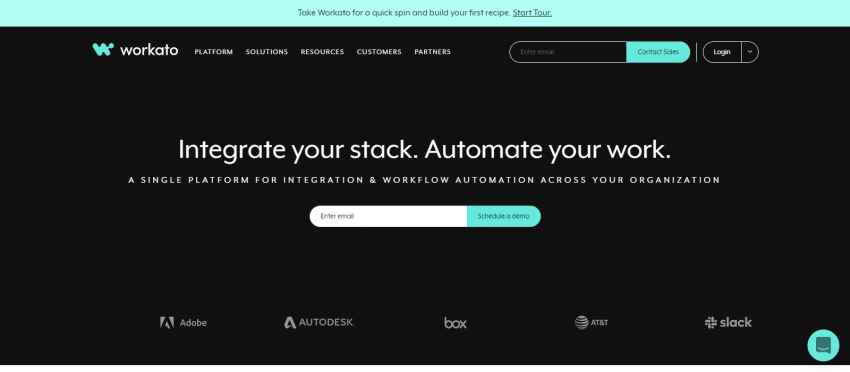 Next in our list for the best Zapier alternatives, we have Workato. This is a noteworthy platform that gives a wide scope of features for organizations and professionals only. If you are looking to automate and categorize personal tasks, then you can definitely benefit from their free plans.
Workato is an incredible, easy-to-use tool that gives an instinctive interface for making integrations and automations. This eliminates the need to have knowledge of coding and anybody can design their workflows to fit their particular necessities.
You can easily make use of the 225,000+ pre-made templates to help you set up workflows in minutes. You can alter these templates, or use them as they are.
Workato has very stringent security measures and controls set up to guard your information. These incorporate access controls such as encryption and data masking.
In comparison with Zapier, Workato has quite a few advantages. Users with free plans can utilize the smart trigger, which will assist with making intricate and explicit workflows.
This incorporates conditional triggers, sequential processing, and detecting record duplication. What we mean is that if you want to fuse brilliant triggers into your Zapier workflows, you should move up to a superior tool like Workato.
Workato is an ideal stage for organizations and can uphold and connect enormous teams whether the focus is improving administration, growth, or operations. With a wide plethora of tools and features, Workato offers adaptability like no other, including Zapier.
---


ZigiOps was brought into the world with the sole intention of assisting you with automating workflows and improving teamwork.
This Zapier alternative consistently runs in your ecosystem, while extracting and moving information between frameworks progressively. Their unique recovery tool shields you from losing important data if you ever encounter a system error.
ZigiOps allows individuals with no knowledge of coding to perform strong integrations. The template library can be exploited to cater to all your needs and it is very fast as well.
It is exceptionally adaptable and adjustable with integrations. Users can alter their integrations, add new channels, information mappings, and more after the integration has been performed. ZigiOps is an experienced tool that covers practically any client use case, no matter how complex it may be.
It goes past just the surface of integration to expose what's underneath and catch complex information conditions. It synchronizes related elements of any level.
ZigiOps is incredible and can deal with as many queries each day as your frameworks can ask.
It is essentially an on-premises tool, which can also interface with the cloud. ZigiOps goes about as a middleware between the frameworks and doesn't store any information. So your data is completely secure.
ZigiOps offers a 14 day trial period post which they offer per year membership plans.
---


API Fuse is an integration platform designed specifically for SaaS applications. This Zapier alternative lets innovation and product pioneers quickly react to their end-client integration demands without adding to their backlog.
It will permit clients to associate their applications straightforwardly inside their SaaS platform while never having to leave their product.
API Fuse provides a white-labeled Marketplace where SaaS organizations can exhibit their most notable integrations pertinent to their clients in their own unique marketplace.
It can acquire knowledge and patterns of which integrations are being utilized the most and what sorts of activities their clients are configuring. This provides strong analytics and gives product managers insights into which integrations to focus on.
---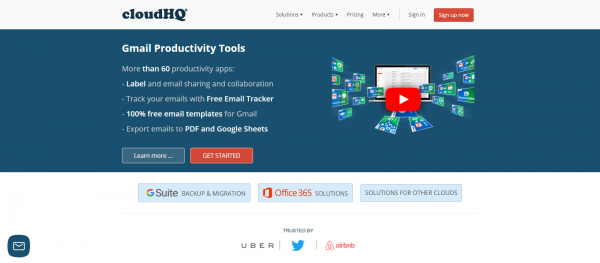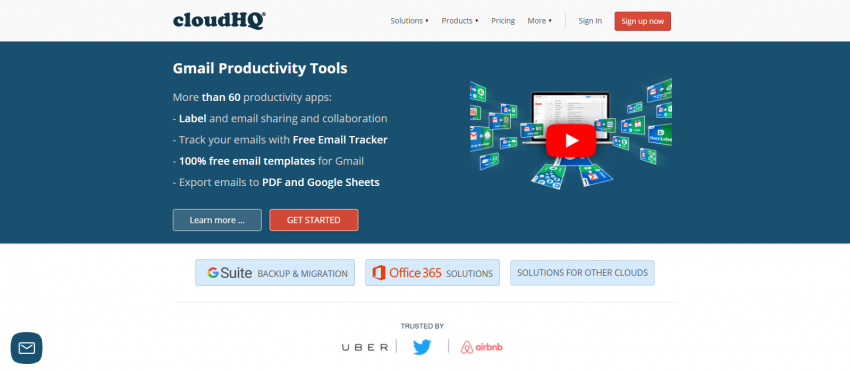 CloudHQ is a Gmail efficiency apparatus where you can share emails, label, work together, and track them. CloudHq permits you to create backups of all your Gmail accounts. It assists small and large organizations with bridling the full force of Gmail, so they can achieve more in less time.
Its two-way backup makes it a magnificent decision for storage services, particularly for the individuals who need something other than fundamental backups. Fundamental back-ups will protect the most fundamental documents, however,CloudHQ offers something beyond essential security.
It offers free email formats, meeting scheduler, text-based notifications, screen captures, email invitations, screencast recording, etc.
It also offers the capacity to set up and oversee storage services as well as the capacity to restore documents from the cloud, which permits clients to get their office back up ready for action quickly by any means.
In comparison with Zapier, Cloud HQ offers an extensive free plan and an impressive library of integrations. However, its free plan provides services of backup only.
---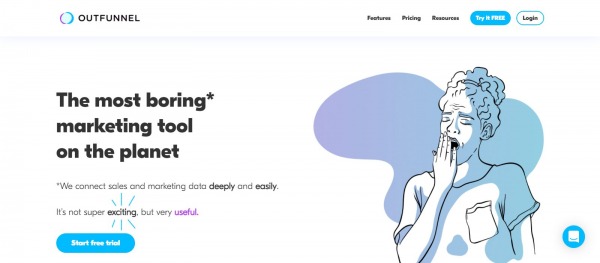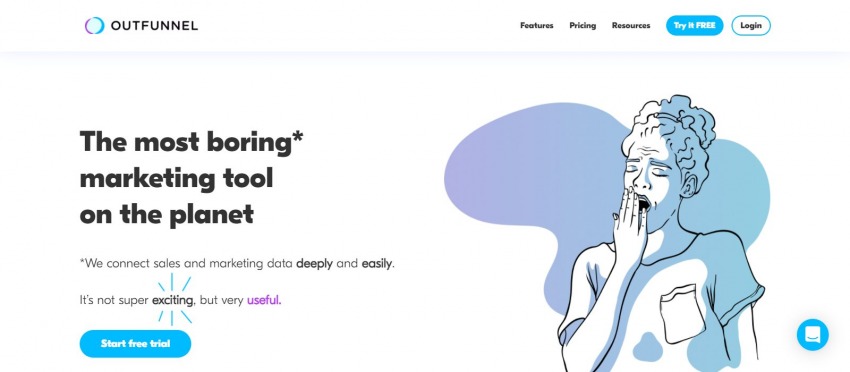 Outfunnel has handled a particular segment of the automation market: interlinking sales and marketing devices.
It synchronizes your sales and marketing contact records day in and day out, so you can set up your computerized campaigns once and they will run automatically depending on information changes in the CRM.
All promotion engagement information (opens, clicks, unfollows, unsubscribe, and so forth) gets recorded in your CRM, so your sales team has full awareness and can sell more brilliantly.
Contrasted with Zapier, the fundamental advantage of Outfunnel is the simplicity of setup.
There's nothing more needed than one Outfunnel association between your CRM and marketing automation device to synchronize contacts and engagement—which would take at least 3 Zaps with Zapier.
Likewise, web form to CRM reconciliation turns out effectively for your whole site, while with Zapier you'd need to set up another Zap for each landing page.
It is ideal for sales promotion workflows. It provides deep-set integrations that require only 15 minutes to set up, this makes it one of the most comprehensive Zapier alternatives. To top it all, it comes with an impressive feature-rich free trial version.
Its only downside, when compared with Zapier, is the lesser number of app integrations available.
---


Part of the Zoho suite, Zoho Flow may effectively become one of the most loved applications for Zoho clients. Like Microsoft Power Automate works best for Microsoft clients, any Zoho client will profit with consistent mixes between any items that exist inside the Zoho environment.
Additionally, Zoho Flow offers an enormous number of applications, along with loads of pre-constructed workflows to assist you in the beginning. With an easy-to-use editor, highly advanced features (like variables and webhook combinations), and moderate pricing, Zoho Flow is one of the incredible Zapier alternatives to consider.
When compared with Zapier. Zoho Flow has quite a few advantages. It provides local integrations with Zoho CRM and QuickBooks. It is way more affordable. Zoho Flow also offers a free trial version available.
However, the number of app integrations that Zoho Flow offers is not very extensive.
---
Conclusion
To finish up, we can say that every one of these platforms referenced above varies from one another as per their working style and functionalities. Undoubtedly, each platform is unique in its own way.
Zapier has the most numbers of integrations with various applications yet at the same time, its rivals are utilized and trusted by enormous brands.
We have mentioned the unique features of each platform in the list to help you decide what's best for you!