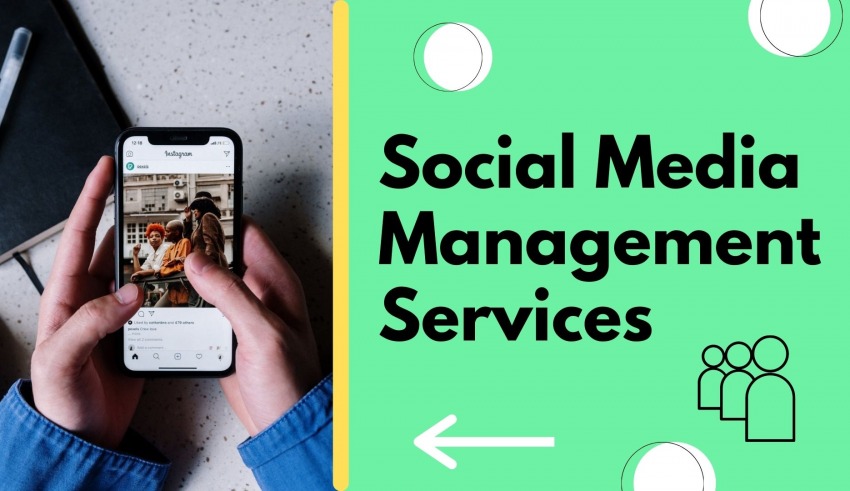 Social media is essential as leveraging it properly can generate a lot of traffic and revenue. However, dedicating time to creating and posting creatives along with managing a complete business can get difficult. This is exactly why people hire social media management service providers. With these social media management agencies, businesses do not need to worry about their social media strategy and the specifics. Most of these agencies work remotely and are easily accessible on the web. The internet hosts a large number of these websites and choosing one might be confusing. This is why we have compiled this list of the 10 best social media management services to outsource from. So, let us jump right into it!
Here is the list of 10 Best Social Media Management Services:


Neil Patel Digital is a complete social media management company founded by the blogger and influencer, Neil Patel. The founder has been a part of the marketing industry for a long time. The company has an excellent set of digital marketing experts. These experts have proven experience to bring in traffic and multiply revenue for clients. The company approaches the problems and provides holistic solutions.
The team consists of experts in SEO, Paid Search Marketing, Social Media Marketing, Content Marketing, and Data Analytics and Advertisement. The best part of Neil Patel Digital is that the team recognizes the constant shift in the digital world and encourages the members to stay updated. Moreover, the company has a large portfolio accessible on its website.
Businesses can easily connect with the company in case of inquiries. NP Digital's clients say that the marketing team does not provide short-term solutions. Instead, the company delivers strategies that are proven to work for a year. After the expiration of a year, NP Digital suggests businesses get in touch with them to review and modify the existing strategy for further lead generation. Hence, NP Digital has some of the best social media management services.
---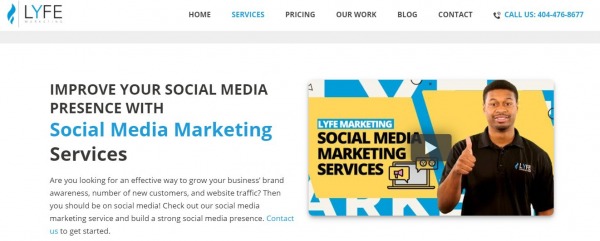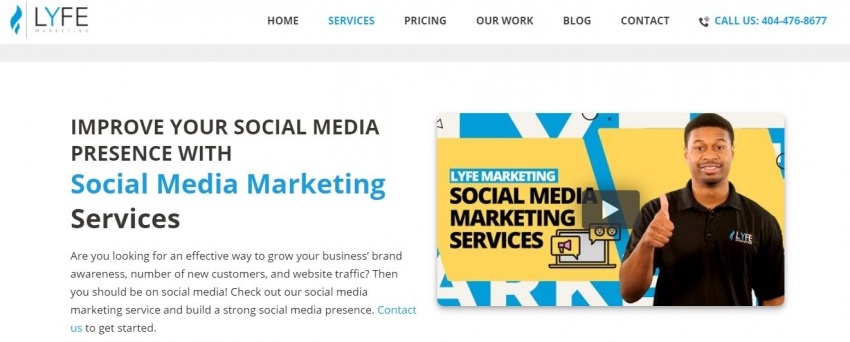 LYFE Marketing is an award-winning social media marketing company that has been around since 2011. The company helps businesses save time and money so that they can focus on the actual workings. LYFE Marketing helps businesses through advertisement and other social media marketing services. Moreover, the site also provides services specific to the client's industry and needs.
Thus, their marketing services yield results and help generate revenue within a short time. The previous clients of LYFE vouch that their services yield effective and visible results. The company is experienced in all aspects of digital marketing including SEO, PPC, and social media marketing. Thus, LYFE Marketing is a one-stop solution to all digital marketing needs.
Unlike other social media management agencies, LYFE Marketing understands the needs of small businesses and develops social media strategies. The company performs extensive competitive research and analyzes the business scenario before delivering its services. Hence, LYFE Marketing is the best social media management service provider for small and established businesses alike.
---


Viral Nation is different from other social media marketing agencies on the web because it is an influencer marketing agency. The company creates social media campaigns focused on social media influencers. The strategies they develop have worked for several influencers and are proven to generate a high return on investment (ROI).
Recently, the company has expanded its services to transform into a complete marketing firm. Viral Nation's client boasts of big brands such as Victoria's Secret and Twitch. The company provides strategy, Creative and Content, Performance Marketing and Media, and B2B services.
Moreover, Viral Nation has bagged several awards and has been featured on some popular websites. The company also has a talent agency and works closely with its influencers. Hence, Viral Nation is the best social media service provider for social media influencers.
---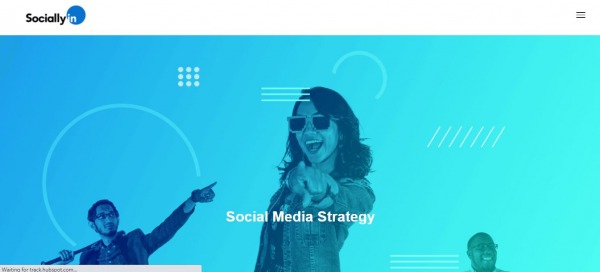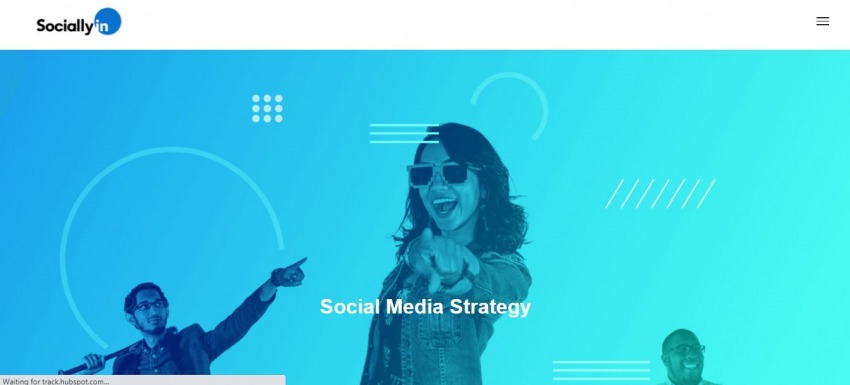 Sociallyin is one of the best social media management service providers available on the web. The company helps its clients with the various aspects of social media to generate revenue. Socially has an experienced team of marketing talents who develop strategies that work.
The company focuses on developing result-driven services and has a team that is experienced in social strategy, content creation, community management, paid social media advertising, influencer marketing, and much more. The previous clients of Sociallyin say that the company delivers strategies within the time and budget decided on.
The best part is that the company develops these marketing strategies after taking demographics, current engagement, and social media needs to account. No two businesses are the same and the marketing team of Sociallyin realizes this and acts accordingly. Hence, Sociallyin is the perfect choice for businesses seeking unique social media marketing strategies.
---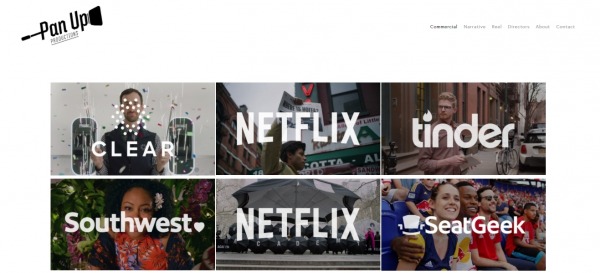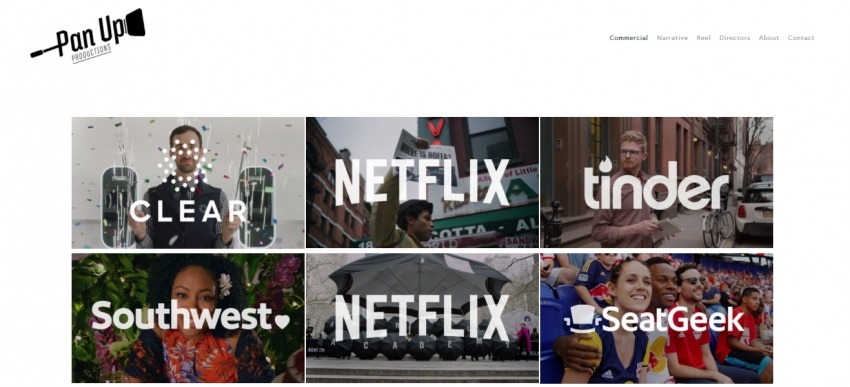 Pan Up Productions is a creative production company that ideates and develops a range of social video campaigns. The company has worked for a range of industries and has some big brands such as Netflix, Tinder, Apple, Amazon, and Samsung as its clientele. For brands that have the budget to spare for professional production, availing of Pan Up Productions' services would be the best option.
The best part is that brands do not need to travel as Pan Up Productions will travel to shoot the most creative advertising videos for them. Irrespective of the type of content needed – print, digital, experiential, or broadcast, Pan Up Productions' team handles every part of the video production.
The best part is that the company produces a variety of content – music videos to content campaigns for brands. The excellent team at Pan Up Productions takes care of every minute detail of the conception, production, and final delivery of video content. Hence, Pop Up Productions is the best option for brands that are seeking video content for greater revenue generation.
---


Disruptive Advertising is one of the best social media management service providers available. The company has thousands of clients reaching out but works with only 9% of them. This is because Disruptive Advertising likes focusing on providing your company with the best services when working with you.
This is one of the prime reasons attributed to the success of the company. The digital marketing team of experts at Disruptive Advertising tries grasping the workings of its client's business, the targeted goals, and the required impact on the customers.
After the same, the company proceeds to create social media strategies for revenue generation. Thus, the strategy developed is bound to work for the clients. Moreover, the company also provides services based on PPC Management, Site Testing, Analytics, Consulting, and Software.
The main focus of Disruptive Advertising is on leveraging Linkedin and Facebook Ads to drive traffic. The company optimizes the ads so that the clients can get the most out of their investment. 
---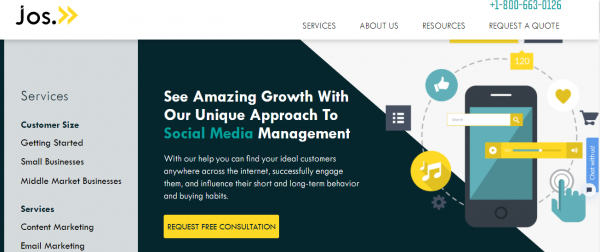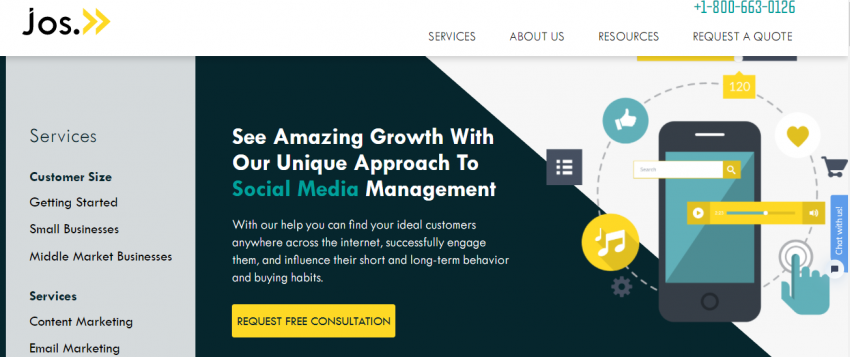 Joseph Studios is an Atlanta-based advanced organic marketing agency. The company uses advanced technologies and up-to-date strategies to deliver the best to its clients. The company has a digital marketing team that is capable of developing marketing services for its clients irrespective of the size of their business – start-ups, small businesses, as well as established ones.
Joseph Studio's expert digital team has premium services available from email marketing to content marketing to public relations. The company offers a free consultation that businesses can avail before hiring them as their social media marketing agency.
The team follows a definite four-step process – Discussion, Planning, Production, and Succeeding. Joseph Studio believes that building a relationship with their clients is necessary to deliver the appropriate services. Hence, any business strategy developed will be for your company solely and will fulfill your needs.
---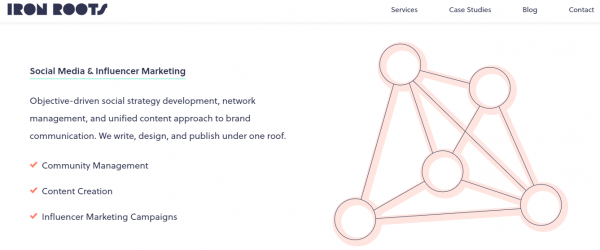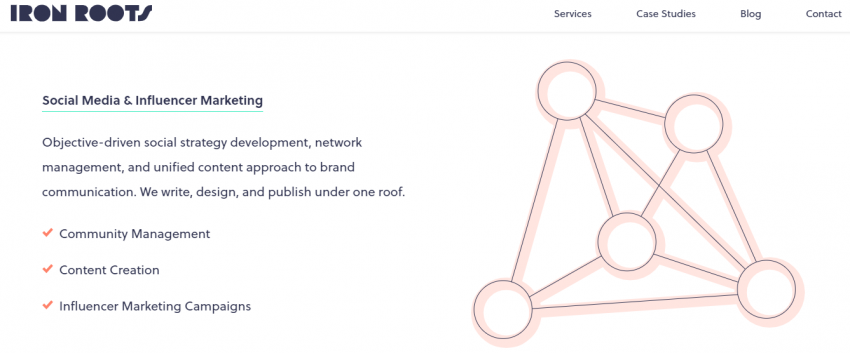 Iron Roots Inc. is a complete digital marketing agency focusing on building unique and creative social media strategies for its clients. The company provides services from social media to paid ads and its strategies are proven to be successful in lead conversion.
For businesses with apps and websites, Iron Roots is the best option because the team focuses on increasing app downloads and bringing more web traffic. The best part of hiring Iron Roots is that businesses do not need to hire copywriters or designers or project managers.
The company has a diverse and dedicated team from every niche that the brand might need help with. The services provided by the agency are key to long-term growth. Moreover, the company adopts a unique and strategic approach to its clients' marketing.
Iron Roots is transparent in its deals and has helped a large number of clients get a high ROI. Thus, Iron Roots Inc. has the best social media management services along with others such as copywriting and project management. 
---


Social Media 55 is a digital marketing agency that focuses on providing services to increase the existing digital presence of companies. The agency is appropriate for businesses that have not yet started on social media or do not know how to leverage it.
Out of all the social media management services we have discussed above, Social Media 55 is different as it provides strategies based on attracting the target audience. The company is the best niche-specific social media marketing agency specializing in delivering marketing strategies that provide unparalleled results.
Social Media 55 offers a range of social media services along with niche-specific services. The company excels in providing social media services and working with small to medium-sized businesses. The customer reviews and ratings suggest that it excels in the same. For businesses on a hunt for the best social media management services specific to the niche and industry, Social Media 55 is the best option.
---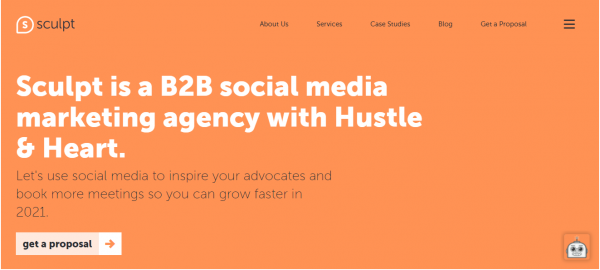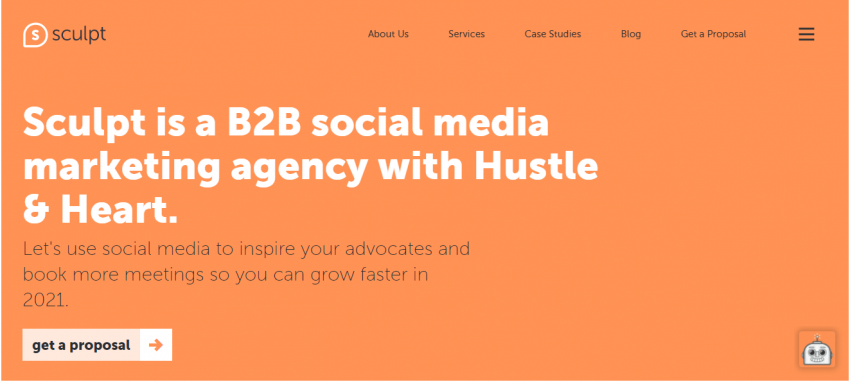 Sculpt is the best social media marketing agency out there for B2B clients. The company focuses on ideating and developing marketing strategies for B2B. Thus, the approach of Sculpt's digital marketing team is different from the agencies we have discussed above. The company recognizes that B2B companies often have a small team but large goals.
Sculpt works towards developing and deploying strategies that work towards achieving the same. Irrespective of the industry the B2B belongs to, Sculpt always offers packages to help them grow on social media. They help decide on the social media strategy so that the clients can acquire more leads and grow on social media.
Irrespective of the industry, be it Saas or Finance, Healthcare, or Legal, Sculpt can develop social media strategies. The strategies developed by Sculpt help achieve remarkable results within a very short period. For companies in the B2B industry whose main objective is a successful conversion of leads, Sculpt is the best social media management service provider available on the web.
---
What is a Social Media Management Company and How Can It Help?
Social media is hard and social media management for small businesses is stressful. In the beginning, time is of the essence. As a business, focusing on its work as well as social media can get stressful. Social media is delicate and one single move can make or break the brand. Social media management companies come in here as they take on all the social media workings from these businesses. This helps save time and effort and also ensures that the best content is put up on the brand's social media. 
The web is a host to a vast amount of information and is capable of connecting brands to their target customers. More than 4 billion people are on social media which makes it all the more important. Regardless of the industry, customers are connecting on various social media platforms daily. It is very important to take advantage of this and leverage the benefits social media can provide.
When people connect to a brand, it gives the brand a competitive edge over its major competitors. Moreover, if the brand provides useful products and services, people are bound to search for them. However, every social media platform has its algorithm and SEO guidelines. As a business owner, having complete knowledge of these is difficult. Hence, a social media management company is important to help utilize social media effectively and generate new leads.
---
Conclusion:
Social media should be a part of every businesses' marketing campaigns as it will help them reach new heights. In case they do not have the resources, time, or skills, hiring one of the best social media management services will be the most feasible option.
The web has an array of options but it is important to separate the best of these. To help save time and effort, we compiled this list of the 10 best social media management services. We hope this list helped gain some clarity and provided an idea of the best options available!