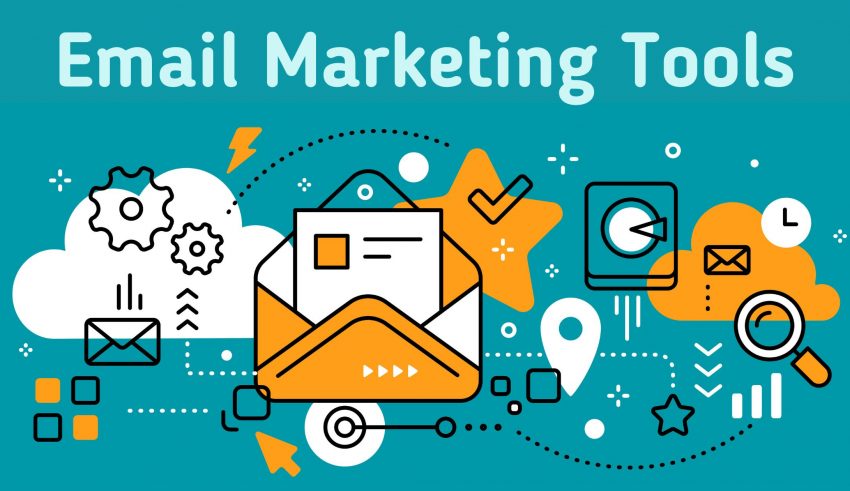 Social media marketing is the new face of digital marketing campaigns in today's era, yet email marketing still remains the most widely used tool for marketing campaigns. Email marketing can really help a business in gaining an impressive result with nominal expenditure.
Artificial intelligence has really changed the game of email marketing in so many unique ways as it helps to improve marketing mechanics. From sending a simple text-based email to sending a fully designed template, email marketing tools can help with everything.
From types of marketing like sending offers and deals directly to sales engines to email newsletters to all the subscribers; email marketing tools can help take care of it all.
Many email marketing tools are there on the internet. Before choosing the best tool for you, there are a few specifics that one needs to evaluate beforehand, such as features in free/paid plans, support and setup, managing subscribers, creating campaigns, automated follow-up emails, and so much more.
---
Also Check: Best Digital Marketing Tools
---
Hence, we are here to help you in making the best decision by mentioning all relevant tools and their features that can help you grow your business.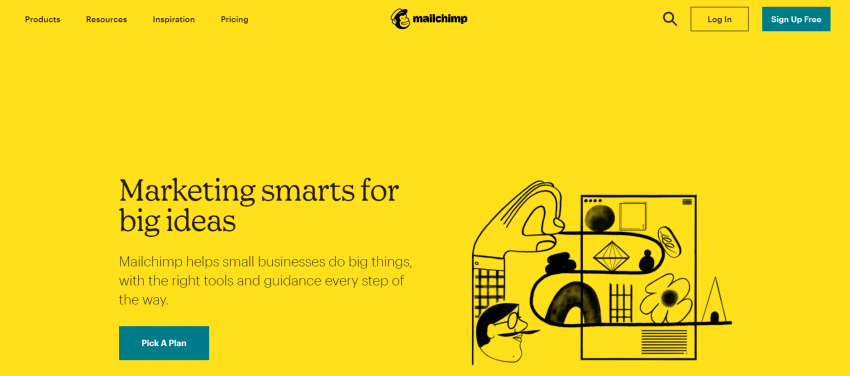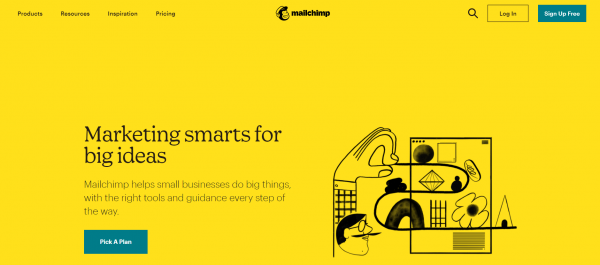 This most widely used, most recognized, and go-to free email marketing tool comes with a number of features like so many creative templates, email scheduling, list segmentation, et cetera. It consists of all user-friendly features.
Depending on your budget, you can opt for both a free plan or a paid plan. The free plan or Forever Free lets you send 12000 emails per month to 2000 contacts maximum. Forever Free is suitable for entry-level enterprises as it offers CRM marketing, website analysis, limited email templates, creative assistant for beta users, forms, and landing pages.
Moreover, its paid plans include Essentials, Standard, and premium plan, starting at $9.99, $14.99, and $200 respectively. The Essentials plan allows 3 audiences and 3 users, along with more advanced features like A/B testing, Access to email and chat support, and all email templates.
The standard plan allows 5 audiences and 5 seats, along with other features such as retargeting ads, customer lifetime value, 24/7 access to email and chat support, custom-coded email templates, Send time optimization, and series automation. The Premium plan offers unlimited seats and audience, along with advanced segmentation and multivariate testing.
Cons: The tool does not provide a clear tutorial, which can make it difficult to operate initially. For a non-frequent user, its frequent updates can be frustrating.
---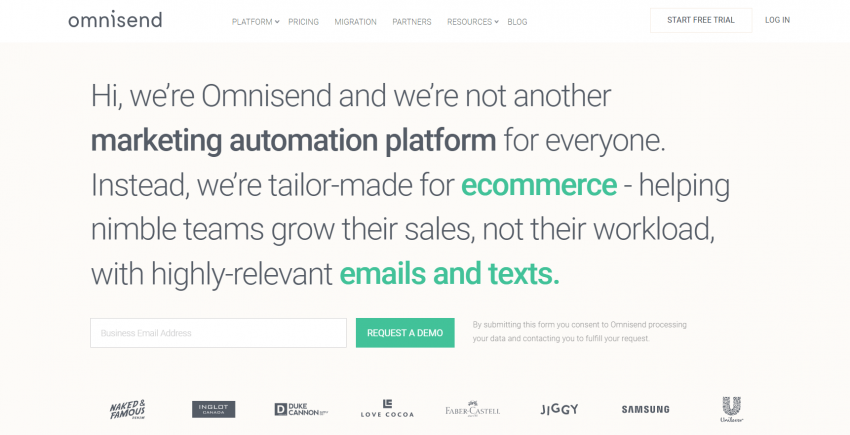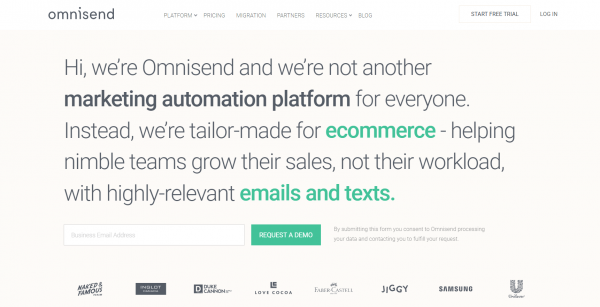 Omnisend is another email marketing tool that makes use of artificial intelligence. It helps to integrate many platforms into one common interface. It not only provides multi-format templates but also provides its users with some additional features such as email tracking features and A/B testing. Some of its templates require consistency improvements, especially in IOs.
Its free plan offers 2000 emails a day and 15000 emails in a month. it also has a 14-day free trial. 15,000 emails per month with a limit of 2,000 emails per day.
You can sign up to 3 active Signup forms, with the possibility to send scheduled campaigns along with other features like Website tracking (with data history for 1 month), Discount Content Block for your emails, segmentation, Click Map, Mobile-ready email templates, Sales reports, and a drag-and-drop Email Editor.
The Standard plan offers features such as Automation reports, Product Picker and Product Recommender, Wheel of Fortune, SMS channel for campaigns and for automation, 24/7 live chat support, Website tracking (with data history for 3 months), A/B test campaigns with an x20 sending limit.
Its Pro plan has x15 sending limits, with a set-up up to 50 Segments, Push Notifications, Google Ads Customer Match, Website tracking, Custom domain signature, and deliverability support and credit for SMS messages sending.
The Enterprise plan has features such as Unlimited email sending limits, Priority support, Account migration service, Individual Onboarding plan, Prefilled SMS credits, Website tracking, Dedicated Account & Deliverability manager, Facebook Messenger, Advanced User Roles Management, Workflows Customization, and Signup forms.
Cons: Users often want more templates and campaigns.
---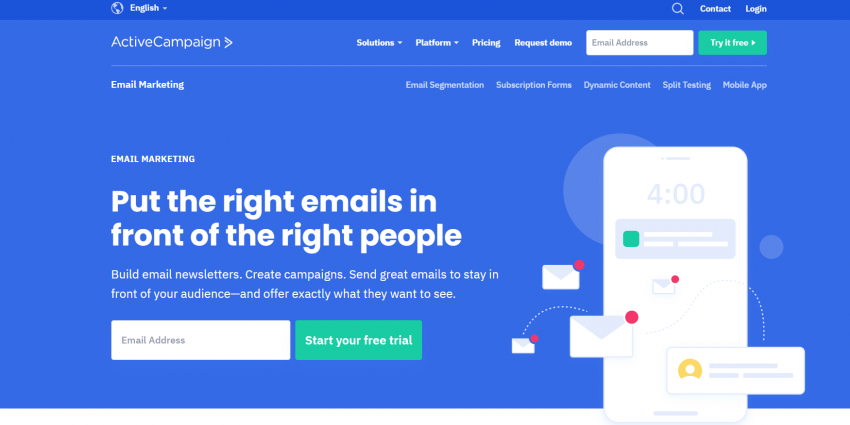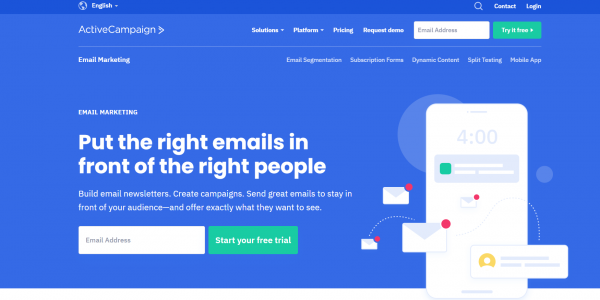 ActiveCampaign is presently one of the most mainstream tools for email marketing having close to a lakh client, done all organically. The tool enables anybody to make incredible email mechanization arrangements with no related knowledge needed. Yet it is so affordable and profit-generating.
If you choose to take a yearly Lite pan, it will cost you$9 monthly for these features: unlimited sending, newsletters, chat and email support, marketing automation, subscription forms, and up to 3 users.
If you choose to take the yearly Plus plan, it will cost you $45 monthly with the following features: landing pages, Facebook custom audience, CRM automation, Customer user permissions, integrations.
SMS marketing, lead and contact scoring, and up to 25 users. If you choose to opt for the yearly professional plan, you can pay $129 monthly for the following additional services: predictive sending and content with machine learning, split automation, site messaging, in-depth onboarding consultation, 3 training sessions one on one, and up to 50 users.
Along with all the features from a professional plan, its Enterprise yearly plan starts from $229 monthly with these features: Customer reporting and mail server domain, Free design services and social data, unlimited users, phone support, uptime SLA and dedicated account rep.
Cons: Might not be suitable for small businesses due to higher pricing.
---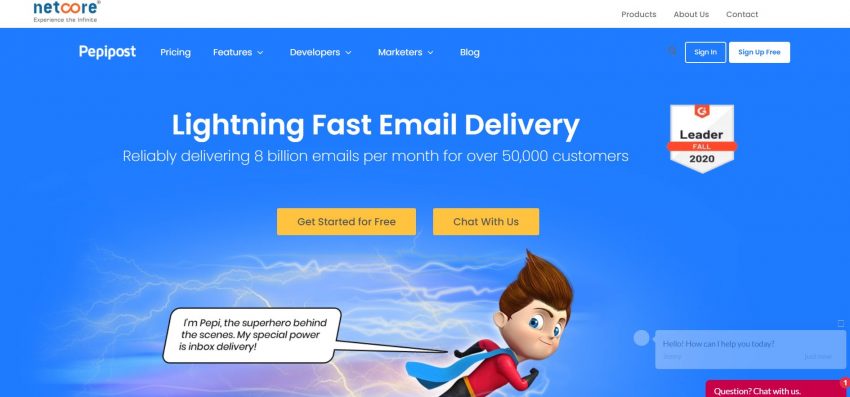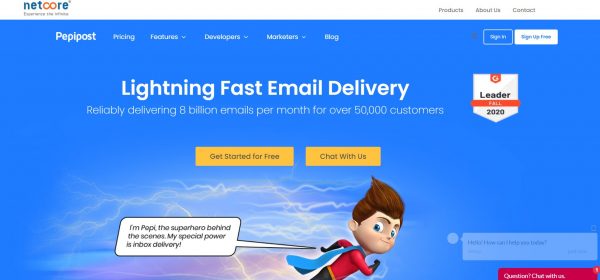 This email marketing tool is cutting-edge programming that offers essential email advertising administrations. It is one of the perfect choices for SMEs and to be used by freelancers.
It offers its clients an all-around structured design that does not require upkeep through in-house servers and also guarantee conveyance of mail in its due time.
It accompanies strong and very much arranged security highlights to assist you with shielding your data and email conveyance system empowered by artificial intelligence.
Its free plan supports a limit of 25,000 and 5000 emails each day.  It also accompanies live detailing and tracking, single domain, SMTP, and APIs. Along with these features, its paid plan includes, webhooks and sub-client the executives, just as a committed help.
Its monthly pricing is 150,000 for $25; 400,000 emails for $85; 600,000 emails for $145; 1,000,000 emails for $245, and 2,000,000 emails for $445.
Cons: Users have often complained about not having signature management and np shared inbox feature
---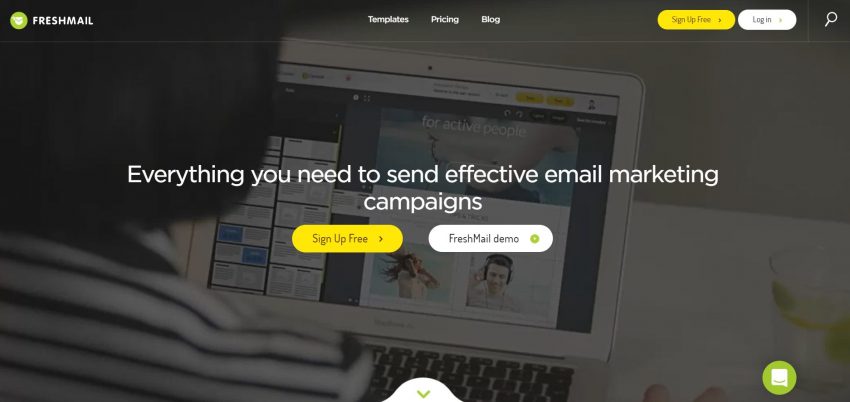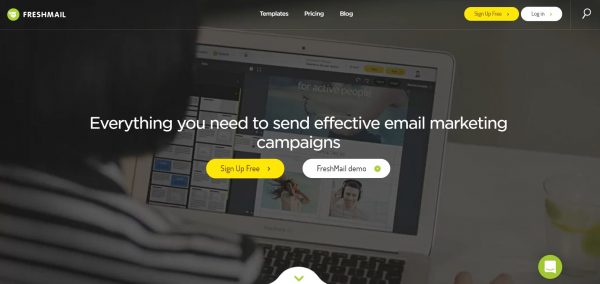 FreshMail is another email marketing tool making use of AI. It has a simple drag and drop system which enables its users to customize email templates and also provides various formal specific templates. Its artificial intelligence-based autoresponders that help to set default mails and sends as per the reply of the subscribers is one of its most remarkable features.
Its free plan has most features offered in its paid version but it limited the subscriber's list to 500 with 200 emails. In the case of paid plans, if you choose to opt for a Starter Pack, it starts from $13 monthly with the following features: form creator, landing page, email support, and marketing for every 1000 subscribers.
The Standard plan for every 100 subscribers can be availed at $49 monthly with the following features: Webinars up to 100 participants, Support via email & telephone, 3 access accounts, Landing Page BETA – no limit, and tracking code.
For every 1000 subscribers, the Pro plan offers the following features at $99 monthly: Webinars up to 300 participants Onboarding, 3 hours of Consulting services, Dedicated IP and sending, tracking emails, priority resolution of notifications, and 10 access accounts. The enterprise plan is for an enterprise-level client and it starts from $662 monthly.
Along with all the Pro features, it has 2 dedicated IPs, individual reports, the highest message throughout, no limit to access accounts, consulting serviced, and webinars up to 500 people.
Cons: Its integration can often be tough or glitchy.
---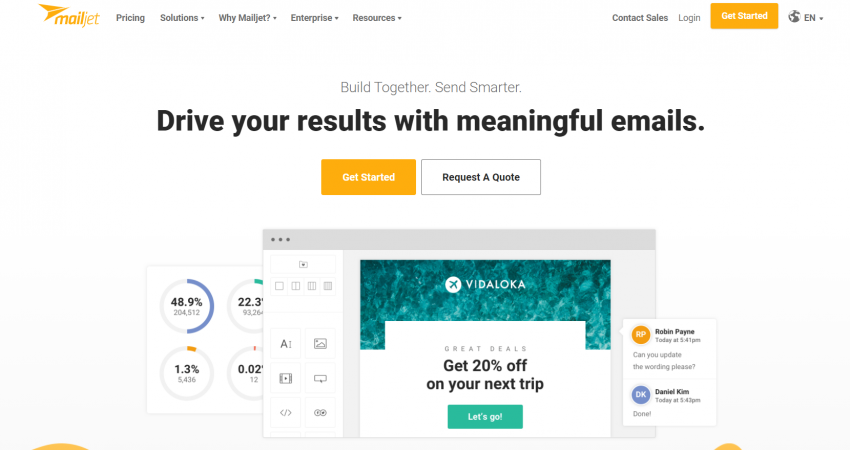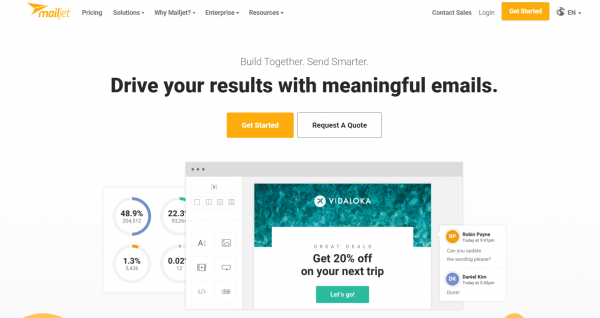 This marketing tool has a drag and drops template maker or a Passport. It is extremely user friendly and allows its users to customize their email templates as per requirement. Some features are still in the development phase.
Its free plan that offers unlimited contacts, 200 emails a day, and 6000 emails in a month, along with an email editor, advanced reporting, and API access. Its paid plans include the Bronze plan that enables the users to send 30000 emails in a month for $7.49 per month, its Crystal plan offers all premium features, 60000 emails for $27.95 per month.
The silver plan can be availed at $74.95 for 1,50,000 emails. The Gold plan can be availed at $166.95 for sending 3,50,000 emails. The platinum plan enables its users to send 7,50,000 emails for $333.95 monthly, and the Diamond plan can be availed at $666.95 for sending 25,00,000 emails monthly.
Cons: Users have often complained about the lack of customizations for some features.
---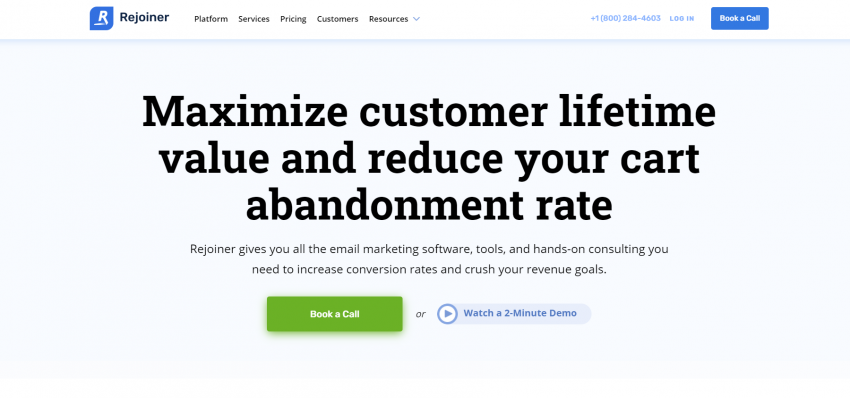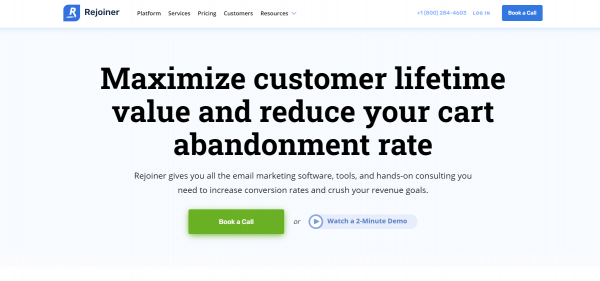 This email marketing tool has high ranked with unbeatable offers. This is not a self-service email marketing tool but a managed one. It takes care of most of the aspects such as copywriting, email strategy, design, and everything in between. It doesn't have specific plans, however; you can book your services for 500 contacts and 500 emails at a monthly price of $95.
For every 1,01,000 and 10,10,000 emails, you have to pay $1245 monthly. There is an eligibility of very high-volume discounts for 1,50,000 contacts with 15,00,000 emails. Since the process is high, this is only perfect for large global enterprises.
Cons: This is not fit for small and medium-sized enterprises due to its unaffordable prices
---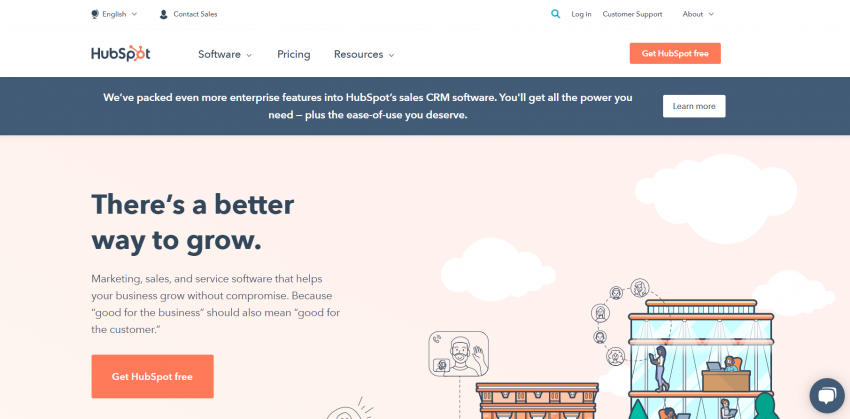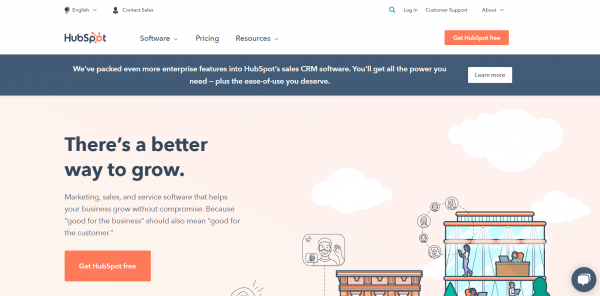 HubSpot is a robust email marketing tool that provides a wide scope of tools. Their email promoting devices permit you to rapidly and effectively make, customize, and improve your messages even for a non-tech-savvy person.
Their pre-caused layouts to permit you to make your own exceptional messages with their simplified editorial manager. HubSpot is easy to utilize and permits you to redo your design, add invitations to take action and pictures, and alter your substance and tones to coordinate your image.
This tool is free for up to 2,000 email sends every month, and its paid plans start at $50 monthly. In this Starter plan, HubSpot takes care of attracting the audience through landing pages, chatbots, live chat, ad management, and forms. It also takes care of understanding the lead and engaging with them through follow up emails, list segmentation, and other insights.
The Professional plan that starts at $800/monthly takes care of more such features such as automate and personalized marketing, getting found online through blogs, SEO, and social media, and optimizing conversion rates, and building custom reports. The Starter and Professional plan are starting for 1000 contacts.
The Enterprise Plan can be availed at $3200/monthly for 10,000 contacts. It contains more such features such as extending the platform through adaptive testing and webhooks, advancing reports, and adding behavioral touch to it, and auto-managing teams and branding.
Cons of HubSpot: The platform becomes expensive quite quickly and the free version only offers limited features.
---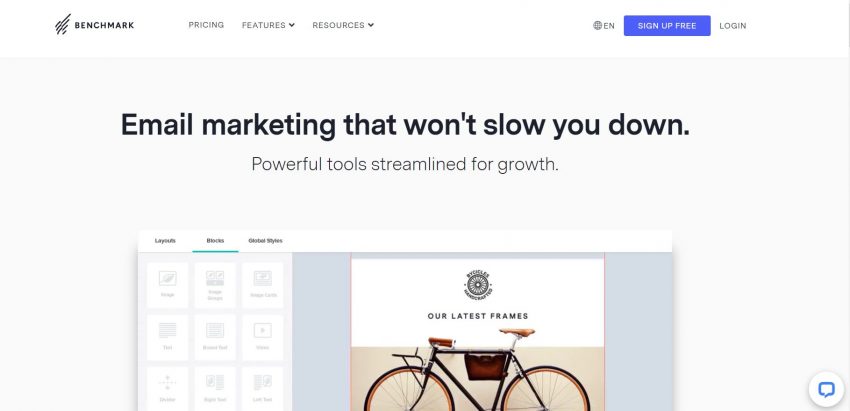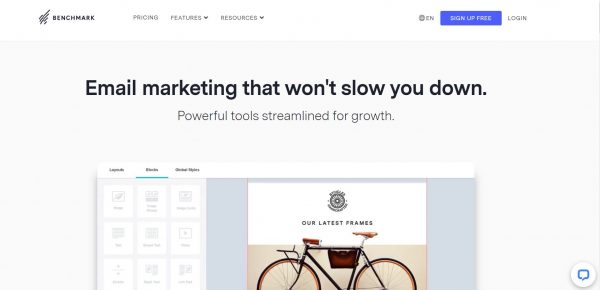 Benchmark works just like Mailchimp, with a better angle that it has a more simplified editor. It offers all-around structured formats to make exceptional, responsive emails. Its free plan provides enables the business to send a total of 14,000 messages for 2,000 supporters for every month.
It has Google Analytics, intuitive editorial manager, formats, and structures, among others. It's paid plans computerization instruments and layouts, for example, Reports, Abandoned Cart, Blank Canvas, and Welcome Subscribers.
For its medium plans, you can send unlimited messages to 50,0000 subscribers. For 600 subscribers, the plan starts at $13.99 monthly and it keeps increasing as the subscribers increase. For Larger sending plans, for 55,000 subscribers and 7,70,000 emails starting at $285.99 monthly.
Cons: Some of its best features are not present in its free version.
---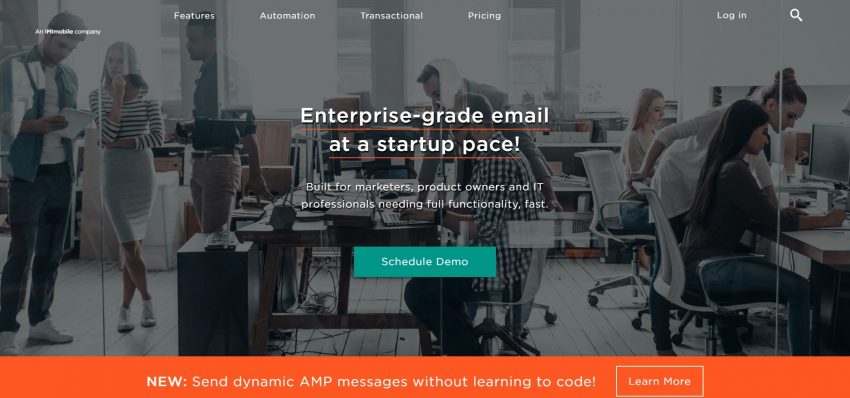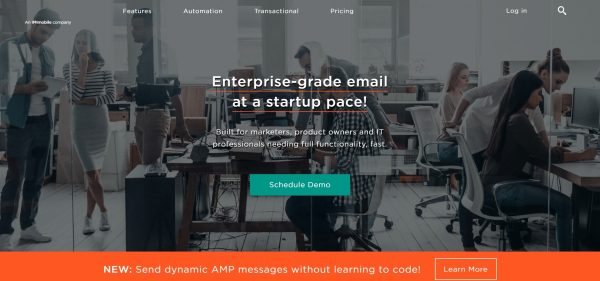 This is another email marketing tool which is best suitable for small enterprises with a limited subscriber base. It is a free service in which the users can create, customize, automate, and send emails in bulk. The paid tools start at $1000 monthly for 1,00,000 subscribers and 20,00,000 messages.
Cons of Pigeon Express: There could be more email templates and customer support.
---
On a concluding note:
There are a variety of email marketing tools, more or less the same, with a few additional features that make them more or less suitable for a particular business. You can also track these tools for offers and discounts that are available from time to time.
We have given a comprehensive idea of the features and plans available for the best email marketing tools. However, if you are still confused, you can always go for their trial plans.