Marketing has always been about forming a connection with your audience in the right place and at the right time. With the number of people using the internet constantly increasing, offline marketing is no longer as effective as it used to be. Here is where you need to connect with your audience at a place where they are spending most of their time – the internet. Digital marketing is any form of marketing that exists online.
The fragment of marketing that uses the internet and digital media platforms, along with social networking sites and work engines to promote a product or service, or the company as a whole is labeled as digital marketing. Business leverage digital channels such as social media, search engines, email, and other websites are utilized in digital marketing to connect with contemporary and prospective customers.
It aims at catering audience and reaching everyone globally. Digital marketing is a vital strategy for your business and brand awareness. A significant role of digital marketing is to help you gather new traffic, leads, and sales for your business by reaching out to people who take a genuine interest in your products and services.
Considering that there 4.3 billion people on the internet, it is likely that at least two billion of them are online shoppers. This is where digital marketing has its role to play to help in business growth. Since there is a multitude of options one can avail of in digital marketing, and various strategies associated with it, you can get creative and experiment with the accessible variety on a budget.
With a gold mine of software available, mentioned below is a list of 10 tried-and-tested free online tools for digital marketing, covering all aspects of an online strategy and easy to use with minimum technical skill required.
Here is the list of Best Online Digital Marketing Tools: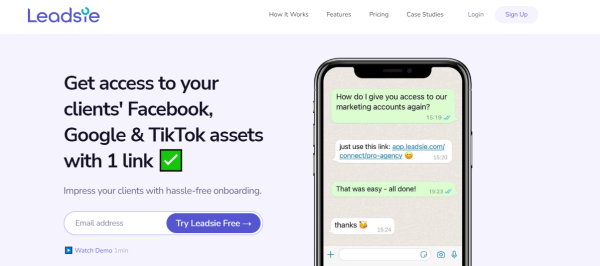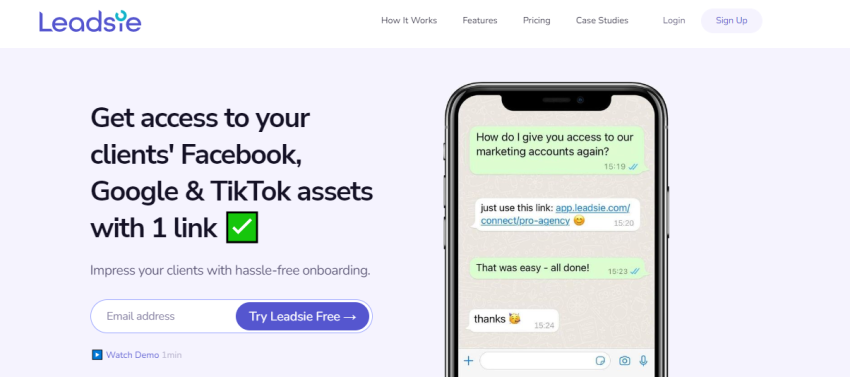 If you're a marketing agency or freelancer who manages multiple assets for your clients, you may experience frustration when getting the right admin access. You want to impress your new clients with your expertise and start posting and running ads for them immediately, but getting access to the right assets is wasting your precious time.
The client thinks they're paying you to do nothing, and you're stuck with getting the right permissions due to lost passwords or an inefficient process. Leadsie is an easy-to-use tool that takes all the hassle of requesting passwords and asking for client account access via email, calls, and video chats. With Leadsie, you generate a secure link that you send to your client.
They then log in to the relevant accounts you require access to, and you can immediately start managing their ads, social media, and more. It's a secure, hassle-free way to take the friction out of client onboarding.
You can use Leadsie to request access to your clients':
Facebook pages, Ads, Instagram, Catalogues, and Pixels
Google Analytics, Google Ads, Google Tag Manager, Google Search Console and Google Business (My Business) Profiles
TikTok Advertising accounts
If your client doesn't have a Facebook (Meta) Business Manager account activated; they can use Leadsie to set up missing assets without you needing to walk them through it.
Leadsie saves thousands of hours for marketing agencies each month and has already supported over 25k marketing clients' onboarding.
Ready to start getting frictionless access to your clients' accounts? Start your free trial of Leadsie here.
---
2. Trello (Project Management and Collaboration tool)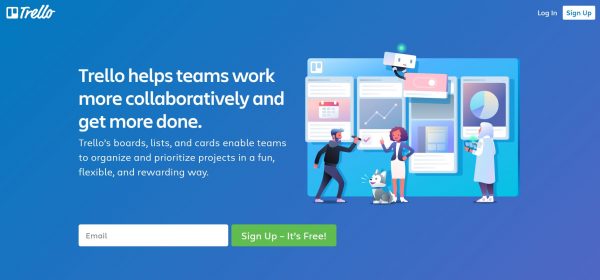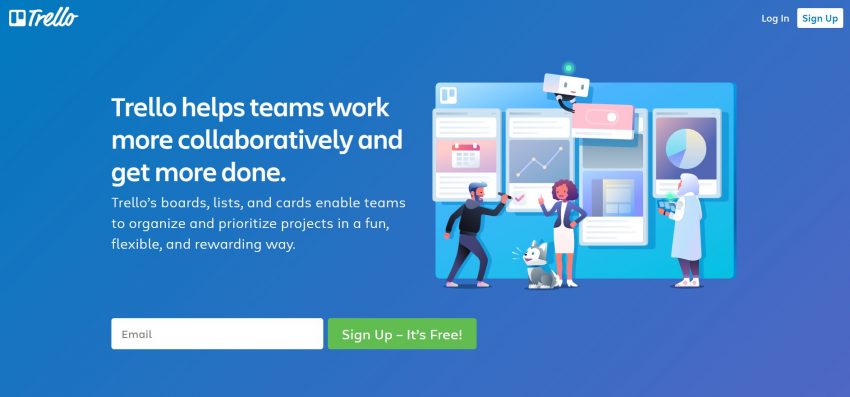 For the success of your business, it is essential to communicate and set expectations for the outputs and products, attainable milestones, and your stakeholders. Trello is one of many free digital marketing tools that aid you to manage projects trouble-free and stay on the same page as your team – a crucial and sound digital marketing practice.
Earlier, project management efforts and collaboration with your team would happen for the most part through email. While this is still useful, to a certain level, it can often lead to missed notifications and messages, uncertainty, and indecision. Emails were simply not constructed to accomplish the dynamic and quick-paced tasks that digital marketing activities demanded.
When it comes to comparing with other available tools, Trello is, by far, the best. For collaboration with others regarding marketing tasks, it is hard to beat Trello. With Trello, everything related to online marketing strategy can be shared in the same space. Displaying each project like a "board" containing "cards" with checklists, the user interface is easy to navigate and understand.
Trello, like most collaboration software platforms, has upgradeable and paid features. Nevertheless, their free service covers the significant and most essential core features:
The simple organization of project tasks, deadlines, and milestones.
Customizable task categorization
Drag and drop operability
One third-party app integration per "card"
Checklists with progress tracker
Easy attachment uploads
Activity log
Email notifications
Data filtering
Deadline reminders
SSL data encryption (to provide security)
Trello is a simple tool that comes with diversified functions and a powerful way to organize and plan digital marketing projects.
---
3. HubSpot CRM (Customer Relationship Management Tool)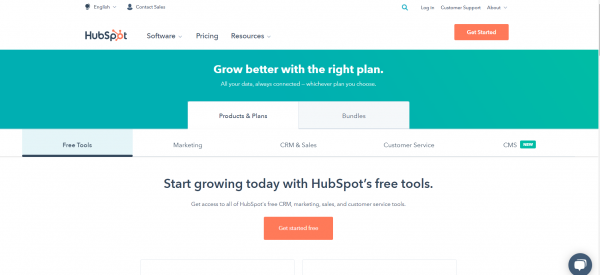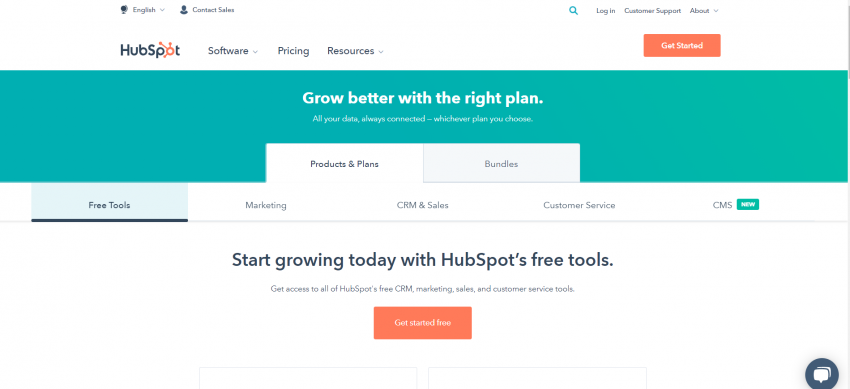 Customer relationship management (CRM) software or tools assists you in managing your relationship with your customers. From marketing and sales process tracking to easy-to-find data storage and information arrangement, monitoring your customers and business prospects are much trouble-free with a CRM tool that does all the drudgery for you.
For your business to run smoothly, it is important for your marketing funnel to have a good working order. With HubSpot's CRM tool, you can have free access to the following core features that the tool dispenses:
Customizable views
Task boards
Drag and drop communicator
SEO
Marketing automation
Calls-to-action
Extensive integration capabilities
Email connections
Templates, tracking, and scheduling
The tool offers a guided tour to familiarize you with its layout. With an interface that is easy to use, there is no stone left unturned with HubSpot's all-in-one marketing software. Additionally, you can import and export contacts into your custom databases for customers, both contemporary and prospect, reducing your workload and saving your time by keeping your lists updated at all times.
---
4. Smylelytics (Website Performance Monitoring Tool)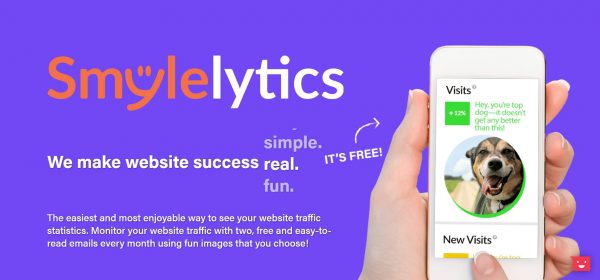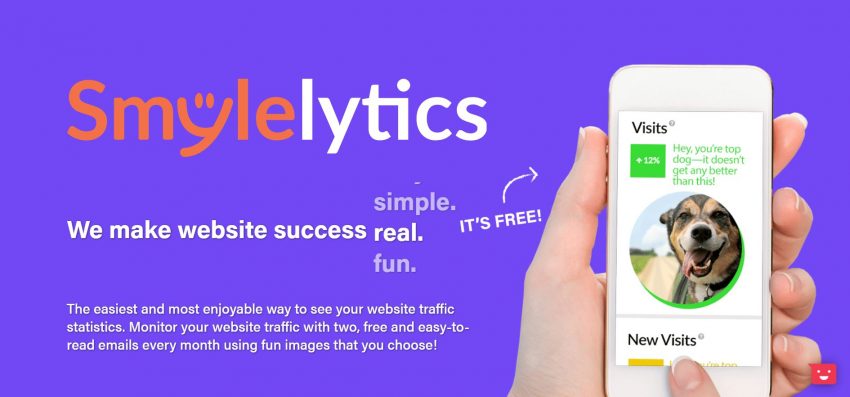 One of the other tiresome and time-consuming tasks at hand can be monitoring the website traffic for your business. It encompasses analyzing a multitude of key performance indicators in order to disclose insights into how your visitors interact with your website. With this added bonanza of performance monitoring data, you can better optimize the content on your website to achieve your online target.
Smylelytics, a user-friendly tool for the required performance, sends you a bi-monthly report of your website's traffic data. By translating the numerical data into organized photos you can monitor if your site is improving, holding steady or requires your attention.
While Google Analytics can happen to be confusing, Smylelytics boils down the task of monitoring more efficiently, thus considered a better alternative by many. To get started with Smylelytics, you need your website's URL, the email address that is tied to your Google Analytics account, and an email address for your reports to go.
---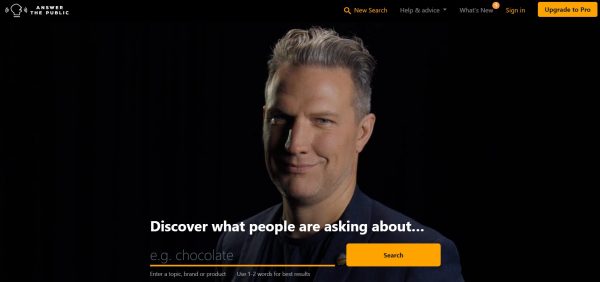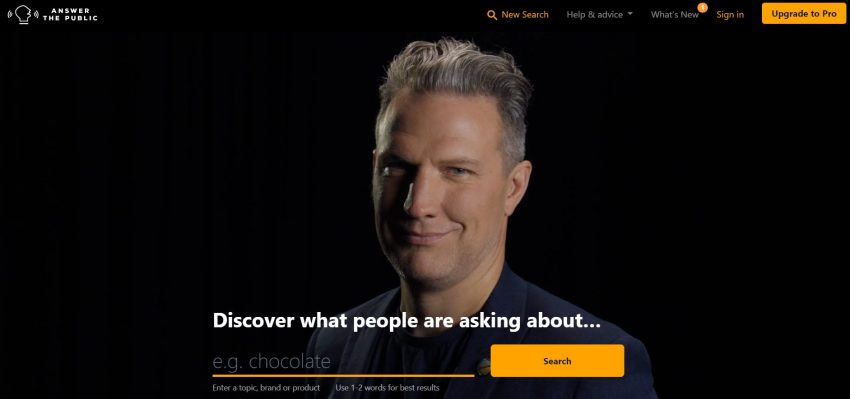 Blogs serve the significant function of helping your website appear in organic rankings in search engines, which is an important source of website traffic. Although to achieve this successfully, you need to know what topics your customers are searching for with respect to your business.
Answer the Public is a phenomenal tool that helps you discover the perfect blog topics based on the keywords that your customers use. It works similarly to a search engine where you type a keyword in relation to a topic that your customers might lookup. The tool generates abundant topics based on real search queries and trending questions in relation to your keyword.
---
6. MailChimp (Email Marketing Tool)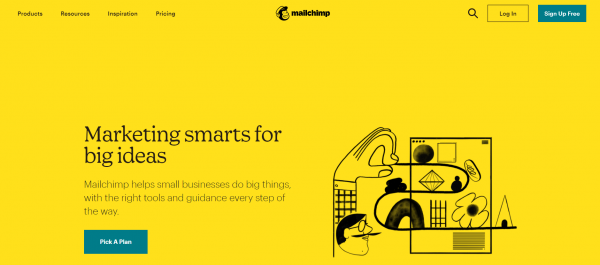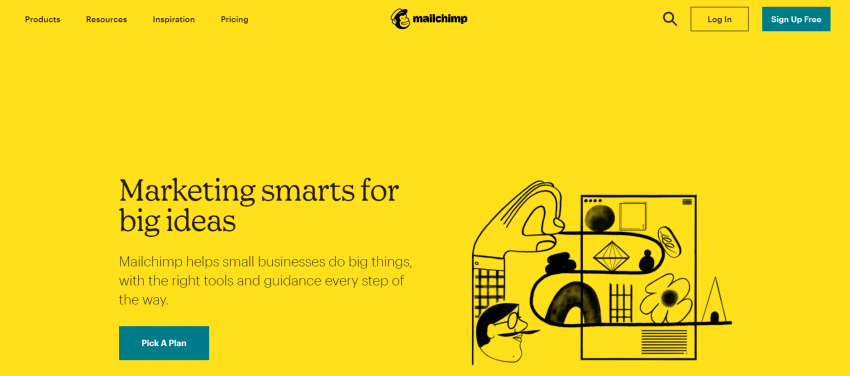 Email marketing ensures one of the highest ROIs (return on investment) out of all the other digital marketing strategies available simply because collecting email addresses from customers is relatively easy. Email marketing is used by more than 80% of B2B and B2C companies. With free and powerful tools like MailChimp, it also becomes extremely cost-effective.
With more than 12 million users, MailChimp has claimed its spot as one of the top email marketing providers, to date remaining the best one can rely on. Their Forever Free plan is totally free for up to 2,000 list subscribers and up to 12,000 emails a month. The nuances of the plan include the following:
Easy-to-use email design and image upload functions
Media storage
Email design templates
Sign-up forms
Autoresponders
Drip campaigns
Optimal send time calculation
Subscriber data based on engagement rates
List management with easy segmenting options
Third-party app integrations such as Google Analytics and social media
MailChimp provides more than just campaign building functions, as seen already. When starting a business, it is unlikely that you will have more than 2,000 subscribers. For this particular reason, you can start using MailChimp from the very beginning.
---
7. Hootsuite (Social Media Marketing Tool)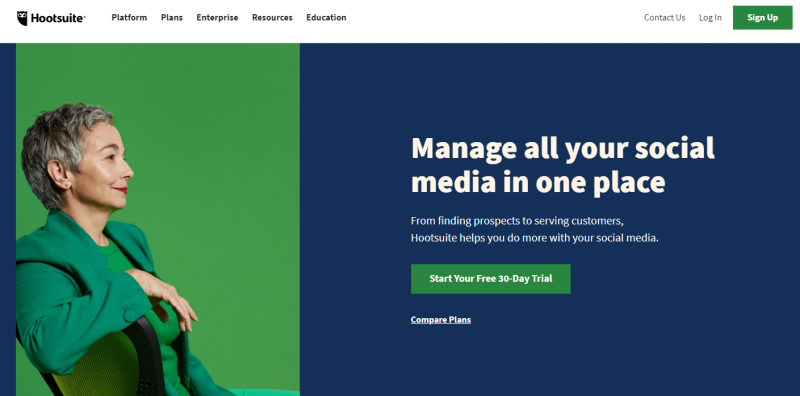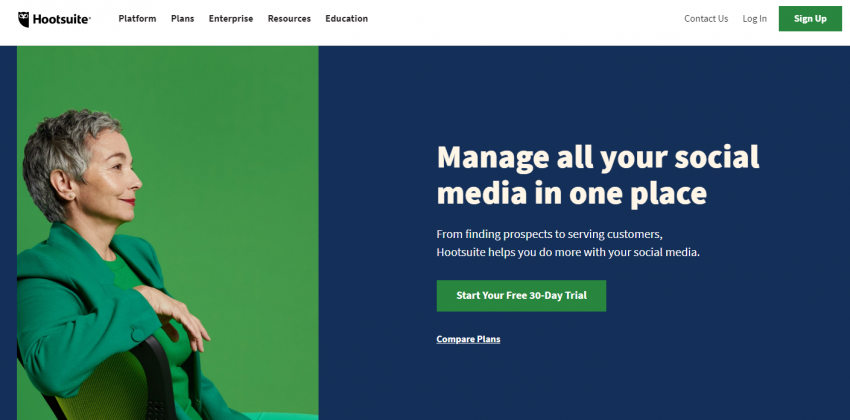 Social media marketing plays a massive role in the success of your business, regardless of age, size, or class of industry. Maintaining a presence on various social media platforms, namely, Facebook, Instagram, and Twitter, is not only time-consuming, but also requires coordination to brainstorm and research, write, revise, publish, and schedule your posts; along with engagement efforts with your followers.
Hootsuite is a free digital marketing tool that amalgamates with multiple social media platforms that allows you to perform and manage all the tasks in one place. While, as for most tools, there are some features which you can avail only after payment, Hootsuite's free and basic services provide you some of the major functions, as mentioned below:
Basic analytics
Integrate third-party apps, for instance, Tailwind for Pinterest
Identifying influencers for your marketing team and leads for your sales team
An added advantage of pre-written responses
Like, comment, and share posts and reply to comments and mentions all through the dashboard
Monitor your feed
Publish posts immediately or schedule them in advance
Hootsuite gives you a guided walk of the app to familiarize you with the layout so that you can immediately begin navigating the dashboard in no time. Hootsuite makes social media marketing extremely easy where you can manage social media profiles for over 30 platforms.
---
8. Moz Local (Local Search Listing Management Tool)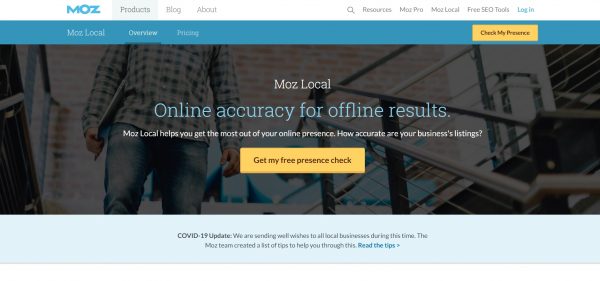 Moz Local is a free digital marketing tool to boost the online competitiveness of business in the immediate market. It is designed for getting your business to listen consistently and correctly on the main local data aggregator websites, from Google to Yelp and more.
This free digital marketing tool provides you a plethora of services for beginners, as well as advanced SEO researchers. The tool provides you with certain functionalities as follows:
Competitive analysis
Organic rank tracking
Website crawls
Recommendations for on and off-page SEO
Reports of all inbound and outbound links to your website
---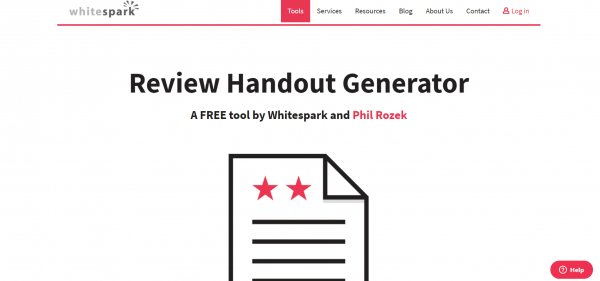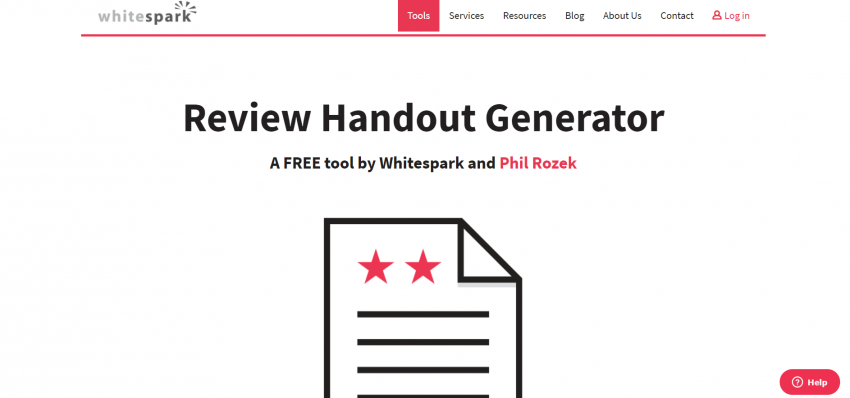 A crucial factor that determines – either enhances or hampers – the online success of your business greatly is online reviews. With the Reviews Handout Generator by WhiteSpark, all you need to do is figure out the device your customers use to leave reviews. This free tool will generate a PDF handout for you to print and provide your customers detailing instructions on how they can leave you a Google review from their device.
---
10. G Suite (File Storage and Collaboration Tool)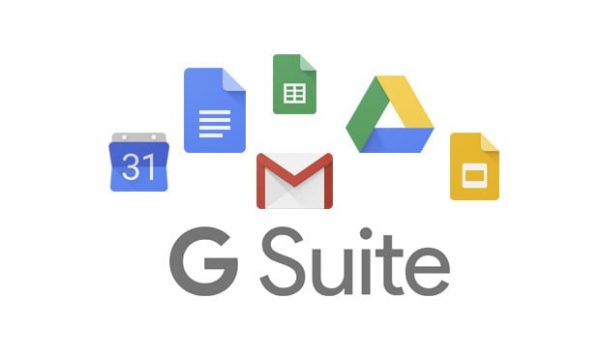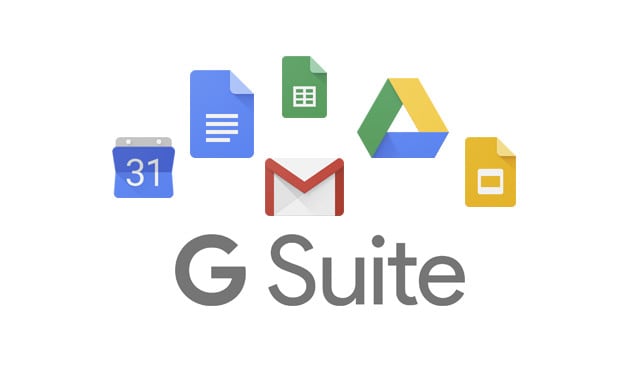 G Suite is a cloud-based platform that includes very simple but proficient and adept productivity tools that you need to collaborate with for your business. It can be used with or without access to Microsoft Office 365 software and is entirely compatible with most Office 365 files, but its similar and uncomplicated properties only offer the core functions that you need to get your work done.
Products in G Suite include:
Google Drive (file storage)
Google Docs (word processor)
Google Sheets (spreadsheets)
Google Slides (presentations)
Google Calendar (calendar)
Google Forms (create and analyze surveys)
Gmail (email)
While you cannot access these products in a desktop app, you can access, download or upload your files across G Suite, as long as you have an internet connection.
Files created and edited through the office suite are saved in Google Drive, which offers 15 GB of free storage.
---
11. Grammarly (Proofreading and Plagiarism Checker Tool)

Grammarly is a very efficient and handy free tool that works much like Google Docs with an online dashboard, with a simple interface. The tool checks your spelling and grammar and also saves documents if you need to use them for reference later.
Alternatively, you can install the tool as a plug-in for your browser, a feature that enables automatic proofreading of everything you type without having to access the dashboard.
While there are paid upgraded versions of this tool, the free and basic service offers a multitude of functions, such as:
Spelling check
Grammar check
Plagiarism check
Detailed explanations of the errors
Summarized below are a few benefits of implementing digital marketing tools to your overall marketing strategy:
It enables monitoring of the growth of the business.
It provides access to obtaining advanced marketing metrics, which are otherwise difficult to obtain.
Even, It ensures the automation of the processes, which saves time and money.
It gives you a base to construct detailed customer personas.
No matter what your goals are, the aforementioned cross-section of free digital marketing tools is safe, powerful, and lucrative for businesses. To ensure that your online marketing strategy succeeds, it requires using the right tools at the right time. You can narrow down to your choice of tools or incorporate all of those mentioned above to create your marketing strategy for your business.