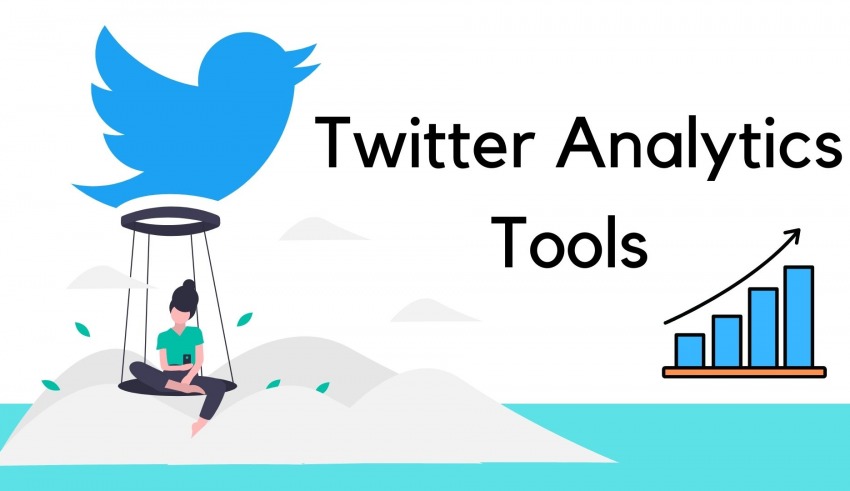 They have become a platform for a variety of creators. You get to appeal to numerous users with a varied demographic. Data plays an important role when trying to grow on Twitter. Data helps you to arrive at the correct conclusions for your account. You get a clear idea of what your account requires. Twitter analytics tools help you to service data from your account. They help you to prevent spending hours behind finding important data. The Twitter analytics tools provide you all data on your dashboard.
Many of these sites also help you to export data for ease of use. We have listed free as well as paid tools for your convenience. The tools listed below are some of the best analytics tools for Twitter. 
Here below is the list of the 10 Best Twitter analytics tools: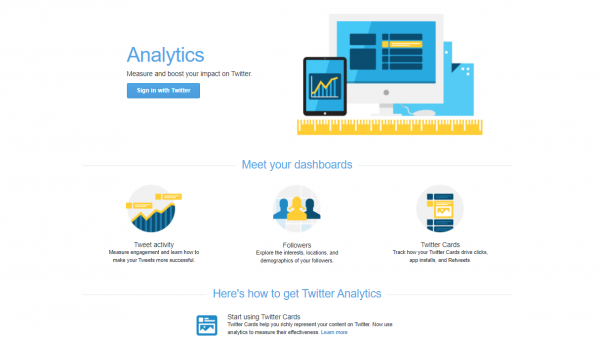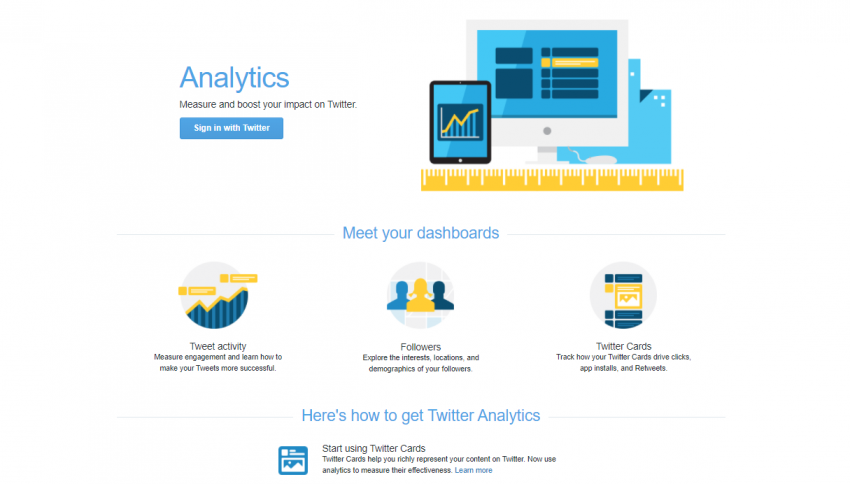 Analysis of data is important for having great results on Twitter. Having access to data that can be applied to your account provides you with several growth opportunities.
When trying to find twitter analytic companies people tend to forget to outlook at the most obvious answers. Twitter analytics is an analytics tool made by Twitter.
This tool is free for all Twitter users and can be of great help to beginners and professionals alike. They provide you with a general overview of your entire account.
They provide you with the data of the last 28 days at the top of their tool. This helps you monitor and analyze your impressions, mentions, and followers over the last 28 days.
You can scroll down to get the long-term progress report which is categorized on a per month basis. You can export the data of your account over any period.
The audiences segment provides you detailed data about the audience you have gathered on Twitter. You get a detailed analysis of the demographics, behavior, and other information.
They help you to find the most important metrics by cutting out the unimportant ones. If you post videos, you get detailed reports about their performance as well.
They display your top tweet, top mention, and top followers to give you a better understanding of your account. As this tool is completely free this becomes a great way to have a basic to intermediate level understanding of your account.  All of these features have made this one of the best free Twitter analytics tools.
---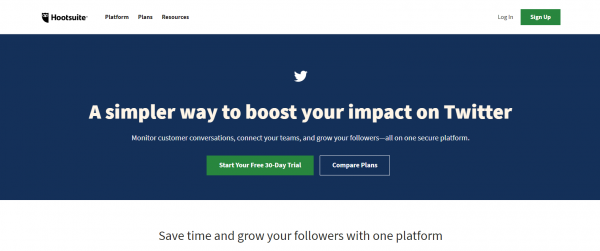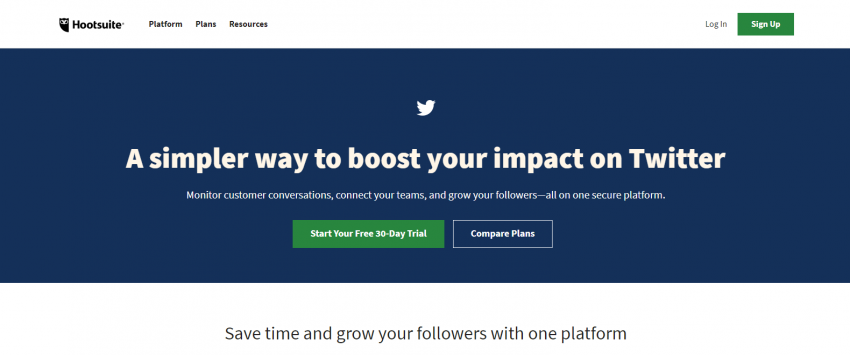 Hootsuite is one of the most recognizable names in social media management. They have provided solutions for several social media platforms. All of their services have been acknowledged as some of the best in this segment.
They are one of the industry leaders in social media management and analysis. With their reputation at stake, they ensure that all of their services deliver on the promises they make.
Using their tools makes managing and growing on social media a simple process. They have focused on research and development to keep improving their tools over time.
They provide some of the best Twitter analytics tools. Their Twitter streams allow you to get insights into the Twitter conversations that are meaningful for your brand.
Their tool filters out all of the useless chatter on Twitter to provide you with the tweets that matter for your brand. This helps to focus on growing your account much better.
You can choose any metric that you want to improve in and they help you to achieve that. Their tools analyze the data to provide you with detailed reports.
These help you realize what you are lacking in and what you should do to improve it.  They provide detailed audience insights so that their customers have a better understanding of what content suits their audience.
You can even obtain customized reports for your account. Apart from analytics, they have scheduling tools as well which help you to plan and automate tweets. A big advantage is that you can access their software from any device.
This helps you keep a track of your account on the go and without any hardware limitations. They have a free plan which gives you limited functionality. Their paid packages are worth the subscription as they provide excellent resources to take your Twitter account to the next level.
---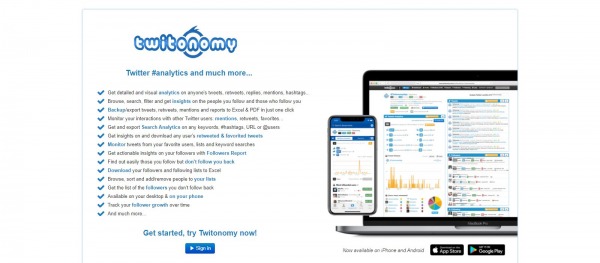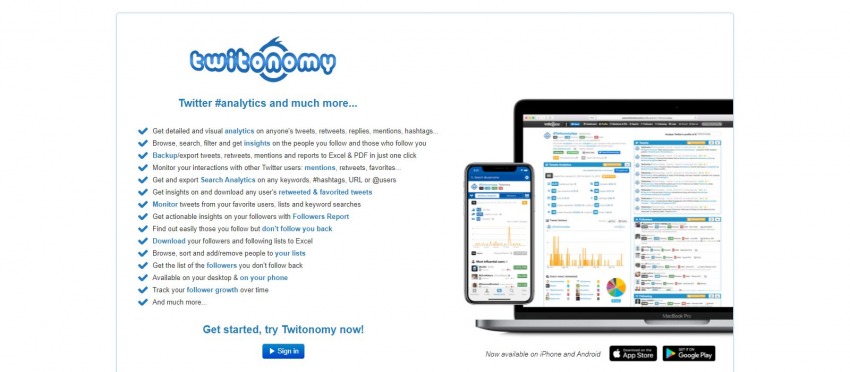 Twitonomy is a management tool that is created for Twitter. They only provide tools that work with Twitter. They are considered to have a few of the best Twitter analytics tools in the world.
Twitonomy have been able to focus all of their resources on a single platform and create tools that are optimized for that specific platform. With their tools, you can get the best data and analytics of your account on Twitter. They help you get an in-depth analysis of all the engagement that your tweets get.
This includes tweets, replies, retweets, mentions, and much more. You can even track the data of other people. This helps you gain an insight into any competitors that you may have.
You can even place filters to show you people who tweet in the same field as you. With their tools, you get to save all of your tweets.
They allow you to export the tweets by converting them into pdf or an excel document. You can get analytical data on anything you want to search on the platform.
This tool is a great way to understand the keywords that will boost your growth. Keywords are important in all social media content.
The tool helps you understand which keywords will be well received by your audience. With their follower report, you get a detailed overview of your followers list.
You can even get a list of people who do not follow you back. You can even find out the places over the world where you have got your mention from.
This helps you track your influence on a global basis. Using their tools, you will be able to analyze data and optimize your account for better performance on Twitter.
---
Followerwonk


Followerwonk houses tools specifically for Twitter. They have several clients who have been satisfied with their tools. Some big corporations have resorted to their tools to get the best results for their Twitter accounts.
Their tools have widely been regarded as one of the best Twitter analytics tools. They have gained a reputation for their commitment to providing the best services.  You can perform three tasks with their tools.
You can find various Twitter bios. Using this you can search for valuable information. Their tool helps you to compare accounts. This will show you the target audience both of the accounts have along with their data.
This is a great way to check your progress by comparing your account to that of the Industry leaders. You can even find influencers who have a similar audience to you.
This will ensure that you make the best decisions if you try influencer marketing for your brand. The analysis tool provides a breakdown of all of your followers.
You get to view the different locations and the people they follow among other information. Their tools make it very easy to track mentions and followers. You will not have to do any manual searching. They provide you with the most updated data for your club and helps you to improve your account.
They have a free plan where you can add a single account but you miss out on a great number of features. Their Target and Multitask plans cost $29 and $79 per month respectively and provide you access to all of the premium features.
---
TweetReach


TweetReach provides you with real-time monitoring of your Twitter account. The software aims to help you find the reach of your tweets. They have created a simple platform where users can easily access key data for their accounts.
You will be able to track the data for your account as a whole and individual tweets as well. They have made sure that the platform has a simple interface to prevent confusion among new users. By just entering the URL of the page you will be able to find a detailed analysis of your tweets.
They display the last 50 tweets you have made. This facility can be used for a topic or an account name as well. You have to enter the word you want to search and they provide you with a complete breakdown of its segments. With their reports function, you get a detailed analysis of your account.
You get a report that helps you find the extent of your reach. You find out the audience you have been able to reach with your tweets.
They display all of the basic data along with it as well. You will have all of your impressions, retweet, and other basic data available to you. Their tools can suggest the best times for tweeting depending on your audience and the performance of your past tweets.
They have a variety of packages that you can choose from based on your needs. With the more expensive packages, you get access to better tools and more data. Their packages start at $49 per month and go as high as $199 per month. TweetReach is one of the best Twitter analytics tools.
---


Tweepi helps you to get the most out of your account with the help of artificial intelligence. They use artificial intelligence to help you find the best results for your Twitter account. Tweepi have a large customer base that has placed their faith and trust in their services.
They have had more than 1 million customers who use their tools regularly for improving their accounts. Tweepi have been featured on big platforms such as Yahoo, Social times, Forbes, and more.
They have been recognized as one of the best Twitter analytics tools. They help you automate your Twitter activity to an extent.  You just have to set up your Twitter account with them and they help you find the best followers. They do the groundwork for you and lay down a list of followers who will be beneficial to your account. 
Using their tools helps you understand which users you should unfollow. They aim to make your accounts and follower list optimized for providing you the best growth possible.
---
MentionMapp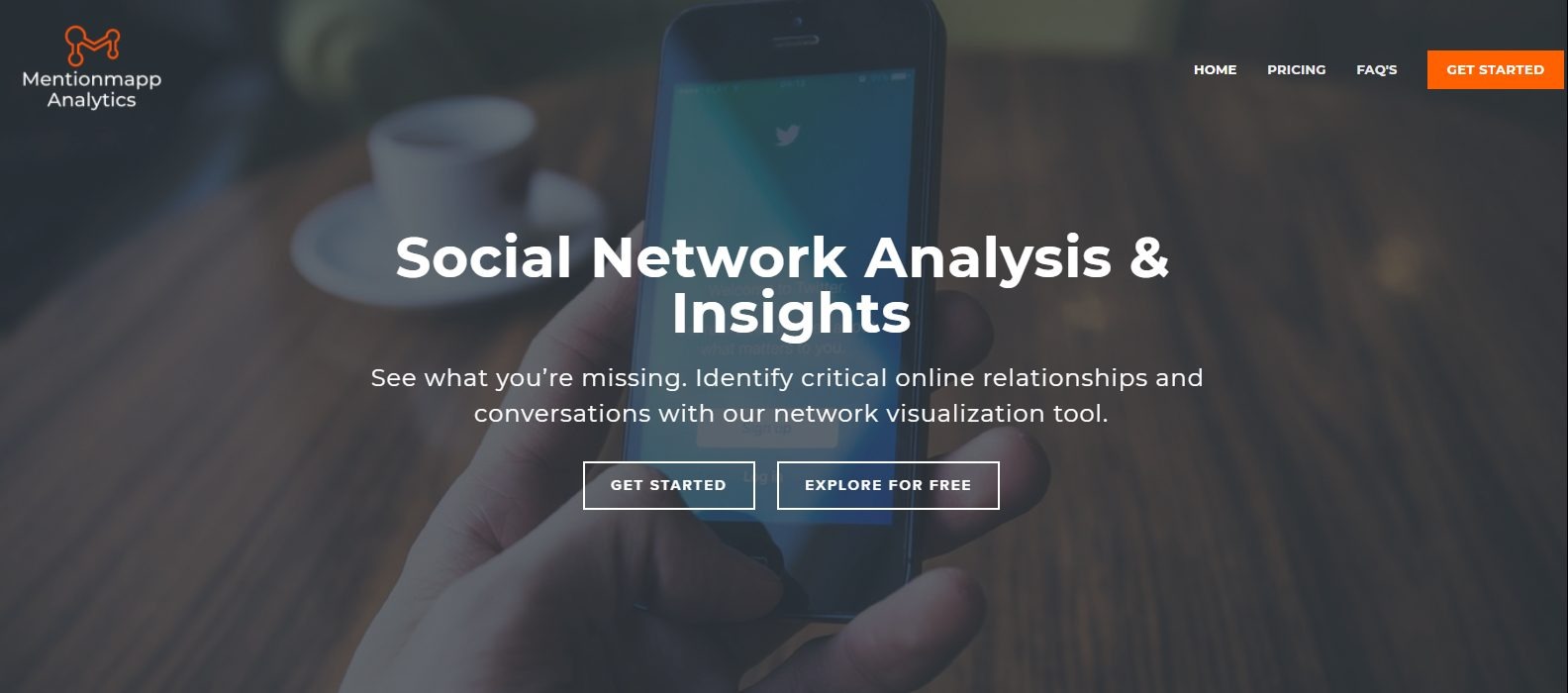 MentionMapp is one of the most innovative analysis tools on the list. They have developed tools that help you track and analyze various metrics on Twitter. Their tools help you to identify the most important relationships on Twitter and capitalize on that knowledge.
With a simple user interface, they have made it incredibly easy to use their platform. You just need to enter the keyword, hashtag, or account name and they provide you with analytical results.
They help you understand who are the major contributors with regards to a particular conversation. Knowing the major contributors to the conversation you want to involve your account in helps you to perform better.
The most unique feature is the real-time network map. This tool helps you to visualize all of your networks as a map. They mark the strong and weak relationships that you have with different colors.
This is a great intuitive tool that gives you an idea of the relationships you need to improve to have better access to particular segments. Having such unique tools has made them one of the most innovative Twitter analytics tools.
---


Brandwatch has one of the best research tools. With their tools, you can easily compare keywords, hashtags, and much more within a few seconds.  Many corporations have used them for tracking and analyzing their data.
You can train their machine learning tools to track specific data and categorize them according to your needs. Incorporating the latest technologies has made them one of the most popular Twitter analytics tools.
---


They provide you with Twitter analytics tools. They specialize in hashtag research and monitoring. Using this you will be able to apply the best hashtags to your posts leading to better engagement.
The tools help you to analyze the geographical insights of your tweets. Identifying this metric helps you to understand the influence of your tweets. They help you analyze your competition as well. You can analyze their campaigns to see how much success they are having with them.
---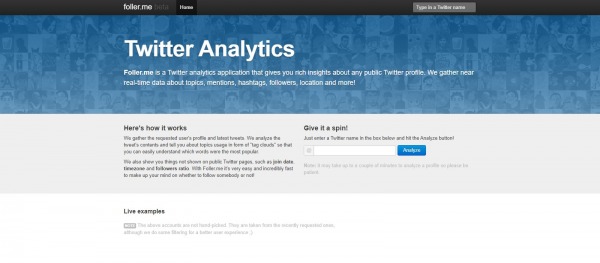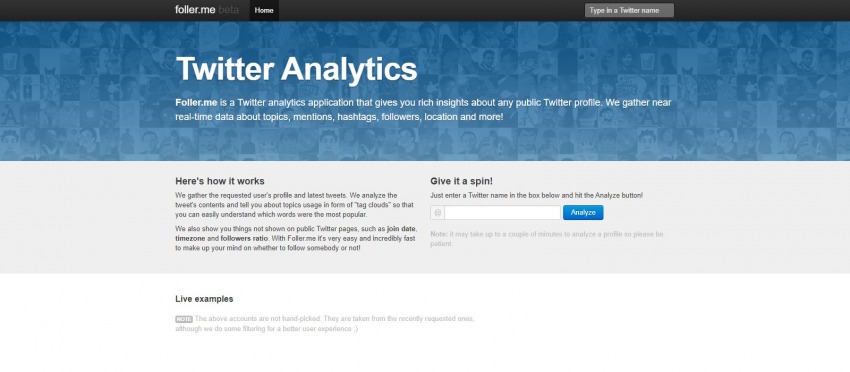 Foller is one of the most advanced Twitter analytics tools. They have a variety of metrics that you can track using their tools. They do a deep statistical analysis of the account. This helps them to arrive at top-level analytical data for their clients.
Their website is divided into different sections. These sections are further divided into subsections. You can easily find the metric you want to track for your account. Their advanced tools help you understand behavior much better.
With the attitude tracking the company tracks the emojis used to try and analyze the mood of the Twitter users. Their time feature shows you the times of the day when the majority of the people are active on Twitter.
This is helping you to gain the most out of each tweet. They have kept their services free which has made them one of the free Twitter analytics tools
---
Conclusion
All of these websites have exceptional service to their clients. They have been upfront with the tools they have along with the benefits you can derive from them.
Having an account that operates based on data helps you get better reach. You will perform better than your competitors. The flexible pricing plans ensure that you can get quality services without having to break the bank.
When using these tools you will require a few days to get accustomed to the interface and the applications of the tool. Once you learn to use and apply the results of these tools you get the best results.