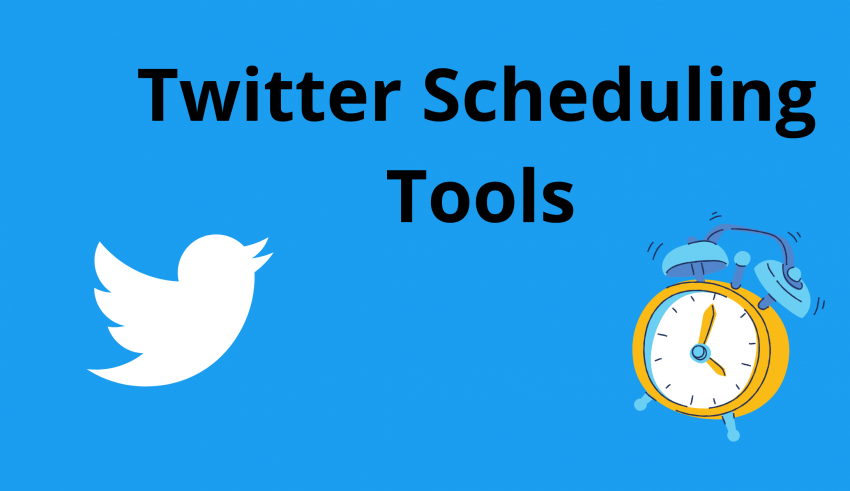 Twitter has become the favorite platform for people looking to promote their brand by stirring up a conversation. But, it can be difficult to always be ready in front of your computer with your Twitter page open. This is where scheduling tools come to help. Once you know your target audience and the time when your viewer's engagement rate reaches the peak, you can schedule your tweets to go live at that exact time. So, after you find when your tweets perform the best, you will be able to schedule your tweets to be published at any time of the day you find fit. In this article, we will discuss the 15 best Twitter scheduling tool that can make your social media marketing a smooth and easy journey.
Now, you never have to face the hassle of manually composing your tweets at the ideal timings.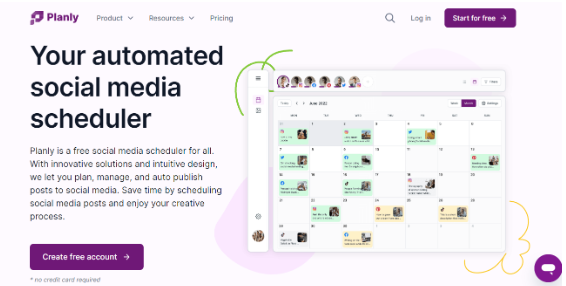 Planly is a social media scheduling tool with an advanced interface. With Planly, it is possible to schedule posts for 6 social media platforms simultaneously. One of them is Twitter. With the Twitter scheduler, you can easily schedule your tweets, images, or videos on Planly or share them immediately.
With Planly, you can also manage multiple Twitter accounts, save and edit your tweets in a draft version, and generate new unique tweets with EU content assistance. With it, you can create your tweet by giving the right prompts and using different filters. The Twitter scheduler makes it simple to plan your Tweets, whether they contain images or just text. Use the calendar and list views to repurpose your scheduled, published, and draft tweets.
---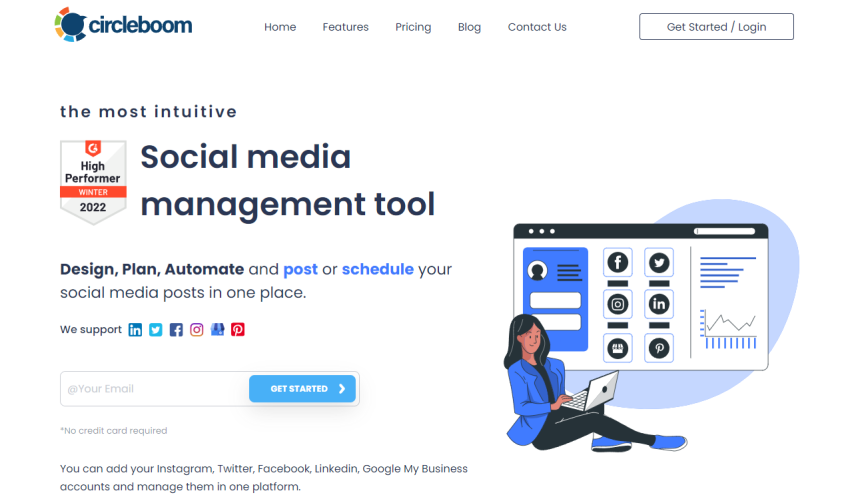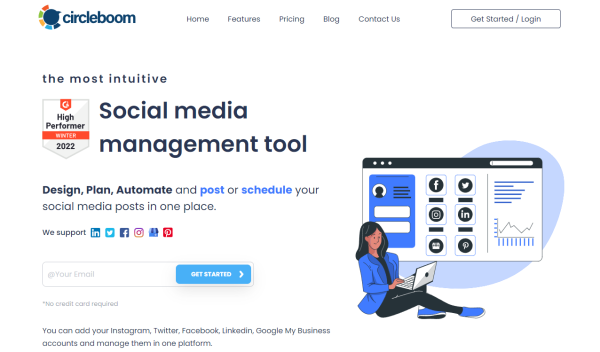 Circleboom Publish offers a great Twitter scheduler that you can create and design your texts and media tweets easily and safely. You can manage your multiple Twitter accounts on the same Circleboom dashboard. You can share your tweets directly or schedule them for a future date and time.
Thanks to Circleboom's built-in tools; Canva, Unsplash, and Giphy, you can curate amazing tweets templates, ready-to-use photos, animations, gifs, filters, effects, different fonts, and other kinds of materials to enrich and embellish your tweets uniquely. On Circleboom, you can automate your tweets. You can set time intervals and create a scheduling queue so that you can send your tweets continuously.
You can create your tweets one by one or you can create Twitter threads on Circleboom's Twitter scheduler. You can edit your tweets after you schedule them if they need improvements. You can connect multiple RSS Feeds for your multiple Twitter accounts and keep them always posting.
Also, thanks to the "Discover Articles" feature, you can curate amazing articles from reputable magazines all over the world and share them with your Twitter audience. Circleboom Publish also supports Facebook, Instagram, Pinterest, LinkedIn, and Google Business Profile. Circleboom Publish is the most comprehensive, intuitive social media management system available now.
---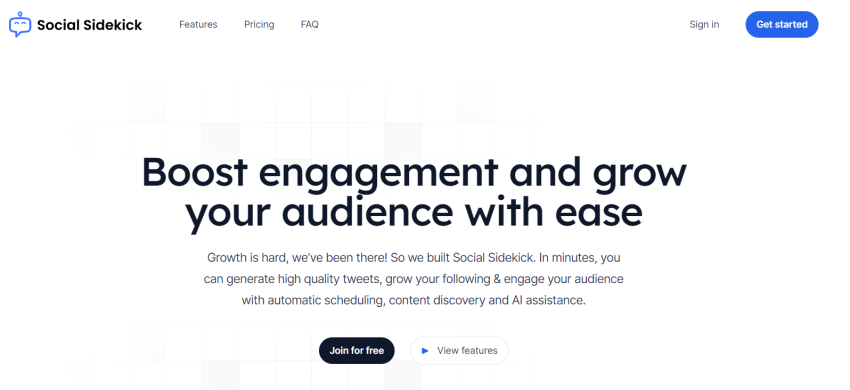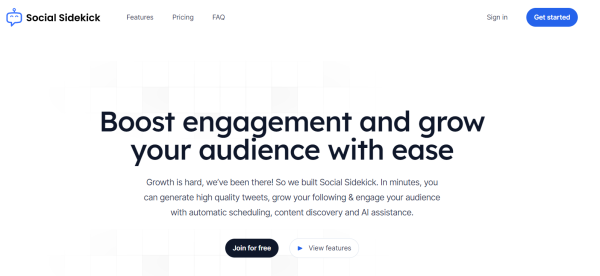 If your brand caters to a global audience, Social Sidekick can be one of the best Twitter scheduling tool for you. It has a simple user interface and is also free to use. It offers features to schedule tweets for multiple time zones at once. This means you will be able to reach viewers from different corners of the world without having to manually type different tweets for each time zone. You just have to log in using your Twitter handle to use its features. However, as a downside, this software does not allow you to manage multiple accounts simultaneously.
---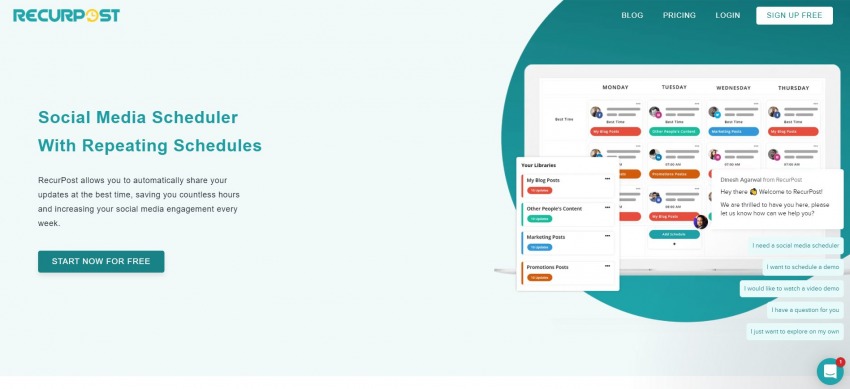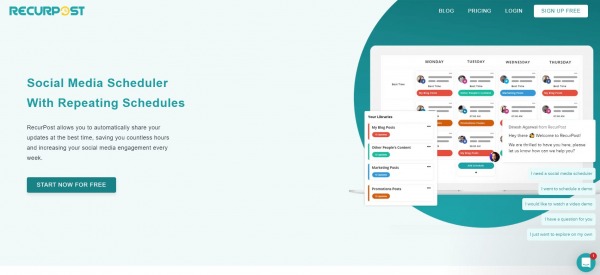 RecurPost is a versatile scheduling tool that not only allows users to schedule tweets but also helps to manage four other social media platforms: Facebook, Instagram, Linked In, and GMB listings. The application has a 14-day free trial period which allows you to explore its features. After that, you can use this tool for a nominal price.
RecurPost features an editorial calendar that you can use to schedule months of tweets in advance. It also allows you to modify your tweets so that you can post similar content without any hassle. It also has an Analytics section that provides you info regarding your top-performing tweets and generates more content that suits your viewer's interests.
---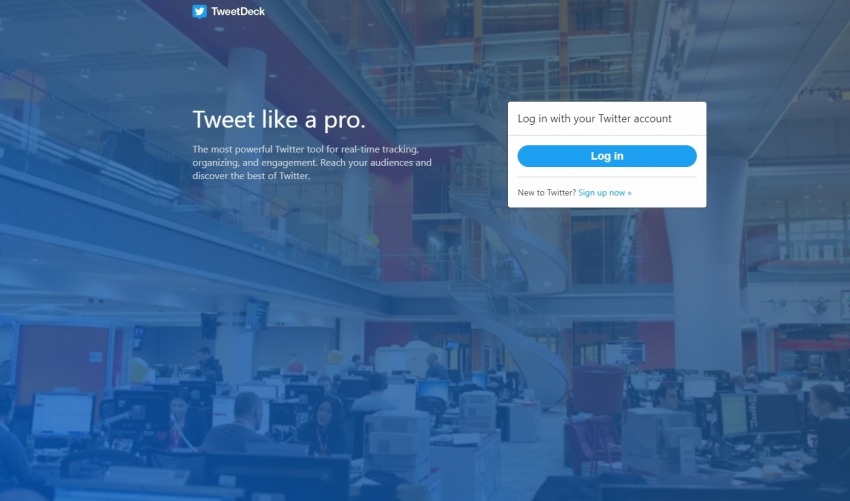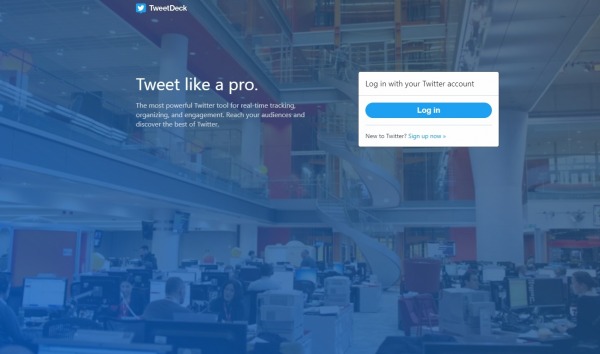 TweetDeck was built to serve various social media networks including Twitter, Facebook, Linked In, and Four Square. However, a few years later, Twitter acquired this software and optimized it to fit only Twitter's interface. With its help, you can automate your tweets or schedule them for a later period.
TweetDeck offers multiple customizable columns allowing you to compose tweets, input mentions, links, trending topics, hashtags, etc. Its unique shortening feature allows you to include maximum things while composing a 280-character tweet. TweetDeck also allows you to manage multiple Twitter accounts simultaneously.
---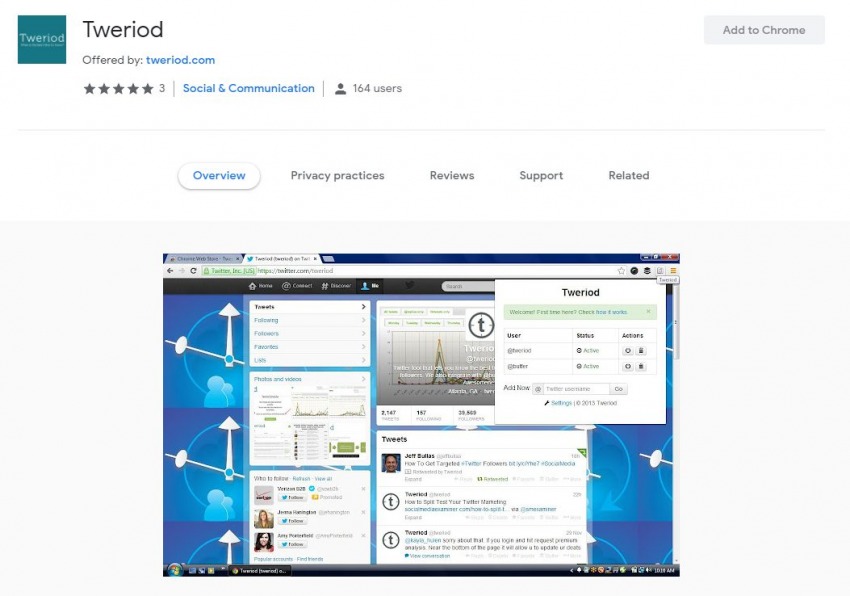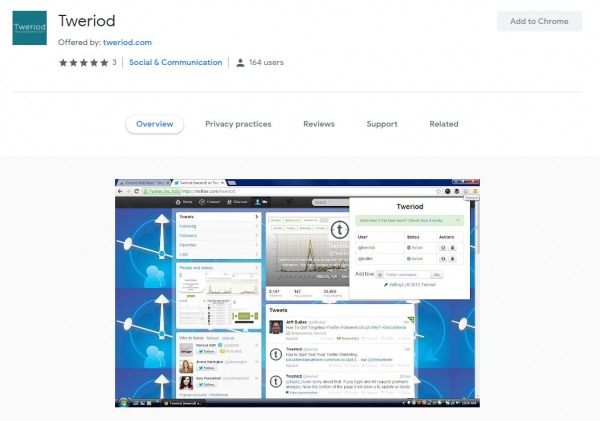 If you want some help to assess the best time to tweet, Tweroid is exactly what you need. Apart from helping you to schedule your tweets, this software helps you to analyze your previous tweets to find out the best times to post your content. It also allows you to evaluate the last 200 tweets posted by your followers.
With the data obtained from the report generated you will be able to assess the peak time when your followers are most active and which tweets grab their attention. It allows you to see your follower's activities enabling you to create tweets that cater to their genuine interest.
---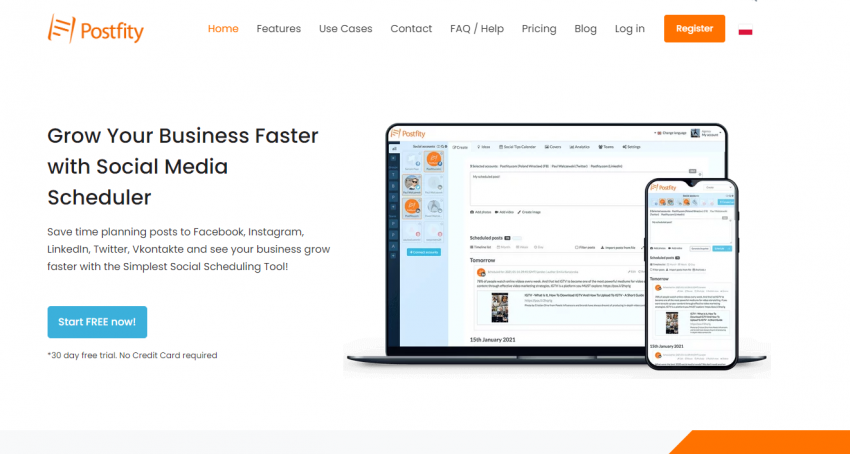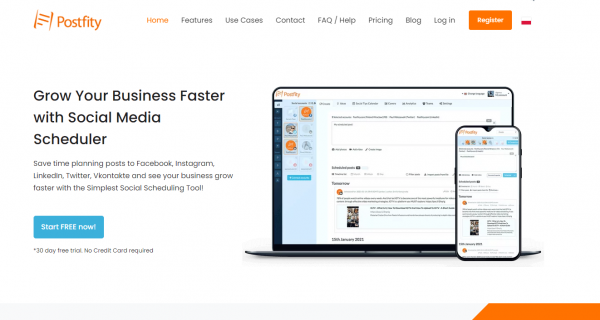 Postfity is a dual-function social media management tool. It not only allows you to schedule your tweets but also lets you evaluate your previous tweet's performance. You can use this software for Facebook, Twitter, LinkedIn, and Xing. It is very cost-effective.
However, Postfity only sends you reminders when you set the time for your tweets to go live rather than automating them. Postfity's features allow you to come up with new ideas, schedule your tweets and thus expand your outreach to receive better leads. It also allows you to research fresh content according to your viewer's interests.
---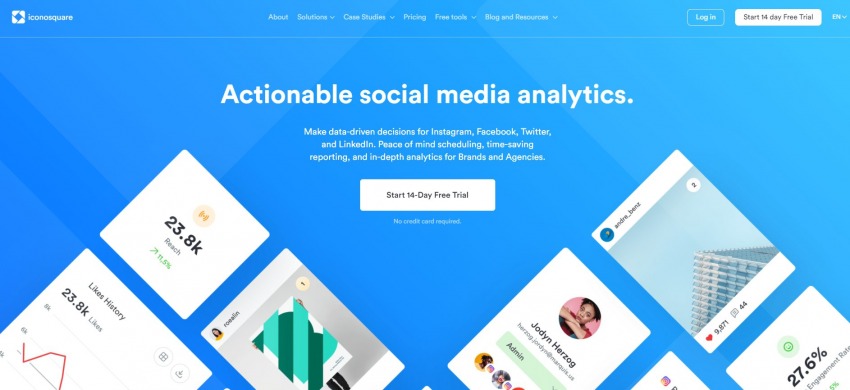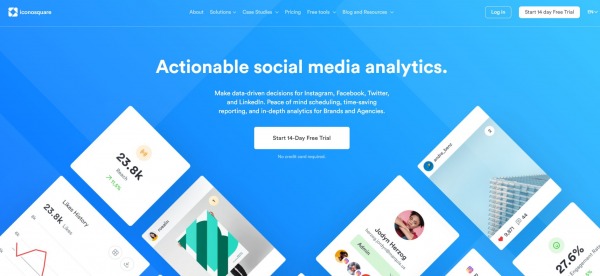 Iconosquare was made to help you make data-driven decisions while promoting your brand on Twitter. It offers you to use its highly efficient analytics feature to assess what your viewers like and when they are most attentive to help you gain maximum visibility. Primarily, this scheduling software helps you to share and optimize your image content by using its media library.
It also allows you to store the hashtags and captions you use most often. Besides Twitter, Iconosquare also supports Instagram and Facebook. So, if you are looking to cross-promote your business campaigns on all major social media platforms, you would need no tool other than Iconosquare.
---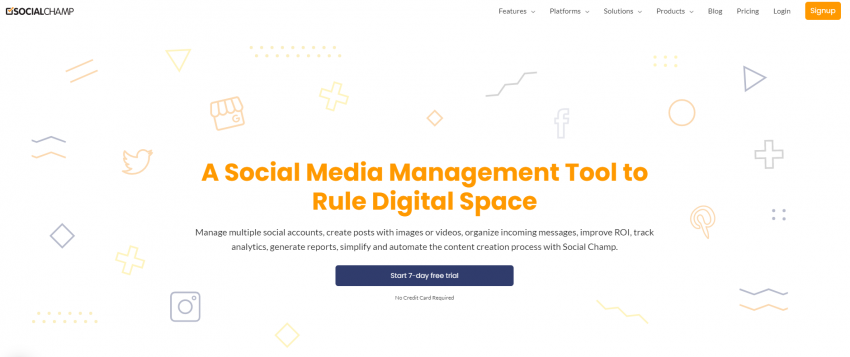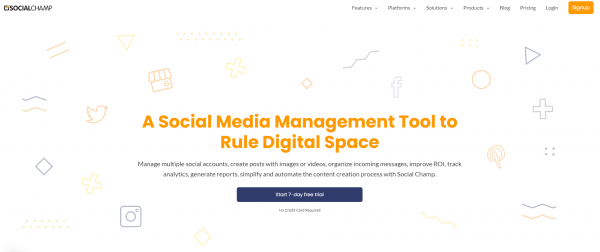 Social Champ is one of the few best Twitter scheduling tool that allow you to upload bulk tweets at once. You can use this application to create, schedule as well as analyze your tweets without having to juggle multiple software. It also allows you to repeat tweets at a set date, for instance, for birthdays, anniversaries, and holidays.
Besides automated publishing, Social Champ helps to assess engagement patterns, monitor your performance, and even allow multi-account management. It has a unique RSS feed that enables you to share your content easily from third-party websites. You can also use this software for Facebook, Instagram, LinkedIn, and Pinterest.
---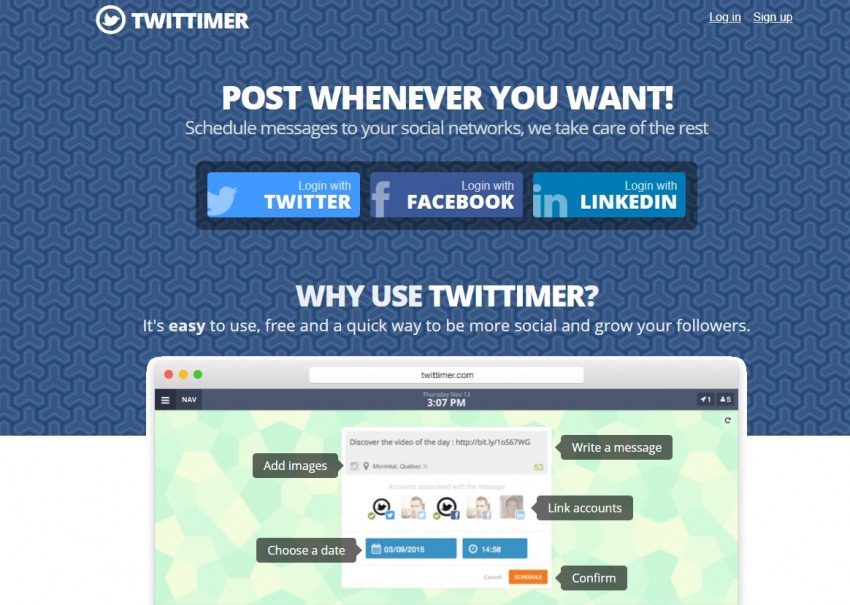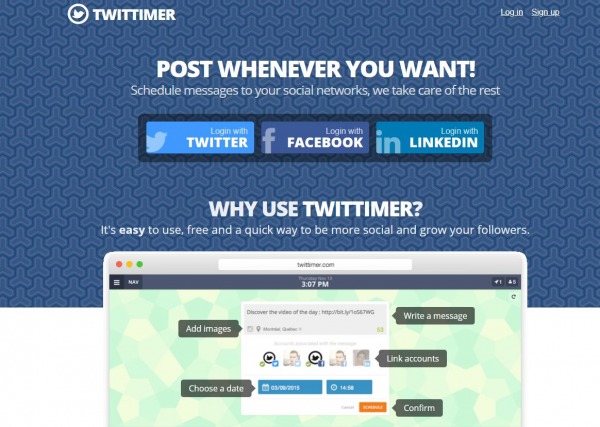 A free and easy-to-use app, Twittimer is one of the best Twitter scheduling tool you can get to maximize the potential of your social media marketing.  You just need to log in with your Twitter account and select a specific date and time and the app would ensure your tweets go live when your followers are most active.
You can use this tool to manage multiple Twitter accounts. Once your tweets are uploaded, Twittimer keeps them archived for 60 days. You can choose from them and modify them if you need to retweet. It also provides you with statistical data to help you assess your tweet's performance.
---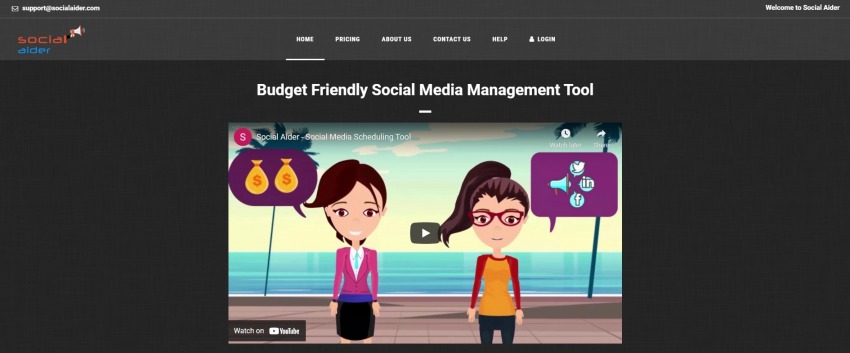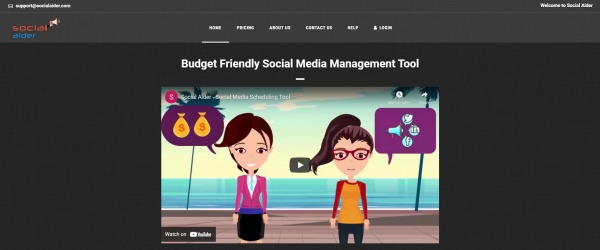 As the name suggests, Social Aider is all-purpose software that aids you to reach a larger audience. By scheduling your tweets throughout a month, Social Aider helps you to maintain a consistent presence on social media. It features a Google URL shortener that allows you to shorten the links to fit maximum things in a single tweet.
It is designed with Artificial Intelligence, which helps you to explore new content and archive the ones you like. You can also use its features to schedule posts on Facebook, Instagram, and Tumblr. If you have a personal Twitter account, and a Professional Twitter account for your brand, you can use Social Aider to manage both.
---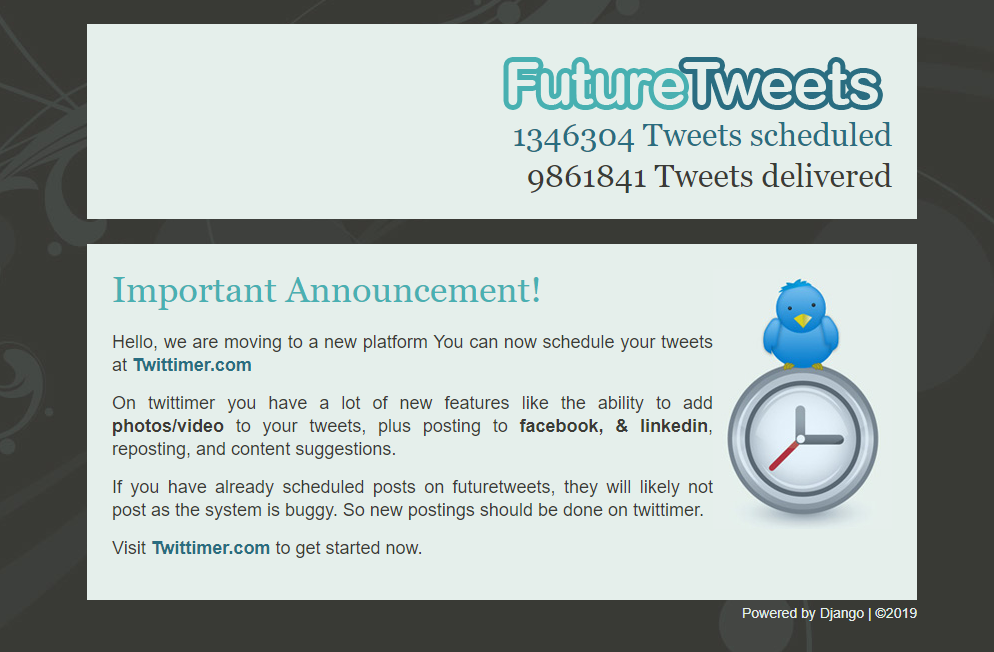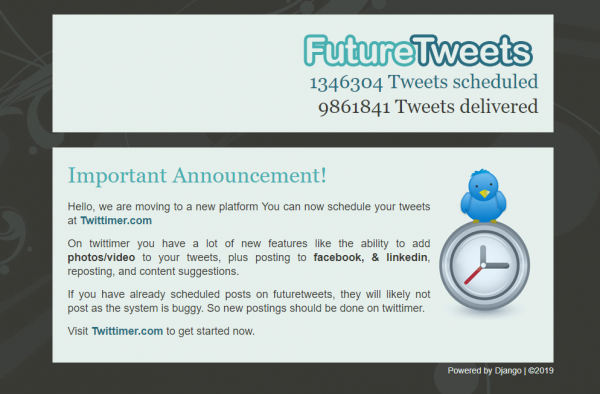 A minimalistic tool developed to make your Tweeting experience easy, Future Tweets is just what you need if you are new to the concept of tweet-scheduling. It is pretty simple to use, which means you don't have to be tech-savvy to be able to operate it.
It features a tweet composer where you have to write your tweet, including any links, mentions, and hashtags. You can set a particular time and pick a specific date. Then, you just have to tap on "Schedule". Another unique feature of this app is that it allows you to flip the tweet.
---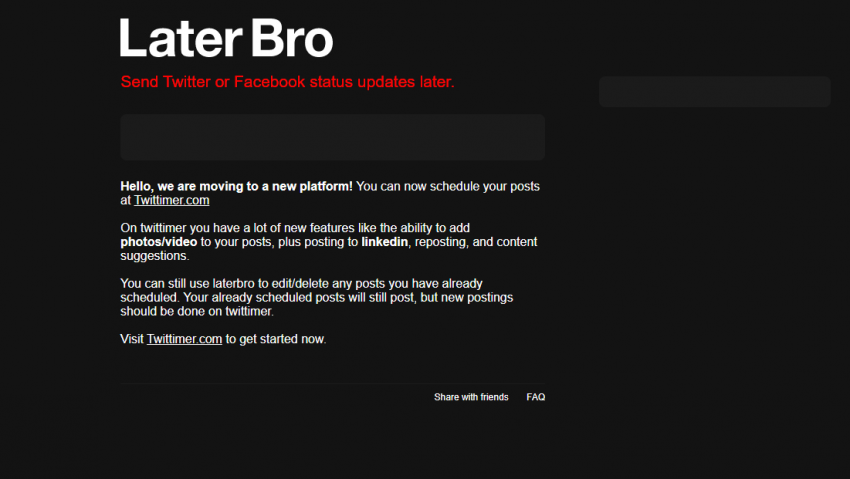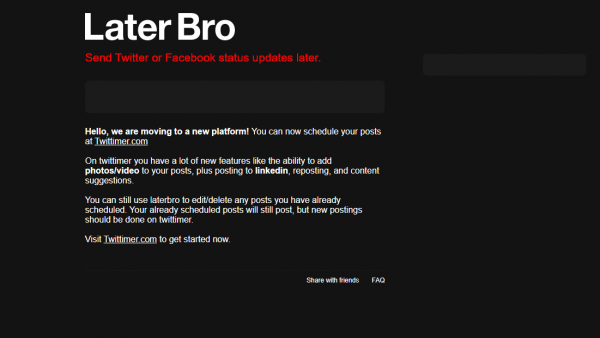 Made to schedule content for both Twitter and Facebook, LaterBro is one of the best Twitter Scheduling tool for you. It is free to use, and also allows you to manage multiple social media accounts simultaneously. This means, your personal and professional accounts will not require different apps.
To access its features, all you have to do is to log in with the URL of your Twitter account. It allows you to choose different time zones so that your voice is heard by your followers when they are most attentive. As a result, your chance to gain social recognition will increase manifold.
---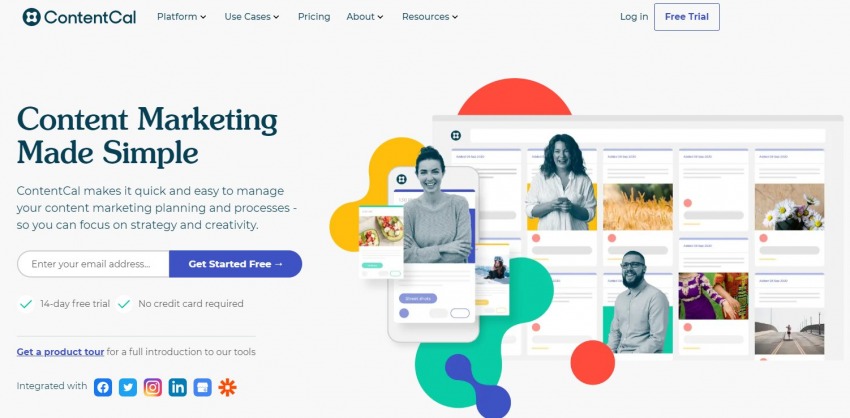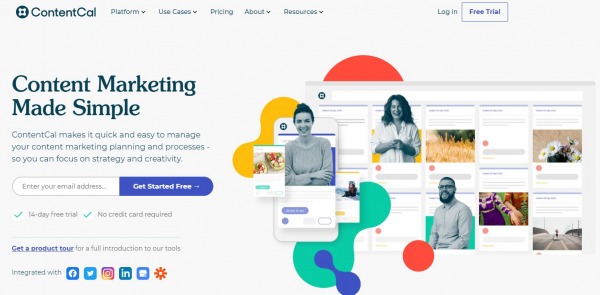 Content Cal is often accredited as the ultimate content scheduling platform by various entrepreneurs and influencers. It is designed to streamline your social media marketing campaigns by helping you to schedule your posts, analyze feedback, and preview posts before publishing them.
It also allows you to keep tabs on your tweet performance. You can also create and store drafts of your tweets for later use. ContentCal allows multi-account management and is particularly helpful for organizations that have to handle several profiles at once. Though not free to use, it is extremely time-saving.
---


Agaropluse is designed to support social media platforms Twitter, Facebook, Instagram, and Google+. It offers various plans for you to choose from depending on your needs. Their Solo plans, made for single account management can be accessed at a rate of $39 per month.
You can not only schedule your tweets using this tool but also engage with your followers, access analytical reports, and collaborate with other social media accounts. It also allows you to tweak your existing posts and to reschedule or re-queue them. If you run an organization that manages multiple social media accounts, you can opt for their Enterprise plan at $239 per month.
---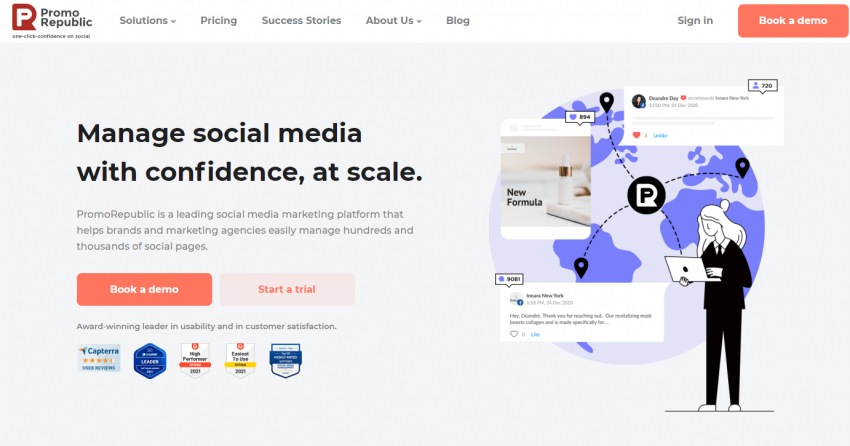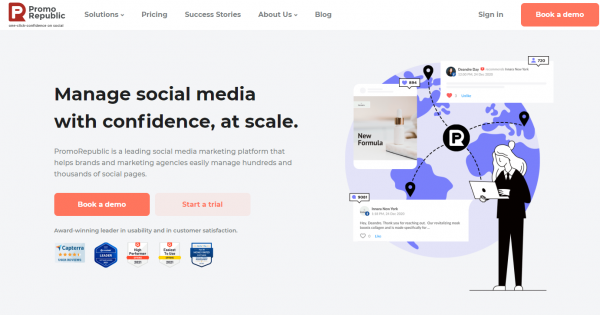 One of the best automation tools for Twitter, Promo Republic can be used for solo accounts or large agencies. You can use its features to schedule your tweets by maintaining an inbuilt content publishing calendar. It also allows you to keep track of your engagement pattern.
Its Intelligent Ads feature helps to boost your social media marketing campaign. Promo Republic gives you access to a library having 100,000+ content ideas. You can also use its integrated graphics editing tools to optimize your tweets before they go live.
---
TweetLater is a free-to-use app that allows you to schedule your tweets for a particular time so that they hit your audience's timeline when they are most attentive. It is preferred by several entrepreneurs, non-profit organizations, and celebrities to promote their brands.
You can use it to schedule a post ahead of an event. It sends you reminders too so that you don't miss out on important announcements. It helps you look busy and active on Twitter even when you are manually present. It also allows you to multiple social media accounts at once.
---
Why Do You Need a Twitter Scheduler?
If you are using Twitter to promote your brand and to expand your outreach, the first important thing for you to know is when your target audience remains most active. Scheduling your tweets beforehand so that they hit the timeline at the right time makes it easier to maintain consistency and helps to attract your audience's attention with a much lesser effort. Here are the advantages of using scheduling tools for your tweets.
It is Time-Saving
Whether your target audience gets active in the middle of the night or early morning, with scheduling tools you would not have to be around at that time to make your tweets go live. Just fix the time and date when you are free and you can cater to other important chores without worry.
Helps Maintain Consistency
When you are busy dealing with a tight schedule, managing social media can be a headache. You might forget to post sometimes or delay your tweets which might result in a dormant Twitter profile. But when you have Twitter scheduling tool, you can maintain an active Twitter account without having to invest much time. And your brand will always be fresh news.
Boost Profile Visibility
With the help of the Analytics feature of your scheduler tools, you will be able to assess the ideal time to tweet when your audience is online. Scheduling your tweets for this time will hit your viewer's timeline when they are most attentive giving you the chance to gain higher exposure compared to other times.
Increases Engagement
It is no news today that a good tweet holds the power of igniting a conversation. By posting at the right time, you will be able to encourage your audience to reply to and retweet your tweets. This means you will be able to gain more engagement and create a buzz about your brand on social media.
How to Schedule Tweets on Twitter?
If you haven't yet explored the scheduling feature of Twitter, we can help you with that. You can follow the following steps to schedule your tweets directly from your Twitter account.
Step 1: Tap on the blue tweet button on the left side of your Twitter home page at the bottom of the menu.
Step 2: Compose your tweet. Write your tweet at the space provided, including any links and hashtags you find relevant to your brand.
Step 3: Click on the Calendar icon or the scheduler button. You will find it at the end of the Twitter toolkit at the bottom of the Tweet Composer.
Step 4: On the calendar, you will be able to set the date and exact time you want your tweets to go live. It will also allow you to select a specific time zone.
Step 5: Finally, Tap on the "Confirm" button to schedule your tweet, and you are done for the time being.
Few Tips to Know Before You Schedule Your Tweets:
Identify your Target Audience
To ensure you make a well-informed twitter scheduling decision, it is imperative to have proper knowledge about your target audience. You can take the help of Analytics to know the demographics, age, and gender of your audience and refine your tweets according to it.
Consider the Location
If you are tweeting to make your brand known, ensure you know where your target audience resides. Once you find out whether your viewers are located locally or globally, you would have to consider their specific time zones while scheduling your tweets to make sure you get higher engagement.
Pick the Ideal Time to Tweet
Analytics will also help you to understand the peak time when your viewers are most active and post your content at that exact time. That means, your audience will be more likely to see your tweets and engage with them.
Leverage the Data of Analytics
Twitter Analytics will also help you understand which of your tweets have performed the best. From the data collected, you will not only be able to understand the perfect time to tweet, but also the trend that your viewers like the most. With the information, you will be able to improve your tweets.
Monitor your Tweets
Though Twitter enables you to schedule your post does not mean you forget about them after you organize them.  Social Media is a fast-paced industry, and things lose relevance quite fast. If you find that your tweets have become outdated and irrelevant, make sure you modify or delete the tweets before they go live.
Conclusion
Managing multiple social media for promoting a brand can be hard. Being present all the time for your computer to make your content hit the timeline at the right moment can be pretty tedious. But when you have Twitter scheduling tool at your disposal, tweeting to create a buzz about your brand becomes quite easy.
We have enlisted the 15 best Twitter scheduling tool that are preferred by most. We believe this article will help you learn how to use these tools and make the most of the power of Twitter without having to be manually present.