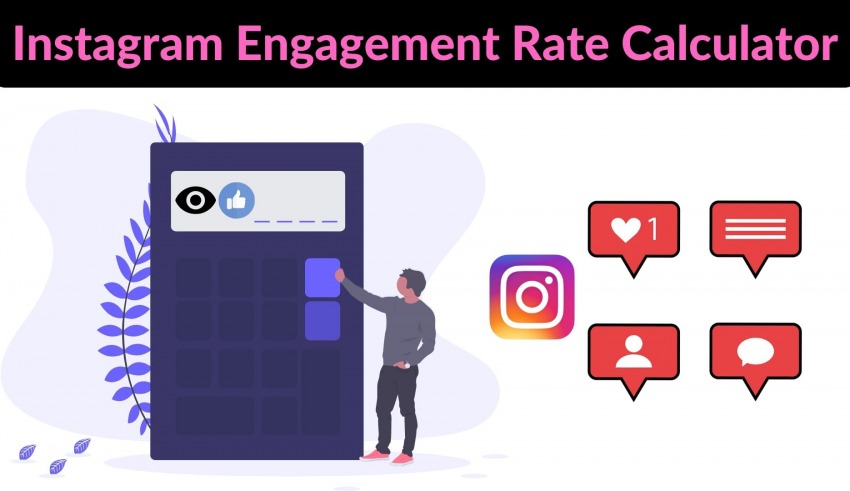 Instagram is such a popular platform that millions of people are active on it at any given time. This means that hundreds of thousands of posts are being posted. If a brand or a company wants to get noticed on Instagram and are looking to use influencers and micro-influencers to promote their products then using an Instagram engagement rate calculator or an Instagram money calculator can help them get an idea of how many people will engage with the sponsored post as well.
This calculator can also be used by anyone who wants to know the engagement rate of their profile or some other profile. Besides providing the engagement rate some sites provide the average number of likes and comments, that the profile is getting on its posts. So, if you feel that this information can be helpful to you we suggest taking a look at this list and checking out the services.
Here below is the list of 10 Best Instagram Engagement Rate Calculator: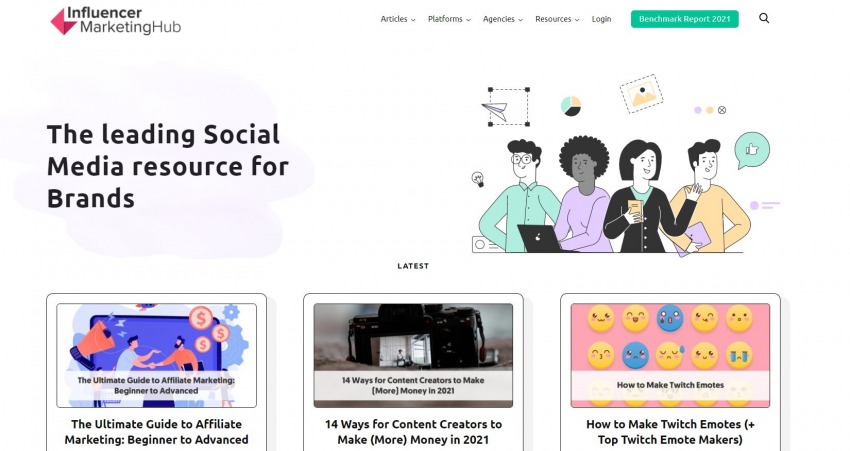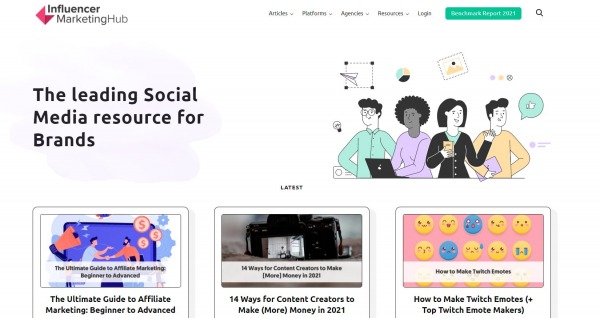 This is a private company that deals with a bunch of stuff related to marketing and promotion using the power of the internet and social media.
Influencer Marketing Hub has a good understanding of the digital marketing industry and knows what are the important things to keep in mind if one is looking forward to boosting their online credibility and gaining a substantial following.
There are plenty of guides, courses, research reports, tools, etc. that you will find on this platform. All these are aimed at helping people become better at using the internet to drive engagement and generate more leads. Instagram is a platform that has become quite popular in the past few years. It has a very active user base that loves to engage with good posts. So, if a person gains some credibility on the platform then there's a good chance that they will drive a lot of engagement on their posts.
If you have been looking for influencers that have a good engagement rate then you can get good stats fr this site. Though they do not have a dedicated Instagram engagement rate calculator they do have an Instagram money calculator which provides information about the engagement rate of the user along with a bunch of other information.
You just have to put in the username of the profile you want to analyze and you will have enough info to get a basic understanding of the credibility of the influencer. There are other tools like the Instagram money calculator as well which we recommend our readers to check out. 
---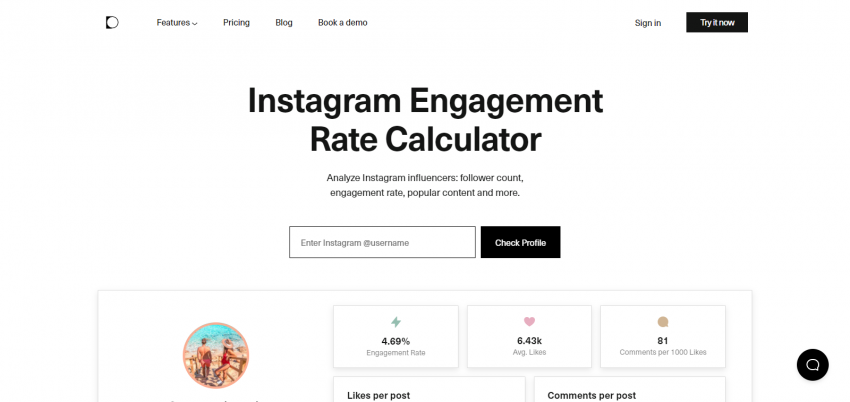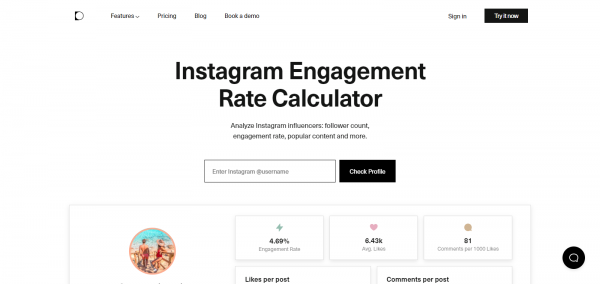 InBeat.co is a search engine for people looking to find social media influencers. Most businesses may not have a huge budget to be able to afford popular celebrities or popular influencers to promote their brand.
But there are many credible social media users who have a good following and these followers are loyal to that user. These users may not have the largest following but they still have a credible and good enough presence in the community they thrive.
These are called micro or nano influencers. Many companies are using them to promote their products and services in a particular niche. It costs less than sponsoring big influencers but you are still able to generate good leads which can help you sell more products.
You can try out inbeat.co for free to search for influencers and micro-influencers on Instagram or TikTok. They have an Instagram money calculator and Instagram engagement rate calculator which are meant to give you approximate information to help with your promotion.
The Instagram engagement rate calculator can be used to figure out if the influencer is bringing in a solid engagement rate. This means that a good number of followers should be liking, commenting and viewing the posts by the influencer.
To know about the engagement rate of any profile on Instagram you can just search the Instagram username of that influencer on the Instagram engagement rate calculator on inbeat.co. You can give it a try for free before moving on to paid options. 
---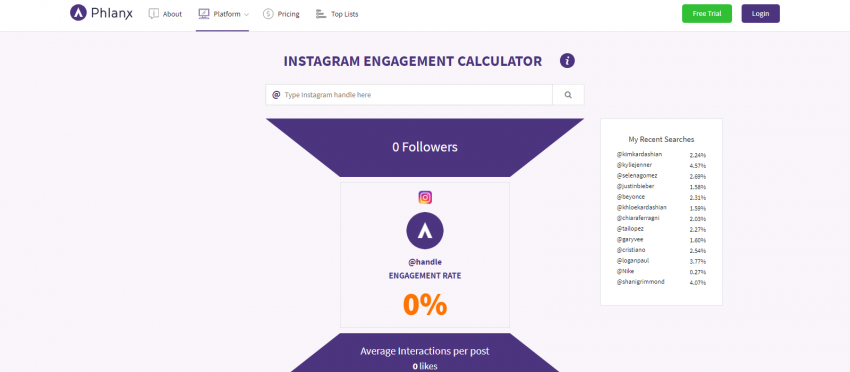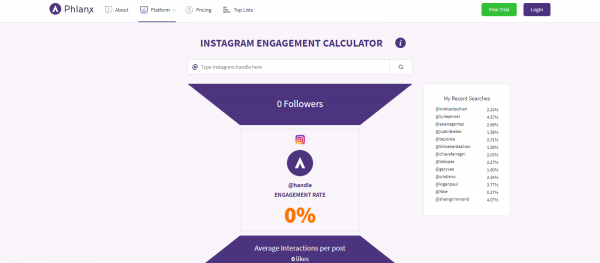 Now, let us take a look at the next website that can help people with social media marketing and promotion. Phlanx is a website that you can visit if you are hoping to boost your reach on social media platforms.
The site provides a directory of influencers from a variety of different platforms. You can use this directory to reach out to these influencers and set up a meeting or work out a deal.
But besides just providing a way to search for influencers Phlanx also helps brands and businesses connect with other brands and businesses. Knowing about other brands and collaborating with them can help promote both the brands and elevate their sales.
So, if you have been looking to broaden your horizon and connect with more business owners then this is one platform that can be used to do so. If you are interested in what Phlanx proposes then you can sign up easily on this site. There are two ways to create an account.
The straightforward sign up with email and other info and the sign up via Facebook. Choose the method you are comfortable with. So, let's look at the Instagram engagement rate calculator that Phlanx offers its customers. It is very easy to use.
If you have the Instagram username of the influencer handy then just put it in the search bar and click the search button. It doesn't take too long to find the right profile and display the engagement rate. You also get to know the average likes and comments that the user gets on each post. 
---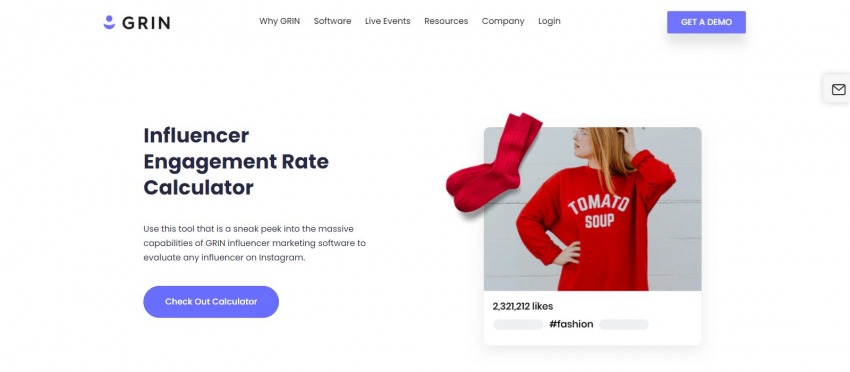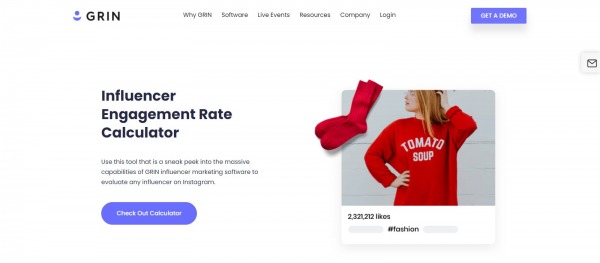 It's time to look at the next site that provides the tool you are looking for. Grin is a site that deals with everything related to influencer marketing. This is a platform that can be handy for companies and brands who want to start with or are looking to optimize their influencer marketing program.
Grin doesn't want to take over all the control but rather wants to provide you with a system or process that can greatly help you with your Influencer marketing while at the same time providing you with enough control over each of the steps involved in the process.
Using Grin you can discover the relevant and appropriate influencers for your brand or products. The company searches through a database of over 32 million users across various social media platforms.
Thus, there's little chance of not being able to find the right influencer for promotion and other marketing needs. Using Grin you can easily reach out to the influencer you think is right for what you are trying to promote.
You can even repurpose content using this platform. But of course, you will need good reports and analytics to make sense of your performance and be able to track your return on investment.
You can use the Instagram engagement rate calculator on this site by putting in the URL of the Instagram user you want the metrics for. It takes time to ensure that the influencer has a good following and solid engagement rate.
Thus, this free tool provided by Grin can help you figure out the actual engagement rate of the influencers and then decide what is worth it
---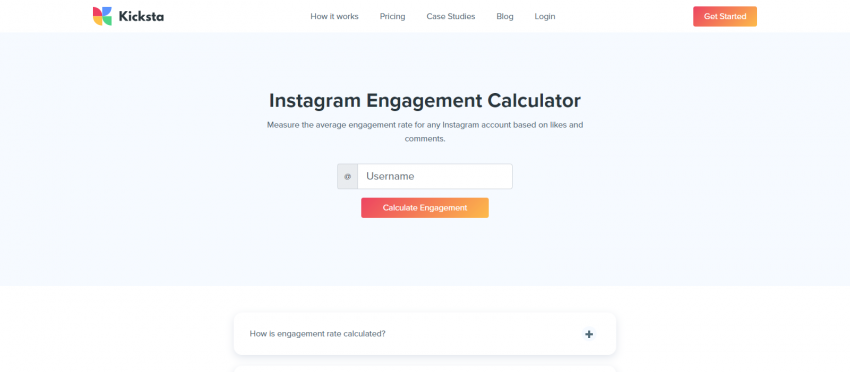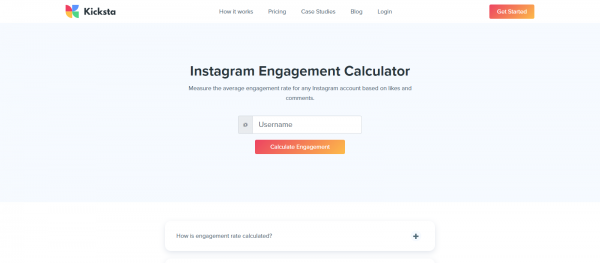 Kicksta works in a way that is similar to other social media marketing agencies. They start managing your social media profile and help you get more exposure and in the process gain more followers.
The idea is to widen your reach by targeting the accounts of potential followers and engaging with their posts. You may have already experienced this when your post gets a like or comment from another profile that is not from your follower base.
A lot of the time that is a promotion technique used to bring users to their profile. Kicksta also provides a few tools. You can use the Instagram engagement rate calculator that it has to analyze any profile on Instagram. Visit the site to know more about the services it provides.
---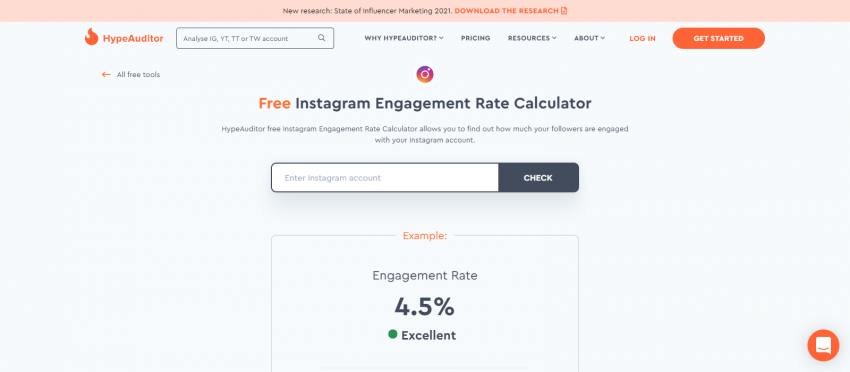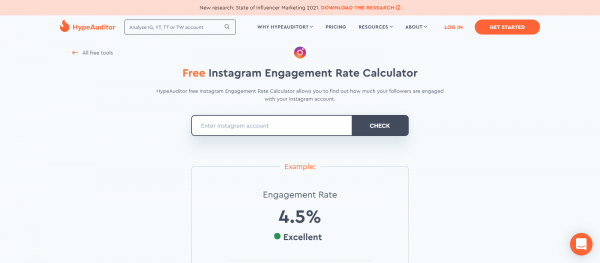 HypeAuditor is a platform that claims to have the analytical tools that provide top-quality performance. You can use these tools to vet out the true influencers who have a better following and better engagement rates.
A lot of people try to cheat by just having vanity metrics. These tools can help you find influencers who are the real deal and weed out the fraudulent ones. Though there are paid tools on this site you can use the Instagram engagement rate calculator for free.
It provides you with details about the engagement that a particular user is getting on Instagram. There is also the Instagram money calculator that can be used for free.
---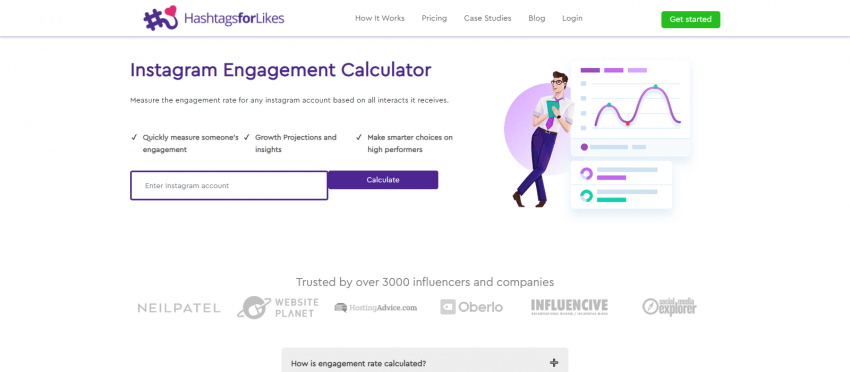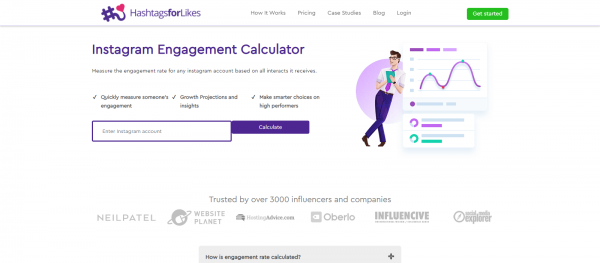 HashtagsForLikes is another company that is dedicated to helping Instagram users boost their presence by gaining more credibility on the platform. The idea behind the creation of the company was simple.
The founders wanted to create a platform that can be used by Instagram users to promote their content and get more exposure and ultimately gain more followers. Nowadays, being an influencer or using social media to promote any brand is quite desirable.
You can earn a decent living using your popularity on social media. HashtagsForLikes provides services that can act as a support for your social media strategy and help you grow your status on Instagram.
The way the company helps you is by providing various tools, one of which is the hashtag generator and research tool that can inform you on which hashtags are good to use if you want to get more exposure.
The company claims that by using their tools correctly you can also get your posts to the trending position. It ensures that all the niches, even smaller ones, are covered since smaller niches often tend to benefit more from correct hashtag usage.
You can use the Instagram engagement rate calculator on this site for free by providing the Instagram username of the profile you want to look up.
The company picks up the likes and comments that people get on their accounts and uses these metrics to come up with the engagement rate for a profile. Visit the site to try this service and check out the other stuff that HashtagsForLikes provides.
---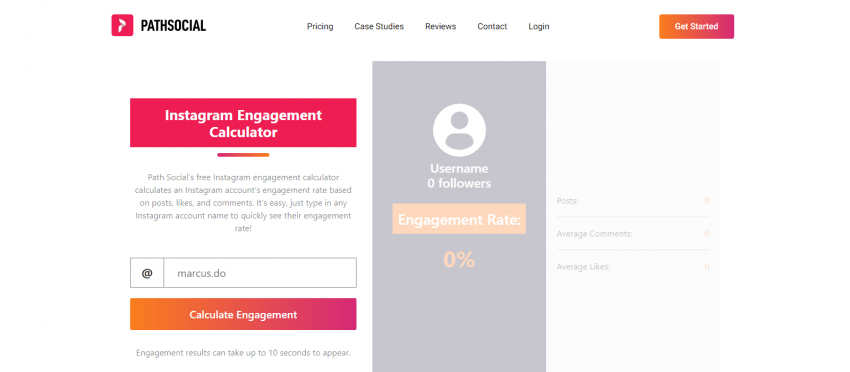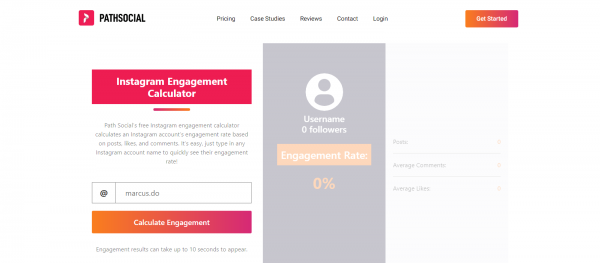 Social media marketing and promotion can be quite tough if you do not really understand the principles behind it. You need to dedicate some time to it regularly if you want to see some growth.
But oftentimes many people find it hard to juggle content creation and at the same time use a good promotional strategy to bring in organic followers.
Even if you own a product that you want to advertise you may not have the right expertise to tackle social media platforms or you may not have the right team to do so. PathSocial comes to solve these problems.
This is a company that wants to work with brands and Instagram users and help them start growing on the platform organically. Over the years that the company has been functioning it has already been able to satisfy over 24k clients including Influencers and brands from different parts of the world.
On average, the company has been able to provide around 4.6k followers to its clients and has saved hundreds of thousands of hours for the clients. PathSocial started back in 2012 and for 9 years it has only believed in providing high-quality followers to its clients.
All the followers will follow you because they want to do so. You won't lose them unless your content quality drops. The site also provides various tools to help you out and one of these tools is the Instagram engagement rate calculator.
Just put in the username and voila! You get the info you need about any Instagram profile. 
---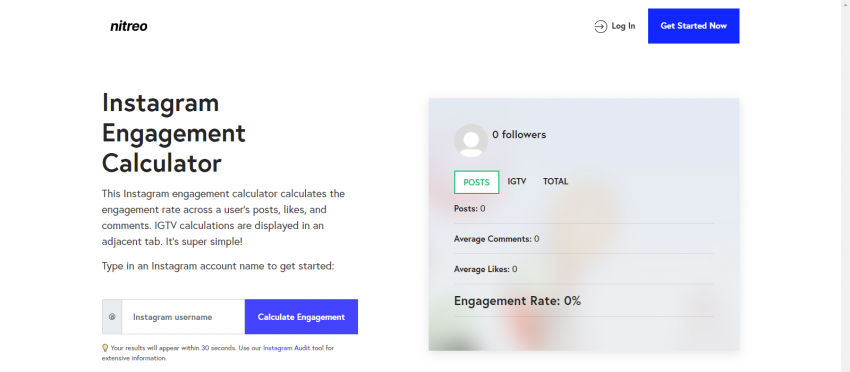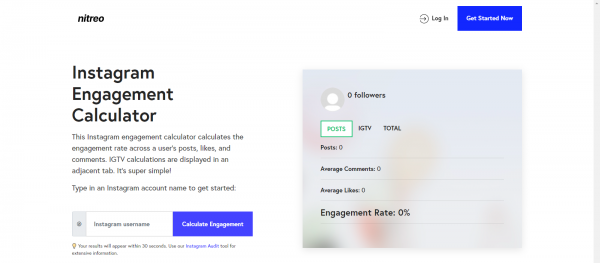 Nitreo is a company that makes tools dedicated to helping users looking to increase their follower count on Instagram. It will act as a sort of social media manager for you.
It will start interacting with various relevant accounts and posts on your behalf. This will be done to start giving your account and content more exposure and to widen your reach.
The users whose accounts will get likes and followers from your profile may become curious about what your profile offers. This way people will come to your account.
If you are consistent with your posts and you create quality content then the chances of getting these Instagram users to follow your account will be much higher.
Thus, as long as you are focusing on creating and uploading quality posts on Instagram the stuff that Nitreo will do on your behalf will be quite helpful in growing your follower base.
The company started only a few years ago and has around 45 people working. These people have good expertise and relevant experience on social media. They will work towards helping clients get more exposure on this platform.
The company works remotely but has an offline office in Malaysia. So, if you are in the country you can visit them if need be. The Instagram engagement rate calculator that it provides is meant to help you gauge not only your Instagram engagement rate but for other profiles as well.
The tool is pretty simple but the information it gives you can be quite important. You will get average likes and average comments per post along with the engagement rate. 
---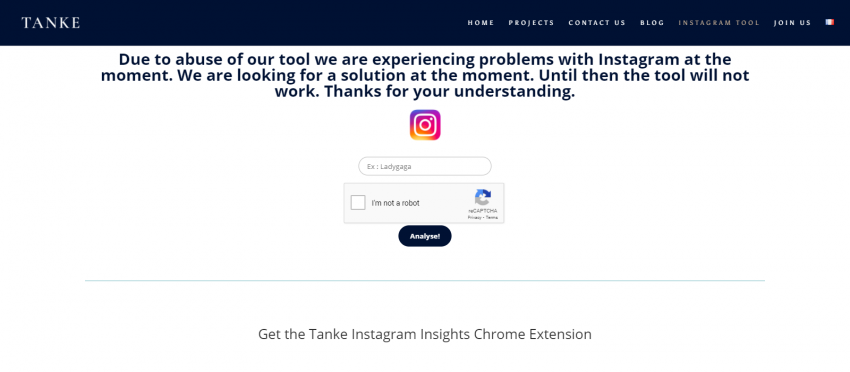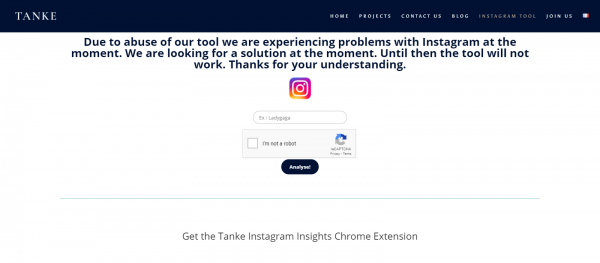 As you can guess from the domain name of the website, the next company on this list is based in France. The company works out of Paris and is an influencer marketing agency. It provides support to various businesses to find the right influencer to market and promote their brand, products or services.
There are various free Instagram tools provided by the company as well. One of them is the Instagram engagement rate calculator. It automatically calculates the engagement rate of any Instagram profile thus, reducing manual labour. Check out the site to use the tool.
---
Gaining More Engagement on Instagram-
At the end of this post, we would like to provide a couple of tips to our readers to help them understand how to start gaining more engagement on Instagram.
You need to post regularly:
To get more likes and comments you need to most often. On Instagram, posting 2 to 3 times a day is quite good. You will be able to reach a lot of users and gain a lot more exposure.
Quality Matters a Lot:
The first tip may have given you the impression that quantity is important. But quality is something that cannot be compromised. Work harder to maintain the quality of your posts even while churning out multiple posts on the same day. 
Hashtags:
Use Hashtags optimally to gain new followers and widen your reach. Hashtags will help you reach users who may enjoy the type of content you upload. Use hashtag generators and hashtag research software to help find the best hashtags for your posts.
Establish Performance Metrics and Create a Feedback Loop:
Having performance metrics will give you a tangible goal to achieve and help you understand the performance of your strategy. The metrics should be used to optimize the strategy and gain feedback on whether things are working as expected.
---
Conclusion
At last, we want to say that being patient and working in a smart way is very much recommended. Keep hammering and the success stone will break at one point.
So, keep at it and use the various tools to assist you. We hope you are able to find a suitable Instagram engagement rate calculator and Instagram money calculator using our list. All the best for your social media success.