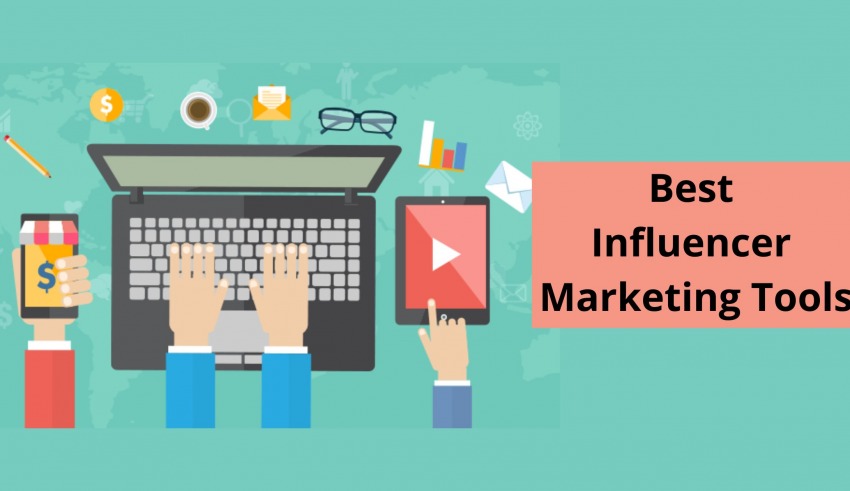 Influencers are online celebrities who have a solid follower base. These people have garnered popularity over the internet and have audiences who are quite loyal to them. Using influencers for your brand promotion and content marketing can be quite beneficial. But it can be hard to find the right influencer.
Also, many people buy likes and followers and may not have real followers. Today, we bring you a list of the best influencer marketing tools that can help you not only find relevant influencers for your marketing purpose but also analyze them and their audience so that you can verify whether they are authentic or not. Let's get started.
Here is the list of 10 Best Influencer Marketing Tools: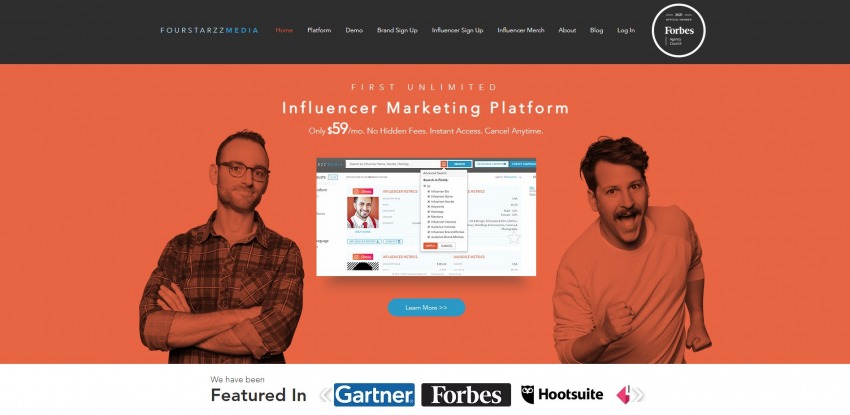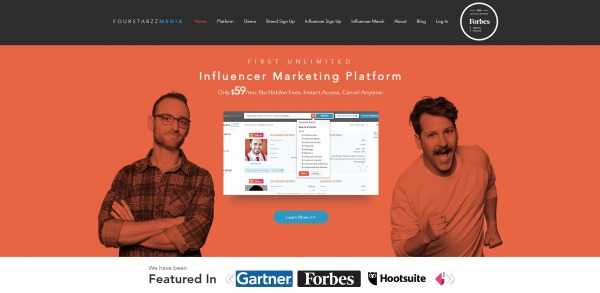 This is one of the first influencer marketing tools that we will be taking a look at. The company understands what influencer marketing entails and wants to help you master it as well. The company is passionate about its work and wants to create and build technologies that can help companies, businesses, and brands to understand and master influencer marketing.
The tools that the company has made are meant to make things easier and more impactful for companies looking to start their influencer campaign. Over the years, the company has consistently provided good-quality services which have made them one of the trusted sources when it comes to influencer marketing.
Many major brands and businesses all over the world trust FourStarzzMedia and use its tool for influencer marketing campaigns. The company does not want its clients to have some average results. It ensures that the clients get the best services along with transparency, understanding, efficiency and trust.
The company is quite proud of what it has achieved and believes that there aren't many companies that can provide services of this standard. The influencer marketing platform that the company sells costs over $59 per month. There will be no hidden fees and you can cancel whenever you want. As soon as you pay for the platform you will get instant access.
The platform helps you with discovering appropriate influencers and then set up a structured campaign. It also helps with influencer management and outreach and provides a dashboard for easy use of the platform. You can also check the performance of the campaign via the use of various analytics provided by the platform.
---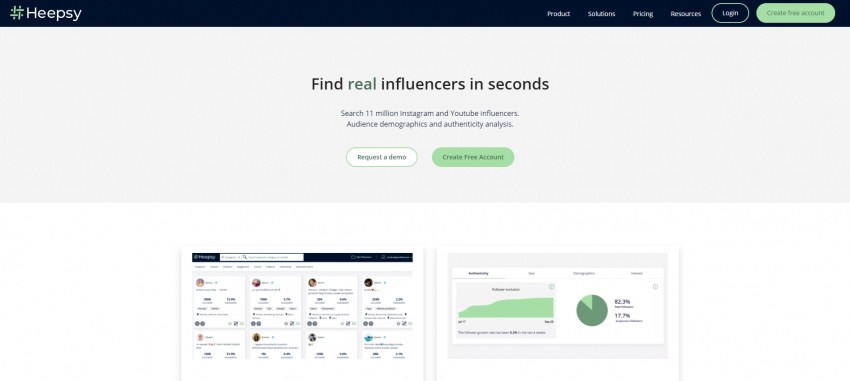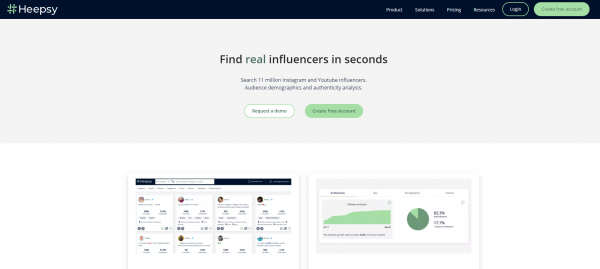 The next entry on this list of best influencer marketing tools is Heepsy. Heepsy is used by many businesses and companies that want to find real influencers for promoting their brand on social media platforms. Heepsy allows you to find influencers from its huge database of over 11 million influencers all over the world on different social media platforms.
You can fine-tune your search via the use of various parameters provided by the company. You can search based on the category and location of the influencer. Sometimes you are looking for an influencer who hails from a certain place and belongs to a certain niche.
Next, you can use the audience filter to narrow down your search more based on the audience you want that influencer to have. Then there's the filter which allows you to add the criteria of engagement rate. If you feel that your brand should only collaborate with an influencer if they have a certain engagement rate on their posts then this filter can be quite handy. The last filter is outreach which can allow you to find influencers with certain methods of contact.
Once you have found good candidates you can use the analytics to analyze the audience of the influencer. You can basically audit a user's profile and figure out what percentage of their audience is authentic. You can also analyze the key demographics of the audience of the influencer you chose. Other things that you can figure out using this tool is the brand collaborations that the influencer currently has and the cost estimation. The starter package costs $49 per month. There's a free package that lets you access the tool with limited search functionality.
---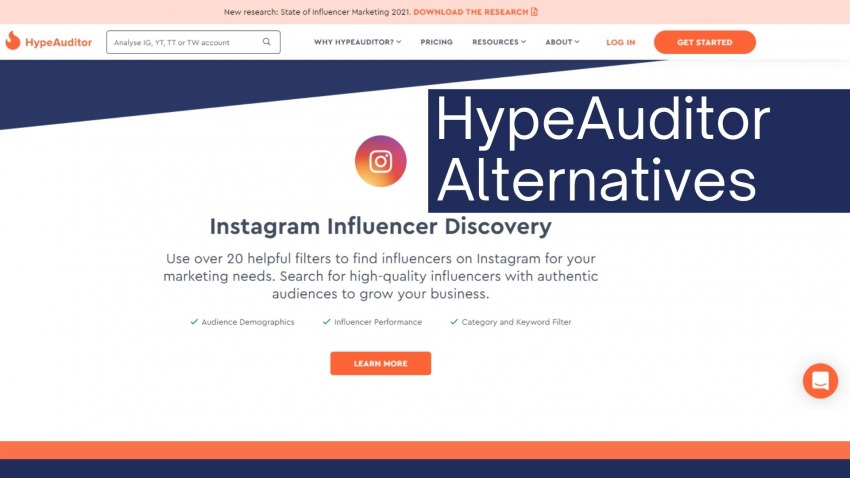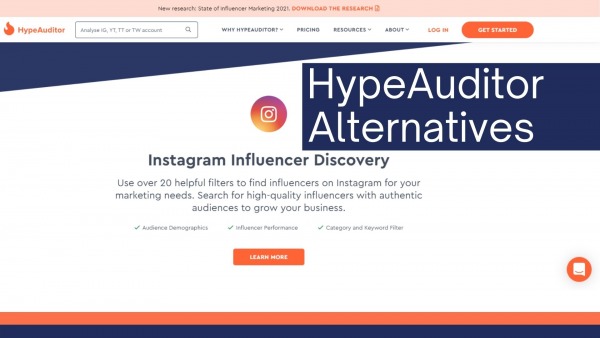 The problem with the internet is that there are a lot of scammers and fraudulent people. Social media platforms give people a lot of benefits if they become popular. This is why people try to use unfair means to boost their followers. In this situation, how can you trust anyone? Well, HypeAuditor can help you with that.
If you want to do fraud-free influencer marketing then you can take a look at this tool as it provides an industry-standard platform for analyzing influencers. Using this tool you will be able to optimally use the budget allocated for this. You get a bunch of features when you start using HypeAuditor. You can discover influencers using this tool and fine-tune the search based on the kind of influencer you need based on the type of audience that the influencer has.
The platform uses a huge database and lets you put filters to get better results based on demographics and audience quality. Next, you can use analytics to analyze the influences. You will be able to find out brand affinity, detect fraud, and analyze the demographics of the audience of the respective influencers. Once you have collaborated with an influencer you need to be able to track your campaign performance.
How well is your account growing? You need to measure that. With HypeAuditor you can do that easily and even build and share reports. Besides all this, the platform also lets you analyze your competitors, trends, rankings, and research the global market. The basic plan costs $399 per month. However, there is a free version. Visit the site to know more.
---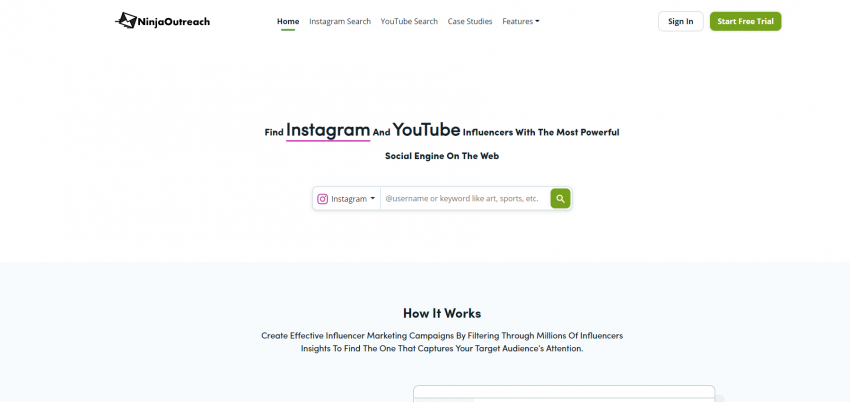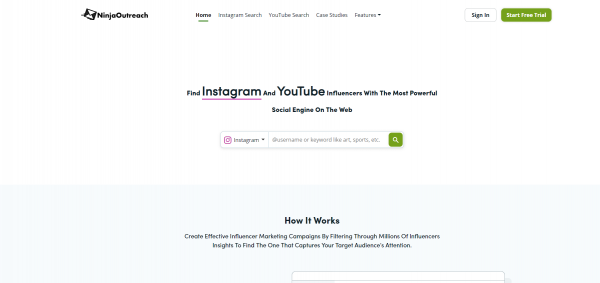 NinjaOutreach is another popular influencer marketing tool used by many people to find influencers. The tool supports two social media platforms namely Instagram and YouTube. The way everything works on this platform is very simple.
You can easily look through millions of influencers and find the one whose audience demographics best matches your target audiences'. The tool allows you to narrow down your search so that you get more optimal results. You can filter out based on the location that you desire. Most influencers have a niche that they are generally linked to. It may be fashion, beauty, photography, modelling, painting etc.
You can search for influencers that are linked to niches that best suit your brand or business. You can just type the relevant keywords and you will be able to filter out the relevant influencers. The search will also let you know the mode of contact for each influencer and give you the respective details that you may need to get in touch with them. Once you have started your influencer campaign it can become quite complicated if you are doing it for multiple projects and different influencers.
To make it easier for you to manage all campaigns easily NinjaOutreach provides a CRM platform. It can help you organize your campaigns better and track the history of various tasks and conversations. The starting package for this tool costs $119 per month if you choose the yearly package otherwise you will have to pay $299 per month. To know about the packages in detail visit the website. It is one of the Best influencer Marketing tools.
---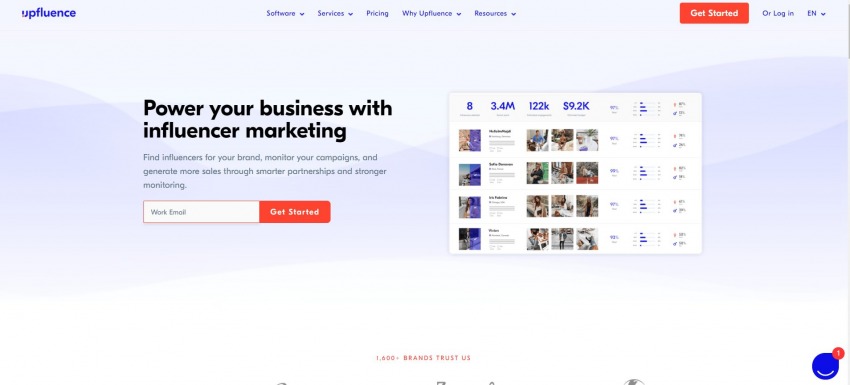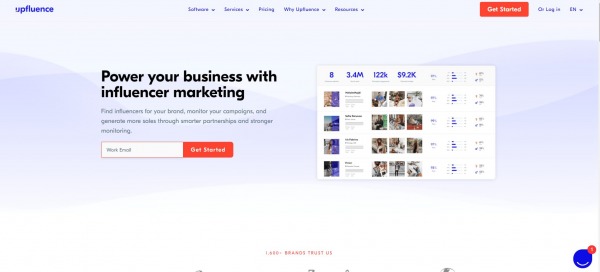 The next tool we will be looking at is Upfluence. This tool will help you with your influencer marketing so that you can power your business with it. You can do a bunch of different tasks using this tool which makes your life easier. The company is made up of passionate individuals who want to provide the best service they can. The team works consistently to ensure that the software that they provide runs smoothly and that the customer does not face any problems.
Your experience should be good while using this tool. The team has a healthy mixture of individuals coming from different backgrounds, nationalities and fields of expertise. They provide their best input to create something which enhances the client's experience when it comes to influencer marketing. Besides having a great team that is constantly trying to better customer experience the tool also has other advantages.
You can easily integrate your tools into the platform to expand the functionalities and possibilities. If you have a CMS, affiliate platform, mailing system, analytics tools etc. you can connect them to your Upfluence software.
This will allow you to create a fully integrated system to manage your entire community. There are various features of the software making influencer marketing accessible and convenient. The company claims to provide the best service to e-commerce and brands that do business directly with the consumers. You can find a lot of software on the site. To know about the price of the plans you have to get in touch with the company. You can use the chat button on the website as well.
---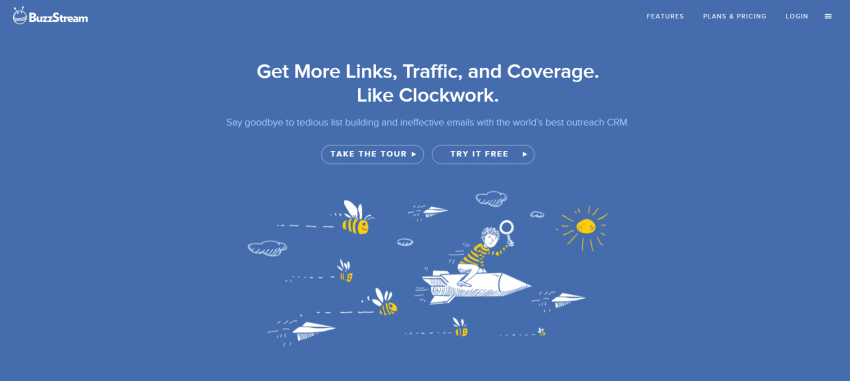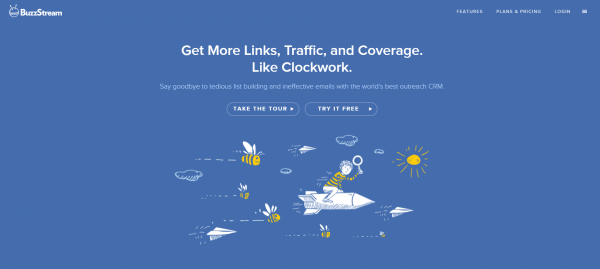 BuzzStream is the next tool on this list of best influencer marketing tools. Using this tool, you can not only improve your influencer marketing by searching for influencers more efficiently but also create and run effective outreach campaigns. The company has a good idea about the current marketing industry and knows how much social media platforms play a role in it. Currently, more and more companies are starting to realize the potential of social media, and thus, they are using content marketing to promote their products and services or to create brand awareness.
But social media is saturated with content so it can be harder to get attention on your posts. The company understands this and thus provides a platform to help marketers build good relationships with influencers. Influencers can help push the content forward and get the necessary attention that it requires. You can use the tools provided by BuzzStream to search for the perfect influencer to boost your brand.
Using keywords and filter parameters you can fine-tune your search for influencers based on their location, niche, language, audience etc. Once you have selected an influencer you can get various information about them that are relevant for your marketing purposes. Using BuzzStream you can also create email templates that can be used to quickly and easily send emails to influencers. The software supports teamwork and thus, you can work along with your team via BuzzStream. The cheapest package costs $24 per month. It allows 1 user and 1k contacts. Visit the site to know more.
---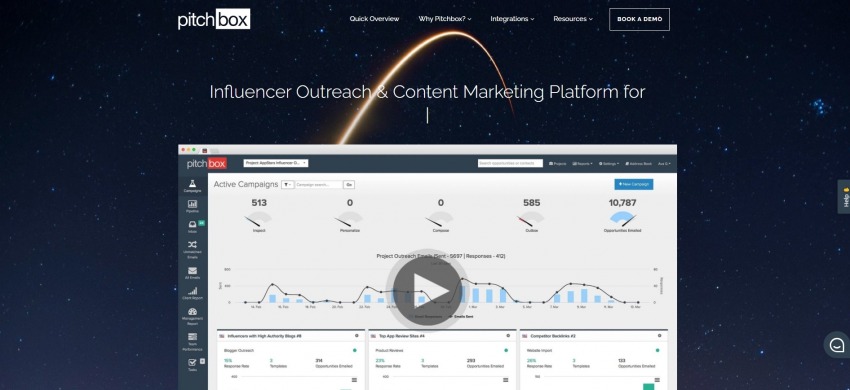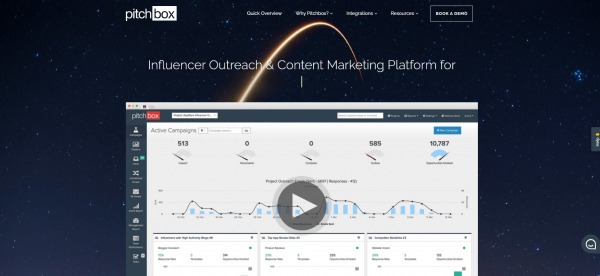 PitchBox is a platform that lets you bid end-to-end links. You will get access to various features that will help you build more links, stay organized and complete your goals. The company provides prospects of various strategies and tactics pertaining to link building. Whether you want to go for a blogger outreach program, or you need skyscraper outreach or roundups or product reviews or competitor backlinks etc. you can find appropriate features on this platform. Influencer marketing and content marketing have never been this easy.
You can easily promote your content on social media and various blogs and websites. You can easily find the right influencer to promote your brand by using the search platform provided by PitchBox. With the use of intuitive keywords and multiple prospecting profiles, you will be able to perform influencer search optimally and find the relevant influencers in your niche, desired location, with desired audience etc.
Many times adding more features can make a platform unclean, confusing and clunky to use. But not with PitchBox as it is very easy to use and you can always reach out to the concerned team to help you out if you face any problems.
Using PitchBox you can have better control and management over the various aspects of your campaign. You can message multiple leads, keep track of them and follow up on prospects that haven't responded. The tool also provides you with various performance metrics and analytics so that you can have relevant data to look at while taking important decisions.
---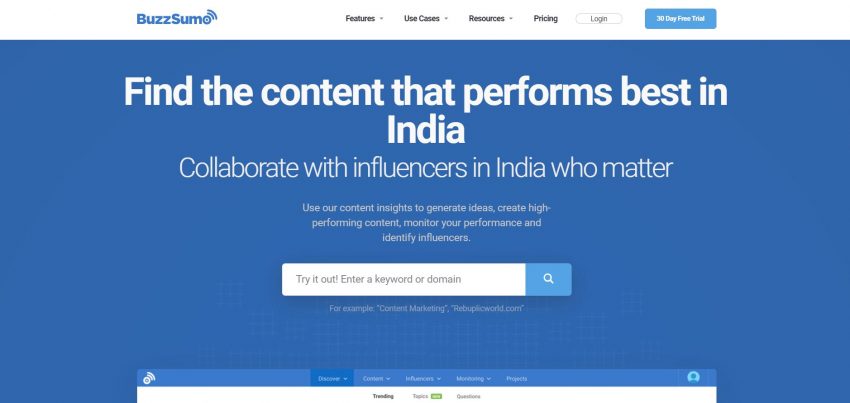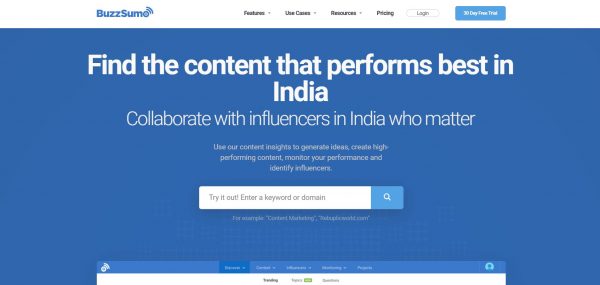 BuzzSumo can help you boost your online presence and create brand awareness by helping you find the right content that will perform best and get you in touch with quality influencers to promote your brand. The platform lets you use its content insights feature to create high-performing content by generating the right ideas. Once you have your content ready and have uploaded it to social media platforms you can easily monitor the performance of your content marketing campaign using this platform.
Besides being able to generate ideas for content you can also use BuzzSumo to collaborate with influencers. The company says that you can judge who is truly influential using its tools. You will be able to find way more than just looking at the vanity metrics. You will be able to gauge the actual real and organic audience that the influencer has and the engagement rate they get from their audience.
This will give you an idea about whether the influencer just bought their followers and likes or have gained them based on their persona and content. You can also filter influencers based on various criteria. You can choose them based on locations, categories, niche, audience type, audience engagement etc.
Once you have found the right influencer you can start your campaign. Along with all this, you can also conduct market research using this tool. You will be able to analyze billions of data points and use the information gained to make your marketing strategy more optimal. The starting price for BuzzSumo is $99 per month. You can use the free package with limited features to try out the services.
---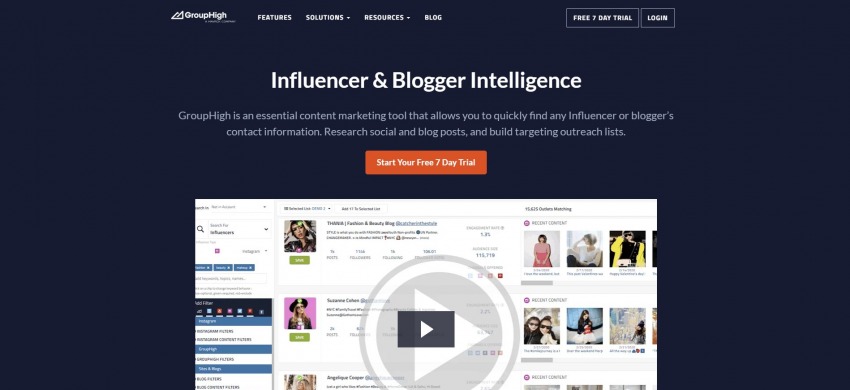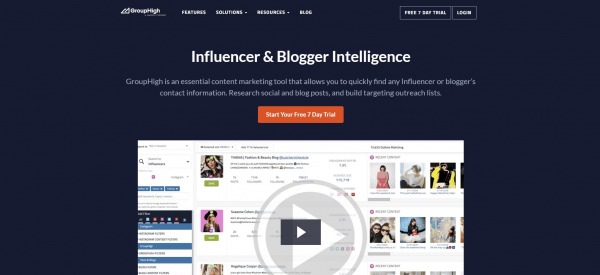 GroupHigh is a company that has nearly a decade of experience. It started in 2012 and aimed to provide services to brands and businesses to improve their marketing and public relations management. The company creates essential software and tools that are meant to make life easier for marketers to promote the brand and get more exposure. It is based out of Colorado in the US and has over 400 clients including big and small organizations.
The company provides individual attention to its clients. Doesn't matter what your revenue is or how big your company is GroupHigh will treat you similar to other customers. The company helps with influencer marketing. It will not only help you find powerful influencers that will have a good effect on your content marketing but also help you forge a strong relationship with them. The company makes it easier for you to search for the right influencer using various filters and parameters.
This will let you search in a much better way and zero in on influencers that can actually benefit your brand by giving it more exposure. Once you have searched for the influencer the company returns you the result in a comprehensive form that lets you know the key information about the influencer. The price for the GroupHigh platform for influencer marketing is $179 per month.It is also a Good option for influencer Marketing tools.
---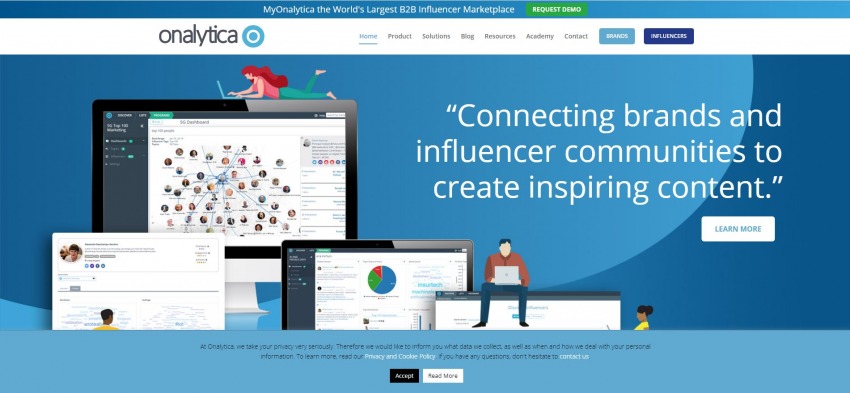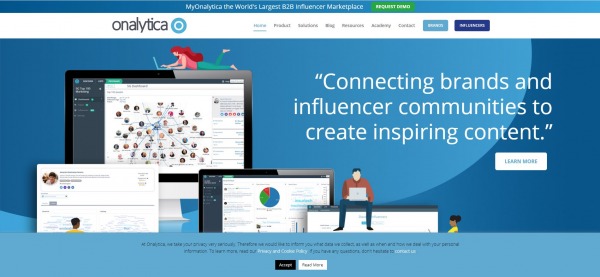 Onalytica is the last influencer marketing tool that we will look at in this list of best influencer marketing tools. It helps connect brands and influencer communities together so that they can help each other out and create and market quality content on the internet. Using Onalytica you will be able to discover the influencers suitable to work with your brand. This company has a global database that contains over 700k influencers.
You will be able to look for the right influencer in this huge database. After finding an influencer who seems interesting you can analyze their audience and community to understand what they reach us. Once you have found the right influencer you can reach out and target their community via the usage of Onalytica. You will be able to monitor and manage your Influencer marketing campaign and analyze the performance via the metrics provided by Onalytica. To know more about the company and its packages visit onalytica.com.
Conclusion
So, that was our list of some of the best influencer marketing tools that are available. You can use these tools to collaborate with influencers that can help create awareness for your brand and generate leads. This will lead to increased sales and more exposure. We suggest you visit these sites and get in touch with customer support to clear any doubts before making any purchase.