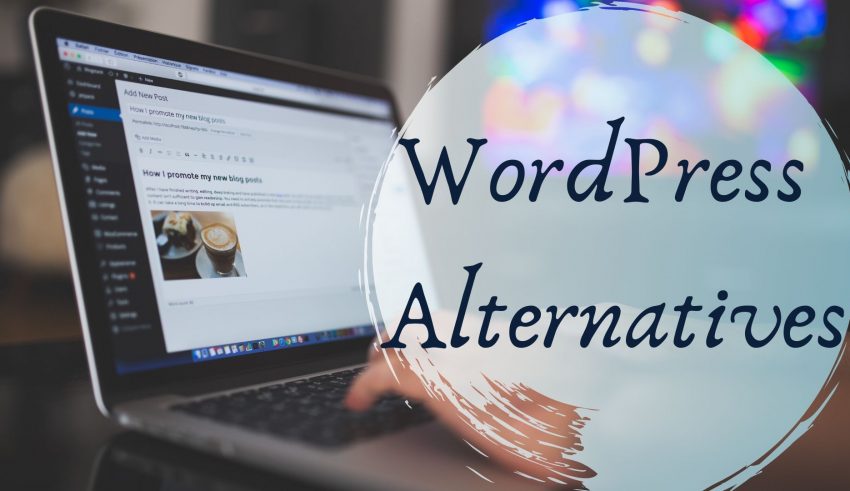 WordPress needs no introduction to anyone who has ever worked in any form relatex to website building or blogging. For those who do, WordPress is a website publishing platform and a blogging tool. Most of the people looking forward to starting a website or a blog turn towards WordPress as it is arguably the most popular such platform.
However; it does not mean it is the only option. On the internet, there are hundreds of websites that deal with just one purpose which proves to be beneficial for us, the users. It gives us a broad range of options from which we can choose the best one according to our preferences. Same is the case with blogging and website building. WordPress is free and simple but it might be missing some features that can be found elsewhere. That's why it's important to look for the alternatives. Here are some of the better alternatives to WordPress that you can try yourself.
Here are the 10 Best WordPress Alteratives:
Wix is one of the most popular website building platforms in the world. The fact that it is used by over 100 million people across 190 countries pretty much confirms that. Wix, too, used a simple drag and drop system with which you can simple choose and apply elements to your layout. It does not require any bit of coding skills.
It offers over 500 types of templates that fit different types of website purposes like photography, music, restaurant etc. Wix is a mix of a classic website builder and an AI based website designer. It lets you choose from pre-designed templates and also provide suggestions regarding layouts and designs.
There are two options Wix gives you when it comes to this ; Wix Editor and Wix ADI. Wix Editor is the drag and drop builder while Wix ADI is the AI based designer that would design the website for you itself. There is also a third option named Wix Code where you can design the website with your own codes from scratch. While Wix is free to use, it also offers a monthly premium subscription worth $28. You get benefits like unlimited bandwidth, 10GB storage, a 1 year free domain , ads removal etc.
---
Weebly is a simple and easy to use all-inclusive website buulder. Being all-inclusive means, it provides you all the tools to start off your website or blog from the scratch. You do not need to find and install different tools and resources from other sources separately.
Weebly is pretty easy to use. Weebly features a drag and drop system where you can simply drag whatever you like and apply it to the website at once. You do not need to know or use even a single bit of coding.
Creating a basic website is free but there are different plans that cost you money and also offer different benefits. The plans are priced $5, $12, $25 and $38. The $5 plans connects your blog to a domain. The $12 Pro plan adds different features like making the blog ad-free and adding a video player and video backgrounds. The $25 Business and the $38 Business Plus packages add eCommerce and marketing features.
Weebly also features a Content Management System that helps with managing the content of your website or blog.
---
Squarespace was founded in 2003 in the USA and it has been one of the most renowned website building platforms over the past few years. SquareSpace is one of those website builders that lay their focus more on the visual aesthetics of the website. It is said to not being on the easy-to-use side but it is best suited for creators who want their website or blog to look attractive to the visitors.
You don't need to know any coding knowledge for being able to use SquareSpace for creating your website. SquareSpace features a lot of stylish templates that you can choose from and edit according to your preferences to give your website the perfect look you want. SquareSpace, too, have a drag and drop system but it is limited in a sense that you can not drag the elements to anywhere you want.
You can only drop the elements into certain pre-set sections. SquareSpace also has an AI based website building option that builds your website according to the information provided to it. SquareSpace offers a 14-day free trial after which you have to choose between a plan range of $12, $18 $26 and $40.
---
Gator is Hostgator's website building tool, that too a very popular one. Hostgator is a renowned company when it comes to website hosting. They are professionals no doubt and know a big deal about websites and blogs. HostGator offers shared, dedicated, cloud, and Virtual Private Server website hosting. Gator does not offer a free option or even a free trial.
There are three subscription options; Starter, Premium and eCommerce. The Starter plan costs $3.84/mo and includes everything needed for a website to be functional. It includes free hosting, a domain name, website analytics, free SSL certificate and a remarkable 24/7/365 support. The Premium plan costs $5.99 per month and adds priority support to the list of what you get with the Starter plan. Priced at $9.22 per month, the eCommerce plan adds eCommerce functionality to your website.
The website builder of Gator is a classic drag and drop website builder. It is easy to use. You have to choose a template and customize it by dragging and dropping different elements into it. Gator might not provide you freebies but HostGator's reputation and reliability surely makes up for it.
---
Joomla, just like WordPress, is a free and open-source content management system. It was created in 2005 and has been a prominent name in the website building sector. At present there over 2 million active websites that have been created using Joomla. It is mostly known for its ease of use and accessibility and it is especially more suited for blogging. A key feature of Joomla is the Joomla Multilingual. It basically means that Joomla backs websites that support more than one language.
Joomla is also known for the mobile responsiveness of its websites. It means the website can be accessed equally good on a mobile phone as well as a computer. This quality is essential for blogging as a lot of blog readers access them through their mobile phones. It's easy to create a website using Joomla. It offers hundreds of customizable templates and you can use a combination of more than one template even.
The website can be edited using a WYSIWYG ( What You See Is What You Get ) editor. This is basically a state-of-the-art editor that shows you live changes taking place to the website layout as you add different elements and extensions. Joomla offers over 8,000 different extensions. While Joomla can be used for free, the free website comes with a limitation of a 500 mb disk space. An upgrade worth $5 per month can make Joomla limitless.
---
BigCommerce is the perfect alternative to WordPress if your need is that of an eCommerce functionality ready website.
It basically creates an online store and suits perfect to people who want to set a business online or sell their products through their own website. BigCommerce even boasts of an average growth of 28% for its clients.
When it comes to website building, BigCommerce offers a complete theme customization based on Java, HTML and CSS. You can also preview all the changes live while editing the website before publishing it. BigCommerce also provides mobile optimization which makes the website equally responsive when accessed on mobile devices.
BigCommerce also provides Search Optimization Tools that help boost up the website's traffic. SEOs are known for making a website more visible and relevant in search engine results. As BigCommerce is a more sophisticated website hosting platform, it also costs like one. After its 15-day free trial ends, you have to choose from three plans that cost $29.95, $79.95 and $299.95.
---
If you want to have a website for a sole purpose of blogging, Ghost is easily the best WordPress alternative to blog out there today.
Ghost is a blogging exclusive software that works for both writers and readers. Ghost was created in 2013 with its base being NodeJS.
Ghost has a very simple and to-the-point editor that allows great customization. Ghost provides registration forms, member management, payments, subscriptions and email newsletters all bundled from the beginning.
It also has a built-in SEO that enhances the blog's popularity by making it more relevant in search engine results. Ghost does not ask for any transactions and all of the website revenue goes directly to the owner. While WordPress is not limited to just blogging, if your target is just blogging then Ghost is the best alternative.
Ghost offers a 14 day free trial after which you have to pay to be able to use Ghost. Ghost Pro has four different tiers all of which cost differently at $19, $39, $79 and $199. It provides Managed Hosting and Content Delivery Network at even the cheapest tier which justifies it being not free.
---
Drupal is another Content Management System ( CMS ) just like WordPress and Joomla. Drupal was created in 2000 and it has become one of the most used CMS over the course of past few years. Today it powers as much as 2.1% of the all of the websites active on internet. Drupal provides its clients a lot of versatility as it is capable of creating basic to advanced level websites. It offers a lot of functionalities like advanced menu management, polls management, graphics modification tool, users management and much more.
For website desiging too, it has a lot of tools to offer for different types of content i.e. videos, polls, user management, text, blogs, podcasts etc. Drupal gives you customizable themes and templates to choose from which you can then edit according to your preferences.
As Drupal is open source, you can add external or your own plugins and extensions to make your website look exactly how you want. The only limitation with Drupal there is that it needs a basic knowledge of PHP, HTML or CSS for the client to be able to use it to its fullest.
---
TextPattern is another Content Management System to make an appearance on this list. TextPattern too is free and open-source like WordPress and the other CMS we have already discussed about. The USP of TextPattern is its flexibility, power and compactness. All of which makes it a better alternative to WordPress for those who have blogging as their primary goal.
TextPattern offers a wide range of free platform modifications, plugins, and themes. The layout can also be edited but TextPattern does not use a WYSIWYG editor but Textile editor instead. This editor is based on Textile which is a markup language of TextPattern's own. While it is completely free, a $3.47/ month subscription can get you managed hosting for your website from KnownHost.
---
Last but not the least, Expression Engine is a Content Management System created by EllisLab. While EllisLab shut down in 2018, the Expression Engine is still going strong. Expression Engine can be described as a felxible, extensible and user friendly CMS.
Expression Engine owns data containers called Channels where you can store and manage different components of your website or blog. Expression Engine provides a lot of customizable templates but mastering them requires a basic knowledge of programming. It provides a live preview of your website while designing to see what changes occur to it when you add or remove somr element.
Expression Engine also keeps management easy with member information fields as well as permissions. It also has hundreds of add-ons for different purposes like emails, barcodes, eCommerce and that serve benefits in jobs like space saving, exporting, managing cookies & caches etc. Expression Engine turned into an open-source program back in 2018 and hence it is completely free to use except for the add-ons that can be bought for different prices.
---
Conclusion
These were some of the best websites that can replace WordPress for you. WordPress is amazing but it is not and should not be the only choice. There is no harm in trying different options and seeing what works the best for your.
With that being said, we hope this list helps you find a better alternative to WordPress and makes your blogging or website management a bit easier.