There are so many factors at play when looking to set your own business, right? Well, merely conceiving an idea is not enough when it comes to businesses. You have to take care of the execution and monitoring on a regular basis to be able to account for success. And Bonjoro is one platform that helps you achieve this seamlessly. Presenting, an honest, candid and somewhat holistic Bonjoro Review to help you understand it better.
When it comes to Business, Marketing is Key
Now, this is an adage which is quite well-known. The only way to make your business a hit, if it is a customer-centric one, is to reach out to customers on your own. This entails regular as well as smart marketing moves. The internet has enabled this to a great extent today. You no longer have to employ people to reach door-to-door to promote your products. It is possible to reach out to customers instantaneously using social media, website and email marketing strategies.
However, this is really easier said than done. Digital marketing comes with its own set of challenges. For small businesses or ones that are just starting out, it is pretty difficult to engage a separate set of people to handle digital marketing. At the same time, without digital marketing tools, you cannot expect your business to grow.
The other challenge is that of too much mechanization. Leaving everything to automation may leave your content or strategies seem monotonous. So, what to do?
Enter Bonjoro.
Bonjoro – What is it?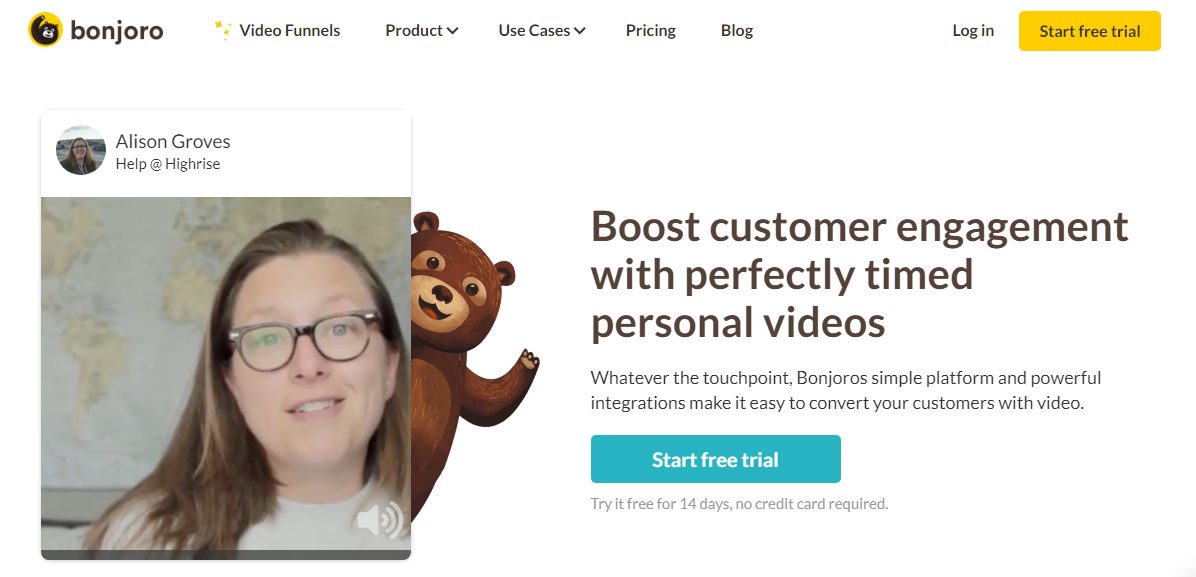 Bonjoro is essentially a digital marketing tool that allows business owners to send personalized videos to customers on their mailing list. In an age where people find graphic content more alluring than long paragraphs of text, Bonjoro does a fantastic job enhancing your customer relationship. Besides, it also provides you with a myriad of opportunities to put your innovativeness to use. With Bonjoro, you can heighten your interaction with customers, who prefer personalized content over automated messages any day!
The platform goes with the attractive tag: Don't just say Hello, say Bonjoro! This goes with the spirit of the platform, which encourages you to step out of boring methods of engaging with customers. After all, wouldn't you want your customers to feel more valued when they see a personalized email for them? By sending a URL to a page of your choice with a Bonjoro, or a video message, you can also ensure higher clicks. So, it is a win-win situation for both your customers and you.
Why should you use Bonjoro?
Bonjoro can be used for a variety of purposes. Starting from a freelancer who has just started their online page to attract customers, to an established business looking to build stronger customer relationships, Bonjoro is great for everyone. Let us look at some more well-defined reasons as to why you should be using the platform.
You can talk to customers about yourself
It can be really challenging at times to be able to convey properly the idea behind your brand through words alone. Yes, all businesses must have an 'About Us' page on their website.
However, wouldn't it be so much better to have a video do all the talking for you? It will not just be more interactive but also quicker to grasp by prospective customers. At the same time, the video is customized by you, so you are the one talking!
You can inform customers about your service
It is not just you or the brand, but also what services you offer that the customer would want to know about. They might also be impressed if you tell them of your past experiences and associations.
People might skip all this information if it is tugged away in some paragraph on some page. However, if they receive it as a fun, interesting video, they are more likely to watch and absorb it.
You can provide an orientation with ease
When a new customer signs up to your website or subscribes to your mailing list, you would want to send them a welcome message. It would be so much more delightful to not send out automated messages at this stage, rather something personalized for the customer. Bonjoro lets you do this part of welcoming your new user with ease.
Considering not all of us are on par with software developers when it comes to tools and technology, Bonjoro is bliss. You would want a simple, easy-to-use user interface for something that you need to work daily on.
This is where Bonjoro scores high again. It is easy to learn Bonjoro quickly and even operate it regularly without any hassles. This saves you a lot of time in a day which you can use elsewhere.
There are both free and paid options
While it is recommended to use Bonjoro's paid option for its array of better, smarter and more interesting features, it also comes with a free option. This is great for those who want to try out the platform for themselves first, before investing in it. Bonjoro's free version also comes packed with a bunch of features to choose from.
This relieves you of the pressure to committing to payments for using the platform right away. Once confident about the platform, you can switch to the paid version quite easily, which comes with features of a custom landing page, using GIFs for thumbnails and so on.
---
Bonjoro Review: Features
Bonjoro comes packed with a host of features for you to pick from when crafting a customized email marketing campaign. Some of these are:
Easy, simple integration with your emailing platform
A custom landing page, for paid users
Adding a "Call to Action" on the video
Tailoring thumbnails, including GIFs
Easy integration with sales and marketing tools via CRM
Compatibility with both Android and iOS
Email and Landing Page translation in over 20 languages
Integration with several other web apps
---
Related: Best Email Marketing Tools
---
Bonjoro Review: Pros
Fairly easy to use by anyone, all it takes is some time to learn and catch up with
Much better and more pronounced impact on click-through rates (testimonials are proof)
Comes with a free version, which might pretty much address all your marketing needs for the time-being.
Customers can respond to video messages you send to them, which is a plus for boosting interaction
---
Bonjoro Review: Cons
While there aren't too many cons we can point out, some of the coolest features by Bonjoro are available only for paid users. This includes the option of using more than one messaging template, custom landing pages, GIF for thumbnails and custom branding.
Although Bonjoro's free version also comes with a set of wonderful features, you will need to cough up some extra bucks to avail these ones. You can choose from the three different paid plans Bonjoro offers its customers after a free 14-day trial.
---
Conclusion
Bonjoro can prove to be a great way to take your customers by surprise. After all, how many brands do you suppose would be sending them customized videos every now and then? At the same time, Bonjoro proves to be a great marketing tool for businesses these days – improving click-through rates, online viewership and hence lead generation. This makes Bonjoro an appropriate partner when looking to create a solid impression on prospective customers.
Bonjoro is a wonderfully effective tool that helps you stay ahead of your competitors in the game. At the same time, you have the option of trying Bonjoro's full features for free for 14 days. After this, you can choose to avail either their free or paid version ahead. We hope you found this Bonjoro review useful and sufficient to understand if it is the right tool for your brand. Let us know what you think of the platform and how it has helped your business gain new heights.