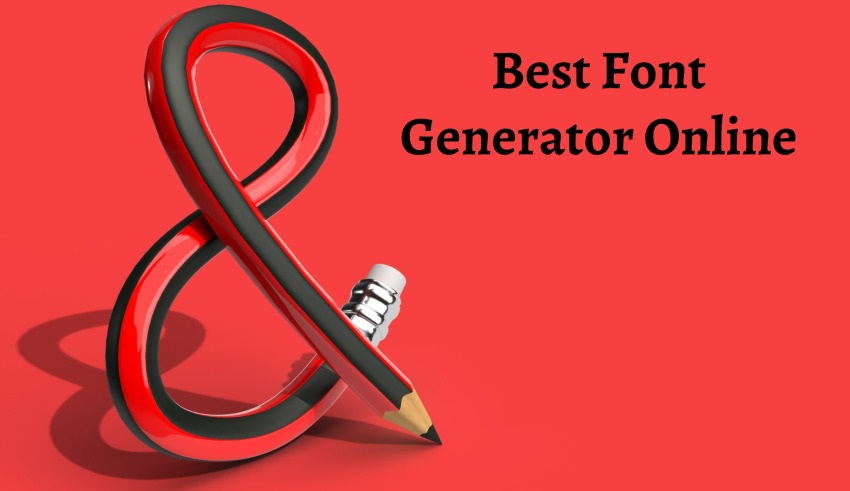 Imagine this. A user from your target audience is browsing through a bunch of content from different sources. And it just so happens that your content is in that bunch. Wouldn't you want the viewer to stop with a start at the sight of yours? In an online world where content is king, it is crucial that you're able to push past the competition and draw attention.
So how do you do just that and steal the spotlight for yourself? Well, your solution is to leverage fonts of course! The font is also an equally important part of web design. Your mind may not consciously register how the font influences a web page. But they still impact the way we perceive and experience the site. And it's quite alright if you don't have the budget to hire a team of professional typographers.
Thanks to the internet, you can now use a font generator to add custom typefaces to enhance your website. So let's take a look at some of the best Webfont generators on the market right now.
Best Online Font Generator:


Creative Fabrica is famous for producing some of the best tools to enhance your creativity and productivity online. With their fancy font generator, you can now easily generate usable webfonts.
Regarding the compatible formats, you can upload any .otf or .ttf files to convert them into webfonts. 
In addition, this font generator is extremely easy to operate and use. All you have to do is select the otf or ttf file from your device and it will automatically convert them into a webfont package.
The zip file will contain common web font formats such as .woff, .woff2, .eot and .svg. There is also a specimen .html file that contains examples of how to use the webfonts.
The great thing about Creative Fabrica's webfont generator is that it converts the desired webfonts completely free of charge. 
But note that it requires a confirmation that you are legally allowed to use the font before proceeding with the conversion. This is done to ensure that none of the parties involved gets into any misunderstanding of plagiarism.
---


If you want to enhance your website with a custom font, Fontstruct is one of the best webfont generator available. Plus it gives you access to the fonts for free.
This is a truly rare tool because you'd typically need to hire someone to create a personal font for you with professional software. But with Fintstruct, you can do the same without worrying about the money.
After you create your custom font, you can save it to your device as a TrueType font. Then you're free to use it on your website or anywhere else.
But it's alright if you don't have the time to customise a font yourself. You can just search through the ready-made fonts and use one that fits your brand's image. 
Fontstruct is best known for its quirky and geometrical fonts. So websites, brochures and other print media can leverage this to give themselves an upgrade. Among their resources, there's also a guide to assist you in using this innovative tool.
---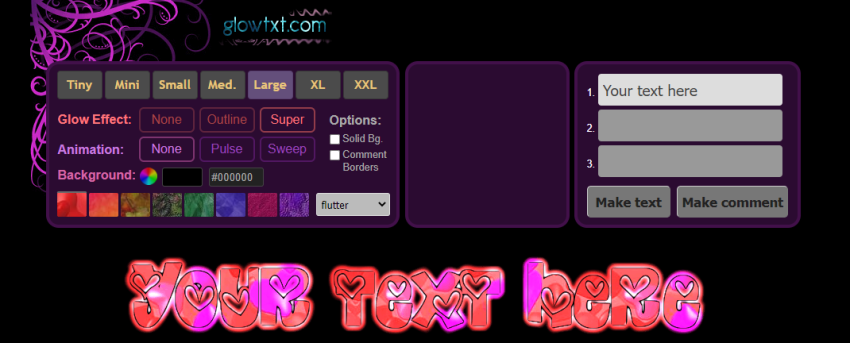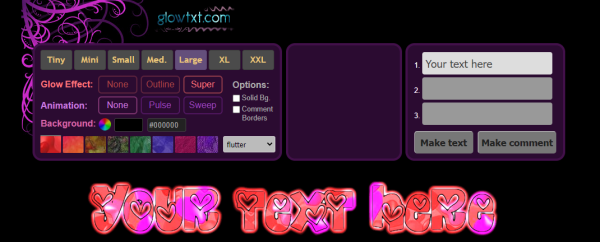 The early 2000s vibe has been catching on lately. So if you're targeting an audience that resonates with this trend, Glowtxt is the perfect fancy font generator for you. It generates fonts that are very reminiscent of the retro designs of MySpace and Disney Channel
Additionally, it is very simple, user-friendly and generates attractive texts such as PNG or GIF files too. 
All you need to do is choose the size and style from the drop-down menu first. Then decide whether it needs an animation or glow effect. The last step is to adjust the glow background colour and click the download button.
If you include glow effects or animations, the font will be saved as a GIF. On the other hand, if you decided to forego it then it will be downloaded to your device as a PNG file.
If you want to establish a fun and upbeat image, you should definitely check out Glowtxt. It is such a cool font generator and appeals easily to the younger audiences too.
---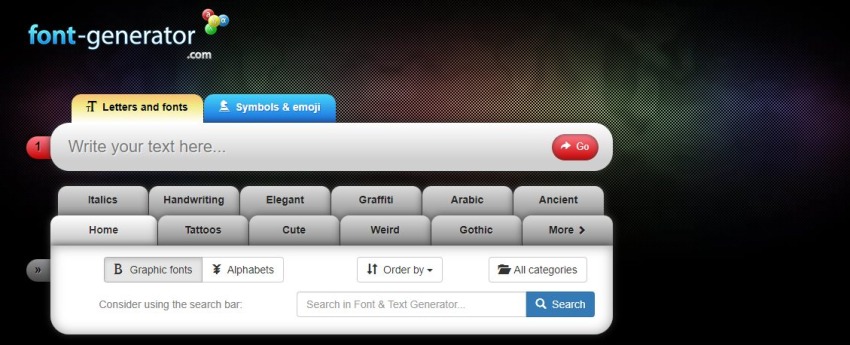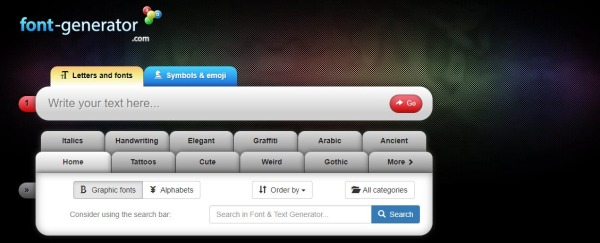 Are you going for a vintage aesthetic with your content? If yes, then look no further because that is exactly what Font Generator provides. 
It is crucial that whatever you create catches the viewer's eyes and draws them in. Using a font generator is a great way to pick out the best fonts that are sure to draw attention. You can also play with the customisations to add your own personal flair. With the variety of designs and sizes available, Font Generator is a great tool to have with you.
It is a fancy font generator that lets you choose from a wide variety of categories. Plus you can also browse through several styles under each category. The categories include handwriting, elegant, gothic and more. 
So you can click on anyone and adjust the font size, colour and background. Then you can download the font as a PNG, JPG or a GIF file. 
Font Generator is very popular for its variety of calligraphic, vintage and elegant fonts. You can have a large number of graphic fonts at your disposal with a single click.
---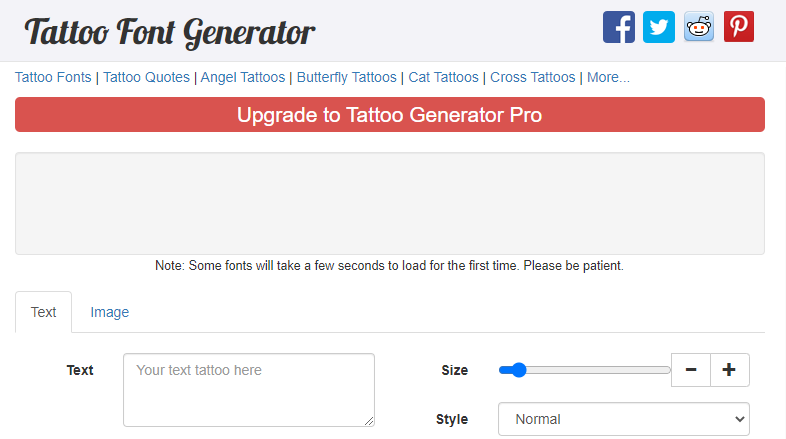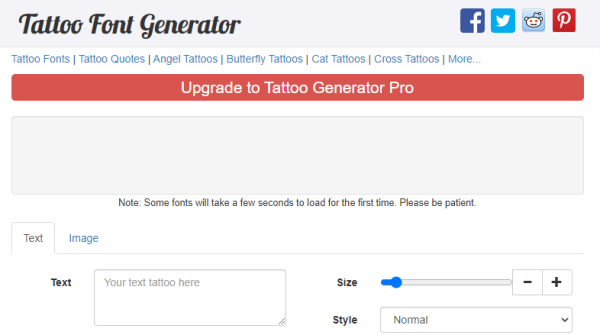 Both tattoo workshops and tattoo enthusiasts can also benefit from using a platform tattoo font generator. Since every customer comes in with a specific design in mind, a font generator will help you sketch out their designs faster. It also gives them the chance to play with their creativity.
This specific Tattoo Font Generator is also a unique platform that provides creative and edgy tattoo lettering fonts. Anyone can easily operate this font generator as the interface is very user-friendly too.
All you need to do is to add the desired text in the text box first. Then you can browse through their vast collection of fonts and pick one that you like. You can also play with the arc, direction, size, style, forecolour and backcolor. All of their fonts are free for commercial use.
In addition, Tattoo Font Generator lets you print the design directly by right-clicking and choosing the "Print" option. You can even save it as a PDF to your device.
---


Flaming Text offers free design tools that are all accessible through a browser. So there are no downloads or installations required.
The Flaming Text tools also include one of the most easy-to-use cool font generators. It lets you create attractive logos and banners from a variety of templates.
You just have to type in the text, choose from a selection of available font styles and browse through further customisations. Then you can download the newly designed font as a PNG file to your device. As simple as that.
If you don't want to customise it yourself, you can also choose from their pre-designed templates. These templates come with different colors, gradient effects and background colours that are already set for you.
There are so many styles to choose from. So you can be sure to find one that suits the image you're going for. Flaming Text is a great fancy font generator for those who want the spotlight on their content. The fun and energetic designs make Flaming Text a good option for bloggers too.
---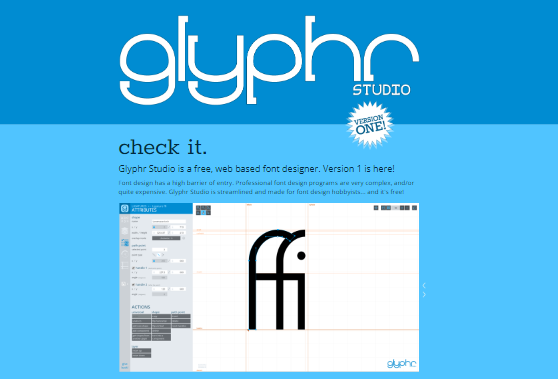 Glyphr's interface allows you to create show-stopping custom fonts for your business. This is why it is considered a very popular font generator on the market. It aims to provide a seamless user experience by staying updated with the latest trends.
Similar to advanced font tools, Glyphr also lets you adjust every single pixel with the help of its "handles".
It is absolutely worth it to learn how to operate Glyphr. Once you know your way around, the possibilities are endless. Glyphr is a very versatile and flexible webfont generator. So you can find all the tools you need to create quality custom fonts for your website.
Glyphr also offers a few ready-made fonts for those who don't want to create one on their own.
It is a multifaceted font tool that is ideal for coming up with more traditional fonts. Other font tools offer a fun and edgy vibe. But Glyphr provides fonts that are suitable for business.
---


Many people often recall specific fonts from popular brands and TV shows that they've come across. Using these fonts can give you an edge over the rest of your competition.
This is because the audience naturally gravitates towards typefaces that they are familiar with. After all, nothing spells warm comfort like familiarity. They will be more likely to click on a particular content if you use these fonts.
Font Meme is an online font generator that is absolutely free of any charges. You can use it to create attractive typefaces inspired by iconic logos and brands that are crowd favourites.
There are lots of free fonts to choose from. You can browse through them and pick one that you like. Then play with the customizations and click "Generate". But if you come across a premium font that you really like, you can click to purchase it and come back to Font Meme to upload and use it.
Font Meme is an ideal fancy font generator for creating posters and marketing content that requires fonts from popular media sources.
---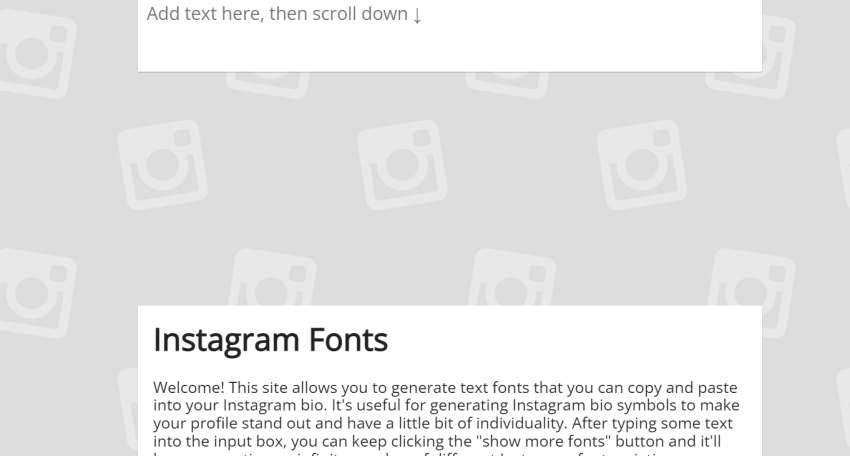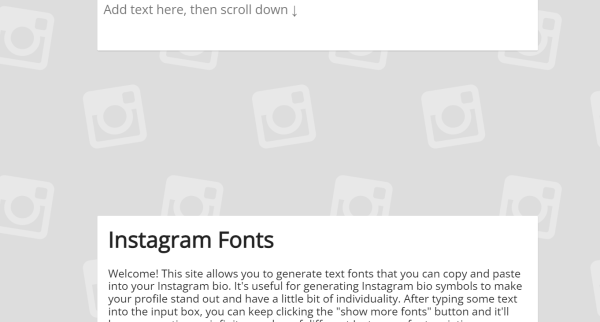 Nowadays, many businesses are shifting to social media to market their products and services. Instagram, in particular, has a lot of potentials to make brands and businesses blow up.
Instagram Fonts is specifically designed to provide fonts that can optimize your Instagram feed. Their selection includes certain fonts and typefaces which are trending on Instagram because of their attention-grabbing style.
So you can easily use these fonts to elevate your content on Instagram. But that's not all. If you run a website, you can also use the fonts there too.
You simply have to type the text into the input space and Instagram Fonts will pull up a selection of typeface options. After you decide on a font style, you can copy and paste it on your Instagram bio or caption.
The best part is that these fonts are compatible on all devices, whether you use an android, iPhone or PC.
Instagram Fonts is an ideal font generator for enhancing the content on Instagram, Facebook and other social media platforms. Their designs are very unique and attractive. So they will definitely set you apart from the rest of the businesses on Instagram.
---


With all the work you need to put into your content, sometimes you just need a simple font generator to get your fonts sorted.
Font Space is a very cool font generator that is popular for its user-friendly interface. It allows you to insert the text and instantly copy it straight from their website to yours.
Plus all the fonts are in the Unicode style. This means that you can safely avoid compatibility issues no matter what device you're using.
Font Space helps you give your social media page and website an amazing glow-up. You can also use it to spice up your headings and quotes. It is hassle-free and gives your content an edge using neat and popular fonts.
This tool is ideal for composing captions and DMs for your social media accounts. Unlike other webfont generator, Font Space offers a more subtle style that is great for sentences and paragraphs. It may not be as loud and noticeable but it definitely sets you apart in a good way.
Conclusion:
Typography is a marketing tactic that every brand should seriously think about. It is the art of designing and arranging types to make your content more appealing.
By using any font generator from our list, you can create eye-catching custom fonts for your logo, website or social media. 
And you don't even need to learn about Photoshop vectors or complex web design techniques. You can simply get everything done with a few clicks. And after customizing the fonts, you can focus on generating leads for your content.
So what are you waiting for? Start using any of these cool font generators today!