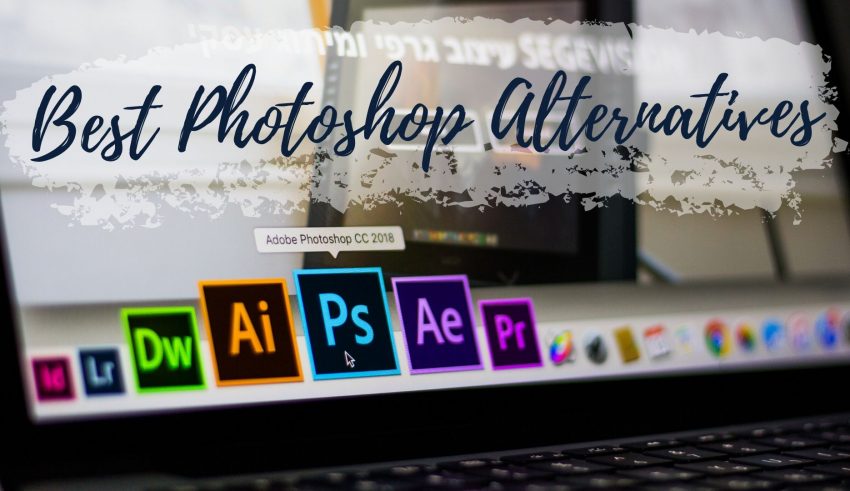 It's been said that there are three types of pirates. "Arrrr" pirates, "Ahoy!" pirates and finally the most common type of pirates, "The I-won't-pay-$500-for-photoshop" pirates. *Cough* Most of us are *cough* that type of pirate and why won't we be? Photoshop offers some incredible tools but charges an absurd amount for its yearly membership and most of us can hardly afford it… so pirating is the obvious choice.
But we forget about the competition, and duh! There are plenty of (Cheaper) alternatives for Photoshop that are nearly on par with it. Now if y'all follow me, I'll lead you to the points (free of charge). 
Here are the Best Alternatives to Photoshop: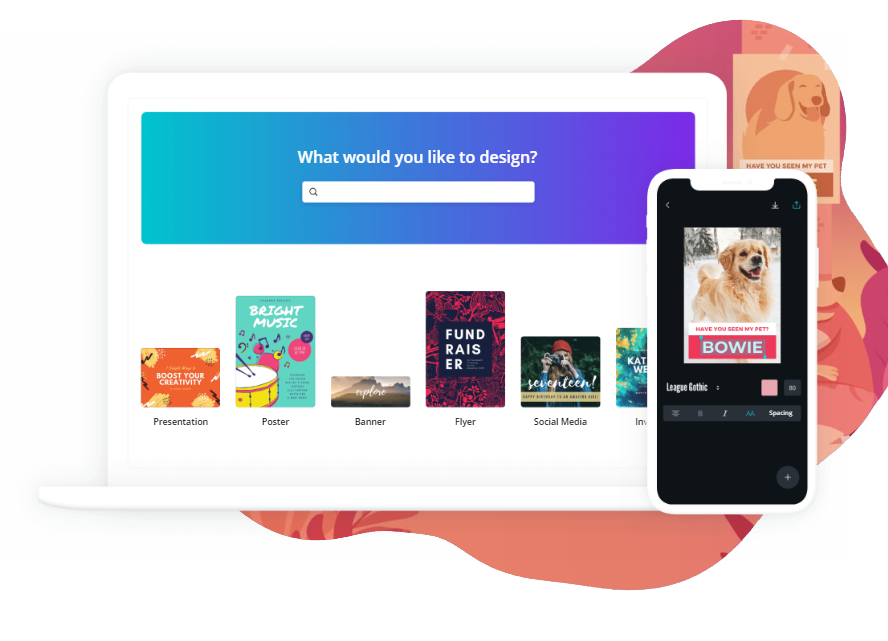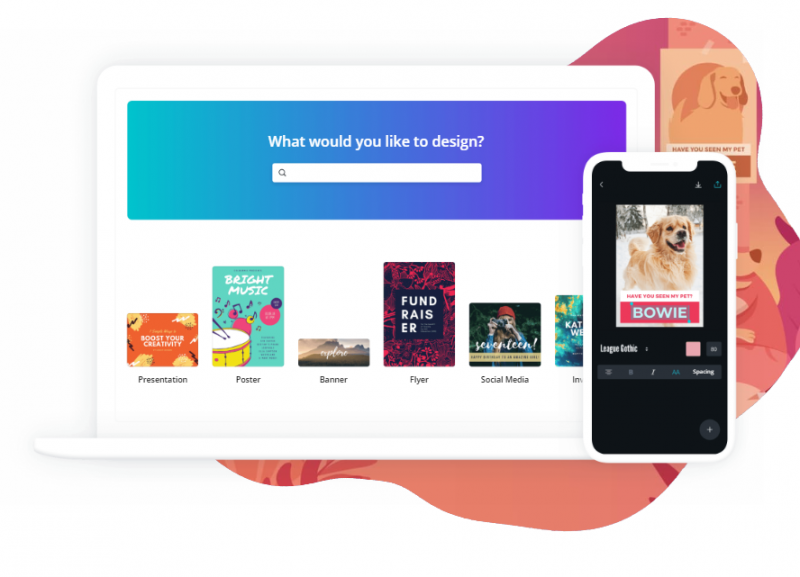 Platform: Windows, MacOS. 
Pricing: Free, 12.99$ per month (premium).
Canva is a free, cloud-based design tool that is so simple to work on that even if you have zero experience, you'll be able to create professional scale graphics. Canva is widely used by content writing professionals due to its affordability, being able to work in a team and incredible tools.
Canva is perfect for large or small businesses as it is a tool that can be used by hundreds of people with varying experience. The biggest pro of Canva might be the ability to share on the team stream so the members can comment on it. 
Canva comes in three formats, Free, Business ($12.99/month), Canva for Enterprise (by quote.) and works on both Mac and Android. In the free version, you get 1gb storage for images, adding up to 10 members, double folders to manage designs, access to over 8k templates, access to millions of images (Not free. Pay up 1$ matey), and a few others.
While the business version equips you with unlimited folders, across 8k templates, the ability to add around 50 members, the power to upload custom fonts, resizing your designs, priority support, and a bunch of other things.
Canva for enterprise offers the same perks as Canva for business except it gives you full team administrative controls, dedicated account manager, 99.9% Uptime SLA, single sign-on and a couple of other things (Yeah Enterprise is definitely for bigwigs.) 
---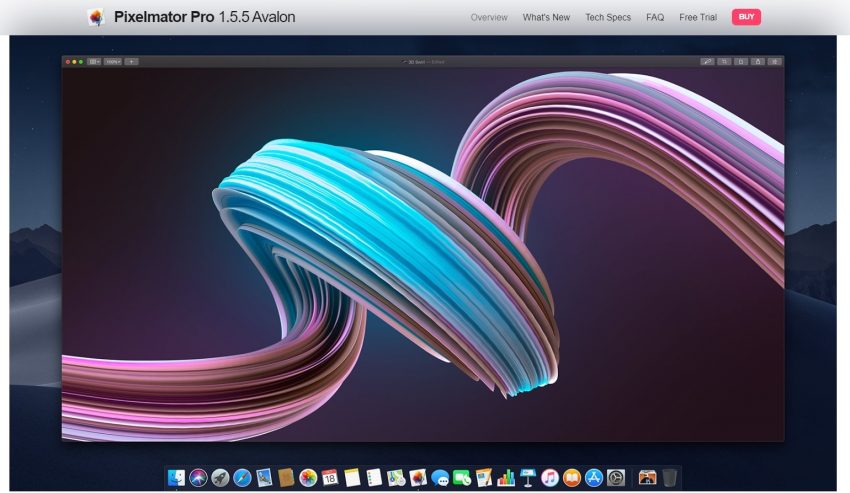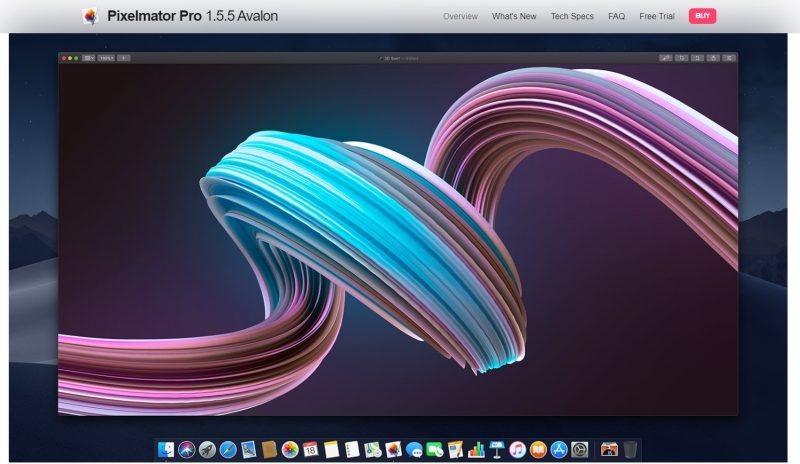 Platform: MacOS.
Pricing: 59.99$ (39$ on discount.) 
  If Photoshop is the King, then Pixelmator pro is one of the king slayers, but sadly it hasn't had any luck yet. Pixelmator Pro is available only on macOS and comes at a single time payment of59.99$.
Pixelmator pro flaunts single-window layout instead of floating widgets as it's predecessor did, and as it is a machine learning-powered, it also offers intelligent layouts, quick layer lookup, and non-destructive editing, which means you can edit without worrying about ruining the whole image.
Apart from that, Pixelmator pro equips you with features such as Dynamic paint Blending, various layer styles, preset aspect ratios, repair tool, quick selection tool, content-aware tool, text tools, drawing tools, color adjustments, and a couple of others.  All in all, Pixelmator pro isn't as good as photoshop, no way will it beat photoshop as it is, but it's good for people who want something cheap but has premium feels. 
---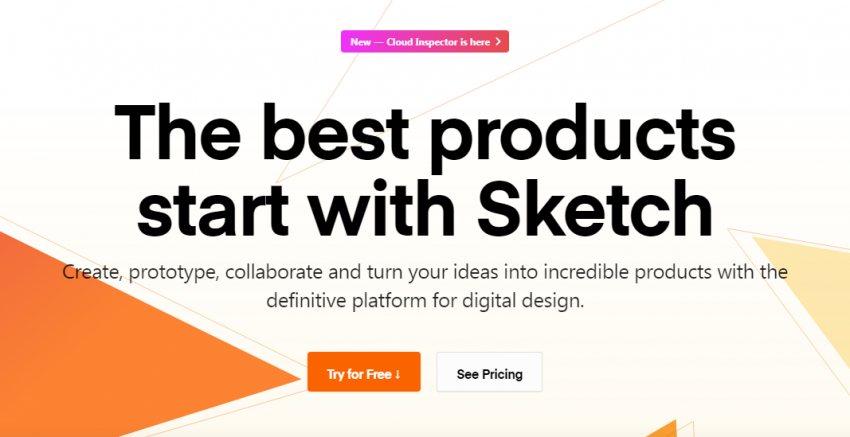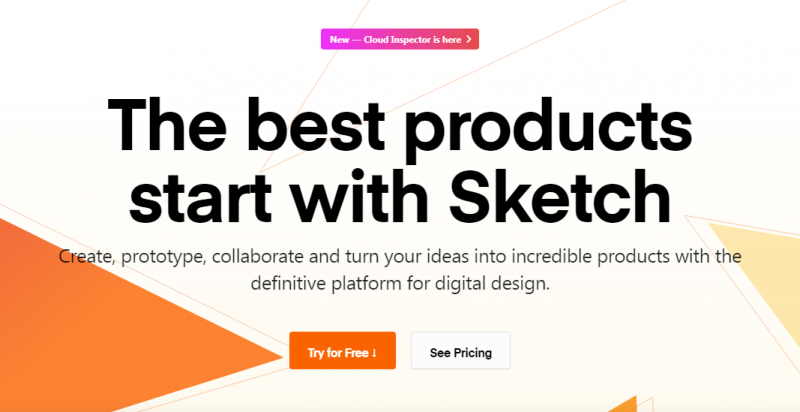 Platform: macOS. 
Pricing: $99 – one-time payment, $79/year – optional renewal for updates. 
A tool for digital designers. It is specifically for those who want to do website, product design or prototyping. You might not believe but there are several things which Sketch can do but Photoshop can't, as it wasn't built for product design.
You must try it if you've never tried it, you can go for its free trial. By installing plug-ins you can get even more out of it. With features like a tool kit, vector editing, pixel precision, grid editing, bitmap editing, and so many good stuff.The sketch is basically built for UI design. There are many users who are switching to Sketch, and since It was released in 2010 it has managed to acquire a Huge and loyal community of designers.
But one of its biggest cons is–it works only on Mac. Hands down, Sketch is way more friendly for designers than Photoshop. 
---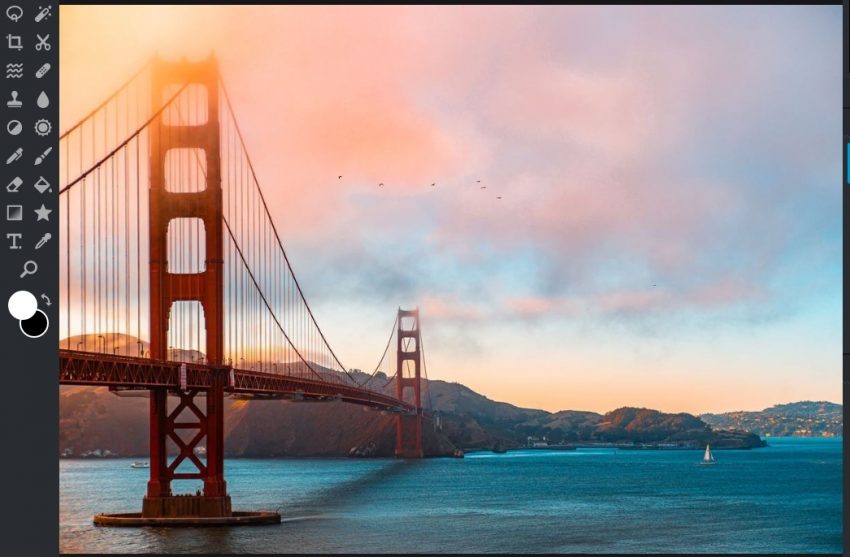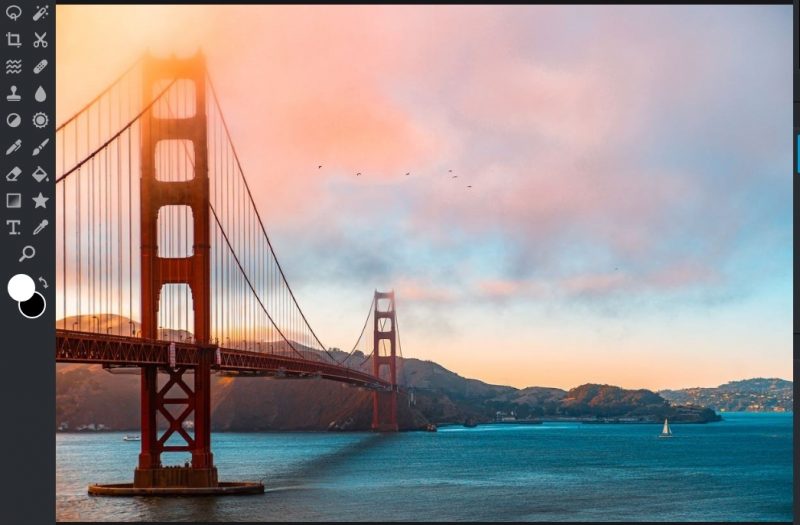 Platform: Android, IOS, Web. 
Pricing: Free
Pixlr is a cloud-based powerful image editor. If Photoshop seems a bit scary and overwhelming for you, then Pixlr is designed to be easy.
Pixlr offers AI-powered tools, and at the same time, it assures that the images are kept private. They offer a wide variety of features and capabilities for which plenty of other software charges.
For freelancers, graphic artists and for small to medium size businesses Pixlr works really well while being cost-friendly and time saver. It can save you from repetitive procedures. One can access Pixlr on any device as it's a web-based tool.
---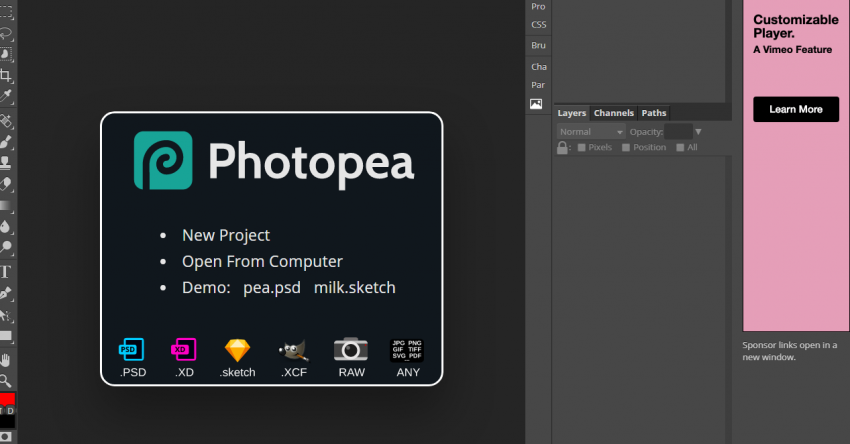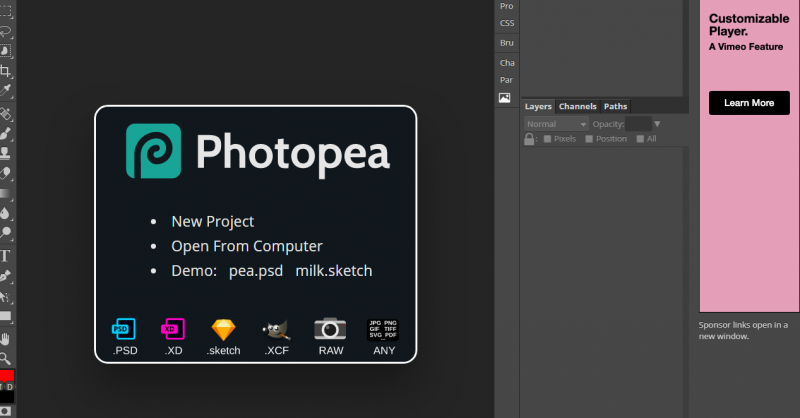 Platform: Web.
Pricing: Free/ $9 a month.
  Photopea never thought I'd find any editing app named cute (might be just me who found it cute), if you don't know what Photopea is, you're about to be shocked. Photopea is almost like photoshop online but for free, without any add-ons! Yeah, it's our sliced bread, so no more illegal or discrete apps to do your work!
 While it is free to use, you can't run it on low-end PC's as it keeps crashing (learned it the hard way…). Photopea is a PWA, so you can either simply use it on a browser or download an app from chrome (you still won't need add-ons.) Photopea is also open source and regularly updated so you'll be powerful and impressive too whenever you use it.
While it is free, there's also a premium version just in case you want to remove those annoying ads. Photopea offers tools such as Noise, liquify, CSS, swatches, stylize, vector mask, raster mask, free transform, and many others. 
One you need to know–it was developed by Ivan Kutskir, who spent 3.5 years developing it while studying computer science with the aim of providing the most advanced and affordable photo editor and today it is used by over 1.5 million people, Respect! 
---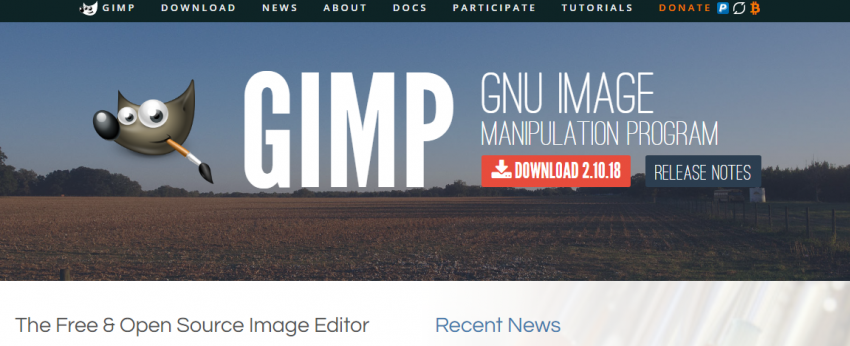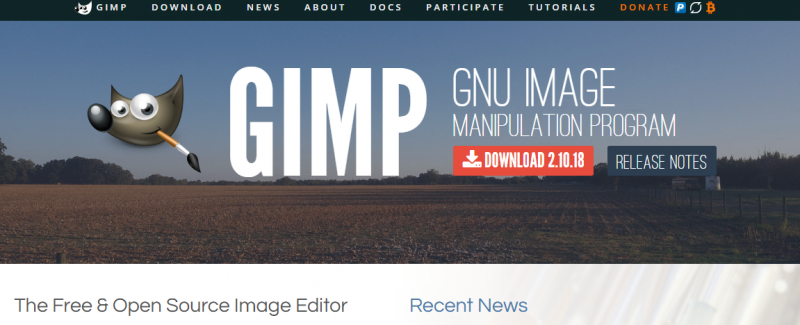 Platform: macOS, Windows, and Linux
Pricing: Free
Some things in life are free and GIMP (GNU Image Manipulation Program) is one of them. This open-source image editing software won't make you scratch your head, as you can install it in a minute (It's light-weight but heavy features) without worrying about license keys and installation media, it's compatible with Mac, Windows, and Linux, and is also super easy to use, even newbie can get hang of it in a couple of days.
But it really boils down to your needs and preferences, it's about what feels better to you. They provide tools for photography, illustrations, cartoons, pixel art, and drawings. GIMP offers a few plugins that can make your tedious lifestyle moderately easier.
With GIMP, you can even create animated gifs, GIMP is great for small and medium-sized businesses or for freelancing, but won't be ideal if you need it for professional purpose in big businesses. It has all the essential tools and features which are required, and are evolving rapidly. 
---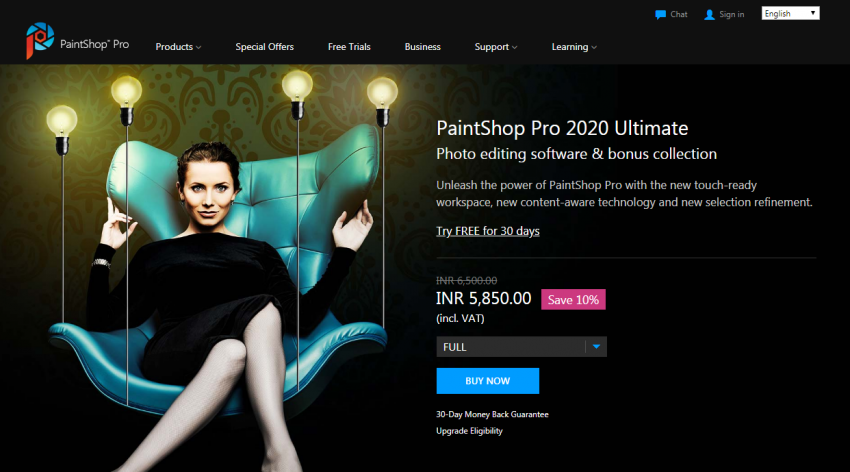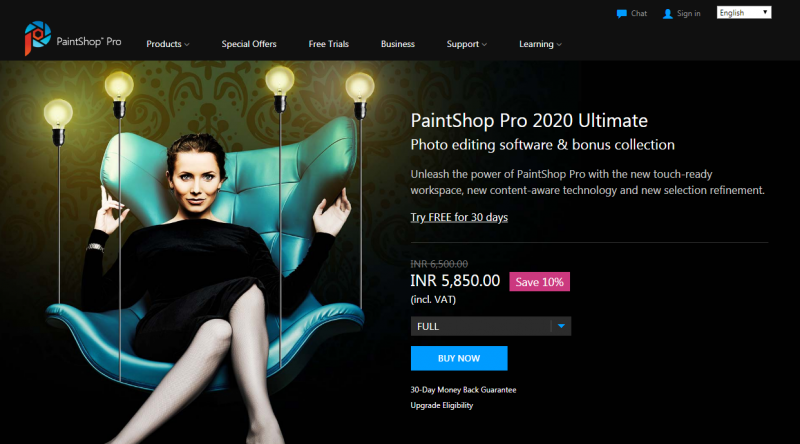 Platform: Windows. 
Pricing: 79$ monthly, can be bought forever at once price. 
Corel is more of a paint shop than a photo editor, but it's still one of the top contenders of Photoshop. Once you get Corel, you forget all about photoshop as it does everything you need without the overhead of subscriptions. Although you won't have that 3D modeling in Corel as Adobe offers it, still Corel is no joke.
Corel provides powerful adjustment tools, precise retouching, multiple workspaces, smart clone, refined brush, legacy features, 360° photo editing, supercharged creative effects, and so much more. As I said, you'll forget photoshop once you try Corel.
---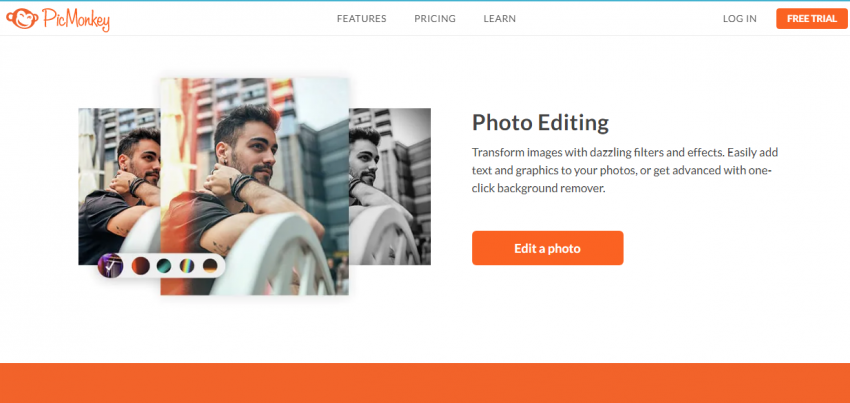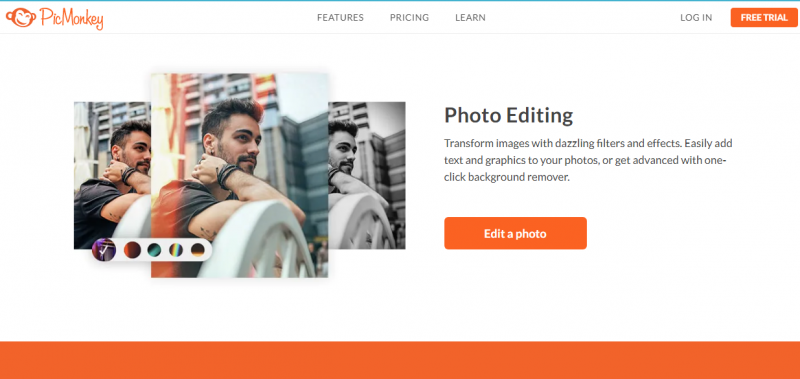 Platform: MacOS, Linux, Web
Pricing: Basic – $7.99/monthly, Pro – $12.99/monthly, Team – $33.99/monthly.
PicMonkey is an easy-to-use tool for digital creatives and provides amazing photo editing and designing tools that can convert your ordinary-looking image into Mona Lisa's. They offer hundreds of options for Templates, Graphics, text, etc.
If you want to edit a picture for professional purposes or to post on your social media, PicMonkey is your bro. The biggest pro of PicMonkey is its compatibility, it works on nearly every device.
For testing the waters you can try their 7 days trial. And If you want something free (Because why Not!), you can go for their mobile app.
---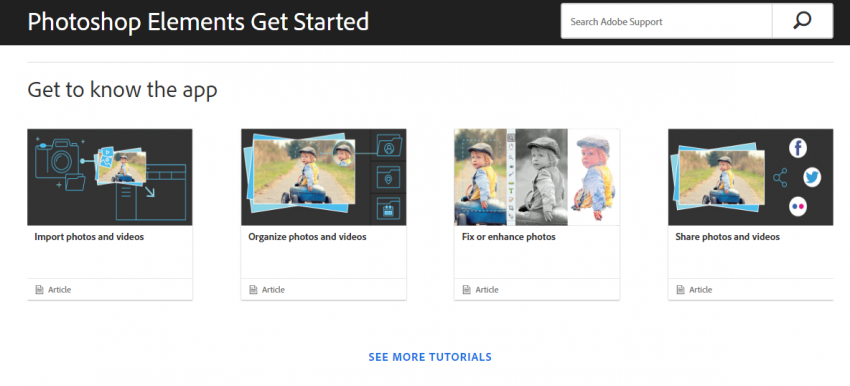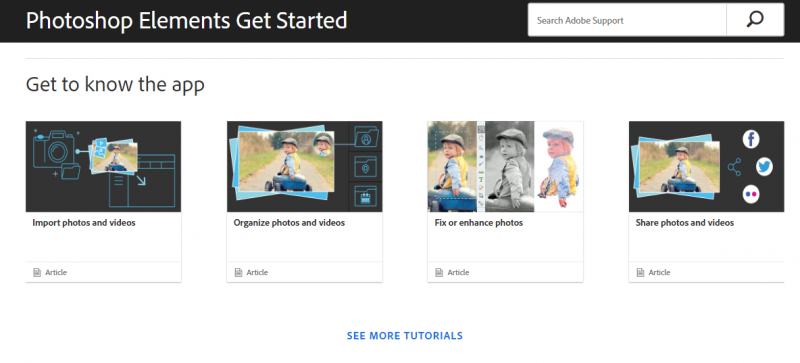 Platform: iOS and Android. 
Pricing: 99$ one time. 
Yeah, I'm cheating y'all here by adding photoshop elements… but we're looking for an alternative, cheaper alternative without exceptions. Most would think that Elements is for amateurs but that's underestimating Elements 12, sure you can get most of the basic editing done for editors under $100 but what about advanced? Like editing RAW images, masks, and layers? That's what Elements 12 offers you. 
Elements 12 offers other impressive features such as: 
Guided Editing mode that is right between quick editing and expert editing, Guided editing is a boon for people who don't understand a thing about levels, hues, and unsharp masks.Content–aware and remove tool is another impressive tool and the one that Adobe blatantly boasts about.
With this tool, you can easily move images, you can find this option under the expert editing section. It's easy to use this tool but be careful, as it is prone to ruin your image.
 Pet–eye correction is the answer for fixing pet-eye on your adorable babies, it works quite like fixing red-eye on people. Yeah, adobe you make tools easy to use. The only drawback would be Adobe revel, which costs $60 per year for additional features. And you can only use 50 photo uploads before you buy this feature… 
---
Paint.Net
Platform: Windows.
Pricing: Free
Paint.Net is a free open source software. It is very much similar to GIMP but less complex and is primarily used for 2D animation. Paint.Net does lack some capabilities compared to Photoshop, Paint.Net supports fractal plug-ins, filters, layers, and opening and editing multiple photos at the same time.
So why pay when you can get your work done for free. It came into life as a college project for replacement of Ms paint but is a lot more advanced, even though it looks like a traditional window program.
You can start working on it without searching for a number of tutorials. It is compatible with windows and packed with all the basic tools required for image editing.
---
Conclusion
I'd like to write a bit more and give you a bit more points, but I'm feeling lazy, and I'm quite sure that these 10 alternatives will be more than enough for you unless you're editing the pictures of your girlfriend named Emma Gin Ation, then no matter what you do, it'll never be enough.
My suggestion would be trying at least Canva, Photopea, GIMP, PicMonkey and Sketch (if you're a Mac user) as they're the best photo editors that are cheaper than Photoshop and offer plenty of tools that you will actually need and use, or if you want some fancy stuff which you won't ever use, go right ahead and buy Photoshop.
Anyways, let's look forward to the day someone brings us something incredible that'll take on Photoshop anytime and still be affordable.