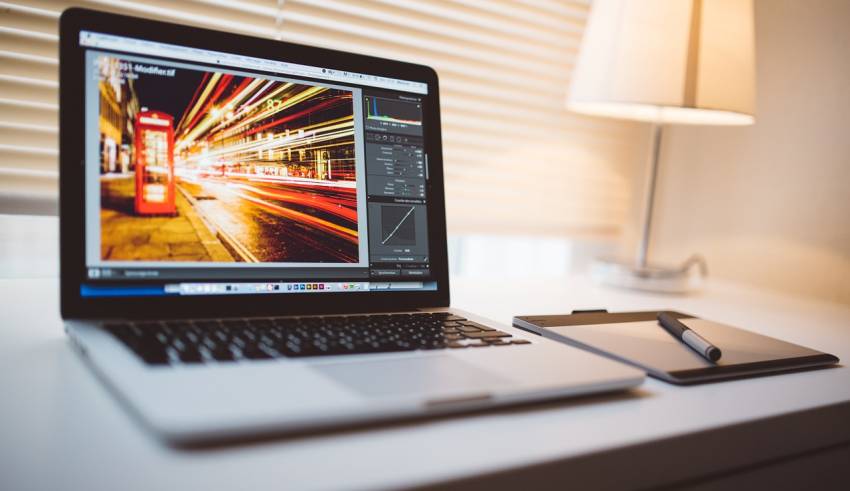 If you think that to do good image editing you need to download softwares with an expensive subscription (I'm talking about Photoshop, Capture One or Lightroom), you are wrong.
The most popular photo editing sites give you an opportunity to save computer storage space and enhance pictures online. This article offers the review of 10 best online photo editors, where we'll talk about their primary features, pros, and cons.
Why Online?
If you have HTML 5 or Flash installed, you may start editing photos even now. Usually online photo editors are characterized by a user-friendly interface with basic image editing tools. Performing color correction, removing minor face/background imperfections, cropping, applying filters or so-called presets, working with text, and framing will take no more than 5 minutes.
Just keep in mind that the best photo editing apps have nothing in common with Instagram or VSCO. They are more than just adding some color filters and effects. These image editors are aimed at deeper use and feature more complicated photo editing functionality.
Here's The List Of  Ten Best Online Photo Editors:
Alternatives: Movavi, Polarr, Photoshop
Price: FREE or $22
Pros:
Possibility to edit images with layers and masks
Basic picture editing and color correction tools
Cons:
Disturbing advertisements
A reduced number of features for non-premium users
Pixlr is one of the best free online photo editors that edit photos fast, online, and for free. When you upload a picture, you will see familiar photo editing functions like white balance correction or cropping. You may use selection and clone stamp tools, masks, layers, etc. to edit portrait photos like in Photoshop.
The significant drawback is an absence of batch image editing. You'd better download Lightroom for these purposes. Still, you may open several photos at once and then work with them one by one.
Alternatives: iPiccy, Lightroom, Photoshop
Price: FREE or $100
Pros:
Easy interface
A basic set of tools
Cons:
The majority of tools are limited in the free version
Annoying advertisements
Potopea is a great variant if you are looking for an advanced online photo editor that lets you work with layers. It is one of the best online photo editors like Photoshop, as it supports popular file formats and includes many similar PS functions. You can find such tools as selection, move, fix, pencil, brush, clone, gradient, sharpen, and blur. Besides, you may work with text, various shapes, and filters.
Photos can be imported from a URL, a file on your computer, or taken directly from your webcam. After you finish image editing, you can save photos in a variety of formats, including PSD, PNG, JPG, SVG, GIF, PDF, TIFF, PPM, ICO, and others. You can use this photo editor for free without creating your user account if you don't mind ads. Or you may use a premium account and work without advertisements.
Alternative: Lightroom
Price: FREE or $2,49
Pros:
Capable of working with RAW images
Deep color correction
Intuitive interface
Cons:
Several tools are limited unless you pay
Deep color correction is the specificity of this photo editor. Aside from it, Polarr provides an opportunity to modify skin tone, adjust white balance, improve small drawbacks, and draw with various brushes. By the way, a watermark feature is integrated. You may also view the "before" and "after" images and compare them.
You need Flash in order to edit photos in Polarr. It is surely the best online photo editor when it comes to operating speed. It doesn't matter how many effects and filters you are going to apply. You are unlikely to have delays. When you open the picture editor for the first time, you might notice the tip "Propose how to enhance this image".
If you click on it, you will see an unedited photo and a recommended variant of photo editing steps. What is more, the image editor offers lessons and tutorials.
Alternative: Pixlr, Photoshop
Price: FREE
Pros:
Open source code
Tools for professional image editing
Resemble Photoshop
Cons:
Unregistered users don't have access to the whole range of features
GIMP is a widespread raster image editor, which provides basic and professional photo editing. It is a great alternative to Photoshop. But, unlike Photoshop, online GIMP is absolutely free and more difficult to learn. GIMP photo editing software features a totally customizable interface. It means that you may adapt settings according to your preferences.
It is the best free photo editor http://fixthephoto.com/best-free-photo-editor.html for those, who wish to make use of Photoshop features but in a web version. For a greater variety of functions, Photoshop plugins may be installed.
Alternatives: BeFunky, Canva, Fotor
Price: FREE
Pros:
Understandable interface
Good color correction
Cons:
Disturbing advertisements
Often lags
IPiccy is a famous free photo editor online. It features the necessary functionality for standard picture editing, for instance, color correction, cropping, using effects and filters. Automatic image saving is a function worth additional mentioning. The weak point of iPiccy is its slow operating speed.
The photo editing lasts rather long and causes disappointment. As for iPiccy Designer, this software is unable to compete with the fully functional image editor. Its features are very basic. You only have an opportunity to work with layers, text and add vector drawings.

Alternatives: iPiccy, Ribbet, Lightroom
Price: FREE or $4,95
Pros:
User-friendly interface
Beautiful filters and effects
Cons:
Annoying advertisements
No ads only in a paid version
BeFunky image editor may be used either for free or as an extra paid version with upgrades. If you use the free version, you can rotate, cut, resize the photographs or tweak light and exposure. You won't have difficulties figuring out how to edit pictures in BeFunky. It operates quickly and provides a possibility to increase picture quality and add images in the collage.
BeFunky is certainly the best free online photo editor for those, who need to edit printed material, images for social media or presentations for clients. Nevertheless, you can't enjoy the vast variety of functions, namely the tools featuring a star on them, unless you pay.
Alternatives: Lightroom, BeFunky, Fotor, iPiccy
Price: FREE or $4,95
Pros:
Seasonal online photo effects
User-friendly and understandable interface
Cons:
A restricted number of features in free access
Plenty of advertisements
Ribbet is often praised for efficient picture editing tools, functions, and a convenient interface. You may perform color correction, cut, rotate images and take advantage of many other helpful features. In addition to photo editing free features, you can apply effects, add text on photo and stickers. Bear in mind that the advanced image editing capabilities are available only if you purchase the Premium version.
There is an application for iPad and iPhone too. Recently, Ribbet developers have promised to release a mobile version for the Android platform, so we're waiting. Several extra modules are accessible to create paintings, cards, and collages.
Alternatives: Lightroom, Ribbet, Pixlr
Price: FREE or $2,99
Pros:
Good color correction features
Convenient interface
Cons:
Disturbing advertisements
Extra functions are paid
Due to its user-friendly interface, you will be able to get a hang of basic picture editing in no time. You may, crop, resize them or even turn into GIF animation.
It is the best photo editor online for those users, who are on the lookout for creative filters and effects for free. With the help of piZap, you may edit photographs in batches, combine them into collages, and convert RAW files into JPG. Screen capture tool and images viewer are also among its advantages.
Alternatives: Polarr, Lightroom, piZap
Price: FREE or $3,33
Pros:
User-friendly interface
For basic image editing
Cons:
Lacks full-screen mode
Limitation of several tools
Distracting advertisements
Fotor provides users with the primary tools necessary for picture editing, digital drawing, and designing. It is the best free photo editor online, particularly if your goal is to save time, effort, computer resources but still achieve a satisfying result. The photo editor may boast of a wide array of incredible effects and filters along with the effective tools for making collages.
The support for RAW images is undoubtedly its strong point. Besides, digital marketing specialists and bloggers can make use of additional, paid capabilities, such as the creation of banners, invitations, business cards, posters, documents, and social media publications.
Alternatives: Gimp, Photoshop, Spark, Canva
Price: $8,99
Pros:
Operates fast
Deep image color correction
Cloud Storage HUB
A well-developed tool to work with text
Cons:
Disturbing advertisements
Being a blogger or an active Instagram user, you need a simple online image editing app. That's where PicMonkey might come in handy. It has a simple interface and integrated tools for image editing, amateur digital drawing, and simple designing. Plenty of users think that online PicMonkey may easily substitute such softwares as Spark, Gimp or Canva.
All in all, PicMonkey is a perfect choice for any beginner photographer. With this photo editor, you can control the image editing process on any computer whenever you wish. Besides, you won't have the problems of downloading and installing software, as well as its compatibility.