Screen recording software is necessary to simplify certain tasks for various businesses. It helps a company announce new product launches, make software tutorials for new employees, thereby making screen recorders a good tool to have. Additionally, businesses can keep each other and different teams in check and updated on the activities of the other departments.
You should also do your research thoroughly before deciding on committing to one tool. To make it easier for you, the below list gives you the top 15 tools to consider for your daily use in recording clips for your business, gaming goals or a project. These tools are bound to make it easier for you without having to splurge a lot of money on a simple tool.
Here is the List of Best Tools for screen recording: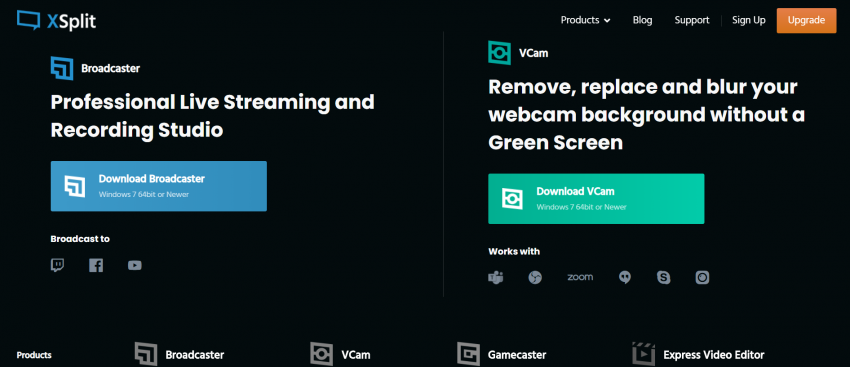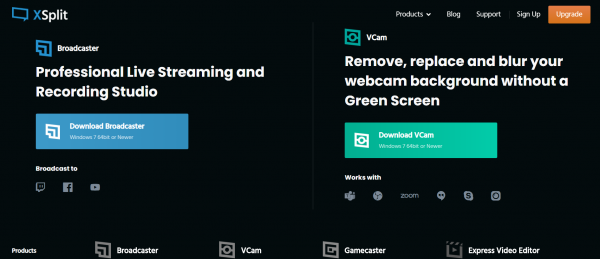 XSplit Broadcaster is more than just a screen recorder. While it does a good job at recording high quality, high-speed content, it is also able to stream it via the internet.
It is able to process video and audio from several sources, and even combine them during a live stream. Once you have installed this Windows screen recorder all you need to do is to click the "Add button" in the bottom left corner to select your video and audio sources. It has a ton of features that make it very versatile to use. However, if you are a beginner you may find it tricky.
One great functionality of XSplit is that it can be increased by adding various custom plug-ins that will do the work for you. You can virtually switch between unlimited scenes that seamlessly record and jump between apps and images.
The settings can be used to change the video quality and resolution via a control in the top-right corner. This screen recording software also supports a variety of capture cards to record your clips from external devices.
The free version of XSplit broadcaster restricts the video quality to 720p at 60fps. It supports 1080p, however it will display a watermark.
---
Lightweight, easy to use UI, fully loaded, and gets new feature updates on regular intervals. Fluvid screen recording tool is the first of its kind to offer a Live streaming option and amongst the very few in the market that offers watermark-free screen recording even in the basic plan. The tool supports HD screen recording (with & without webcam), system sound recording, and audio recording with crystal clear clarity.
Features that make it different than the rest are group sharing of videos, password protection, folder management, Live stream scheduling, custom URL for Live streaming, custom CTA button, activity feed, know who viewed your video feed, notification bar, crop & trim, export in MP4 format and counting. The basic plan (free for a lifetime) allows users to create 50 watermark-free videos along with crop and trim only.
However, you can upgrade to the unlimited recording of any duration for just $8/month (25% off on yearly plan) + unlock PRO features that can make your life easy.
Currently, Fluvid is available only on the chrome store and works smoothly in all operating systems. Android users can download the free Fluvid app that allows users to manage and share their videos from anywhere and anytime.
Pros
Best for teams and remote working
Available for Windows, Mac, and Linux
Affordable PRO plan with unlimited recording access
Cons
Only limited to desktop and laptop users
Analytics limited to only video views
---
Vmaker
Vmaker screen recorder is one of the best, easy-to-use, and free screen recorders that is available in the market. Vmaker screen recorder lets you record videos for any duration without any watermarks. Vmaker is also one of the few recorders that offer a recording quality of up to 4K. Since launching Vmaker has also been ranked by G2 as a high performer with a great customer satisfaction score in their Summer screen recorder and video capture industry report.
Once you're done recording the videos are immediately processed and uploaded instantly. You can then edit them, share them with anyone on the internet by copying the link or by sharing via social media. The videos are uploaded on the cloud dashboard so you don't have to worry about the size of the recording as well!
Pros: 
A record at the clarity of up to 4K
Record system audio and Mic together or separately
Automatically schedule Recording
15 GB free cloud storage to save your videos
Available as a Mac app and Chrome extension (Windows, Android, and iOS app coming soon)
Free video editor for fine-tuning videos
Noise cancellation while recording
Screen annotations, frames, filters, and Mouse Emphasis
Cons: 
No Windows app yet (Coming soon)
---
Game DVR is targeted at gamers who wish to record their gameplay and save it for later or upload it on youtube, Instagram or other social media. You can use this to impress your friends and feel on top of the world. The Game DVR feature in Windows 10 is a handy tool that allows you to record game clips and even snapshots.
The Game Bar in Windows 10 can be opened using the keyboard shortcut Windows + G that allows you to keep playing without having to go through the tedious task of recording. Additionally, you can also manage the other recording setting by going to Settings> Gaming> Game DVR, to change audio and video quality settings.
Game DVR has specifically been designed for recording games in Windows 10 for up to 4 hours. But you can also use this free screen recorder to capture clips of apps and more. Though it is somewhat tricky and requires a bit of a learning curve, it is one of the easiest software to use. It cannot be used for recording the desktop. But the advantage lies in the fact that it is free to use.
---
Screenrec is a completely free screen recording tool. It is something that you can just click on and let it do the recording. It is hassle-free and quick, making it very easy to use.
You can also take screenshots and instantly capture your computer screen and share the recording with someone else. There are no ads or limitations. With Screenrec, you not only get a screen recorder for free but you also get a business video hosting site for free.
Pros
You can record your computer audio and the screen in HD with ease.
You can use recording software for Windows, Linux, and Mac.
You also get 2GB of free video hosting
Files are saved in MP4 format
Video encryption that prevents anyone else from accessing or downloading your videos.
No ads
Free download for Windows Mac and Linux.
Cons
It does not come with video editing tools
---
Apowersoft is a browser-based screen recording tool. While it is not suitable for gaming, it is a great option for recording product demonstrations, other tutorials, presentations, and more.
It can record various types of on-screen activities like live chats to video streams and more. Additionally, it also comes with a diverse range of export options like GIF, MPEG, MP4, WMV, and more. It is a tool that does the job for you and not much more.
Apowersoft also comes with a screenshot option. However, it may not be useful, but it is an option that can stay at the back of your mind. This screen recording software also allows you to add text, callouts, highlight, and more. Moreover, you can choose between saving your recordings on a local drive or the cloud at zero cost.
Pros:
It has multiple export options.
No time limit.
No watermark.
Cons:
Not ideal for recording games.
needs a plug-in to fully work.
relies on a stable internet connection.
---
Screencastify is a free chrome extension that strives to make screen recording easy. It adds a fresh twist to old school presentations and makes it more exciting.
Most schools use it to teach difficult concepts or show certain impromptu techniques. Similarly, businesses may use it to illustrate a concept as well. They can use this software to train new employees that will save them a lot of effort and time as well. It is a very efficient process that is bound to last long.
Additionally, you can also use it to create product demos that can be used to drive sales. It is a great option if you are looking to share short clips that require minimal edits.
Screencastify also automatically saves your work on Google Drive letting you have access to it across all devices. Moreover, Screencastify allows you to share your recording to YouTube, export it as an MP4 file or GIF. This tool is also compatible with Mac, Linux, Windows, and other operating systems.
Pros:
It is a free screen recorder
Very quick and easy setup
Compatible with Mac, Windows, and Linux
Cons:
Comes only with the basic editing features
The free version has a 10-minute restriction
Limited to only the Chrome browsers
---
Camtasia is one of the very few screen recording software tools that has rich audio and video editing features that make it suitable for detail-oriented users. It allows you to edit your recording frame-by-frame.
Additionally, you can add animations and other kinds of video effects to make it look cool. Unlike other screen recording tools, you can make your videos very interactive by adding in quizzes, videos, speeches, presentations, and more.
This is a great feature to use especially if you are a teacher. It even has a library of royalty-free music that you can add to your clips to make it more fun and exciting. It is not the easiest tool to work with, especially for beginners but it is fun.
You can get a free 30-day trial before going for the paid version that is very expensive. Its single license pricing costs $249 where you can install it on two different devices regardless of its operating system.
Pros:
Free trial
Advanced video editing
Powerful screen recording tools
Cons:
The paid version is expensive
Steep learning curve
---
Bandicam is a very basic screen recording software that is exclusively for Windows users. It can capture anything on your screen as s high-quality video. If you want to, you can also choose to record only a small portion on the screen.
You can capture video from devices like web cameras, smartphones, Xbox consoles, and even more. You can record various games at 4K UHD Video up to 480 FPS, which is such a blessing. Additionally, you can schedule screen recordings at a specific time of the day or week. It gives you complete control over your recordings.
The screen recorder offers features that gamers are interested in, that includes an FPS overlay and complete control over their clips. If you use the free Bandicam version it will come with a watermark. However, getting rid of it costs $39 for the paid version which is not the best deal you could get. This paid license only allows you to install the software on a single device.
Pros:
A scheduled recording plan
A user-friendly interface
4K video recording
Cons:
It is paid to remove watermarks that are by default present in the free version.
Only compatible with Windows
---
Screencast-O-Matic is a screen recording tool that allows you to record your screen and the webcam as well. This allows you to record only a certain window or a full screen, the choice is yours. Unfortunately, the clips are all limited to 15 minutes in length, you can record as many of them as you wish.
You can use its zoom recorder and even add any of their 30 royalty-free tunes while editing the clips. Once you are satisfied with it, you can save the file on your desktop or share it online.
However, the free version of Screencast-O-Matic will add a watermark to your clips. You can get rid of them by upgrading to the paid version at $30/per person for an entire year. This is considerably cheap compared to the other tools in the market.
It will also give the user unlimited recording and more editing features. The number of features that this tool provides you is unmatched if you upgrade to the premier version.
Pros:
Free to use
Added royalty-free music
Affordable paid version
Cons:
The maximum length of any clip is 15 minutes
The free version has watermarks
The free version has limited features
---
Cleanshot X is a screen recording tool that is only macOS exclusive. It feels like 6 apps in one making it the best screen recording tool for iOS. You can record, save, and share your recording in just a few clicks.
Additionally, it has the scrolling capture functionality as well as it allows you to screenshot your chat history and other files that cannot fit onto your screen.
It also allows you to pin your screenshots above all the windows. The editing tools are pretty basic with nothing over the top. You can crop, trim, and do basic functions with the editor. Moreover, it even has an annotation tool that allows you to highlight the most important parts of your recording.
All screenshots and recordings can be uploaded onto the CleanShot Cloud where you will be provided with a shareable link. Sharing files online has never been easier. By using CleanShot X, you only need to save, drag, and drop your existing recordings to the other apps.
Pros:
Drag-and-drop sharing
Capture while scrolling feature
One-time purchase
Cons:
Only limited to macOS
Basic editing features
No free trial version
---
Snagit is a comprehensive screen capturing tool with screen recording capabilities. It is more than just a print screen-paste technique with other advanced features.
With this tool, you can easily create videos out of images, enhance and shape screenshots, and follow a range of options to help you select what you need. You can also annotate screenshots, document workflows, or extract texts from files. During a video, you can also switch between webcam and screen recording, which would add a personal touch to your presentations.
Pros:
There are pre-made templates
Instant sharing and exporting features
Records any particular part of your screen
Cons:
Only has a 15-day free trial and is pricey
Requires a stable internet connection
Only exports video in one format
---
Filmora Scrn is an easy-to-use video recording app. designed to capture fast-paced scenes of up to 60 frames per second(FPS) on the Mac. It is an exceptional free video capture software tool for gamers.
It allows you to record from your webcam as well as your screen at the same time. With the custom recording field feature, you have complete control over which part of the screen you choose to capture.
You can choose between the entire screen or just a small part of it for the video. Additionally, it also comes with a free range of editing tools that allow you to maximize the look and feel of your recordings.
Pros:
Imports in 50+ file formats
Exports in multiple file formats as well
Supports 4K recording at 60 FPS for Mac
Cons:
Lacks advanced editing tools
Tends to lag during editing
Might affect game performance as it overwhelms the system
---
OBS Studio is a free and open-source software for video recording and live streaming. You can record and stream videos to your heart's content for free. You can also set up an unlimited number of scenes that you can switch between via custom transitions.
It also comes with an intuitive audio mixer with per-source filters such as noise gate, suppression, and more. OBS Studio is arguably the best screen recorder tool for gamers.
If you are new to the world of screen recorders, then you might feel a little overwhelmed with the OBS Studio software. Searching for appropriate plug-ins is not an easy task for beginners, even with the overwhelming amount of features on this tool. This is no tool for newcomers, it does require a few prior skills.
However, once you have familiarized yourself with the screen recording software, you can make better use of OBS Studio's functionality. It is the most powerful screen recording software tool that is suitable for the most demanding tasks.
Pros:
Completely free software
Available for Windows, Mac, and Linux
No video length restrictions
Cons:
It has a very steep learning curve
The setup takes a very long time
The layout can be too complex to comprehend
---
Loom allows you to record video messages of your screen, camera, or both. It helps you achieve more in a short amount of time and is effective. You can get Loom for free if you have a Mac, Windows, or iOS Operating System.
It is a more efficient way to communicate. It does not have a steep learning curve at all which makes it great for beginners. It has the feature to pause and resume recording at any time while you are recording. Luckily, you can also share it with your teams.
However, it has limited editing features with unlimited video storage. That means you can create as many videos as you want. It does require a stable internet connection throughout or your work's quality will be affected.
Pros:
unlimited video storage
User-friendly interface
Free basic plan
Cons:
Limited editing options
Lacks advanced features for companies or teams
---
iSpring Free Cam is a free to use tool that allows you to record any part of your screen and save the recorded video as WMV. You can also edit the video and upload it on YouTube. It only works on Windows but there are similar tools for Mac as well. Other than that small flaw, it has all the features required to give you the full screen capturing the experience that you need.
Pros:
You can simultaneously record microphone and system sounds.
Highlights where your cursor is
Basic video editing tools are provided within the software.
No ads
No time limits
Cons:
It only works on Windows. No support for Linux or Mac.
Screen captures are saved in .WMV format
You can't take screenshots
---
Conclusion
These tools can be very helpful in terms of getting the job done, however you need to keep in mind what it is specifically designed for. Some screen recording tools may focus on gaming clips and some may focus on desktop recording. Before you commit to a single tool, it is best to experiment with one in this list before signing up for the paid membership or committing to it full-term.