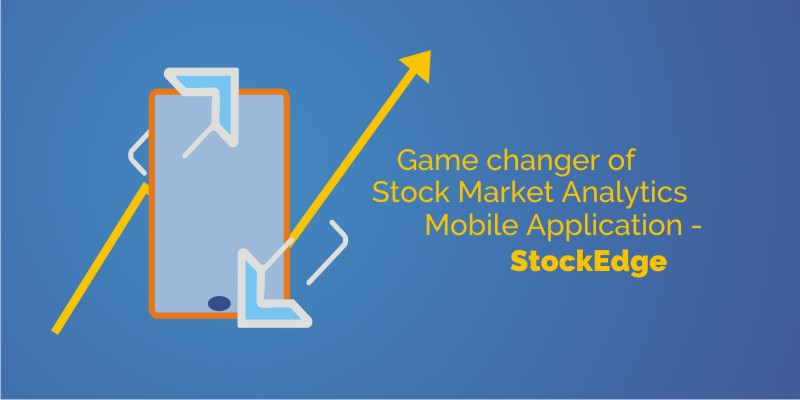 Before we put our hard earned money into a particular company, a lot of research has to be done about the company. Stock market is not a game of gamble. One has to analyse how the company has performed in the last 5-10 years.
This is one of the aspects of the fundamental analysis. Similarly, other parameters of fundamental and technical analysis have to be done while analyzing a particular stock. If we do not do this research then stock market will look as a game of gamble, risking our hard earned money.
Nowadays we could do many things using a mobile application such as pay our bills, transfer money and what not. A lot of mobile applications have also come up in the stock market field.  StockEdge is one of such stock market related mobile application.
Well, StockEdge is just not only a mobile application but also a research tool.
Let us discuss how StockEdge helps in the research of stock market:
Stock Section
In this section, we can get all stock related news in less than 5 minutes. We can get access to the particular stock's chart, price information in the terms of high, low, close for the week, for the month, or the 52 week high.
We are also able to access the particular stock's deliveries, fundamentals, financials, shareholding pattern, future open interest (OI), option chain, scan (technical and fundamental) and bulk and block deals.
FII/DII Activity
FII/DII activity plays a very important role in the stock market. We can determine the trends of the market through the inflow and outflow of funds by these institutions. StockEdge helps us in the analysing of the FII/DII activity.
We can track in which stocks the FII/DII is putting their funds and in which stocks they are taking out funds.
Read Also: Elearnmarkets Review: India's Premier Online Financial Education Provider
Scans
We have to run a lot of fundamental and technical scans to filter out the best stocks for trading or investment purpose.
StockEdge has many price scans, volume and delivery scans, technical scans, fundamental scans, futures scans, options scans and candlestick scans. Let us discuss about it:
Price Scans: We can monitor significant price movements and patterns
Volume and Deliver Scans: Here we can monitor highly traded and delivered stocks.
Technical Scans: Here we can get stocks when technical conditions are met for major NSE stocks.
Fundamental Scans: We can identify companies based on various fundamental parameters.
Future Scans: We can monitor open interest changes and identify future positions.
Options Scans: Here we can monitor major options open interest changes.
Candlestick Scans: We can get major candlestick patterns in the major stocks.
Combination Scans: We can combine the above scans we like and filter out the stocks but this is a paid feature of StockEdge.
Daily Updates Section
Daily update section is one of the most important sections of StockEdge. Here we get everyday news in one liners so it becomes easy to read daily news in our busy life. The good thing about this is that each news is linked with the particular company and sector.
We could easily find out how that news has affected the price of the shares of that company or the sector.
Investors
We can track the activities of the financial institutions and high net investors in StockEdge. We can see what the High Net investors like Rakesh Jhunjhunwala are buying or selling.
It is important to track them as we get the sense of direction of the market through their activities.  We can also create a customized group of our favourite investors and keep a track of them.
My StockEdge
We can customize StockEdge according to our trading style.
We can add our favourite stocks in the watch list,  add our favourite scans and filter out the stocks according, keep track of our favourite investors in My StockEdge section.
IPO
This section of StockEdge has been recently launched. Here we can track the upcoming IPOs. We can also track the details for the upcoming IPO.
We can see from the image below that the upcoming IPO is Saketh Exim Ltd. with the offer price of Rs.69 and issue size of Rs. 9.44 crores.  We can also track the ongoing IPOs and already listed ones.
Learning about Stock Market through StockEdge
Apart from using these features, you can also learn about various topics of stock market through StockEdge. There are pre recorded videos available on StockEdge which teach us about various aspects of Stock Market.
There also videos available of how to use StockEdge in this section.
Apple user can download StockEdge from iOS
Android user can download of StockEdge  from Google Play Store.
Bottom line
From the above discussion, we can see that how StockEdge is a game changer mobile application in the stock market field. We can research about any stock in just a go.
It has so many features but it is also not complicated in using and the best part is while we research we can also learn a lot about the stock market from this research tool.