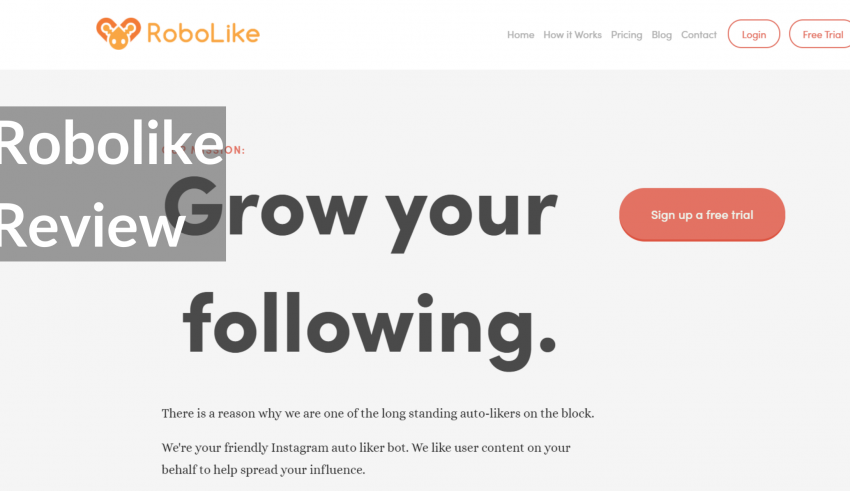 Gaining exposure through social media is one of this decade's most sought-after challenges. Individuals, startups, long-standing businesses, and celebrities have taken to social media to outreach their digital following each day.
While there is ample amount of competition to make your presence felt in the digital world and undoubtedly, it is too daunting a task, it is also one of the great platforms to boost your brand value or individual craft and rise to fame unconventionally and in a short time frame.
If you think that you have the capacity to deliver great content and services to offer the audience and you feel that your product can gather a fledged market, then your only concern should be to reach across to a greater number of people in the minimum possible time.
Thankfully, this is possible owing to the social media service providers that offer customers strategic marketing services, to specifically target the audience towards your business or brand.
About RoboLike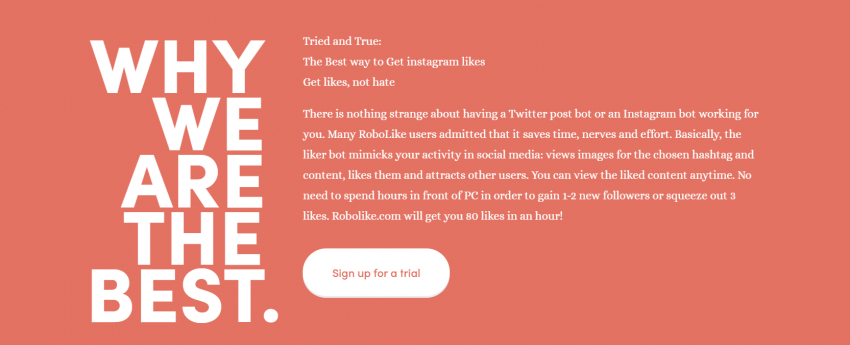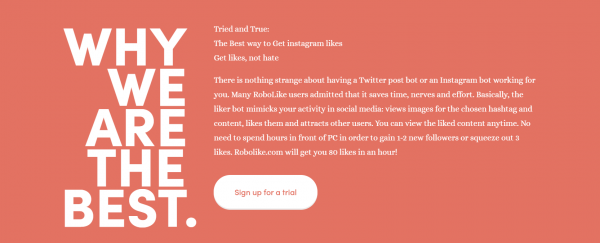 RoboLike is one such social media service provider, that provides users with marketing services for Instagram. You can grow your following on Instagram with exclusive plans from RoboLike that are budget-friendly and trustworthy.
RoboLike, just as its name suggests, functions as an auto-liker bot on Instagram, which likes user content on your behalf in order to spread your influence.
All you have to do is select relevant hashtags and active time, and the software begins to send likes on content with similar hashtags. When other social media users check your profile to see who has liked their post, it becomes highly likely that they will follow you naturally. As a result, you will see an organic increase in followers on your Instagram handle.
---
Features of RoboLike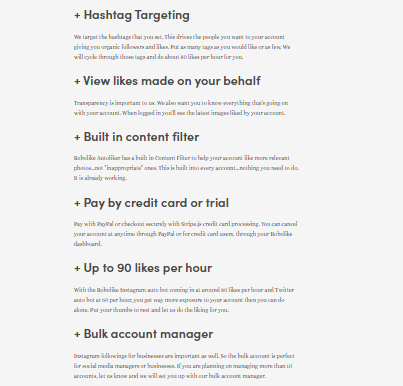 RoboLike is different from other social media service providers, in that it targets relevant audiences by liking their posts and thereby, intriguing them to your page organically.
Therefore, the users that so come to your page are real, authentic, and are, genuinely interested in your content. Read on to know some extraordinary features of this automated liker bot.
Tried and Tested Services
If you are signing up with RoboLike, you can say goodbye to worrying about whether the procedure is authentic or trustworthy, because till date, RoboLike has helped thousands of Instagram users to benefit from their marketing services. It is one of the most trusted Instagram bots and among the longest-running liker bots in the industry,
Their software and systems are carefully engineered to maintain the safety and security of your Instagram account. The only difference is that instead of you, an automated bot is doing the work and liking similar content on Instagram
With RoboLike, be sure not to face any payment woes as you can finish placing your order simply through PayPal or Credit Card through secured Stripe.js processing. Your credit card information will not be shared with the concerned party.
In-House Customer Support
At any point, while your subscription is active with RoboLike, you can contact their team of customer support if you are facing any trouble or have any concerns with the functioning. Also, they will promptly respond to any and all queries that you write to them.
Once you have reached a certain number of followers on Instagram and now, your account is growing exponentially on its own, feel free to cancel your subscription with RoboLike. All you have to do is go to your RoboLike dashboard and select the cancellation option.
---
Services Offered and Pricing
RoboLike offers an automated liking feature for Instagram; however, you can contact them for custom automatic likes packages for Twitter posts as well. Their basic package includes auto likes for Instagram and the subscription for the same is moderately priced at the rate of $7.77 per month.
The following are the features and services included in the basic package:
If you are unsure about the procedure, RoboLike has got you covered. Their basic package comes with an option of Free Trial for up to 3 days. During this period, they will give the same services and deliver likes and followers to your Instagram. And the best part is that, you need not enter your credit card details for the same.
Automated Delivery of Likes
In the basic package, RoboLike delivers 70 to 90 likes per hour. This is way more than what is possible for an individual to do alone. When the bot is doing the necessary liking, you can save this time and instead, focus on your content strategy and simply see your followers growing rapidly.
This is one of the most unique features offered by RoboLike, that no other social media service providers offer. They target the hashtags that you yourself set, according to the nature of your Instagram handle.
Doing so, drives the people you want, to your account and hence, giving you organic followers and likes. You can put as many hashtags as you like or as few. They will cycle through those tags and deliver the results at the convenience of a click.
RoboLike Autoliker bot has an inbuilt Content Filter to help your account like more relevant photos and not the ones that are unsuited to the content of your page. This ensures that your page appears authentic and credible to social media users.
RoboLike believes in transparency and therefore, all of their procedures are made visible to the customers on their dashboard. You can see all the posts that the automatic liker bot has liked on your behalf and therefore, maintain credible standards and ensure that your account is in safe hands.
Besides this basic package, RoboLike also offers Bulk Account Manager software, which is ideal for use by businesses and startups. If you have more than 10 accounts to manage, you can contact them and they will design a custom plan to cater to the specific requirements of your business. Plus, if you do so, you automatically become eligible for discounted prices.
---
Steps to Buy a Plan
RoboLike provides a seamless procedure to get your Instagram Automatic likes subscription. Follow these three simple steps and sit back to watch your following on Instagram grow like wildfire:
Pick your target Hashtags. These should be in accordance with the kind of content or services that are present on your Instagram page.
Set your Active Time. Choose the duration of the day when the RoboLike automated liker bot shall process the likes.
Complete the payment procedure and see your account grow exponentially, within a span of less than a month.
---
Conclusion
So, instead of spending enormous hours as screen time to get followers on Instagram, select a plan from RoboLike. It will do the necessary tasks of liking similar posts for you to expand your influence online. This way, you can simply focus on delivering great content for your audience.
RoboLike claims that its customers admitted that their service saves time, nerves, and effort. This means that you can spend less time having to worry about balancing your work schedule to fit social media management needs.
Therefore, it's a win-win situation. The plans are moderately priced and in several cases, the amount can be reimbursed through monetization, once your social media channel begins getting recognition and popularity. Wait for no further and embark on the road to becoming famous with RoboLike's exclusive social media services provider.