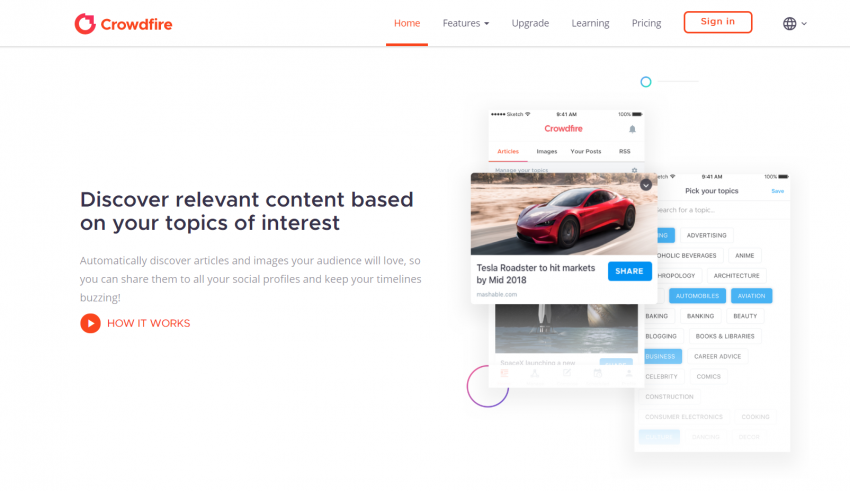 Instagram Marketing
Creating a buzz on the many social media platforms is the current craze. This is because that's where most of the people are spending their time online. Earlier, if you wanted to push a product or get some publicity, television was the place to go. But today virtually everything is online and at the hear of all this is social media.
This is the reason most companies want to up their social media marketing so that they can get more people to buy their services or products.
But sometimes it is thought to manage these things and that is where these social media management service providers like Crowdfire comes. They help users who could individual persons or companies to boost their social media game and reach more people more efficiently. They provide services for Instagram followers, Twitter, Facebook likes, YouTube views and various other social media platforms.
Crowdfire is a social media tool having a global customer base. Their services have helped individuals and businesses across the globe to improve their social media cred. The company has been around for around 10 years and this has good experience in this field. They have their headquarters in Mumbai, India.
Over the years of its existence, the company has kept on evolving as the social media platforms went through a lot of changes with its algorithms and terms and conditions.
This has made Crowdfire keep adding new features while removing obsolete and "not useful" features. The services that Crowdfire provides are content curation, scheduling content/post publish, track and analyse your accounts and easily keep a track and interact with mentions.
Features of Crowdfire
There is a reason why people should look for quality service along with experience when it comes to looking for social media management tools to automate many tasks. The reason behind this is the fact that social media platforms do not want their users using any third-party software or service to interact with their account. They want the users to use the accounts themselves in person and thus have created certain terms of use that can cause a problem for users who are using other tools.
So, when you are using any automation tool you have to make sure that they are very familiar with the platform you need to manage and are not breaking any terms as bad consequences will occur if you keep breaking terms of the particular platform. Crowdfire knows what it is doing and have changed itself according to the platforms by adding or removing features whenever necessary. Before getting into the services in-depth let's look at the overall features of the site.
With Crowdfire you can always be sure to interact and support your customers with the mention feature.
Scheduling of posts become much easier as you can create a post and choose a date that you want to publish it on. This means you can plan ahead and create posts for certain special events and schedule the posts to publish on that day.
You can use Crowdfire for finding and recommending articles and images that will relate with your audience and you can share these on your social profile so that your timeline never goes out of buzz.
Crowdfire helps you to track any update on your website, blog, etc. and create posts about these updates to be shared on your social media accounts to let your audience know what's happening.
Things become much faster and efficient with Crowdfire as you can schedule lots of posts beforehand and don't have to check in all the time and post manually. You can put that effort into something else.
Another great feature is that you don't have to log into your separate social profiles create and post contents rather you can customize your content for all your profiles with Crowdfire.
Maybe you have found a great website or page that you have liked and want to share it with your audience. Crowdfire has an extension that can help you do that in just a few clicks.
Maybe your content was inspired by some blog post or website then don't worry. You can use Crowdfire's RSS features to add these websites or blogs as a source for your content.
---
The Services Provided by Crowdfire
Above we mentioned the features of Crowdfire. Now, let's get a good look at the services provided by the company.
Content Curation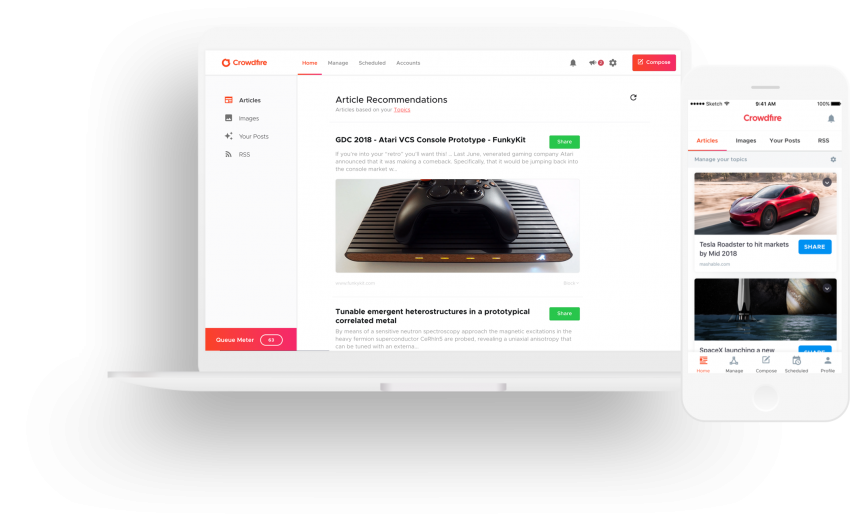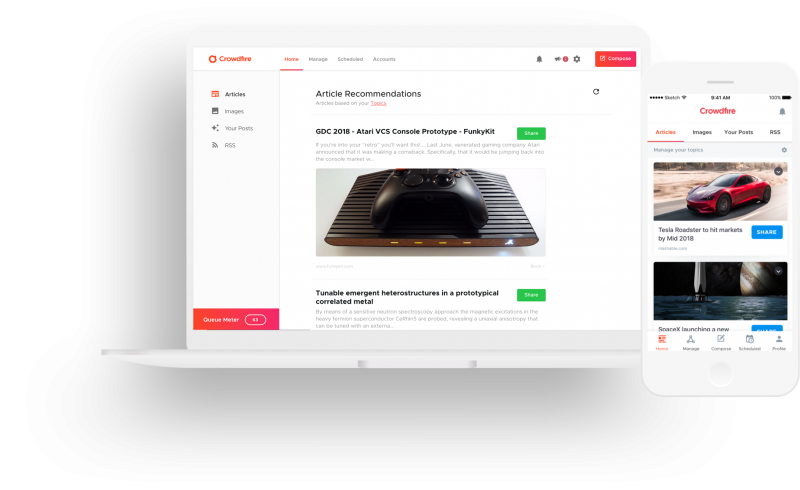 One of the services that Crowdfire provides is customers is content curation. Using the Crowdfire content curation tool tasks will be much easier and efficient. This is an attractive feature offered by the company. This includes:
Article Curation: Using Crowdfire allows you to curate articles from multiple sources very easily. This allows you to focus more on the content strategy rather than worrying about curation which is done by them.
Customizing RSS feed: This is another good feature that you can use. This allows users to stat curating articles on their dashboard by adding any RSS feed. This is very automated as you just need to enter the feed name and choose one. That's it!
Image Curation: This tool recommends sharable images that you can curate for your Instagram account.
Relevant Articles: Using Crowdfire provides you with an efficient method to curate articles and images that you can post just by selecting a topic. This means you do not have to spend all the time searching for stuff on the web. Just pick a topic and let the tool do the work.
Curate from your other accounts: Maybe you are launching a new product or merch on your e-commerce website you can easily schedule these updates to your social profiles using Crowdfire.
Scheduling and Publishing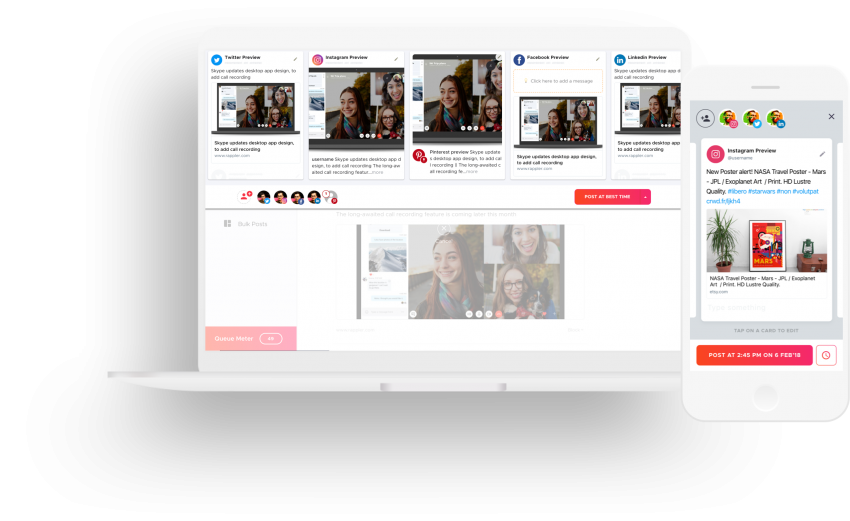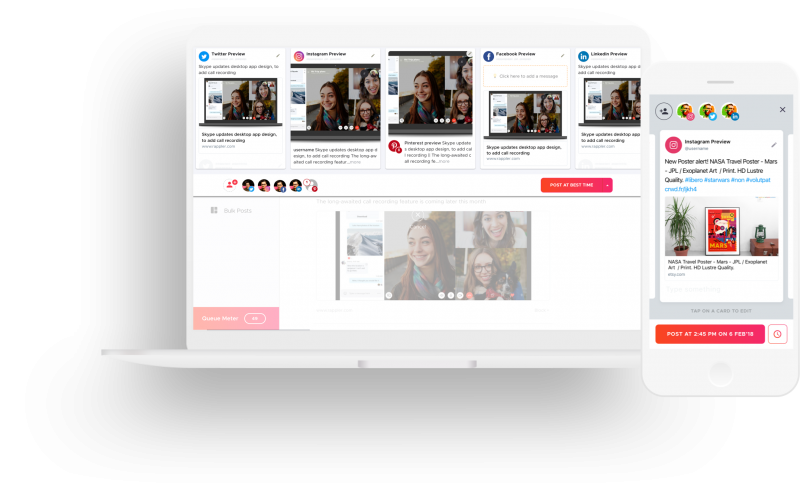 Once you have started to garner some buzz across social media and your business or brand deals have started to pick up then you will have a lot to do. So, you use the scheduling and publishing services of Crowdfire to ease your work and schedule and publish posts across all your social media accounts. Here are some important features of the service:
Publish across all social media platforms.
Schedule ahead and let the tool do the job of posting automatically.
Preview the contents as they would look on your timeline.
Check the queue meter that comes with the tool to see the amount of content you need to post to make your account look lively.
You can also customize your posts to be published at a specific time like share the post when most of your audience is active.
Analytics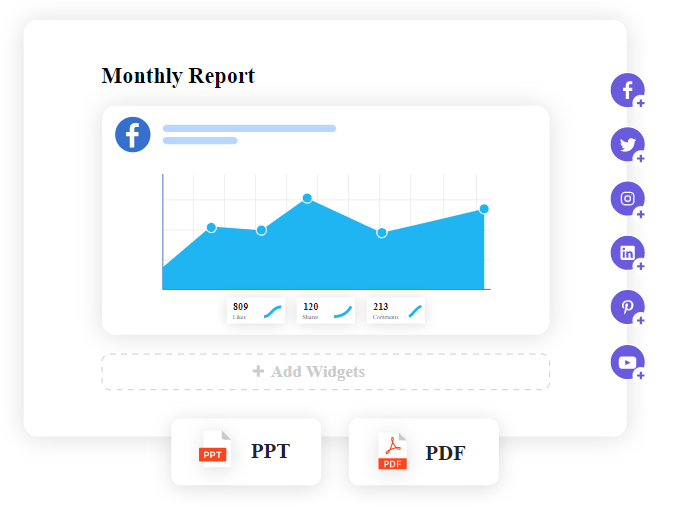 If you want to be successful in digital marketing or promoting stuff across social media then you need to analyze the reports regularly. This will give you a good idea about how to proceed.
The report builder feature of Crowdfire allows you to build custom reports with the data points that you choose.
Crowdfire helps you get in-depth knowledge about your social media activities using their Advance Analytics.
You can also use Crowdfire to analyze your competitors and create a plan to get ahead.
Tracking Mentions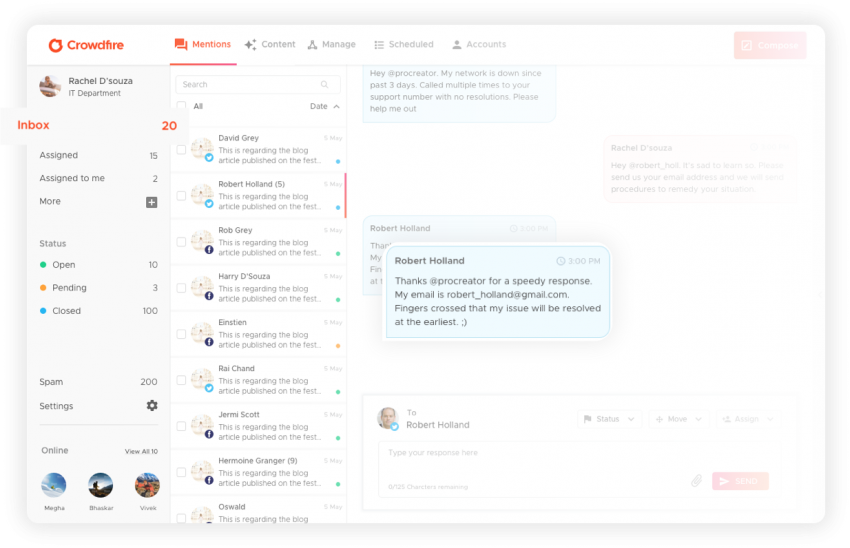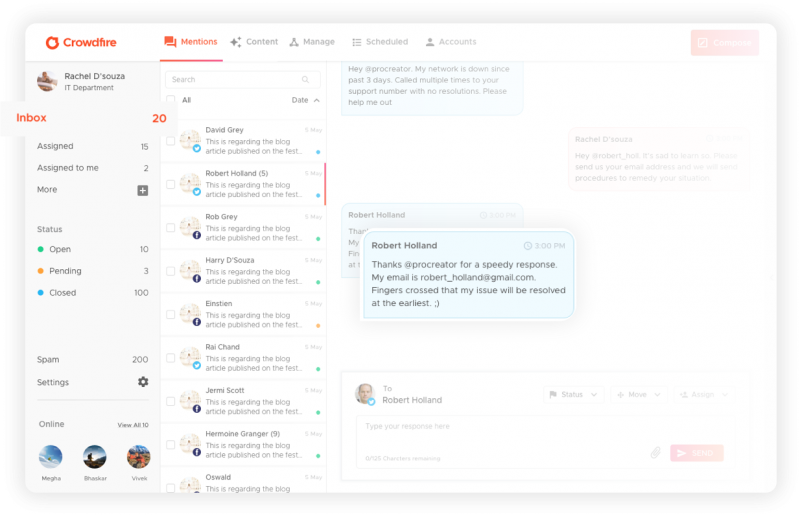 One of the best ways to boost social media growth is by interacting with your audience. The mention tracking tool of Crowdfire helps users to get updates about comments, tweets, etc. that mentions your account or business or name. You can also use this service to interact with them.
---
Pricing
Following is the pricing of the packages offered by Crowdfire.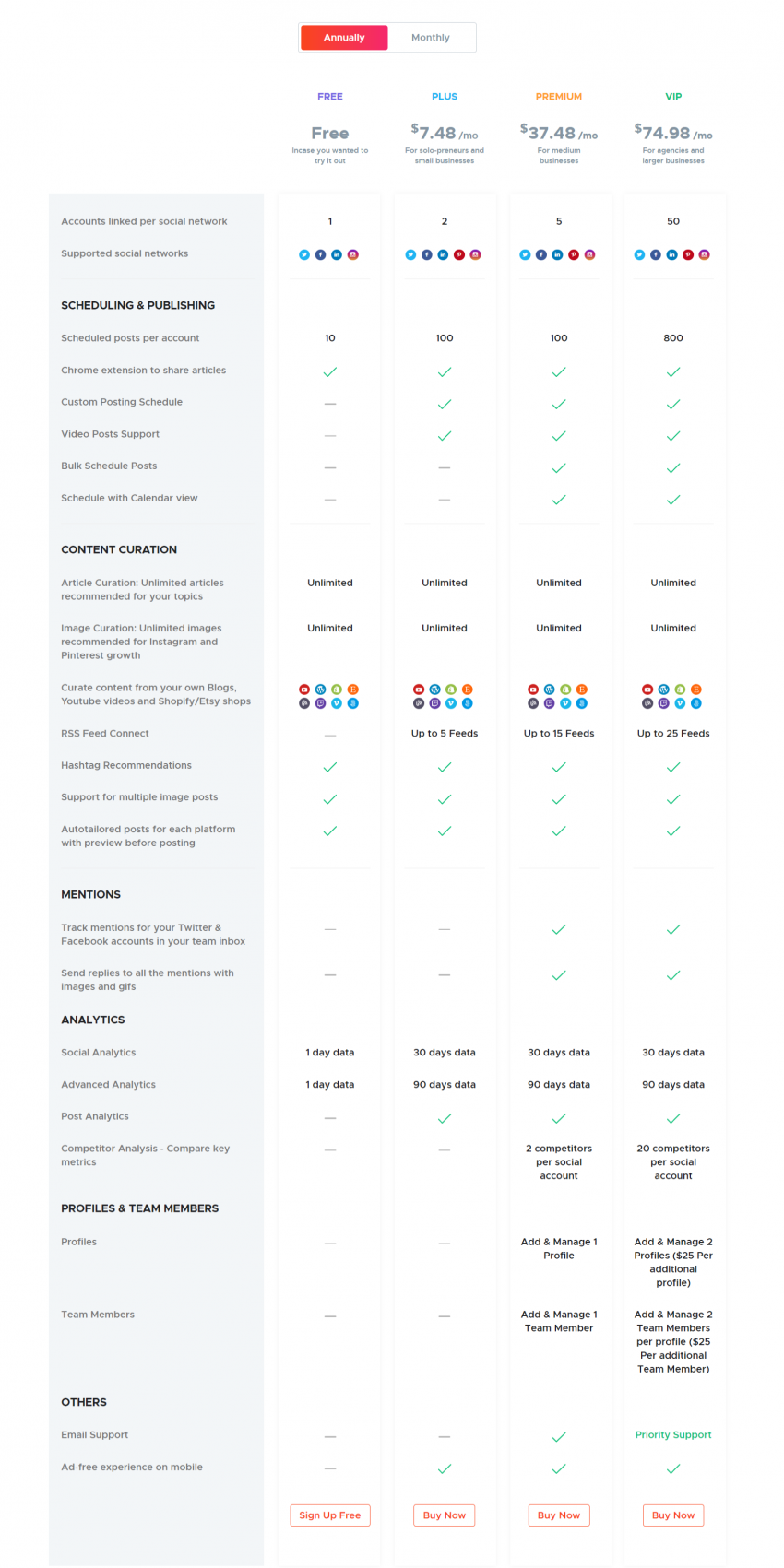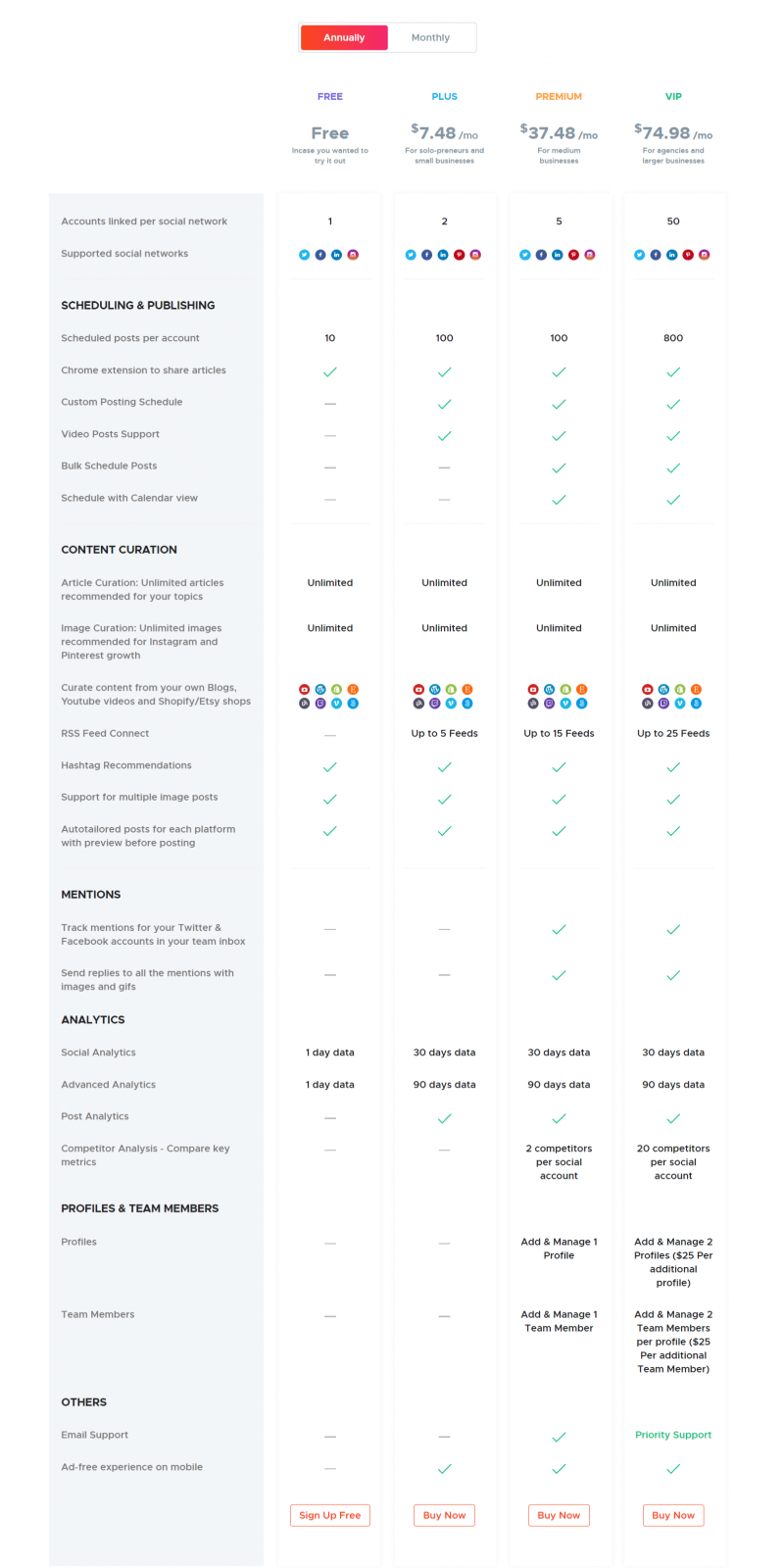 ---
Crowdfire Review
We already talked about the experience that Crowdfire has in dealing with social media platforms. This comes in handy because you do not want your account to be flagged or banned by the social media companies who don't allow using of automation tools. So, using a management company which works under the terms of the companies and constantly updates based on them is something to look for. Over the years, Crowdfire has serviced many customers and garnered some good reviews.
They are still safe to use as they recently removed certain features which were flagged by certain social media platforms but things are changing rapidly these days and it wouldn't hurt to research a bit more.
The feature they removed was bulk follow unfollow which allowed users to increase their audiences. This was the main marketing ploy for Crowdfire but they removed it since terms of the social media platforms changed. Now, Crowdfire has included multiple features to manage your social media account efficiently and if that is something you want you can go for it. But certain features that they removed is still a bummer. Another thing is that though there are still some great features it is in the expensive packages.