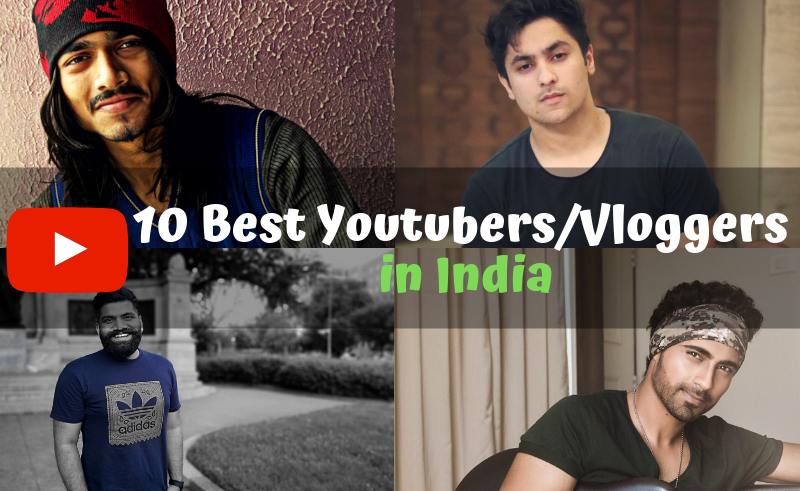 YouTube is the best website to go to when you want entertainment or education in any category. People of all ages and interests can get something to love here. You can follow the page of your favorite personality and get amazing content from all over the world. All this comes even with the free version of YouTube, whereas the Premium version offers you much more.
India has its own share of brilliant YouTube artists and vloggers who have made a mark among millions with their unique content and inspirational style. Some of the topics they cover are food, travel, comedy, gaming, beauty and make-up tips, and lots more. If you have not explored this world yet, we bring some of the best Indian YouTube personalities from every category.
Check out the best and most famous YouTubers from India, who have influenced viewers from all around the world:
Gaming Channels
Gaming channels mostly target teenagers and young adults from around the world who are super into video games. India has some great gamers on YouTube who post everything from strategies, hacks, reviews and other gaming-related experiences. Check out some of the best of them.

This account belongs to a gamer from Mumbai named Aadii Sawant who prefers calling himself Dynamo. He posts fresh content almost daily, most of which are live streams of his gaming adventures.
He claims to have played numerous tournaments in his city and won most. His recent content is mostly based on the legendary game PUBG. Apart from that, he has also posted stuff about Dota2, BF1, BF3, BF4, GTA V, and many more.
---

Not much is known about the person behind the YouTube account of MortaL who is a popular Indian gamer. According to his bio, he is basically a mobile/iPad streamer of games, along with being a professional player for Team SouL.
Currently, his content is mostly focused on PUBG, which is all the rage among teenagers right now.
---

CarryisLive is the gaming channel of popular YouTuber Carry Minati, whose real name is Ajey Nagar, a 20-year-old vlogger who posts funny content on his channel about anything and everything, including commentaries, reaction videos, roasts and other amusing stuff.
Carry Minati's channel Carry is Live is dedicated to gaming content and here he live streams while playing popular games.
---

Kunal Saraf is a Delhi based Indian YouTube gamer who runs a channel named Gareebooo. His channel is managed by his marketing company which is called Golden Owl Talent Management.
He is one of the most famous YouTube gaming personalities of this country and has over 900K followers. You will find live streams of PUBG and much more on his channel.
---

Another prominent name in the world of gaming on YouTube is Alpha Clasher. The person behind this account is Pratik Jogiya, who started this channel in 2015 and has steadily posted gaming content since then.
He posts about live streaming, tournaments, gameplay, glitches, leaks, updates and much more stuff on this channel, which is also managed by Golden Owl Talent Management.
---
Poor Gamer Clan is another cool YouTube channel dedicated to videos related to gaming. All the usual stuff like live streams, updates, hacks, leaks, etc, are posted here.
This channel also started in 2015 and has grown a strong follower base since then. Poor Gamer Clan has over 67 million total views on his videos.
---

Cosmic YT is an active YouTube gaming channel run by Inderpal Singh, who gives a personal introduction about himself and his life in the About section.
The 25-year-old took to internet and gaming after some personal tragedies and has become a popular social media influencer now. He posts commentary, live streams, game experiences and much more on his channel.
---

This turban-clad cool Indian is a famous gamer on YouTube who regularly posts content about PUBG and other games on his channel. He has over 800K followers and posts live streams of games, along with tech and gaming news, unboxing, product reviews and much more.
---

The PUBG craze has taken over this YouTuber as well, whose name is Ron. He regularly posts videos about his games and other related content on his channel.
He has over one million subscribers and his videos are mostly in Hindi. There is an air of familiarity in his channel that connects with Indian gamers very well.
---

The RawKnee Games is the gaming channel of popular YouTuber Rony Dasgupta, whose original channel is The RawKnee Show. In his Games channel, he posts funny game-related videos as well as intense battles in the video game world.
This channel has over 800K subscribers and shells out regular content for his viewers.
---

Pooja is an Indian actor and model who has appeared on shows like CID, Iccha Pyari Naagin, Adaalat, Crime Patrol, Saada Haq, Sankat Mochan Mahabali Hanuman, etc. This is her gaming channel where she posts videos on PUBG mobile.
This Delhi-born woman is a lover of online games and gives her viewers a glimpse of her gaming world through these videos. She has over 300K subscribers as of now.
---

Kronten is an Indian gamer who has over 1.3 million subscribers on his channel, Kronten Gaming. He posts game videos with his unique commentary and shares his experiences with gaming for his viewers. As of now, he is concentrated on PUBG but his channel is open to posting videos about other games as well.
---
Comedy
You can never have enough of comedy, and there are several brilliant Indian comedians on YouTube to tickle your funny bone. Check out some of these cool and hilarious personalities that you must follow.
Bhuvan Bam is one of the most popular YouTube personality

es of India who has gained over 14 million followers with his hilarious antics. His unique format of a few seconds of comedy shot him to fame and now his popularity has surpassed YouTube. His trademark style is role-playing and extremely relatable content about daily life which strikes a chord with the viewers.
---


Amit Bhadana is a YouTube personality who does exceptional comedy and has over 15 million followers. His channel is managed by BrandzUp and mostly features comic videos. He has now started posting songs too. His videos have a nostalgic and relatable feeling because they are about things most Indians experience in their lives.
---

Ashish Chanchlani is a popular name in the world of comedy and YouTube. His talent and relatability has made him popular in the entertainment world and resulted in many collaborative videos, even with actors like Shahid Kapoor. He also attended the Avengers: Endgame premier and has a video with Chris Hemsworth on his channel.
---

In operation since 2015, Harsh Beniwal's comedy channel has over six million followers and wonderful and funny content. He has role-playing videos as well, along with gaming-related videos like PUBG with Family, etc. He posts spoofs, funny social commentaries, collaborations and much more.
---

The Viral Fever is an extremely popular YouTube channel that has branched into web series and other entertainment programs. They have over five million subscribers and have created brilliant shows like Pitchers, Permanent Roommates, Tripling, Bachelors, Yeh Meri Family, etc.
---

This 20-year-old YouTuber, originally named Ajey Nagar, started his career five years back with gaming videos. Later, he foraged into the comedy genre with his brilliant roasts, rants, commentaries and funny videos.
His channel has over 7 million subscribers and more than 600 million total views. He has really made a name for himself with his trademark style and hilarious content.
---


This popular comedy group reached the heights of popularity with its hilarious content and Bollywood collaborations. It posted everything from podcasts, interviews and music videos.
Their channel stopped posting videos after the members got embroiled in certain controversies, but you can still check out their old videos and roasts on the YouTube channel.
---


This channel belongs to five guys from Delhi who have formed a team to prank people on the streets. They are serial pranksters who perform funny antics with a hidden camera involving strangers on the road and upload the reactions to YouTube, like Just for Laughs Gags. They have over 1 million subscribers and their videos are indeed hilarious.
---


This YouTube channel posts the most entertaining videos for youngsters and has over 4 million subscribers. It explores relatable themes like love in college, rich vs poor, friendships among young adults, one-sided crushes and much more. You can follow their channel for fresh and funny content regularly, along with love, friendship and relationship tips.
---


AVRPrankTV is a fun, young channel with the tagline Bhaiyo ka Channel. It mostly posts videos of pranks and hilarious situations. Their antics and pranks are very realistic and you can spend hours watching their videos.
This channel has over 5 million subscribers and has gained a lot of popularity among young YouTube viewers.
---


Love Rudrakash is a comedy channel on YouTube that posts funny videos, spoofs, and content mostly related to wooing girls or dealing with exes. It also has its own vlog channel called LoveRudrakash Vlogs.
The main channel has over a million subscribers and targets young males trying to be successful at love and relationships. Check out their funny and relatable videos if you need insight into modern love and fantasy.
---


Funk You has funny videos, pranks, video game streaming and much more, related to fun and entertainment. With over 2 million subscribers, they have made a mark on the YouTube comedy market.
Their videos are hilarious, unique and sometimes relatable too. They have also started funny web series which you can catch on their channel.
---
Food
YouTube is the best place on the internet to watch food videos, get recipes and learn cooking. Some of India's best chefs have their own YouTube channel and post regular recipes, both for amateurs and professions. Check out our top food channels on YouTube.


If you know anything about Indian food, you must have heard the name of Sanjeev Kapoor. He is synonymous with Indian cuisine and his YouTube channel itself has over 3 million subscribers.
You can learn to cook traditional as well as unique food items by watching his videos. After all, there's nothing better than rustling up some delicacies for friends and family.
---


Nisha Madhulika is an Indian woman who posts delectable vegetarian recipes on her YouTube channel. She has over 7 million subscribers and has been an influencer since 2009.
You can learn how to make authentic Indian dishes and desserts, including regional dishes from Gujarat and Rajasthan. Her recipes are easy to cook and awesome in taste.
---


Tarla Dalal is a huge brand in the Indian culinary field and has her own YouTube channel to post videos of her recipes and dishes. She has written over 170 cookbooks and has inspired millions of Indian women and men to experiment more in the kitchen. Her recipes are pure vegetarian and also explore some international dishes, apart from Indian delicacies.
---


Cooking Shooking is budding chef Yaman Agarwal's YouTube channel where he posts vegetarian recipes for his 2 million subscribers. He describes himself as a food junkie and food enthusiast. At this young age, he has mastered the art of cooking and offers some easy and yummy recipes for his followers who love to watch and try out new dishes from his channel.
---


Another Indian vegetarian YouTube channel is Hebbars Kitchen, which posts delicious recipes of sweet and savory dishes. This channel has over 2 million subscribers and posts recipes like vegetable idli, bread malai roll, fruit cocktail, aam papad, energy bar, etc. Follow this channel for tasty and healthy recipes at your fingertips.
---


Kabita's Kitchen is an Indian food channel managed by Kabita Singh who posts vegetarian and eggitarian recipes for Indian audiences. Her recipes are simple, tasty and have wide appeal for the public. She posts unique recipes like maggi manchurian, subway sandwiches, Oreo ice cream, cheese burst pizza and many more. Check out her channel to embark on a tasteful journey.
---


Rajshri Food is a popular YouTube channel that features recipes from many different cuisines. It also teaches viewers how to make chocolate, rum balls, soufflé, etc. From chopping vegetables the right way to cooking complicated recipes, you can get a fill of everything on this channel. They have also posted monsoon special recipes for the rainy season.
---


This channel is run by Chef Sanjay Thumma and he posts wonderful Indian recipes, both vegetarian and non-vegetarian. Some of the recipes on this channel are crab masala korma, chicken dosa, layered paratha, drumstick besan sambhar, etc. With his mix of non-vegetarian delights and vegetarian specialties, you can get the best of both worlds through his recipes.
---


This is a vegetarian food channel on YouTube run by Bhavna, a mother of two. She posts healthy and tasty recipes for her viewers, keeping both taste and calories in mind. She also posts vegan and gluten free recipes. Her specialty is that she rustles up vegetarian delights from all over the world, with a special Indian touch for a unique flavor. She also posts fitness and fashion videos on her channel.
---


Manjula's Kitchen has over 200 Indian vegetarian recipes, including gluten free and vegan dishes. She has been cooking for her viewers since 2006 and has offered recipes of snacks, beverages, desserts and main course dishes on her channel. From Punjabi to South Indian, she has recipes from several Indian states. Check out her channel for authentic Indian recipes for yummy meals.
---
Travel Vlogs
Traveling is the joy of life and often we miss out on wonderful destinations because of our busy schedule and life expenses. You can check out some great travel vlogs on YouTube to get a view of some wonderful destinations and plan your next trip.


This channel is hosted by Varun Vagish, who is a recipient of the National Tourism Award by the Indian government for promoting tourism. He has been to several tourist destinations like Bali, Malaysia, Russia, Europe, etc. He is a crazy traveler and plans his trips on a budget. His videos are in Hindi to give them a touch of his culture.
---


Kritika Goel is a girl from Mumbai who loves to travel and influence her followers through her experiences. She posts cool videos about travelling to Bali, Dubai, Sikkim, Pushkar, Singapore, and many other beautiful destinations. She also posts lifestyle videos and other content for some variety on her channel, which has over 100K subscribers.
---


Tanya Khanijow is an Indian vlogger, travel enthusiast and travel film maker who has over 200K subscribers on her YouTube channel. She posts her travel adventures and stories from all around the country and world. From Bhutan to Taiwan, she has travelled solo to many different places and recorded her experiences on her vlog.
---


This Bangalore based vlogger has a great YouTube channel where he posts his life and travel experiences, mostly in the Southern part of India. He travels on a budget, which makes his videos relatable for the viewers. He has been to Ooty, Munnar, Coimbatore, Coorg, etc, along with destinations like Nagaland, Manali, Udaipur, etc. His drone videos are a must watch.
---


This channel is owned by Deepanshu Sangwan, who hails from Delhi and is based in Mumbai. He is a traveler and shares his experiences with his 100K subscribers. He loves to travel on a bike and has great videos of Afghanistan, Iran, Himachal, Colombo, and many more places that are lovely and adventurous.
---


The Himalayas are majestic, gorgeous and full of adventures. This YouTube channel covers well-known as well as lesser known places in the Himalayan cities and villages, which are great places to travel. From Shimla to Spiti, you can catch a glimpse of beautifully snow-clad mountains and roads in the Himalayan range, which will entice you to plan your next mountain trip now.
---
Reviews about Anything
Before buying any product or availing any service, we often check reviews on the internet. YouTube also has some great channels that help you make the right choice by posting reviews.


Technical Guruji is your tech guide in Hindi who educates you about all things technical and technological. From phones to drones, you will find feedback on everything here. The channel is run by Gaurav Chaudhary who is your go-to person if you want to buy a new phone. His channel has over 13 million subscribers.
---
Geekyranjit has over 2 million subscribers and posts reviews of phones and other gadgets. He has both English and Hindi channels for a wider reach. You will get expert opinion on technology that you use in daily life. Ranjit has been working on computers since 25 years and is a reliable source to know more.
---


This channel is run by Praval Sharma who reaches his viewers in Hindi and teaches them about technology. He also has two other channels named Sharmaji Infinity and Varchasvi Sharma. His channel has over 1.5 million subscribers. From basic reviews to extreme tests, check out everything here.
---


Abhishek Bhatnagar runs this channel called GadgetsToUse which posts videos of gadgets, games, computer operation and much more. He also has a fun section on the channel where he posts videos of local trains, bike stunts and the like. For speed tests, camera tests and more, check out his channel.
---


Techno Ruhez is run by Ruhez Amrelia, a 28 year old YouTuber who posts reviews about the best phones, computers, tips and tutorials on how to use gadgets. Both beginners and experts can find something of use on this channel. His tips and tricks are of great use and his videos are full of humor and entertainment.
---


Abhishek Sagar is a self-taught hacker who teaches ethical hacking on his channel Technical Sagar. This white hat hacker is a commerce graduate who works for international brands. He also helps people with his knowledge and abilities and posts videos in Hindi for his professional community. He has over 1.9 million subscribers on YouTube.
---


C4ETech is a technological review channel by Ash that focuses mostly on smartphones and Android. He posts reviews, gadget tests, comparisons, and recommendations about models. You can also get tutorials on several products and services here. Join the 1.6 million subscribers on this channel for more insight into technology.
---

iGyaan posts videos on technology, smartphones, games and other devices. Tips, tricks, unboxing videos, giveaways and much more interesting stuff can be found on this channel. He goes live in India, UK and US to reach out to viewers. Get latest news on smartphones and top tech materials by watching his videos.
---


This channel has 1.2 million subscribers and posts reviews in Hindi. It uploads one video every day, including everything like app reviews, camera reviews, mobile accessories, tech news, design tutorials, web development, blogging guidelines, computer hardware and much more. From Android to iPhones, you can get feedback on everything here.
---


Your Technical Dost is Hitesh Kumar from Delhi who posts technical stuff on his channel, which has over 1.4 million subscribers. His videos are funny and unique. You can find reviews of gadgets, games and other related material here. There is an air of familiarity on this channel and you can join this family to get updates on latest gadgets and more.
---
Motivational
There are some brilliant Indian motivational channels on YouTube that will give you a feel-good factor when you are stressed for your job or responsibilities, or seeking positivity and spirituality in life.


Sandeep Maheshwari is a positive influencer who has over 10 million subscribers on his YouTube channel. He posts inspirational videos about life and success. Being experienced in both failure and success, he teaches life lessons and positive thinking to his followers. From opening a business to developing self-confidence, you can learn everything from him.
---


Vivek Bindra is the founder and CEO of Bada Business Pvt. Ltd. and a winner of many business and leadership awards in the world. He has over 8 million subscribers on his YouTube channel, where he posts tips and insights on how to start and run a successful business. He is a trusted advisor to over 1500 corporate clients and a motivational speaker for millions.
---


Him-eesh Madaan is a motivational speaker on YouTube who influences viewers to develop positive thinking and confidence in life. His videos cover everything from career, relationships, self help, life goals, healthy communication, etc. His videos are mostly in Hindi and contain confidence building and goal setting efforts as well, with a dash of humor.
---


Vasant Chauhan makes inspirational videos in Hindi for his 100k subscribers. He motivates people on topics ranging from killing self doubt to time management. He also provides tips and life hacks, along with his opinion about public and social matters. You can also ask the questions in your mind to Vasant and he will address your queries.
---


Pushkar Raj Thakur is a master of leadership psychology and one of the most famous inspirational speakers of India. He is also considered a success mentor, youth icon and change expert. His work has been featured in popular newspapers like Hindustan Times and The Times of India.
---


Dr. Praveen Jain Kochar is a popular spiritual master, humanitarian and ambassador of peace. He strives for a better world without stress and violence. And, he has shared his wisdom with many entrepreneurs, saints, sports personalities, politicians, etc. He is also an astrologer for many celebrities, and a columnist, jurist and author.
---

Satish Torani is a motivational speaker whose goal is to add value to the life of his viewers. On his YouTube channel, he posts videos of inspiration, be it anything from life lessons to fictional stories of motivation. He wants his viewers to have a simple life, full of happiness, positivity and confidence.
---


Shiv Khera is an author, motivational speaker and business consultant who has written 15 books including "You Can Win", which is an international bestseller. He has programs based on leadership, positive attitude, values and motivation, which help people deal with real-life problems and practical issues related to life and career.
---
Music
Music can help people relax, work out or have fun in parties. And what is better than Indian music to make your day more enjoyable? Check out these talented Indian singers on YouTube.


Shirley Setia started her career with mashups and covers, but has now emerged as one of the prettiest and most talented Indian singers on YouTube. Apart from soulful music, she posts dance videos, travel vlogs, collaborations and much more on her YouTube channel. He has over 3 million subscribers and 200 million total views on her videos.
---


Sanam is much more than the singer Sanam Puri. It is an Indian pop rock band since 2010 which covers old Bollywood songs as well as original tracks. They have won several awards and accolades for their music talent. Their rendition of "Lag Jaa Gale" has already won millions of hearts.
---


Armaan Malik is a popular young singer who has performed independently as well as in Hindi films. He has given his beautiful voice to many songs and has become a fan favorite for his music and chocolate boy looks. His YouTube channel has over 1.1 million subscribers and 80 million total views.
---


With over 131 million total youtube views, Siddharth Slathia's YouTube channel is extremely popular among music lovers. He performs covers, mashups, old retro songs, 50 songs in one beat and many more such variations. His covers are very popular and can be watched on his channel any time.
---


Shraddha Sharma is a beautiful young singer whose YouTube channel has over 268K subscribers. She makes video covers of popular Indian songs like Agar Tum Saath Ho, Hawayein, Kaun Tujhe, Tere Bina, etc. You can also catch a glimpse of Shraddha's life and singing jams through her videos.
---


Jonita Gandhi is a popular playback singer and music artist who has sung several Bollywood songs since her debut in 2013 with Chennai Express. She regularly appears on Coke Studio and has also won awards for her musical performance. Her YouTube channel features her songs, covers and unplugged mashups.
---


Sandeep Thakur is a violinist and trained in Western classical music. He has worked for several Indian music directors. His YouTube channel has videos of his violin covers and other performances that give viewers a soulful experience.
---


Darshit Nayak is a singer and composer from Ahmedabad, India. His YouTube channel features covers, original songs, music videos and mashups. He is also into freelance music and video production, and also performs at events.
---


Vidya Vox is a US based Indian singer who has won over the world with her fusion covers where she would combine one English and one Indian song in the same video. She has now branched into original songs and cool music videos, all of which have a touch of her culture and style.
---


Neha Bhasin is a Bollywood playback singer, performer and songwriter. She was a member of the Indian pop girl band Viva, after which she set out on her own career path. Through her YouTube channel, you can enjoy her music and also get an insight into her world.
---
Beauty Tips
Confused about how to maintain your Indian skin tone's glow? Check out these YouTube channels for health, make-up and beauty tips for glowing skin and glamorous looks.


Rinkal Soni is a makeup, cosmetic and skin care advisor on YouTube, where she has over 2 million subscribers. She offers advice on facial cleanups, DIY make up, hair care, weight loss, summer care and much more. Her tips and tricks include things that can be easily found at home and without much extra expense.
---


This YouTube personality describes her channel as a mix of entertainment and beauty. She posts health, makeup, body care tips, along with funny content and spoof videos. Her glamorous looks are suitable for all Indian occasions and events such as weddings and parties.
---


Shreya Jain has been giving make up and fashion advice since 2010 and her channel currently has over 500K subscribers. Her videos cover everything from make up reviews, trippy tutorials, subtle and well as dramatic looks. From wigs to waxing, you will get her opinion on everything here.
---


My Happinesz is run by Komal who offers advice on beauty, confidence, style, and health. She also posts videos of her travel experiences from around the world. She spreads positivity and happiness among her followers and believes that fun, love and chocolates solve all problems.
---


Debasree declares herself as the long distance makeup-shopping partner of her viewers. She makes videos on skin care, make up, beauty and fashion to inspire millions. She also claims to talk about all the "unspoken beauty" things on her channel.
---


Malvika Sitlani has over 366K followers who rely on her expertise on make up, fashion and beauty. She posts reviews of cosmetic products as well. You can judge which brand to use for hair and skin care after watching her videos. She also shows her viewers her own collection and vanity.
---


Sonal Sagaraya is a beauty and lifestyle vlogger who devotes her full time to YouTube for her viewers. She offers tips on new and unique make up looks, nail art designs, DIY treats, home remedies, hair care and much more. Her channel is peppy, fun and full of glamour.
---


This channel is dedicated to beauty and make up and has over 580K subscribers. It has videos about party looks, traditional Indian make up, product reviews, DIY skin care routines, health advice and much more. You can dress and look on trend with the fashion of the season by following her advice.
---


This is a Hindi channel for make up lovers and has over 782K subscribers. It is run by Megha, who uploads beauty, fashion, lifestyle and health vlogs regularly for her viewers. She also has an English YouTube channel for her followers who are more comfortable in that language.
---


This is a beauty and lifestyle vlog that posts all things related to skin care and fashion. You can also catch reviews of cosmetic products, skin care regimens, make up hacks and much more. She also posts funny content and collaborations. Ashish Chanchlani appears in some of her videos as well.
---
Dance
There is no dearth of talented dancers in India. And even though you cannot see most of them on television, you can enjoy their performances on YouTube. From choreography tutorials to entertaining performances, catch all these and more in the channels below.


Sonali Bhadauria is a dancer, choreographer and entrepreneur from Pune, India. Her YouTube channel has videos of her dancing along to popular tracks. Other dancers also feature in her videos. Her videos are quite professional-looking and a treat to the eyes.
---


Team Naach consists of Nicole and Sonal, two choreographers from Mumbai who perform and teach Bollywood, hip hop, belly dance, etc. Their channel is extremely popular among viewers and also featured legend Madhuri Dixit and actor Aparshakti Khurana. Their tutorials are easy to follow and turn out great to watch.
---


The Dance Mafia is a dance and fitness studio in Mohali that holds dance training for kids and adults. They have eight professional choreographers to create beautiful dance numbers. The director Ripanpreet Sidhu has 15 years of Bollywood choreography experience and was also a finalist in Boogie Woogie.
---


Melvin Louis is a banker turned dancer and a former contestant of Dance India Dance. He is a popular dancer and choreographer and has also won the Dadasaheb Phalke award for this talent. You can catch his moves and choreography on this channel.
---


Kunal More posts dance videos and tutorials mostly on Bollywood songs. His dance moves are fluid and catchy and you will find yourself grooving along with his moves when you watch his videos.
---


Mr.KiranJ's official channel features videos of his dance choreographies and also features other dancers sometimes. From popular Bollywood numbers to unconventional tracks, he performs on anything with a catchy beat.
---


Dance FreaX is the official channel of dancer Nishant Nair. He posts dance tutorials every week for the benefit of his viewers. You can also watch some cool dance performances on this channel to feast your eyes.
---


Deepak is a dancer and choreographer who works as the Artistic Director of a dance centre in Delhi. He posts dance videos and tutorials on his YouTube channel, sometimes with other dancers and talented kids.
---


Vicky and Aakanksha are two certified Zumba fitness instructors and choreographers from Mumbai. If you follow their channel, you can watch fitness and Zumba videos regularly to help you exercise and have fun.
---


Aadil Khan is a popular dancer and choreographer from India. Apart from mind-blowing dance videos, you will find interviews and dance with celebrities on his channel too. He performs on catchy Bollywood songs and also gives tutorials.
---
Also Check: Best Instagram Fitness Models
---
Reality & Social
From comedy to social commentary, these Indian personalities speak out on everything under the sun and help to keep you real in this changing world.


ActorVarunPruthi is known for his good deeds and social awareness, which he brings across through his videos. His posts are often motivational and uphold survival and success stories to inspire viewers.
---


Vir Das is an Indian actor, comedian and world-renowned personality who has also appeared on American shows to talk about India and other important matters. He touches on social issues in his trademark comedic style.
---


Jay Shetty is a storyteller, urban monk, behavioral economist and life observer. His videos will fill you with a positive vibe and make you ready to face the fast-paced hustling world with correct philosophy and perspective.
---


Dhruv Rathee is an influencer who speaks about social, political and environmental issues. His videos always have an educational aspect to them. He also expresses opinions about global issues and current affairs on this channel.
---
All of these and many more interesting personalities from India can be found on YouTube, who can help shape every aspect of your life.