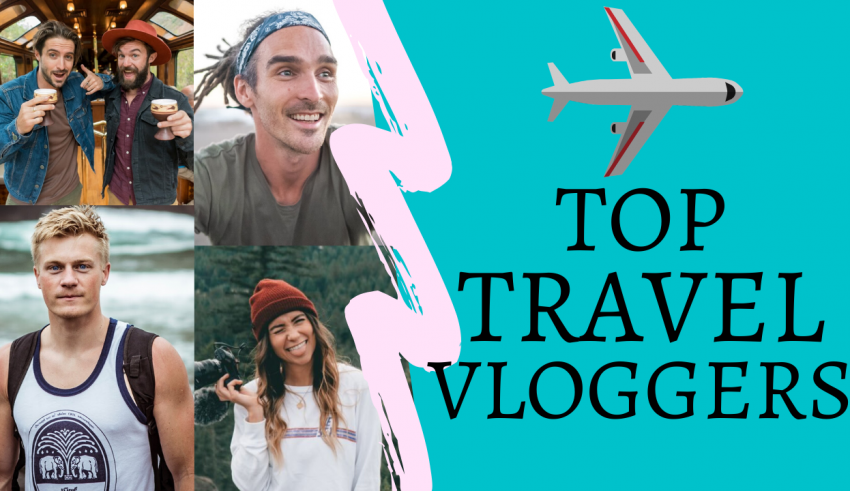 Since the last decade, Youtube has emerged as a new stage for creators to showcase their talents as well as a medium to earn money and respect in the business. To make a brand for themselves.
There are a lot of channels of different niches and types. Youtube has made its creators sort of celebrities with millions of subscribers and they do happen to have a sort of following over other social media channels as well due to their content on YouTube.
People like PewDiePie, Casey Neistat, Sorelle Amore among many others have established themselves as the most credible creators on Youtube. From social experiments to travel diaries to food, the platform has a place for everyone.  
With this sudden but obvious rise of the youtube and its content, Vloggers have also come into the picture. Vlogs are video blogs or video blogs, which are made in the video medium, hence the name: Vlog. In recent years, Vlogging has evolved into a giant community in recent years and the development of smartphones has increased the number of content creators on youtube.
Vlogs have an advantage of the traditional blogs as blogs can't provide the visual design in which vlogs are made and that visualization makes them more effective and engaging. What follows is a list of 25 best Vloggers across the globe on youtube:
---


You might know him from his flying dreadlocks, Louis Cole is a British travel enthusiast and vlogger that has made its mark on the hearts of all the travelers with his travel videos and inspires wanderlust through them. Fun for Louis is one of the most popular channels on YouTube and its immense popularity can be attributed to Louis' dedication and hard work.
He is known to upload a video a day. Yeah! Talk about dedication. He constantly puts out these exciting, beautiful and great content that it just invokes the traveler in you to pack your bags and leave for a long journey in some part of the globe. On his channel, you can find all sorts of video topics ranging from travel diaries to dogsledding. Check out his recently made 3 months round the world trip to 22 different countries. 
---


Ben Brown is one of the travel enthusiasts that put beautiful vlogs of his adventures around the globe. He is one of the most successful travel bloggers of all time. Mr Ben Brown is a filmmaker from London. His videos are full of life and excitement as he shares his daily life through these vlogs and by his daily life we mean his travels.
There is a bit of Casey Neistat in his videos as one can point out through his style and crafting of videos but his videos are no less than authentic and original.
They have their own way of connecting with the audience and will definitely entertain you. He innovates a lot and experiments with a lot of different things. Do check out his helicopter video to see why he deserves to be in this list.
---


The channel showcases two brothers: Marko and Alex and shows their lives as they travel through various places and gives us a taste of their experiences every Tuesday. With their firm belief that travel brings people together, they strive to make connections and meet new people all over the world. Alex is usually the mind behind filmmaking,
editing and all the camera-related work while Marko utilises his talent as a writer and producer. Their videos provide an insight into their own lives. They are humorous, friendly, chilled out and just full of life. Their videos are informative and one can solely rely on their videos for their travel tips. 
---


Hey Nadine is a beautiful travel channel who loves to document her adventures and fun around the world through her video diaries. Her channel is the perfect one-stop destination if you're looking for some inspiration as well as wanderlust. The channels boast of playlists of packing guides, advice of destinations, travelling tips and tricks and travel hacks.
The videos are relatable and funny that makes the audiences connect easily and better. The videos can also help young filmmakers to learn the craft of filmmaking and editing. Her unique stories told through the lens inspire creative freedom. She is a big name in the travel niche and you can trust her when it comes to all things travel.
---


Many of you might not have heard the name of this channel as the name has been changed to Mark Wiens. Mark Wiens is a Food Vlogger that has built a reputation for himself traveling to different places and tasting all sorts of popular food there.
He believes firmly in the ideology that food is the reason why everyone should travel and let me tell you the ideology is addictive. I mean who doesn't like food as well as travel? After graduating from college, he chose to be a food blogger.
You can find travel vlogs, food diaries, street food guides on his channel. His videos are not crafted with a lot of filmmaking genius but his content in those videos makes them worth watching for. His videos where he goes out to eat in the local streets of a place show the society, the culture and somewhat a general being of the place. 
---


Wolters World gives to the point honest advice to help travelers around the globe for their travel experiences. His channel offers numerous videos on his travel journeys around the globe. Though he's relatively unheard of when compared to other creators on this list, that doesn't mean he's not a good creator. His videos are made with simple editing.
He is known for his "not to do" videos which are generally enriching and interesting and can provide you with a good amount of knowledge on what to do and what not to do while visiting a particular country. He uploads every Wednesday and Saturday and that's enough to actually make our heart pound for travel.
---


The channel has been renamed as Kristen and Siya from Hopscotch the globe but the content has been there and will be there for the times to come. Kristen and Siya are two fellow travelers and professional adventurers who travel the world full time.
Feeling jealous now? Their channel is one of the best channels in the vlog niche due to its cinematic shots, awe-inspiring videos, and straight and to the point advice which makes their videos both exciting and useful for the general public.
Their channel is a gold mine for those who want to embrace the minimalist travel life and has a ton of resources for travelers. Check out their food porn series if you love food like me.
---


With a degree in Psychology, Aly is a British adventure enthusiast who goes by the name, "Psychotraveller ". Talk about an oxymoron! She is known to constantly trying out new things and traveling continuously from place to place. Her videos will make you leave your boring lifestyle behind (if you have any) and explore life first hand the way it is.
She approaches life from a different perspective and her videos are the evidence of that. There is a ton of great and interesting content on her channel that makes her stand out amidst so many content creators of the same niche. She is a published writer, a great content creator, and provides travel advice for worst-case scenarios.
---


Started by Christine Kaaloa, Grrtltraveller is a channel that focuses on solo travel. Her motto is travelling alone shouldn't be hard as most people make it out to be. She is a solo traveler, food host and the mind behind Grrrltraveller. Her videos boast of a wide selection of videos and her journey to various places.
With food guides, travel guides, and all things travel, she is a great resource for travelers who want to explore the world alone without any problems. She films edit and markets her channel herself. 
---


Sonia is known for her award-winning travel series known as, 'Travel Tips' ' on YouTube. The series' main objective is to "crack the secret code of the world's coolest cities." Her channel provides tons of cool and useful tidbits for travellers all around the globe. She is a driven creator and uploads new content every Thursday.
She vlogs all her trips and is known for her awesome and one of a kind how-to videos for travellers. She has also developed an immersive and interactive online language learning program called Fluenz. She has been listed in Forbes magazine and her program has been hailed as, "unrivalled program in language learning." 
---


Gone with the wynns is a channel by the real-life travelling couples and filmmakers, Jason and Nikki Wynn. Their channel showcases their love for travel and adventures.
Their unscripted tales and discoveries make us to just jump out of our seats for adventure and wanderlust. The couple has an irrefutable desire to explore z discover, travel, grow and learn and that is evident from their videos and hence inspiring us to travel. 
---


Casey Neistat is the indisputably the best vlogger on the platform. Period. He has been one of the most influential people on Youtube and his channel with more than 11 million followers shows the work he has done and what the following has gathered for himself. He has been one of the nest vloggers of all times and has been that for years now.
He is known for his unique style and editing. He went so far in the vlog journey that he actually made a vlog a day for the whole year when he initially started making vlogs. He is a great filmmaker and he works very hard for his content. With his immensely hard work ethic and beautifully crafted videos, he has not only made his mark on the hearts of wannabe filmmakers but also the general public.
His ability to tell great stories through his camera skills and personality are the things that make his videos so great. If you watch his videos, you might feel that you want to make a video yourself and explore life in a better way.
---


Mo Vlogs is a vlog channel by Mohammed Beiraghdary based in Dubai. He shoots and uploads his daily life on his channel. He actually started his career on youtube as a gamer but later shifted to vlogging about his life. He became popular after he started uploading about supercars. His vlogs have attracted thousands of views on youtube from around the world.
He sometimes vlogs with his sister Lana Rose, who is also a YouTuber and uploads beauty tutorials. A lot of his videos have more than 10 million views.
He is interested in fashion and has also launched his own merchandise by initials MV. He has collaborated with other popular vloggers like Logan Paul, Roman Atwood, Adam Saleh, etc. 
---


Avelovinit is a channel by Patrice Averilla and she's a travel blogger from the Philippines. Her channel is one-stop place advice related to places of interest like where to eat, where to stay, where to roam and everything like that. Her channel is basically a travel guide for travel noobs like me and some of you.
It is imperative to know about a place before visiting it to explore it better. Her videos speak positivity, love and warmth and show her passion for traveling and sharing good vibes. 
---


Lost LeBlanc is one of the most-watched channels when it comes to wanderlust and traveling. Started by Christian LeBlanc, who is a travel vlogger and who holds a completely different perspective to the world and that translates to everything else he does.
This guy lives in and for travel. His passion for vlogging and traveling motivates and inspires people to see the world. Watching his videos will inspire you to leave out your comfort zones and travel and approach life with different points of view. 
---


Blonde abroad is an award-winning solo travel and lifestyle design brand that showcases things about travel, fashion, festivals from all around the world. Started by a California native, Kiki who left her career in corporate finance to become a solo traveller and explore the world and life the way it should be.
She has traveled to more than 70 countries around the world and currently lives in Cape Town, South Africa. Her website and channel provide all sorts of resources for solo travelers, student travellers, packing guides, and blogging resources. She has been named one of the top 10 travel influencers by Forbes magazine and has been featured in Vogue and New York Times.
---


Allison Anderson us a Seattle resident who loves to travel and vlog about her adventures and discoveries. Her youtube channel boasts of a range of topics ranging from beauty product reviews to travel vlogs.
She started as a beauty vlogger but later the travel bug bit her and she started uploading videos about her travels as well. She is on a mission to see as much of the world as she can.
---


The channel was started by an Australian couple who love travel and living life on their own terms. Their dream is circumnavigating the globe by their sailboat. Their passion for sailing and travelling is evident from the fact that they have sailed over 90,000 nautical miles across many oceans.
They hope to inspire people all over the world to take some time off of their busy lifestyles and focus on themselves. They are not only travelling but also trying to spread ocean awareness. 
---


This channel is hosted by an adventurous couple and travel vloggers Dave and Deb. They provide travel guides, tips and tricks and their beautiful and awesome shots taken by drones are just a delight to watch.
They live by the motto, "Adventure is for everyone" and their videos are filled with information, humor and a lot of fun that makes them highly educational as well as entertaining at the same time. They were listed by Forbes magazine as top 10 Travel Influencers in the world.
---


Devinsupertramp is a channel by American videographer who vlogs about a lot of things on his channel Devin Supertramp. His channel includes extreme sports and adventure videos, travel videos, and short films.
His videos are known for their high-value content as well as great products. With beautiful cinematic shots and great narrative, the channel is a treat for those who want to explore the world living on the edge.
---


Similar to Casey Neistat in his filmmaking and editing choices, Sawyer Hartman is still a lot different sort of vlogger and his videos showcase that individuality of his craft. It's true that he's inspired by Casey like a lot of other vloggers, but obviously, he's not just that. Looking at him with that perspective will only reduce him to a copycat which he isn't.
His videos are beautiful and provide great insight into his life and travel. They are well thought of and you can immediately relate to them due to their simplicity and honesty.
---


A channel that lives, breathes and promotes adventure. They make quality content from travel vlogs to inspirational videos for people all over the world to pack their bags and experience some wanderlust, to find the traveler in themselves and their videos are always of the best quality possible.
They are unique, beautifully crafted, and are full of life and positivity. It's a must check-out for everyone.
---


Bucket list family is an adventure fueled family that decided long ago that they want something else from life and that is adventure and fun. The family likes to describe itself as Family Travel Journalists.
Yeah! Talk about getting your dream job. The family is defying all odds and putting the conventional notion of "settling down" to rest. They explore the world with their kids and their channel is full of love, warmth, and passion for travel.
---


The channel is hosted by a real-life couple who have gathered a huge following for themselves through their spectacular travel videos. Their videos will make you jealous, inspired, motivated and happy all at the same time.
The couple skateboards climb mountains, thrift shops for their audience and the audience seem nothing but to love it. 
---


If you're looking for an adrenaline rush, this is the channel for you. Fearless and Far is hosted by Mike Corey and he's always up for a great adventure into extremes and relatively unheard-of places.
His videos show his creativity and immense talent and his skills both before and behind the camera. His youtube channel is a buffet of his beautiful experience that he has as he travels the world. 
---
Conclusion:
There are still a lot of people that we couldn't cover but that doesn't mean that they're any less talented. The aforementioned people are not only defying conventional thoughts and practices but also giving people inspiration for a new way of life. A way without stress, anxiety and other negatives but with happiness, fun, and love. I hope you get inspired by them. They can also act as role models to those of you who want to experience a different life. 
If you want to discover the world and live life on your own terms, this article will surely help you to reconsider that. Youtube has emerged as a great platform for not only providing such great content but also providing creators with the monetary benefit that helps them sustain their careers. And there couldn't be a better time than today to start your journey on the platform.
Good luck:)