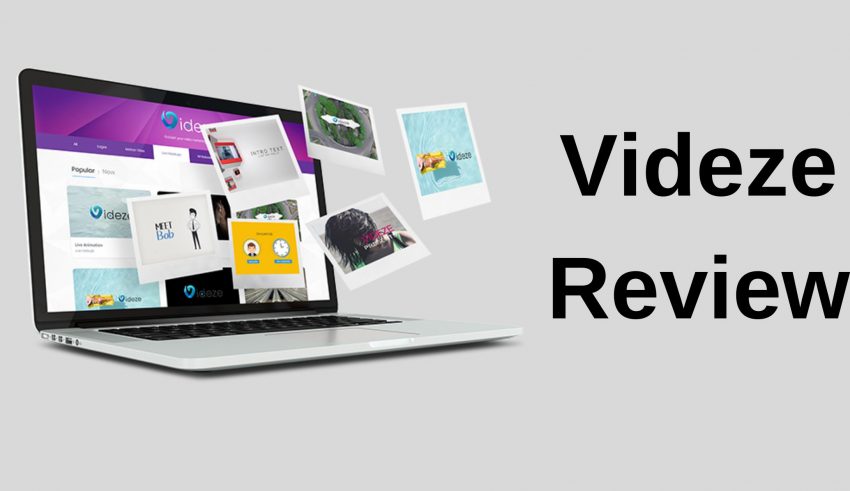 In the digital age, brands are looking for newer ways to attract and engage audiences online. One of the ways in which digital marketers leverage the power of being online is through video marketing.
Marketing videos are a form of visual content that helps to display and promote products. Not only this, they can help brands to more effectively engage their audience through creative, interactive content. This is why video marketing forms a major aspect of digital marketing for brands today.
About Videze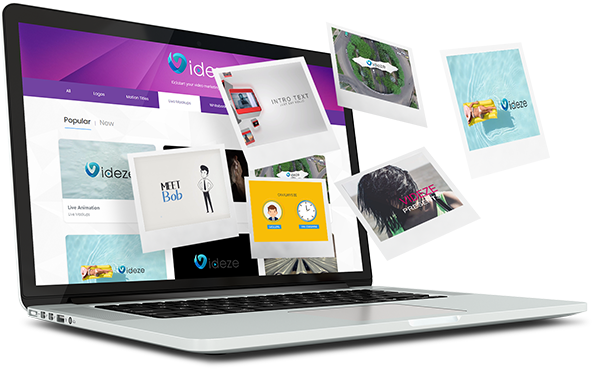 Videze is one of the most sought after video creation and video marketing software. With this, users can create, edit, and promote several types of videos using readymade templates. This means that you do not have to be skilled in the art of video-making to create videos with Videze.
This software allows users to create high quality, cinematic style videos without any professional technical, design skills. Quick and optimized for all devices, Videze can help you create customized videos for six different social media platforms.
Be it animation videos or kinetic typography, be it 3D animated logos or branding slideshows, Videze is your one-stop solution for all video-related tasks. It is an all in one video making, video editing, and video marketing solution combined on a single platform. Both individuals and businesses can avail of this video-making software, for it comes for purchase in both Personal and Commercial licenses.
Videze is an ideal software for freelancers as well as businesses to create stellar portfolios and powerful marketing videos for self-promotion or for their clients. Startups that run on a tight budget can also leverage the power of visual marketing by using this software.
Plus, with Videze, even a beginner can create stunning, world-class videos with no learning curve at all. Read our complete Videze Review to get a complete overview – from features to packages – of this video production software.
---
Also check: VideoBuilder Review (2022): A Solution To Create a 3D & Animated Videos
---
Features of Videze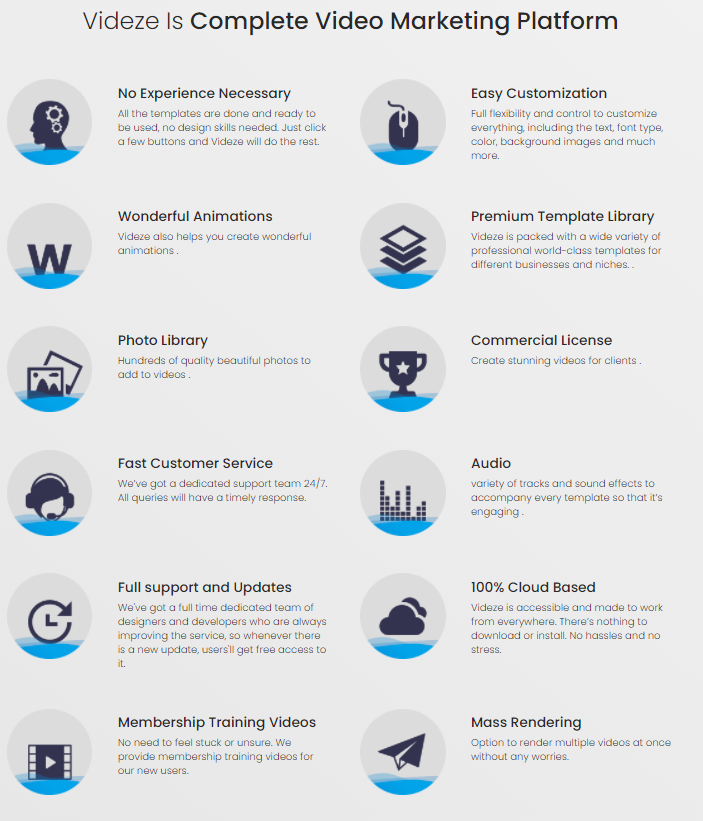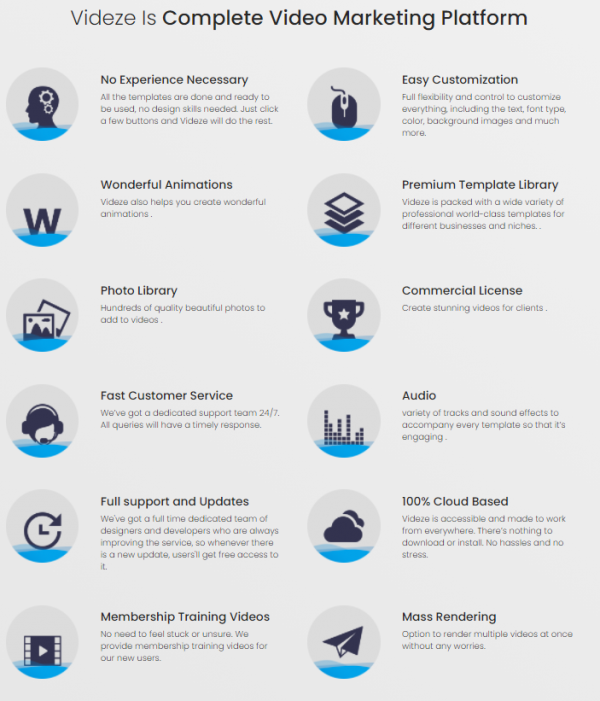 This video making and video marketing software comes packed with useful features that make it worth giving a shot.
Some of these features are listed below:
Premium Templates Library
Videze comes loaded with thousands of pre-made video templates for a variety of businesses and niches. Plus, there is no end to the types of videos that you can create using these templates.
From Animations to Slideshows, Whiteboard videos to Explainer videos, with Videze you can accomplish it all on a single platform. Plus, their ever-expanding templates library is designed to get the highest engagement and conversion rate from video marketing campaigns.
No Learning Curve
As mentioned before, you do not have to be professionally qualified to create stunning, classic videos with Videze. With its readymade templates, you can simply drag and drop elements, add effects, filters, and do so much more.
And you can do all of this with no mandatory skills. This feature can come in handy for startups who are not yet ready to invest in hiring top professionals for video marketing of their brands.
100% Cloud-Based
This software is 100% cloud-based. What this means is that everything you create is hosted on their servers. There is absolutely no hassle for downloading or installing or saving versions of your work each time you switch devices. You can resume creating or editing videos right from where you left off whenever you change devices. There is simply no need to download anything ever with Videze.
Photo and Audio Library
Videze comes with a massive, inbuilt library of stock photos and audio files that you can add to your videos. This library consists of a variety of high-quality photos, sound effects, audios, graphics, and more for diverse niches. You can simply add these pre-curated assets to your videos to get maximum engagement from viewers.
Flexible Customization
When you use Videze, you and only you have the power to decide exactly how your final video product will look like. There is ample scope for customization. If there are elements that you wish to change, you can easily modify and design them to suit your requirements. Be it the text style, font type, colors, background images, or any other element of your video, you have the full flexibility to customize it.
Usage Across All Devices
Users can work on this software on any and all devices and on any version. As mentioned before, Videze is a cloud-based software. Therefore, be it your smartphone, tablet, or desktop, or be it Windows or iOS, you can access Videze across all these devices. Plus, if you switch between these devices, your work will be stored as such. So, you do not need to download or install any app or software to be able to store your videos.
Software Guidance Orientation
If you are a new user registering for a license of Videze, you will get a complete orientation on how to use Videze. They provide membership training videos to all new users and prompt customer support for existing ones. Plus, their in-house teams of designers and developers continuously upgrade the platform for better accessibility. So whenever there will be a new update, you will get access to it at no added charges.
Mass Rendering of Videos
With this video software, users can render multiple videos at once with no cause to worry. In a single step, hit the Render option and you download your finished video in mp4 format. This format is compatible with all video streaming platforms and networks. Videze allows a maximum of 50 video renders in a month in the Commercial License and up to 3 renders in the Personal one.
14 Days Money Back Guarantee
Everything said, should you face any glitches with Videze or are disappointed with the services, you get your money back. They will not ask you any questions and ask you to fill any kind of form. Their 14 days money-back guarantee ensures that there is no duping from their end. Videze offers only the best in class services and if you think it is not your best investment, they will give you a refund, no questions asked.
---
How to Create Videos with Videze?
With Videze, you can create stellar videos for your brand's marketing campaigns or otherwise in just three simple steps.
They are as follows:
Select a Template

Browse their Premium Templates Library for a wide range of exquisitely crafted templates. These include all kinds of video templates such as Animated Logos, Teasers and Promos, Kinetic Typography, Live Motion, Explainer videos, Slideshows, whiteboards, and many more.

Customize

Once you have selected a template, you can customize it with full flexibility. Add the logos or fonts that define your brand image and add text to reflect the brand voice. Select from a wide range of photos and audio in the Photo and Music Library to add to your videos. You can totally personalize them to align with your brand.

Hit Render

After customization, you are basically done with creating your videos. Now, to combine all the modifications and designing into a finished downloadable video, click on Render. This will download your finished video in a highly compatible mp4 format. You can share or post this video directly to any social media channel or website for marketing purposes.
---
Plans of Videze
Videze offers two basic packages for you to choose from.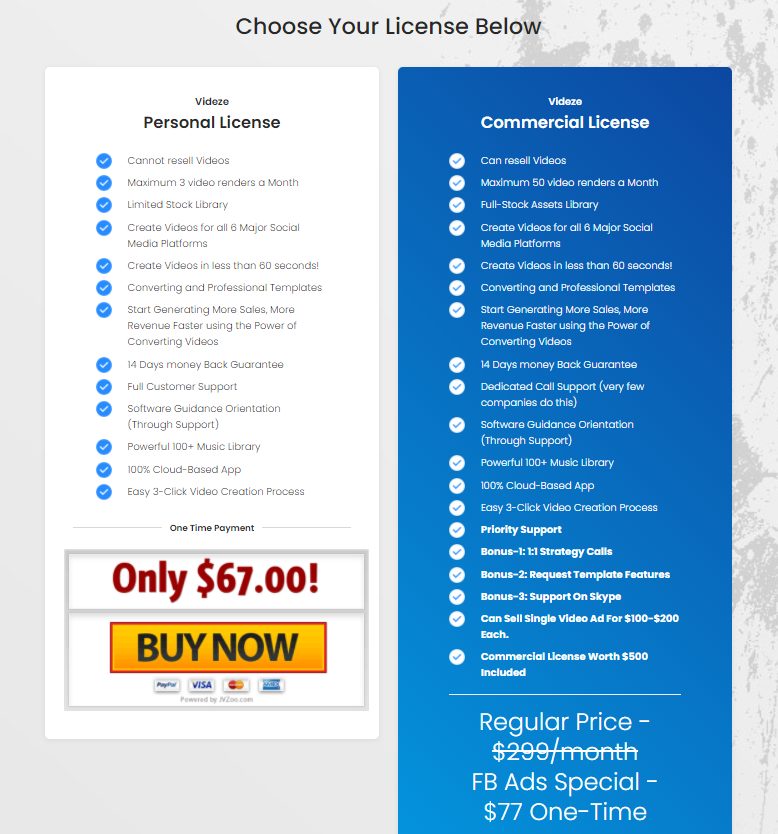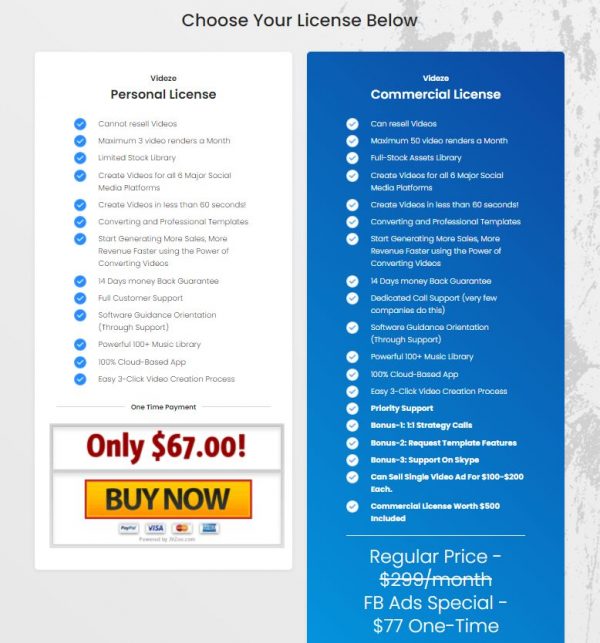 These are mentioned below:
The Personal plan is ideal for individual influencers or users who wish to create only up to 3 videos per month. With this plan, you get access to full customer support, software guidance orientation, premium templates library, Music Library, and a maximum of 3 render per month.
However, this plan comes with only limited access to the photo library. You can create videos for six social media platforms but cannot resell those videos. The cost of purchasing this plan is a flat, one-time amount of $67.
Commercial License
As its name suggests, this plan is ideal for freelancers, startups, or businesses who must create multiple videos per month. With all features included in the Personal plan, the Commercial Plan comes packed with added features that will make video marketing easier than ever for you. You get access to the complete stock photos library, up to 50 video renders per month, and priority customer support.
With this plan, you can also resell the videos that you create. Other added features include Skype Support, Strategy calls, Reselling of a single video ad for $100 to $200. The cost of purchasing this plan is a flat, one-time amount of $77.
---
Conclusion
If you are a digital marketer, then chances are that you already know the power of video marketing. Not only does it engage existing audiences but also generates more potential customers through creative, visual, and interactive content. So create stunning animations and videos for your next social media marketing campaign using this unique video marketing software. With Videze, you can do everything from creating, customization, and selling your videos through a single platform with zero fuss.