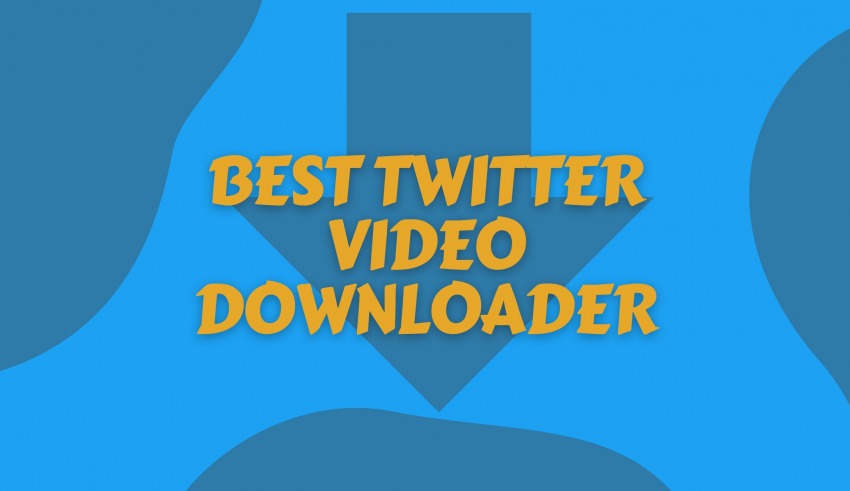 Twitter is one of the best social media platforms for researching content and searching for inspiration. Unlike other social media apps, Twitter promotes happenings all around you and the Trending section gives you a brief idea about things you should be aware of. If you are a business owner or a creator, you might often come across posts you like. Moreover, Twitter's tweet promotion algorithm works wonders. Twitter is also helpful for students as it helps them easily track tweets based on the time of publishing. Video content is widely consumed and is highly popular now. Often, you come across video posts on Twitter that you wish to store for later use. This is why we have compiled a list of the top 10 Twitter Video Downloaders that you can use for simplifying the process. 
Here below is the list of 10 Best Twitter Video Downloader: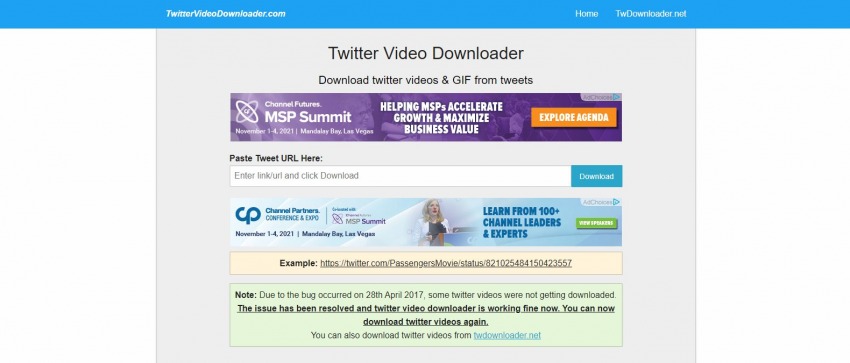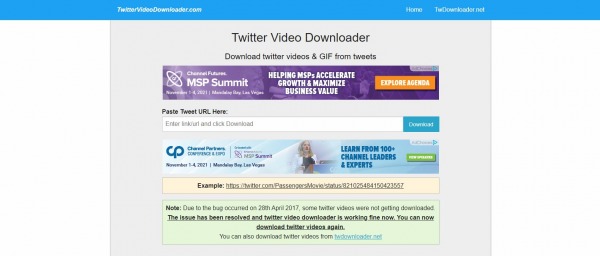 If you are a software enthusiast, you should be aware of Twitter Video Downloader. The software helps you download all types of video content on Twitter, including GIFs.
The best part about this application is that you don't need to install any package onto your device. Twitter Video Downloader is a simple web application that requires you to paste the URL of the Twitter Video Post you want to download.
The downloader automatically tracks the link, extracts the video, and converts it into Mp4 format once you click the 'Download' button. The site is easy to use and is highly interactive.
The official website displays a brief tutorial on how you can use it for ease of use by beginners. Also, the web developers responsible for the maintenance of the software regularly check for bugs and update it accordingly. Hence, you always get the best software version possible.
Pricing Plans:
The web application is available for free.
---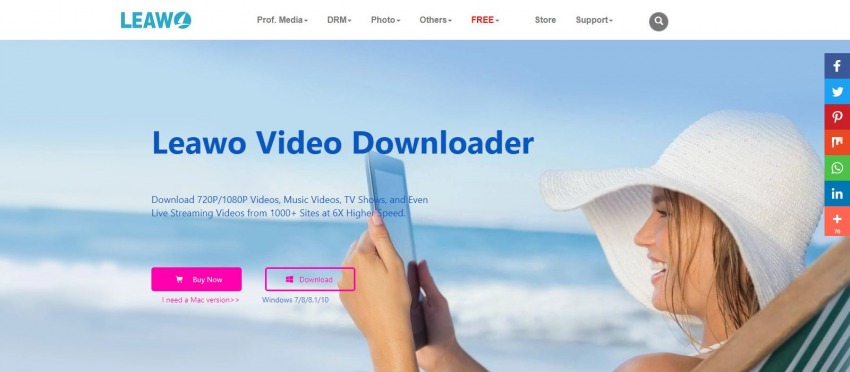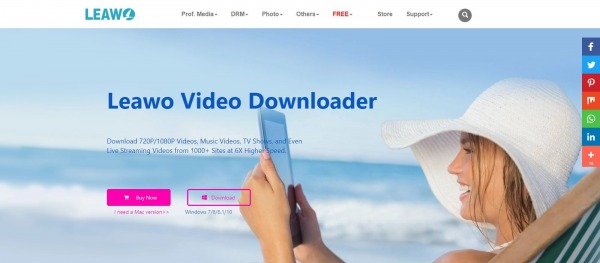 Unlike the software we mentioned before this, Leawo Video Downloader is a compact application. The software lets you convert and download videos from several sites, including Twitter and other social media platforms.
Moreover, you can choose the target quality of the final downloaded video. The Leawo Video Downloader converts and downloads videos at high speed, which makes it the best Twitter Video Downloader available.
If you don't have any issue with downloading third-party software on your device, Leawo is the perfect choice for you. We haven't reached the best part yet. The Leawo Online Video Downloader lets you download live streaming videos from Facebook Live, Instagram Live, etc.
You can also schedule multiple downloads to save time and automate the task as much as possible. The company continually maintains the application and works towards bettering it. The wide range of features it provides attests to the same.
Pricing Plans:
The software offers a free trial.

The premium version is available at $29.95 for a year and $39.95 for lifetime access.
---


If you are looking for a free Twitter Video Downloader offering premium features, Save Tweet Vid is the perfect choice for you. This web application helps you save videos and GIFs from Twitter with just a few clicks.
The best part of this software is that you can convert the targeted tweet into different formats – mp4, mp3, and GIFs. Save Tweet Vid is available in several languages and does not require any extra downloads.
Keeping the multitude of available devices in mind, the developers ensured that the application runs on all of them. Be it a PC, a mobile, or a tablet, Save Tweet Vid's Twitter Video Downloader works on all of them.
If you are not tech-savvy and are afraid that you cannot use it, don't worry! Save Tweet Vid is very user-friendly and you can easily use it to download Twitter videos.
Pricing Plans:
Save Tweet Vid is absolutely free and can be used to download videos from Twitter.
---


TWDown is the best Twitter Video Downloader video available on the web. You can download the tool from any major server/browser so that you can download Twitter videos anytime and anywhere.
The major advantage TWDown has over other Twitter Video Downloaders is that the software undergoes changes and development frequently.
Hence, TWDown's page gets simpler and more user-friendly regularly. There were reports of bugs and errors in the TWDown Twitter Video Downloader, but the development team is insistent and resolves these issues quickly.
If you need the most advanced Twitter Video Downloader available on the web, TWDown is the most appropriate option.
Pricing Plans:
The TWDown Software is available for free.
---
If you are amazed by the 360-degree videos on social media platforms and would love to have them stored, Jihosoft is the best software. The application lets you download videos from any social media platform in different formats, like Mp3, Mp4, and AVI.
Unlike other available applications, the Jihosoft Twitter Video Downloader gets regular updates and fixes bug issues. The best part of Jihosoft? The software updates its system every time a social media platform tweaks its algorithm.
Moreover, the Jihosoft software can download up to 12 hours of video, meaning you can download your favorite playlists and keep them close.
Jihosoft has been vetted by several review sites for being transparent and quick to remove issues. The software helps you edit the videos you download, with just a few clicks.
Pricing Plans:
Jihosoft has a free version that allows up to 5 downloads a day and has limited download speed.

The Premium version allows unlimited downloads every day and offers unlimited download speed.

The Premium version has three editions – Personal, Dual, and Family, available at $25, $45, and $75, respectively.

The Personal, Dual, and Family editions support up to 1, 2, and 5 devices, respectively.
---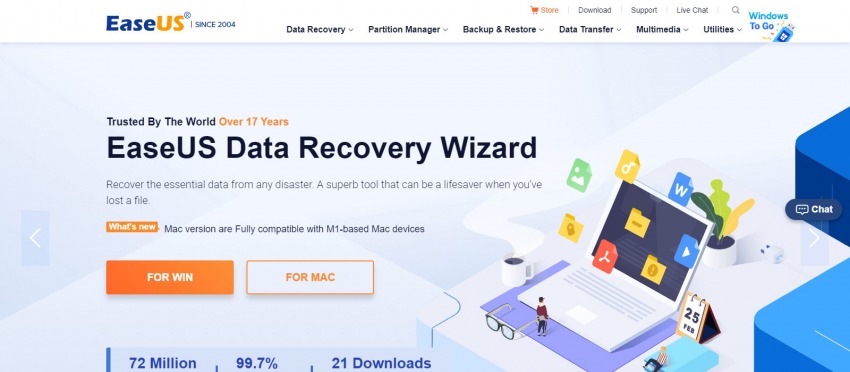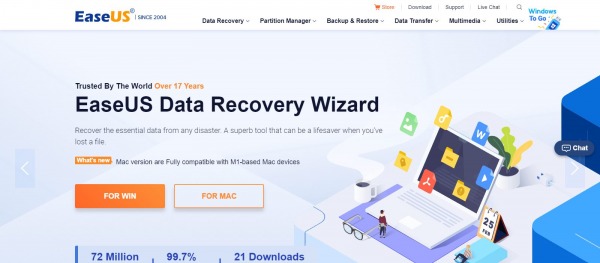 The EaseUS Mobi Mover is essentially a data transfer application that allows you to download videos from social media platforms. The software also allows you to back up your files, chats, and documents.
EaseUS Mobi Mover supports more than 1000 sites and backups every data. The only drawback of the EaseUS Mobi Mover software is that it only supports an iPhone/iPad and works only on a computer.
If you fulfill the requirements and can work around the limitations, this Twitter Video Downloader is worth the price. 
Pricing Plans:
The Free version does not have the backup feature and lacks 24/7 customer support.

The Premium version has a free trial that you can use, before investing in the paid one. 

The Premium version is priced at $23.95 for a month, $59.95 for a year, and $89.95 for a lifetime.
---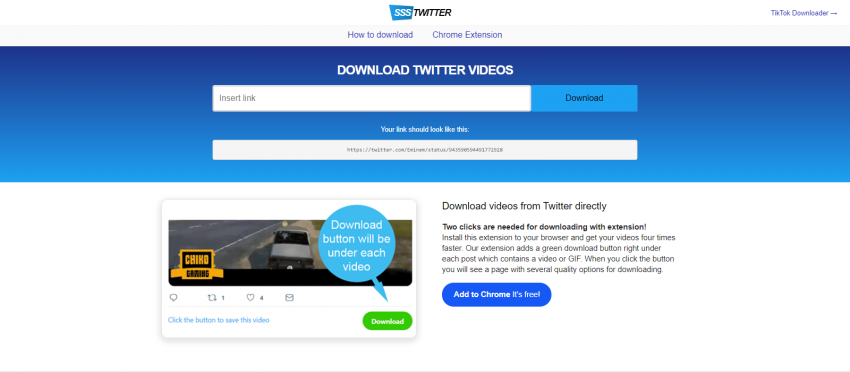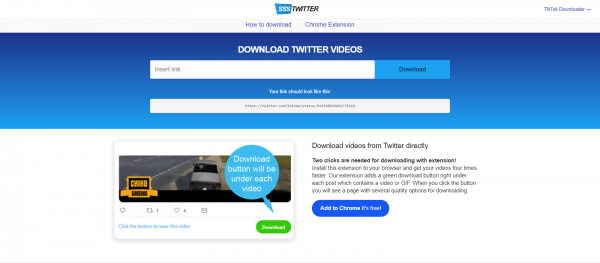 If you are a person who hates downloading foreign apps or software and wants a way to download Twitter videos, SSSTwitter is the best option for you. The software has a web application and an extension.
You can paste the link directly on their dashboard and get it converted. Alternatively, you can add the extension to your browser and you will be done.
When you open Twitter using the browser which has the extension installed, you will see a green download icon under each post containing a downloadable video or GIF. All you need to do is click on the download icon and you will get the video on your device.
Thus, you are free from the troublesome and long process of copying URLs and pasting them to get your video. Moreover, SSSTwitter is supported on all devices to make the process more seamless.
Pricing Plans:
You can download the SSSTwitter software for free.
---
If you do not have too many resolutions and format requirements, TWSaver is the best software you can come across. Just like the other Twitter Video Downloaders, TWSaver has a search bar for you to paste the target URL in.
The software converts the GIF or video content in the post and asks you to choose the required format. TWSaver supports downloading Twitter videos in three resolutions – HD, SD, and UHD.
One thing to take care of is that the UHD option is not available for all Twitter posts. Hence, the supported format list essentially depends on the post. If you do not want to invest in any software and want this feature only once, TWSaver is a good choice.
Pricing Plans:
TWSaver is a Twitter Video Downloader that is available free of cost.
---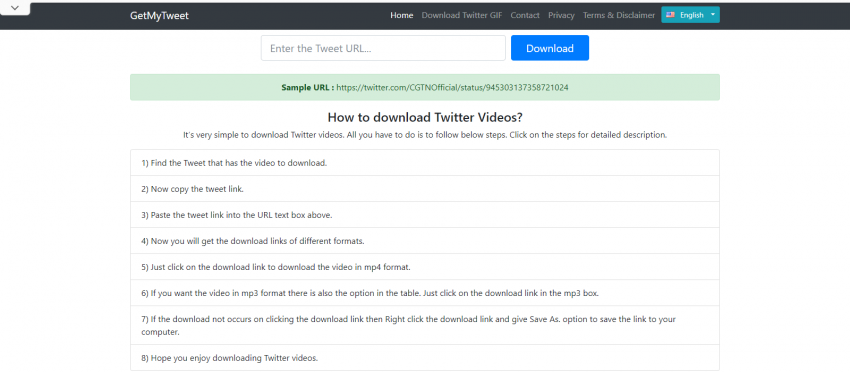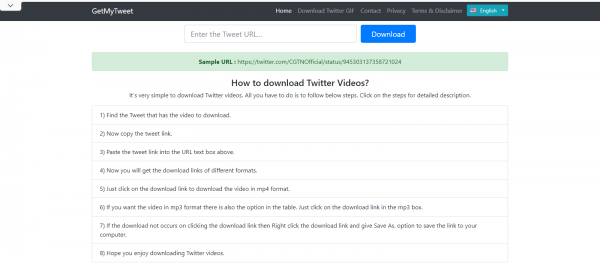 GetMyTweet is one of the best Twitter Video Downloaders available on the web for free and set on launching an app soon. With GetMyTweet, you just need to input the link to your Tweet containing video content.
You just need to click on the Download icon for storing the video on your device. Take care that the Download icon stores the data in mp4 format. If you want the video in mp3 format, you would need to choose the option before downloading.
Unlike other Twitter Video Downloaders, GetMyTweet features an SSL certificate on its site to show that your device is protected from viruses. You can get a list of all the available formats for download from GetMyTweet's official site.
Pricing Plans:
GetMyTweet is absolutely free.
---
YBMate
YBMate is the ultimate Twitter Video Downloader available on the net. Unlike most downloaders and converters available, YBMate does both music and video conversions.
Moreover, the software adapts to the video you want to download, so that you do not face any issues. Moreover, the software has several supported formats to help fulfill any video needs.
Thus, YBMate is truly a premium Twitter Video Downloader with an advanced version that lets you extract videos from DVDs. The Twitter Video Downloader and Converter, YBMate, is supported on several devices, including iPad, Blackberry, Playstation, Sony, Google Android, Motorola, etc.
Pricing Plans:
The software is completely free for use.
---
Is it safe to Use Twitter Video Downloaders?
Social media is an understandably huge part of our lives and downloading videos from Twitter posts is difficult. These Twitter Video Downloaders help ease the process and decrease the time needed.
Briefly, if you are using legit software, downloading videos from Twitter is safe. You need to ensure that the tool you use is free of malware to keep your device and personal data safe from unauthorized hackers.
All of the tools and applications mentioned in our article are completely safe to use. You can use any of these Twitter Video Downloaders for ease of conversion and download.
How to Choose the Best Twitter Video Downloader?
Before you install a Twitter Video Downloader, you need to take certain things into consideration. Do you need to convert Twitter videos on a regular basis, or is it just a one-time affair? If you do it regularly, you can download software dedicated to this purpose.
However, if you need to convert and download Twitter videos once or twice, you can use a web application. Another thing to take into account is the space available on your device, for installing the software.
If you don't have space to compromise, use a web application instead of software packages that take up too much space. However, one thing to remember is that the speed of download and conversion will be slower in a web application compared to desktop software.
Hence, the perfect software for you depends on several factors and you should take all of these into account before installing any of the above.
---
Conclusion
Twitter is an important social media platform for creators that helps ideate and offers a lot of inspiration. Most social media trends originate on Twitter and spread like wildfire.
Once a content gains attention on Twitter, you can be sure that it will spread to other social media platforms, too. You frequently come across unique content on Twitter, and storing them helps remove the creator's block.
Often, you need references for your assignments and Twitter is a proven source of journals and news updates. Hence, having a Twitter Video Downloader comes to the rescue in several scenarios. 
Have you used any of the Twitter Video Downloaders mentioned in this article? Let us know your favorite conversion and download software in the comments below!