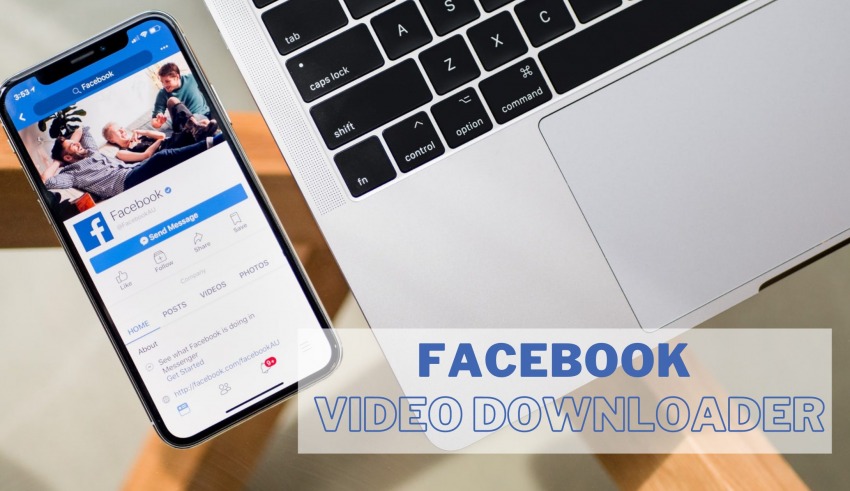 Facebook is a great platform for watching videos. Facebook has some great creators who upload videos to their platform. These videos are great in terms of the content. People generally want to download these videos to keep with them for offline watching. They even want to download it to share on other platforms. Downloading Facebook videos can be simplified with the use of a Facebook video downloader.
A Facebook video downloader helps users to download videos with ease. You will be able to download the videos with just a few clicks. They offer you a variety of options with regards t the resolution and the format of the downloads. In this article, we have listed the best Facebook video downloaders. This article will help you find legitimate tools which will simplify your downloading process.
Here is the list of the 10 best Facebook Video Downloader.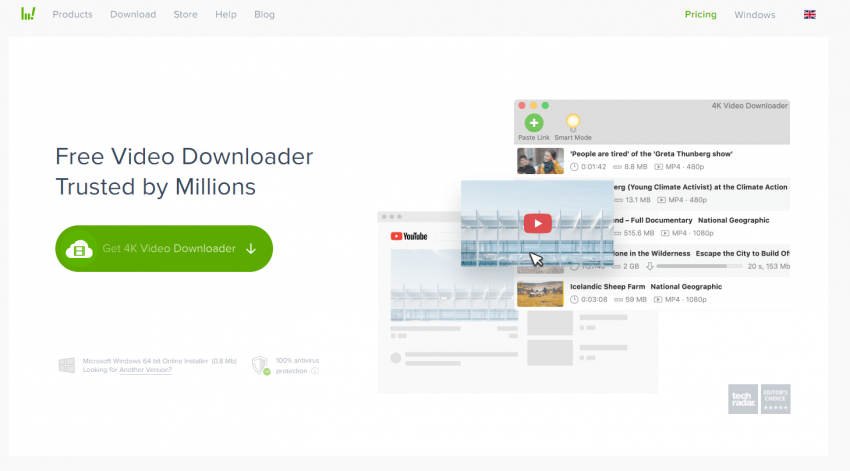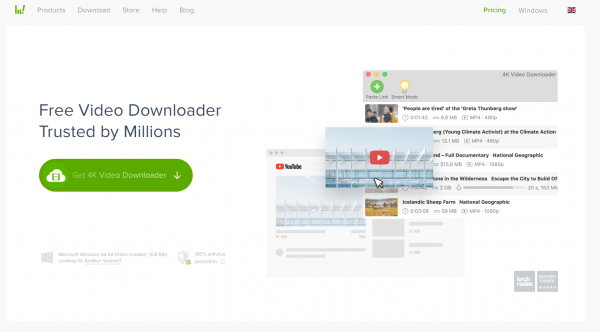 4K video downloader is widely regarded as the best Facebook video downloader. They have great features that have made them very popular in this segment. Their downloader is capable of downloading videos from multiple social media sites. They ensure that all of your downloads are of the highest quality. The downloader is available as software which you have to download to your computer. It is compatible with Windows and Mac OS.
They have developed this downloader to provide their customers with multiple options. You can download videos, convert them to audio, and much more. With this tool, you will be able to download your videos in an instant. The software is secure and does not possess any risk to your computer when downloaded. They have had over 2 million users who have downloaded and are using their software. They have developed this software to be as simple as possible.
The simple interface makes it very easy to get videos downloaded. Paste the URL of the video to their search bar and they start downloading the video for you. As the name suggests they allow videos to be downloaded in 4k quality as well. This ensures that you get the best resolution while downloading Facebook videos. You can download 3D videos as well.
This helps you to bring the 3D experience to your desktop. All 360° videos that are posted on various websites can be downloaded as well. They have an in-built proxy that helps you to bypass restricted networks and firewalls. With their smart mode, you can select your preferences and apply them to all of the downloads that you make. The only disadvantage of the software is that it does not have a mobile application for Android or IOS. You will have to use your desktop for all downloads.
---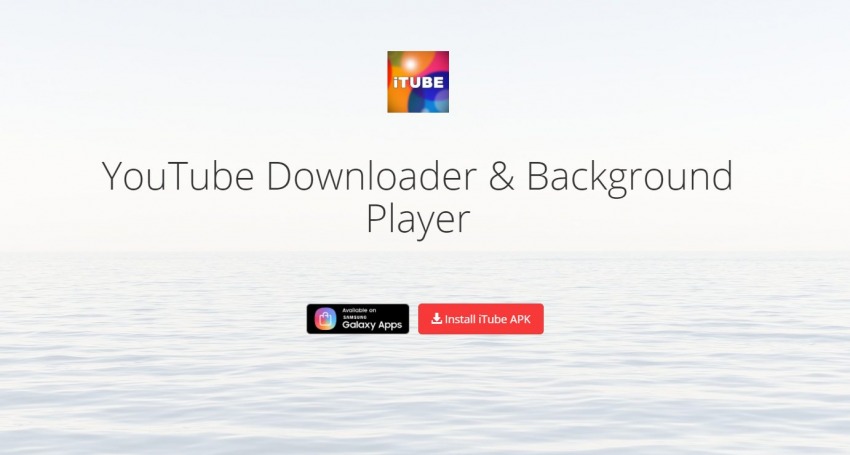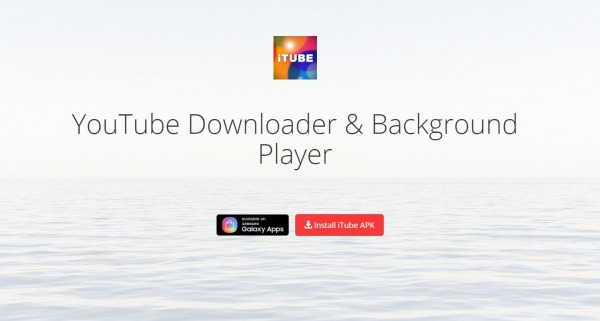 iTube is one of the most advanced Online video downloaders. They provide multiple features which have helped them stand out from the rest of the tools. Their tool offers support for various websites. According to them, the downloader is capable of downloading videos from over 10,000 websites. Having a downloader that is compatible with so many sites makes them different from the masses.
They have been able to ensure that their single tool can achieve better results than many specific downloaders combined. You will get more than 3 times the speed when using their downloader. You get to download the videos in multiple resolutions. They provide you with the full authority of what resolution you want to download videos in. You can decide to choose the lesser resolutions to save internet data or opt for better quality with up to 4K UHD downloads.
Their tool serves as a downloader as well as a converter. With their software, you can easily convert all your files into different formats before downloading. They do not place any restrictions on the number of simultaneous downloads that you can do. This allows you to download multiple videos in batches. You can download videos in 2 distinct ways. iTube can enter the Url of your videos for a direct download.
You could also add their browser extension. This will help you download the video you are watching with just a click. Using their private mode you can improve the privacy of your downloads through greater security. Using this feature allows you to store all of your videos in a password-protected folder. This helps to prevent any unauthorized access. All of these additional features along with the downloader have made them a great Facebook video downloader.
---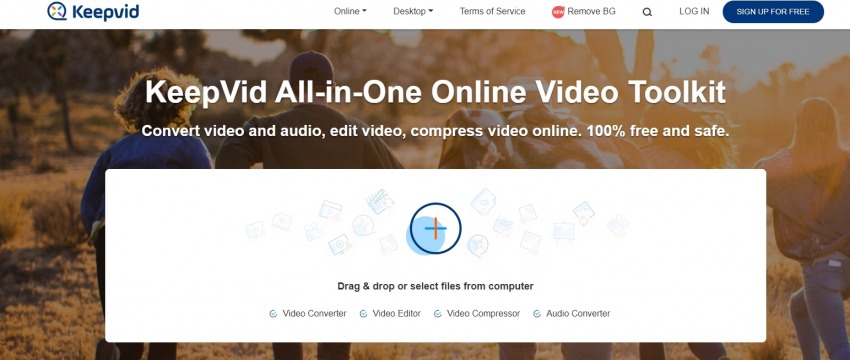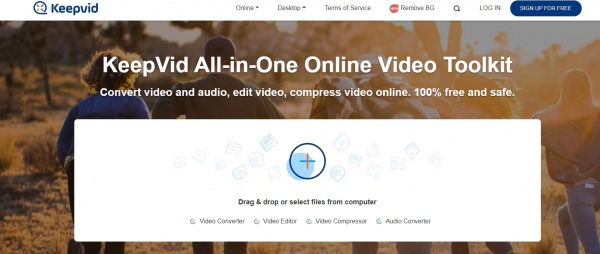 KeepVid has got tons of popularity in this segment with their good performances. They aim to make downloading videos as convenient as possible. Their downloader can download videos from multiple platforms. Be it Facebook or Youtube, KeepVid has got you covered. They provide online video downloading services. You can just visit their website to download videos. They do not require you have to download an application on your desktop or your mobile phone.
To download the videos from Facebook, you have to copy and paste the URL link on their website. They have inbuilt search mechanisms as well. You can search for the video that you want to download and they find it for you. This helps you to conduct the while downloading process from their website itself. As the tool is an online downloader you can get downloads for your mobile devices as well. This makes it convenient for you to directly download the videos onto the device of your choice.
This removes the restriction of having to download the video on your desktop and then transferring it. You will not experience any loss inequality while downloading the videos from Facebook. Their Facebook video downloader is a free and secure way to download all videos that you need. The downloader is compatible with all browsers. KeepVid has gained popularity as it has made downloading videos from any site on the internet a convenient process. The online downloader has been a great tool for people who have devices with low storage.
---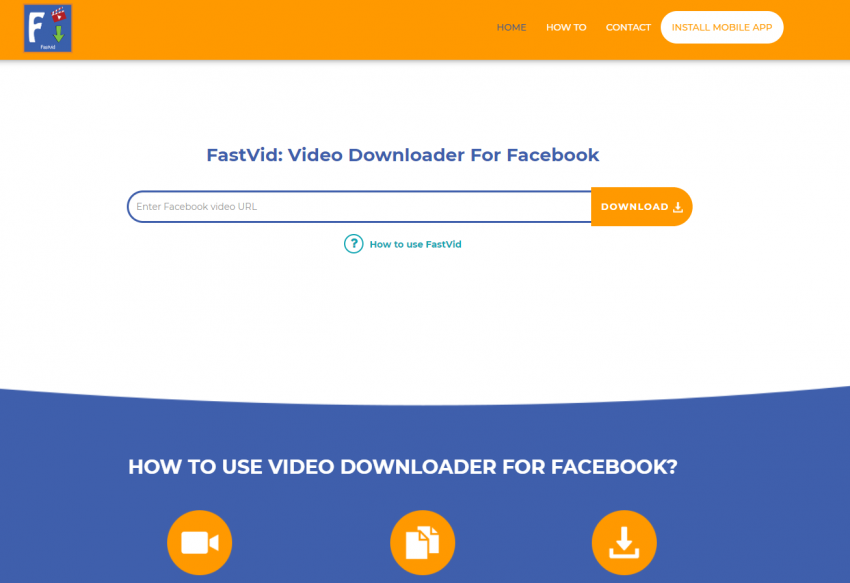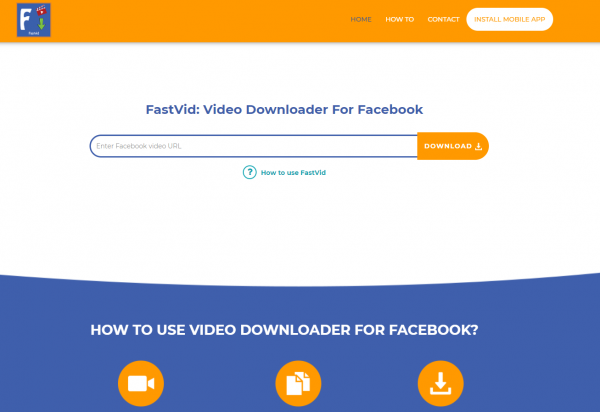 FastVid is a popular Facebook video downloader available for Android. It is an application that helps you to find and download videos of the best quality possible. You can download videos without having to log into your account. This can help you keep your account more secure. Logging into your account makes it much easier to download videos. You can browse the videos from their app and just click on download to complete the download.
They have incorporated a secure browser into their application. This browser helps you to protect your account which surfing Facebook to find the videos you want to download. All of the downloaded videos are stored in your gallery. This makes it easier to share these videos with other people. The application has an overall rating of 4.3 on the Playstore. The app has been rated by more than 2 million people. The application has secured over 50 million downloads.
They are free to use but contain advertisements. They also provide in-app purchase options to remove these advertisements and have a better experience. The application has helped to provide an easy route to downloading videos from Facebook.  They keep rolling updates to make the application better. FastVid has improved the speed of the downloads and keeps improving the user experience. They are a solid choice when looking for reliable Android video downloaders for Facebook.
---


Video Saver is a completely free Facebook video downloader. The application is available on the Playstore and is completely free. They have received a 4.7-star rating out of 5 from more than 19,000 reviews. They have been improving on the services they provide to be able to get better control of this segment. Video Saver Facebook have developed their downloader to provide amazing quality to their clients.
You get to download videos in the resolution of your choice. You can specify the resolution and they will maintain it while downloading your videos. They have tried to provide you the fastest downloading speeds. Their in-built browser helps you to download the videos. You just have to play the video and the browser detects it. They then automatically start downloading the video. When the videos are downloaded to your device they can be accessed offline as well.
Using their tool you can download the videos in Facebook Stories as well. They go the extra distance to provide you a repost feature as well. You can easily repost the videos you just downloaded to your Facebook account. They have tried to equip the application with all of the features which will make it an all-in-one tool. It has a native video player as well.
You can download the video and play it without having to exit the application. You can use the URL links to download videos if you are skeptical about logging into your account through their browser. They have got over 1 million downloads on the Playstore.
---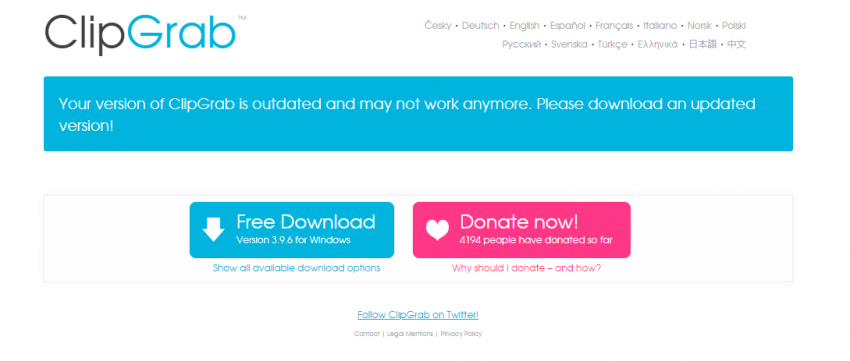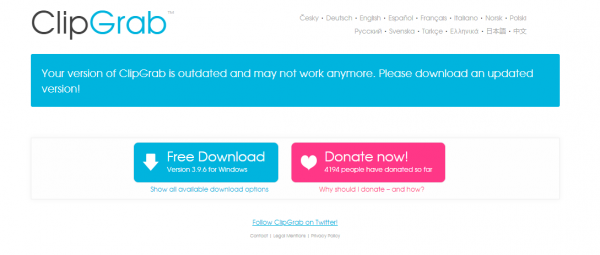 ClipGrab is a Facebook video downloader that is available for Windows. The software has to be downloaded from their website. They have been providing their clients with the best downloading solutions when it comes to Facebook. The site was originally made for downloading videos from Youtube. They decided to diversify their downloader to cover other popular sites as well.
They now allow you to download videos from multiple sites. Apart from Youtube, they cover all popular sites such as Vimeo, Facebook, and others. You can download the videos in multiple formats. The most popular format for downloading videos being MP4.
You can download it in MP3 WMV OGG Vorbis and others. You can even choose to have the source format kept on your download. ClipGrab is desktop software and it is compatible with both Windows and Mac. You can download their latest version for Windows or Mac from their website.
---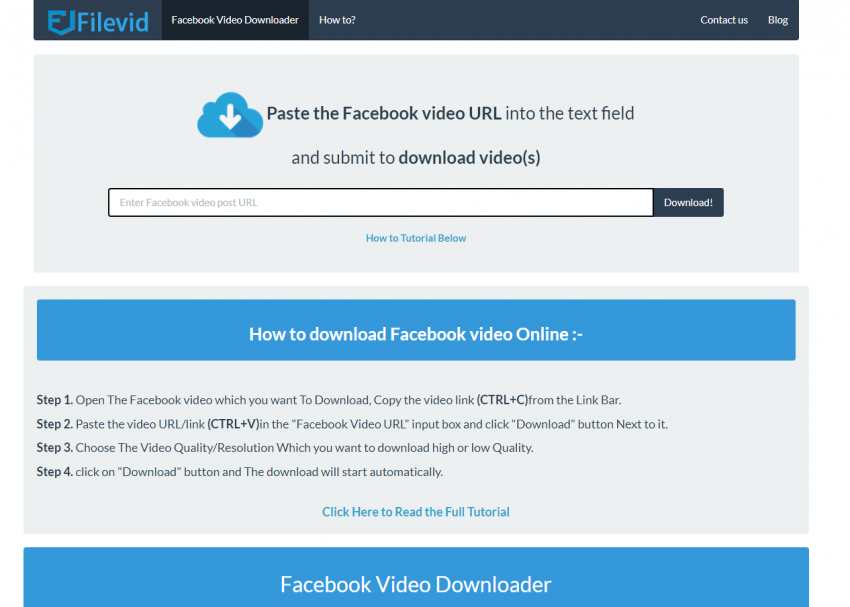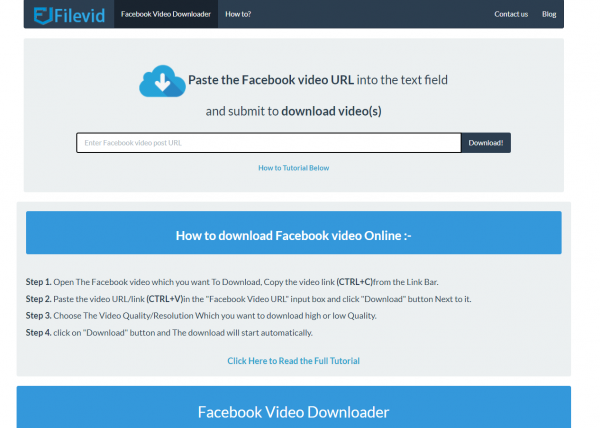 FileVid is a Facebook video downloader that is available online. They do not have any software downloads or applications for their downloader. They have a simple system that can be used to get any download that you want from Facebook. You just have to copy and paste the URL of the video and the download gets prepared for you. Just like its competitors, they have been offering their clients the option to choose the resolution of all their downloads. A big disadvantage is that this tool cannot convert videos. So all the downloads will have to be the same format of the video.
---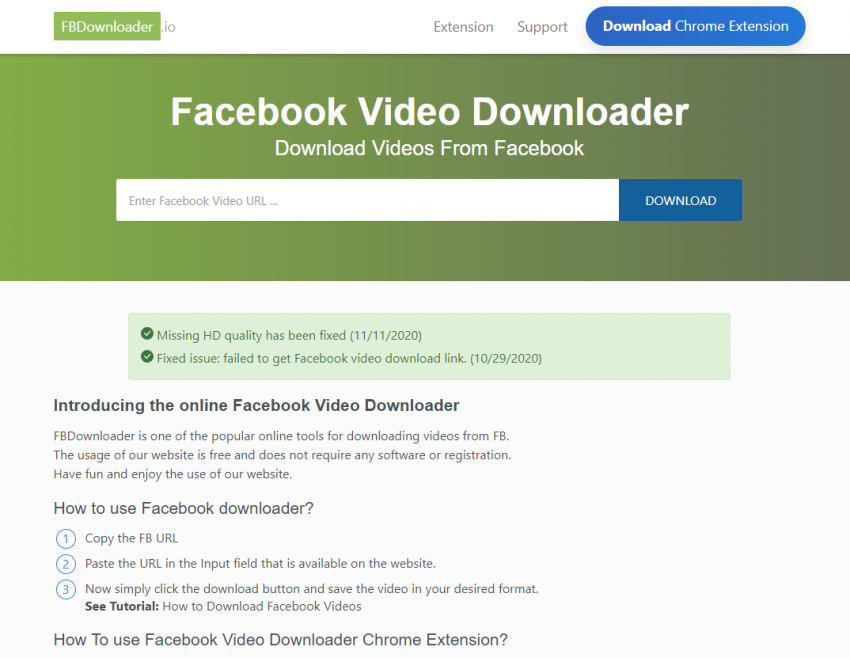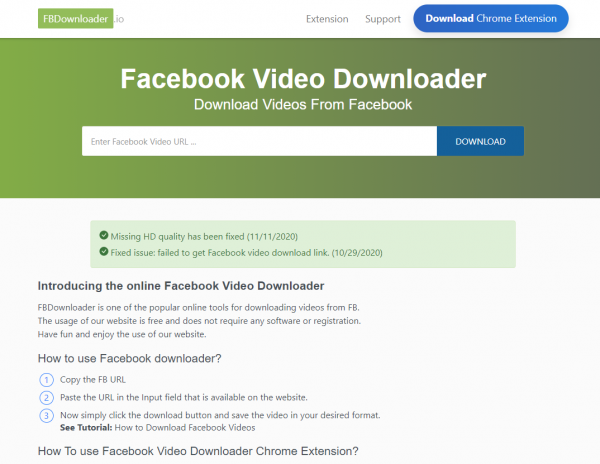 Fbdownloader is a well-known online Facebook video downloader. The downloader is very easy to use. You just have to visit their website and enter the URL of the video. You get to choose the file where the videos are to be downloaded. They offer good speed and are safe to use. Using their software you can download private videos as well.
You just need to follow the instructions given by them. You can download Facebook live videos as well. This can only be done after the entire lie stream has finished. They have an extensive FAQ section on their website which will help you navigate through any problems that you might have.
---
Video downloader- Studio 1467
This is an application that has been developed by Studio 1467. The application is listed in the tools segment of the Playstore. It can be downloaded for free by everyone. The developers have tried to provide an application that can do multiple functions. The downloader can operate like a video player as well.
You have to log into your Facebook account from the application to be able to download videos. You can even transfer videos to an SD card after you have downloaded them. The application is rated 4 out of 5 stars by over 60,000 reviews. They have got over 5 million installs on the Playstore.
---
Video Downloader for Facebook
Video downloader for Facebook is a prominent application developed by Karl Hua. It is a free Facebook video downloader that has been able to provide quality services to its clients. Trying to download Facebook videos from some websites can be a great ordeal. This may require you to spend a ton of time trying to get the downloads in your preferred resolutions. This application simplifies the process for you.
They allow you to download the videos with ease. They have developed their application to provide their clients with the best speeds. You can download videos at great speeds. They know that long download times tend to hamper the user experience. Thus they have emphasized making sure that their clients get good download speeds when using their application.
You get support for HD video download. Using the browser in their application, you can easily search for videos and download them without having to open the Facebook application. They have made their application efficient for all clients. You get to download multiple videos at once without facing any lag or other issues.
They have even provided you with the option to pause downloads. This is a useful feature when you want to save some data or have other internet-related activities that you want to prioritize. The application can be operated easily due to its simplicity. You should not face any difficulties when trying to operate it. This is one of the most underrated downloader applications on the Playstore.
---
Conclusion
Using a video downloader is the smart way to download Facebook videos. Many of these tools listed above have additional features. Using these features you get to select the resolution of the downloaded videos and much more. All of these tools provide you with stable download speeds and secure downloads.
When selecting the downloader to use focus on your needs. If you just want to download a video without any changes you can use the simplest f downloader. If you want some changes in resolution or format you will have to opt for more advanced tools.