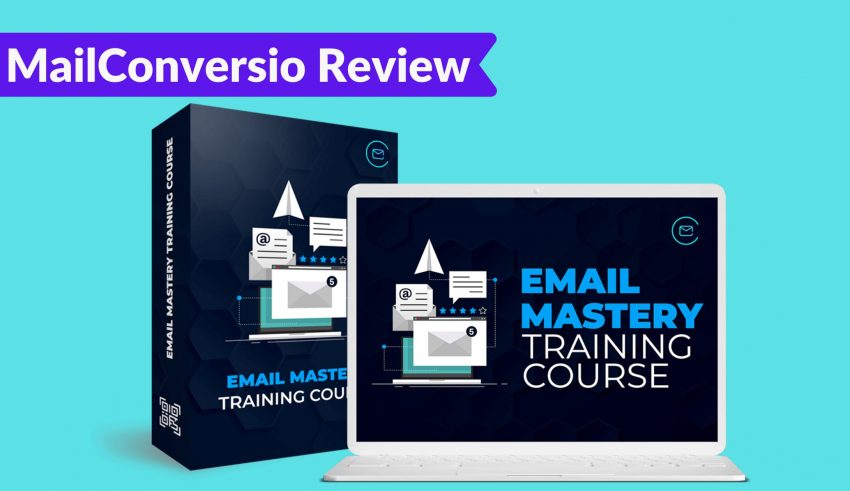 If you're an E-commerce or if you ever want to be, you probably know how important email marketing is. It is the cheapest and most effective method for marketing online.
However, people are getting annoyed and bored with the monotonous emails flooding their inbox while the marketers struggle to make it more appealing.
If you are having trouble with your online marketing campaign, then MailCoversio is for you. This MailConversio review will cover the features, the price points, and why you should consider using this software to lessen your burdens.
The shortest possible explanation as to what MailConversio does is that it is an all-in-one email conversion booster suite that turns every email broadcast into some profit. I
t uses interactive videos, graphics, and poll elements. As a result, it helps your open rates and increases click-through rates by adding social growth elements, conversion, and interactive elements like social badges, google maps, feedback bars, and form questionnaires, and more.
MailConversio helps rapidly grow your social media accounts by showcasing your latest posts. Moreover, it also supports you to quickly insert interactive elements that help you engage with your audience and get better feedback from them.
---
Pros & Cons of MailConversio
MailConversio may just make your life easier and you have nothing to lose! If you want more reasons to start using it, then here are some pros of this site to give you the best outcome.
Pros:
It solves a very common and pressing issue that every business owner with an email list faces, regardless of any other factors.
The platform works seamlessly and is super easy to use
MailCoversio provides an easy to activate income opportunity for all its users.
It creates interactive and personalized emails that have never been any faster.
Easy to achieve in a few simple steps and there is very little maintenance afterward.
Beats every other quality email builder out there on value.
It works in every niche market, even the ones thought to not have a lot of potentials.
You can send unlimited emails to unlimited contacts.
You do not need any copywriting or technical skills to work on this.
Real users have used these emails to increase conversions by at least 10 times, if not more.
Cons
If there was an autoresponder automatically linked instead of having to copy the code each time.
---
Features and Benefit of Mailconverso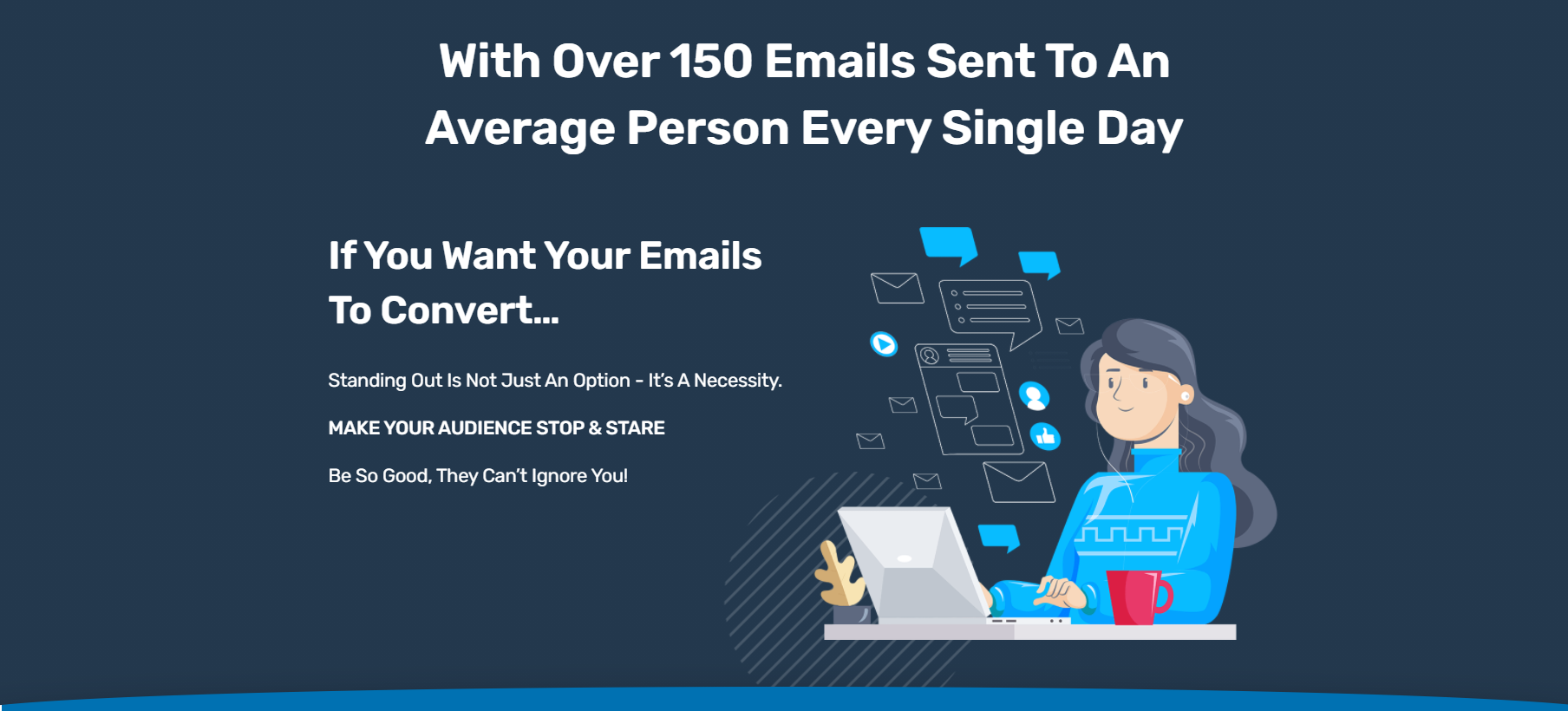 If you are still unsure about MailCoversio and the benefits it can provide then you should at least know what it can do for you and your brand more intimately.
MailConversio has a lot of features and countless benefits that are listed below:
The Social Growth Elements
Social media is a huge part of marketing and being absent there is almost like you are ignoring half the potential customers in the market. Once you do have an account, however, it is important that you can rapidly grow your social media accounts by showcasing your latest posts.
Moreover, you can now send emails with:
Facebook Post Preview
Twitter Post Preview
Instagram Post Preview
TikTok Post Preview
LinkedIn Post Preview
Pinterest Post Preview
Blog Post Preview
and redirect your audience directly to the post by clicking on the preview from right inside the mail.
Interactive Elements
You can quickly insert interactive elements that will help you engage with your audience and get better feedback from you.
This feature also comes with:
Feedback Bars
Forms/Questionnaires
Polls/Votes/Surveys
Personalized Footer Signature
Social Badges
This ensures that your most loyal customer's opinions are included. This will also make them feel special and do some promotion of their own.
Conversion Elements
MailConversio is designed to make the email readers click through and take immediate action. It adds a lot of elements that make them want to buy your product.
You can insert:
Countdown Timers
Call To Action Buttons
Progress Bars
Personalized GIFs
YouTube Video Previews
Vimeo Video Previews
Autoplay Video with Personalization
Especially these can be added to more than 30 autoresponders like GetResponse, MailChimp, ConvertKit, Aweber, etc., and can be easily integrated with other email service providers like YahooMail, Gmail, Outlook, Hotmail, and more.
---
How does it work?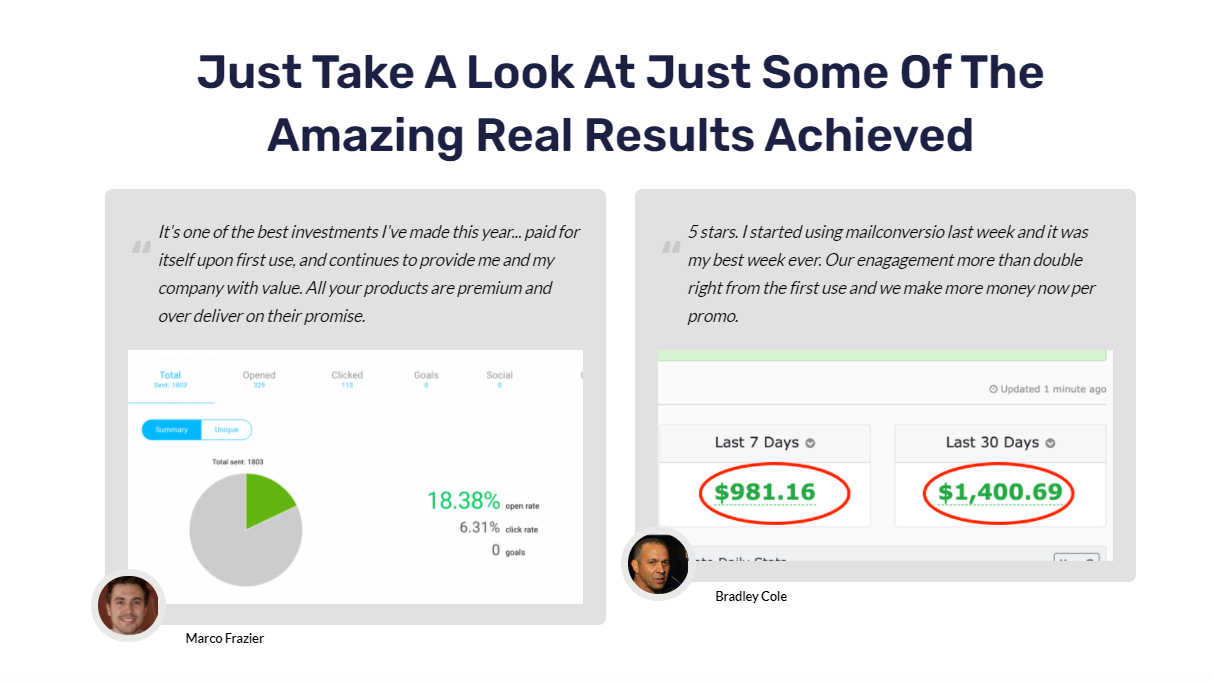 MailCoversio is the easiest software to navigate your way through. There are only literally 3 steps to earn great benefits from Mailconversio:
Step 1:
Firstly, you need to pick an element that you want to be inserted into your email. MailConversio will instantly generate an autoresponder code.
Step 2:
Secondly, copy the code to your preferred autoresponder.
Step 3:
Finally, click send and look at the view live stats. Watch the live stats of your campaigns showing your click-through-rates go through the roof and increase your profits.
---
Who should buy it?
Mailconversio works for any type of business and in any type of niche, as long as you send an email to your right audience. It is especially helpful if you are selling any E-Commerce, MLM, Digital Products, Affiliate Marketing, Coaching, Consulting, Health & Fitness, Agency, Book, Freelancing, High Ticket, Selling via Webinar, Product Launches, SaaS, Appointments, If You're A Local Business, Large Multinational Company, etc.
Price and Evaluation
MailConversio Unlimited Plus Email Writer App – $47 (One Time). With this offer, you get access to create unlimited Conversion Elements and access their Email Writer App within their dashboard.
MailConversio DFY Lead Bank – $67 (One Time): Consists of everything you need to build quality leads.
MailConversio Agency ToolKit + WorkSpace: With this, you can create workspaces for your clients on MailConversio. Moreover, you also get all the assets you need to own a 6-Figure Email Marketing Agency. It even includes done-for-you Business Cards, Facebook Ads, Google Ads, Invoices, Letterhead, Brochure, Proposals and Emails, Agency Website.
MailConversio Reseller – $97, $197 (One Time). This allows you to resell MailConversio and keep 100% of the profit. It is an easy way to make money from selling software products. You get a Resellers license, Resellers dashboard, Account creation, Done for your marketing assets (sales page, ads, email swipes, etc) and Done for you customer support for life.
Moreover, you can even get a Personal & Commercial Licence for $37 & $47 Respectively and sell your services.
---
What can MailConversio do for you?
MailConversio allows you to easily:
Convince your audience to click on your email and make some purchases.
Create and send perfect interactive and personalized emails that skyrocket your conversions in as little as 60 seconds.
Send unlimited emails to unlimited contacts
It uses the same technology used by some of the biggest brands in the world like Coca-Cola, Amazon, Spotify, and more.
MailConversio helps you easily create and send futuristic interactive emails.
Moreover, you can add Videos within your emails, replace long links with a short and attractive Call-to-action button and dominate social media by inserting social sharing buttons in your emails, thereby significantly increasing click through rates.
Reasons why you should invest in MailCoversio:
If you are still hesitant as to whether you should invest in MailConversio or not, it will be best that you remember how important a campaign is and how much profit it can turn. It is not an easy affair getting people to click on your mail, especially if it is promotional. Hence, here are a few reasons that will convince you to invest in MainConversio right now!
Chances of a better Return On Investment with every email campaign that you run: Since you can customize everything on MailConversio, it is not so much easier to call attention to your emails.
Niches that seemed impossible to promote before are now giving you a whole new range of opportunities to generate a greater profit.
Increased conversion rates on every mail you send: A boring email will not even get a fleeting look. Your mails must be interactive and most importantly visually appealing to the eye and must call the potential customer's attention. After they click on your email, they need to read it, which means they are putting in the time and effort to read through your email.Now, it becomes crucial that they do not feel like they have wasted their time. You can make it more fun and engage by adding in infographics, images, videos, and other interactive elements that lead to an increased conversion rate and more sales for you.
Commitment Boost: It is a proven fact that personalized and interactive emails from MailConversio increases engagement. Your emails will make people open them and read them, which ultimately will lead to more sales. Ultimately, it makes your brand and the marketing campaign a lot more memorable.
Growing your income beyond your current position: A lot of users have already made tons of money by simply selling interactive email campaigns. When small businesses see the results that MailConversio's emails give them and have given you, they will be practically begging you to take their $500s, $1000s, or even $2000s!
---
Is MailConversio Worth Buying?
MailCoversio is saving and solving a real pressing problem in the industry of email marketing. Sending email campaigns to people with low or no conversion rates simply means thousands of dollars going to waste to AR companies without any return on your investment. It is a complete waste of money.
Even hiring a freelancer or a solo ads expert to build your list could easily cost you anywhere from $1,000 to $5,000. Even running your campaigns over a long time will add up in autoresponder fees.
Instead, spending $37-$47 will save you such heavy losses and you can see some returns and turn profits in the long run. You will recoup that $37 in a matter of a few seconds with the written email sent out.
Hopefully, you can see the true value of this software now. On average MailConersio is worth $297 a month and if you add an Email Writer app that opens up a real opportunity for every user, then MailConversio is worth $497-$997 per month.
Moreover, you also get a special Email Mastery Training specifically for MailConversio customers that helps you Increase profits and generate more leads. This 7 module video training teaches users how to dominate email marketing by:
Building your list with valuable content
Content planning
Presenting your lead magnet
Creating opt-in forms and landing pages
Thank you pages
Automated emails
Traffic and promotion
---
Conclusion
With everything done for you, there is nothing left to wait for. The tools are ready and here for you. It is up to you to bite the bullet and commit to changing your sales and increasing profit. Email marketing has not lost its potential at all, instead, it is just picking up.