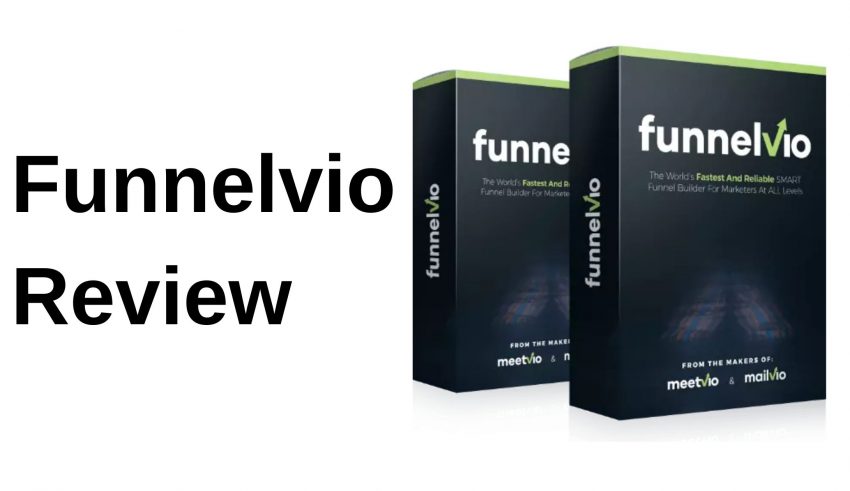 If there is one thing that is elemental to an online business, it is marketing and sales funnels. Funnels are basically the routes through which customer knows about your brand, to when they eventually buy your product/service. For example, when a visitor lands on your website, there are certain actions that you would want them to take.
This could be buying a product, signing up, filling a form, or say, subscribing to your email newsletter. When a visitor actually performs these actions while on your website, it is called a conversion. Marketing funnels map the steps taken by the visitor that finally culminate in a conversion. For the online business to succeed, building smart funnels is crucial in order to maximize profit at each step. 
About Funnelvio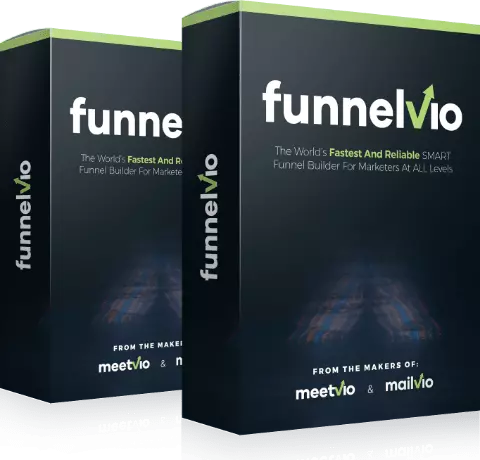 Funnelvio is a software created by marketers, for marketers. It is a smart funnel builder software with an inbuilt checkout system. It helps customers build high converting sales and marketing funnels to earn unlimited profits without extra costs.
With pre-designed templates, fully responsive pages, and a built-in cart and reporting system, Funnelvio is the ultimate digital marketing solution. Besides, there is no learning curve involved here. Even if you are not an expert in marketing funnels development, this funnel builder has got you covered.  
With Funnelvio, you do not need additional tools for goal tracking and improvisation either. It comes with an inbuilt Track and Improves setting to allow users to map their progress, get insights about the funnels they have created, and more.
You can set and track various goals for every webpage or funnel. These can be in terms of leads or sales and then, see the exact value per conversion. 
Read on further to get a full-fledged Funnelvio Review. This will help you build smart marketing funnels that will take your online business to the next level.  
---
Features of Funnelvio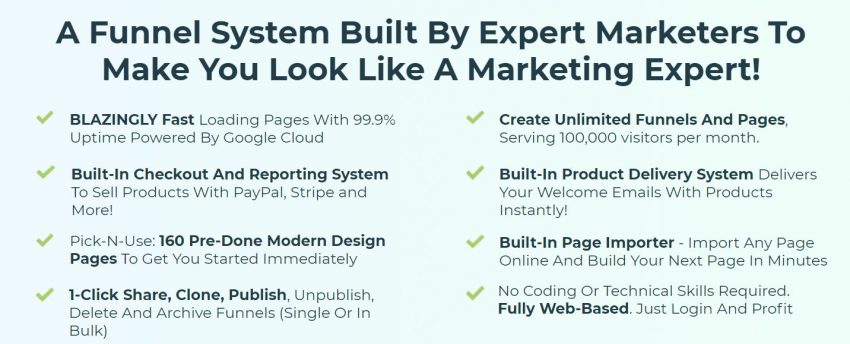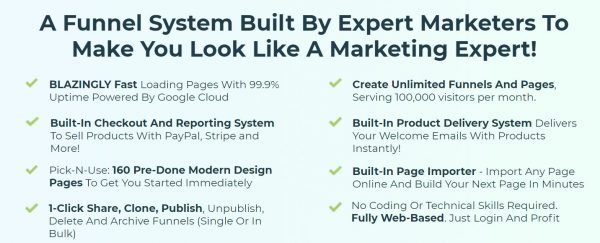 Funnelvio comes loaded with features to make the funnel building process easier for digital marketers. It is fast and efficient and designed with practical elements to help you gather maximum profits from unique sales and marketing funnels.
With its drag and drop editor, you have the full flexibility to customize your web page funnels to precision.
Some of the other useful features of Funnelvio are listed below:  
Ultra-Fast Page Loading
If your business website loads slow, you are losing half of your visitors already. Funnelvio builds super-fast loading web pages to get you the maximum conversions. These pages are mobile-friendly and their responsive layout is suitable for all devices – tablet, desktop, mobile, and more. When you build landing pages with Funnelvio, you are hitting the maximum viewership for your website.  
Real-Time F
unnel Visualization
With Funnelvio, you can see your funnel take shape as you build it. This smart funnel builder comes with a comprehensive dashboard that lets you access how your funnel is functioning in real-time. Plus, it comes with easy split testing. This means you can modify elements according to the insights to make the navigation flow easier for your visitors – all in real-time.  
Advanced Drag and Drop Editor
Creating marketing funnels was never easier than with Funnelvio's exclusive drag and drop editor. This flexible drag and drop funnel builder gives you the instant ability to build a funnel or web page from scratch. You can reposition or customize blocks and other elements in freestyle to create the perfect flow for your visitors.  
Seamless Social Media Integrations
Want to integrate your marketing funnels with social media networks? Then, with Funnelvio, you are in the right place. This smart funnel builder easily integrates with all social networks to get you the maximum results for your marketing campaigns. Whether it is advertising products or directly selling them on social media. With funnels built using Funnelvio, it is all as simple as a click.  
Actionable Statistics
Funnelvio comes with an in-built Track and Improve system. With this, you can set marketing goals, and track the results that your funnel generates. It gives graphical representations of how your funnels are performing. Once you have these statistics to back your funnel building strategy, you can improvise it. This will help to make the navigation flow better for your visitors and hence, increase your conversions and eventually, profits.  
Predesigned Blocks and Page Templates
Funnelvio consists of ready to use templates for web pages and preloaded blocks for creating funnels. These make it super easy for users to add or customize elements and enables faster implementation as well. Plus, these pre-created blocks are built using Google Cloud Pro to ensure fast loading and maximizing profits.  
In-built Cart and Reporting System
This feature of Funnelvio is nothing short of being paradigmatic. The inbuilt checkout and reporting system makes the product purchasing journey hassle-free for your customers. It also makes for a powerful funnel that adapts to your customers' behavior on your website.   
In-built Page Importer
Like a particular web page design and want to build your own web page like that? Then Funnelvio has got you covered. With its inbuilt page importer, you can import any web page design that you like and customize it to make your own unique funnel within minutes.  
Create or Clone Pages in Multiple Languages
If you are not a native English speaker, or do not understand English, worry not. With Funnelvio, you can create or clone web pages in multiple languages besides English. Funnelvio supports French, Spanish, Italian, and many more languages so that your language doesn't hold you back from making profits.   
---
Plans and Prices
Funnelvio has attractive packages on offer to make funnel building an easy yet exciting journey for you. Their funnels are fully tested to effect conversions and guaranteed sales. The following are the packages offered by Funnelvio along with the add-on purchases that you can buy with your package: 
Personal
In this plan, you can build up to 5 websites, unlimited funnels, and unlimited web pages. Further, you can get up to 20000 visitors per month to your landing pages. The Personal plan includes the free Page Importer for the first 12 months. After that, you can get it for a monthly additional price of $37. It is priced at a fixed one-time fee of $67. 
---
Commercial
The Commercial plan allows users to create up to 50 websites, unlimited funnels, and unlimited web pages. In this plan, you will get up to 100000 visitors to your site each month. Like the Personal plan, it includes the free Page Importer for the first 12 months. Then, you can get it at an additional price of $37, charged per month. Buying this plan will cost you a fixed one time charge of  $77.  
---
U
nlimited Plan
Want to build unlimited websites, web pages, and funnels? Then, this is the most suitable plan for you. Priced at a $197 fixed one-time fee, this plan from Funnelvio includes unlimited traffic for your website. This plan includes access to the Smart Academy which has resources to make funnels more effective and yield maximum profits. 
---
Other Add-ons: 
Templates
Get access to 24 professional Done For You funnels for the next 24 months after purchasing your initial plan.  
Price: $97  
Meetvio Pro
Get access to Live Webinars, Hybrid webinars, Evergreen webinars, and Video meetings to upskill yourself with digital marketing. Learn more about building funnels that prevent profit leaks at each step.
Price: $497 or $197/year 
Smart Academ
y
Discover resources such as online courses in digital marketing and more with Funnelvio's Smart Academy.
Price: $197 
Unlimited Plan without Unlimited Traffic
 –
This plan is similar to the Unlimited Plan offered by Funnelvio which is listed above, minus the unlimited traffic. This means you can create unlimited sites, web pages, and funnels and get access to the Smart Academy in this plan. But, you would not get unlimited traffic. Accordingly, the cost is reduced.
Price: $97  
---
Why Funnelvio?

 
Funnelvio displays a proven track record of delivering extraordinary results in terms of conversions and sales. It boasts of a reliable 99.9% uptime which is considered superior in the digital marketing jargon.
Not only this but also it is ultra-fast and comes with an easy to use interface. In just a few clicks, you can get your marketing funnels designed by experts at costs that would not break your bank. You can create unlimited funnels and web pages and even resell them.
Now while other funnel builders charge awfully extra for hosting and other server costs. But with Funnelvio, you get to keep all the profits with zero additional costs to pay. With this funnel builder, you do not have to be a marketing expert to generate profits from an online business.  
---
Conclusion

 
So what are you waiting for? Start creating smart marketing funnels to get the maximum conversions and profits for your online business. With this smart funnel builder, you get an integrated checkout system.
This is revolutionary for your brand's digital marketing as it can help generate more conversions than ever. Whether you are an amateur or an expert, with Funnelvio, you can build marketing funnels that bring results and profits.