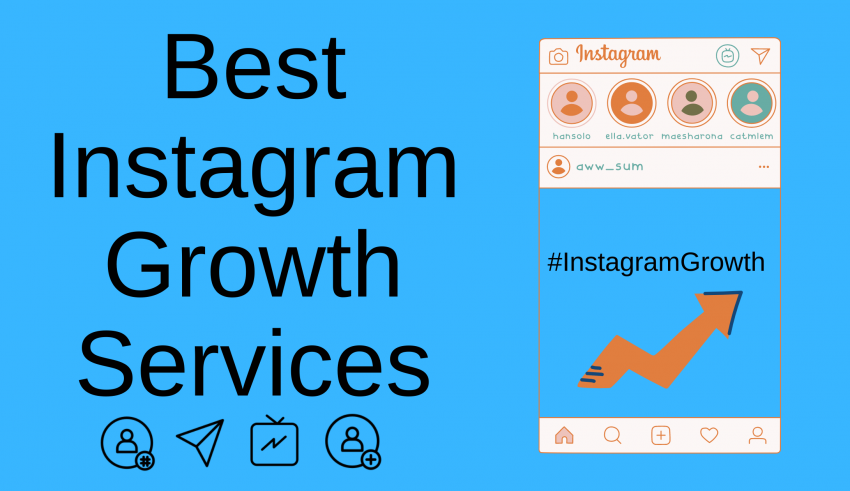 Are you looking for the best Instagram growth services to boost your presence and reach on the app? Well, there is no doubt about the fact that a successful online presence cannot be assured without Instagram.
The social media platform sees one of the highest users count globally. Not just this, the platform has slowly emerged as one of the best for the growth of businesses of all genres today.
Be it a brand, a business or even an individual, growing one's presence on Instagram does open many locks. This is the reason it is important to have professional assistance in achieving such targets.
With various Instagram growth services coming to the fore these days, our task has become easier. We have tried to pick only the best ones for you that can ensure organic growth and enhanced following for your "Gram".
Here's a list of the 15 best Instagram Growth Services online for you: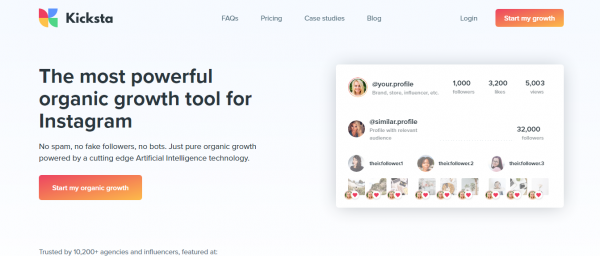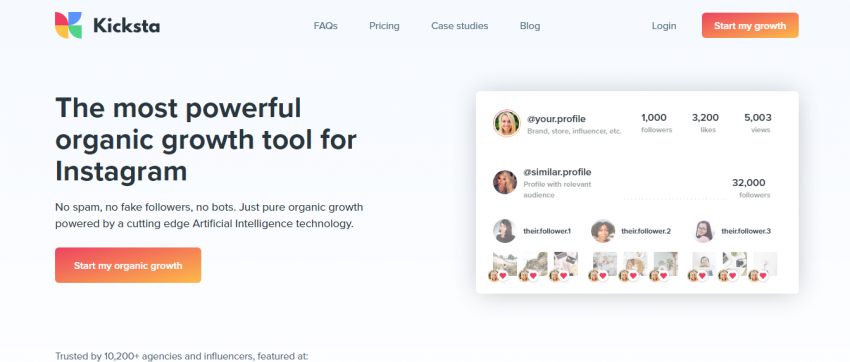 With so many Instagram growth services making multiple promises in the market today, it is important to filter out the real ones. Kicksta ensures that when you grow, there are no spams or bots used. It delivers only genuine followers in your basket which makes it stand out of the rest in the crowd.
Kicksta is one of the most popular and widely used Instagram Growth Service today. The platform puts AI technology to use to map and connect with potential followers on Instagram.
A sign up on Kicksta requires you to put in multiple information regarding your niche. This includes your competitors, your targets, your complimentary brands, and your area of expertise among others.
Next, the platform actively engages in targeting relevant accounts and individuals to help you grow. It 'kickstarts' the process of liking and following to get the same in return for you.
You can choose from between the standard and premium plans to boost organic growth for your Insta brand, but we would highly recommend you to go with the premium one to be able to enjoy all benefits.
Here are some cool features that make Kicksta one of the best Instagram growth services today:
Organic growth assured
Short-term commitments on a monthly basis
AI technology for active engagement
---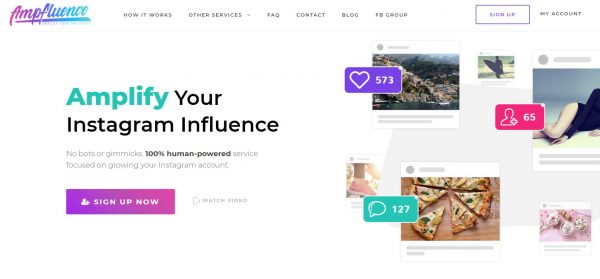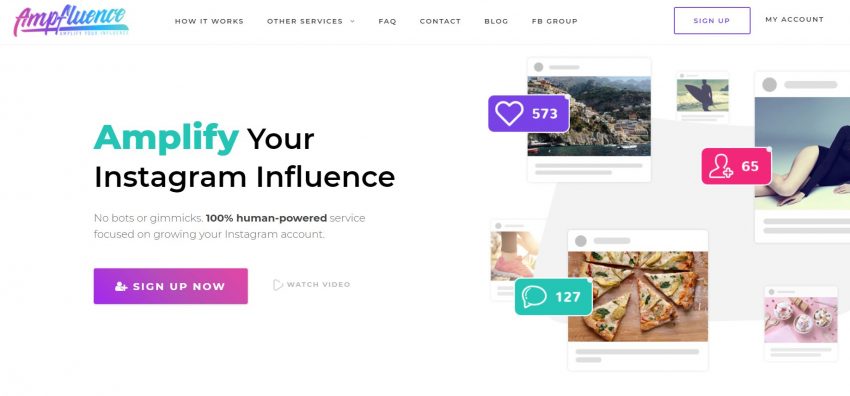 As the name suggests, Ampfluence is the best site to go to if you want to amplify your influence on Instagram. The platform caters to genuine organic growth on the social media platform.
It assured of '100% human-run service' which makes it clear that there are no spams and bots involved. Thus, you can rest assured that your investment is reaching the right targets.
Ampfluence begins with asking you simple and short questions not just about your account but also your vision. It could so happen that you have some short- and long-term goals in your mind for your Instagram presence.
After considering all this, Ampfluence begins its work of looking for the right people to target and engage with for your benefit. However, we have to mention here that Ampfluence is slightly more expensive than others on this list.
Here are some cool features that make Ampfluence one of the best Instagram growth services today:
Organic and genuine Instagram growth
Smart targeting and engagement methods
All-round email support facility
---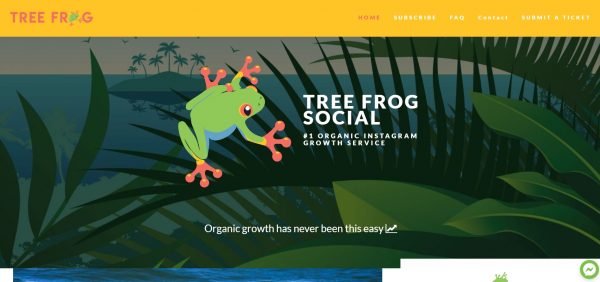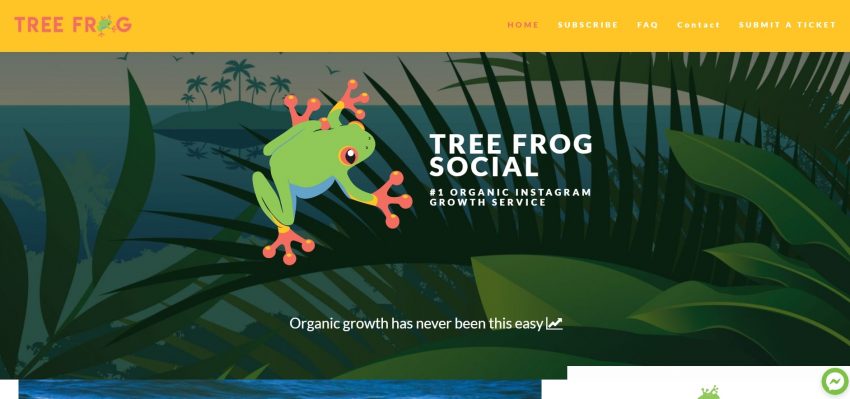 One of the 15 best Instagram growth services available today is Tree Frog. It assures faster Instagram growth in terms of both followers and engagements based on your niche. All you need to do is provide Tree Frog with names of similar accounts as yours and they set their plans of advanced targeting in motion from thereon.
The best part about using Tree Frog is the hassle-free experience they have to offer. Signing up on their platform takes no time at all. Besides, the information you need to provide is minimal and easy.
Although the growth is a little slow-paced, it is completely organic and hence long-lasting. You do not need to worry about being handed over fake followers and bots which strengthens your presence and engagement on the social media platform.
Here are some cool features that make Tree Frog one of the best Instagram growth services today:
Completely organic Instagram growth assured
No long-term commitments needed
Easy to sign up
The platform can be used for both Instagram and Twitter
---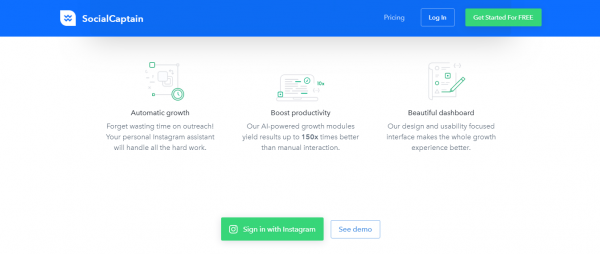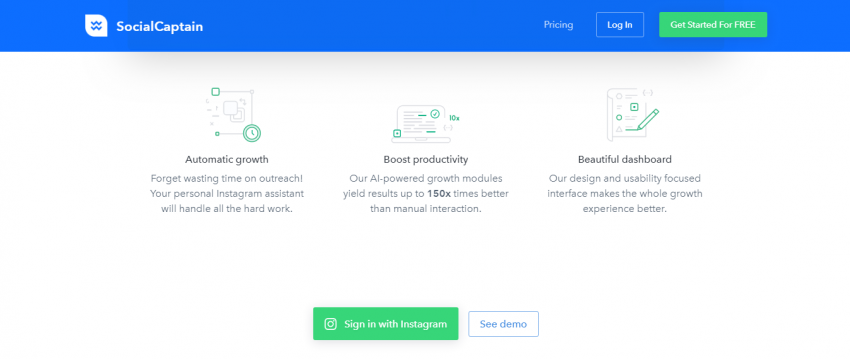 Quite often, we wish we had a social media manager or assistant who can take care of our account's growth. With Social Captain, this is exactly the kind of opportunity you have on board. The SocialCaptain Instagram marketing tool comes with AI-powered targeting features that ensure that it has a 150x more efficient reach than manual efforts.
The only effort from your side would be in terms of filling up data concerning your targets, competitors, niche and locations. This helps Social Captain formulate a target plan and approach suitable for your account. With time, Social Captain takes the effort of connecting with your target followers through direct messaging to foster positive connections.
The best thing about Social Captain is its offer of a 30-day free trial before you invest your money in its plan. Once you are sure you want to put your money on the platform, you can choose from their range of plan options. There is no compulsion of long-term commitments but there is an option to do so. Therefore, you can choose from their weekly, monthly, and annual package options and each comes with increasing discounts.
Here are some cool features that make Social Captain one of the best Instagram growth services today:
Flexible plan options
Free trial before actually making a purchase
Organic growth with no fake followers
Direct engagement with targets for positive relationships
---
Combin is like the perfect package when it comes to Instagram's organic growth. This is because it not just offers engagement with followers but also great content strategy tips and post-scheduling assistance.
In short, once you have an account with Combin you have a virtual assistant to guide you in your social media endeavors from head to toe.
The organic growth tool works pretty much the same as any other website on this list. The bonus is that of content and audience management. You can keep a tab on accounts that don't follow you back or have recently unfollowed you.
Also, you can use their feature of automated tasks to ensure that you don't have to waste time over repetitive actions such as direct messaging, content posting, and commenting.
Here are some cool features that make Combin one of the best Instagram growth services today:
Content and audience management
Automated bulk actions
Free trial
Long- and short-term commitments available
---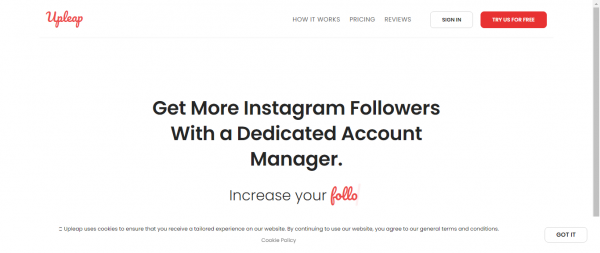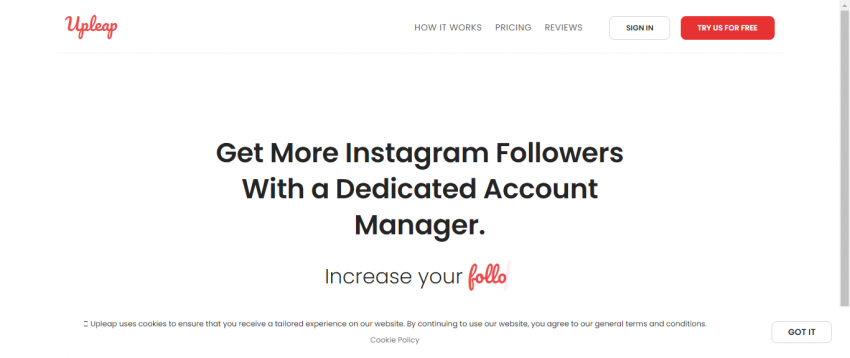 Another platform that offers the opportunity of engaging with a virtual social media manager is Upleap. True to its nomenclature, it helps you soar upward and take huge leaps in the world of social media marketing.
The guarantee of engagement with only real accounts signifies how strong their marketing game is. Besides, the platform boasts of 300% more engagement with audiences using their tool.
Upleap makes sure that you do not fall short of trendy hashtags, befitting accounts, and interesting content on your venture to become the next big thing on Instagram.
The platform offers a free trial, although just for three days, to help you get an insight into their smart targeting strategy. We highly recommend Upleap for those who are looking to expand their Instagram engagement among genuine followers over some time.
Here are some cool features that make Upleap one of the best Instagram growth services today:
Organic growth on Instagram guaranteed
Virtual customized social media account manager
Free trial to assess the platform's performance
Automated features to save your time
---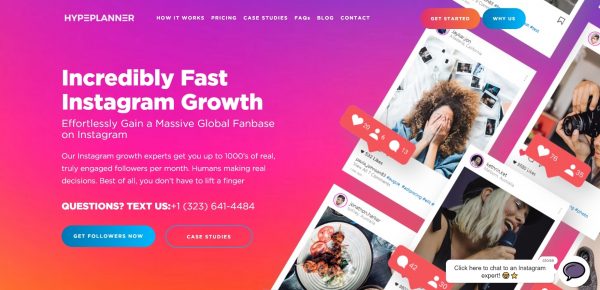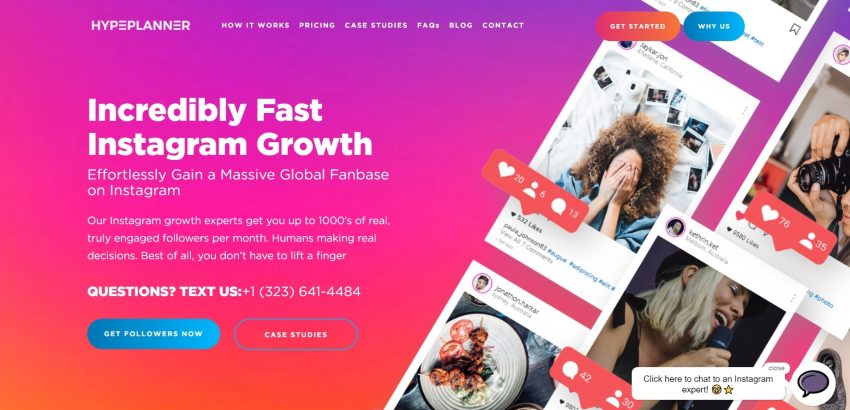 Working with HypePlanner is as easy as it gets. The Instagram growth service is widely lauded for its befitting features and almost completely automated approach. The result is that once you have signed up with them, you practically need to put in no extra effort to reach your growth goals.
HypePlanner begins by asking for some relevant information from you about your goals, your niche and your ideal target audience. They follow this up by coming up with amazing recommendations in the form of a plan to proceed further. The promise of 24 x 7 customer support is not one they fail to keep. Besides, you have the option of getting all your money back if you are not satisfied with their work.
Although everything about HypePlanner is amazing, we cannot place it on the numero uno position because of its pricing being on the higher end of the spectrum. Nevertheless, the service has a wide global fanbase for good reason.
Here are some cool features that make HypePlanner one of the best Instagram growth services today:
24 x 7 customer support
Extensive research for looking for potential targets
Organic Instagram growth with genuine followers
No long-term contracts; renew monthly
---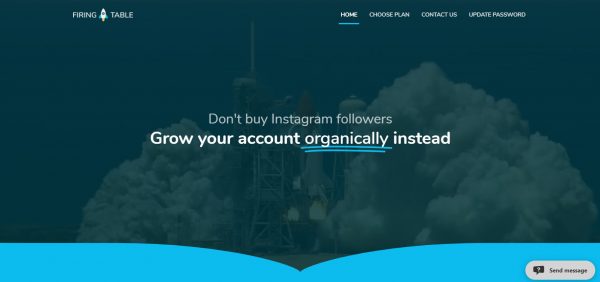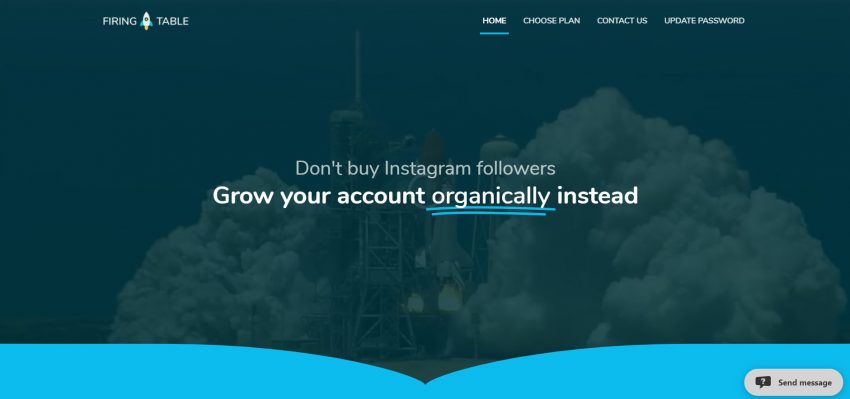 The features Firing Table provides are somewhat different compared to others on this list. Registering with the platform guarantees you a personal social media account manager who visits you to know more about your business and goals. This means that the platform offers face-to-face assistance and support, which is a bonus in this world of 'going virtual'.
Here are some cool features that make Firing Table one of the best Instagram growth services today:
Personal social media account manager for guidance and support
No extra efforts required – the manager handles everything from the beginning
Pocket-friendly pricing
---
Viral Race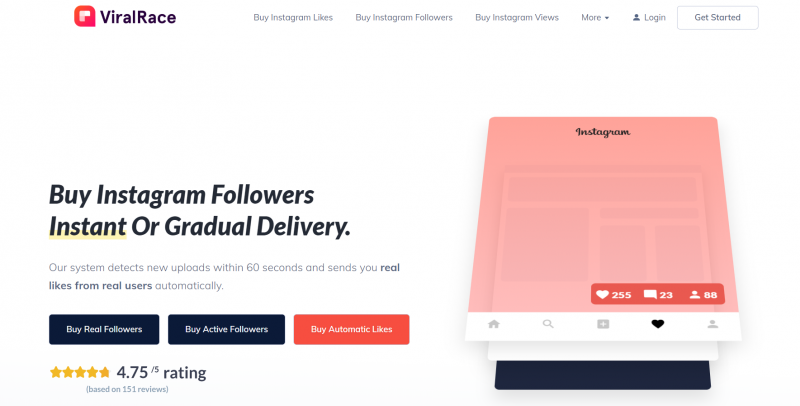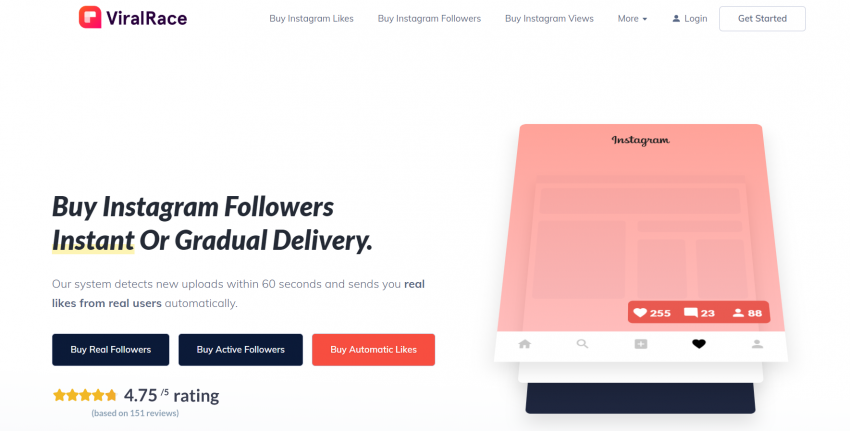 We cannot club together Viral Race with all the other Instagram growth services mentioned in this listicle. However, it still manages to deserve a mention because of its commendable performance when it comes to Instagram marketing and growth. The platform, unlike the others, focuses more on likes and not followers.
The one thing you can rest assured about is that the likes are not from bots or spams. They are all genuine users until whom your post has been made to reach.
It is in your hands how many likes you want to pour in on every post of yours so that the profile doesn't seem unnatural. The underlying idea is to make your posts 'viral' on Instagram and garner more and more attention with time.
Here are some cool features that make Viral Race one of the best Instagram growth services today:
Fast and automatic likes, views, and popularity
Genuine likes on posts adjustable according to wish
24 x 7 all-round customer support
No long-term commitments; renew on a monthly basis
---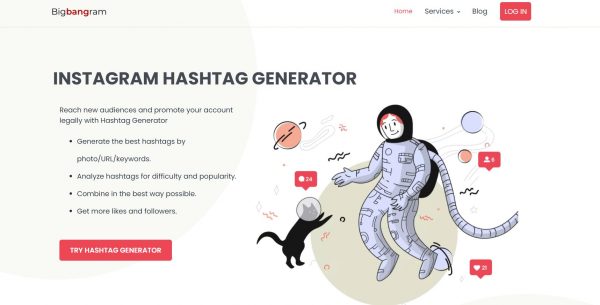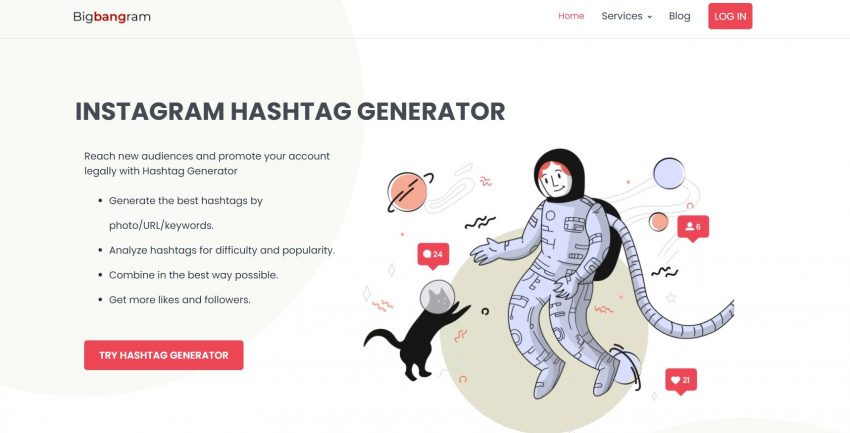 The real deal with BigBangram which makes it stand apart is its promise of 'six-in-one' service delivery. These six services include automated followers, likes, comments, direct messages, and posts for your account.
Therefore, what you are getting is a complete package. It takes care of not just direct and indirect engagement with the target audience but also content management and scheduling.
Here are some cool features that make Viral Race one of the best Instagram growth services today:
Variety of customized plans available based on your choices
Content management and publishing gets automated
Added features of comment tracking and posting module
---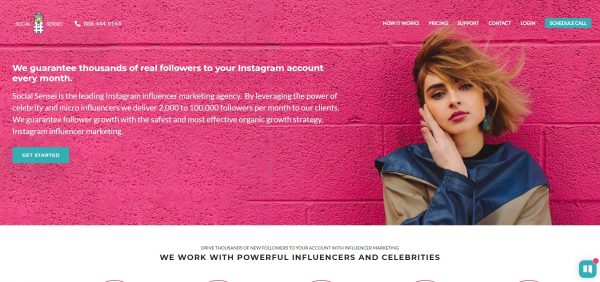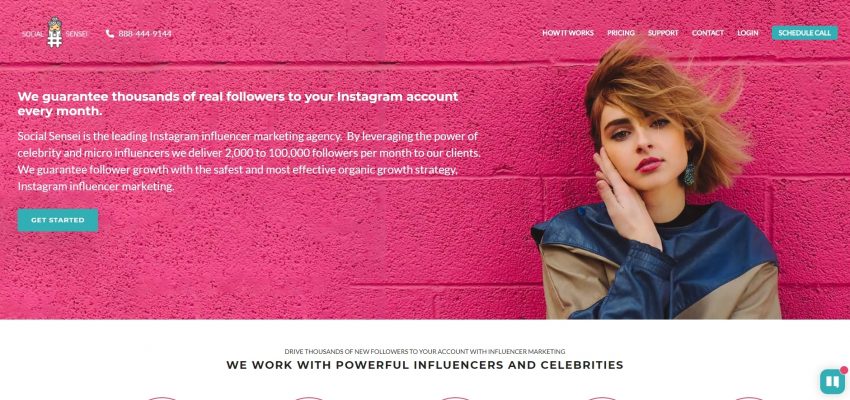 The best thing about the Social Sensei platform is that you can use it not just for Instagram but also for other platforms like Facebook, YouTube, Pinterest, and Tumblr. The platform comes with the promise of lending only genuine and organic Instagram growth for you. There are no bots, software, spams, or fake followers involved.
However, what you need to keep in mind is that Social Sensei works for long-term plans only. Every customer is provided with a social media account manager who takes care of all your needs.
This personal manager also helps you formulate a one-on-one long-term outline of your goals. Besides, Social Sensei also offers a complete package in the form of content strategy and creation, followers and likes, and so on.
Here are some cool features that make Social Sensei one of the best Instagram growth services today:
Assured organic growth
Personal social media account manager
Genuine followers
Advanced targeting approach
---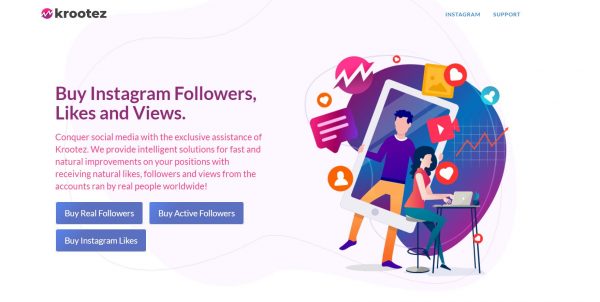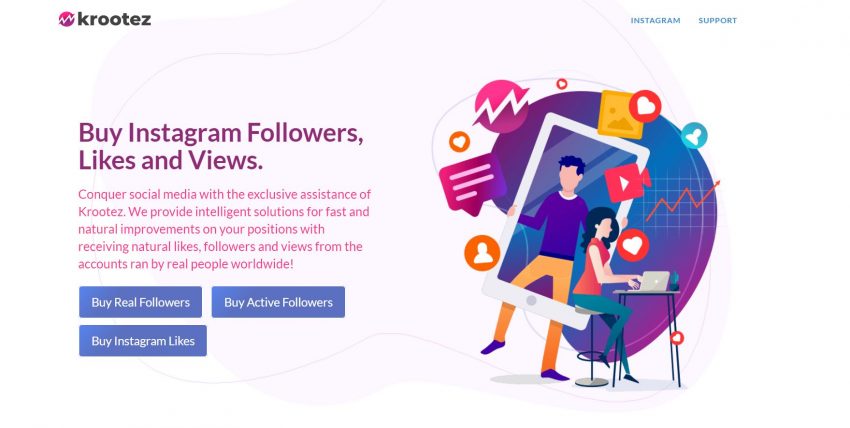 If you have some time to lend to your Instagram account's growth, then Krootez is one of the best long-term growth services to avail of. Firstly, the platform offers quite affordable pricing and plans.
Secondly, there is the assurance of getting only genuine audiences to engage with your content. This means you are getting not just growth but organic growth in the real sense with Krootez. The only thing different is that someone else is putting in all the effort for you while you can focus on content creation.
Here are some cool features that make Krootez one of the best Instagram growth services today:
100% organic growth guaranteed
Only real followers, likes, and comments
Affordable pricing like nowhere else
---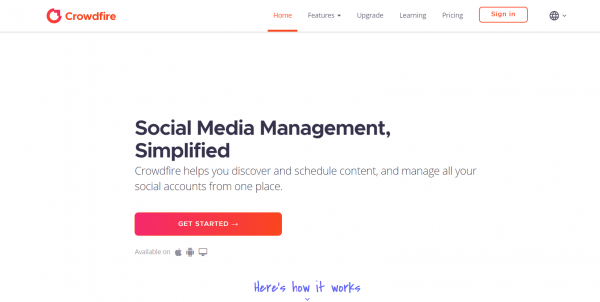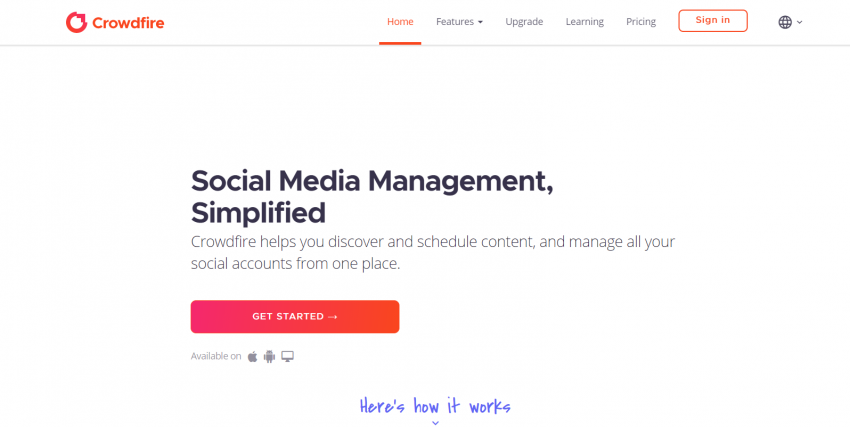 Crowdfire works slightly differently when it comes to providing Instagram growth service. It is not your conventional 'auto-like, auto-follower' service at all.
In a way, it can be said to focus more on content management and scheduling than target engagement for growth. The best part is that almost all its services are free. A premium plan only offers you more enhancement tools and features in your basket.
Here are some cool features that make Crowdfire one of the best Instagram growth services today:
Content marketing team to take care of your content as per your editorial calendar
Takes care of content curation and posting
Completely free of charge!
---
Instazood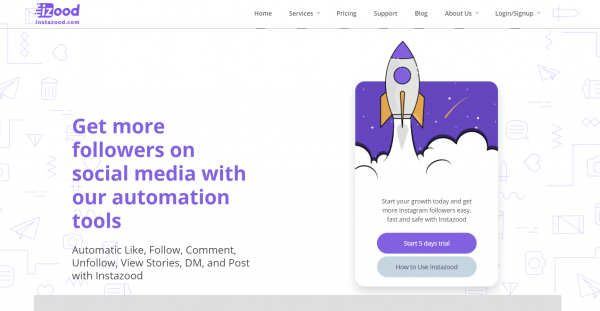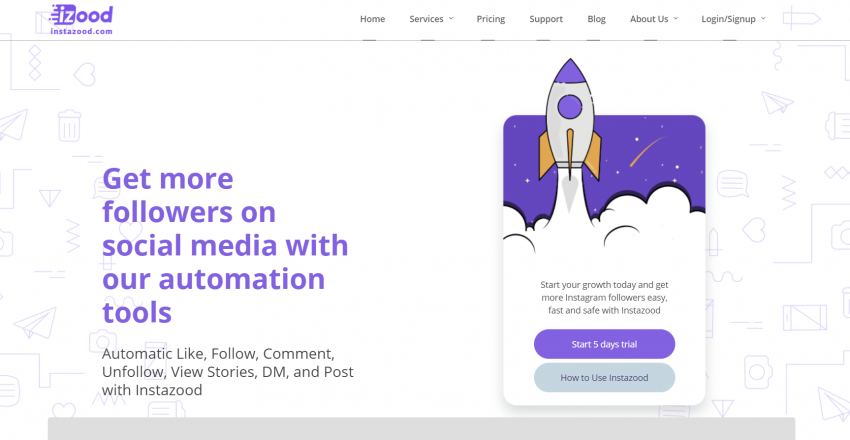 None can deny the importance of engaging directly with users and posts on Instagram for better reach and growth. However, doing that yourself would mean spending too much time on marketing rather than content creation. This is where Instazood comes to your rescue.
The Instagram growth service has multiple plans to offer depending on the kind of features you are interested in using. You can fix the number of likes you aim, the kind of target audience you wish to engage with, and the schedule of your upcoming posts. Instazood's efficient bot then takes over and manages everything for you while you work on content creation.
Here are some cool features that make Instazood one of the best Instagram growth services today:
Flexible pricing depending on the services you wish to avail
The bonus of content management and scheduling
---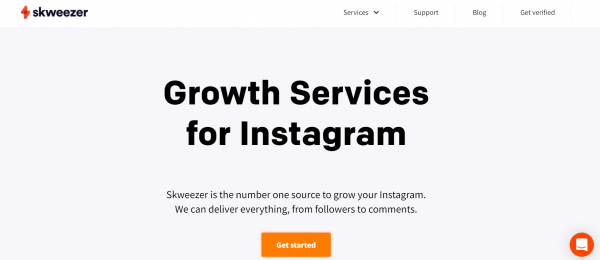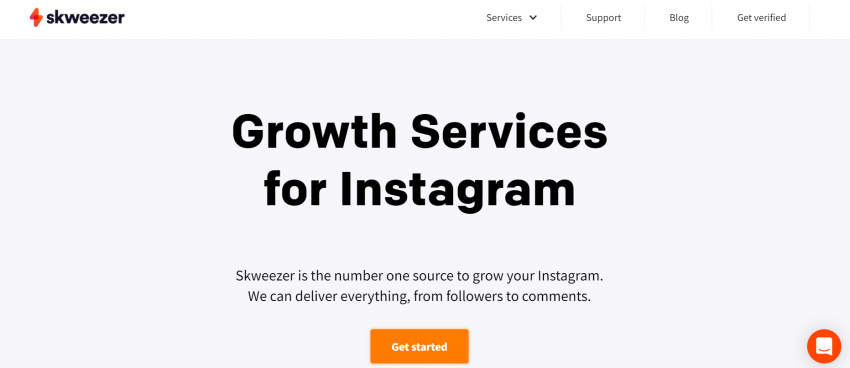 Skweezer works a bit different compared to others on this list. With Skweezer you are essentially buying followers, likes, and comments for yourself. You can rest assured that every follower or engagement that you get is genuine.
They get a share of your order payment as well. This is a great Instagram growth service for those who want results quickly and cannot wait for months to see results.
Here are some cool features that make Skweezer one of the best Instagram growth services today:
Quick and visible results without long wait times
No bots and spams – only genuine accounts engaged with
---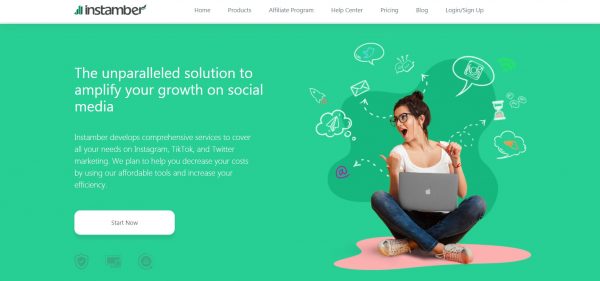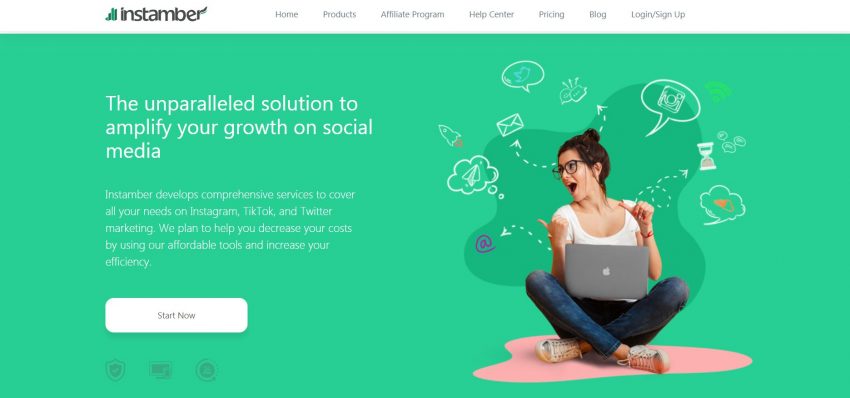 Instamber is a tool that you can use to make your social media marketing much more efficient and effective. This will help you amplify your growth on social media. You can use instamber to boost your presence on top social media platforms like Twitter, TikTok, and Instagram.
The company provides you with a set of tools that you can use to increase your efficiency when it comes to social media marketing without spending a fortune as these tools are quite affordable.
You can get more real followers on Instagram automatically using their automated tools or fast track your growth on TikTok. Instamber will also help you turn your Twitter followers into your loyal customers.
There are many tools that help you grow on social media platforms. One of the better ones is Nitreo. It focuses on the Instagram platform and helps its clients grow their presence on it.
You will be able to get more likes, views, and followers using their tools. Of course, they will not simply buy followers for you but rather automate various tasks like viewing various users' videos, liking posts and following accounts.
The more consistent these activities are the better will be your chances to grow on Instagram. Nitreo consists of a team of some 45+ social media experts who have come together to create an effective Instagram growth tool.
---
Growthoid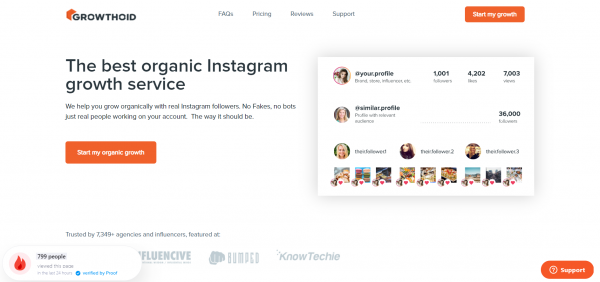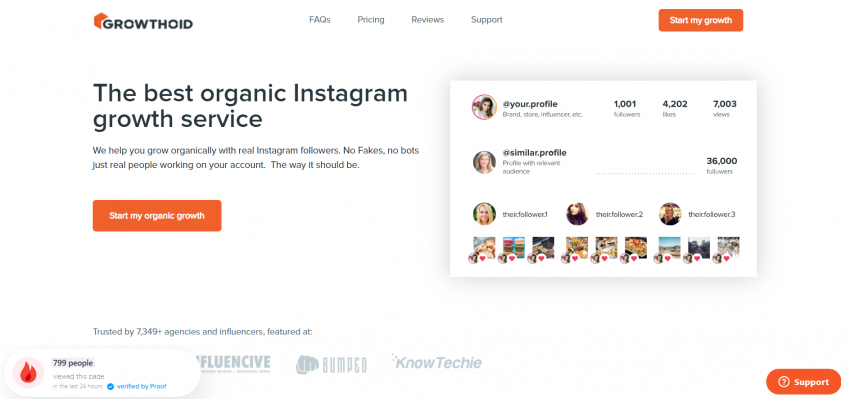 If you are looking for an Instagram growth service then you can check out Growthoid which is a tool to help you grow on Instagram organically. You do not have to buy followers or a bunch of fake or bot accounts to boost your follower count.
This tool will help you gain real followers who matter. When you use Growthoid for your Instagram growth a team gets behind your account and manually engages with your target audiences and ideal followers.
This will help you grow your follower base on Instagram more organically if you don't like blatantly buying followers over the internet. Their package starts at $49 per month.
---
Ingramer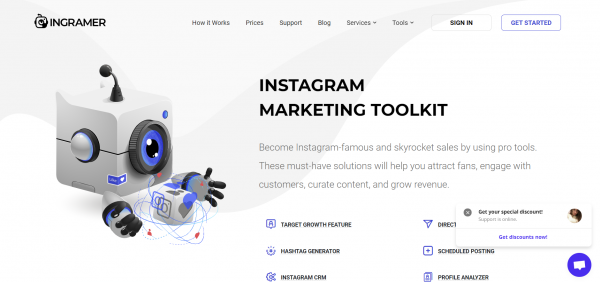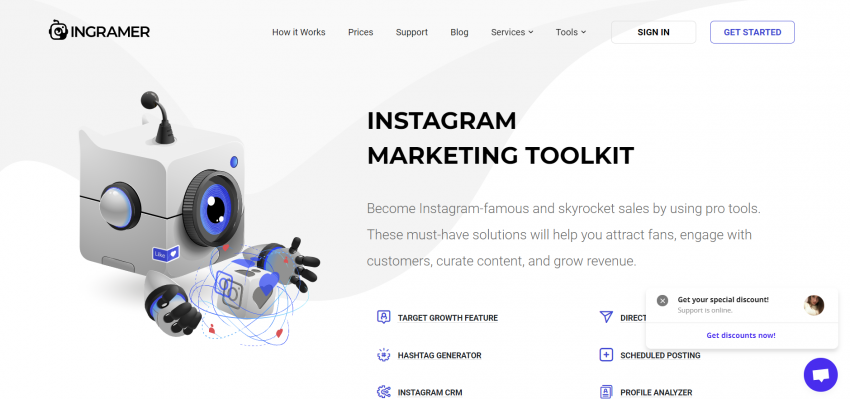 The next Instagram marketing toolkit which can help you gain fame on Instagram is Ingramer. This kit contains a bunch of growth tools that can help you increase your sales done via Instagram and improve your presence on the platform.
Ingramer comes with a bunch of features that help you make your social media marketing more efficient and effective. These features are – target growth feature, direct messenger, scheduling posts, Instagram CRM, Instagram search, hashtag generator and profile analyzer. The company has multiple plans you can sign up for and the shortest of them is $37 for two weeks.
---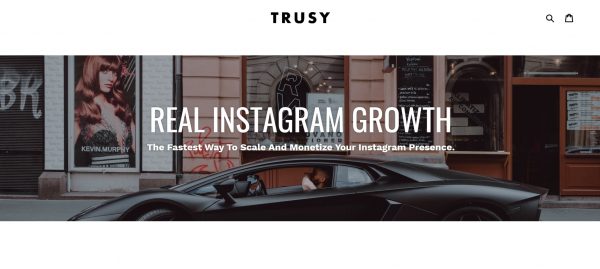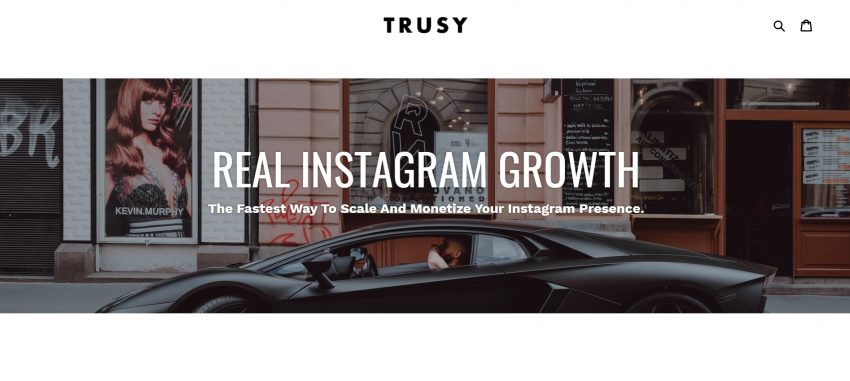 Trusy Social is a social media service provider that will help you gain real Instagram growth and help you scale and monetize your presence on Instagram quickly.
They have all the strategies and ideas about how to grow on Instagram which they have found out via research and now they want to share all the secrets with you and help you on your journey to achieve Instagram fame.
All you have to do is post your content and let Trusy Social take care of promoting your content and increasing your reach. They have three plans which you can choose from.
The cheapest of the plan is their Micro influencer plan which is $97 per month. You can also choose from the influencer and the personal brand/business plan which costs $197 and $347 respectively. So, if you want to improve your presence on Instagram by maximizing your reach and increasing engagement on your content then check Trusy Social out.
Are Instagram growth services worth it?
Instagram growth services include tools or experienced professionals who will help you grow on Instagram efficiently and effectively. So, if you want to speed up your growth on Instagram then these growth services are there to help you out. To understand whether the services are worth it or not you have to comprehend why businesses or brands who use these services use them in the first place.
There are various reasons but the main ones boil down to time and expertise.
By the time, we mean that businesses will like to reduce the time it takes for them to increase their reach on social media platforms like Instagram while increasing the time that they now have on their hands to focus more on the quality of their services and/or products rather than focusing more on driving engagement on social media. This helps the business in creating good products that will help better promote their business in the future.
The other important reason why many businesses and brands choose growth services is that a good service provider will have a lot of experience and high expertise when it comes to social media marketing and promotion.
Even though many people use Instagram daily most of them have little to no idea about how to efficiently grow on Instagram. This is because you need specific stats, years of research, and analysis to figure out the parameters for growth. Also, the growth parameters will vary from business to business. So, an expert will be of tremendous help.
Let's look at the features of a good growth service.
A good service provider will always have good customer service answering your queries and directing you to the right channels
The experts who will work with you should be transparent and should give you a realistic picture of what to expect and what it is going to cost and the exact steps that will be taken. They should also explain the efficiency and effectiveness of their process in detail.
They should not be too costly depending on your goals. Also, don't go for the ones which are too cheap. You might end up being left with fake followers.
The members should be actual experts and should know what they are talking about. Try to do your research about Instagram growth before going for a growth service to understand what the experts are trying to tell you and judge whether they are trying to dupe you or not.
So, are they worth it? Well, it depends a lot on you and your goals. First, you have to understand that these services will not make you super famous or grant your account maximum reach.
Good solid growth even with the help of experts takes time. So, don't for the flashy BS on the websites. Directly contact the customer care and see how responsive they are. Then discuss with the experts.
A good growth service will not promise you hundreds of thousands of followers by the end of the month. But rather they will work with you to figure out the best approach to increase engagement.
This is not to say that most of the growth services out there are just waiting to exploit businesses by just automating follow and likes and hoping to gain some engagement without having a good plan.
It is very hard to know who's who. This sort of makes it hard to find a good growth service which is why most of them are not worth spending your money on. So, do your research and only if you find a good service who is willing to tell you the process in detail and being transparent then go for it.
Are Instagram growth services safe?
Instagram growth services are meant to augment your efforts to grow your follower base on Instagram. A good Instagram growth service will also focus on increasing engagement on your content rather than focusing only on increasing the follower count of your account. So, are these services safe to use? Well, yes and no. Yes, if you can find a good and authentic service provider which is transparent concerning its actions and no if you are using a bad service provider. Let's unpack that a bit.
Growing a loyal audience base on Instagram is not easy but it is the key to successfully promote your business online. Today there are many Instagram service providers who promise to help grow your account on Instagram.
Most of them are likely to provide you with fake or bot followers. These accounts are not going to be helpful to your growth as there will be no engagement from these accounts with your posts.
Also, if you have lots of fake accounts as your followers then people might get suspicious and any simple auditing tool can find out the ratio of real to fake accounts. This can land a critical blow to your online credibility and if you are looking to collaborate with brands it might become tough to do so.
If you do manage to find a good service provider that uses various techniques and methods to help boost your organic growth on Instagram then it can be quite helpful. What these companies do is like, comment, and view posts of targeted profiles. These services also follow targeted accounts on your behalf. This can help you gain followers who are interested in your content thus increasing engagement probability.
So, research well before opting for Instagram growth services. If possible get in touch with their customers to get feedback. Also, ask as many questions as possible to understand whether the company is transparent or not. It might not be safe if you choose a bad service provider.
How to get more engagement on Instagram?
One of the most important factors that contribute to one's growth on Instagram is audience engagement with the content. If you have thousands of followers but only a few of them like or comment on your posts then it is not helpful. So, whenever you are planning to grow on Instagram either to become an influencer and collaborate with brands or to promote your business online then you have to strategize on ways to improve audience engagements on your posts. There are several ways using which you can ensure that your followers are reacting to your posts. Let's look at a few important ones which you can start applying or following.
Understand your target audience
This step is very crucial and is one of the first things that you should do while starting your Instagram promotion journey. Look at what your niche is and then specify your target audience. Instagram has millions and millions of users but most will not be interested in your niche. Also, you should not try to cast a wide net to see what gets caught. But rather you have to research and find out who your target audience is so that you can cater to your posts with them in mind. This way you can get engagement from people who are interested in what you are promoting and thus, are more likely to become your customer or loyal follower.
High-Quality Image or Video
Instagram has been optimized in such a way to maximize its visual impact. At its core, Instagram is a media sharing website where people share and interact with posted images and videos. So, the better the quality of your video or images the better it is going to look on Instagram and thus, more people will like it.
Hashtags are a great way to increase the visibility of your posts. Many people just randomly put a bunch of hashtags. But you need to research and find out which hashtags work best for your niche and will increase engagement on your posts. You can do the analysis yourself or use their party tools to do the same.
The more you post the better are the chances of your account growing. We suggest you create a schedule and stick to it. You can read a bunch of images or videos and then schedule these posts for the coming week or month. There are third-party tools for this as well which can help you schedule and automatically post your content. Be regular and create posts that identify with your brand or business.
This is another important tip to follow when it comes to increasing engagement on Instagram. You need to be interact with your followers. This means you should reply to their comments as much as possible and respond to the DMs. People like to feel that a brand or a business genuinely cares for their opinions and thus, would be more likely to engage with your future posts.
Difference between Instagram Public or private account?
We all know the basic difference when it comes to a private and a public Instagram account. If you have a private account then other users cannot follow you directly but rather send a request to follow you. Now, you can either choose to accept the request or reject it. But when it comes to a public account anyone can follow you directly without having to wait for your approval. This is the basic difference but how does it affect your business and what are some of the reasons certain businesses choose to have a private account?
In general, if you are using Instagram to promote your brand, product, or service then keeping it public can be a good choice. Nowadays, people usually have a shorter attention span and it sort of propagates to their interests as well.
If they like some post that they see and want to check out the profile to see more posts and find out that it is private then there's a good chance that they might just stop caring and get back to surfing the platform. So, if you have a product or service that you are promoting on Instagram then it is advisable to keep your profile public.
There are certain businesses that choose to have a private account. This is a part of their marketing strategy. If the posts that you make are really interesting and will grab anyone's attention then keeping your account private can be helpful.
This is because to see more of your posts people will need to follow you as opposed to a public account where anyone can view your posts without needing to follow you.
Many popular Instagram accounts that post viral content which is funny or eye-catching will choose to keep their account private to ensure that if anyone is genuinely interested in their content then they will have to follow them for more content. Also, users might not want to unfollow you as they will be reminded that they will have to send a request again to follow the account.
So, it boils down to your niche and the strategy and roadmap you are following to promote your brand, product or service on Instagram.
How can I see my Instagram analytics/insights?
To view account insights on Instagram you need to have the Instagram app installed on your smartphone. You cannot access Instagram insights from the web app. You also need a business or creator account to have the Instagram insights option.
Once you have all these prerequisites then you can find the insight option on your profile page where you can tap the insights options and get an overview of the analytics of your posts.
Just remember that if you converted to a business or creator account sometime later you will only be able to see the insights on your posts since you converted.
When is the best time to post on Instagram?
This is a very important thing to analyze and research if you want to increase your Instagram post visibility. It requires extensive research on who is your target audience and then finding out what is the best time to post to ensure maximum engagement.
This is because if you are posting when your target audience is inactive then you will get very little engagement on your posts. The best time to post varies from niche to niche but on a general basis try to avoid posting on weekends as Saturdays and Sundays are the days that see the least engagement from audiences. This is true for all niches.
Try posting on weekdays from 8 a.m-12 p.m and 3 p.m to 5 p.m. these are the time slices that generally see the most engagement. Also, Wednesdays and Fridays are generally the more active days.
These stats may greatly vary depending on the geographical location. So, do your research well or hire any service provider to use their Analytics tools to give you in-depth insights on this.
You can also use Instagram insights to get a rough overview of when your posts perform best. Even with all the data, you have to go through a few rounds of trial and error to fine-tune it.
How can I use Instagram to promote a business?
Instagram pulls in millions of active users every day. This means several different businesses can attract potential customers on Instagram. This is why Instagram has become one of the biggest platforms to advertise your brand or business on it. But using Instagram to promote your service, product, or business is very much different than using it for recreational purposes. You have to be more alert and strategic about your posts and create a game plan if you want to successfully promote your business on Instagram. Let's discuss a few things that one can do to use Instagram for business.
Get a Business or Creator Account
This is the first thing that you should do if you are looking to use Instagram for business purposes. This is because you can get a bunch of tools to analyze and promote your content. If you already have a good follower count on your personal account and you want to utilise that potential then you can convert your account to a business or creator account.
Pay Attention to Your Profile
Your Instagram profile should be complete and optimized to ensure that your followers or potential audiences can get a good idea about your business or brand. You should mention your website or online store link.
The bio should be able to describe your business to the customer. The profile pic should be of good quality and should preferably be the logo of your company. Fill all the other information that you get the option to fill for a business account.
Instagram plays on the visual aesthetics of the posts that the users publish. The entire platform is optimized to make pics and videos look much better.
So, the higher the quality of the pics or the videos that you post while promoting your brand the better engagement you will see. So, take high-quality pics or shoot high-quality videos while promoting your product or service.
Doesn't matter how much you want it, everyone cannot be your audience. For example, you cannot expect most kids to buy an adult diaper which is a product generally used by the elderly.
So, if you can research your target audience then you can customize your posts in such a way that your target audience will be wanting to engage with it.
Social media in general is a place where people who post regularly are more likely to gain more exposure than people who post scarcely.
This does not mean that you will sacrifice quality for the quantity but rather than that we suggest you regularly post good quality stuff which will promote your business but do it on a fixed and regular schedule.
How to earn money on Instagram?
Instagram is one of the most popular social media platforms. Millions of users are active regularly on Instagram. Marketers use Instagram to promote a business or brand to attract potential customers.
So, Instagram, if used correctly, can become a source of income for many. There are a few ways to go about it though. Let's take a look at some of those.
This is one of the most popular ways people use Instagram to increase cash flow. If you own a business be it offline or online you can promote it on Instagram. Generally, people who have online stores can use this method more optimally as people can just order the product or service.
This is another good way to earn a few bucks on Instagram. If you have a good follower base and your posts receive good engagement then this method can be fruitful for you.
You can collaborate with brands and promote their content on your account and get paid for it. Remember to collaborate with brands that are relevant to your profile.
If you like using a certain product you can promote it via an affiliate link. For this, you need to have a loyal follower base. You can then create a post about the product and put the affiliate link in the caption. Just be transparent about it. Affiliate links mean that if someone buys the product via your link then you will earn a bit of cash.
These three are some of the most popular ways to earn money on Instagram.
How to repost pictures and videos on Instagram?
Hundreds of millions of pictures and videos are posted on Instagram daily. You might follow many users whose content you might enjoy. There might be a pic or video that you like a lot and you want to repost the content on your profile. If you want to be an influencer then you can repost any brand content (with their permission of course) on your profile. Or if you like another user's posts a lot you can repost their content as well.
We suggest you always take the consent of the original poster before reposting their videos or pics. Commenting on their post seeking permission or messaging them in their DM to ask permission to repost is something that you can do. There are a few ways to easily repost pics and videos on Instagram.
One of the most popular ways is to use a third-party application where you can paste the copied URL and then add your caption to post it on your account.
This is what most people use as their preferred method to repost any pic or video that they like on Instagram. Here, you are free to add multiple hashtags and write your caption while being transparent about the content being a reposted one.
You can also just take a screenshot and then crop the picture to repost it but that way it won't be transparent unless you explicitly mention it in the caption that it is a repost.
Which Instagram growth service is good?
We have given a list of growth services which we have found are good and can give you effective results. But we always encourage our readers to do their research and let us know if they find a better service. Also, if you are using any of the above services and you find them unsafe or not up to the mark we urge you to review them on our website so that we can update ourselves.
In general, if you are looking for a good Instagram growth service then you can go to the FAQ section and look at the question – 'Are Instagram Growth Services Worth It?'. There we have mentioned the features of a good growth service.
How to select the Best Instagram Growth Service?
A bit of research must go into searching for the best Instagram growth service. This is because you do not want to spend money on a service that offers you little to no advantage.
So, you have to be careful while selecting a growth service. Once you select a good one you can have a long relationship with that company as you experience decent Instagram growth with their help. But how can you find a good Instagram growth service? You need to look out for certain key features that a good Instagram growth service should have. Let's see what are some of those features.
Any good business is transparent. They may not be 100 percent transparent but they will not try to hide important details or conditions that you as a customer should know. A good Instagram growth service needs to be decently transparent as well. They need to lay out all the expected scenarios in front of you given your current position and budget.
They should not make false promises but rather let you know about the downside that you might have to deal with. Always go for a company that tells you their process in detail and gives you a realistic idea about the results you should expect. If they offer scenarios that seem too good to be true it probably is.
A decent company will always have good customer service. You should be able to talk to them and clear your doubts and queries even before buying their service. So, when you are looking for a good growth service try to get in touch with the customer support and see if they are forthcoming while discussing stuff with you.
Ask specific questions about their process and the results you can expect and see what their response is. Of course, a company won't tell everything to a non-customer but they still need to give you accurate information.
The employees who work in a growth service company need to be experts in the field of social media marketing especially marketing on Instagram as you are looking to grow on that platform.
So, research well about Instagram growth and marketing beforehand so that you understand what they are telling you and also to discern whether or not they are trying to beat around the bush or just trying to scam money. They should tell what they are going to do and how they will be customizing the service for you and what results you can expect and when and how much would it cost?
You should not have to break your bank to hire a growth service company. A good company will try to optimally use your budget and help you get good results. So, they won't be milking you like you are a cash cow.
Discuss your budget beforehand and the results you can get with it. It should not cost you too much. If a service is asking for a lot of money chances are you will end up spending too much money with very little results.
How do I grow my Instagram organic 2020?
There are a lot of ways to grow your Instagram organically in 2020. We have done detailed posts on this topic. Here, let's briefly go over some of the ways that you can grow your Instagram account organically.
Research your Target Audience
Analyze What Your Competitors are Doing
Tailor Your Content For Your Target Audience
Post High-quality Media
Research when it is the best time to post
Post Consistently
Interact With Your Audience
Use Analytics Tools and Tweak Your Strategy According to the Findings
Is buying Instagram followers safe?
Buying Instagram followers is one of the many strategies that someone can use to improve their presence on Instagram. There are many social media service providers who sell followers.
Now, buying followers in itself is not unsafe but it becomes unsafe depending on how you use it and who is your service provider. Before you choose a provider and buy a bunch of followers to boost your follower count on Instagram we suggest you sit down and plan your promotional strategy. Decide on what your goals are and what tools you might need to achieve them.
Remember that buying Instagram followers will not help you grow on Instagram on itself. It is one of the many tools that you will need to use to see some results. Buying Instagram followers will give a boost to your follower count but what it will not do is increase your engagement rate on Instagram and the latter is the one that counts a lot.
If you have a tonne of followers but only a small percentage interact with your posts then you will not receive any collaboration or sponsorships. Even if you are promoting your own product or service, if your followers are not interactive and they do not engage with your content then you will not be able to gain any new customers.
Besides this, many service providers will provide you with fake followers or bot followers. Any simple auditing tool can tell the percentage of fake followers you have. If this percentage is a lot then brands will not want to collaborate with you and people will know that you are buying followers which generally is frowned upon.
Also, Instagram routinely removes fake accounts from their platform and you will experience huge drops in follower count. To be safe what we suggest is that you use this service to improve the appearance of your profile to attract new followers organically.
You still have to do your best to promote your content but since you will have a good follower count many users will want to check you out. What you should not do is buy hundreds of thousands of followers and think that it will help increase reach and engagement.
Does Instagram's growth service affect my organic growth?
It highly depends on the service provider that you have chosen. A good service provider will try to improve your presence on Instagram using organic methods. They will initiate engagement from your account to competitors' posts and other target accounts to generate some buzz and get some engagement flowing to your content.
It only starts affecting your organic growth when your service provider starts buying lots of followers and lots of likes, comments. This can affect your organic growth. So, it all depends on the strategy being used to grow on Instagram. Always try to go with a service provider who will work out a strategy with you and then help you grow organically.
---
Conclusion:
It goes without saying that to become successful in the online world today, social media plays a key role. Therefore, one cannot compromise with their performance on social networking biggies like Instagram and Twitter.
While buying fake followers and likes is going to give you only short-term success, engaging with an Instagram growth service brings credibility, longevity, and success in real terms into the picture.
These days, everything that is viral is hit on the internet. Therefore, we would highly recommend engaging with such Instagram growth services for your benefit.