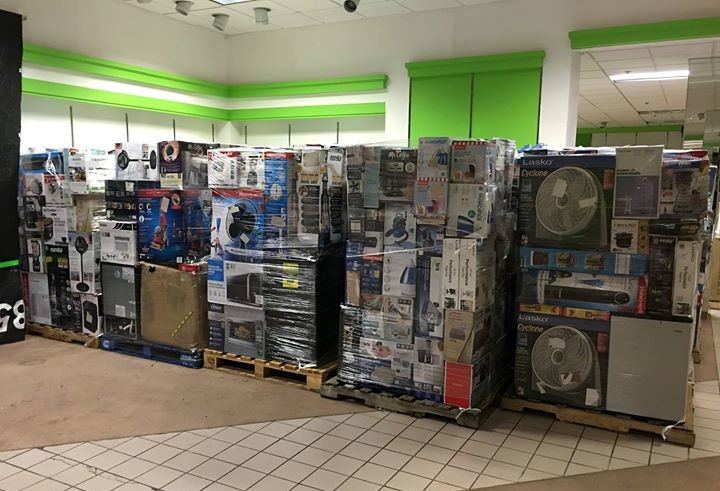 Major chain-stores and online brands tend to stock their own inventory. This allows them to dispatch it as soon as an order is received from a customer. Therefore, supermarket chains like Walmart and online retailers like Amazon purchase goods (or inventory) in bulk from manufactures and keep it in their warehouses.
Depending on the demand for some of the goods, these retailers choose to sell off the excess inventory that they have to make space for other goods. The space at warehouses has a cost attached to it so these companies prefer to optimize it with inventory thats fast-moving.
What happens to the excess inventory then? The companies cannot, of course, return it to the manufacturers. What do they do then?
This is where best wholesale liquidation companies step in. What these companies do is purchase this excess inventory from the large retail chains and website for a discount. As a result, they're able to sell off these goods at a discounted rate to their customers.
These customers could be small businesses or mom-and-pop stores. Buying from one of the top wholesale liquidators allows them to get these products cheaper than their market price.
When purchasing from retail liquidation sites, buyers aren't required to have a resale certificate. As a result, it makes it very cheap and convenient for small businesses and stores to purchase inventory from liquidators and that allows them higher profit margins on resale.
Sometimes, a large chain store might decide to shut down or relocate. In some cases, they also clear out their older seasonal inventory in order to make space for new products. This happens, for example, after Christmas or Black Friday where stores tend to clear out some of their inventory after seeing the response of customers and tracking what sells best.
There are companies known as closeout liquidation companies that purchase this inventory from the big retailers and sell them to small business owners and stores at wholesale prices.
Introducing our new group for Buying and Selling liquidation goods and merchandise!

Link: https://www.facebook.com/groups/937259116458055/
Find exclusive deals and merchandise opportunities!
Purchasing your goods from a wholesale liquidation company can, therefore, help your business save a lot of money. Moreover, you can also be assured that the goods you're purchasing are legitimate and their quality is assured.
Here's a list of the top 10 wholesale liquidation companies in 2021:

Rating: 4.5 out of 5
Read QuickLotz's Customer Reviews
Headquartered in Rutherfordton, NC, and with warehouses in Laredo & Arlington TX, Quicklotz is by far the best wholesale liquidation company of 2021.
The main reason behind the rising popularity of Quicklotz is that they offer a massive and exclusive inventory that cannot be found with other wholesalers. That along with their high level of customer support make it an extremely popular option for small businesses and retailers.
Quicklotz also has a unique concept: rather than run auctions, they sell the merchandise at set prices, either by the truckload or pallet lots. The smaller lots listed on Quicklotz come with free nationwide shipping and you always have the option to pickup the goods in person or with your own freight carrier from their warehouse in Rutherfordton, NC.
The other strong point in favor of Quicklotz is that they have exclusive contracts from retailers that the other companies dont, this means you get everything at the lowest liquidations prices. The diversity of retailers ensures that the merchandise available is amongst the best available in the market.
Unlike other online sites, Quicklotz also offers the chance for buyers to come and personally see the goods before purchasing. For a lot of retailers, this is important as it gives them the option to touch and inspect the merchandise that they wish to purchase.
Based out of Washington D.C., Bulq is owned by Optoro: a reverse logistics company. Founded in a small garage in 2004, Bulq has grown on to become one of the top names in the wholesale liquidation industry.
The principal promise of Bulq is that the customer will receive the exact goods that they ordered for. The company allows online credit card payments from the convenience of your house and ensures doorstep deliveries. Moreover, Bulq also promises a 98%+ accuracy on manifests. In case this accuracy is not met, the company promises to refund the difference in price.
For customers nationwide, Bulq offers a flat-rate shipping to absolutely anywhere in the contiguous United States. This ensures that you can conveniently place your orders from the comfort of your home without needing to travel anywhere.
Read Liquidation's Customer Reviews
This website is the online platform of the Washington-based company Liquidity Services. Liquidation.com claims to have over 3 million clients spread across 200 countries around the world. Since the holding company is involved in liquidations as its core business, the website promises to ensure some of the cheapest rates for its buyers.
Liquidation.com has both open as well as sealed bids. On the website, the goods are listed with an expiry date by which a bid needs to be made. For open bids, you also have the option of seeing what the current highest bid is. However, with sealed bids, all you can do is try your luck and wait.
The company offers a diverse range of goods including jewelry, fashion apparels, computers and periphals, along with consumer electronics goods.
Read Bstock's Customer Reviews
Headquartered in Redwood City, CA, Bstock works together with 8 of the top 10 retailer chains in order to get a diverse range of liquidated merchandise for its buyers.
The company positions itself as a technology-driven online marketplace for bulk purchases of liquidated goods. The key USP of Bstock is its proprietary software that can be easily adopted by buyers.
This software platform allows buyers to track their orders, scour the marketplace for the best deals, engage with dedicated customer support teams and to also analyze their potential profits and savings.
Bstock claims to have successfully listed over 100,000 auctions online since its inception. The fact that the company promises retails chains a recovery rate of 30%-80% automatically means that buyers can be assured of having access to an extensive and comprehensive inventory.

Based in Gallatin Tennessee, Mid Tenn is a reverse logistics wholesaler who maintains many high-level relationships with retailers. Originally an eBay seller, the founders decided that their success selling online could be paired with real-world relationships. By doing so they are able to offer many exclusive truckloads of merchandise to the market. Operating an email signup system, most if not all of the merchandise offered by Mid Tenn is provided on an email list basis.
This confidential approach allows them to provide the lowest prices on items that the retailer wants to be kept secret. In the reverse logistics business, there are often offerings containing highly branded goods, this leads to retailers like big-box chains wanting to keep quiet about the discounts. This is generally to protect the brand integrity of the items sold, but for you, it provides an opening to save thousands of dollars.
From general merchandise to sporting goods, furniture and more; they are a solid option for the buyer who has a bit more to spend but in the process gets the best deal possible.

Located in Miami Gardens, FL, Merchandize Liquidators has been in the wholesale industry since early 2003. By working directly with manufacturers and large-scale retailers (clothing, general merchandise, HBA) this company established itself as a dominant player in the space.
Catering to eBay sellers, Amazon sellers, and small retail stores; they meet the needs of wholesale buyers who have a low to mid-range budget for purchasing. Things you can expect to find on their site include overstocks, surplus, salvage goods and refurbished offerings. Even earning the right to Inc.Magazines as "fastest growing companies" for the USA in 2012.
While they originally came to light as a brokerage firm for buyers and private sellers, they decided to expand in 2005 and opened their new warehouse in the city of Hallandale, FL.
The user-friendly site has a wide range of categories to choose from, with loads in many sizes it's a great option for resellers who are just starting out and want to test the waters without risking a full truckload purchase.

Headquartered in Hampton, IA, Continental Wholesale is yet again another solid option for your wholesale needs. Ranging from Groceries, Sporting Goods, Toys, Rugs, Hardware and more; their offerings tend to touch every category. Unlike many of the other competitors on this list, Continental provides small lots (~$300-$500) all the way up to huge truckloads or half truckloads.
The big benefit with their business model is the "ease of purchase", being much like an eBay listing the website boasts a user-friendly interface with a wide category list. Allowing you to click and view each
individual product offering, you can easily build a plan of action regarding what merchandise words best
for you.
Some of the items you can expect to find are LG Fridges, CVS goods, Walmart goods, "As Seen On TV"
products and more.
The quality can vary from scratch and dent all the way to full salvage, however, the price can be rock bottom for items in the lower grade tiers. Overall Continental proves itself to be a formidable contender, catering to the whole spectrum of buyers they are certainly one to check out.
Read Amlinc's Customer Reviews
Based in Alabama, amlinc is operated by a company called the American Merchandise Liquidators. With a business track record of over 25 years, Amlinc primarily works with large buyers who purchase by the truckload.
The categories of goods offered include home wares, furniture, and toys along with the standard stuff offered by liquidation brands.
The biggest drawback of this company is the lack of being able to make purchases online. Therefore, as a buyer, your only option is to visit one of their warehouses or corporate offices. This is in stark contrast to major liquidation companies which allow you to complete the entire bidding or purchasing process online.
The one good offering by Amlinc, however, is that the company provides financing. All you need to do is fill up a little form on their website which immediately shows you your credit rating. Based on that, Amlinc provides buyers with attractive financing options so that a shortage of cash flow doesn't hinder your ability to stock up on the inventory thats necessary for your business.
Amlinc also has a special section for online/dotcom returns which deals exclusively with goods liquidated from large online retailers.
 Read GencoMarketplace's Customer Reviews
As the name suggests, GencoMarketplace is a division of GENCO: the logistics company which is now owned by FedEx under the rebranded name FedEx Supply Chain. The platform has traditionally been targeted towards large retail chains to help them liquidate their returns inventory and to recover their costs. Over the years, the GencoMarketplace works together with small businesses and stores to offload this inventory are a discounted price.
Thanks to its legacy, GencoMarketplace is efficient at optimizing inventory and logistics. This ensures that buyers get a real-time view of the available stock and can enjoy easy and convenient shipping. Their customer base includes large businesses as well as independent retailers who resell the stock on websites like eBay.
GencoMarketplace also offers an Android as well as iOS app to help buyers conduction their bidding in real-time and to see the entire inventory of goods on offer. Along with electronics and consumer apparel, GencoMarketplace also maintains a large inventory of liquidated sports goods and merchandise.
Read Viatrading's Customer Reviews
Via trading sources the bulk of its goods from wholesale overstocks as well customers returns. Often, products are returned by customers because they have second thoughts or for personal reasons (such as "Its not my favorite color"). Such goods are in perfect condition, and thanks to companies like Via Trading, you can purchase them at discounted prices.
Based out of Los Angeles, CA, Via Trading claims to have fulfilled retail value liquidations of over $5bn since its inception. Via Trading also lays stress on working with small business owners such as those who set up at flea markets. Indeed, the company is even a preferred supplier of the National Flea Market Association (NFMA).
The significant USPs of this company include no minimum purchase restrictions as well as a dedicated online buyer platform that helps you with all your invoicing requirements while letting you calculate your potential profits and savings on shipping.
FAQs
Therefore, make it very easy and cost-affordable for small retailers to source their inventory. For absolutely zero effort, you get brand name goods on these platforms at wholesale rates.
Overall Rating

Summary

Especially, with websites like QuickLotz, you not only have the option of picking up goods for cheaper but can also choose to have the "touch and feel" element by visiting their warehouse. With cheap shipping and the option of online auctions, wholesale liquidation companies are indeed a boon to small retailers and independent stores.