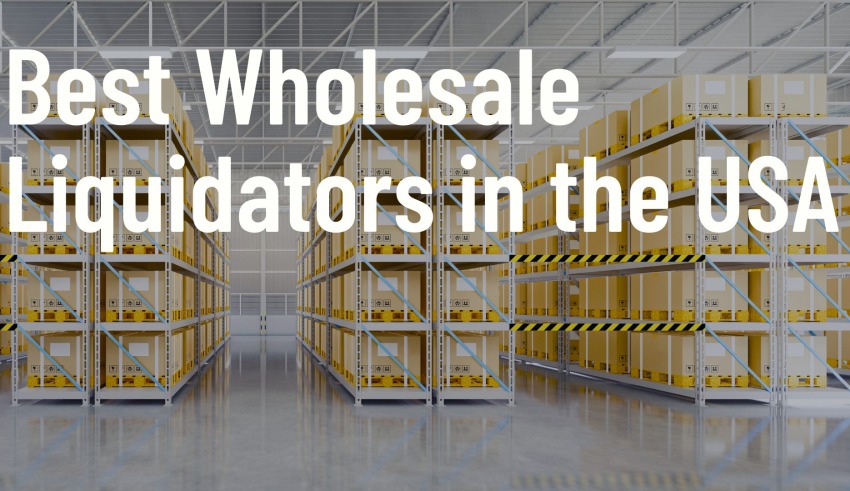 Wholesale liquidators have been playing an essential role in compensating the losses of companies going out of business. The main purpose of these wholesale companies is to buy overstocks, shelf pulls, customer returns, and salvage merchandise from the retail stores and liquidate the inventory at lower rates. They are a great resource for small-large businesses, flea marketers, and local retailers to purchase branded goods at huge discounts.
If you have a small business, you must definitely look into these companies as they offer quality products at wholesale prices without the need for a resale certificate. It is an extremely convenient method of purchasing inventory that will bring in higher profits from the resale. However, finding the right liquidation company is difficult. It requires a lot of research to find the most trusted and genuine wholesale Liquidation Company.
Introducing our new group for Buying and Selling liquidation goods and merchandise!

Link: https://www.facebook.com/groups/937259116458055/
Find exclusive deals and merchandise opportunities!
Therefore, we have curated a list of the best wholesale liquidation companies in the United States where you will find amazing quality products at the most comfortable price, along with shipping arrangements.
Best Wholesale Liquidators in the USA

Rating: 4.5 out of 5
Read QuickLotz's Customer Reviews
QuickLotz is one of the most reliable wholesale companies in the United States. From having a massive inventory of unique goods to providing the best customer service, Quicklotz accounts for its popularity with small businesses and retailers. Their exclusive contacts with diverse retailers help them provide the best quality products at the most affordable price.
The unique thing about Quicklotz is that they don't conduct any auctions, rather they sell goods at fixed prices. Here, you can get amazon truckloads, boxes, cases, and pallets for sale. Shipping is free for orders that have less quantity of goods (within the United States). However, for bulk orders, a flat shipping rate may apply during last payment. You can also pick up boxes from the nearest warehouse. This option provides you an opportunity to verify the quality of the products personally.

Bulq is a liquidation wholesale company that directly partners with the top retailers and suppliers in the United States. The new liquidation pallets and inventories are listed and updated online (three times a day). Some wholesale liquidation pallets have a fixed price while others get sold through a 48-hour auction. They also have an Enterprise team that builds custom truckloads for high-volume buyers.
Bulq ships anywhere in the contiguous United States. However, a shipping fee of $30 is charged per case. For pallets, the freight shipping cost is calculated based on the dimension, weight, and distance of the final delivery address.
You don't need to register on the website to browse pallets on sale, or the clearance lot. However, if you want to purchase an item, you'll have to make an account on Bulq. Returns and exchanges are not accepted here, but if the difference between the manifest and the item delivered is greater than 2% then the team will investigate the claim.

Read Liquidation's Customer Reviews
This wholesale liquidation company conducts online auctions and sells clearance lots anywhere in the United States by truckload, pallet, or box. Choose from a wide range of categories that include apparel, electronics, computers, houseware, vehicles, and industrial equipment. From brand new pallets for sale to used, salvaged, or refurbished items, Liquidation sells all types of goods.
It is one of the best wholesale liquidators that add new auctions every single day. The majority of their auctions begin from a $100 bid with no reserve. Some liquidation wholesale pallets have a 'Buy Now' feature that allows you to bypass the auction and make a direct purchase. Transactions above $5000, or those from outside the United States must happen via wire transfer.
Register as a buyer on the website to make a bid. Browse different auctions using advanced search options or keywords. You can also add the 'out of stock items to your wish list which automatically notifies you when the items of interest are available on the website. Shipping is flexible at this so you can opt to get shipping from Liquidation.com or arrange your own.

Read Bstock's Customer Reviews
B-Stock is one of the best wholesale liquidator companies in the United States that offers a wide range of products and benefits to each buyer. This company has the most work efficient website where you can smoothly select the liquidation pallets, complete the deal and track your order. The customer support team dedicates full attention to assisting you with every buying need. With a wide network of online wholesale liquidation, this company offers goods from Home Depot, Amazon, Target, Nordstrom, Walmart, Whirlpool, and more.
What makes it different from other liquidators is that it never poaches the inventory. Buyers purchase directly from the retailer and the profits go to B-Stock for each purchase. This system establishes a direct relationship between the buyer and seller making the process smoother. Currently, B-Stock has three main buying methods – auctions, supply, and private marketplace. This helps the buyer to choose the best option of buying goods at cost-effective prices.

Mid Tenn Wholesale is one of the top-selling wholesale liquidators in the country. From small lots and wholesale liquidation pallets to truckloads, this company offers premium quality merchandizes at the lowest prices. There are several categories that you can buy from including sports items, apparel, furniture, electronics, houseware, and more.
Customer service is the prime focus of this company. They find products based on your requirements and promise 100% manifest accuracy with a full refund policy. That is why they have a unique email list system where you can contact the seller, provide your list of items and pay only for those goods that you need. This confidential approach also provides the best price range for all buyers.
In the wholesale liquidation world, this system is known as reverse logistics. This system helps to maintain a high level of privacy of the retailer and allows them to offer exclusive discounts to each client without making it public. It is one of the most efficient ways to protect the brand integrity of the merchandise sold.

As the name suggests, Merchandize Liquidators cater to all top brand sellers and retailers including eBay, Amazon, and even some small retail stores. The wholesale liquidation pallets meet the needs of all buyers at a comfortable price range. Most of the merchandise comes from overstocks, salvage, and refurbished goods. Working with some of the established retailers and large-scale businesses directly, this company has dominated the wholesale liquidation industry.
Here, you'll find a wide range of product categories including clothing, electronics, houseware, furnishing, appliances, general merchandise, and more. Choose a truckload, pallet, box, or individual items, this company offers packages of all sizes which is perfect for retailers.

Read Amlinc's Customer Reviews
Amlinc, also known as, American Merchandise Liquidators, has been in the business for over 25 years. They are experts at selling truckloads, lots, boxes, and wholesale liquidation pallets of overstock, closeouts, and customer returns. Their inventory consists of a wide range of categories which is authentic and cheap. Therefore, it is beneficial for both individual buyers and small marketers/resellers.
Besides this, Amlinc provides financing for the buyers. Fill up a form on the website and it will show your credit rating then based on this information, the company will provide a suitable financing option to help the buyer run their business without any hassle.
One of the drawbacks of this liquidation wholesale is that as a buyer, you cannot make a purchase online. You'll have to visit the nearest warehouse or corporate office to get your liquidation pallet. This is a major disadvantage as compared to most liquidation companies that have a smooth online process. However, one benefit of offline purchase is that you can check the quality of the product before making any payment.
#8. Genco Marketplace

Read GencoMarketplace's Customer Reviews
Next on the list of best wholesale companies in the United States is Genco Marketplace. It is a subsidiary of the FedEx Supply Chain. Here, you'll find different liquidation pallets for sale including customer returns, refurbished goods, closeouts, and many other merchandises from top liquidators, flea marketers, eBay sellers, and discount retailers.
Coming on to the products, this liquidation wholesale offers apparel, computers, office supplies, electronics, sports goods, and more. The only drawback of this company is that they don't sell the inventory online. You'll have to contact the customer service or sales representative to purchase liquidation pallets/boxes. The headquarters of this wholesale company is located in Las Vegas, Nevada.
#9. Viatrading

Read Viatrading's Customer Reviews
Viatrading is another liquidator based in Los Angeles, California. It sources the goods from wholesale overstocks and customer returns. The company makes sure that all the items are in good condition before re-selling them at discounted rates. Viatrading is a registered supplier with the National Flea Market Association (NFMA). From small business holders to personal and flea market sellers, this wholesale company caters to all of them. When it comes to buying goods, there is no minimum purchase limit.
The best part about Viatrading is that they provide a legitimate invoice with payment breakdown and calculations of your profit and savings. With such transparency and customer support, this company has been successfully running the liquidation market for over 15 years with more than 40,000 loyal customers. Some other benefits of this company include zero membership fees, low-cost shipping, and a local pickup facility.
#10. 888Lots
From over 100,000 brand new products spread across 30 different categories, 888 Lots offer liquidation wholesales at fixed prices (although the buyers can negotiate with the sales representatives to get the best deal). Register and complete the customer application form to buy pallets for sale. As long as you buy the full quantity of any SKU, there is no minimum order or maximum spend limit except for the limits on credit card payments.
All the pallets for sale come with a detailed manifest that contains the product image, condition, description, reviews, Amazon sales rank, and estimated profit for each product. The majority of the items sold by this wholesale liquidation company are brand new. They also provide the custody documents that show where the liquidation pallet and stock came from as proof.
If you are purchasing a pallet/custom lot, the company offers a flat $12 shipping rate per case. For individual items, the shipping fee is based on the size and weight of the product. You can also arrange your shipping.
#11. National Wholesale Liquidators
National Wholesale Liquidators are one of the most valued retailers on the list with more than 30 years of work experience. This company is well known for providing the best customer experience by offering top branded, high-quality products at throwaway prices. It is the one-stop-shop for deeply discounted goods. What makes this site special is that they have new stock every single day in the superstore.
From health, beauty, home essentials, and groceries, to clothing, electronics and hardware, this liquidation wholesale provides a wide range of categories to choose from. While they ship all around the United States, their specialty lies in local delivery in and around Brooklyn. They offer free two-hour delivery to almost 20 Brooklyn ZIP codes on orders above $75.
#12. BlueLots Liquidation
Bluelots Liquidation has a widespread network with some of the well known retailers, brands and manufacturers in the United States. All the products sold at this wholesale liquidation company are 100% genuine. Every seller signs an agreement to ensure that the inventory is authentic and does not infringe on anyone else's intellectual property/copyrights.
You can browse the clearance lots easily on the website. However, if you wish to view the complete inventory, check out details of the product and auction, you'll have to register and create an account. Most of the liquidation pallets/boxes are sold by proxy bidding auction but you may find a few boxes or items with a 'Buy Now' feature as well.
BlueLots stands out from the rest of the wholesale companies in terms of shipping. They have various carrier partners including the most trusted UPS, FedEx and USPS. The shipping fee is typically based on the dimension, weight, and distance of the delivery address. All shipments include a signature confirmation making the process safe and secure. Unfortunately, you cannot arrange your shipping. Liquidations pallets shipped via freight carriers may cost around $300 – $400 per pallet.
#13. Direct liquidation
Direct Liquidation is another online auction-based liquidator that covers products from over 100 different categories. This wholesale liquidation company purchases inventory from the overstock, shelf pulls and end-of-life products of the largest retailers and manufacturers in the USA. Apart from housing and handling the inventory, they refurbish some of the items to match the manufacturer's original quality.
Purchasing liquidation pallets and individual products are very easy here. All you need to do is to submit your bid (usually it is the maximum amount you can pay for the product/pallet). Once the bid is submitted, the automated system selects the lowest price from the given range. This makes your purchase more reasonable. Some exclusive items have a 'Buy Now' price that bypasses the auction process.
All you need to do is to create a free user account on the website and make a bid on the items you like. Use different categories and keywords to search for the products. The best part about this site is that they have detailed descriptions of the product including the condition, quantity, UPCs, model number, and retail price.
The benefit of buying from liquidation pallets of this company is that each item, whether in perfect condition or revamped, has a warranty of 90-days. Although there is no return policy, the company may accept returns only if there is a gross difference in the condition and quality of the product. Shipping is usually provided by the liquidator. However, if you wish, you can arrange to ship by yourself too.
#14. Continental Wholesale
Continental Wholesale is gaining a lot of attention in the liquidation market. They have a user-friendly interface that is very easy to use especially if you are exploring a liquidation site for the first time. Even the categories are very well organized on the site ranging from toys, sports, rugs, hardware, groceries, and more. So, the best part about it is that it offers a wide range of packages including small lots, liquidation pallets, boxes, and even half/full truckloads.
When you visit the website, you'll find it similar to the eBay listing where you can easily navigate through the list and find individual products. All products come with a detailed description of the condition, quality, and usage which makes it one of the most trustworthy wholesale companies.
#15. Bulldog Liquidators
What strikes me the most about Bulldog Liquidators is that they sell everything at 40-80% off retail price. In addition to this, they maintain new inventory every day which makes this place a home of high-end products. This wholesale liquidation company prioritizes customer satisfaction. Therefore, they ensure that every buyer receives the best quality product.
The website is very well organized offering a lot of information about the company, its background, product details, and delivery process. Here, you'll find an elaborate list of categories including furniture, electronics, computer, TV, office supplies, toys, cosmetics, clothing, sports goods, workout equipment, home appliances, kitchen goods, and more.
Most of the merchandise is acquired from overstocks, surplus, and customer returns from some of the top retailers and industry leaders. All the products go through several inspections and tests to make sure that they are of good quality. After the quality check, the goods are priced depending on their brand value and demand with a deep discount.
Frequently Asked Questions
Conclusion
Liquidation companies are a boon for online wholesale buyers and large-scale retailers. Therefore, this process not only helps to clear the extra inventory of top brands and businesses but also makes room for new collections to arrive. In addition, wholesale liquidation helps smaller businesses source products in bulk at the lowest possible rates. This helps them to increase the profit margins for their businesses. So, all in all, liquidation plays a valuable part in the retail industry.
If you are looking to start a new retail business or if you want to purchase liquidation pallets to expand your product range then check out the above list of best wholesale liquidation companies in the United States. These companies have been in the retail business for a very long time. They are trustworthy and offer brand new products, refurbish/salvage goods from over 100 different categories at the most economical price.
Overall Rating

Summary

Especially, with websites like QuickLotz, you not only have the option of picking up goods for cheaper but can also choose to have the "touch and feel" element by visiting their warehouse. With cheap shipping and the option of online auctions, wholesale liquidation companies are indeed a boon to small retailers and independent stores.