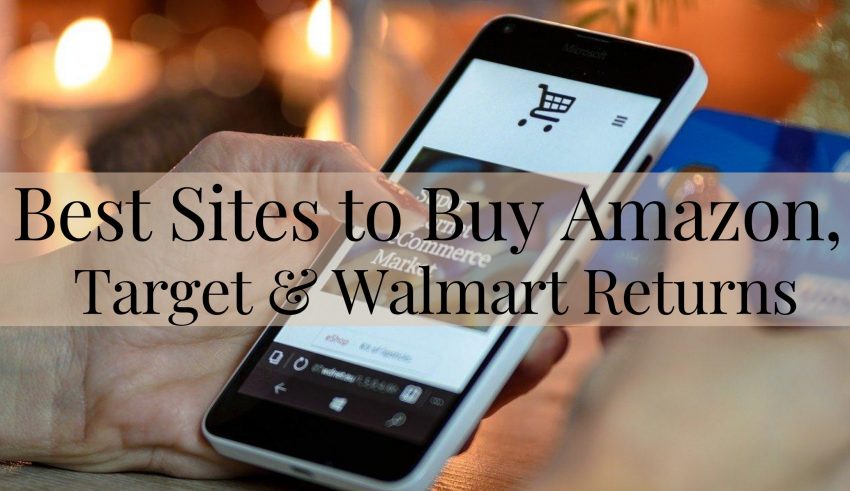 The liquidation market is slowly becoming saturated as many wholesalers are popping up every day to sell liquidation inventories to small retailers.
Nowadays, there are so many options to choose from that it is easy to get overwhelmed. But don't worry. If you are looking for some of the best liquidation companies who sell returns from retail giants like Amazon, Walmart, Target, and more then we can push you in the right direction.
Following is the list of some of the best sites that offer good quality liquidation stocks at an affordable price.
But as always there is risk involved in liquidation business and you might get dealt a wrong hand which is why we have curated the list in such a way that you don't get hit hard. Without any further adieu let's see what are some of the best liquidation sites to buy target, Amazon, and Walmart return.
Here are the Best Sites to Buy Amazon Target Walmart Returns And More:
Quicklotz is one of the best options out there if you are looking to buy returns from some of the biggest national and global retailers.
They sell liquidation stocks of all sizes from pallets to truckloads. So, you can get what you need in the quantity that suits you. They have a very comprehensive site that you can utilize to navigate their inventory.
Quicklotz is also known for its daily deals so if you subscribe to them you will receive the news on the latest deals allowing you to save extra bucks on your purchase. The site also holds auctions regularly and don't worry there will be plenty of them.
So, you don't have to worry if you miss a few. The products they offer vary in their types and you can expect to get Electronics, Kitchen Appliances, Toys, Video, Games, Apparel and many more. The products are sold as-is and they try to keep a check on the quality as much as possible.
The services are offered on a first-come, first-serve basis so they cannot guarantee quantities on anything. If you don't want to pay the shipping charges you can always pick up your purchase from their warehouse in Rutherfordton, North Carolina. Quicklotz is an affordable option to buy high-quality merchandise at a very affordable cost. 
---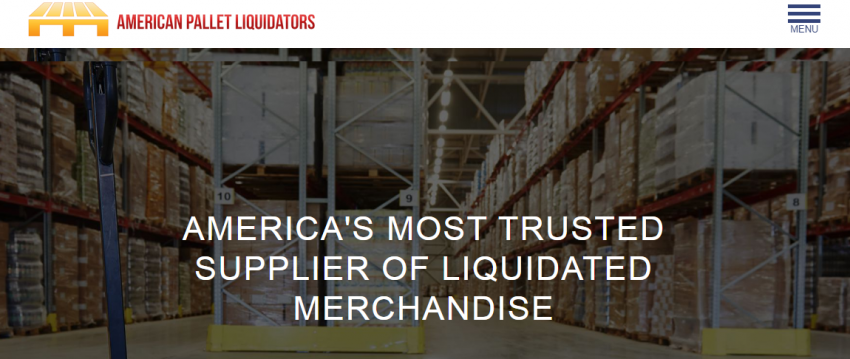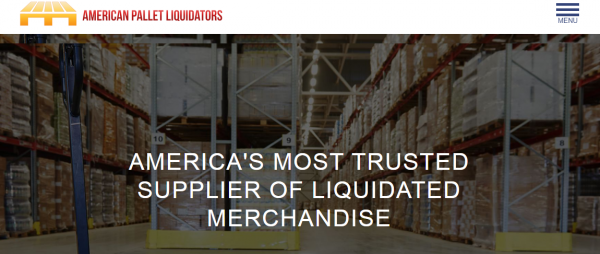 American Pallet Liquidators is a liquidation company that is based out of Indiana. They are a large liquidation company and have received multiple positive reviews online.
The company has good experience with liquidation stocks and has been dealing with global and national retailers and manufacturers to get the best stock available for their clients.
If you have been looking for a liquidation company that will allow you to physically see the product then American Pallet Liquidators is one of them. They have one of the largest warehouses which stocks around 2,500 pallets.
The warehouse is open to the public so you can get a physical feel of the product. American Pallet Liquidators make sure to keep around 300 pallets stocked and priced daily so that the customers can get a better chance at getting the stock.
They have pallets and truckloads of returns, shelf pulls and overstocks from Amazon, Walmart, and many other big retailers.
The product is sold as-is and all sales are final. But don't worry after all the company has a reputation to keep and so they keep an eye on quality control so that you the customers don't face many problems.
They make the products affordable by cutting off any middlemen and directly sending you the products. You can contact them and get your queries resolved before buying anything.
---


Barton's Discounts is a family-owned business that provides liquidation stocks to customers. The company provides top-quality reverse end-to-end logistics for retailers and manufacturers. This is done by helping them conveniently process the overstocks, shelf pulls and customer returns.
Barton's Discounts is headquartered in Indianapolis, Indiana and has multiple warehouses, their primary being 80,000 sqft in size. This helps them store lots of stock and thus allowing them to help retailers of all sizes easily pass on the liquidation stock.
If you are looking to buy liquidation pallets or truckloads from some of the biggest retailers in the country then you can definitely give Barton's Discounts a try.
They have been in this business for around ten years and have done their best to deliver efficient and effective service to customers without much hassle.
Part of the reason for this is the company's humble beginnings where a team of three people used a state-funded loan of $5k to create a stable liquidation wholesaling business.
They understood that the system is broken and there is a lot of ground for improvement and set out to do just that. The company also sells Amazon, Walmart etc. return pallets and so if you are looking for those be sure to give them a call.
---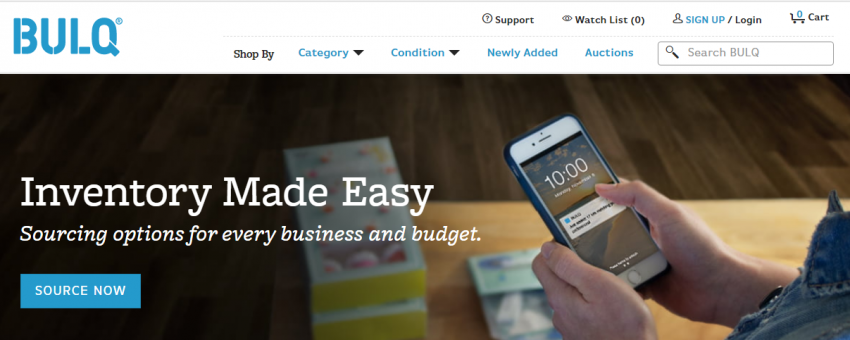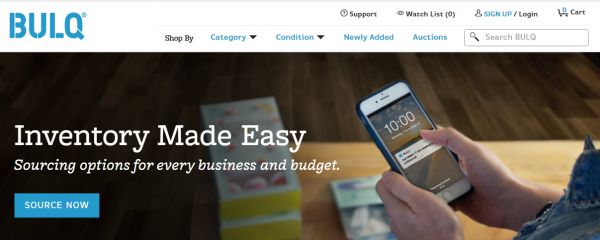 The main reason why anybody would want to purchase a liquidation pallet is to make a good profit. Of course, there is risk involved and sometimes things do not go your way but that doesn't mean that you have to take a drastic hit.
If you are looking to get into this industry and buy liquidation stocks from top-tier retailers at an affordable price and then Bulq is one of the companies that should definitely be on your checklist.
They have a very convenient and efficient way of transaction which is aimed at helping the clients get the most out of their services.
With their liquidation pallets, you can make a good profit. The site is very popular among liquidation retailers and you can find multiple sites and YouTube videos reviewing Bulq's pallets. So, you can research to your fill before contacting the company.
The team at Bulq had been on the receiving end of the liquidation industry at one time and had to face the multiple imperfections and hassles.
Which is why they started this business some 11 years ago to improve the industry standards. Their business is built on honesty and transparency so if you have any queries you can always choose to contact them. The website design is very user-friendly and you can check for stocks and deals regularly to get the best price.
Bulq sells liquidation pallets and truckloads from some of the best national and global retailers like Walmart and Amazon. So, if you are looking for a liquidation pallet from such companies check Bulq out.
---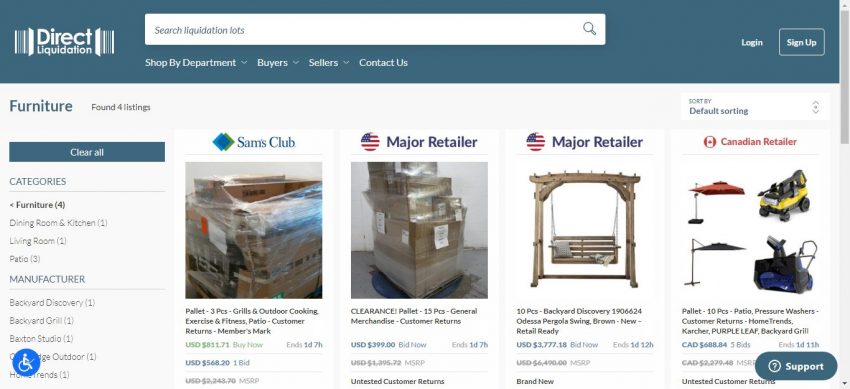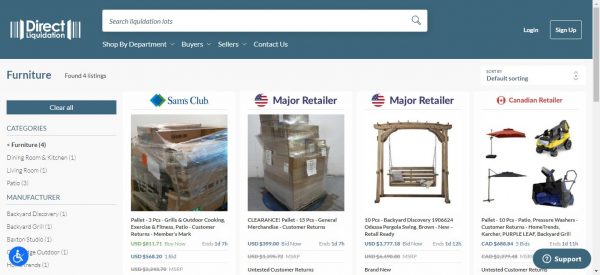 The last site that we are going to talk about today is Directliquidation.com and if you have been searching online for best Amazon returns or best Target liquidation stocks or similar things then you must have come across Directliquidation.com.
It is one of the most popular e-liquidation business which various people trust and rely on. That is because they have structured their business around efficiency, convenience and effectiveness. Earlier, businesses acted as if they were the ruler of the industry and would often sell junk products as the best value in the market. There was no transparency and dishonesty was a common practice.
Buyers needed a substantial amount of cash to even get their hands on the below-average products. When you deal with Directliquidation.com you get easy transactions and the stock is available in all sizes.
So, no matter what your budget is you can always find something here which you can use to make some profit. You can find a wide variety of stocks at directliquidation.com from some of the giant retailers like Amazon, Walmart, Target and many other such companies.
They maintain a good amount of stock every day so that you don't run out of inventory for your business. Directliquidation.com has its warehouses located in 6 convenient locations in the US and Canada to facilitate shipping. Also, if you buy refurbished products you do get a 90-day warranty.