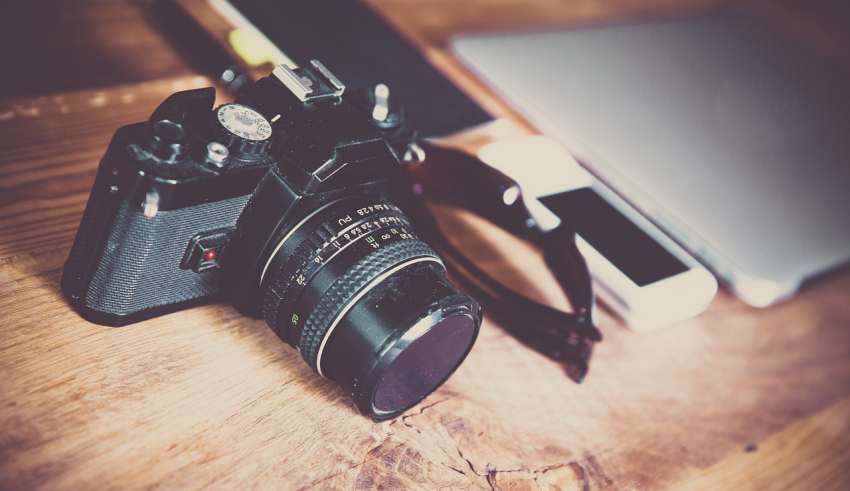 The Rs.50K category for DSLR and mirrorless cameras is probably the most popular across all segments. In this price band you will get a good entry-level DSLR with some advanced features. So the cameras you get for and around the 50K mark are not truly entry-level DSLRs and neither can they be called professional cameras. They are somewhere in between, leaning more towards the entry-level side.
But you do get some nice 'not so entry-level' features in these cameras. Yes they are still APS-C and not full-frame. But then you cannot really expect a full-frame DSLR/mirrorless at such a low price bracket.
So what are the best DSLR cameras under 50,000? Let's get started on that list.
Nikon D5600 with 18-55mm VR Kit lens 
It was only 2 years that Nikon had launched the D5500 and if you ask me, I will say that it was doing rather well. It was a good camera with some pretty neat features. I really don't know what made Nikon think of a replacement so soon. Anyway, Nikon did launch the D5600 in 2018 as a replacement for the Nikon D5500.
In terms of headline specifications, the D5600 is almost identical to the D5500 except probably the addition of the SnapBridge technology which Nikon seems to be adding in all its new DSLRs. What SnapBridge does is it enables your camera to transfer photos to laptops, computer or smartphone via the use of Bluetooth and WiFi.
The D5600 also has a timelapse mode that the D5500 didn't have. Typically, the D5600 is offered with the Nikon AF-P DX Nikkor 18-55mm f/3.5-5.6G VR lens which is the new standard kit lens that comes with all new Nikon DSLRs. The lens is good as far as kit lenses goes. But I would suggest you mate the camera with a lens of your choice.
Coming to performance, the Nikon D5600 comes fitted with the same 24.2 megapixel APS-C sensor that you get in the D5500. The sensor churns out very good quality images and noise performance of the camera is also pretty impressive for a DSLR of this range. But where the camera lacks is its live view performance, where clearly the Canon EOS 800D has an upper hand because of its dual-pixel AF. Another area where the D5600 lacks is continuous shooting. At 5fps, continuous shooting isn't really a strength of the D5600.
In fact, even the Pentax K-70 shoots faster than the D5600.
Overall, the Nikon D5600 can be called an evolutionary camera rather than a revolutionary one. Don't get me wrong, it's a very good camera at this price range and provides the user with some very good shooting options and performance. But yes, there are areas where it lacks the performance of some of its competitors. If you can ignore them then the Nikon D5600 is a very good buy.
Pros:
Good build quality
Compact design
Good image quality
Touchscreen
SnapBridge
Cons:
Images in JPEG lacks clarity
Live view performance can be better
Low continuous shooting speed
Nikon D5500 with Nikon AF-P Nikkor 18-55mm VR kit lens

As I have mentioned before, the D5500 is the same as D5600 minus the SnapBridge and timelapse. It carries the same 24.2 APS-C sensor and has touchscreen and all that you find in the newer D5600. But if you compare it to the Nikon D5300 then there are some huge changes. Addition of the touchscreen, for instance, is one. Look and design of the D5500 is more or less similar to D5300, the camera it replaced. But the body in the D5500 is made of reinforced carbon fiber which means lesser weight and a more durable body.
As I have already mentioned, the Nikon D5500 does not have the SnapBridge, but it does have WiFi. Images can be transferred to mobile or computer using the Nikon Wireless Mobile Utility app. It also allows you to control the shutter of the camera wirelessly.
When it comes to image quality and noise performance, the D5500 is truly a monster. The 24.2 megapixel sensor churns high quality images and if you pair it with a good lens, you will not be disappointed. The camera also has solid noise reduction capabilities. Images till 3200 ISO come out pretty good and noise, although can be seen, are well within the permissible limit. AF performance of the camera is also great. 39 cross type AF points focuses on subjects pretty fast. Low light focusing is also quite good. Overall, the Nikon D5500 is a pretty solid camera at this price range.
Pros:
Great image quality
Good noise reduction capabilities
Fast AF performance
Touchscreen
Lighter and compact body
Cons:
Only 5fps shooting
No GPS
Canon EOS 800D 
Canon EOS 800D Review, Best Lenses, Sample Images & Videos
Canon's triple digit EOS DSLRs have long been popular with those seeking advance entry-level cameras. Two years back Canon had launched the EOS 750D and the EOS 760D in this same price segment. And this year, it has brought in the EOS 800D and the EOS 77D two replace these two cameras. Just so you know, the EOS 800D is referred to as the T7i in the US market.
Let's now get back to the camera itself. If you go purely by appearance then the 800D fails to impress. It has a plasticky body which doesn't feel good in hand. So that's a negative. Build quality could certainly have been better when its main competitor, Nikon is offering carbon-fiber bodies in its cameras. But that's where pretty much the negative aspect of the 800D ends.
Inside that plastic made body, the 800D surely packs a punch. It carries a 24.2 megapixel APS-C CMOS sensor with dual pixel tech, which honestly speaking is one of the best in this segment. The sensor, along with Canon's latest DIGIC 7 processor churns out performance that is quite unmatched by any other camera in this price bracket. It is because of this processor that the EOS 800D gets a burst rate of 6fps as compared to the 5fps in the EOS 750 and the 760D.
The 800D gets 45 cross-type autofocus points. It is quite a significant jump from 19 cross-type points in the EOS 750D and 760D. Autofocus performance is fast in all lighting conditions. The only drawback that I found is that the 18-55mm kit lens that comes with it can be quite noisy when focus is being adjusted.
Images produced by the 800D are sharp and the noise reduction capability of the camera is also excellent and that is despite Canon choosing to retain the low-pass filter. Overall, the Canon EOS 800D is an excellent camera in this price segment and far outweighs anything that anyone is offering as of now.
Pros:
Excellent image quality
Fast AF performance even in Live view
Faster image processing
 Good noise performance
Cons:
 Plasticky body
Price a bit higher than its competitors
Buy from: AMAZON
Canon EOS 750D with 18-55 IS STM kit lens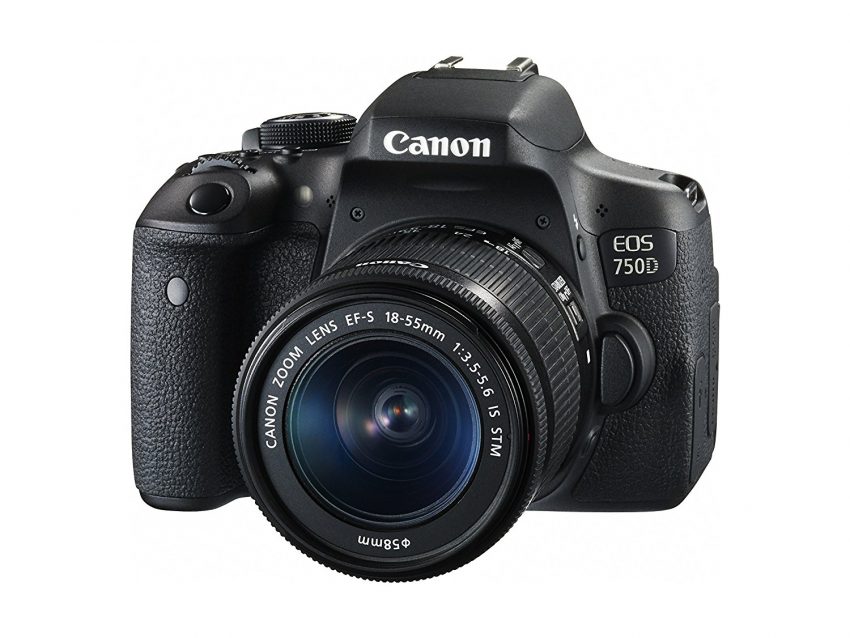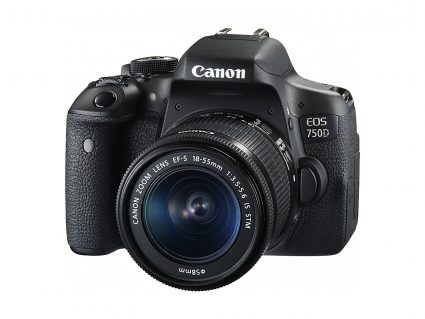 Canon EOS 750D Review, Best Lenses, Sample Images & Videos
Canon EOS 750D was the best selling advanced entry-level camera when it was launched back in 2015. The camera offered simple operation to photography beginners with some pro like features and loads of manual options.
Look of the Canon 750D is like any other entry-level DSLR model. It has a polycarbonate body because of its low price point and has aluminium skeleton underneath the plastic body to keep everything rigid and at the same time lightweight.
The EOS 750D is built around a 24.2 megapixel APS-C CMOS sensor and has things like 19 AF points, 100-12800 ISO, a 1.04-million-dot Clear View II LCD screen, WiFi and NFC. On the down side, it carries the older DIGIC 6 processor, which means you only get a max shooting speed of 5fps.
When it comes to performance, the EOS 750D handles itself pretty well in the AF department. The 19 point AF system works pretty well in almost all sorts of lighting conditions. The focusing is especially fast in live view. When it comes to image quality, the EOS 750D disappoints.
Because of the presence of AA filter images are not as sharp as you would like them to be. The AA filter gets rid of the moiré noise, but makes the images look softer. In RAW shadow details are less visible and can take a lot of work in post-processing to bring them out.
Overall, the Canon EOS 750D is a joy to use because of its simpler operations and user friendly nature. But image quality can disappoint you.
Pros:
Easy operation and handling
 WiFi and NFC
 Fast AF performance
Cons:
Average image quality
 Disappointing dynamic range
Low continuous shooting speed
The Unusual DSLT Entrant
Sony Alpha A68 
Ever heard of a DSLT? I didn't till I saw some Sony DSLT ads. The "T" in the DSLT stands for translucent, which means that the mirror is translucent and let's in light to the sensor without moving from its place. What's the point of it? The point is it allows for quicker shooting speed compared to a DSLR. The Sony Alpha A68 features a 24.2 megapixel APS-C sensor, a massive 79 autofocus points and 4K capability.
Design wise, the Sony Alpha A68 definitely follows the classic form factor of modern DSLR bodies. The fact that it is a DSLT becomes apparent when you see through the viewfinder and find that it has an electronic viewfinder rather than an optical one. It also has a whole lot of buttons since it misses out on a touchscreen.
When it comes to performance, the Sony A68 DSLT is really a mixed bag. It has some huge positives with some glaring negatives. For instance, in spite of having 79 AF points, autofocus speed of the A68 is not that fast. In low light the camera really struggles to find its subject. But it also depends on the lens you are using. For instance, the 18-55mm kit lens that is offered with the camera focuses pretty well in good lighting conditions. But with some other lenses AF performance takes a nose dive.
Images shot with the A68 may look a little underwhelmed if you are viewing them in the camera, but they look vastly better in a proper computer or laptop. Color output of the A68 is quite good and if you know proper post-processing techniques they can be made even better.
Noise reduction capability of the A68 is also pretty good, but on the down side it takes away a lot of detailing and sharpness from images. So overall, the Sony Alpha A68 is an average camera with some huge positives and some equally big negatives.
Pros:
 79 AF points
 Good noise reduction capability
 Good image quality
 Fast continuous shooting
Cons:
 No WiFi
No touchscreen
 AF performance could be better
Buy from: AMAZON
The Entry-level Mirrorless Cameras
Nikon 1 J5 
The Nikon 1 J5 is an entry-level mirrorless camera with a 20.8-megapixel 1-inch type CX sensor. The biggest wow factor for this camera is its capability to shoot at whopping 20fps with continuous AF and at 60fps with fixed AF. The camera boasts of 171 autofocus points and is 4K capable. The camera also has a 3-inch touchscreen LCD display, an electronic shutter, a sensitivity range of ISO 100-12,800, next-generation EXPEED 5A image processor, built-in WiFi and NFC connectivity, a new control wheel, an aluminium housing and a built-in pop-up flash.
Design of the Nikon 1 J5 is minimalistic and the camera boasts of the magnesium alloy body which makes it heavy for its size at 231 grams. Front area is dominated by the Nikon 1 lens mount which is different from the F mount in so that here the lens and the body have 100% electronic communication between each other.
Despite having a small sensor, the Nikon 1 J5 captures high-resolution images. Noise reduction of the camera is also excellent where noise is kept to a minimum till ISO 1600. Where the J5 lacks as far as its performance goes is the fact the color in its images are somewhat underwhelming. In case of noise reduction, the JPEGs shot with J5 performs far better than the RAW images. So that's a pointer if you want to shoot with this camera.
Overall, the Nikon 1 J5 is a good purchase if you want to mirrorless at relatively low price. The camera has a good design along with some very interesting performance features.
Pros:
Minimalistic and compact design
171 AF points
Very fast shooting speed
4K capability
Good noise reduction
Cons:
Bit heavy for its size
Colors in images lacks oomph
Buy from: AMAZON
Fujifilm X-A10 
The Fujifilm X-A10, when it was launched, was projected by Fuji as a selfie takers delight because of its flipping screen. But come on. Who would spend close to Rs.40,000 to buy a mirrorless camera to take selfies. So let's get that crap out of the way. The X-A10 is quite a good entry-level mirrorless from Fuji and offers much more than selfie taking abilities.
The X-A10 is built around a 16.2 megapixel sensor and sits at the budget end of Fuji's X-series lineup. Other features include a tilting screen, hotshoe, in-built Wi-Fi, Full HD video recording, and manual and semi-automatic exposure modes. The camera is available with the Fujinon XC 16-50mm f/3.5-5.6 kit lens.
Design wise, the Fujifilm X-A10 looks like any other Fuji X series cameras. It is small in size and carries a modern mirrorless design. Image quality provided by the X-A10 is quite good with nice detailing and vibrant color output. Noise reduction is also good till 1600 ISO. But if you shoot at 3200 ISO some amount of image softening can be seen. But overall, the X-A10 gives out good quality images even with the low end kit lens.
Pros:
Nice and compact body
Tilting screen
Good image quality
Cons:
 High ISO noise performance not good
Buy from: AMAZON
So these are the best cameras available today in India under the Rs.50,000 mark. Do you agree with this list? Do let us know in the comment section below