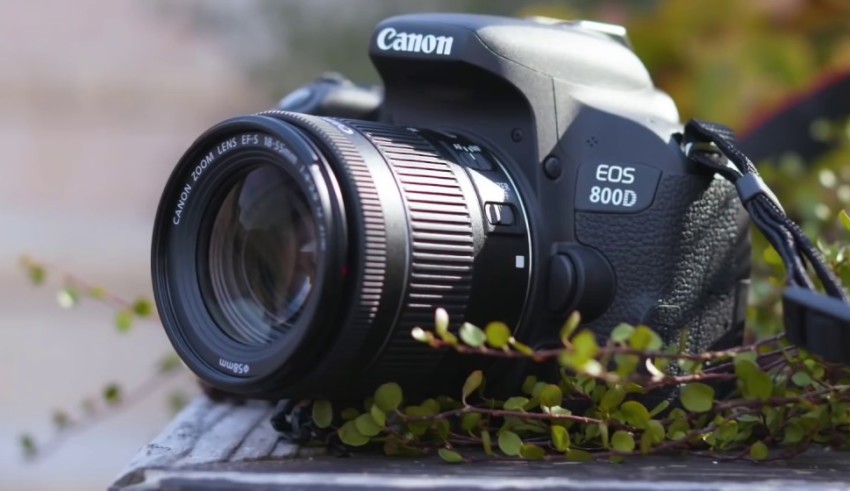 Canon had launched the EOS 800D and the EOS 77D pretty much at the same time with almost identical specs. Both these cameras replaced another set of identical DSLRs – EOS 750D and EOS 760D. The Canon EOS 800D replaced the EOS 750D. Why the company chooses to have almost same DSLRs with different specs is a question that has never been answered by Canon. But one has to admit that Canon's triple digit DSLRs have been quite popular. So it makes perfect sense for Canon to carry on with it. But that still doesn't answer the question why the company chooses to have two similar DSLRs in the market.
When it comes to headline specs, The Canon EOS 800D (referred to as the Canon EOS Rebel T7i in the US) shares most of its specs with the 77D. It carries the same 24.2 megapixel APS-C CMOS sensor with dual pixel AF technology, DIGIC 7 processor, 6fps max shooting rate, 100-51200 ISO, 1.04-million dots touchscreen display, 45 cross-type autofocus points, full HD recording at 1920P at 60fps, and a pentamirror viewfinder with 95% coverage.
When it comes to design, the EOS 800D is compact, lightweight and quite neatly designed for an enthusiast DSLR. It has a nice grip and the buttons are laid out in a nice way all over the camera. The camera is built on a polycarbonate outer shell aluminum alloy chassis. Although overall build quality is not that bad, the camera may feel a little plasticky at places. Another down side to the EOS 800D is the fact that it is not weather sealed. So be careful while using it in rain or snow.
The Canon EOS 800D employs an optical pentamirror viewfinder with 95% coverage with 0.82x magnification, which is the same as 750D/760D. Just below the viewfinder there's the display screen which is a Clear View TFT screen. The screen can be pulled out from the body by 180 degrees and can be rotated through 270 degrees. Because of the rotating and tilting screen, the camera can be used for both regular shootings as well as taking selfies.
When it comes to performance, the Canon EOS 800D does not disappoint. The camera comes with dual-pixel AF technology and that's why those who like to shoot through the live view will find it easier to focus on their subject. The new phase detect focusing system is also a big step forward from the older contrast detect system which the 750D and 760D came with. Focus speed is also good. The 800D focuses pretty fast in almost all lighting conditions. On the down side, the 18-55mm kit lens that comes with the camera can be quite noisy while focusing.
Quality of images produced by the EOS 800D is excellent. Resolution is the clear standout, with the sensor returning an excellent set of images despite Canon's decision to retain an optical low-pass filter. The camera has a better dynamic range compared to the ones it replaced. Noise reduction capability of the camera is also commendable with the camera giving out almost noise free images till ISO 3200.
Pros
Superb image quality
Great noise reduction capability
Superb processing speed
Cons
Build quality not up to the mark
Higher price than its competitors
Ratings
Design and build: 8/10
Performance: 9/10
Image quality: 9/10
Value for money: 9/10
Canon EOS 800D Specifications

16MP – APS-C CMOS Sensor
ISO 100 – 6400( expands to 25600)
3″ Fixed Type Screen
Optical (pentaprism) viewfinder
6 fps continuous shooting
1920 x 1080 video resolution
780g. 132 x 105 x 77 mm
Weather Sealed Body
Best lenses for the Canon EOS 800D
Canon EF 50mm f/1.8 STM
Canon EF-S 24mm f/2.8 STM
Canon EF 85mm f/1.8 USM
Canon EF-S 10-18mm f/3.5-5.6 IS STM
Canon EF-S 55-250mm f/4-5.6 IS STM
Canon EF 70-200mm f/4L USM
Sigma 18-35mm f/1.8 DC HSM
Canon EF-S 18-200mm f/3.5-5.6 IS
Canon EF 40mm f/2.8 STM
Canon EF-S 17-55mm f/2.8 IS USM
Tokina 11-16mm f/2.8 AT-X116 Pro DX II
Canon EF-S 10-22mm f/3.5-4.5 USM
Canon EF 70-300mm f/4-5.6 IS USM
Sigma 150-600mm f/5-6.3 DG OS HSM Sports
Canon EF 100-400mm f/4.5-5.6L IS II USM
Canon EF 100mm f/2.8L Macro IS USM
Price of the Canon EOS 800D

Canon EOS 800D Sample Images
YouTube Reviews
So overall, the EOS 800D is a great camera from photography enthusiasts with good design, image quality and ease of operation. If you are looking for a step up from entry-level DSLRs then EOS 800D could just be the one for you.
Featured Image : ytimg