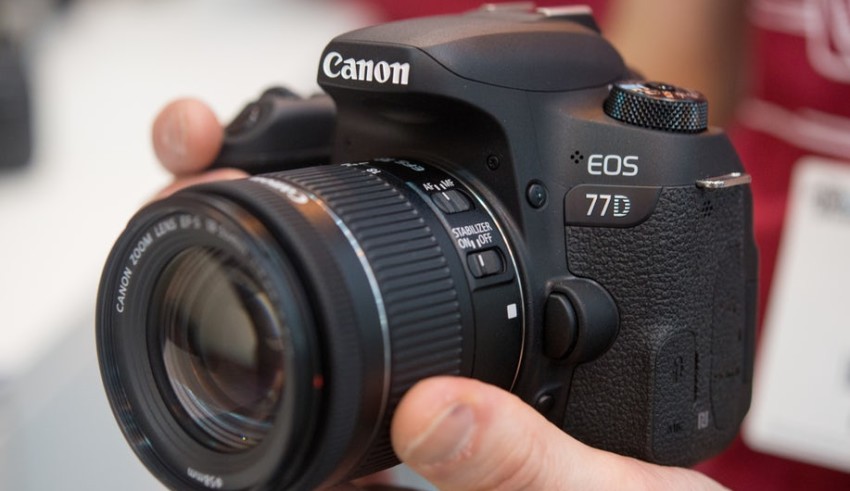 Just a couple years back, Canon had two cameras in the form of EOS 750D and 760D. Many then had questioned the rationale behind having two different models with near similar specifications. But it seems Canon didn't pay too much heed to those criticisms and launched another pair of nearly two similar cameras in the form of the EOS 77D and the EOS 800D. While the EOS 800D replaces the 750D, the new Canon EOS 77D replaces the 760D. Why Canon chose to do away with the three digit model number is a mystery to us. Both the cameras are targeted towards photographic enthusiasts and are direct rivals to Nikon's D5000 series cameras.
The Canon EOS 77D comes fitted with a 24.2 megapixel APS-C CMOS sensor with dual-pixel AF, DIGIC 7 processor, 6fps max shooting capability, 45 cross-type AF points (inherited from the Canon EOS 80D), -3 to 18 EV range, pentramirror viewfinder with 95% coverage, 1.04 million dot vari-angle touchscreen LCD screen, full HD capability of 1920P at 60fps, WiFi and NFC.
Overall build quality of the Canon EOS 77D is more or less similar to the EOS 80D with aluminium-alloy chassis and polycarbonate resin with glass-fibre body to give it a strong and durable appearance. The camera has a good and comfortable grip as well, but unfortunately it misses out on weather sealing. On the body, the various buttons and functions have been laid out in such a way that the camera feels somewhat busy and gives it a more professional appearance. One drawback could be the rear thumb wheel which is rather small and can be a little problematic to use in the field. But I believe that it's not a major issue.
Those familiar with the EOS 760D will notice that the EOS 77D inherits the eye sensor above the viewfinder. Its purpose is to turn off the info screen or electronic-level function when the camera is raised to the eye, to preserve battery life. There is also a lock switch which prevents the rear dials from being accidentally adjusted.
The touchscreen display is excellent – it is bright and clear. But then almost all Canon camera displays are such. The dent just below the live view button allows the screen to be pulled out from the body and turn 270 degrees. The touchscreen is also super sensitive and works fast.
The one best thing that the Canon EOS 77D inherits from the 760D is the AF system. There are 45 AF points and all of them are cross-types which improves autofocus accuracy as well as speed. There's the unique addition of the AI Servo autofocus mode which we saw in the 80D. The new AF system also gets rid of the creaking autofocus sound that you may get in many entry-level DSLRs. Presence of dual-pixel AF technology contributes heavily in improving autofocus performance of the 77D.
The Canon EOS 77D still carries the anti-aliasing filter that most of its rivals like the Nikon D5600 and Pentax KP has gotten rid of. But image quality of the EOS 77D is still impeccably good. The camera gives good amount of details in photos as well giving a good noise reduction performance.
Pros
Comprehensive 
set of features
Spritely autofocus in and out of live view
Guided interface to aid DSLR newbies
Effective in-body electronic stabilization for movies
Cons
No weather sealing
In-camera JPEG processing suppresses detail
Ratings
Design and build: 8/10
Performance: 9/10
Image quality: 8/10
Value for money: 8/10
Canon EOS 77D Specifications 
24MP sensor with Dual Pixel autofocus
45-point all-cross-type phase-detect autofocus system
Digic 7 processor
3″ fully-articulating touchscreen LCD
Top plate LCD for shooting information
Dual control dials
6fps continuous shooting
1080/60p video capture with microphone input
Best lenses for the Canon EOS 77D
Canon EF 50mm f/1.8 STM
Canon EF-S 24mm f/2.8 STM
Canon EF 85mm f/1.8 USM
Canon EF-S 10-18mm f/3.5-5.6 IS STM
Canon EF-S 55-250mm f/4-5.6 IS STM
Canon EF 70-200mm f/4L USM
Sigma 18-35mm f/1.8 DC HSM
Canon EF-S 18-200mm f/3.5-5.6 IS
Canon EF 40mm f/2.8 STM
Canon EF-S 17-55mm f/2.8 IS USM
Tokina 11-16mm f/2.8 AT-X116 Pro DX II
Canon EF-S 10-22mm f/3.5-4.5 USM
Canon EF 70-300mm f/4-5.6 IS USM
Sigma 150-600mm f/5-6.3 DG OS HSM Sports
Canon EF 100-400mm f/4.5-5.6L IS II USM
Canon EF 100mm f/2.8L Macro IS USM
Canon EOS 77D Price

Canon EOS 77D Sample Images
YouTube Reviews
Should you buy the Canon EOS 77D? Well it depends. If you are a beginner, I suggest you go for the EOS 800D, but if you have used an entry-level DSLR for sometime and want somewhat of a better camera then yes, the Canon EOS 77D might be the one you need. The camera has many things going for it. You may have to shell out a few extra bucks to get this one, but in the long run, it will serve you good.
Featured Image : Canonrumors