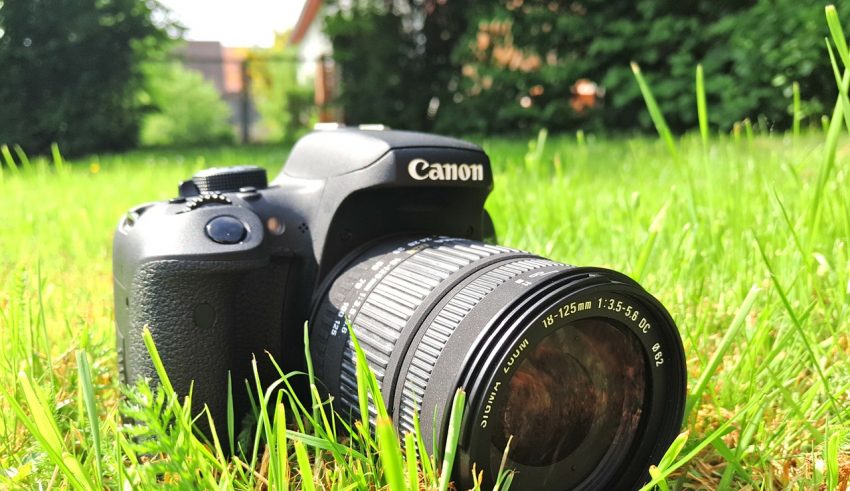 Although not your typical entry-level DSLR, the EOS 750D is an extremely affordable product from the famous camera manufacturer Canon. The camera is targeted towards those who are not neck deep in manual photography and want some form of automatic functionalities built into the camera. Thus operation of the Canon EOS 750D is easy and doesn't require much learning. In the markets across the world, the Canon EOS 750D fights it out with the likes of Nikon D5500 and Pentax K-S2,
When it comes to design, the Canon EOS 750D has a conventional Canon DSLR approach. The body is made up of polycarbonate rather than magnesium alloy. So the body feels low end and plasticky. But it's durable alright unless you drop it from a four storey building. Underneath the polycarbonate body, the camera has an aluminum shell. But in spite of use of low end materials the camera is surprisingly light. The EOS 750D is almost 25 grams lighter than the 700D – the camera it replaced.
The biggest positive of the Canon EOS 750D, as I have already mentioned, is the fact that it's extremely user friendly and has an easy operational style. The camera has only the mode dial on the top plate in order to de-clutter the entire area. This is just the opposite of the EOS 760D – its close cousin.
The rear of the camera is dominated by the 1.04-million-dot Clear View II LCD display with a 3:2 aspect to match the camera's sensor. The display works well – it's bright and clear and viewing it in broad daylight is also not difficult. It also has touchscreen support which means focusing through the live view has become easy and 100 percent accurate. The display is vari-angle, which means it can be flipped up and down and pulled out of the body for those odd angle shots. But unlike most other DSLRs, the EOS 750D live view focusing works surprisingly well.
The Canon EOS 750D has a 19 point AF system. This may sound a bit disappointing, especially given the fact that its close competitors like the Nikon D5500 have 39 point AF system. But on the brighter side, all its 19-points are of cross types and the camera uses phase detection rather than contrast detection for focusing on its subjects. The improved DIGIC 6 processor at its core means it can shoot at 5fps (which was case with 700D too). Although it may not sound much, the camera's ability to shoot up to 940 JPEGs in one burst sounds impressive.
At the center of the EOS 750D's operation lies its 24.2 megapixel CMOS-APS-C sensor. This is quite a leg up from the 18 megapixel sensor the 700D carried. The sensor still carries the AA filter and that's why there is some amount of sharpness comprise in images. So if you compare the Canon EOS 750D's image with that of its competitors i.e. Nikon D5500, you will notice somewhat softer images from 750D and less details. But that does not mean images are bad or of a low quality. Images produced by this camera are very good, but we feel they could still have been better.
Overall the Canon EOS 750D is an average camera with pretty cheap build and average image quality. If you seriously want to learn photography then we suggest you go for the Canon EOS 760D, but if you just want to shoot everyday photos and you are looking for a DSLR for that then the EOS 750D might just be the one for you.
Canon EOS 750D Specifications 
24MP – APS-C CMOS Sensor
ISO 100 – 12800( expands to 25600)
3″ Fully Articulated Screen
Optical (pentamirror) viewfinder
5.0 fps continuous shooting
1920 x 1080 video resolution
Built-in Wireless
555g. 132 x 101 x 78 mm
Also known as EOS 750D / Kiss X8i
Ratings
Design and build: 6/10
Performance and features: 7/10
Image quality: 7/10
Value for money: 7/10
Best Lenses for Canon EOS 750D
Here are some of the best lenses you can mate with the EOS 750D.
Canon EF 50mm f/1.8 STM
Canon EF-S 24mm f/2.8 STM
Canon EF 85mm f/1.8 USM
Canon EF-S 10-18mm f/3.5-5.6 IS STM
Canon EF-S 55-250mm f/4-5.6 IS STM
Canon EF 70-200mm f/4L USM
Sigma 18-35mm f/1.8 DC HSM
Canon EF-S 18-200mm f/3.5-5.6 IS
Canon EF 40mm f/2.8 STM
Canon EF-S 17-55mm f/2.8 IS USM
Tokina 11-16mm f/2.8 AT-X116 Pro DX II
Canon EF-S 10-22mm f/3.5-4.5 USM
Canon EF 70-300mm f/4-5.6 IS USM
Sigma 150-600mm f/5-6.3 DG OS HSM Sports
Canon EF 100-400mm f/4.5-5.6L IS II USM
Canon EF 100mm f/2.8L Macro IS USM
Price of the Canon EOS 750D
Canon EOS 750D Sample Images

YouTube Reviews
A really cool review of the Canon EOS 750D.