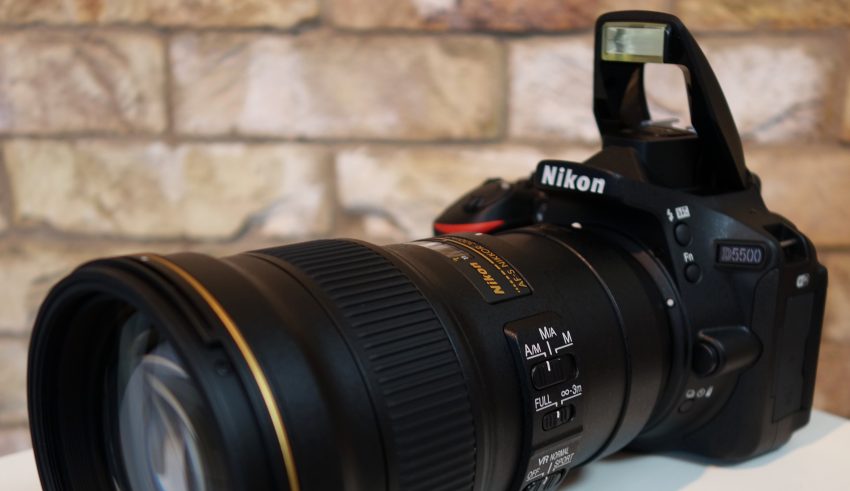 Nikon introduced the D5000 series as a go in between for entry-level and enthusiastic DSLR users. Since the first DSLR in this series, the company has launched five more DSLRs in this series with the D5600 being the latest. But we are not talking about the Nikon D5600 here in this article. We have already covered it. You can find that article here. Here we will talk about the Nikon D5500, the camera which the D5600 replaced.
The Nikon D5500, when it was introduced, replaced the existing D5300 in the international market. The camera had some very interesting upgrades over the D5300. Headline features of the Nikon D5500 include a 24.2 megapixel APS-C CMOS sensor, 39 AF points, 5 fps continuous shooting, full HD recording at 1920P and 1,036,800 dots LCD display with touchscreen.
When it comes to design, the Nikon D5500 sees a departure from the earlier D5300. In case of the D5500, Nikon uses a new design language with a smaller and lighter body. At only 420 grams, the D5500 is 60 grams lighter than the D5300 and at 124 x 97 x 70mm it is slightly smaller too. The D5500 has an extremely deep grip for a comfortable hold, much like the higher end Nikon D750. On the body end of the grip there's simply a lot more curvature for your fingers to wrap around. The body of the D5500 is made of carbon fiber composite material rather than polycarbonate or magnesium alloy. Use of composite material is the main reason for reduced weight and dimensions without compromising strength.
When it comes placement of various buttons compared to the D5300, the 'i' button has been moved from near the shutter button to near the rear pad for easier access. The display of the D5500 has touchscreen which is a huge update over the D5300's non-touchscreen display. Because of the presence of the touchscreen, it is easier to focus using the live view and get 100% correct focus each and everytime you shoot. The screen is a vari-angle one, which means it can be tilted and folded for those difficult angled shots.
When it comes to performance, the Nikon D5500 appears on the same level as the D5300. The camera uses the same sensor and processor that we see in the D5300. But there is upgrade when it comes AF points and AF system. The Nikon D5500 uses the same Multi-CAM 4800DX module that we see in the Nikon D700 which is a much higher enthusiast level DSLR. The camera has 39 AF points, among which 9 are cross types. AF performance of the camera in general is superb. AF is fast and accurate even in low lighting conditions. But when you switch to live view mode, AF performance of the camera takes a dip.
Images produced by the Nikon D5500 are great. The 24.2 megapixel sensor works pretty well in combination with the EXPEED 4 processor in producing detailed images with low noise everytime. In fact, the D5500 has an improved noise reduction capability compared to the D5300. Till ISO 1600, the camera produces stellar noise reduction performance. But after than it takes a hit and you start to see increasing noise in images as you go higher up the ISO ladder.
Overall, the Nikon D5500 is an excellent entry-level camera with improved design and performance parameters.
Nikon D5500 Specifications
24MP – APS-C CMOS Sensor
No Optical low-pass (anti-aliasing) filter
ISO 100 – 25600
3.2″ Fully Articulated Screen
Optical (pentamirror) viewfinder
5.0 fps continuous shooting
1920 x 1080 video resolution
Built-in Wireless
420g. 124 x 97 x 70 mm
Ratings
Design & build: 9/10
Features: 9/10
Performance & image quality: 9/10
Value for money: 8/10
Best Lenses for the Nikon D5500
Here is a list of some of the best lenses you can pair with the Nikon D5600:
Nikon AF-S DX NIKKOR 18-300mm f/3.5-6.3G ED VR
Nikon 18-200mm f/3.5-5.6G AF-S ED VR II Nikkor
Sigma 20mm F1.4 ART DG HSM
Nikon AF-S DX NIKKOR 10-24mm f/3.5-4.5G ED
Tokina 11-16mm f/2.8 AT-X116 Pro DX II
Tokina AT-X 14-20mm f/2 PRO DX Lens for Nikon F
Sigma 35mm F1.4 ART DG HSM
Nikon AF-S DX NIKKOR 35mm f/1.8G
Sigma 17-50mm f/2.8 EX DC OS HSM FLD
Tamron SP 17-50mm F/2.8 XR Di-II VC LD
Nikon 70-300mm f/4.5-5.6G ED IF AF-S VR Nikkor
Tamron SP 70-200MM F/2.8 DI VC USD
Tamron SP 150-600mm F/5-6.3 Di VC USD
Nikon AF-S DX NIKKOR 55-200MM f/4-5.6G ED VR II
Nikon AF-S DX Micro-NIKKOR 40mm f/2.8G
Nikon AF FX NIKKOR 85mm f/1.8G
Nikon AF-S FX NIKKOR 50mm f/1.4G
Nikon D5500 Price
Nikon D5500 Sample Images
YouTube Reviews
Comprehensive review of the Nikon D5500 by US online camera retailer B&H.
Another cool review of the Nikon D5500 in action by Kai.
Featured Image : ePhotoZine