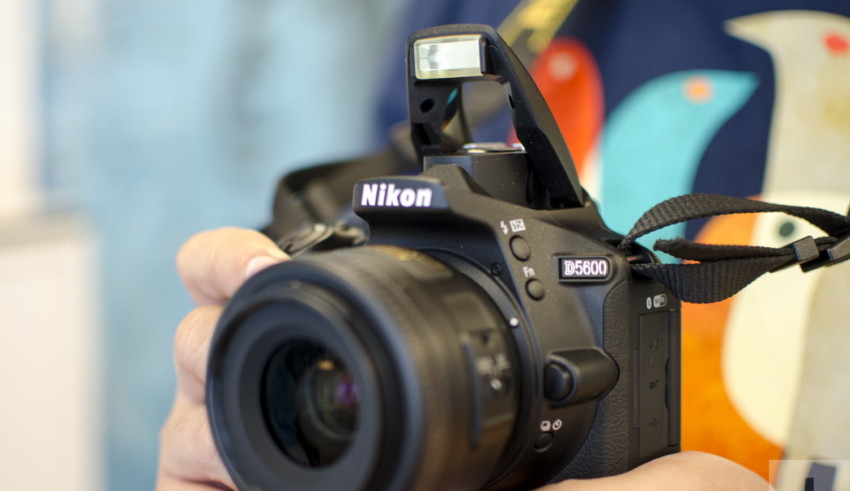 The Nikon D5000 series has been much popular in the entry-level DSLR segment. Five cameras has since then been launched in this series. The last camera to have been launched was the Nikon D5600 which came out in 2016 and replaced the Nikon D5500.
In terms of features and spec, the D5600 is almost identical to the D5500. It uses the same 24.2 megapixel APS-C CMOS sensor that the D5500 had and along with it, it possesses max ISO of 25,600, 1920P full HD shooting, EXPEED 4 processor, 3.2-inch fully articulated screen, touchscreen, optical viewfinder and max shooting speed of 5fps. New features in the D5600 include the presence of SnapBridge, a new timelapse mode and a new kit lens.
When it comes to design, the D5600 is currently Nikon's smallest and lightest DSLR. It is even smaller than the D3400. Overall build quality of the D5600 is pretty good for an enthusiastic level DSLR. It has a polycarbonate shell which is quite robust. The camera is not weather proof. So, one has to be careful while using it in rain and snow. On the positive side, although the D5600 is light and small, it feels pretty good in hand and has a pretty solid grip. General operation of the D5600 is quick and the camera's large display is responsive and quick. The touchscreen also works pretty well and can be turned off if you find it problematic in some conditions. On the negative side, the D5600 does not have any buttons which provide quick access to important camera functions like ISO, white balance and AF modes. The quickest way of changing any of these is to press the 'I' button and go to the quick settings interface.
The D5600's viewfinder has area coverage of 95%. The camera comes with 39 AF points and the AF system works fast and accurately. The nine cross-type AF points towards the center of the screen is a blessing especially when your subject located towards the center, which is the case on most of the times. The AF system also comes with dual-pixel AF technology which you can also see on the Canon EOS 800D. But on the down side, a mere 5fps max shooting speed isn't one of its key strengths.
Images produced by the Nikon D5600 are superb at low ISOs. If you are one who normally shoots RAW, then shooting at high ISOs may mean a pretty high level of noise in images which we think undoes many of the good features that the D5600 possess. Noise level in JPEGs is much better compared to RAWs.
Pros
Good build quality
Compact design
Good image quality
Touchscreen
SnapBridge
Cons
Images in JPEG lacks clarity
Live view performance can be better
Low continuous shooting speed
Ratings
Design: 9/10
Design & Build Quality: 8/10
Features: 9/10
Performance: 8/10
Image quality: 8/10
Value for Money: 9/10
Specifications
24MP – APS-C CMOS Sensor
No Optical low-pass (anti-aliasing) filter
ISO 100 – 25600
3.2″ Fully Articulated Screen
Optical (pentamirror) viewfinder
5.0 fps continuous shooting
1920 x 1080 video resolution
Built-in Wireless
465g. 124 x 97 x 70 mm
Best Lenses to be Paired with Nikon D5600
Here is a list of some of the best lenses you can pair with the Nikon D5600:
Nikon AF-S DX NIKKOR 18-300mm f/3.5-6.3G ED VR
Nikon 18-200mm f/3.5-5.6G AF-S ED VR II Nikkor
Sigma 20mm F1.4 ART DG HSM
Nikon AF-S DX NIKKOR 10-24mm f/3.5-4.5G ED
Tokina 11-16mm f/2.8 AT-X116 Pro DX II
Tokina AT-X 14-20mm f/2 PRO DX Lens for Nikon F
Sigma 35mm F1.4 ART DG HSM
Nikon AF-S DX NIKKOR 35mm f/1.8G
Sigma 17-50mm f/2.8 EX DC OS HSM FLD
Tamron SP 17-50mm F/2.8 XR Di-II VC LD
Nikon 70-300mm f/4.5-5.6G ED IF AF-S VR Nikkor
Tamron SP 70-200MM F/2.8 DI VC USD
Tamron SP 150-600mm F/5-6.3 Di VC USD
Nikon AF-S DX NIKKOR 55-200MM f/4-5.6G ED VR II
Nikon AF-S DX Micro-NIKKOR 40mm f/2.8G
Nikon AF FX NIKKOR 85mm f/1.8G
Nikon AF-S FX NIKKOR 50mm f/1.4G
Price of the Nikon D5600
Nikon D5600 Sample Images
YouTube Reviews:
Overall the Nikon D5600 is an excellent camera for photography enthusiasts with good design and build, excellent performance and good value for money.
Featured Image: DigitalTrends