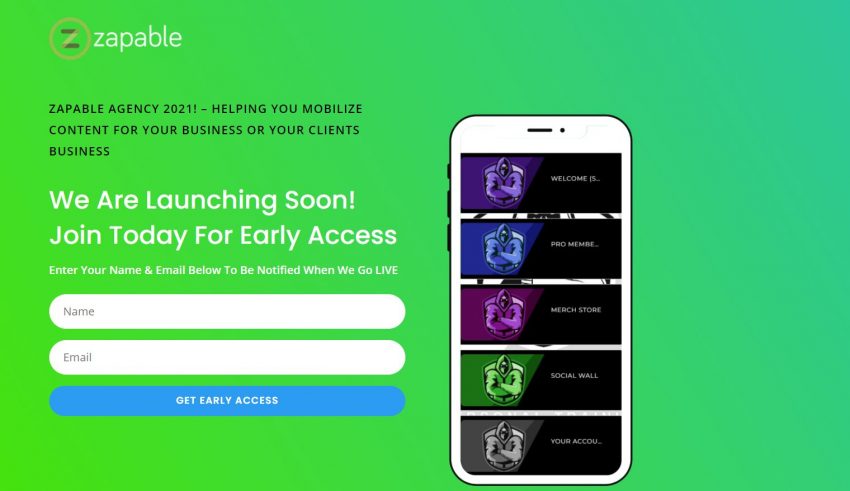 In today's digital age, mobile apps are of seminal importance to businesses. Not only do mobile apps make the business-customer network of communication more fluid, but they also help to generate higher rates of conversion. Whether your business is food delivery, e-commerce, or literally anything, a mobile app can take it to the next level.
Now, you can build a mobile app for your business even if you do not have the required coding skills. This is where mobile app building software comes into place. You can now design professional-quality mobile apps with ease in minutes. By doing so, you can make your businesses more interactive and even generate extra capital to fund your business.  
About Zapable
Zapable is one such mobile app building software that helps you make mobile apps in minutes. By using this software, you can build apps without requiring any technical, or coding skills with only a few clicks. This software consists of an easy drag and drop builder to design your app the way you want.
Further, with its feature-rich interface, you get to customize and design to a great extent. For instance, it allows you to do social media integrations, e-commerce integrations, add coupon codes, loyalty cards, and much more.  
Be it any niche, from real estate, food delivery to personal branding apps, with Zapable you can build them all. What makes Zapable a unique mobile app building software is that it allows you to publish your app right from within the software.
This means that you can publish your mobile app to various app stores directly after you create it. Mobile apps that are built using Zapable also allow you to integrate push notifications, image galleries and so much more. So, you can create your app a way that caters to the interests of your target audience.  
Read our complete Zapable review to design a mobile app for your business to know more about what's really included in the full Zapable package.    
---
Features
Zapable comes packed with features to help you build mobile apps that your customers love. That's why no matter what the niche of your business is, with this feature-rich software, you are covered. 
Some of the features that come along with the Zapable package are listed as follows:   
Ecommerce Integrations
Do you have products to sell, or you are an affiliate seller for other brands? Then you can integrate your store within the mobile app that you create using Zapable. You can import your Shopify store, build your own Amazon or iTunes store for audiobooks or podcasts, etc.
You can add the Amazon products that you do affiliate marketing for. Then, you will earn a commission whenever someone buys that product. Moreover, you can even create a custom catalog if you have your own products to sell.  
Digital Loyalty Cards and Coupon Codes
This feature is ideal for use by physical shops, restaurants and cafes, salons, theatres, and the like. Using Zapable, you can offer your audience readymade, customizable digital loyalty cards, and coupons.
Firstly, you can simply create coupons and set discounts within the mobile app. Then further, it's fully on you to decide the specifications of these coupons. For example, up to when the discount coupons will be valid, on how many and which items they will be applicable, etc…  
Social Media Integrations
One can never overstate the value of social media. If you are planning on going digital with your business, you cannot overlook getting your business on social media. With this mobile app building software, social media integrations are easier than ever.
Now, your users will be able to explore your social media pages right within your app. Be it Facebook Fanpage, your Instagram and Twitter feed, or your Flickr photo gallery. With Zapable you can import these all into your mobile app, only with a few clicks.  
Drag and Drop Builder
Control the layout of your apps with their easy to use widget system. With this, you can choose where the different elements, such as icons, images, etc.. appear in your mobile app. 
Zapable's unique design module allows you to fully customize the appearance of your mobile app. If you would like a certain element to be a certain way, simply drag and drop it to modify the look of your mobile app.  
Email Marketing Integrations
Want more email subscribers? Then with Zapable, you are at the right place. This mobile app building software does not just help you build plain mobile apps.  Zapable also comes with revolutionary email marketing tools integrations. You can combine powerful services such as MailChimp, Aweber, Infusion Soft, Get Response, and many more with your mobile app.  
Other Features
The Zapable package is truly packed with features designed to cater to every kind of business. With this software, you can also create a listings page, add a location finder, videos, contact details page, and do more.
kimYou can even generate push notifications, let your customers book appointments build directories and fast customer support channels. Also, you can create surveys, polls, and questionnaires for your audience within the app.  
---
Amazing Things You Can Do With Zapable
Zapable is much more than just a mobile app builder. With its extensive range of features, you can design a stellar app for your business to take it to the next level. Its extraordinary features can boost engagement, get conversions and increase sales by marketing your business the right way. But this is not all.
The following are some of the amazing things you can do with the Zapable software: 
Increase user engagement. With Zapable, you can engage your audience in a variety of ways. Some of these include surveys, loyalty cards, discount coupons, and more. Also, you can directly engage with your audience through social media integrations.

 

Zapable's in-house training guide provides tutorials to master each of the features it offers. So, you can maximize the potential of every feature to design a powerful app. Also, you can optimize your mobile app marketing strategy through the optimum use of each feature.

 

Publish the app that you build directly to various app stores including Google Play Store and Apple App Store. Zapable also comes with an inbuilt iOS Publisher. 

 

Publish diverse forms of content – images, audio, blogs, news, reviews, videos, etc.. to interact with your target audience. Moreover, you can publish all of this right from within the app.

 

Sel

l products as an affiliate or as a vendor. If you are an influencer or an Amazon affiliate, integrate your affiliate product store in the mobile apps built using Zapable. 

 

Restrict access to your app. You can decide who can download your app and access it. Also, you can ask your audience to subscribe to your channel, newsletter, etc.. before they download your app.

 

Add Call to Actions. Let your customers shop, book appointments, reserve a table, contact you or find you, all via the mobile app. 

 
---
Pricing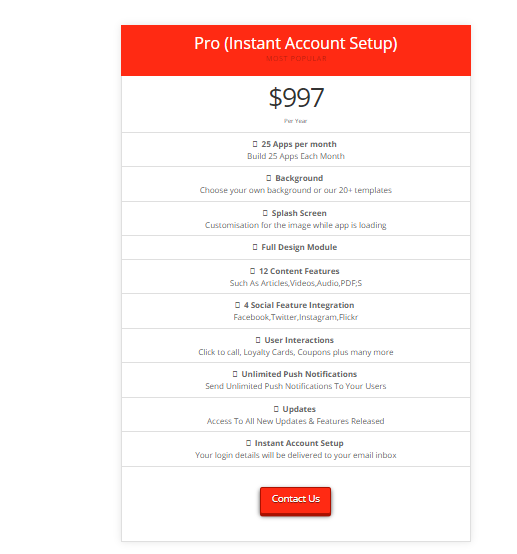 This mobile app building software comes at a fixed one-time price of $997 for one year. This means it will cost you about $83/month, which is way cheaper than other similar mobile app building software. Moreover, with the amazing things that are included in the package, the price is nothing but reasonable.
Take a look below to know the special components of the Zapable package: 
Build up to 25 mobile apps each month.

 

20+ Backgrounds and Templates

 

Complete Design Module

 

12+ Content Features

 

Social Media Integrations

 

CTAs and User Engagement Features

 

Free Access to Updates

 
Plus, after you buy the software, you will get instant access to your account. So, you can immediately begin creating mobile apps for your business. The package also comes with a 30 days money-back guarantee. Therefore, you can try the software risk-free for 30 days. Then after this, if you are not satisfied with the way it functions, you can get a full refund at no questions asked.  
---
Conclusion
So get started and make mobile apps like a pro. Be it for your business, or for a client, this mobile app building software allows you to create apps that make a difference. Mobile apps are known to get more conversions and sales than websites. And Zapable brings you to the right place to leverage mobile app marketing. So try out this mobile app building software today to accelerate the growth of your business.