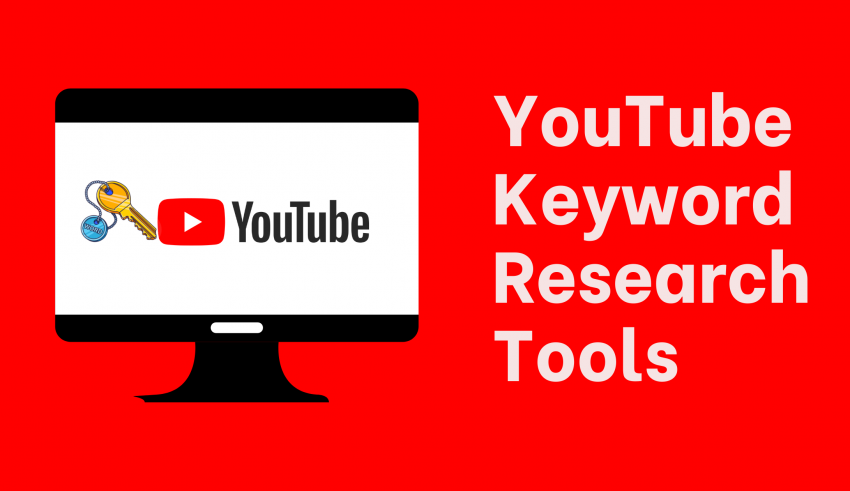 No wonder, anyone looking to make a mark on the internet these days cannot ignore YouTube's glaring dominance. The social media platform has grown into a giant in the field of online media and networking. It happens to have remained at the top of the game many years now. No OTT platform can compare to YouTube in terms of popularity, widespread usage, and awareness.
Everyone, from top influencers, businesses, artists, and other individuals, looks up to YouTube for promoting their content successfully. Therefore, it becomes increasingly important to not just be part of the platform but also to grow well in it. And resorting to the best keyword tool for YouTube has to be the first step in this direction.
Name a brand or influencer or business that hasn't started or already established its presence on the giant network of YouTube. After all, there is no better way to boost your channel and hence income on the channel.
However, as much as posting content on YouTube is important, it is also important to have content that is optimized for publishing on search engines. This means you need to use only the best keyword tools for YouTube.
Frankly speaking, SEO and keywords go hand in hand. You cannot expect to be good at SEO if you are not working hard towards using the right keywords. Therefore, if you are looking to make a successful online presence, a comparative understanding of the most suitable tool for your business is a must. After all, depending on your niche, business ideas, and products, you need to make a well-informed choice.
How does the Keyword for YouTube SEO work?
YouTube videos are ranked. This is what makes them appear on different feeds and even search engine results. And certainly, top ranks mean topmost or highest appearances for a video. If you want your videos to stand out on YouTube, then these are some factors you must take care of.
The first factor that must be considered is that of search engine optimization. As mentioned earlier, this is directly associated to the right use of keywords. The use of the right channel keywords and great thumbnails boosts your content's reach and appreciation. This is because it is natural for people to look at your videos either after searching certain keywords on Google or YouTube itself.
Even for those people who do not search for videos but only watch whatever crops up in their YouTube feed, there is a particular algorithm in place. Videos to people's feeds are sent by YouTube based on the niche or niches the person is interested in.
This is calculated on the basis of the kind of searches the person usually makes or the kind of videos he sees. Hence, it is very important for you to highlight the best and most popular keywords for your content.
Besides, the number of youtube views, the average watch time of users, and other statistics reflect how good or bad your content is performing. Then comes the video quality. YouTube being a video-content based platform exclusively, it is important you focus on the quality of the video as well.
Once you have understood these important factors, it becomes simpler to understand where to put in the effort. This can be truly achieved only with the help of the best keyword tools for YouTube. You can save a lot of your time without having to search for all these keywords manually time and again.
Let's take a look at some of the best keyword tools for YouTube: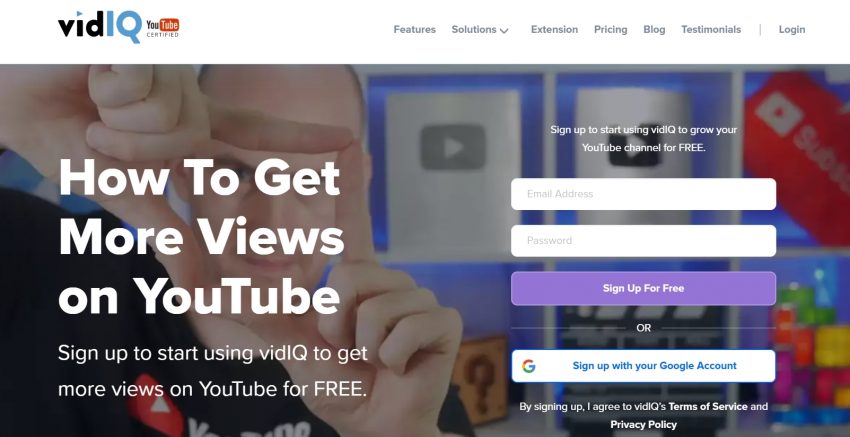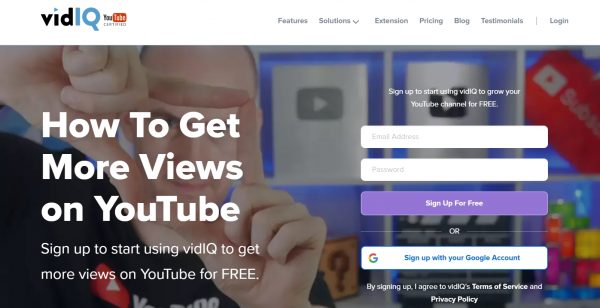 Any business, large or small, is resorting to VidIQ for YouTube SEO these days, thanks to its relevance and high quality. The platform is the perfect choice for you in case you have just started out on the social networking giant.
VidIQ allows you to gauge what is current and trending in the world of YouTube. It provides you with tools much beyond merely keywords and basic SEO tips. As it is, these and many other features make it one of the top contenders for the best keyword tools for YouTube.
The interesting fact is that along with a pro version, VidIQ also comes in a free one. The pro version certainly has an upper hand. Its multiple features extend way beyond the reach of the free version and allow you diverse and interesting options. Yet, it is your choice to try the basic version for some time. Upgrading to the premium paid version is only a matter of time. There are multiple features of VidIQ that make it one of the top performers in this list of the best keyword tools for YouTube. Let us see what these are.
---


Everyone knows how important YouTube tags are if you want to make the content search engine optimized. This is because these tags only decide how well your content is going to perform in the YouTube market.
With the VidIQ video editor feature, you can use as many tags as the limit allows you to go up to. VidIQ provides all-round assistance in this regard. All you need to do is install the free Chrome extension of VidIQ. The process of setting up VidIQ is relatively quite simple and transparent. After you have taken all the mentioned steps, you are good to go.
VidIQ comes up with an array of suggestions based on your target search. You can choose up to 50 tags for your video. These tags are what play an important role when it comes to effective YouTube SEO. All you need to do is spend some time gathering information about your competitors in the market. The videos by them can function as effective inputs for VidIQ to come up with the best keywords and tags for enhancing your YouTube SEO.
---


YouTube content cannot be made popular only by creating it with hard work. You also need smart work, especially SEO, to crack the ice. If you are looking for a complete package, that offers not just the best keyword research but also a full-fledged SEO suite.
There are a number of features that you can avail of at one go. These include keyword research, SERP analysis, studying website analytics, rank tracking for different keywords and features that allow website auditing. Using Serpstat one can easily align their content and website to the search-engine for better results and rankings.
The Serpstat tool comes with an interesting feature called competitor graph. You can use this feature to gauge what keywords your competitors are using and how they are working for them. At the same time, you can comprehend keyword trends depending on your niche. It is easy enough to assess the keyword difficulty as well, which helps you gain a comprehensive idea about the suitability of the keyword for your article. It is certainly one of the cheapest options on this list of the best tools for keyword research online. Therefore, if you are looking for a budget package for your SEO problems, Serpstat is certainly one of the most recommended.
---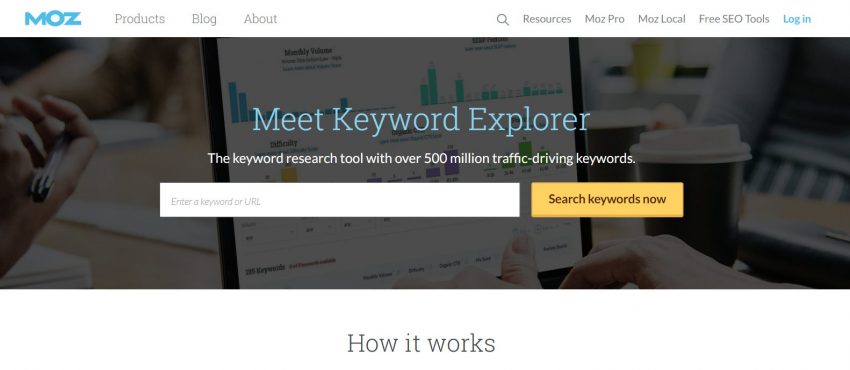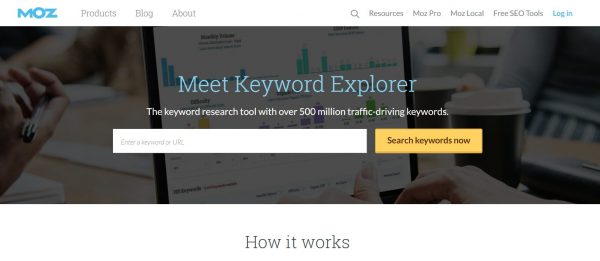 The Moz Keyword Explorer happens to be one of the most sought-after SEO tools for good reason. Its interface is simple and pretty to use. The keywords it recommends are not common and boring. They are quite out-of-the-box yet based out of what viewers are searching about. Therefore, it is easy to make a mark online with keywords researched from Moz Keyword Explorer. At the same time, it does not compromise on other features that come handy with the best tools for keyword research.
The Moz Keyword Explorer comes with an organic CTR score. This means the site offers you a quick analysis of how many clicks you can expect by using the keywords suggested. This is a great feature, considering YouTube video clicks and views matter a lot. At the same time, you also get a priority score of the keyword of choice. This score is a combined effect of the search volume that we have described previously, along with the CTR and keyword difficulty. Therefore, it makes the task of assessing the researched keyword much easier. This is a great boon for YouTube content creators.
With Moz Keyword Explorer, you also get suggestions for related keywords. This comes in handy when uploading content on YouTube, because you can use tags up to 500 characters with each video. You can get up to 10 free queries every month once you sign up with the Moz Keyword Explorer. Besides, you get full access to the complete suite of SEO once you subscribe to Moz. This makes the Moz Keyword Explorer one of the best SEO packages online. This is the top reason we have included it in the list of the best keyword tools for YouTube today.
---


The one factor that can play a major role in your content's popularity is the keyword or tag. This particular tool by KW Finder here takes care of these keywords for you. KW Finder stands for keyword finder, and it lives up to its name in every aspect. Firstly, it provides you with a most comprehensive result across categories. All you have to do is enter the keyword or phrase that you want to research about. It could be something as simple as your niche or a keyword you have found your competitor using. Based on your search, KW Finder will return to you a list of relevant results in the flick of a second.
The best part of KW Finder is its simple and easy-to-use interface. This makes the platform easy to use and pleasing to the eye. Besides, the platform also offers the flexibility of multiple languages in which you can search for targets online. This is great for YouTube content because people would want to put up videos in languages based on country and region.
Not just this, KW Finder also provides you the option of looking at precise statistics related to keywords. Therefore, looking for suggestions, powerful keywords and filters to refine your search becomes even easier. You can easily use these keywords to tag your YouTube video and make it appear in more and more results and feeds. These are the few reasons why we believe KW Finder is one of the best keyword tools for YouTube.
---
SEO PowerSuite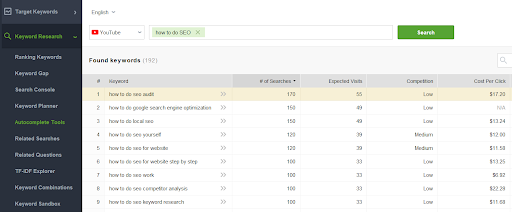 If YouTube optimization is part of your broader SEO strategy, let's say you want to repack your content into video, Rank Tracker from SEO PowerSuite is just the right tool to use.
YouTube Autocomplete Suggestions
The in-built YouTube keyword tool will let you discover tons of keyword ideas for your video optimization absolutely free of charge. Go to Keyword Research > Autocomplete Tools and pick the YouTube search engine to explore. Enter your target keyword and hit Search. In a few moments, the keyword tool will return hundreds of related keywords, pulled directly from YouTube automatic suggestions — these are the most searched terms on YouTube.
Discover Ranking Videos for Your Keyword
Besides, you can use the SERP Analysis tool to examine the search results page in Google. The tool will show if there are any videos ranking for your target keyword. The SEO estimates suggest how difficult it will be to compete if you also create an optimized page for this term.
Analyze Competitor Video Keywords
On top of that, you can examine any competitor video to find what keywords it already ranks for. Go to Keyword Research > Ranking keywords, enter the exact URL of the video, and let the tool do all the rest. You will see all top keywords, their organic positions, search volume, and organic traffic they bring. Borrow the most promising keyword ideas, include them into your content and SEO elements, and you will surely get more organic clicks and views.
---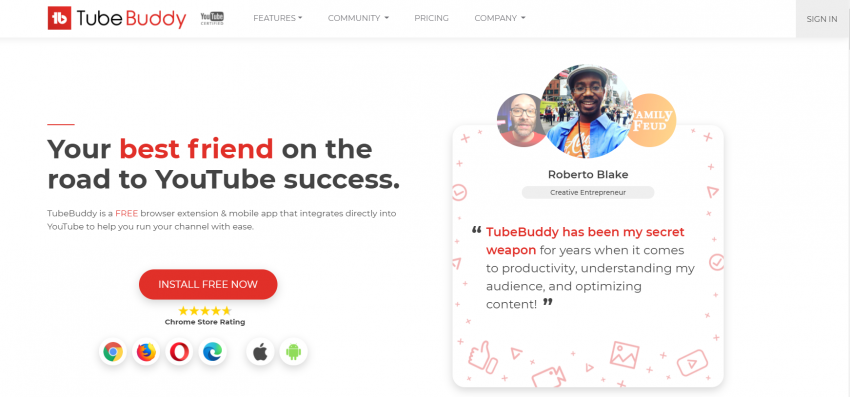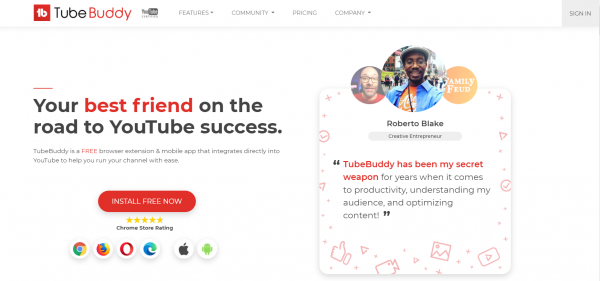 TubeBuddy is one of the most highly recommended keyword tools for YouTube these days. The biggest reason behinds its immense popularity and wide usage is its versatility. TubeBuddy helps in enhancing your video SEO along with providing ample amount of research and data for you to use. Besides, with TubeBuddy, it becomes easier to process bulk video content at once without having to manually handle them separately.
The most important feature out of all the others on TubeBuddy is its seamless YouTube SEO features. Add to that the simplicity of adding it as a Chrome extension, and it becomes an easy choice for many. There are several different ways in which TubeBuddy takes care to make your YouTube content search engine optimized. Some of these are listed below.
Tag explorer
The tag explorer feature of TubeBuddy offers many interesting features and options for you to choose from. A few of them are keyword difficulty, competition and search volume. Using these options and optimizing them based on your video, you are sure to get the best keyword targets for your content.
Using the tags explorer can be used to find the best tags which your competitors and the audiences generally use. This means the TubeBuddy Tag Explorer allows you to remain up to date with the latest trends, facts and targets related to your keyword search.
Suggested Tags
The Suggested Tags feature of TubeBuddy is an excellent tool for anyone who wishes to learn about YouTube SEO. The feature provides you with an array of the best tags you can use with your video. These keyword inputs and targets are provided to you only after wholesome research by the tool. It takes into account your niche, your target keywords as well as your content and competitors. Only then does it deliver such comprehensive results.
---
Considering YouTube is also a product of Google, we cannot keep Google's Keyword Planner out of this list. Google's Keyword Planner is a promising and interesting tool offered by the internet giant. With the help of this tool one can easily optimize their content for search engines, including YouTube videos. The features of the Google Keyword Planner are pretty simple. Yes, in the first instance they might seem a little basic and too ordinary compared to others on this list. However, two things need to be kept in mind. First, Google Keyword Planner offers the most accurate results. Second, it is completely free of cost!
With Google Keyword Planner, all you need to do is locate commercial keywords. You can choose your niche of work and results are shown to you accordingly. The Google Keyword Planner is by far one of the most accurate and best tools for keyword research you will find in the market. The reason is pretty simple – it makes use of the vast resource of data offered by Google's search engine. Since this is the chief search engine most websites and YouTube channels target, it makes for a great option for planning keyword research and targets.
Google Keyword Planner is simple to use and very easy to understand. You get the option of filtering not just the keyword or phrase but also associated searches. This makes your keyword research wholesome and comprehensive at the same time. We would definitely recommend Google Keyword Planner as one of the best tools for YouTube SEO online in 2022.
---
If you were looking for an all-in-one SEO tool that can cater to all your SEO related needs, Majestic is the perfect solution. You do not have to do spend hours manually trying to do look for the right keywords. Instead, Majestic can help you all the way in organizing as well as strategizing YouTube tags and keywords for content. The idea is to be able to paint your future marketing campaigns with a smart strategy.
With Majestic, all the needed SEO features are available in a single toolkit for you to explore. You can very easily find target phrases for your online content. This helps boost you even in the presence of multiple competitors. The best part is that you do not have to avail of their premium plan right away. You can choose to go for a free trial of three searches first.
The idea is to allow people to first try for themselves whether the process and features of Majestic are as per their liking or not. After these free trials, you can make an informed decision about purchasing the premium plan of Majestic Pro. Undoubtedly, it is one of the best tools for YouTube SEO.
---
Final words
That keywords are of utmost importance in the field of YouTube content creation and marketing is a well-established fact. YouTube is a highly competitive platform; there is no doubt about that. This means there need to be some extra efforts in your attempt to make your content top the search results whenever the viewer wants to look at content in your niche. And this can happen only when your content is search engine optimized.
SEO is possible only with the help of the right keywords. When it comes to deciding which is the best keyword tool for YouTube, there is no definitive answer. While VidIQ is perfect for newbies on YouTube or someone who doesn't have enough SEO knowledge, TubeBuddy is the ideal choice for all kinds of YouTube content creators.
In terms of popularity, Google Keyword Planner manages to take away more credit because of its free cost and great accuracy. Yet, in terms of easier interface and help with the basics, the score table leans towards platforms like KW Finder and Moz. Ultimately, the niche, your brand idea, image and awareness also play a role. Budgetary constraints, trust value and experience can also act as important regulators. Make an informed choice and a well-planned investment to get the most out of these best keyword tools for YouTube.