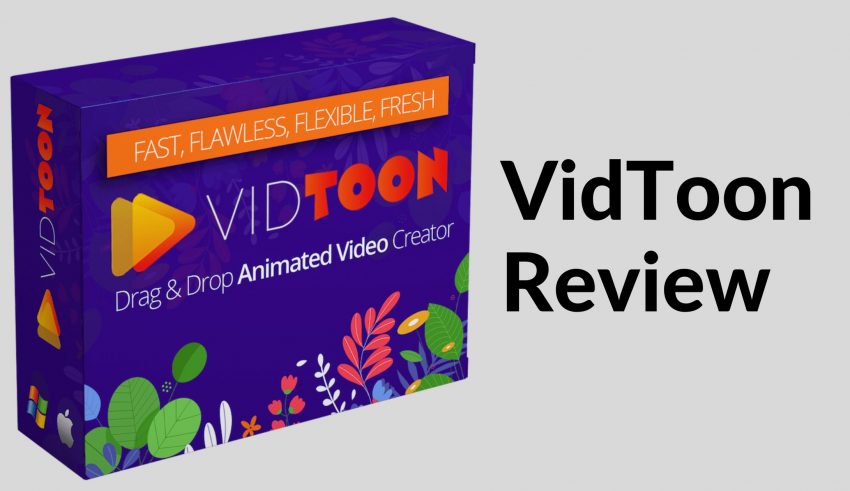 Thanks to the fast, evolving technology, people's attention span today is seriously dwindling and becoming shorter than ever. As per statistics, if given a choice between a video and a text, the majority of people would choose to watch a brief video than read long paragraphs. This is one of the reasons why brands are investing in video marketing.
Videos are interactive and visual. With videos, brands potentially have the power to capture their audiences' attention. Videos then, become a unique digital marketing gateway for businesses to promote and sell their products.
Animated videos can help brands leverage the power of video marketing to convey information in a simplified manner. By doing this, brands can leave a lasting impression on the audience and hence, create brand awareness digitally.   
About VidToon
VidToon is one of the best animation video maker software that lets layman users create animation videos easily within minutes. With ready-made animated characters, motion graphics texts, audios, and more, this video maker software is the ultimate video marketing tool. 
VidToon does not require users to have technical design skills to be able to create videos. With this animation video maker, you can use the easy drag and drop method to create eye-catching animations within minutes.  
The animation videos created using VidToon have the potential to capture attention and engage the audience. This is paradigmatic because it compels them to spend time to know about your product or service.
Plus, you can do this at a minimal cost. VidToon allows you to save your bucks that you would otherwise pay to professionals for doing the exact same job. Whether you want to create tutorials, explainer videos, advertise or sell products, with VidToon you can do it all. You can create powerful animations for your brand and maximize your digital marketing potential.  
Read our complete VidToon review to know about this animation video maker software, down to every little feature and detail.  
---
Features

of VidToon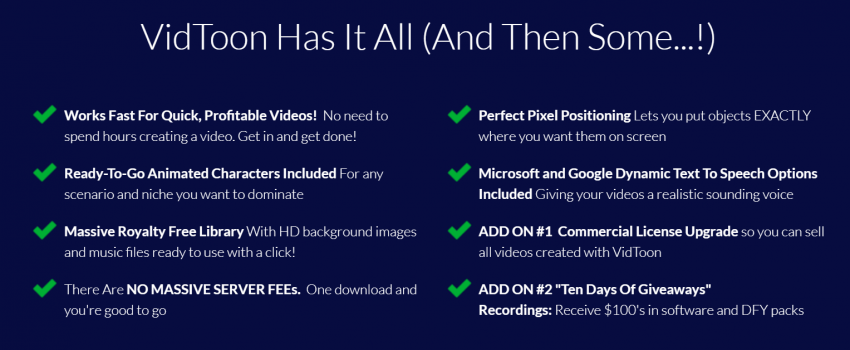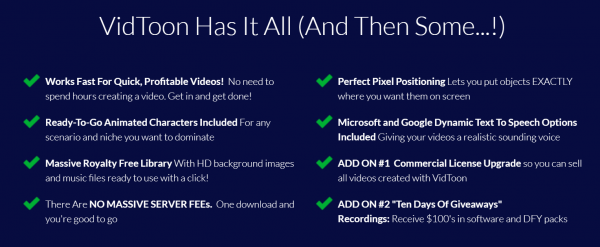 This video making software comes with everything you need to create brilliant animation videos. Its features are one of a kind and simplify the video-making process down to basics.
Some of these features are listed as follows: 
Generates Videos in Minutes
Want to create attractive videos fast? With VidToon, you are at the right place. It lets users drag and drop elements, add transitions and effects, modify backgrounds, and export the videos in a flash. It is literally as fast as counting 1, 2, and 3! 
Massive Royalty Free Library
VidToon boasts of a huge library of graphics, royalty free images, HD backgrounds, audios, and more to create impressionable videos. All these elements are ready to use with a click of a button. These will be included within your paid subscription.  
No Learning Curve
As mentioned before, you need not be a design pro to make amazing videos using VidToon. With its pre-made elements, you can simply drag and drop them to create animations that leave an impact.  
No Extra Server Fee
Unlike other video making software, VidToon does not charge any additional service fees for rendering videos. Once you are done creating your video, simply hit the download button and you are good to go. Your video is immediately ready to use or publish at no added costs.  
Perfect Pixel Positioning
Get every element of your video exactly where you want it to be with VidToon. This video making software comes with a Free Roam Canvas. This allows you to drag and drop objects, animated characters, etc.. and place them anywhere you want on the screen. If your brand aesthetic demands that a certain element is a certain way, VidToon makes it conveniently possible.  
Microsoft + Google Dynamic Text to Speech
Want to add realistic speech to your audios? VidToon supports Microsoft and Google Text to Speech functionality. This means that you can type the text and convert it into human speech to be added to your video.  
User-Friendly Dashboard
VidToon has literally everything already done for you. All you need to do is drag, drop, click, and export to get the final video in your hands. Simply click on a Setting you want to modify, select the desired option and that's it! Your video is ready to be exported.  
Complete Customization
With VidToon, you can customize every element to suit your brand aesthetic. Customize fonts, text colors, resize objects, reposition elements, and do absolutely anything to make your video look like you want.  
Works on Both MAC and PC
The VidToon software is easy to install on multiple devices (maximum 10) at no extra cost. It does not require users to have a separate license for installation on different devices. Plus, it functions equally well on both MAC and PC. So no matter whichever laptop or computer you have, VidToon is your ultimate video marketing solution.  
30 Days Free Trial
VidToon comes with a complete money-back guarantee up to the first 30 days after purchasing a subscription. You can try and create unlimited videos with this software risk-free for 30 days.
Should you be dissatisfied with the services provided or the quality of the videos, you can cancel your subscription and get all your money back. They will first contact you and mutually try to fix any issues that you might have. If not, you get your refund and no questions asked.  
---
What's Included

?

 
VidToon comes with tonnes of resources for creating animation videos quickly and hassle-free. Its massive library of resources, from backgrounds to audios, is literally all you need to scale up your digital video marketing campaigns.
When you buy a subscription from VidToon, you will get access to the following resources included within your plan: 
25 Readymade Animated Characters
VidToon comes with pre-made animated characters for a variety of niches. No matter what kind of business you want to promote, VidToon is likely to have a character that you can use. Plus, you can use the one-click flip option to change the default direction of the character which you select.  
30 Eye-Catching Animations
With each of the 25 animated characters that come with VidToon, you get multiple animation possibilities. With pre-made animations already applied to different characters, you can add them to your video in a few clicks. Moreover, every character has some unique animations matching their professions. This means that you will never fall short of variety here.
200 + Music Tracks
Adding sound or music to animation videos makes them all the more engaging and captivating. With VidToon, you can select from a massive library of audio tracks to go with your video. Now you do not have to search the web a million times to just find the right track, because it is right there in your VidToon subscription.  
34 HD Backgrounds
To make your animation videos stand apart from the rest, VidToon offers a library of high definition background images. These backgrounds are relevant to a variety of niches and scenarios. To add these to your videos, you just have to drag and drop them onto your video creation screen.  
250 + Sales Graphics
To leverage the power of video marketing, businesses use videos to advertise and sell their products right through the videos. This is why you need sales graphics to boost sales through video marketing.
And the VidToon software gives you just this. It has a massive collection of ready-made sales graphics that can be added to your videos in a click. From CTA buttons to badges to headlines to banners, VidToon has every sales graphic that you could possibly need.  
If you want customized images, infographics, music to go with your video, then you can do that too with VidToon. This software allows users to import their own images or audio files to the software. They can then, add it to the video that they are creating.  
---
How to Make Videos with VidToon

?

 
With this video making software, you can create stellar animations in just three easy steps.
Read on below for know-how:
Activate
Go to their website and purchase your monthly subscription. Then, download the VidToon software and add your email ID to activate it. Now, you are ready to make your first video. 
Customize
Create stunning animated videos using the massive collection of images, graphics, audios, and other resources that are offered. Drag and drop elements, add texts, customize fonts, and develop your unique aesthetic into a finished video. 
Publish
With a click of a button, you can export your video quickly. Videos created using VidToon are rendered almost immediately. Your videos are now ready to publish, use, share, and ready to earn profit from.  
---
Plans and Prices
VidToon offers a single package called the Commercial License at a minimal fee of $47 charged monthly. If at any point you think you do not require VidToon any longer, you can cancel your subscription. With the Commercial plan, you can create an unlimited number of animation videos monthly and sell them to keep 100% profits.
Apart from all the resources listed above, the Commercial License includes two add-ons:
Free Upgrade to sell the videos that you create.

 

Ten Days of Giveaways to get dollars' worth of free training and video marketing resources, tools, and more absolutely for free!

 
---
Summing it up
VidToon is one of its kind animation video maker software that makes digital video marketing easier than ever. With its powerful, advanced video making tools, spending hours on generating an animation is a thing of the past.
With this, you can do digital marketing the right way with attractive animation videos. Quick, reliable, and effective, the VidToon software gets the job done in minutes.
So, whether you are a marketing professional on a tight budget or simply someone who wants to save their bucks. VidToon is the ideal video creating and marketing destination for you.