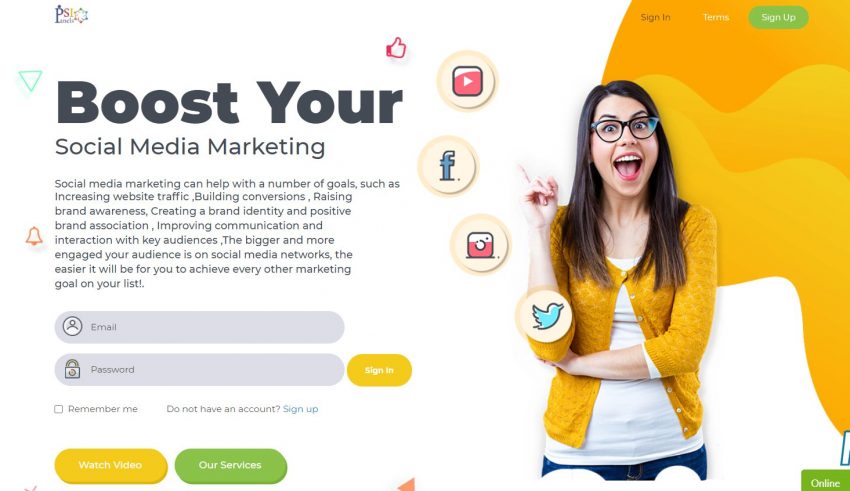 Social media marketing is now considered a perfect tool in the scheme of things nowadays. Because more number of people are doing work online and are purchasing products on the internet, marketers cannot ignore social networking sites to be in touch with customers.
Social media marketing can help you to achieve goals like increasing website traffic, building conversions, increasing brand awareness improving communication and interaction with key audiences, and many more.
When your audience is bigger and more engaged on social media networks, it will become easy for you to achieve each and every marketing goal you have on your list.
Why use PSI Panels?
PSIPanel is recommended for use mainly because of its features. The site calls itself an online marketing veteran. The site can provide comprehensive results-oriented online media services that are helpful for growing and building your online presence.
The site prefers support LIVE through Skype instead of Ticket support for getting any sort of information immediately and resolve any problem as soon as possible. But on the other hand, all Big Re-seller do support only through ticket.
The site is the provider and the premium reseller of most of the social media marketing services on the web. Their SEO and SMM panel is something you might need for your traffic on social media accounts, engagement, ranking your video, profile, and website, and also, if you are an SMM services reseller, you can find the things you need with the new updates on this site.
The site promotes you on different social media platforms and brings the audience in broad to your customer base and when they sell a social media reseller panel, it assures that there will be an expansion in your client base.
This means that you will get plenty of help to market your product or services with the help of these media. The site uses your personal information filled up at the site only for completing your order. The site does not sell or redistribute your personal information to others. Your personal information remains encrypted and is saved in the secure servers of the site.
---
Services offered by PSIPanels
We all love it when our posted content is loved by everyone and social media marketing plays an important part in it. It helps in the publicity of the content posted by you and eventually, you can get a large number of likes, comments, and followers for the social media account you are using.
PSIPanels has a large number of options for various social media platforms that can help you to expand your appearance on social media. So, here are the services offered by PSIPanels for different social networking sites:
Facebook
Facebook is a very well-known social media platform used almost by everyone in today's world. PSIPanels helps you to increase your appearance on Facebook by providing likes, comments, and followers at an affordable price. The site offers Facebook fan page followers, Facebook page likes post, and comment for a lifetime and a guarantee of no drop. The plans for Facebook fan page followers and Facebook fan page likes at a price range of $4 to $7.30.
Instagram
There is no doubt that Instagram has been able to help a large number of brands to increase their publicity in social media. So, if you have the same aim, then PSIPanels is the best site to go for. PSIPanels offers plans for Instagram at affordable prices and provides likes, views, followers, and views for Instagram TV at a price range of $0.22 to $12.
Spotify
Spotify is a very well-known audio streaming and media services provider and is being used by millions of people around the world. The app has gained popularity mainly for providing chances to talented singers between common people for showcasing their music. If you are doing the same and you want to increase your Spotify plays and followers, then you can choose PSIPanels that offer Spotify followers and plays plans at a price range of $1.80 and $2.30.
Telegram
A few days ago, WhatsApp made a few changes to its privacy policy, and many users have switched to different messaging apps and Telegram is one of them. No doubt that now it has an equal number of users like WhatsApp. If you want more post views and members in your Telegram groups, then PSIPanels is the best destination for you and it provides Telegram post views and Telegram group members at a price range of $0.80 and $4.65.
TikTok
TikTok is a very popular video-sharing social media platform and is used by millions of people all around the globe. The platform is much popular for its videos that are posted according to the ongoing trends. You can use PSIPanels to get more likes, followers, and views on your TikTok videos at a price range of $0.23 to $8.
Twitter
Twitter is a well-known microblogging and social networking platform and people post and interacts with messages that are called "tweets". Your tweets can be more popular only when they are seen by many people. So, you can use PSIPanels to get Twitter video views, likes, retweets, impressions, poll votes, and real followers at a price range of $0.95 to $5.
---
Pros of PSI Panels
If you place HQ, HR, Best Traffic, and High Watchtime Views together with YouTube and if you use the services like shares, likes, comments, comment like (upvote), favorite, and subscribers, you can boost your video and position it at the first page on a KeyWord.
You can also use the site's Live Streaming service and rank your video higher. The site provides you the best and easy dashboard where you can track the status of your orders and also calculate your number of orders. You can also check your investments and profits.
Safety is important while using these types of sites and PSIPanels provides the same to you. The site has taken different steps to assure the safety of your accounts. The site processes all orders instantly and it has claimed that there won't be any sort of delay if you order at their website. In case if there is an order delay and it has been more than 24 hours, you can contact the site's customer support and they will immediately fix the issue.
---
Conclusion
We all are very conscious regarding our social media appearance. With the advancement in technology, various new methods have been developed in order to help us with this issue.
In today's world, people prefer to buy views, comments, and likes for their social media posts which is now not considered a bad thing because somewhere, this process is legal until and unless you are using a real and genuine site to buy those views and comments.
Moreover, social media marketing has helped a lot of people to get a boost in their career and has also helped a lot of businesses to expand the name of their brand, and today, those brands are earning huge amounts of profits.