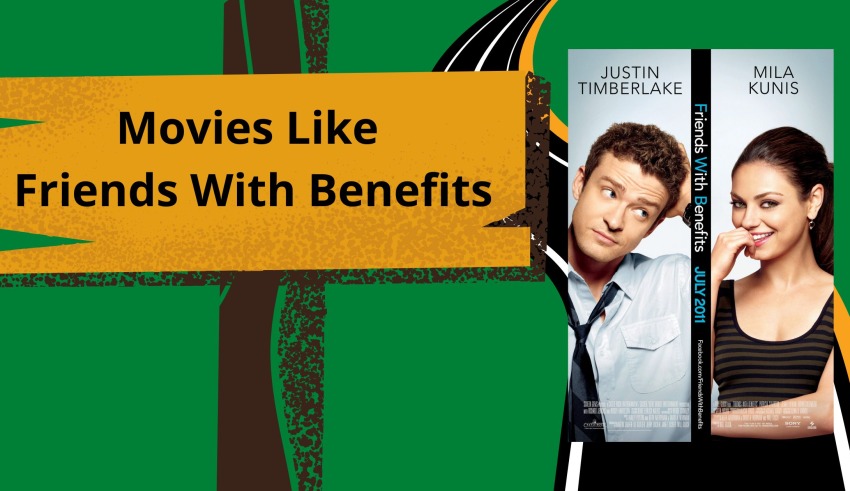 It's good to have friends in life and the concept of friends with benefits has gathered enormous popularity in this generation. Especially after the release of the movies Like 'Friends with Benefits'. This movie perfectly showcases the importance of having a friend in life and how, sometimes, friendship involves fooling around with one another.
For some, this concept can be totally emotionless and purely physical, while for others, it may unveil a much deeper truth that they're in love, which is amazing! It may sound like a bizarre approach, but it happens a lot more than you think. Either way, this phenomenal movie is an excellent blend of romance and comedy altogether.
If you haven't watched Friends with Benefits, then you are missing out on a wonderful movie. But if you have watched it, we have some amazing recommendations for you!
Here is the list of the 20 best movies like Friends with Benefits in 2022.
One Day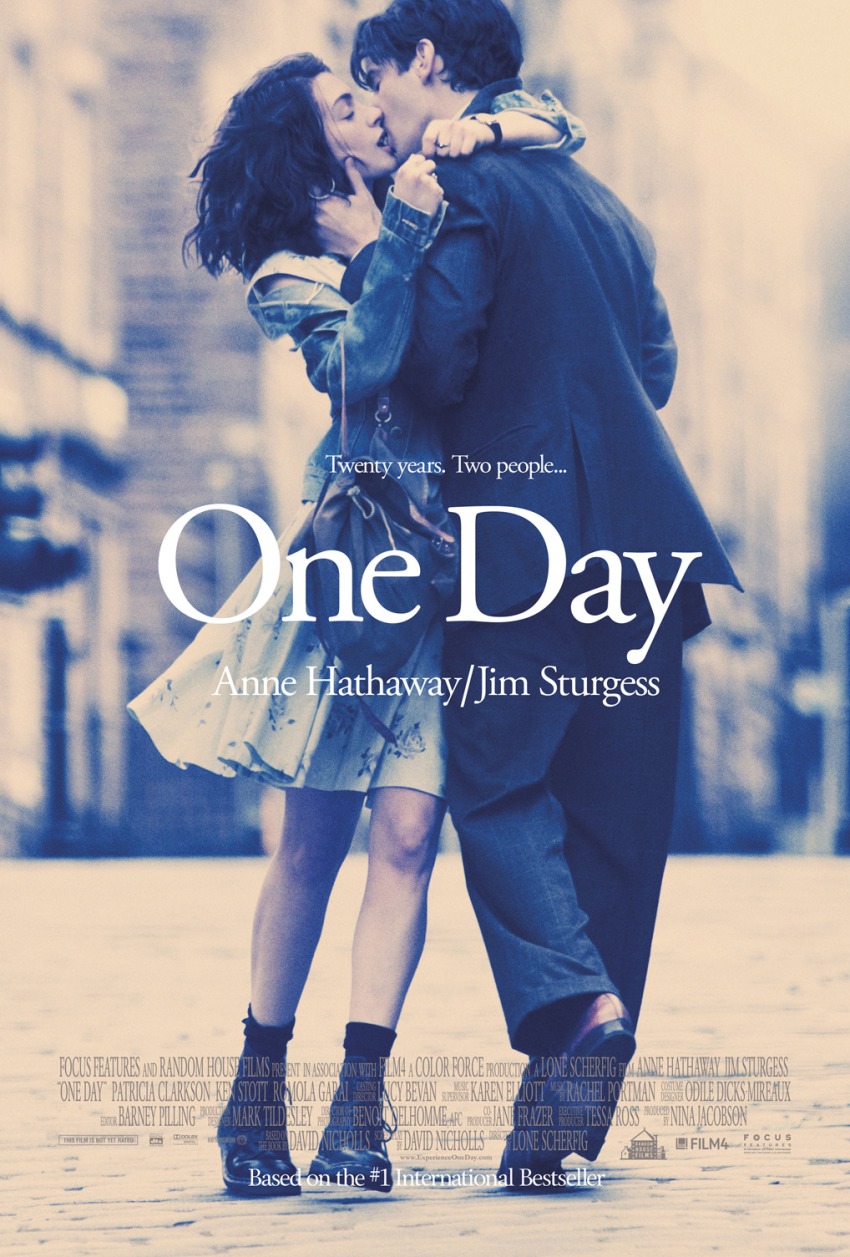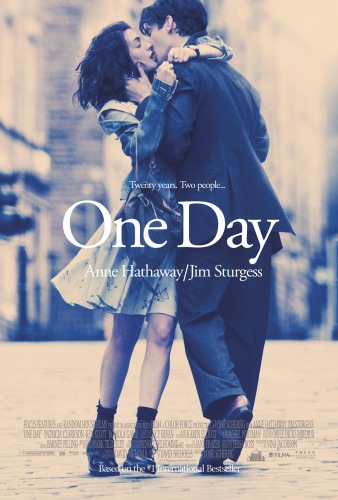 Available at Amazon Prime | Netflix
One Day is a wonderful tale of Emma (Anne Hathaway), a working-class idealist, and Dexter (Jim Sturgess), a spoilt philandering playboy. The story uniquely reveals their current whereabouts and where they are in their lives on the 15th of July every year.
Whether they are alone, with friends, or with each other, the story shows a consistent progression of their friendship which, after several years, grows deeper and deeper. This movie is a perfect example of the concept – 'Love will find a way' adapted from David Nicholls's novel of the same name.
It is a beautiful British-American Collaboration with some heartwarming romantic scenes. Anne Hathaway's portrayal of a British woman with excellent command of the accent is commendable. If you are a hopeless romantic, this movie is right up your alley.
---
When Harry Met Sally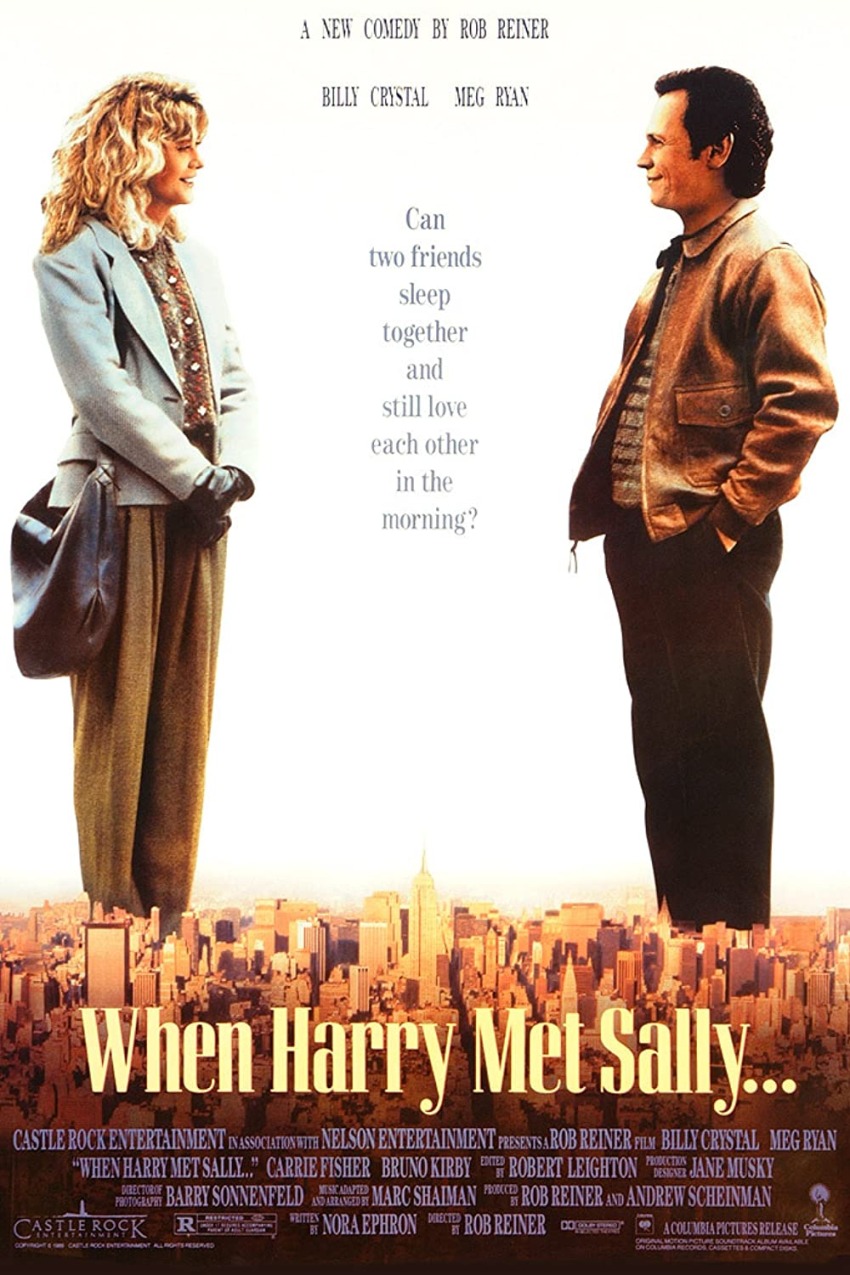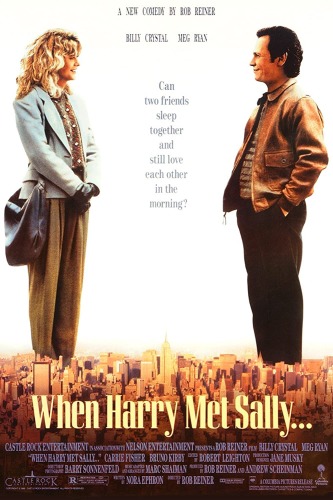 Available at Amazon Prime
When Harry Met Sally is a classic romantic comedy right from the 1989s era that will melt your heart. Starring Meg Ryan, Billy Crystal, and Carrie Fischer, this movie showcases the mesmerizing love story of Harry (Billy Crystal) and Sally (Meg Ryan).
The love story starts when young Sally shares a ride to New York with Harry. However, things don't go as planned as they end up arguing about a lot of issues, including the one with the most amount of disagreements – 'a woman and a man can never be friends'.
After several years of failed relationships on either side, they run into each other again. But this time, they are more mature and respectful of each other's opinions. They get along well this time and remain friends.
But will this gauntlet of male and female friendship last forever, or will it turn into something more than just friendship? That's what this classic American love story is all about. With a bit of banter, sparks of love, and relatable comedy, this movie is a must-watch.
---
The Ugly Truth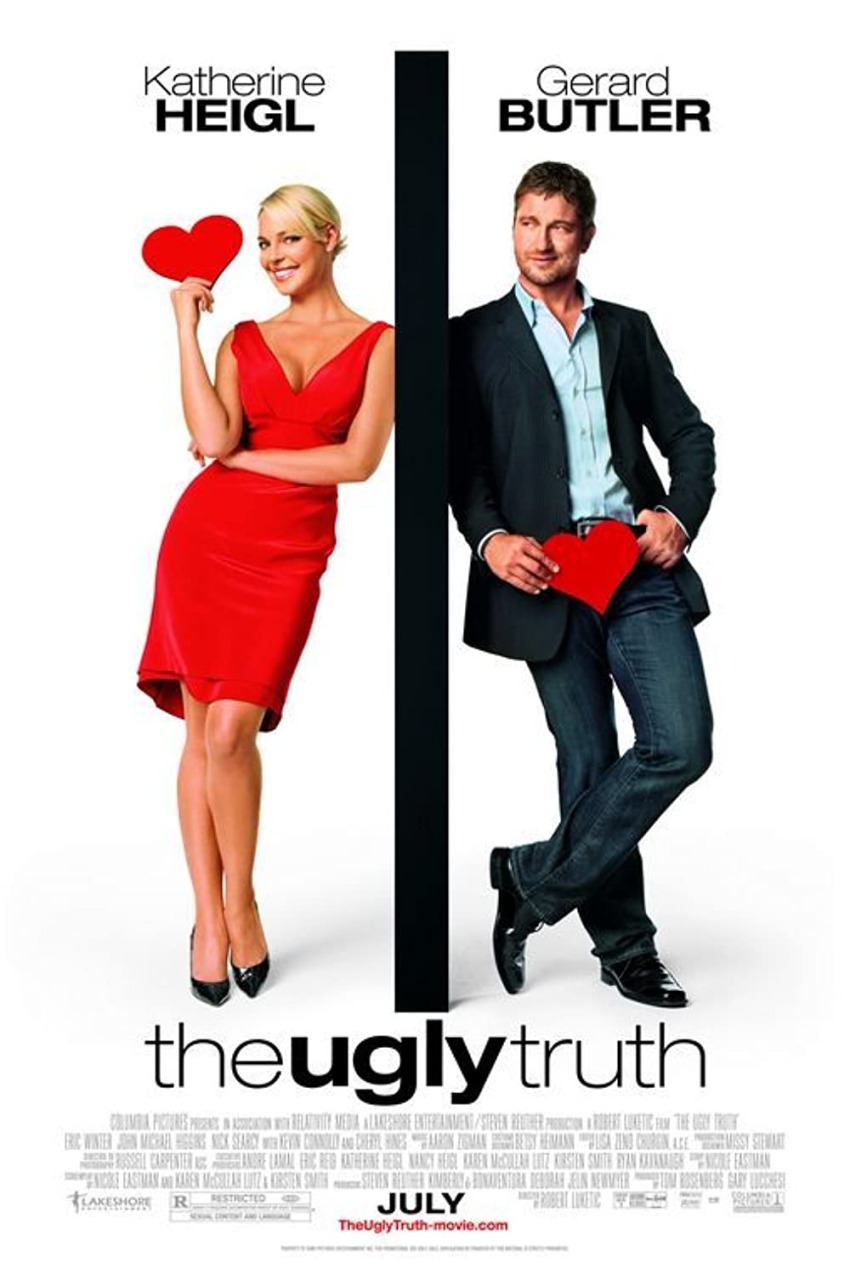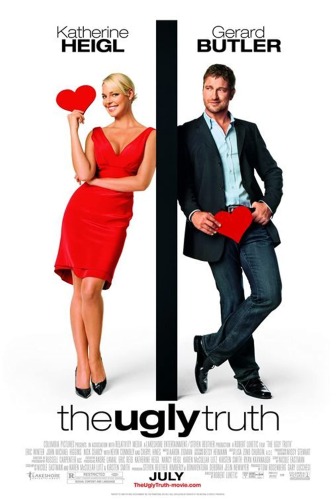 Available at Amazon Prime | Netflix
The Ugly Truth is a story about two combatants who manage to become good friends or maybe a little more than just friends. Abby Richer (Katherine Heigel) a TV producer of the show 'Loves-to-Love' is forced to work with a love cynic Mike Chadway (Gerard Butler) in an attempt to improve the ratings of the show. Things start very rockily because Abby can't tolerate Mike's misogyny and he cannot stand her infatuation with love and fairy tale romance.
While they try to stay civil in their love and hate friendship, Abby meets her dream man Colin, a doctor who just moved in next door. Mike offers his expertise to help Abby win over Colin but Abby refuses his advice. He proposes a deal that if his plan works out, Abby must accept her mistakes and learn to work with him.
And if he loses, he'll leave the show for good. Accepting his proposal, Abby tries to win over Colin. Will Mike's advice help her succeed in her plan to date Colin or will it turn around things for both of them? That'll be fun to watch!
---
Love and Other Drugs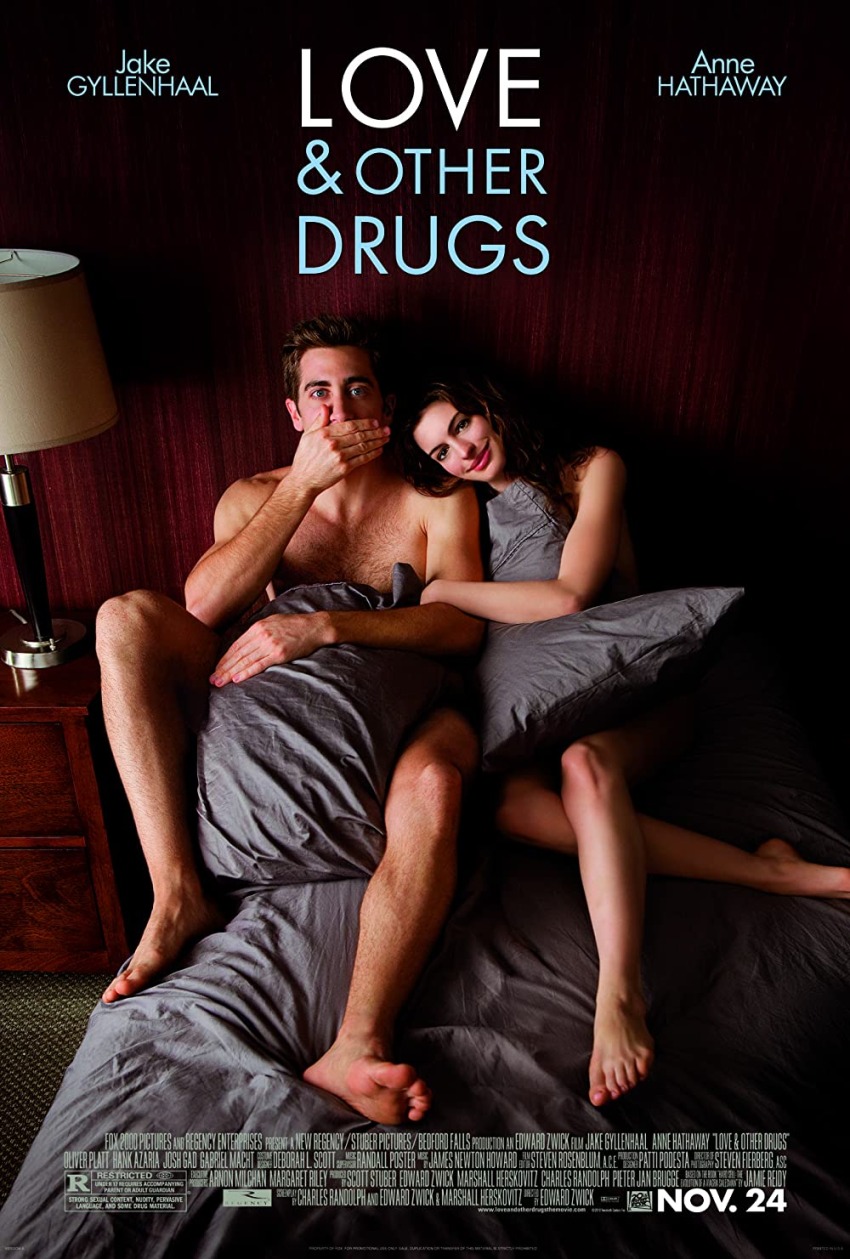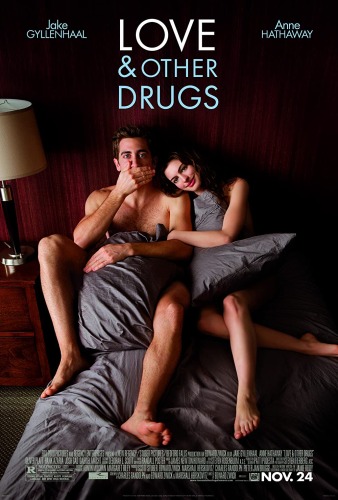 Available at Amazon Prime | Netflix
It is said that love is a sickness, but what Maggie doesn't need is another sickness in her life. Battling her way through Parkinson's disease, Maggie (Anne Hathaway) always finds a way to enjoy her life to the fullest.
Luckily she runs into Jamie (Jake Gyllenhaal), a drug representative and a ladies man who follows her principles of living life with enthusiasm. Matching each other's energy, they quickly become good friends. But their friendship turns into a complicated relationship when both of them realize that they are falling in love.
Now, Maggie and Jamie have to decide whether they want to be together or not. With Maggie's sickness, what is it going to be? You'll find out when you watch Love and Other Drugs. Nominated for two Golden Globe and Satellite Awards, this heartwarming tale about life, self-discovery, and commitment will make you fall in love again with your loved one.
---
Life as We Know It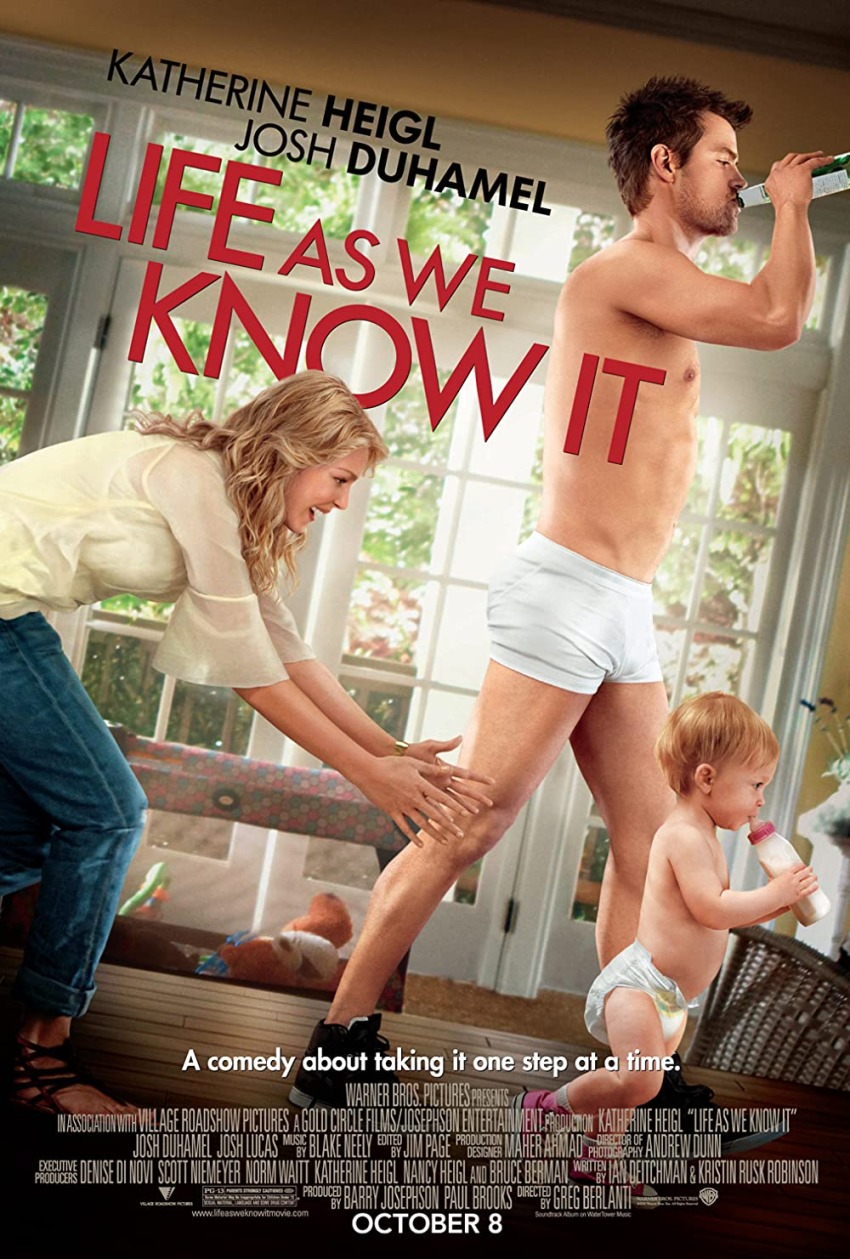 Available at Amazon Prime | Netflix
Life as We Know it is another brilliant movie starring Katherine Heigel and Josh Duhamel. Following the similar concept of 'Love always finds a way, this movie is a masterpiece of the romantic comedy genre.
The movie starts with a married couple setting up their two best friends on a date. However, the date turns out to be a disaster. After a few years in a tragic accident, the couple dies in a car crash leaving their one-year-old daughter in the hands of her godparents. Yes! You guessed it right, the two best friends turn out to be the godparents. They are the legal guardians of the one-year-old girl.
Desperate to do the right thing for their friends, they learn to put behind their differences and live together. Unprepared to handle the situation, their lives turn into a mess. Will they manage to take care of the little girl? We'll have to watch the lovable rom-com to find out.
---
What Happens in Vegas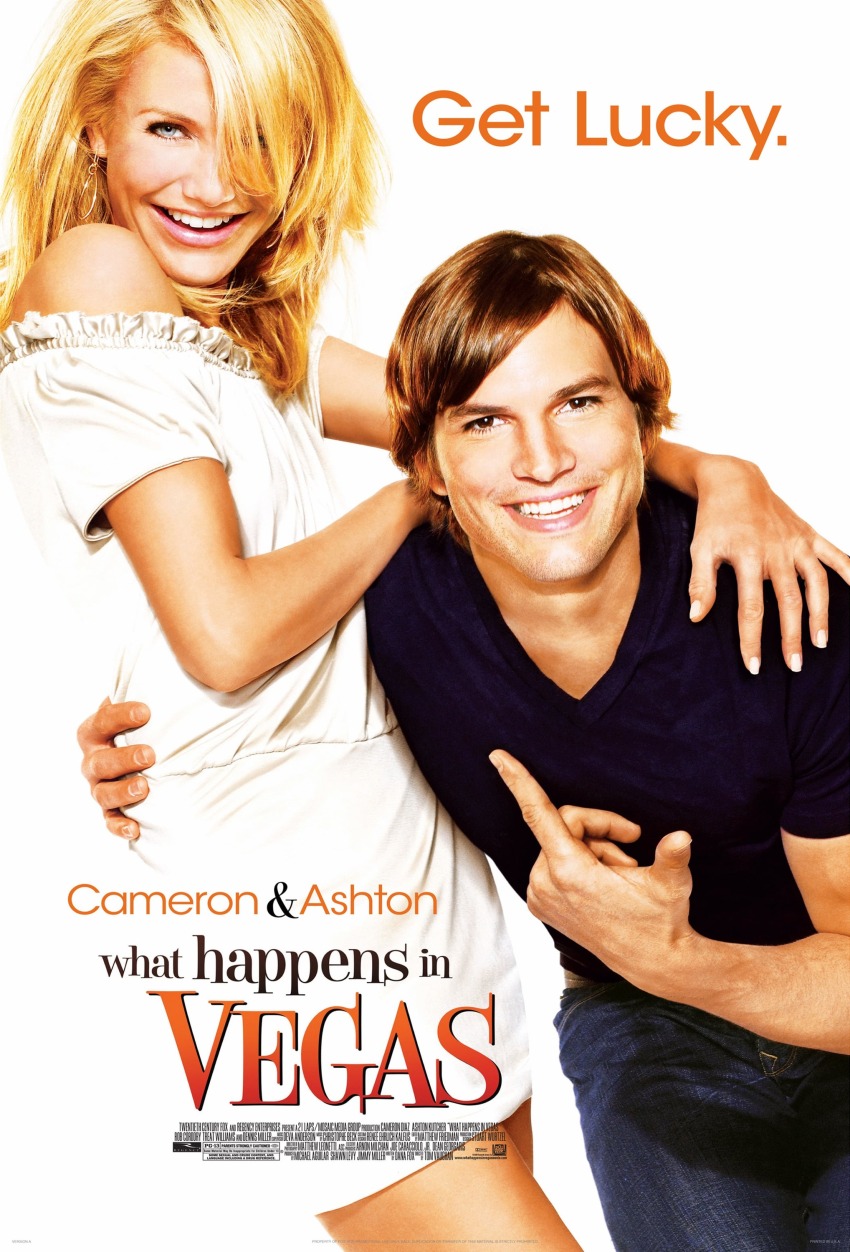 Available at Amazon Prime | Netflix
While What Happens in Vegas may not follow the traditional romantic comedy plotline, it still is a good alternative to Friends with Benefits. The premise follows the life of Joy (Cameron Diaz) who gets dumped by her boyfriend at a birthday party she threw for him.
She then decides to go to Las Vegas to take a break and clear her mind. Meanwhile, Jack (Ashton Kutcher) who has the opposite personality plans a similar trip to Las Vegas after being fired by his father's company because of his laid-back attitude.
A booking mishap brings them together in the same hotel room. After rectifying the mistake, they decide to celebrate a night together in the town. However, this night turns into a terrible mistake when they wake up married to each other.
Realizing what they've done, Joy and Jack decide to get a divorce but the universe had something else planned for them. Just when they decided to put the whole thing behind them, Jack wins a million-dollar jackpot with the coin Joy gave him the other night.
Now, Joy wants half of it but Jack is not willing to share the price. To add more to their miseries, the divorce request gets denied which forces them to co-habitat for the next six months to work it out or use the money to resolve the dispute. How does the pseudo-marriage between the two works out at the end? Will they ever fall in love with each other or just drift away? Watch the movie to find out!
---
Forgetting Sarah Marshall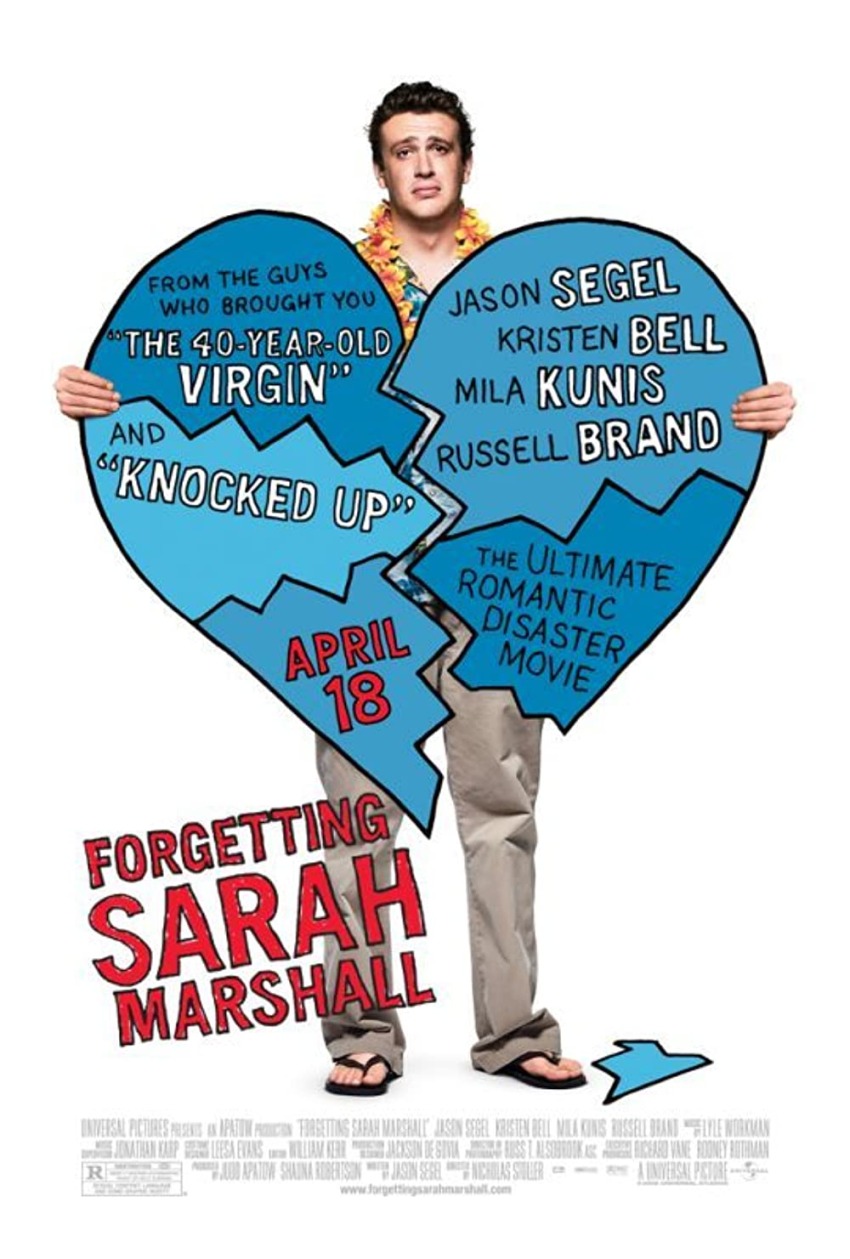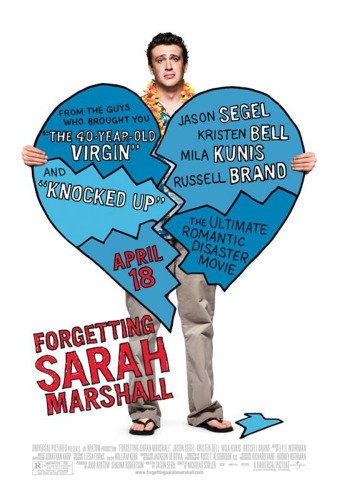 Available at Amazon Prime | Netflix
As a struggling musician when life doesn't go the way you want it to be and your girlfriend dumps you after five years of a loving relationship, you get pulled into the downward spiral of mess and self-loath. This is exactly what happens to Peter (Jason Segel) when his girlfriend Sarah Marshall (Kristen Bell) leaves him because of his struggles in life.
With lots of crying and several tries to numb the pain, Peter finally decides to get his life back on track. He plans a trip to Hawaii to clear his mind where he meets a beautiful and quirky hotel staffer Rachel (Mila Kunis). But things get awkward when Sarah arrives on the island together with her new boyfriend who happens to be a renowned superstar.
Despite the presence of his ex, Peter gets a hand of sympathy and friendship from Rachel. But is Peter's love real for Rachel or is it just a way to make Sarah jealous? That's a mystery! Following the rom-com genre of movies like Friends with Benefits, Forgetting Sarah Marshall is one movie that you cannot miss.
---
27 Dresses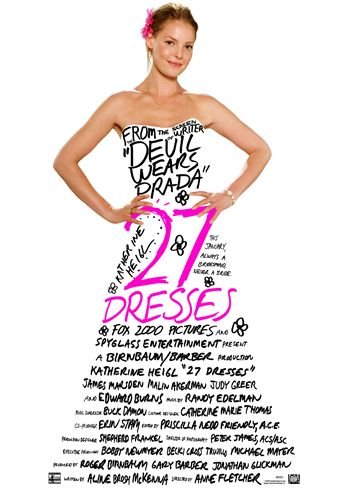 Available at Amazon Prime
Another classic American romantic comedy movie from the 2000s, 27 Dresses challenges the boundaries of sisterhood. The story follows the life of Jane (Katherine Heigel), a very kind and beautiful girl who has been a Bridesmaid for 27 weddings till now.
She is a selfless woman who puts others' happiness before hers. And this is the reason why she agrees to become her sister's Bridesmaid who is marrying the man she loves.
As the wedding planning starts, Jane asks Kevin (James Marsden), a guy who is very vocal about his misgivings towards the concept of marriage to cover the wedding. While working together on the wedding, Jane and Kevin begin to get to know each other better.
They realize that there may be a little more than just friendship between them. How they deal with the situation and how Jane's life turns around after her sister's marriage is what the plot is all about.
---
No Strings Attached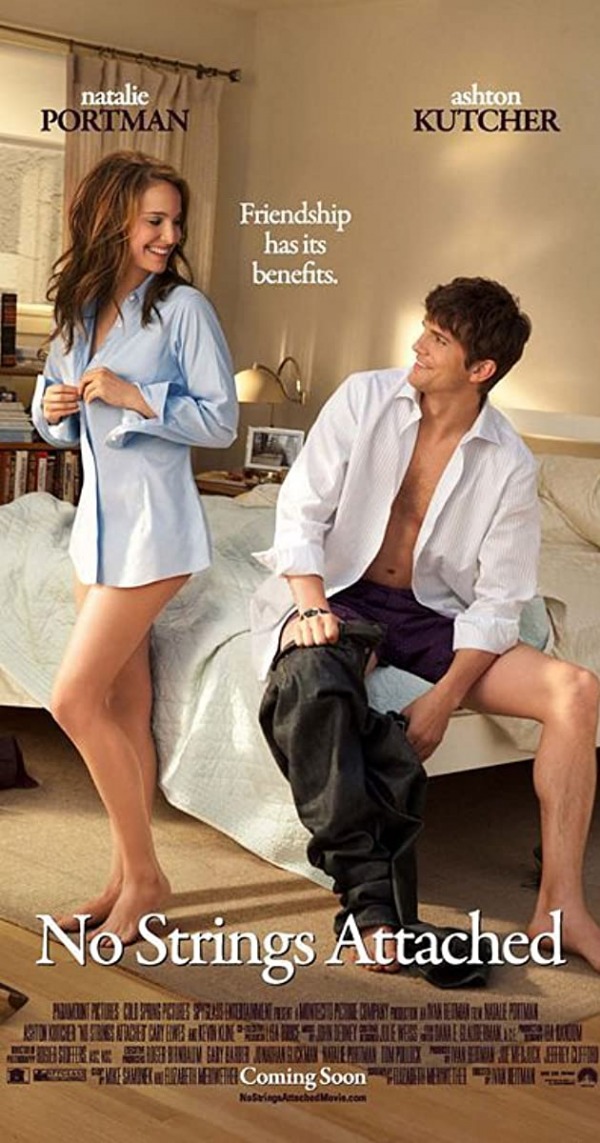 Available at Amazon Prime | Netflix
Released just six months before Friends with Benefits, this movie follows a similar premise. Emma (Natalie Portman) and Adam (Ashton Kutcher) were childhood friends who reconnect in their adulthood.
Emma being a doctor has no time to date or be in a relationship, she proposes Adam begin a 'No Strings Attached' relationship with her. However, this relationship doesn't last for long when emotions get in the way.
With a wonderful supporting cast starring Mindy Kaling, Jake Johnson, Greta Gerwig, Ludacris, and many more, this movie is even more fun to watch. If you are looking for a movie that has a similar concept to Friends with Benefits then this one is right up your alley.
---
My Best Friend's Wedding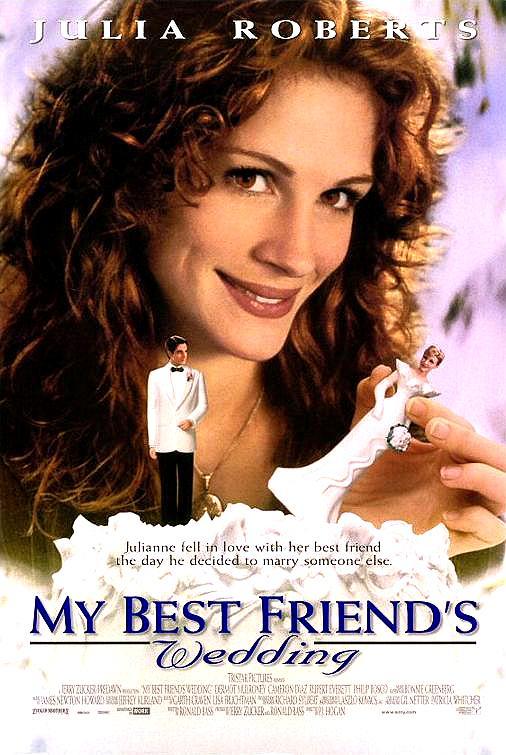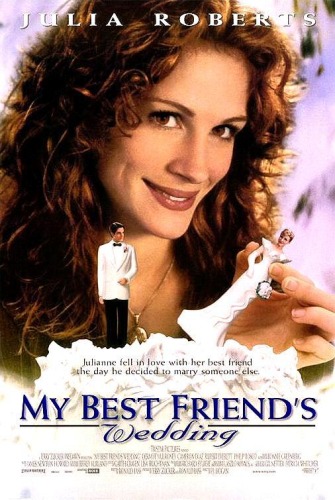 Available at Amazon Prime | Netflix
Another beautiful romantic comedy movie starring the 90's royalty Julia Roberts is a must-watch for all movie fanatics. Jules played by Julia Roberts realizes that she is in love with her best friend Michael (Dermott Mulroney) just when he is about to get married.
On a mission to win him back over, she decides to sabotage his wedding with Kimmy (Cameron Diaz), a wealthy Chicago socialite. But while doing so, she encounters many challenging circumstances that force her to learn a lot about herself.
With an amazing cast and refreshing soundtrack, this movie sprinkles the magic of love and romance in the air. For all rom-com lovers, this movie is a delight and the perfect choice for a movie night. So, don't wait up, stream it now and enjoy the movie with your loved ones.
---
10 Things I Hate About You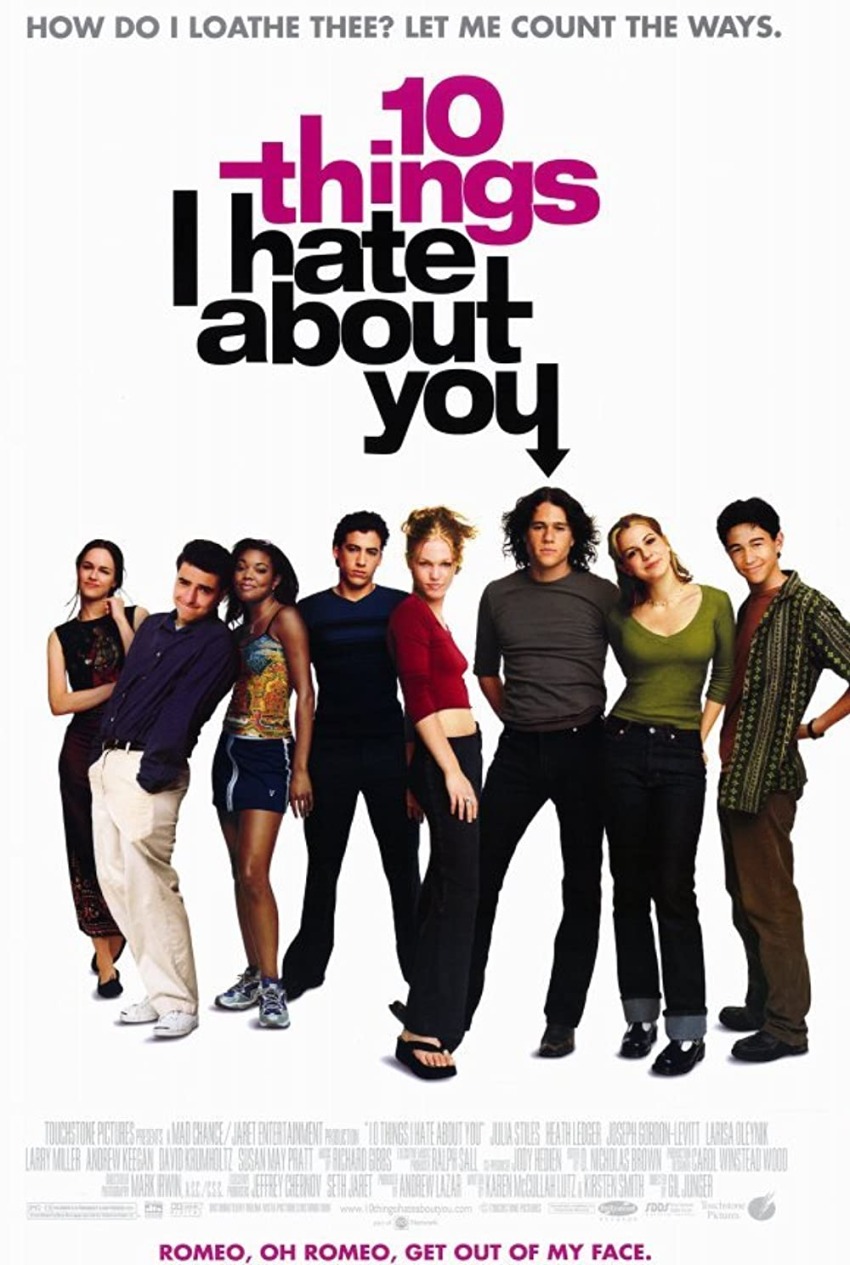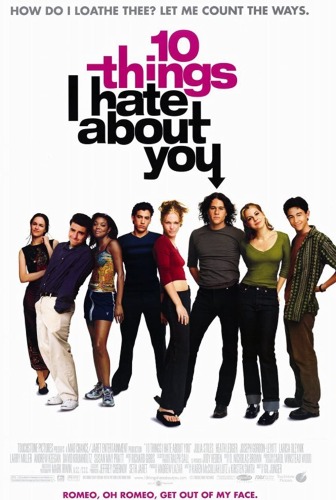 Available at Amazon Prime
10 Things I Hate About You holds up as one of the best teen romantic comedy movies of all time. Loosely inspired by Shakespeare's drama 'The Taming of the Shrew', this movie is a mixed bag of talent, charm, and an amazing storyline.
Bianca (Larisa Oleynik) a beautiful young teen cannot date anyone in the school until her sister finds a date too. This is the rule set by their father who very well knows that Katherine (Julia Stiles) Bianca's older sister, will never fall into the trap of high school love.
Frustrated with the Bizzare rule of her father, Bianca asks Cameron (Joseph Gordon Levitt) the boy she likes, to help her out. He pays Patrick (Heath Ledger) to take Katherine on a date and try to date her to make things easier between Bianca and him. Will Katherine go against her belief and date Patrick? With an incredible star cast, this is one of the best high school movies that you must look out for.
---
Good Luck Chuck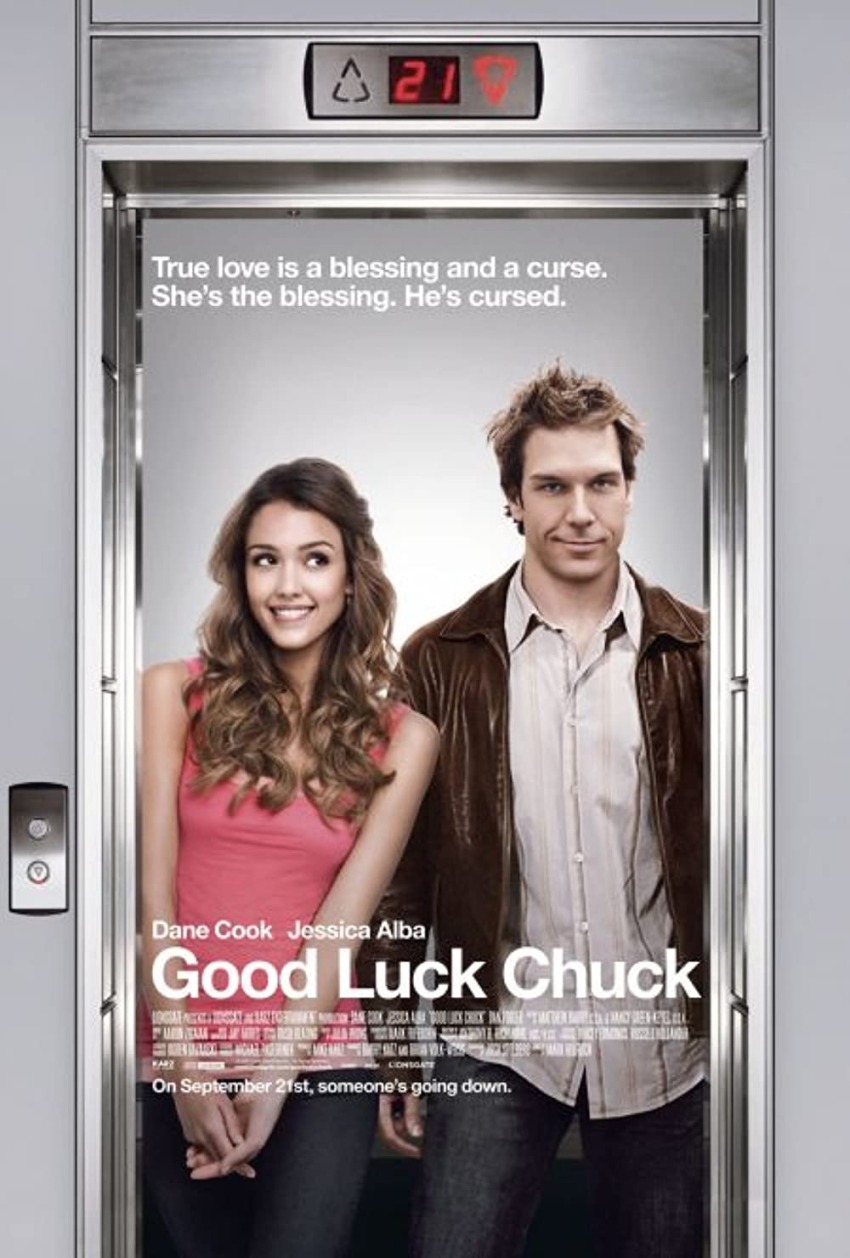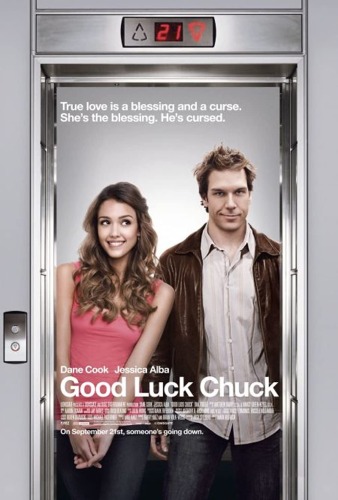 Available at Amazon Prime | Netflix
Starring Dane Cook and the stunning Jessica Alba, Good Luck Chuck is a movie that will take you on a laughter ride. The movie begins with the life of Chuck who was cursed in his childhood by a Goth girl he refused to kiss.
Unfortunately, the curse was real which made Chuck's life hard. As he grew up, every girl he dated found and married their true love after meeting him. Such unfortunate incidents continue to happen until he meets a woman he knows deep down in his heart is the one.
Chuck begins a simple friendship with her in the hopes of developing a deeper and meaningful relationship over time. However, the curse in his life reminds him of the result. He needs to find a way to break the curse or he'll lose the woman he loves forever. How will he do it? Will the curse break at the end? Watch Good Luck Chuck find out.
---
Always Be My Maybe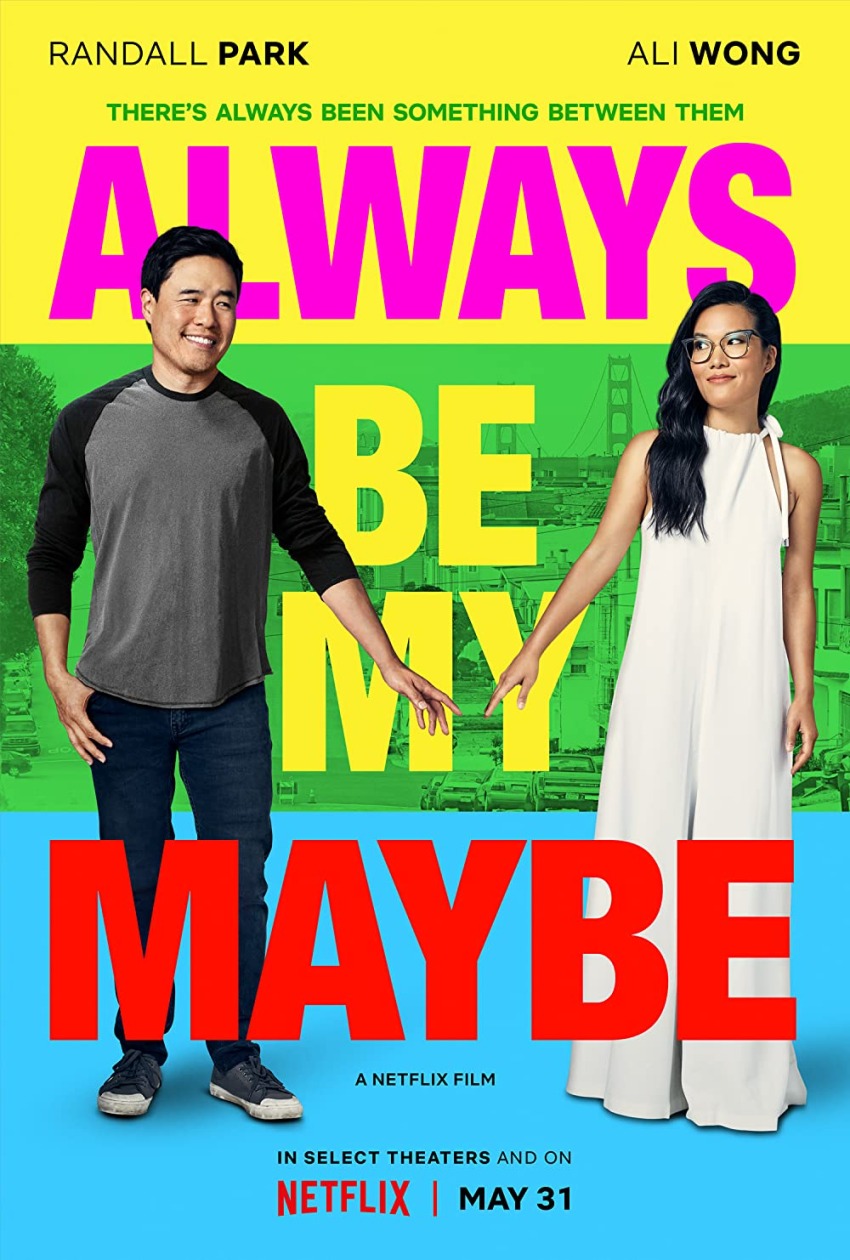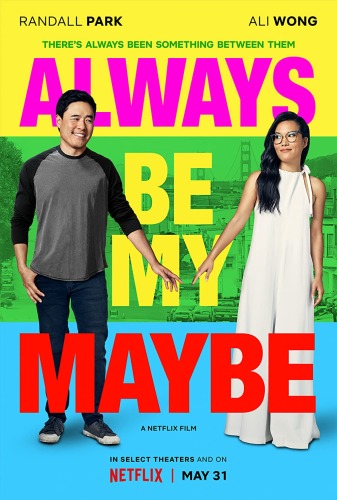 Available at Amazon Prime | Netflix
Always Be My Maybe is a tale of childhood friendship that turns into teen love. The two best friends played by Ali Wong and Randall Park reconnect as adults, only to discover that there are still sparks of love between them. But Ali is already in a relationship. This Netflix original is an incredible romantic comedy showcasing two Asian American leads.
Not just that, Keanu Reeves's hilarious character adds on the much-needed wittiness to this movie. Always Be My Maybe is a must-watch for all those who often wonder about their lost childhood loves. It will take you down the memory lane of humor and heartfelt romance.
---
Sandy Wexler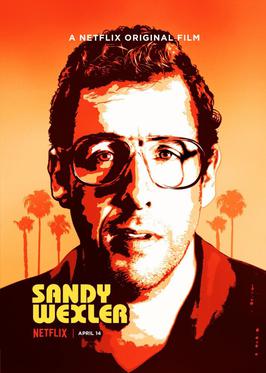 Available at Netflix
Any movie starring Adam Sandler is a barrel of laughs and joy. And when you combine amazing cameos by stars like Jimmy Kimmel, Jay Leno, Vanilla Ice, Quincy Jones, Chris Rock, Lorne Michaels, and many more, all playing themselves, then you know it is going to be a fun movie. Sandy Wexler is inspired by the life of Sandy Wernick, Adam Sandler's real-life manager.
The story follows the life of Sandy Wexler, a talent manager who is more tolerated than liked. He thinks he knows everyone in the industry but in reality that is not the case. Trying to keep up with his job he discovers a new talent, Courtney Clarke (Jennifer Hudson) at an amusement park.
Hearing her sing beautifully, he sets out to make her a superstar but with a lot of screw-ups. Courtney realizes that even though he is not that great of a talent manager, his heart is pure. She starts developing feelings for him but things get complicated when she gets famous. What happens next is a roller coaster ride of emotions, love, and laughter. Give this movie a try and you will not be disappointed!
---
Just Go With It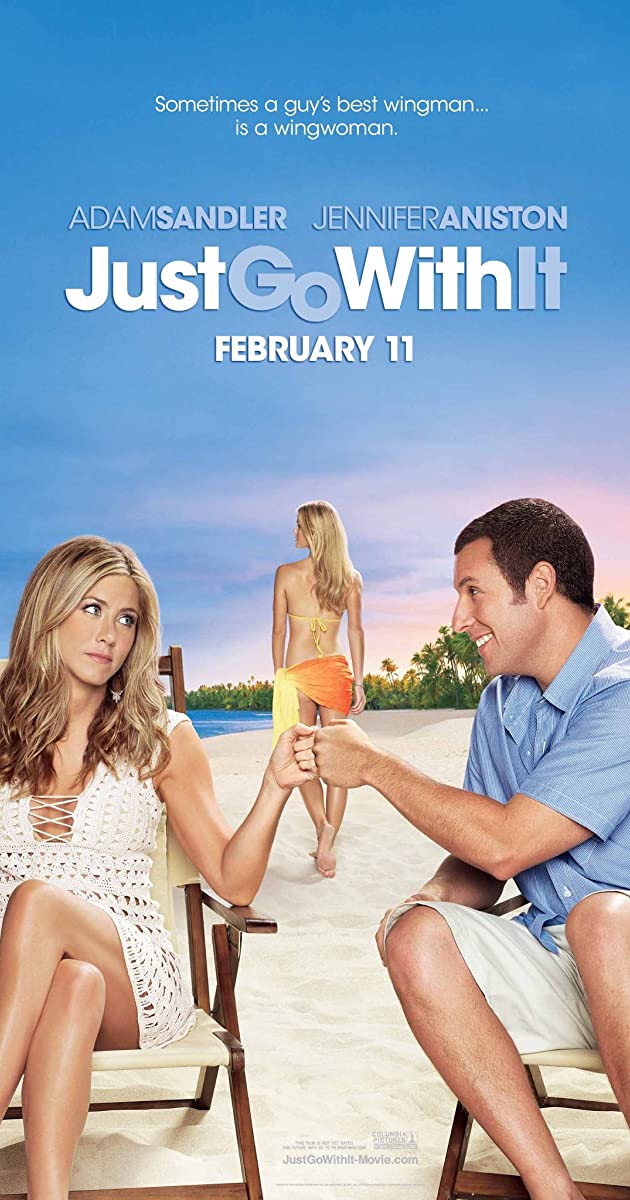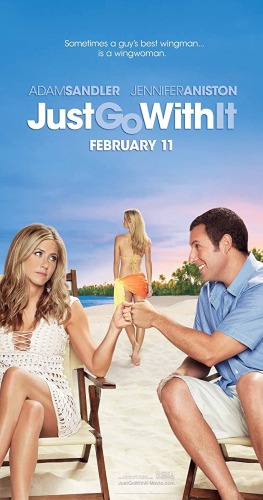 Available at Amazon Prime | Netflix
Just Go with It is another outstanding movie by Adam Sandler and Jennifer Aniston. Danny played by Adam Sandler makes a horrible mistake which puts away his chances of dating the girl of his dreams.
To cover up for his mistake, he continues to lie. He pretends that he and Katherine (Jennifer Aniston), his assistant are a married couple and they are about to get a divorce. However, the more he lies to cover up his story, the more trouble he creates for himself. This is one movie that you will enjoy to the fullest.
---
Easy A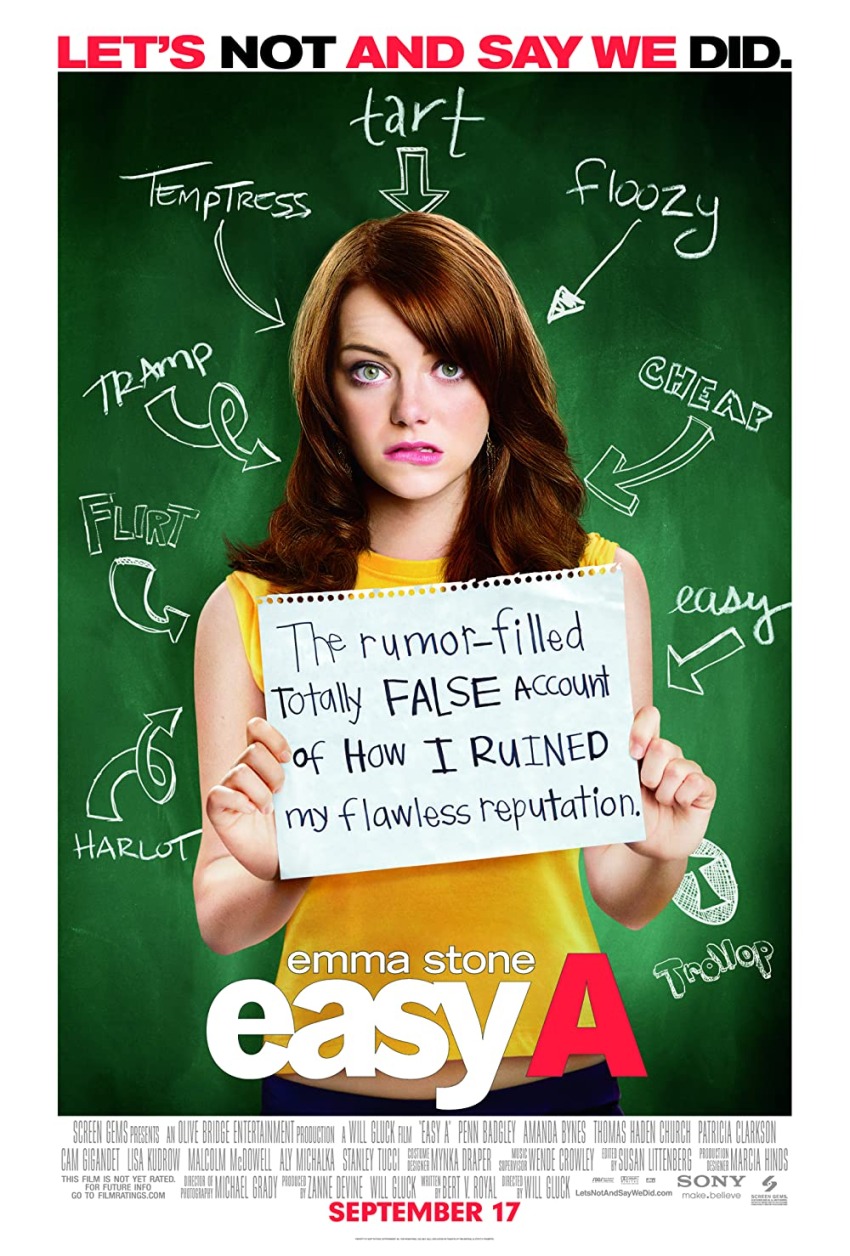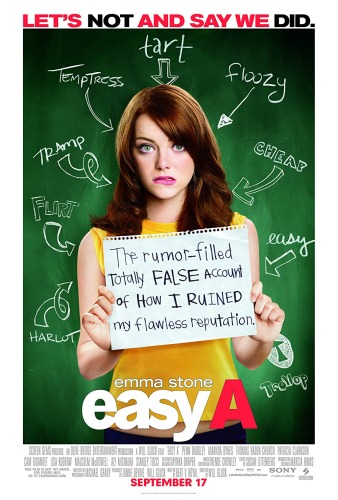 Available at Amazon Prime | Netflix
Easy A sets an excellent example of what it looks like to capitalize off of a rumor. This movie will take on you on a hilarious ride. The story revolves around the life of Olive (Emma Stone), a well-behaved and decent teen who lives a simple and dull life. But her life takes a turnaround when she lies to her friend about her weekend, telling her she lost her virginity.
But Olive's friend is not the only one to hear this shocking news! Marianne (Amanda Bynes) a religious pariah overhears their conversation. She takes no time to spread the news in the school which puts Olive in an awkward situation. Oddly enough, Olive stands up for herself and decides to profit from it. How does she do it? You'll get to know when you watch the movie.
---
Crazy Stupid Love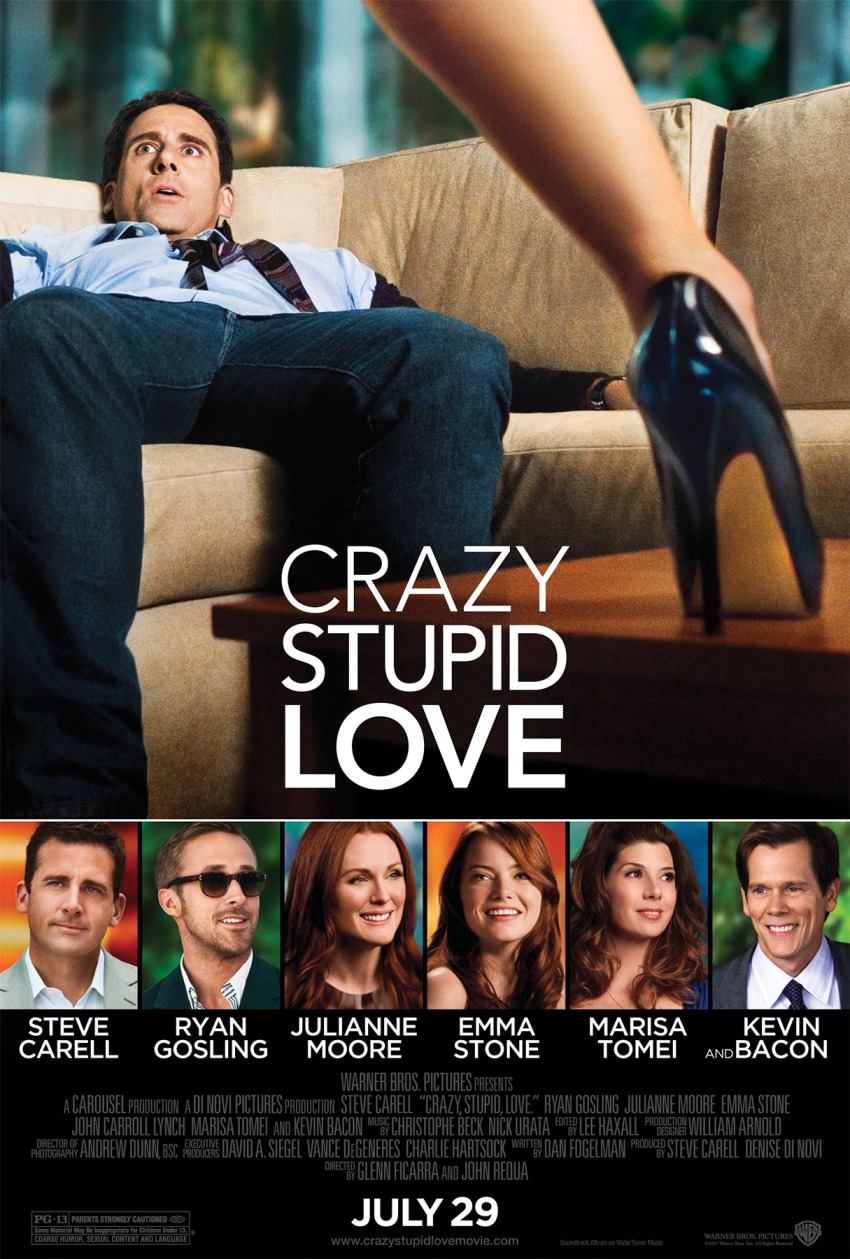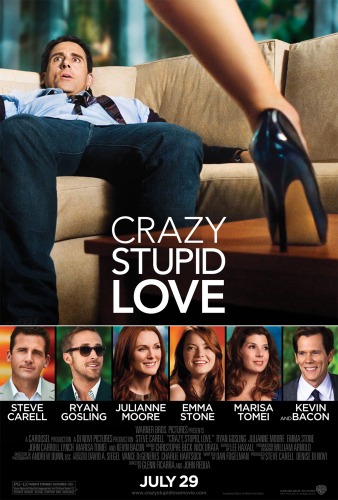 Available at Amazon Prime | Netflix
Steve Carell and Julianne Moore play the characters of Cal and Emily who live a wonderful life together until Emily asks him for a divorce. Confused by this sudden change in his life. Also Movies Like Crazy Stupid Love are undoubtly tremendous. He takes asks his friend Jacob Palmer (Ryan Gosling) to help him out. Apart from Cal's life, the movie also showcases the romantic lives of some secondary characters.
A unique blend of humor and romance, this movie will stay in your heart for a long time. Some of the story elements are quite debatable but overall, this movie is worth a watch. So, do not miss out on Crazy Stupid Love.
---
Up in the Air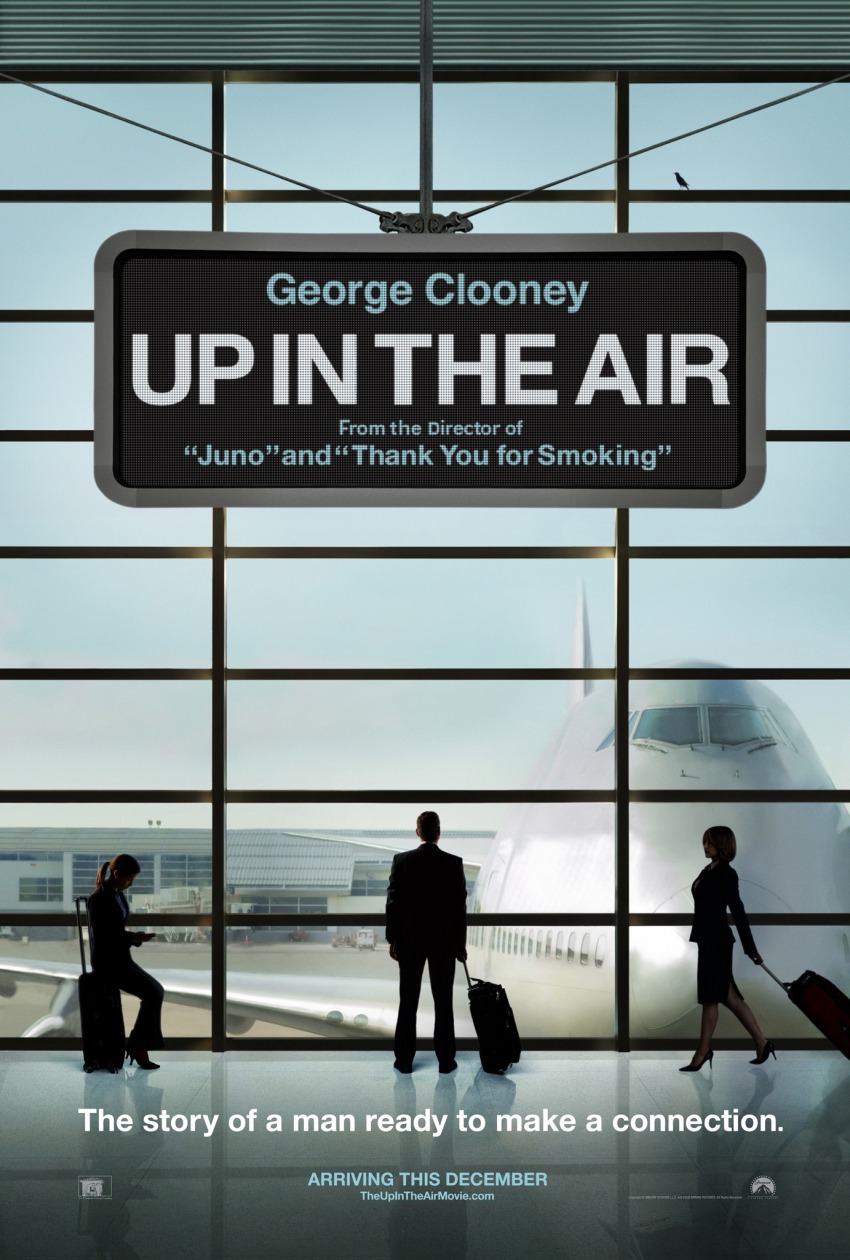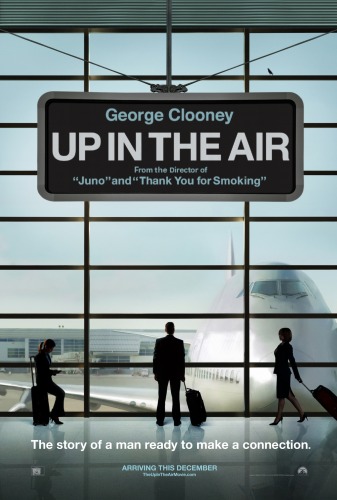 Available at Amazon Prime | Netflix
Following a similar casual friendly vibe of Friends with Benefits, this movie is a total entertainer. The plotline starts with a friendly relationship between Ryan (George Clooney) and Alex (Vera Farmiga), both of whom are advertising executives. As a person who travels for a living, Ryan likes to live a casual life with no serious relationships or commitments.
He meets Alex for a gig and becomes good friends with her. However, there might be something more than just friendship between the two. This movie is extremely funny and showcases the witty chemistry between Ryan and Alex.
---
Destination Wedding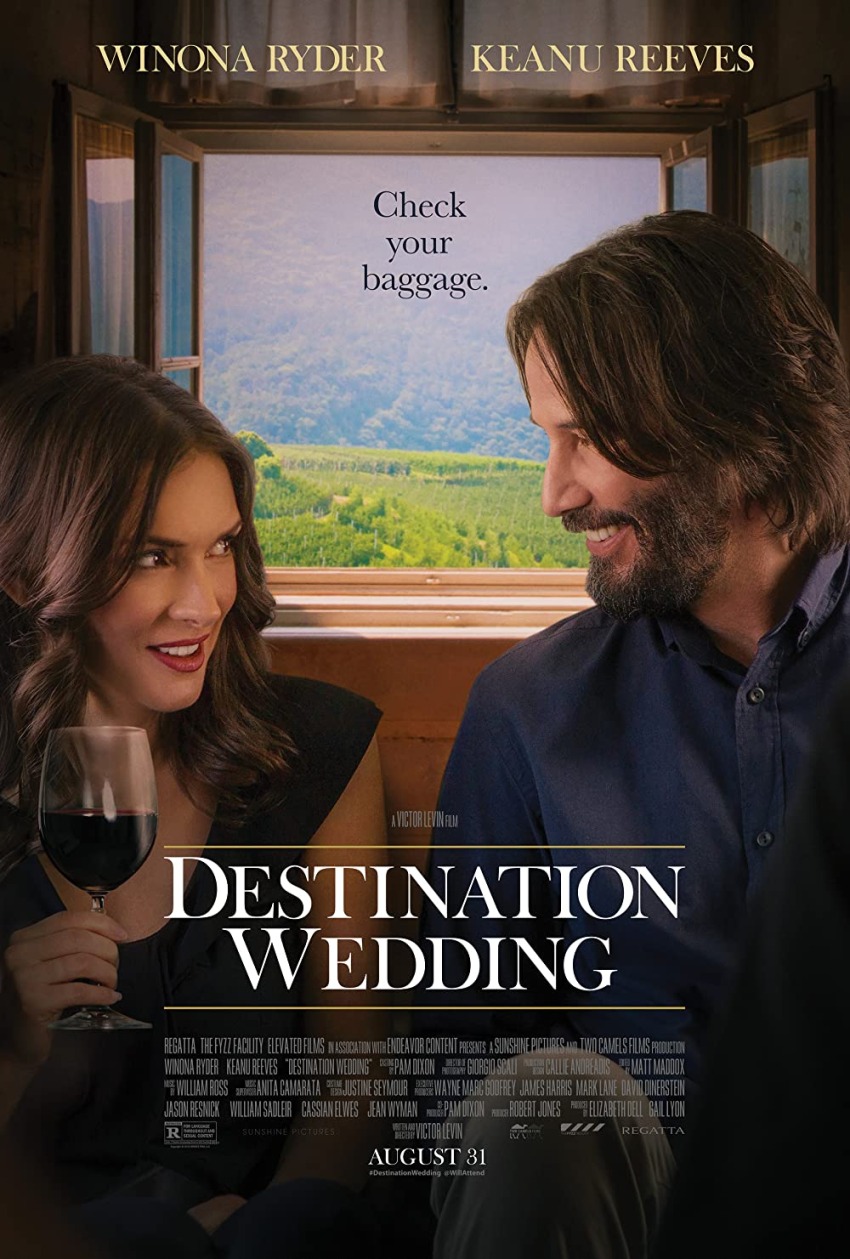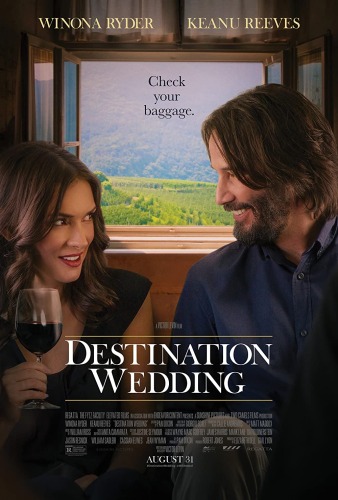 Available at Amazon Prime | Netflix
Destination Wedding is a wonderful love story of Frank (Keanu Reeves) and Lindsay (Winona Ryder). They meet during a wedding and find many things in common between them including their likes and dislikes.
The wedding gives them plenty of time to spend with each other but what will their fates be when they leave the wedding? The story beautifully reveals the romance between the two. Watch the movie to find out if they meet each other at the end or not.
---
The Change-Up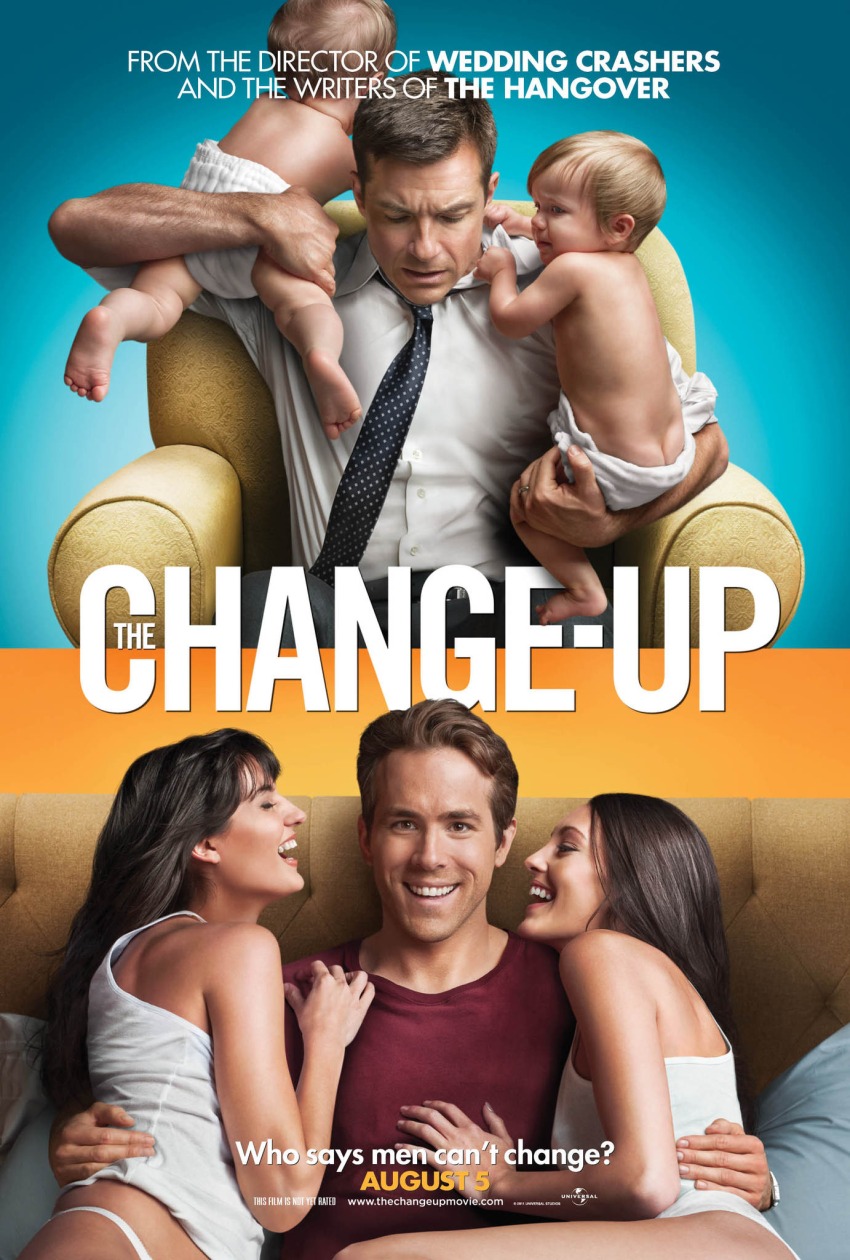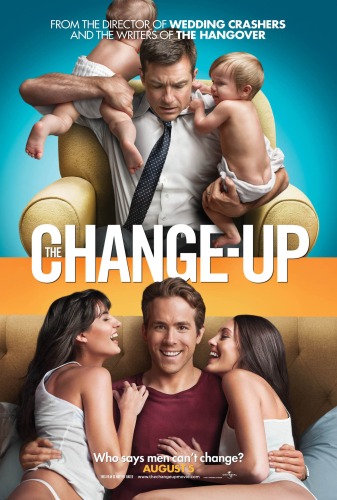 Available at Amazon Prime | Netflix
For our final movie like Friends with Benefits, we have 'The Change Up'. This movie is a story of a married man Dave (Jason Bateman) with a loving wife and three kids. His friend Mitch (Ryan Reynolds) is a single man who is just looking to hook up with someone.
One unfortunate night, while Dave and Mitch are peeing in a fountain nearby, a lightning stroke swaps their souls into each other's bodies. Will Mitch take advantage of this situation and make a move on Dave's wife? How will Dave get back his perfect family life? This out-of-the-box movie does a good job of keeping you entertained till the end.
Conclusion
There you go! The perfect list of movies similar to Friends with Benefits. All the movies listed above are a must-watch for people who love romantic comedies. Movies like Friends with Benefits are super entertaining. They leave no chance of getting bored. If you plan to host a movie night, then this list will be very helpful for you. Pick the best one and stream it right away. Come back to find more such movies for your next pick!