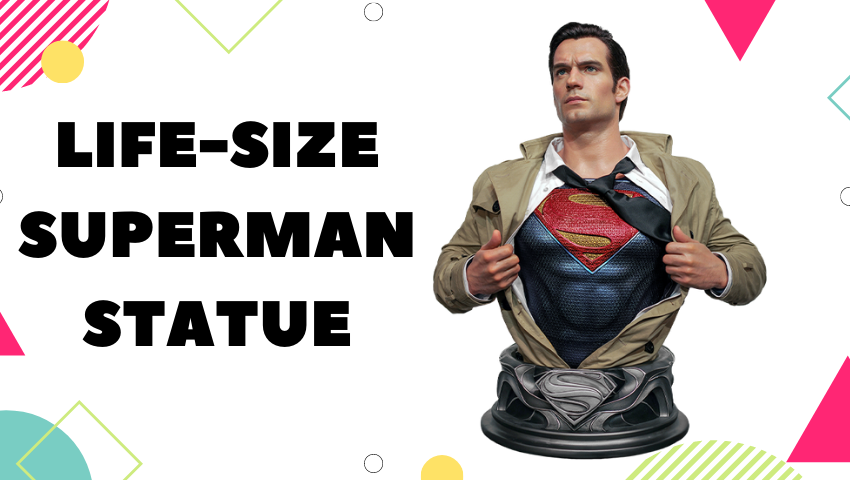 Superman is one of the earliest and most popular superheroes of all time. He is your stereotypical superhero. He is super powerful and is incorruptible. Superman is a symbol of hope and always stands up for justice. We really hope to see him on the big screen again.
Hopefully this time it will be in a movie with a better plot, villains and characters. But anyway, it's time to bring the man of steel to your home by buying a life-size Superman statue.
The following is a compilation of 7 sites where you can buy life-size Superman statues. Check it out!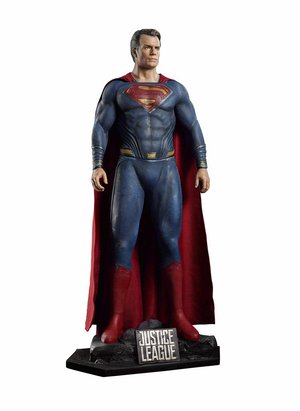 One of the earliest superheroes to go mainstream and gain worldwide popularity is Superman. He is an iconic character and is a symbol of hope and strength. One thing that makes this character great is his incorruptible mind. He is impartial and only uses power for justice.
Yes, in the recent renditions of the character we see a dark side of his attitude and personality. We see him as a sort of an antagonist or villain in the Justice League games. But when superman came out he was meant to be the ideal human always doing the right thing. Over the years we saw different versions of the character.
Henry Cavill was the last actor to play the character on the big screen. This Life-size superman statue resembles the character design from the last Justice League movie. Batman revives the man of steel because when it comes to kicking the butt of big and scary monsters you need your own monster.
This statue is pretty amazing and if you have a man-cave it will fit right in. This statue is over 6 feet and 7 inches tall and weighs around 80 kilos. The main materials of the statue are fiberglass and resins. You also get the red fiber cape. The statue stands atop a custom base with the logo of the film.
Oxmox Muckle is the company behind the statue and it costs 3990.90 Euros. So, if you are looking for an exquisite piece then go for it.
---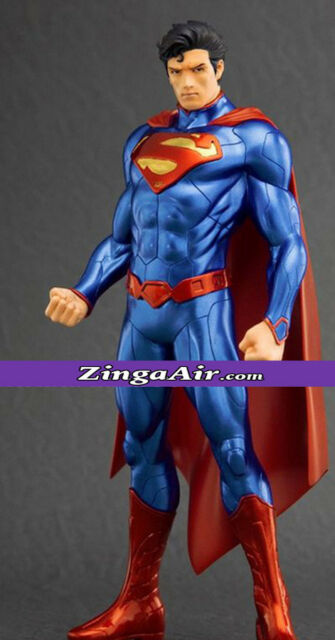 If you have a lot of money and you want a badass-looking life-size Superman statue then go for this one. It is a 6 feet tall Superman statue that just looks amazing. Yes, it costs $15900 but if you have the budget and are an ultra Superman fan then this is the perfect statue.
It does not resemble anything from the movies but the suit design is very much contemporary. We really like the design of this suit. The amount of detailing on it is just amazing.
This is a wax statue which may be the reason behind the high price. Of course, since it is eBay you can offer a different price. If the seller agrees then you can just buy the piece at that rate.
The facial feature of the statue resembles the comic book design of the character. There is another option on this list at that price point. There you can get two life-size statues Viz.
A batman one and a Superman one. It follows the concept of Batman Vs Superman. But this statue is one of the best-looking life-size Superman statues out there. So, decide which will give you the best satisfaction
---

Superman is a great superhero. He is a good example of what a general superhero is like. For example, if you want to explain to a person what a superhero is and the person does not have any idea whatsoever then it is best to show them, Superman. This is because this character has very little complications in its original design.
He is a person who possesses super strength, bulletproof skin, and can fly. He uses his powers to save people and fight for justice. Superman is the ideal version of a superhero. He gives everyone hope and is humble and caring. A lot of superheroes are based on him though they take a more realistic approach to the personality.
Rubie's is a brand that sells a variety of props, costumes, statues, etc. This life-size Superman statue is by Rubie's. You can purchase it on amazon.com. This is a DC-licensed product so it is legit. It is a fiberglass statue with amazing detailing. If you do not like a standing pose then you will find this statue pleasing.
It depicts Superman taking off to soar the sky. This statue is over 102 inches tall. It has a base beneath it to enable it to rest on flat surfaces. The base has a superman logo on it. Every detail on the statue is very nice. You can see the sculpting skill of the artists. The muscles look quite good. Superman is wearing a cape with his symbol on it. The price of this statue is $5589.95.
---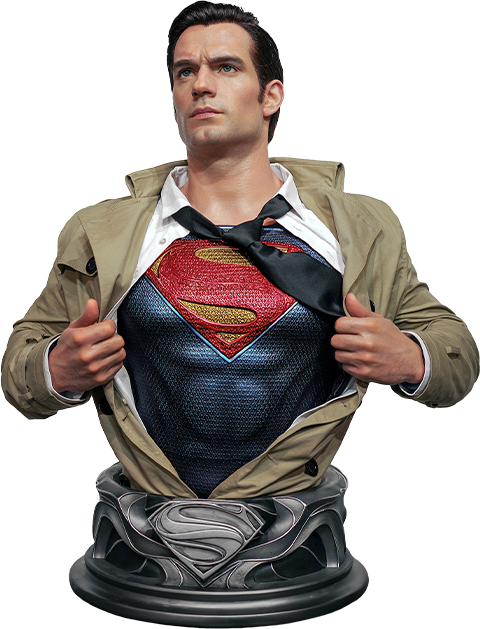 With the next statue on the list, we are sort of in the uncanny valley of realistic features. We know that sideshow collectibles is one of the best brands out there when it comes to pop culture statues and sculptures. They produce some truly amazing and cool products.
You can buy a life-size Hulk statue, a life-size Harley Quinn statue etc. by the company. But when it comes to this life-size bust everything seems so freaking realistic. In this bust we see Superman trying to change into his superhero gear. He is removing his shirt in an iconic way by pulling it open from the chest. What we found amazing was how realistic the face of this bust is. It resembles Henry Cavill so much.
The facial features are so damn perfect. They have put artificial her on the head which is pretty decent. But sideshow collectibles decided to go further. They put in tiny artificial hair to mimic light mustache and beard growth. The company took the effort to put over 100k hair to get a realistic effect.
The amount of craftsmanship and skill that goes into the making of this bust is just top-level. This statue is 34.6 inches tall and is a joint collaboration between Sideshow Collectibles and Infinity studios. This is a Life-size Superman statue officially licensed by Warner Bros. The cost of this statue is $3099. The main materials of the statue are polystone and silicone.
---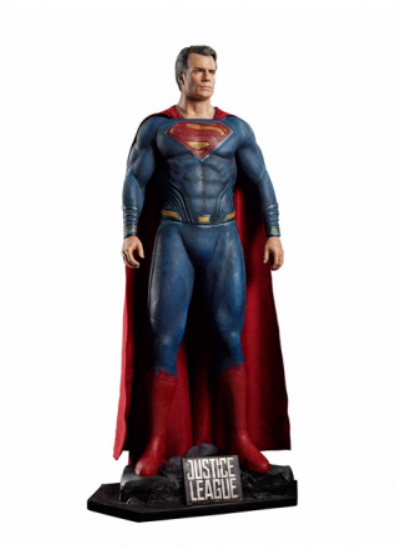 The last time we saw Superman on the big screen, it was in the Justice League movie. The movie was kind of lazy with the plot and the characters but we did see Superman kick some monster butt. If you like the design of Superman from the movies then the next statue can be of interest to you.
The design of the statue resembles the design of the character in the latest movies. No more underwear on top of the pants. The suit looks more modern. It is more stylized.
In the first Superman movie with Henry Cavill, we learn that the suit is a part of the Kryptonian culture. Instead of Martha stitching her son a suit to fly in Kal-el's actual father provides him with it. The symbol in the middle does not stand for Superman but rather it symbolizes hope.
This fits very well with Superman's narrative as he is a symbol of hope. So, if you like that kind of design then give this option consideration. The manufacturer of this statue is Muckle mannequins. It is over 204 centimeters tall and weighs over 64 kilos. Superman is standing in a base which resembles rocky terrain.
There's a plaque on the base with the text Justice League on it. Thus is a fiberglass statue and you can purchase it for €3229. This is a life-size Superman statue so it is big and heavy.
---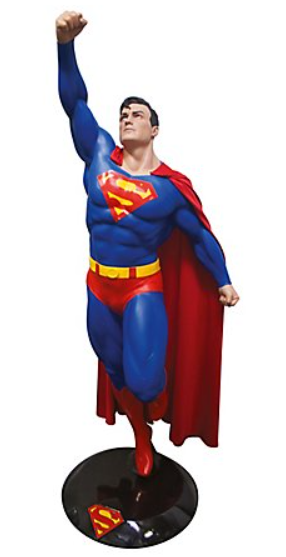 The next website we are featuring on the list is superepic.com. This is a website you can go to if you want to buy figures and collectibles, books, games, kitchen appliances, anime or manga stuff, etc. If you want a nice-looking life-size Superman statue then is a nice choice that you can consider.
We see Superman in the middle of a vertical flight. It seems he is trying to gain some nice altitude. If you like the original design of the character from the comic books then you will like this statue. It follows the original design of red and blue with yellow accents. Yes, the red underwear is on the top like in the original design.
What we like about this statue is that it looks quite real. This is a resin, fiberglass, and plastic statue. The sculpting on it is very good. You can see the creases and the structure of the muscles quite well. Superman is a buff dude. He has to be. After all, he is the sort of a pinnacle of superhuman strength.
So, if the statue is realistically tonnes to make it look good. Everything looks very nice. You get the red cape of Superman which has the Superman logo on it. This is quite a tall statue and measures around 102 inches. The price of this statue is €4999 and it can be an awesome addition to your pop culture collection or for your store or man-cave.
---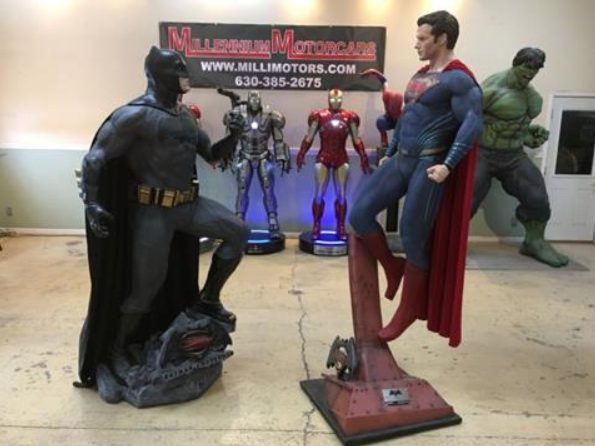 Batman Vs Superman was a bad movie. We did not see either character to their full extent. But in the comic book world and even in the animated movies this particular concept was done well. We learn that if you have enough money and interest you can beat anyone even if it is some superhuman.
Not sure if we should derive that lesson. But going past the bad plot and characters we have to say that the character designs from the movie are good. This was a new rendition of Batman after the Nolan movies. Ben Affleck was a good choice for Batman but the weak plot and script did not do him justice.
We really like the design of the Batsuit and Superman's gear from the man of steel. The next statue bases its design on the concept and character design from the Batman Vs Superman movie. If you have a big budget then this is a perfect décor item for DC fans. You get a Life-size superman statue and a life-size Batman statue as well.
They are ready to fight each other. Superman is floating just above the ground and Batman is ready with a closed fist. Everything is 1:1 scale and this combo statue costs $15995. It will be the center of attention wherever you put it be it home, backyard, office or store. If you live within the continental United States then shipping is free though not for Alaska or Hawaii.
---
Conclusion
If you are a fan of superhero comics, movies, and shows then owning a life-size statue can be amazing. It will be a cool addition to your room or man cave. But the budget for these things tends to be a lot. So, we hope you find the right piece for your price.
If you want something small but realistic we would suggest going for the Life-size bust by Sideshow Collectibles. If you want a full-size Superman statue then go for the one by Rubie's if you like the design from the movies. There are also options to choose a statue that follows the comic book design. Happy shopping!