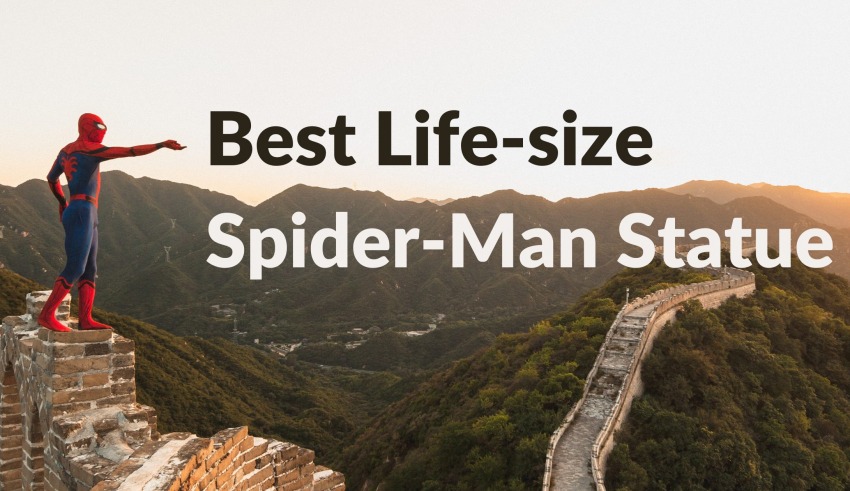 Spider-Man is one of the most recognizable superheroes all over the world. Your friendly neighborhood Spider-Man lives in New York and is always ready to save the day. We saw some amazing movies starring the web-slinger the previous year like Infinity War and Spider-Man Multiverse. The latter is one of the best-animated superhero movies. It. Just looks so freaking awesome.
If you are a fan of Spidey and want a cool life-size Spider-Man statue then this list is for you. We have a list of 8 different Spider-Man statues most of which are life-size. Each of them has a different design and looks awesome. So, continue reading.
Here is the list of the best Life-size Spider-Man Statue to Buy in 2022: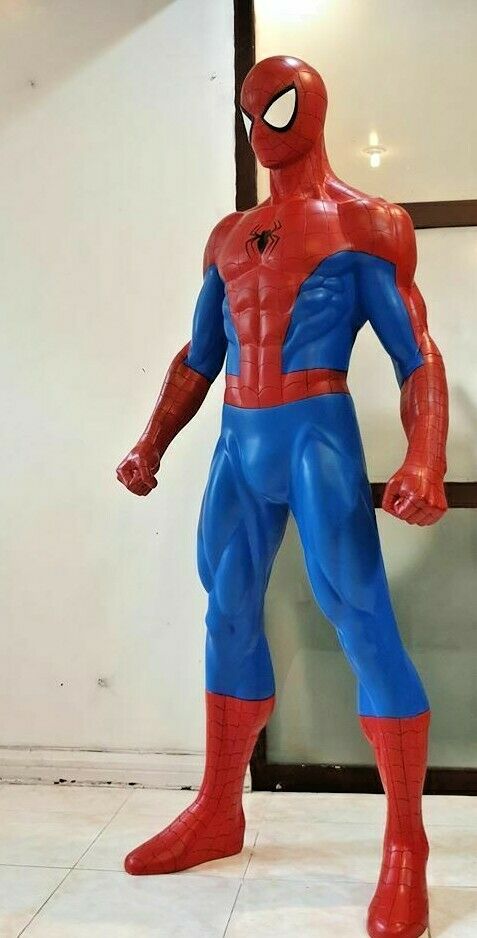 Spider-Man is a favorite superhero for a lot of comic book fans. One of the best characteristics of Spider-Man is that he is just your everyday teenager. Peter Parker, whose alter ego is Spider-Man, is a teenage kid who suddenly gets this amazing power. But unlike a lot of other superheroes, he is not mature. He is still in his adolescence and has a lot of stuff going on in his body emotionally and physiologically.
One thing that makes people connect to his character is that he faces a lot of problems that are faced by the average guy in the real world. When you read the Spider-Man comic books the stories have a lot of parts focusing on Peter's day-to-day life and struggles. If you are a fan of the character and are looking to buy a life-size Spider-Man statue then check this option out.
 It is a cool-looking Spider-Man statue that you can get on eBay. It is a resin statue that comes straight from the Philippines. A lot of sculpture and statue companies commission works to Filipino artists. They have solid skills. You can look at the amazing work that the artist did on this statue. The statue weighs around 30 to 40 kilos and is over 70 inches tall. Fiberglass is used to reinforce the resin and make the statue durable.
You can easily display it outside. The paint job uses car paint. The artist did all the paintwork by hand to get the details right. When you order the statue it will ship in parts. But don't worry as it is quite easy to assemble. The price for this life-size Spider-Man statue is $2499.
---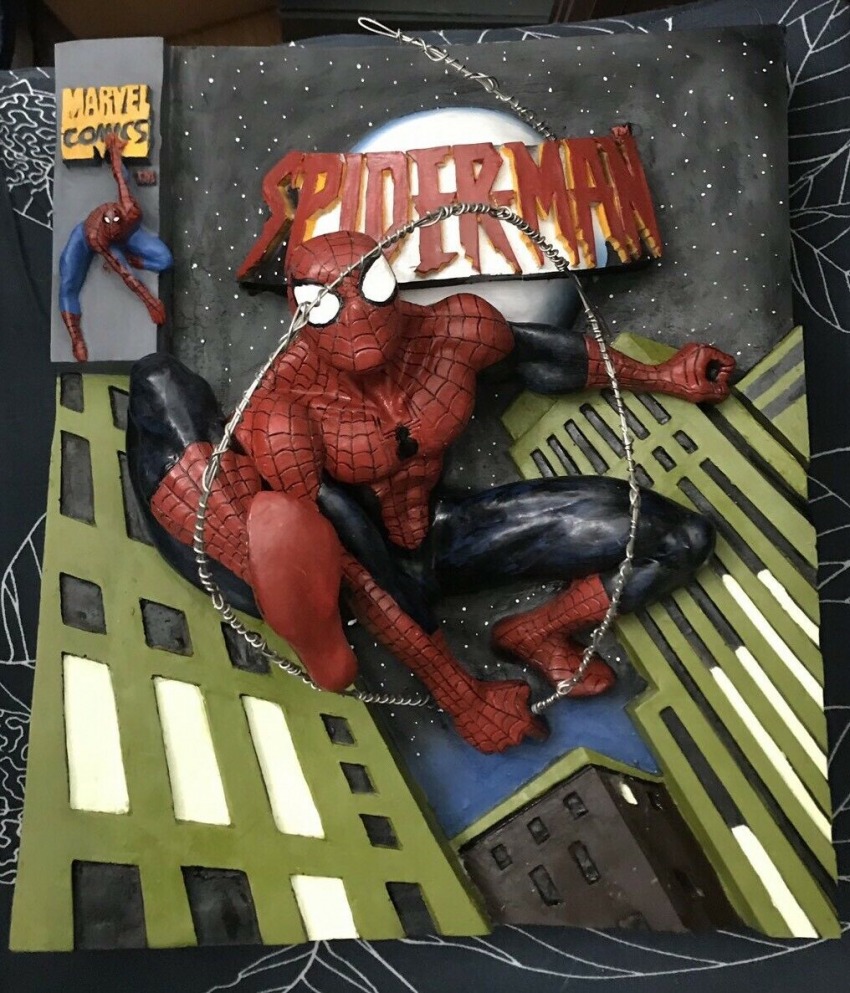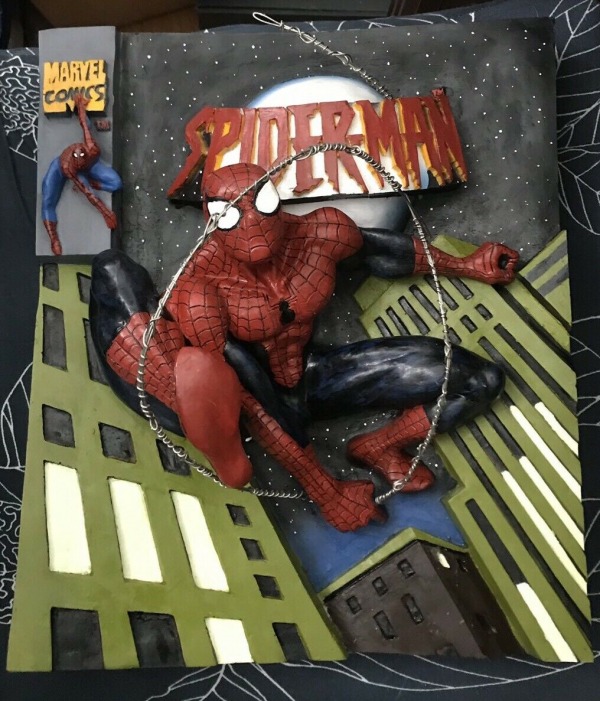 The next item on the list is a bit different. It is not a statue but rather a sculpture that you can hang on the wall. It is a 3D poster that follows the design of the cover art for the Amazing Spider-Man comic books. Spider-Man comics were quite popular. Stan Lee came up with the character in the early 60s. Spider-Man first appeared in comic books in 1962. He was initially appearing as a sidekick to other protagonists.
But later Spider-Man became quite popular. This is mainly because of the relatable life-story of Peter Parker. He faces issues of rejection, jealousy, loneliness, etc. every day. Another cool thing about Spider-Man is that no one was a mentor to him. In Robin's case, Batman was there. In Bucky's case, Captain America was there. But Spider-Man learned the skills and the mentality of a hero by himself.
 This 3D poster is a great decoration piece. If you have a lower budget but still want something cool then this is a good product to consider. If you do not want to hang it on the wall you can put it on the table. The structure is very cool. It seems as if Spider-Man is popping into reality from the 2D world. Even his web is made to pop out using wires.
This is a resin structure. The paint job has been done by hand. Every detail looks fantastic. This is a limited edition product and you get the signed proof of authenticity. The sellers want the structure to go to a nice home. It is in good condition and costs $230 excluding shipping. Contact the seller if this item piques your interest. 
---
Now, of course, not everyone wants a small structure for their shelf. So, if you have the budget and interest for it you can check out the next option. This is a life-size Spider-Man statue. But it is not in an idle, standing pose. It is in the iconic Spider-Man squatting pose. We all know about the origins of this superhero. Peter gets into the Oscorp lab where they are researching genetically modified spiders.
One spider goes rogue and bites Peter and well, it is one lucky bite. Peter gets the amazing characteristics of a spider. He now has super strength, agility, and other spider senses.
So, when this squatting pose is sort of very much akin to him. The design of the statue follows the classic red and blue design from the comics. The Philippines is a popular country where they manufacture life-size statues. The manufacturing country of this life-size Spider-Man statue is the Philippines. They have a lot of artists with decent skills.
Though this is not the most realistic representation of the superhero it still looks awesome. If you are having a superhero-theme party this can be a good attention grabber. You can also keep this statue in the garden or your store to attract attention.
The height of the statue is 36 inches. It is a resin and fiberglass statue. It is sturdy and the paint is car paint so you can display it outdoors. The price of this statue is $2499 excluding shipping. It weighs 20-30 kilos and it will take 6 to 7 weeks to reach you.
---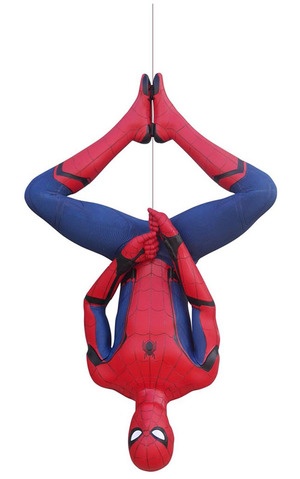 Now, Life-size Universe is an online store we feature many times on our articles. This is because when it comes to good quality life-size statues and sculptures it is a very decent place to check out. You can find a lot of figures, models, statues and sculptures on this website. These can be of movie characters, comic book characters, game protagonists etc. Basically, characters or items which fall under the pop culture genre.
Spider-Man has been gracing the big and small screens for a long time with varying success. One of the best portrayals of the character was by Toby McGuire. The director was Sam Raimi. Currently, Tom Holland is the actor who portrays the character on the big screen. He has been doing a decent job. Spider-Man Homecoming was the standalone Spider-Man movie starring Tom.
In this movie, we get a much better look at his suit design. It looks quite good. If you like the design then the next statue can be a good addition to your collection. It is a 144 centimeters tall Spider-Man statue. But the best part about it is that it is in the hanging pose. Yes, Spider-Man is hanging upside down in his web.
You get a wire cable along with the statue and you can hang it from your ceiling. This is a fiberglass statue with amazing details. It looks so realistic. Oxmox Muckle always does such a great job. The cost of this statue is $3490.90. These are limited edition pieces so they go out of stock fast. So, you might want to hurry. 
---

One of the best parts about looking for a Spider-Man figure is that you get different designs. The next statue on the list is quite unique in design. We see Spider-Man in his signature squatting pose on top of the lamp post. He is about to shoot webs and swings away. A great feature of the Spider-Man comics, cartoons, or movies is the web-slinging while swinging across the city scenes. It looks so awesome.
It makes you want to become Spider-Man just to have that experience. The movies generally do a very nice job of showing these scenes. One of the best scenes is from the Multiverse movie. Anyways, we always see Spidey perched on top of high buildings and other structures. So, this statue sort of tries to replicate that and excels at it. The brand which makes this sculpture is Rubie's.
They have some really skilled artists who can whip up amazing figures with awesome details. The total height of the statue is over 8.5 feet. Everything has been hand-painted and handcrafted. This is why the color combination, the shine, and the finish is so great. The statue of Spider-Man consists of polyurethane foam. The lamp post base consists of urethane.
You can mount Spidey on top of the lamp post to get a really great pose. The base of the lamp post resembles a curb. On the base, you get a plaque that dictates that this is a limited edition product. The lamp post also lights up which is a great feature. The price of this Life-size Spider-Man statue on amazon.com is $2500. So, if you have the budget go for it.
---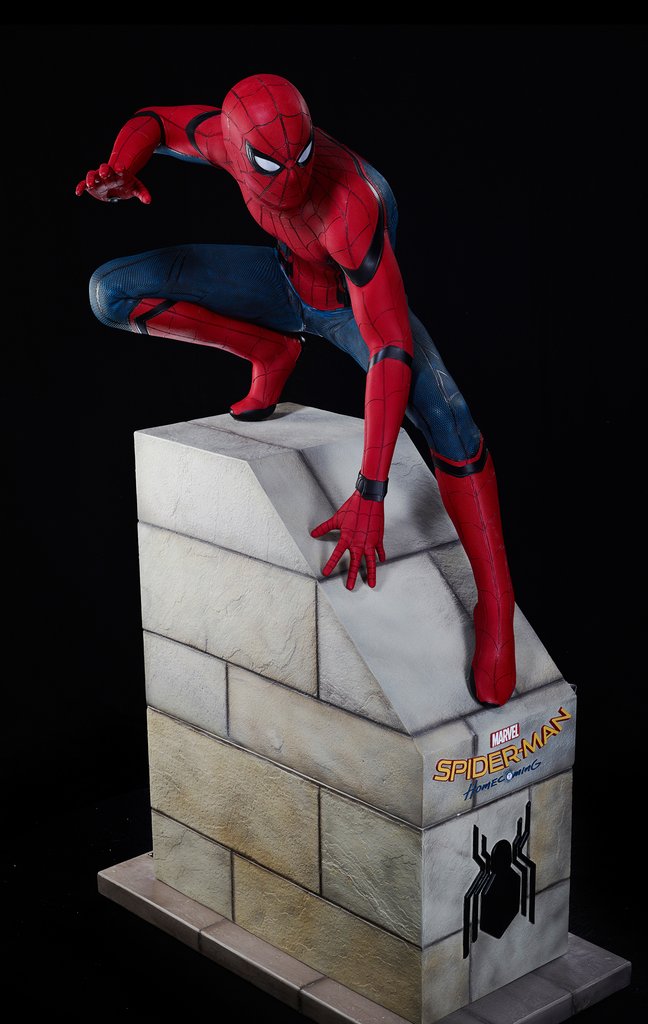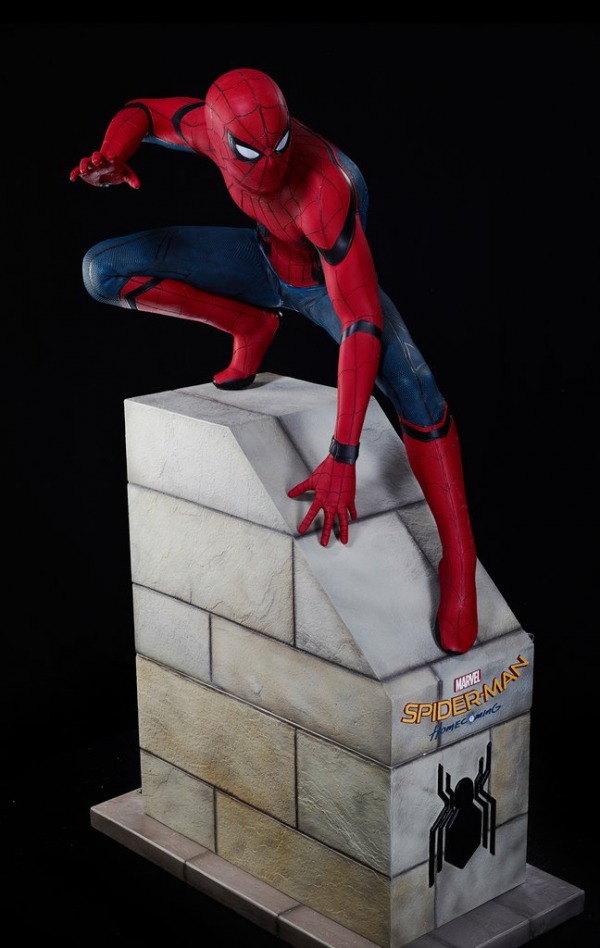 We are back with another life-size Spider-Man statue resembling the big-screen portrayal of the character. But as I mentioned earlier the best part about Spider-Man is you can get a variety of different poses. Spider-Man Homecoming is an entertaining movie. We see Michael Keaton portraying the Vulture who is a recurring villain in the Spider-Man comic books.
The suit that Peter wears in this movie is very different from the other renditions. It looks much more modern and has a bunch of technology embedded in it. This statue resembles Tom Holland's Spider-Man suit design. If you like the style of it then you should give this statue serious consideration. This is because this is a very realistic statue. The paint job is just amazing.
You don't get the feeling that it is plastic or some other cheap stuff. It looks exactly like the stuff you see in the movie. It seems as if someone wore a Spider-Man suit and decided to pose. In this statue, we see Spidey in a superhero crouching pose on a piece of a brick wall which serves as a base. On the base, we see the logo of the film and the spider symbol.
The statue is over 76 inches tall including the base. It will ship in three boxes and may take around 8 to 12 weeks to deliver. The price of this statue on s9shop.com is $5297. Yes, it costs a lot but you get some high-quality stuff with amazing design and awesome paintwork.
---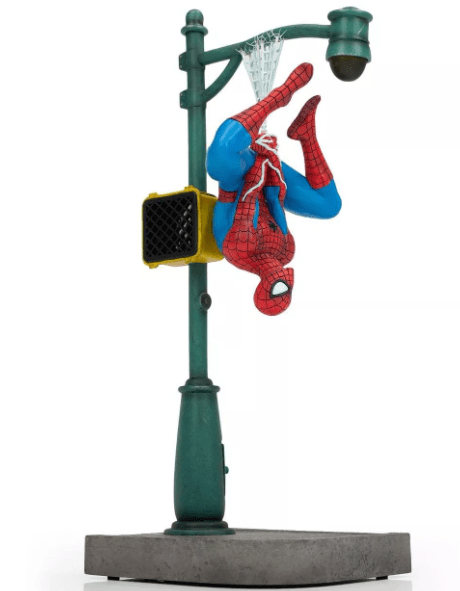 Let's reduce the size by a bit. A lot of our readers may not have a big place to store a life-size Spider-Man statue. So, let's take a look at a unique piece that is 14 inches tall. It is a 1/8th scale. In this figure, we see Spider-Man hanging from a lamp post. Yes, Spidey with the lamp post is back. Earlier, we see him squatting on the top of a lamp post and now we see him hanging from one.
The statue has really nice details. You can see the white web clearly forming a web-like pattern at the endpoint where it attaches to the post. The paintwork on the Spider-Man figure is quite good. It looks shiny and exquisite.
This is a polystone statue and the company claims to use only top-quality material to make this statue. The paintwork on the lamp post and the base is very decent as well.
To give something extra to the customers the company added lights to the post. It lights up along with the symbol. This is a cool little feature. You can have nice photo sessions with this figure. This is a limited-edition piece as only 2000 were made. You get a certificate of authenticity along with the statue number.
You can get this product on target.com for $179.99. So, if you have a lower budget and space but still are a Spidey man then check it out. You can easily display it on your desk or shelf. This can also be a good item for gifting to someone.
---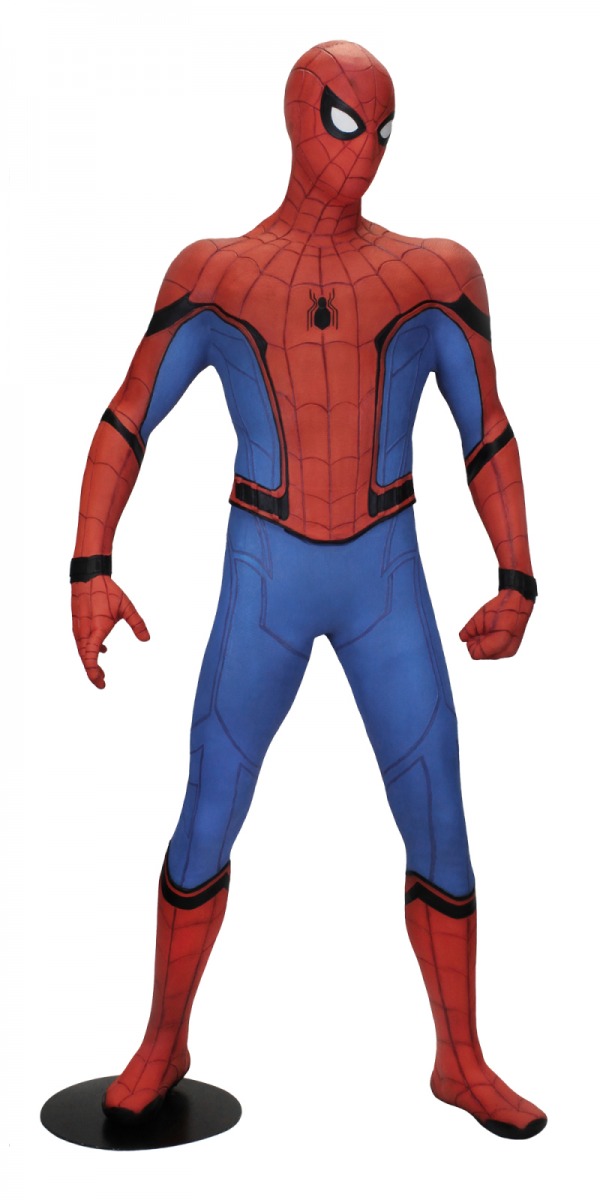 The last statue on the list is another statue that is modeled after Spider-Man Homecoming. After all, it is the latest big-screen representation of the web-slinging superhero. This features Spider-Man in a standing pose. In the Spider-Man Homecoming movie, we see a different rendition of the Spider-Man bodysuit. This design looks quite contemporary.
It preserves the signature red and blue color but adds black accents to it. In the movie, we see that it is actually a baggy suit. After wearing it Peter presses a button to fit it on his body. This is a life-size foam statue of Spider-Man. 
It stands 5 feet and 8 inches tall. Since it is just in the standing pose the price is much lower than the other Homecoming statues. This statue costs $1199.99. So, it might fall under your budget. But don't worry the quality is very decent since the bodysuit color looks quite accurate. Rubber and latex are the other material along with foam which makes up this figure.
The statue ships in parts. But don't worry it requires a very simple assembly. The statue ships in one box You get clear assembly instructions. The company also provides instructions on how to take care of this statue. This will be a great attraction for any pop culture store or for any superhero-themed party.
---
Final Words
Marvel has some of the best superheroes and villains. If you are a Marvel fan you can check out our list of life-size Hulk statues or life-size Deadpool statues. This Spider-Man list contains a variety of options. You have different sizes, resins, styles, and budgets.
If you have a small budget go for the smaller figures. They look quite cool, especially the one where Spidey hangs from the lamp post. If you have a big budget and want something awesome then go for the life-size hanging Spider-Man statue. These statues cost a lot so we hope you have a great time owning them. Happy shopping!