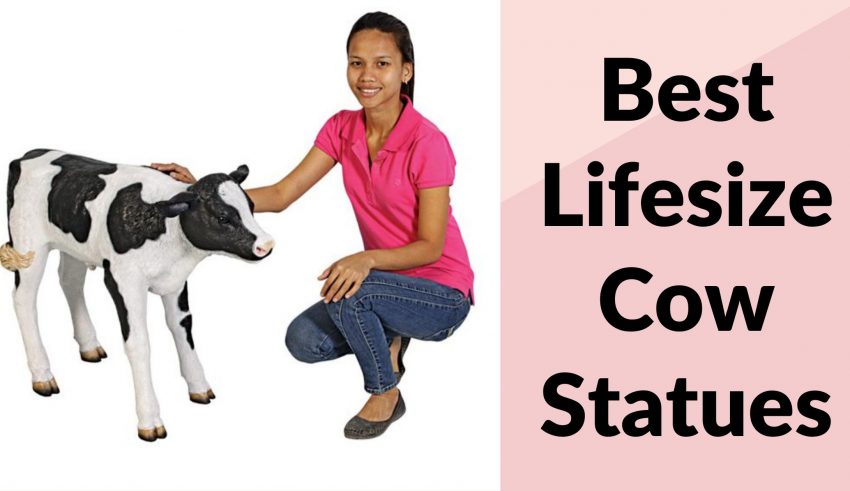 Next, in our series of articles on life-size statues is a list of life-size cow statues to buy. Cows are amazing animals. It is because we see them so often we do not really appreciate their awesomeness. If you are an animal lover who is looking for a life-size décor piece then consider buying a life-size cow statue. Cows are docile and calm creatures.
Having a stair of them in your garden or in a park can bring a positive vibe. Children love animals so it can be a perfect plaything for them. In this list, we go over seven websites that sell life-size statues of cows. You get a lot more options when you go to the websites. So, let's check them out.
Here are the 7 Best Life-size Cow Statues: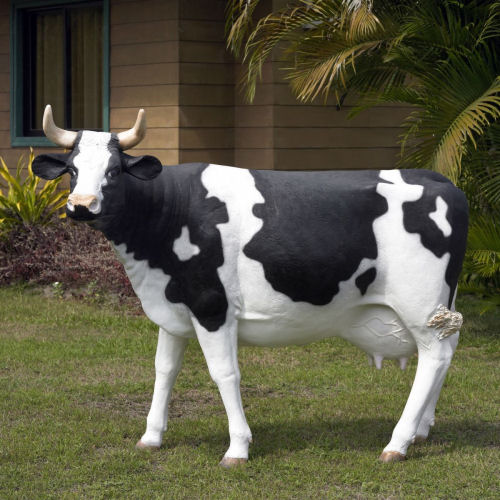 Who doesn't love cows? These are a species of animals whom we owe a lot. Almost every culture or country has benefited in one way or another from cows. If you are looking to buy a life-size cow statue then take a look at this option. Statue.com is a website the name of which easily gives away its purpose.
Yes, you can buy different types of statues from this website. They have statues of various designs and styles. These are great pieces of décor that can enhance the stylistic beauty of your home garden or office. From whimsical to classical you will find a variety of products on this website. The cow is one of the most commonly known animals.
Most people learn to recognize this animal at a very young age. This statue resembles the look of a black and white cow. It looks so realistic from afar that you will easily mistake it for an actual cow.
This is a Holstein cow statue. It will be a perfect fit for your garden and will lighten up the atmosphere. Top-quality designer resins go into the making of this sculpture.
The artist has painted all the spots and the details by hand which is why it has such a realistic look. This statue is a large sculpture of display quality. It is 66 inches long and 53 inches tall. It weighs around 104 pounds and costs $2418. You may have to pay an extra shipping charge of $162.95. The company promises that what you see in the picture is what you will get.
---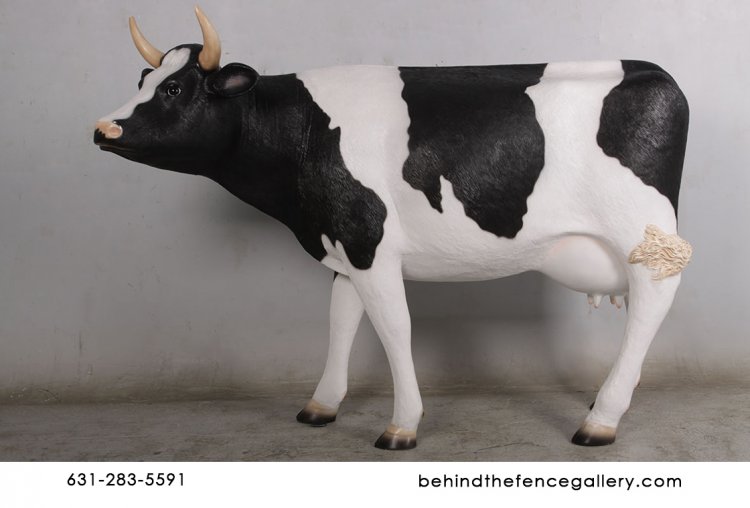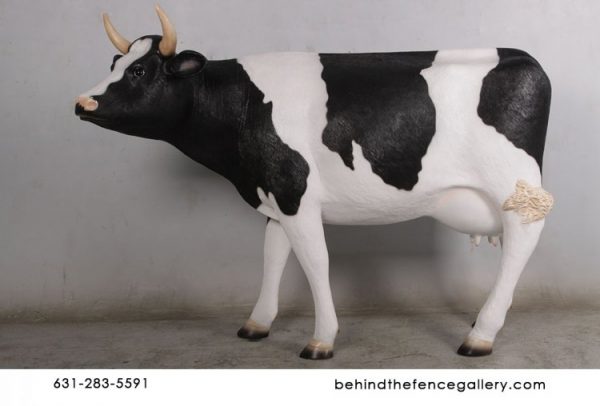 If you can't don't have the space for a large life-size cow statue the how about a medium one. The next website is behindthefencegallery.com. This is a website which sells different kinds of statues.
Each of the statues falls under certain categories. This makes it easier for you to search for specific kinds of statues. You can find animal statues, alien statues, statues for restaurants bronze statues, pop art statues, etc.
There are also statues for Christmas décor. If you are into recycling then there's a section for statues made from recycled metal. In the animal section, you will find cow statues. This medium-size cow statue looks quite real. Everything looks so nice.
Having a cow statue in your garden or in an animal theme park is great. Cows are calm creatures who adjust well with humans. They provide us with milk which is the base product for hundreds of food items and recipes.
Some cows look so cute and cuddly but of course, you shouldn't try to let any cow. The sheer size and sharp horns never really make it completely safe. So, do be on your guard. Anyway, the statue resembles a cow with big horns and black and white fur. This is a fiberglass resin statue and it is hand-painted.
The details look bright and realistic. This cow is around 4 feet tall and 5 feet 9 inches long. It weighs only 53 pounds and you can easily make it stand. The price of this life-size cow statue is $649.99. Contact the company to discuss the shipping process.
---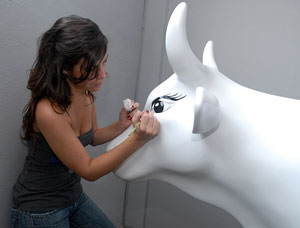 If you want something on which you can try your artistic talent then this option may be for you. Did you know there's a website dedicated to selling cow-related items? No? Then now you know. Well, it isn't that surprising, to be honest since the internet has a place for everything. The website has a variety of products.
You can find small to big cow statues, sculptures, and figures of different designs. If you are looking for something whimsical to decorate your house with check out the products on shopcowparade.com. Cows have a muscular form. Though not like those big muscular bulls or the handsome horses the cows do have strong muscles.
They have been one of the prime tools that farmers used to row the fields. If you are looking for a life-size cow statue that can act as a canvas for you then check this out.
This Life-size cow sculpture is completely white. It is a fiberglass resin statue made from high-quality materials. This is a fireproof statue as well. Since the statue is completely white you can use your skills and imagination to give it the look you want.
This is a big and strong statue. In the images, you can even see a woman riding it. It is around 7 feet long and 5 feet tall. The statue weighs around 110 pounds. The price starts at $3000. You can select between the head down or the head-up design. Of course, you can contact the company to either let them leave it blank for you or give you a finished product.
---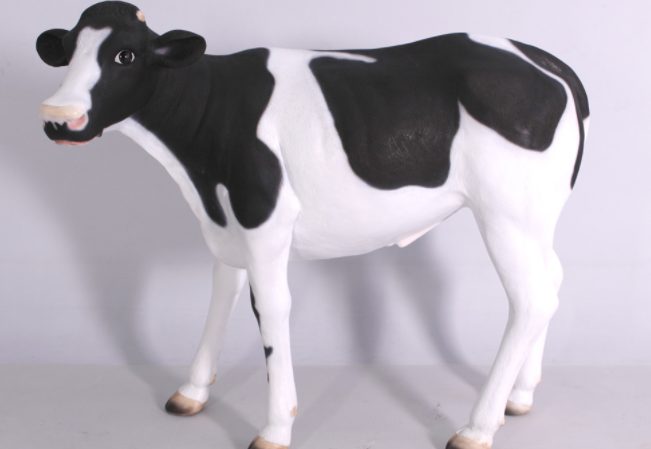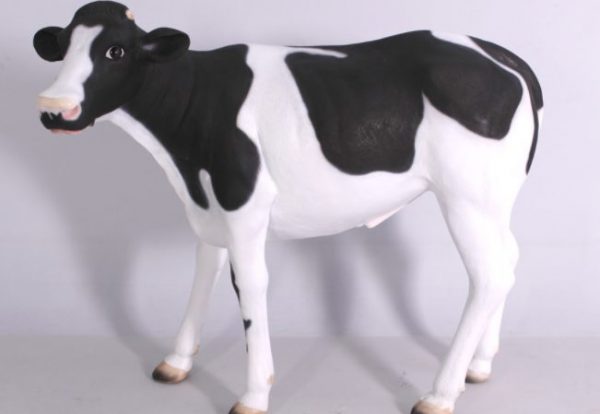 In the previous option, we saw a large cow statue. If you want something small yet life-size then how about a calf statue? Calves are some of the cutest baby animals on the planet. If you have a kid at home and you want an animal statue for him/her then this can be a good fit.
It is a small statue that resembles a calf. The color of the calf is black and white. We really like the look of this statue. The body of the calf looks very realistic.
Did you know that a cow is the name of a female animal that has at least one calf? A female cow that has not been pregnant is a Heifer. That's the general terminology that a lot of people use. But of course, in common dialect, every female animal of that species is a cow.
Cows have a pregnancy period similar to humans. It takes around nine months for a calf to be born. A baby calf generally weighs between 25 to 45 kilograms.
This calf statue has such an innocent facial expression. It has big black eyes that seem to be innocently looking at its surroundings. You can purchase this Life-size cow statue from displaystatues.com.
Check out the website if you are into statues and sculptures and are looking for a décor piece. They have animal statues, Egyptian statues, statues or people, weather vanes, etc.
This calf statue is 48 inches long and 39 inches tall. It is a fiberglass statue and costs $379.99. Since this is a large product contact the company to discuss shipping arrangements.
---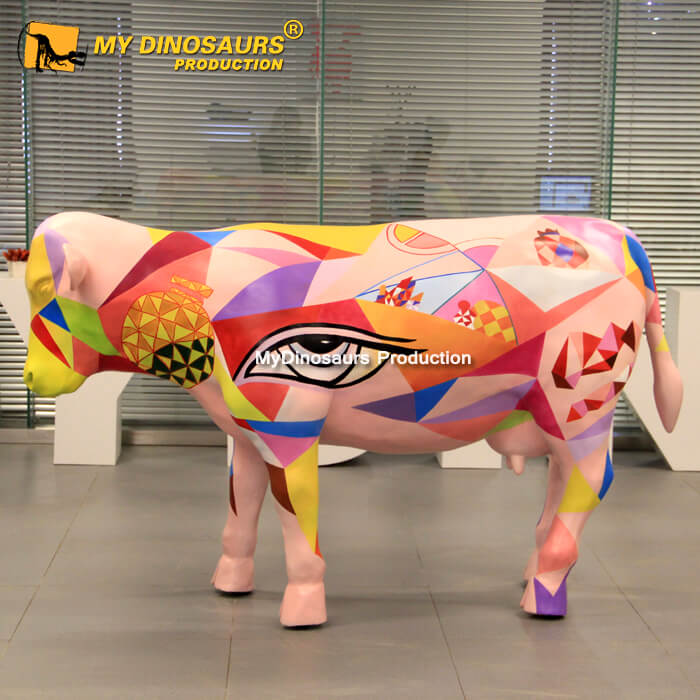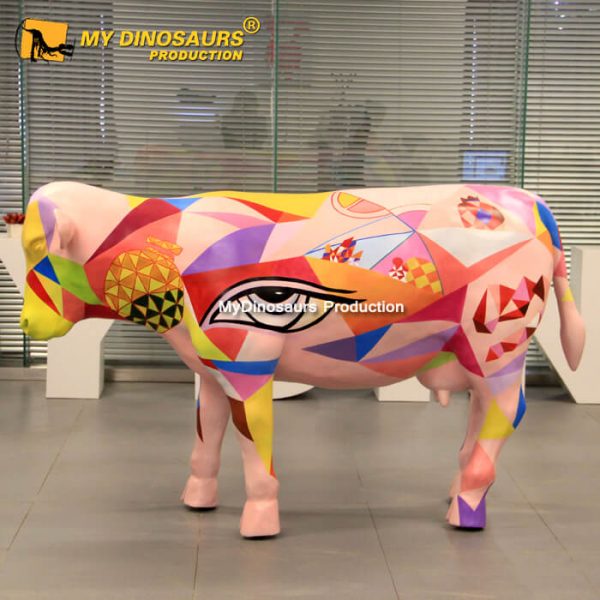 The next life-size cow statue on the list is a bit different. If you like whimsical and contemporary décor items then this piece might interest you. Cows are one of the most common domestic animals.
You see them all over the world. One of the main reasons for this is they provide us with food. Even though they are common and look quite simple cows do have amazing features. Cows can see almost 360 degrees.
This helps them keep a lookout for predators from various angles. They also have a strong sense of smell and catch odors coming from over 6 miles. Cows generally like to socialize and you can see them in groups. They are quite stable and docile around humans too. If you see a cow isolating itself from the rest then there's a good chance that it is sick or pregnant.
But this statue does not follow the realistic details of a cow. It resembles a cow only in its structure and design. The paint job on this one is what you would call pop art. Bright, varying colors form abstract kaleidoscopic shapes.
If you are looking for something 'hip' and unique then give this one a consideration. This is a designer resin statue. It is hand-painted. Depending on the varying features and size the price may vary from $1000 to $5000.
You also receive a 2-year warranty on the product. For the paint car paint is used. Contact the company to discuss the size you want. You get an installation manual, assemble tools, and other relevant accessories as well. You can keep it outside as it is weatherproof.
---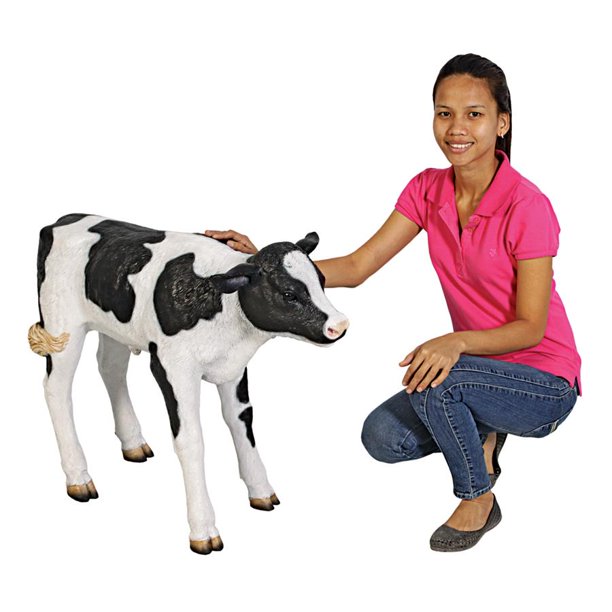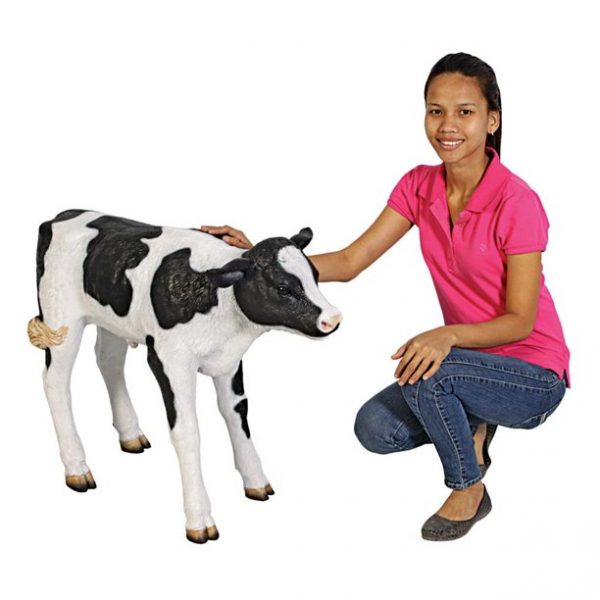 Holstein Friesian is one of the most common breeds of cows. They are present in around 150 countries. These cows are high-producing dairy cows. The Dutch and the German breeders are the ones behind the development of this breed. They wanted to develop a breed that can use grass well. You can easily identify a Holstein cow by its fur color.
They have a piebald pattern which is unusually black on white or red on white. In rare occurrences, a cow can have all three of the pigments. This gives the darker color of their fur a bluish tint. These cows have a gestation period of nine and a half months. When a Holstein's calf is born it usually weighs anywhere between 40 to 50 kilos. This life-size cow statue resembles the look of a Holstein's calf.
You can purchase this cow at Walmart which is one of the biggest retailers in the world. The statue is by Design Toscano which is a popular brand for sculptures and statues. They produce a variety of animal statues like a life-size giraffe statue, life-size bear statue, etc. The statue does a good job in following the size of a Holstein's calf. It is 25.5 inches in height and 35 inches in length.
This is a fiberglass statue. The artists do all the paintwork by hand to ensure realistic details. If you have a small space and a limited budget then this can be a good option for you. This statue costs $305.26. The design is exclusive to Design Toscano and you can easily put this statue in your garden.
---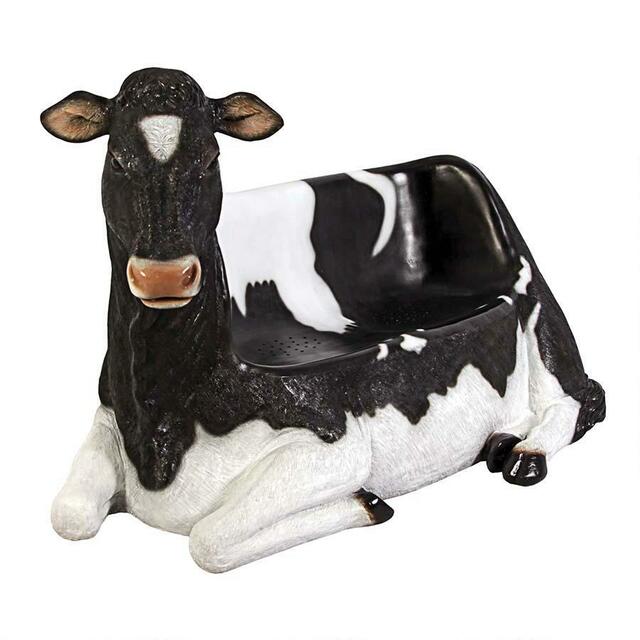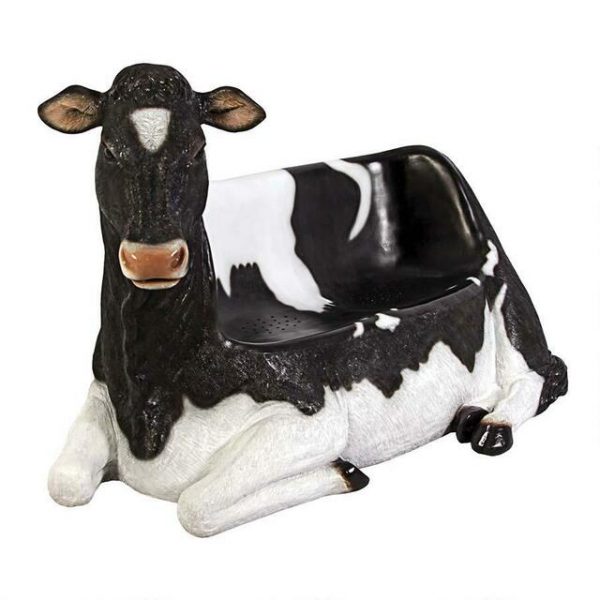 The next statue is perfect for a garden or a park. No, not just because it is a beautiful life-size cow statue but because it is also a bench. Yes! This is a bench in the design of a Holstein cow. But just because it is a bench does not mean that the details of the cow are shabby.
The cow looks quite realistic. It seems as if a Holstein cow is sitting in front of you. The bench has been cut-out in the back of the cow. You can easily feet a couple of people on it.
The statue is over 66 inches in length and 42.5 inches in height. The entire structure weighs around 115 pounds. If you want to design a park then this cow bench can be a great addition.
It will be a good attraction for the kids and people can have decent photo sessions on it. This is a resin statue that has been reinforced with fiberglass for giving it strength. The paint job brings out the details very nicely. You can purchase this statue from northerncreek.com. The statue is by Design Toscano and costs $1829.
---
Checkout Life-size Boxer Dog
---
Conclusion
Buying a big statue can be costly so it is important to buy the right one. But if you have a smaller budget you can get yourself a nice little calf statue without missing out on the life-size deal. We hope you get good satisfaction out of this purchase. Happy shopping!