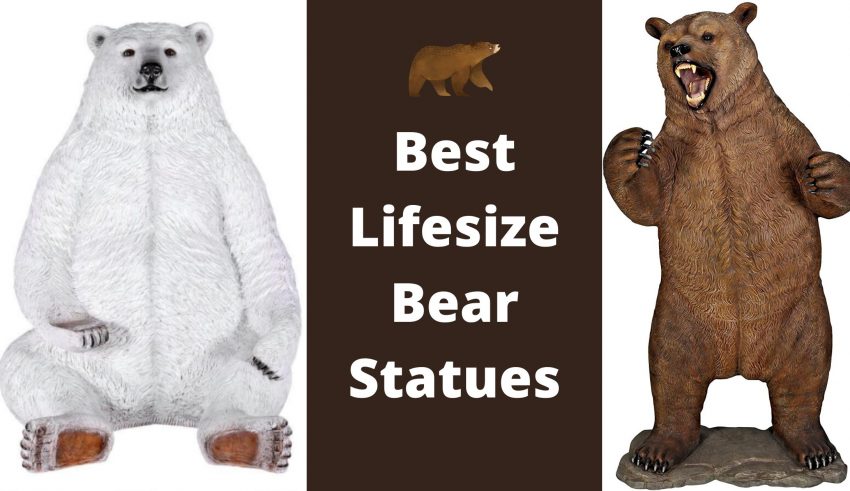 In our series of life-size statue articles, we include life-size animal statues as well. You can find life-size horse statues, and life-size giraffe statue articles too. Today we are going to take a look at a few sites from where you can purchase a life-size bear statue. Bears are amazing mammals that come in different sizes.
The smallest of the bear species are the Sun bears in Asia. In the US the smallest species of bears is the black bear. Next to them in size comes the grizzly bear. The largest of the bear species is the polar bear.
The last one is also one of the most powerful and most dangerous of all the species. It is a good thing that they live away from human civilization. In this list, there's a fair mix of black bears, grizzlies, and polar bears. So, you can purchase the one which you like the best.
Here is the list of Best Life-size Bear Statue: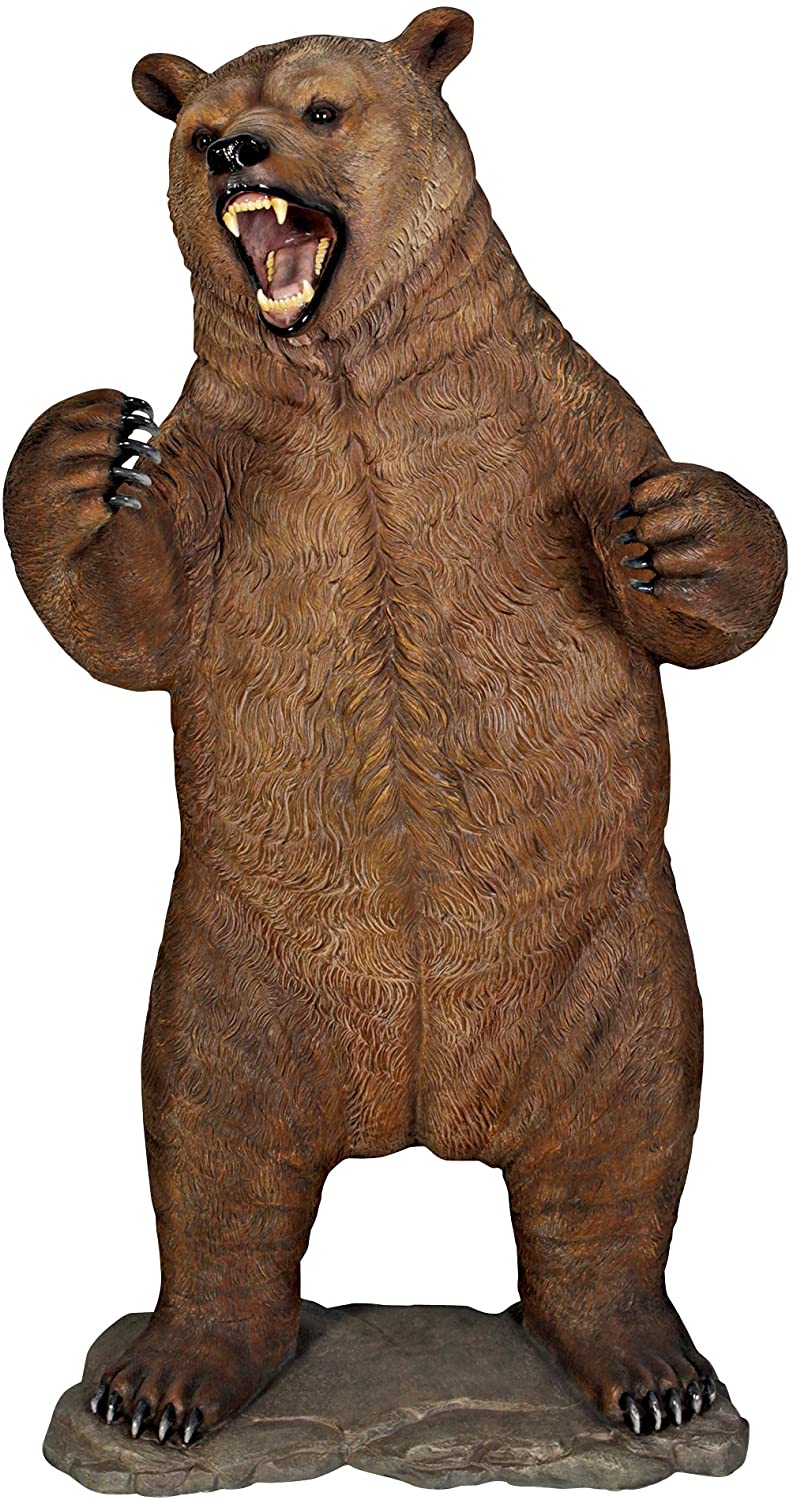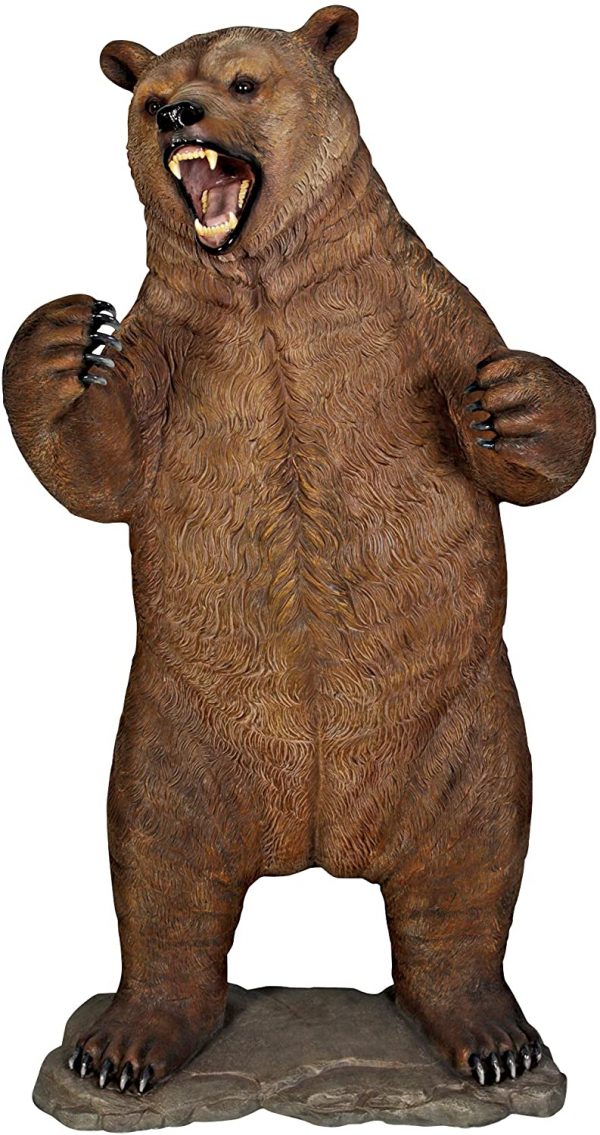 Well, if you are more into bigger bears then how about the next statue on the list. This is a life-size bear statue of a grizzly bear. Grizzly bears are a large species of bear. They are big, furry, and can rip you apart if they want to. They are amazing, cool-looking, and ferocious animals. Thankfully this is an animal species that fall under the 'least concern' category.
Grizzlies are generally much larger than their black brethren. They have long claws that can dig much better. Now, the black bear species also have brown variants. You can distinguish them from the grizzlies, because of the hump on the shoulder which the latter has. Grizzlies also have shorter round ears.
Due to its size and strength, a Grizzly bear is quite a dangerous animal. They generally steer clear of attacking humans. But if they have to protect the cubs they will attack you. Design Toscano is probably one of the most popular brands when it comes to animal statues. You will see more from the brand further down.
The brand makes good statues. This is a polyresin statue that has some great details. This statue is very much exclusive to Design Toscano. The statue resembles a grizzly bear standing up and growling. The details have been hand-painted to give the statue a realistic feel. This is an 82.5 inches tall statue that weighs 117 pounds. You can purchase the statue from amazon.com for $2278.86.
---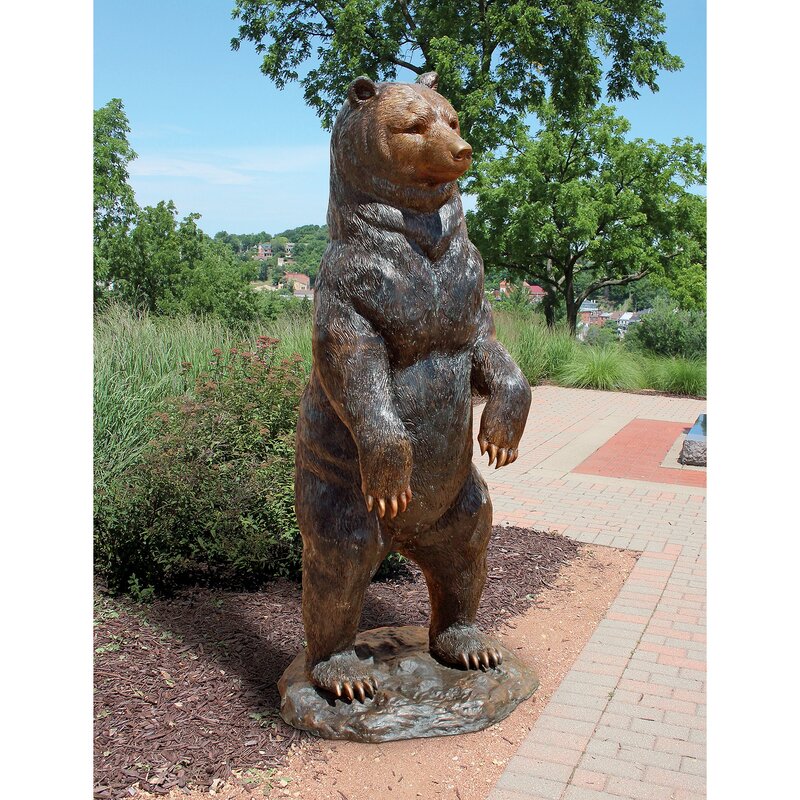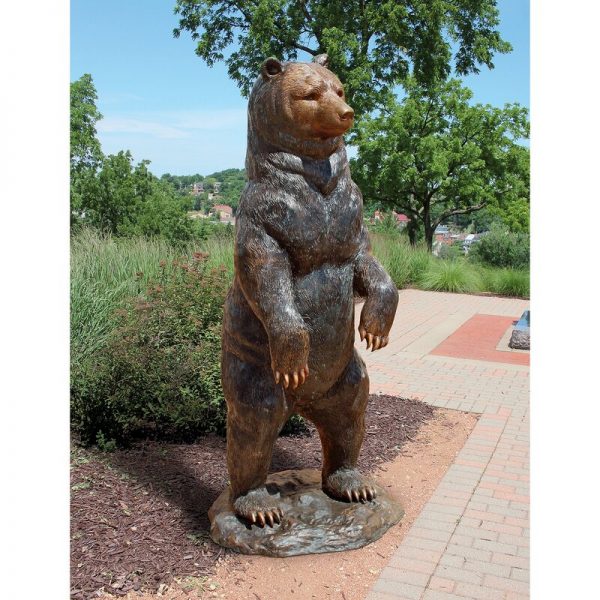 Black Bear is one of the most common types of bears in the world. You can find black bears in different parts of the world but this statue sort of resembles the American black bear. The American black bears are short bear species. Well, some of them can grow quite large but they are generally smaller than your average grizzly.
Black bears are very agile climbers and you can find lots of videos of them climbing trees. Like most bear species the black bear is an omnivore. They eat trees and vegetation and do enjoy munching on small creatures from time to time. Now, there's a wide range when it comes to the size of black bears. They generally weigh between 45 to 250 kilos. In general, an average male black bear weighs around 86 kilos.
This life-size bear statue does a good job at mimicking these amazing creatures. It is a standing bear statue. This is a bronze statue which the artist made using the lost wax method. This method is one of the popular methods for sculpting or making bronze statues. The statue stands at 62.5 inches tall and weighs around 207 pounds.
This is a hand-finished statue so every detail looks good. You can put it in your garden or in an animal theme park. This is a great décor piece and costs $3135.97. You can purchase the statue from wayfair.com which is a nice website for buying this stuff.
---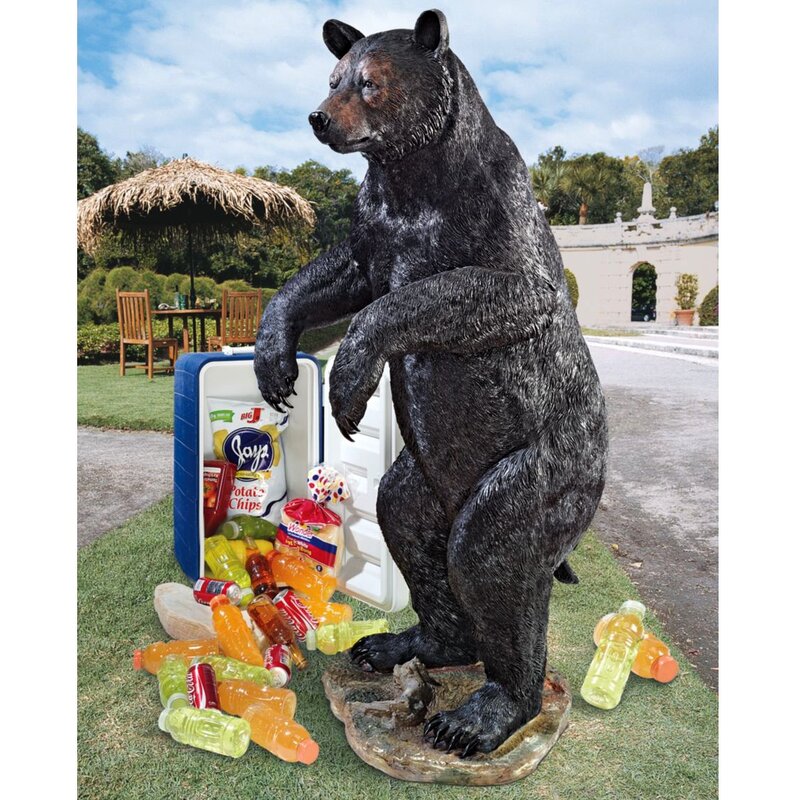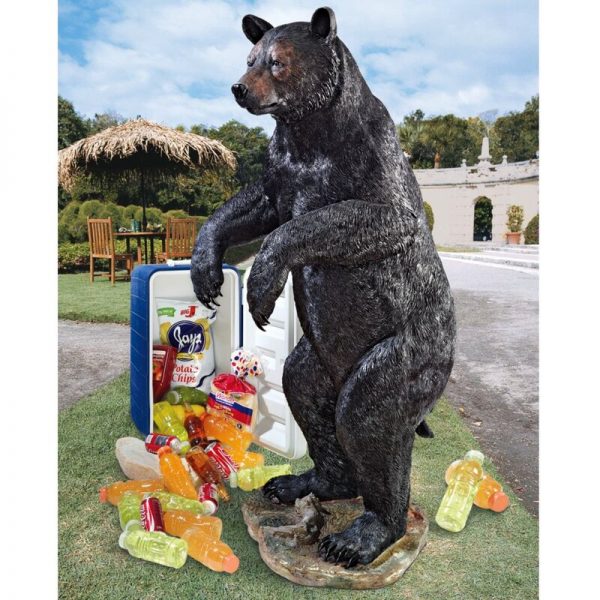 If you want a different and more mellow pose then you can consider this statue. This is a black bear statue which again comes from Design Toscano. It is a nice statue with a lot of details. The material of this statue is designer resin. This is a common material for statues and sculptures. The statue looks quite good.
The black bear is standing on its hind legs. Its paws are in a funny position like it is ready to fish through a trash can. Black bears are one of the most abundant species of bear.
Despite the name of the species, black bears do have a couple of different colors. They can be brown as well. One of the rarest colors of the species is white. There are very few of the white variants left in the wild.
Black bears have an average life expectancy of 18 years in the wild. They do tend to live longer in captivity. The longest being 44 years. The material used in the statue is of top-quality.
You can put the statue outside in your garden or outside your store. This statue is weatherproof so you do not have to worry about it much. It is sure to turn heads and bring in a lot of attention.
This is a 5 feet tall statue that weighs around 102 pounds which sort of captures the average size of a black bear. The statue comes from China and you do not have to assemble anything. You can purchase the statue from wayfair.com for $1019.99. It is on sale currently so you can get it for this price.
---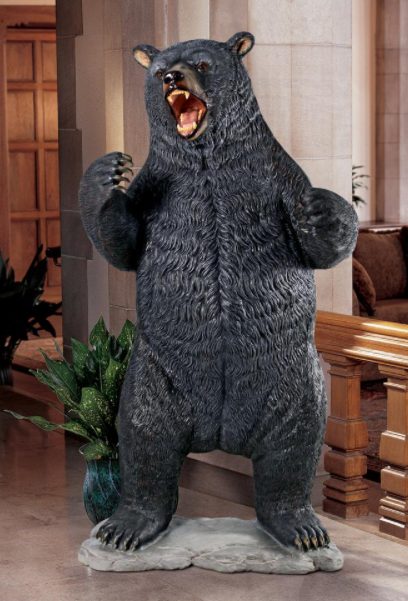 The next statue is for people who want a more ferocious depiction of a black bear. This is a life-size bear statue that shows a growling black bear. It is standing on its hind legs with its paws up. You can see the sharp and strong yellowish-white teeth. The sharp claws in the paws may not be as long as a grizzly but it can do some serious damage.
This is a nice statue that you can purchase from homedepot.com. The details on it are quite nice. You can see the craftsmanship and skill of the artist. The detailing on the fur is quite nice. This is a tall statue since the bear is standing on its hind legs.
It is almost 7 feet tall. So, if you are looking for a big life-size bear statue then this can be a good option. Designer fiberglass resins of high quality are the core material of the statue. Everything has been hand-painted and hand-finished to give realistic details. This is a statue that will be a good addition to your animal statue collection.
It can also be a good fit for an animal theme park. This statue is weatherproof so you can keep it outside without worrying much. Of course, a little bit of care goes a long way in preserving the longevity of the product. The statue weighs 117 pounds. It has all the features of a black bear. It costs $2278.86.
---
Also Checkout, life-size german shepherd statues
---
Sitting Pretty Oversized Polar Bear Statue with Paw Seat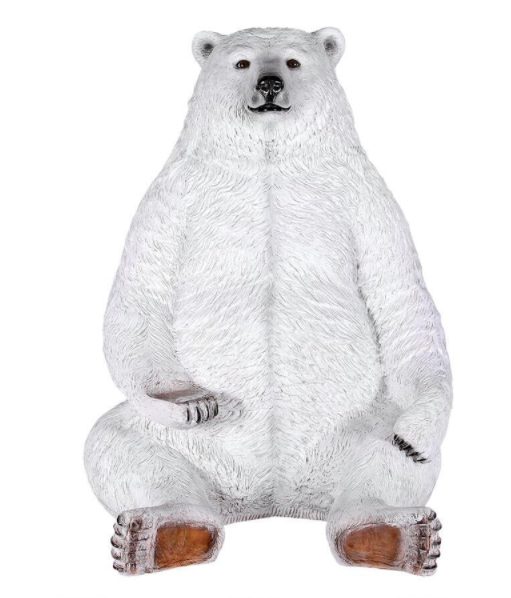 Polar bears are the most dangerous of all the bear species. If a polar bear attacks you then the only option left is to pray. One of the only ways you are coming out of that encounter alive as if the polar bear has a change of heart. But if you look at them from afar then they look quite cuddly.
Who wouldn't want a polar bear as a cuddle buddy before going to sleep? But of course, you can't. Not if you value your life. Polar bears are amazing creatures. They are killing machines. They have thick white fur which keeps them warm in the harsh cold weather.
In general, these bears are the largest of the species. They are more ferocious and have an enormous amount of strength. But don't worry this life-size bear statue does not look like an angry beast. It looks like a cuddly white Bear that you can have at your home. This bear is sitting in a funny way and looks so cute.
It just wants love and affection. You can keep it at your restaurant, store, or garden and it will lighten up the mood. This is an 89 inches tall statue that weighs about 200 pounds. It is a designer resin statue of high quality. It has amazing details on the fur and the face. This statue costs $3750 and if you have the budget go for it.
---
Conclusion
Anyone who loves animals owning an animal statue can be awesome. The life-size bear statues that we mention above are nicely made products. They have good details and will turn heads wherever you put them. But buying life-size statues or sculptures cost a lot of money. We hope you find the right product for yourself. Happy shopping