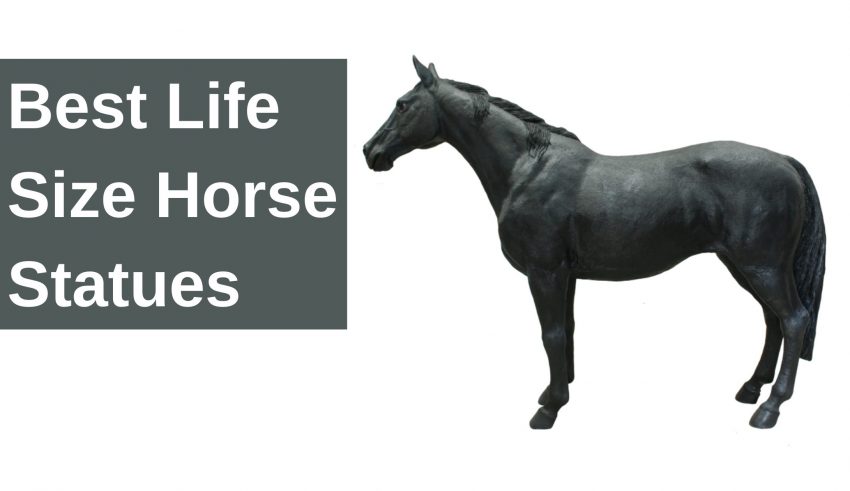 Animal sculptures and statues are great décor items. They not only add greatly to the beauty of the surroundings but also lighten the atmosphere. They are perfect for animal theme parks, schools, and gardens. One of the most elegant and awesome animals are horses. Having a life-size horse statue in your home or backyard can be a decent idea.
If you are planning to buy a piece of décor for your house we suggest you go through these horse statues. Who knows maybe you will find a perfect fit for your home, store, or office. So, let's take a look, shall we?
Here is the list of Best Life Size Horse Statues To Buy In 2021: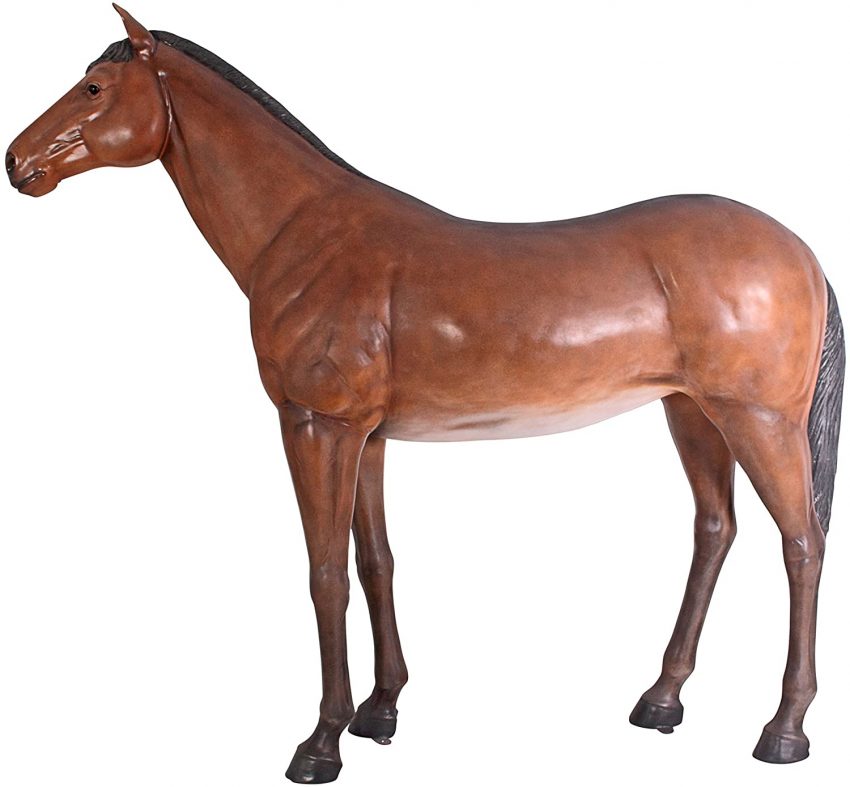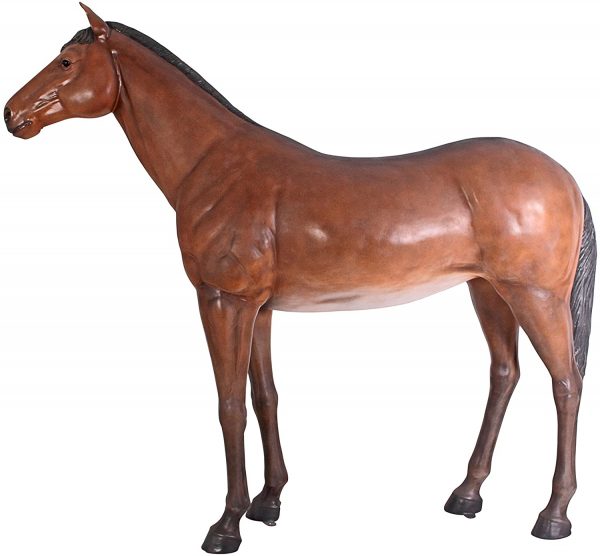 Horses are amazing creatures. They are one of the most elegant and strong animals. This statue of the horse is of a Filly horse. Filly horses are young female horses generally under 4 to 5 years of age. The design of this statue is very decent.
The sculpting is quite good. Every piece of the statue has been hand-painted painstakingly to ensure that the color of the horse looks good. The craftsmanship of this statue is amazing. The artist used different shades of brown in different parts to give the horse a more realistic fur color. Everything is smooth and shiny.
To sculpt such statues the artists generally use designer grade resin. They crush rocks and mix it with the resin to give the forming material some strength. It also increases the durability of the statue.
The horse is 82 inches tall and 90 inches wide. It is around 22.5 inches thick. This horse will be a perfect piece of décor for your home or garden. Design Toscano is the company that manufactures this statue. It is a brand popular for making life-size statues and props. You can purchase this life-size horse statue for $2278.86.
---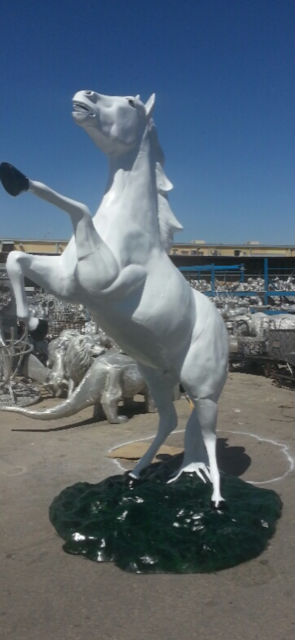 If you are looking to buy a life-size horse statue then of course one of the best places to look for it is the website which has a very revealing name. Lifesizehorsestatues.com is a website that sells life-size statues of horses.
They have a wide selection of statues of different kinds of horses. You can buy statues of colts, foals, Mustangs, Pegasus, etc. So, if you really like horses or want to gift a statue to someone who loves them you can browse this website.
In this list, we are featuring the rearing horse statue that you can find on this website. One of the most recognizable characters of a horse is rearing. The horse stands on its hind legs and neighs loudly. Thanks to the western flicks and other action movies we see riders rearing the horses before making them gallop.
But despite what you know rearing is generally a dangerous activity. It can cause serious injury to the rider as they may fall from some serious height.
It is also problematic for the horse since it may fall back and hurt itself badly. But when horses are trained to do this they look majestic and badass.
They also use this pose to fight each other. You can see trainers making the horse rear in a circus. It looks amazing. This rearing horse statue is 110 inches in height. It is 64 inches wide and 93 inches in length. The cost of this statue is $4500.
---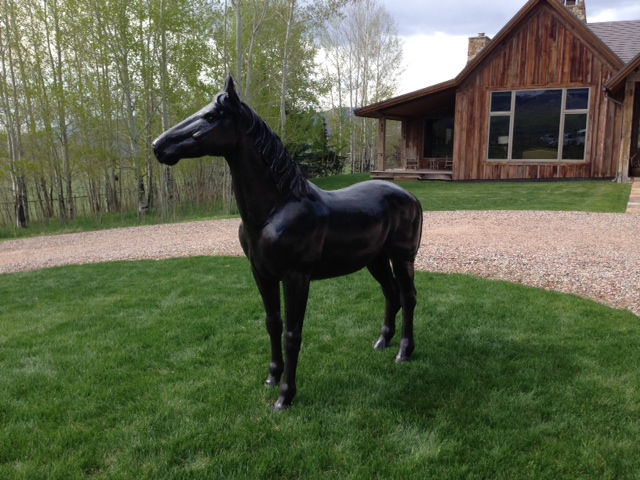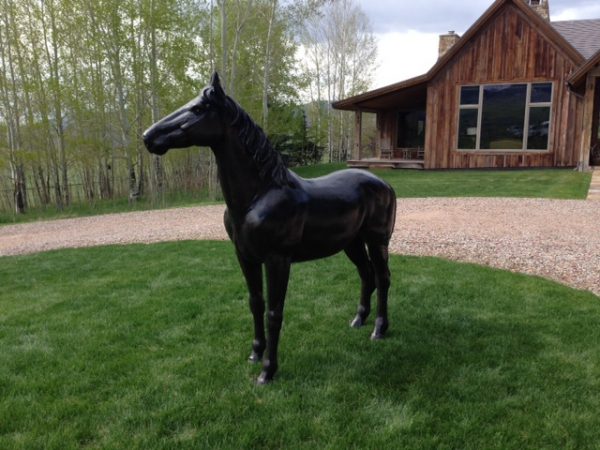 The next website we are going to take a look at is poormansbronze.com. It is a website that sells statues and sculptures made of clay or recycled cast aluminum. This online store also has a physical gallery in Jackson, California.
They display statues made from recycled materials and metals. Scrap metal, debris, variety of junk material, and rejects you name it. This gallery features statues that use such materials.
The company has a 2-acre gallery in Jackson. Most of their art comes from Mexico. If you want a metal life-size horse statue but you think it will be too expensive then don't worry.
This website has a variety of metal statues for a reasonable price and you can find a life-size horse statue as well. This horse statue is 68 inches tall and 77 inches long. It weighs around 200 pounds.
Every statue or the yard art that this company delivers have their own colour that the artist paints on the bronze. If you want something specific you can contact the company directly.
The statue is made from recycled cast aluminum and it is given a bronze finish. It is weatherproof so you do not have to always worry about bringing the statue inside whenever the weather gets harsh. The price of this statue is $2775.
---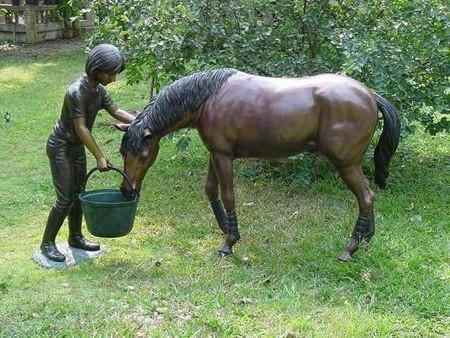 A great thing about sculpture or any other work of art is that creativity is limitless. Every artist has their own of looking at things. This brings us a variety of designs that we have in the form of sculptures, paintings, and statues.
So, it is only reasonable that there are multiple designs for a life-size horse statue as well. You can find the next horse statue on the website allsculptures.com. This is a website that has a bunch of different kinds of statues.
The website categorizes these products based on the materials used, the theme, or even the artist. This particular statue features a horse and a girl. Yes! You get two sculptures put in one. We see a young girl feeding the horse with a bucket. It is a bronze statue.
This statue is made using the lost was technique. This is a technique that allows the artist to gain much more details on the sculpture. First, the artist makes a wax model of the design.
This wax model is dipped in liquid ceramic. Now, it is time to bake the model in a kiln. In the heat, the ceramic hardens and the wax melts leaving an exterior shell. This ceramic shell acts as a mold.
Molten bronze is out into it, thus creating the final casting. Patina is applied to get the desired coloration. The last process is to apply a wax coating on the surface for protection. Yes, this statue goes through this long process to be ready. It costs $4658 and is 45 inches tall.
---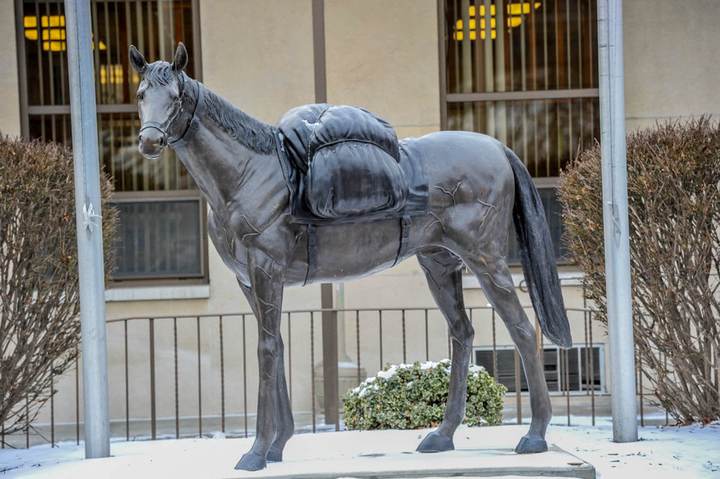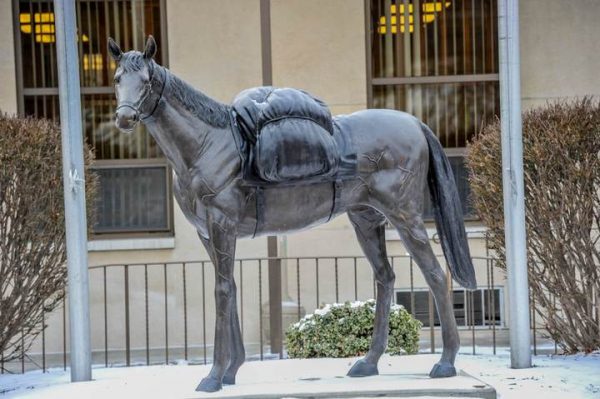 Randolph Rose is another online store that you can check out. It sells statues, sculptures, plaques, busts, etc. If you have the right budget then you can get many interesting pieces of décor here.
You can also purchase unique housewarming gifts for friends and family. Horses have been in our culture for a long time. We humans have been breeding them for hundreds of years.
They are a means of transportation and help us with our baggage. They are also a great companion. So, it is not a surprise when we see horses in varying roles in different parts of the world. Military pack horses used to carry the baggage of military officials during campaigns.
This life-size horse statue resembles the form of a military packhorse. The detailing on this sculpture is something to marvel at. The craftsmanship is just amazing.
This is a bronze statue and the artist used the lost wax technique to make it. The statue is 82 inches tall and 99 inches long. To know the piece of this beautiful piece you have to contact the seller on the website. This statue is placed in Horseheads which is a local village police station near New York.
---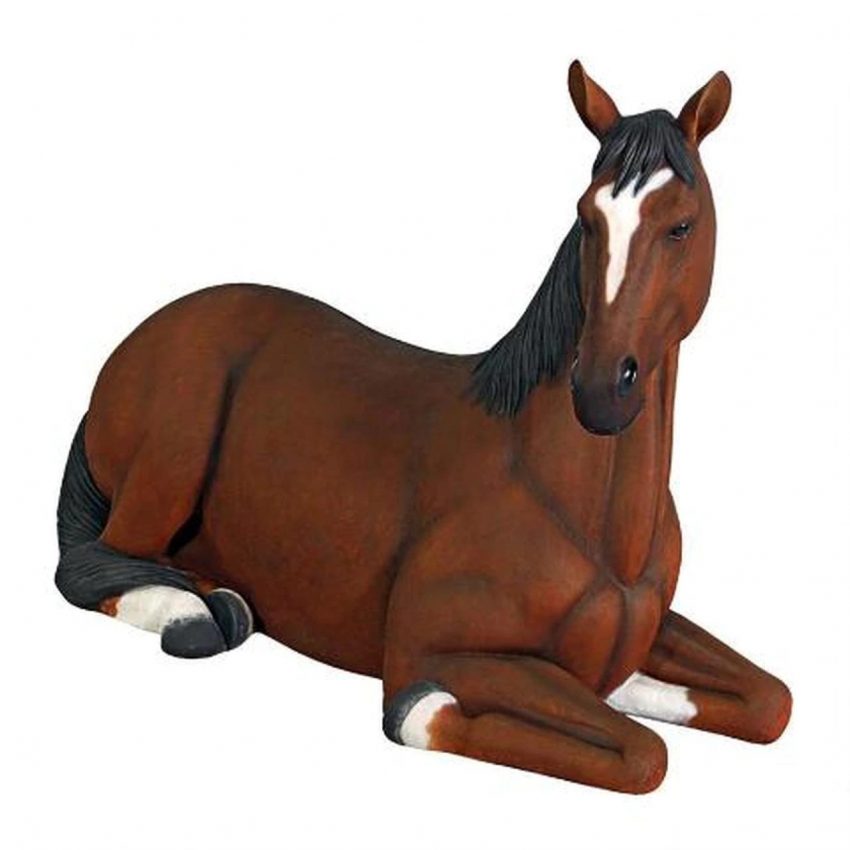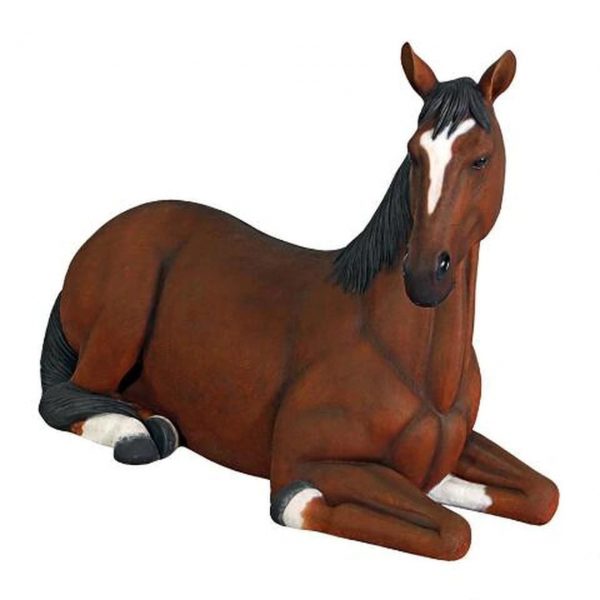 So far, most of the statues on the list have been of horses standing. Let's switch it up. If you do not want a tall statue then you can get this Life-size horse statue. It resembles a sitting horse. This horse statue resembles the quarter horse breed.
Quarter Horses are a breed of American horses who have a greater speed than other horses when it comes to short distances. These horses can sprint at amazing speed when it comes to a small range.
The reason for this breed to have the name quarter horse is because they can outrun other horse breeds in a distance of a quarter-mile or less. This explosive sprinting power is due to amazing muscles.
These horses are really beautiful creatures. Now, you can have a life-size statue of a quarter horse at your home or garden. This is a decent piece of décor and will lighten up people. We like the design of this horse statue.
Especially the color of the fur. It is a mixture of brown and white. The white accents are on the horse's head and near the ankles. This life-size horse statue costs $1329. The features are very realistic from the muscle haunches to the fur and mane.
Fiberglass and resins are used to make this sculpture and the realistic details are enhanced by the paint job. This horse statue weighs 77 pounds and is 47.5 inches tall and 70 inches long.
---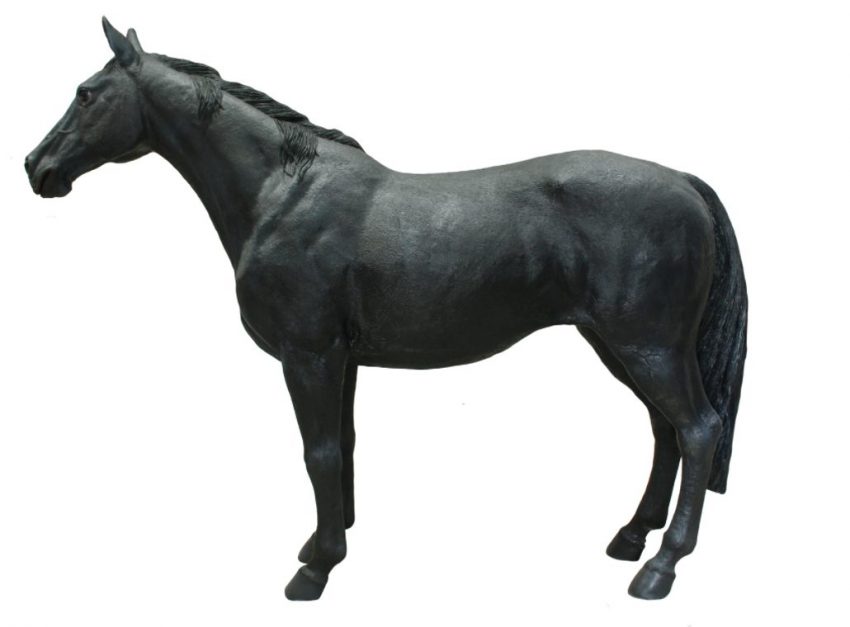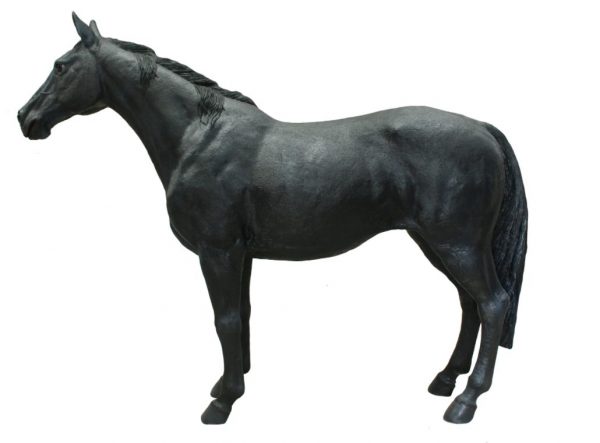 Black Stallions are one of the most handsome creatures. Of course, the muscles and the elegance is present in all stallions but the black adds a bit of mystery and enigma to it.
If you are a fan of horses then having a life-size black stallion statue in your home or garden can really add to the atmosphere. This is also a great prop for parks where children can enjoy looking and interacting with the Statue.
You can find this statue on the online store, The Interior Gallery. It is a model exclusive to this store. So, the artists made this statue for this company and they are the ones distributing it.
This is a tall statue. It stands just an inch short of 8 feet. It is amazingly long measuring 108 inches in length. The width of the statue is 26 inches. Since it is a big statue it weighs a little more. The weight of the statue comes in at 95 pounds.
Only high-quality resins go into the making of this statue. This is a museum-quality statue. If you are having an event or a party having a western theme then this can be a perfect display piece. You can purchase this standing black stallion statue for $1398. The price is low because it is in the sale. So, hurry up and get it if you like it.
---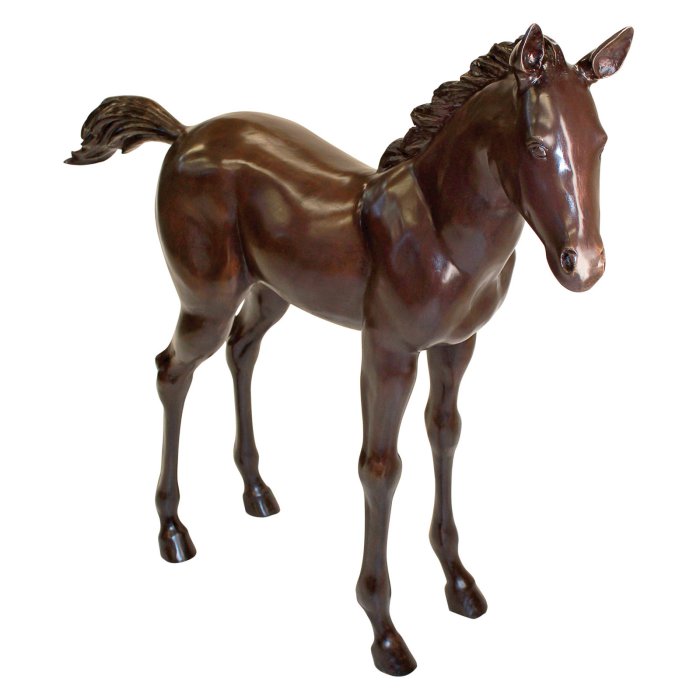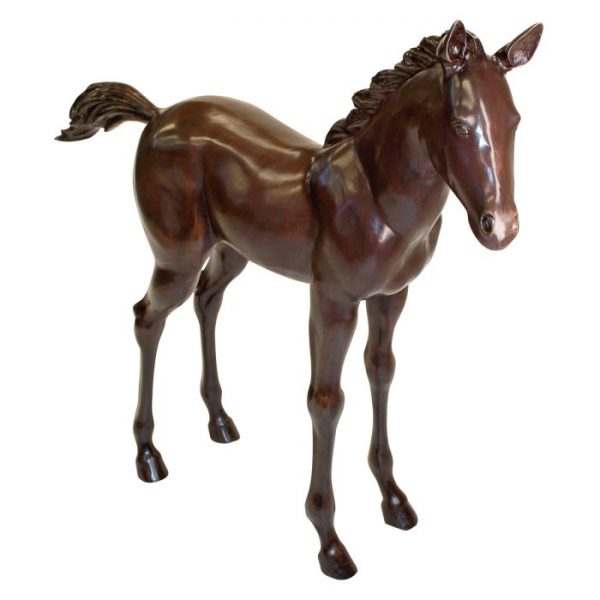 Design Toscano is a brand that has been manufacturing and distributing furniture and other décor items. A lot of online stores and websites sell products by this brand.
This standing horse statue is by Design Toscani and you can purchase it from hayneedle.com. It is a bronze statue. The lost wax bronze method has been used to make this statue. This method is very popular to make bronze statues and sculptures. It allows artists to provide good details.
The name of this method is lost wax because the wax model that is initially made is melted and lost. It leaves behind the hard ceramic shell which the sculpture uses as a cast.
They then pour molten bronze into it. In this statue sepia patina is the material that the sculpture uses to give the statue some color. This enhanced the features of the statue.
This is a very decent statue for people looking for smaller sizes. Since this statue is of a goal it is short in height standing 44.5 inches tall. It is 47 inches long. The statue weighs 45.5 pounds and it costs $2289.89.
---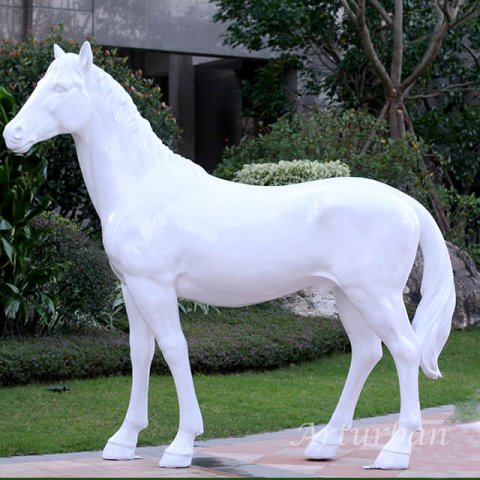 If you are looking for a white horse statue then arturbanstatue.com has an option. Of course, if you want a different color you can always contact them. The main material that makes the core of these life-size statues is fiberglass.
This website makes custom fiberglass strayed. They do have a white variant of a standing horse but you can contact them and discuss your customizations. This horse is perfect as a garden decoration piece. Standing in the middle of all those florae will really add to the beauty of your garden.
Since the company makes custom statues you can ask for a different style, colour and size. The material will be resin and fiberglass. This particular horse statue stands 213 centimeters tall and 252 centimeters long.
The minimum order quantity is one. If the item is not already in stock it takes 15 to 40 days to produce. The company delivers the sculptures in strong wooden crates that have waterproof foams inside. To get a quote on the horse you have to contact the company. They have a nice little form below the product.
---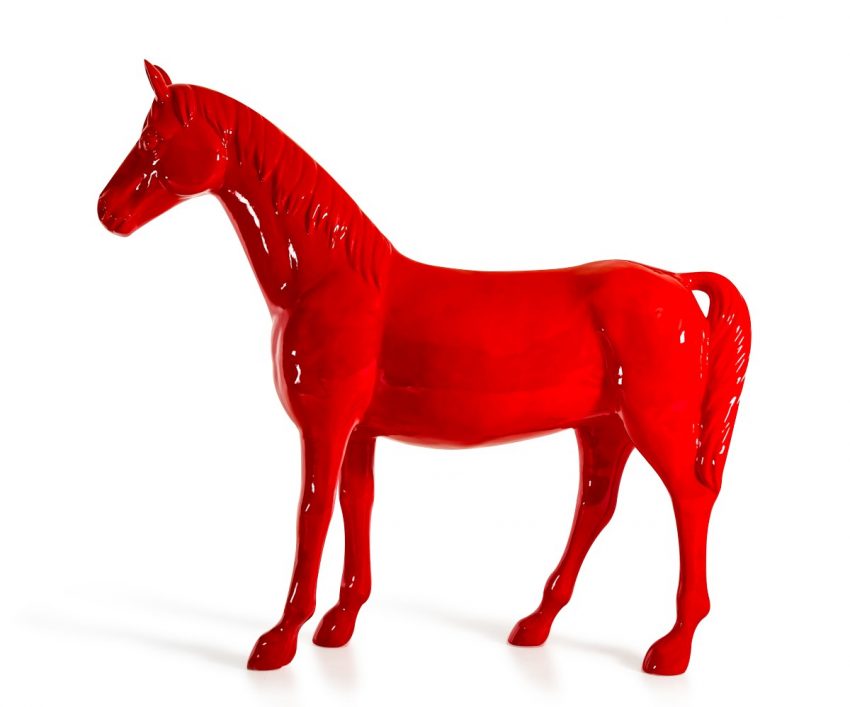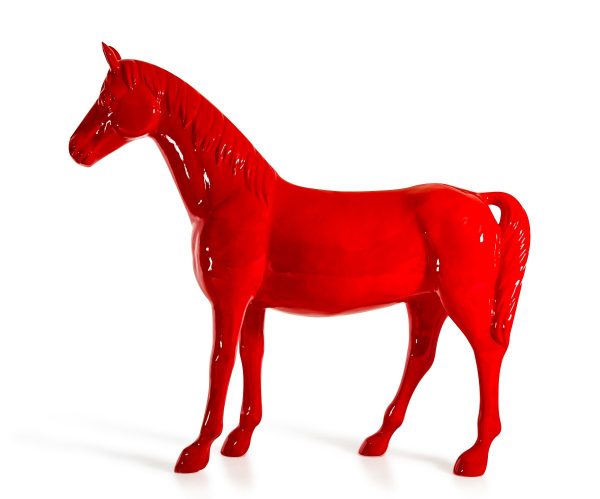 For the last option on the list, we are moving a bit aways from realistic statues. This last life-size horse statue is red in color. It is shiny and has all the features of a horse. It just looks stunning.
If you are a fan of strong vibrant colour and want a horse statue then this will be a good option. It costs $2220 and you can purchase it from lafurniturestore.com. The height of the statue comes in at 5 feet and its length is 7 feet. The main material of the statue is fiberglass.
To get the shiny red texture red the artist applied a red gloss finish. The company claims that its statue is suitable for outdoor use as well but strongly advised against riding it.
---
Conclusion:
We know a bunch of choices can be overwhelming so why don't you set your budget beforehand. Then you can decide on the style and size of the statue. If you are going for a realistic approach you can go for the sitting quarter horse statue.
If you want metal statues then there are a few options as well. For a dynamic pose, you can choose the rearing horse statue. If you are interested in pop culture stuff then check out other life-size statue lists. We have got listicles for life-size hulk statue, life-size master chief statue, life-size star wars statue and more.